Behind the Scenes of D'Angelo's Black Messiah
After a long hiatus, D'Angelo returned in stellar fashion when he released his third studio album, Black Messiah, late last year. In many ways, it felt like the resurrection of both the artist and R&B in general. Surrounded by his newly formed Vanguard collective, D'Angelo delivered a 56 minute masterpiece layered with elements of funk, rock, soul, gospel, and R&B. Despite his lengthy absence, the 12 song offering captured the zeitgeist in a way that few other artists have. To get a better insight into this modern classic, we spoke with Vanguard member Kendra Foster (co-writer for eight songs on the album) as well as Russell Elevado and Ben Kane (the two engineers) about their roles in its construction.
When and where did you first meet D'Angelo?
Russell Elevado
Well, we first met during the recording of Brown Sugar. I finished off the last three songs of the album after Bob Power. From the very beginning, we started talking about doing a record together. When I was mixing "Lady," I was hearing how it could be mixed in different ways. I said, "Hey man, I think we could go a little bit rawer by putting a little distortion here and there." He replied, "Well, we really can't do that because we have to match Bob Power's sound. He's already mixed seven of my songs. We can't stray too far away from his sound, but tell me more about [that] because it sounds cool."
So that's when we started talking about what was to become Voodoo. I was sitting at his house in Richmond, VA with him, and we were talking about different studios. He was starting to get into Jimi Hendrix and everything, and I showed him albums that were done at Electric Lady Studios by Stevie Wonder, David Bowie, and all these people. I told him we should try to go there to do his next album. He asked, "Is it still around?" He didn't realize it still existed. He thought it was closed down back in the 1970s.
Ben Kane
I first met D'Angelo at Electric Lady Studios in 2003. I started as an intern there and worked my way up from the bottom. From the first day that I started there, he was already booked in one of the rooms. I was 19 years old in 2003, and I was eager to learn.
Kendra Foster
It's a funny story. I had been touring with George Clinton for years and years. He was actually the executive producer of my first album. I was signed to a production deal through his company back in 2001 or 2002. I used to beg him to ask D to write or produce on one of my songs, but it just never came to pass. After my deal with George was over, he was still my mentor, and I still toured with his band. In 2008, George had his birthday party in Los Angeles. There was this big live jam session going on, and I had enough of the partying. Gary Shider, his wife, Shonda Clinton, George's granddaughter and road manager, and I just left, and we went out to sit on the party bus. We ended up sitting on the party bus for 45 minutes before it took us home. Before we were about to leave, Barbarella Bishop, George's daughter and manager, came on the bus. She was going through pictures on her phone, and I looked at one of the pictures and said, "Oh. Heck no!" D had been in the building at the party. There were so many people there. I was halfway over being at the party because I'm a homebody anyway.
There were other times where I was in the same building as him, and I never got the opportunity to meet him. When we did a couple of our shows in Richmond, VA, for some reason, I wasn't on the tour, so the times D came through, I wasn't there. I had been wanting to meet him for so long. I wanted to see if he wanted to work with me. When I saw the picture, I told Barbarella, "I can't do this anymore. Please ask him if it's OK if one of the Funkadelics could have his number because I want to connect with him."
I had a feeling that for many, many years that D'Angelo was a Funkadelic.
So three months later, the night before President Obama was elected for the first time, I was traveling to record my own music, and on a layover at the airport, I called him. When he answered, I asked, "May I speak to D'Angelo?" At the time, I didn't know his real name. So when he answered, I told him quickly, "I'm one of the Funkadelics. I'm the redhead, and I really want to work with you." I had to send him a sample of my writing to Ben Kane. After he heard my sample, he told me he liked my style, and he asked me to write with him. It's kind of funny because you would think there would be much more to the story. He wasn't the easiest person to get to, but it really was that simple. I think, the other thing was I was a Funkadelic. I can't say for sure what made him want to work with me, but I knew he liked the way I wrote. I knew he liked the camp I came from as well. I had a feeling that for many, many years that he was a Funkadelic. I think that kind of helped me out a little bit.
During the extensive recording process for this album, how many times did you all start and stop, and when did you finally feel like it was going to be completed?
Russell Elevado
Over the last four years, the recording process was pretty extensive. We would record for a month at a time, or sometimes two months at a time and then take a month off. Then we would record for another month and take another month or two off. The only times we would take off is when he needed to get more money to go back in the studio. We were starting and stopping quite a bit.
Ben Kane
Part of the job was keeping the thread going. It's amazing for D because it's as if no time had passed when he was in the studio. He didn't have to remember what we did on a song. He wanted the song up as if we had worked on it yesterday. We had to take an insane amount of notes. There were books of notes. One song may end up having seven takes because there were different versions because we tried a different musician on one part or we tried a shorter version. There were a bunch of different reasons for note taking. We had to be able to pull things out of the hat very quickly. Also, he remembered everything. He would remember another drum take we did, and you're like, "Oh. We did two drum takes?" He would be right on top of things.
Russell Elevado
Over the last two years, every time when our rounds of sessions would be finished, that would be our deadline. So for those last two years, when we didn't meet our deadline, we'd have to get more time. There were doubts whether or not people would ever hear the album.
These guys, they didn't just play or do music, they are music.
Talk to me about what it was like working alongside musicians such as Spanky Alford, Questlove, Jesse Johnson, James Gadson, Chris "Daddy" Dave, Pino Palladino, Isaiah Sharkey, and Cleo "Pookie" Sample.
Russell Elevado
Working with them definitely leaves you speechless. Black Messiah is done now, and he's raised the bar so high that where do you go from here? You get so spoiled.
Kendra Foster
It was freaking awesome! I never had the blessing of meeting Spanky before he passed away. It's funny how we were all connected in some way, though. Spanky was a serious mentor to my producer, Kelvin Wooten. So a couple of years before I met D, I already knew who Spanky was. When Kelvin would be doing church functions or special occasions, he would show me videos. When Spanky passed away, his wife came over to the studio I was working in. She came over to pick up some of the memorial arrangements. I was already connected to him before I really knew how influential he had been in D's world.
D, Ahmir, Jesse, Chris, Pino, Isaiah, and Pookie are all musicologists. They study and listen to so many different types of music. They're truly dedicated to their craft. Their resumes speak for themselves. They're jokesters. People had jokes for days. [laughs] Jesse would tell stories all the time about his days with The Time, Prince, and Minneapolis. They just have a deep love for music. Music is the core of me; it's the reason why I'm alive. When you meet other people that are music, it's incredible. When I met these guys, they didn't just play or do music, they are music.
Can you describe your interactions with D'Angelo inside and outside of the studio throughout the making of the record?
Russell Elevado
Basically, Ben and I were the go-to guys. We were the keepers of his Never Neverland. [laughs] Once he got into his Never Neverland, it was just the three of us in the studio together. So he would really count on us to make sure that everything technical was there for him. The way he works is very technical. There are a lot of things involved in setting him up. We had a vocal set up with a tape machine and a little mixer inside the live room for him, so when he did his vocals, the tape machine was right there with him, as well as a tape machine in the control room with a vocal mic, because sometimes, he'll want to be at the console and do his vocals from the console. All of my gear needs to be set up properly as well. So it's quite a task to set it all up. It would take us all day to get set up to start our next round of sessions.
Usually, we had two to three tape machines and Pro Tools up. We were using Pro Tools mainly as a multi-track device. Some of those songs were really old, and we wanted to preserve the recordings, so we eventually started transferring some of the older songs into Pro Tools and started playing them from Pro Tools, because after a while, the tapes wouldn't have sounded as good. The tape for "Sugah Daddy" was vari-speeded for the mix. "Sugah Daddy" was mixed off the tape because we were vari-speeding much faster than what Pro Tools could handle. The song was originally at a slower speed, but we sped it up quite a bit for the mix. After a while, he thought it would sound better if it was faster. So from that day on, the overdubs were done at that tempo.
"Really Love" was really old. This was the first song he wrote for the album. I think he wrote it in 2001. The song went through a couple permutations. It was originally just a drum machine, then Questlove added some drums on it, and a couple years later, we put James Gadson on it. It went through three different drum things and guitars. "Prayer" was quite old as well. But there were a lot of songs that didn't make it, just like on Voodoo. D'Angelo was listening to Funkadelic, David Bowie, Led Zeppelin, and The Beatles. He got more into The Beatles. To us, we considered Black Messiah to be like The Beatles' White Album.
Ben Kane
We definitely worked on things throughout the night. If anything was typical for us, it was that our sessions were between ten at night and ten in the morning. We were pretty nocturnal in our approach. In my mind, a lot of that is due to the process of quieting down and giving room for the creative energy to take place at night when everything else is subdued.
He is a genius, and we all know that, but he is also a thinker and a musical scholar.
Kendra Foster
Sometimes it was done via satellite because I was always touring, and his schedule was jam-packed. Sometimes we would be able work in the studio in good old-fashioned writing sessions. Once he trusted me with his tracks, if we weren't in the studio together, I would demo my ideas for him on Garageband and get them to him quickly. I tour for like 85 percent of the year. [laughs] This is one of the beautiful things about modern technology. If you can't get your schedules lined up, you're still able to talk about concepts and ideas.
D'Angelo is already a brilliant lyricist. It meant so much to me that he thought so highly of my writing skills to bring me in. One of the things I learned from working with him was how to be patient with my perfection. When he would hit that point where he thought things were perfect, he wouldn't touch the song again until something else went perfectly with it. He is a genius, and we all know that, but he is also a thinker and a musical scholar.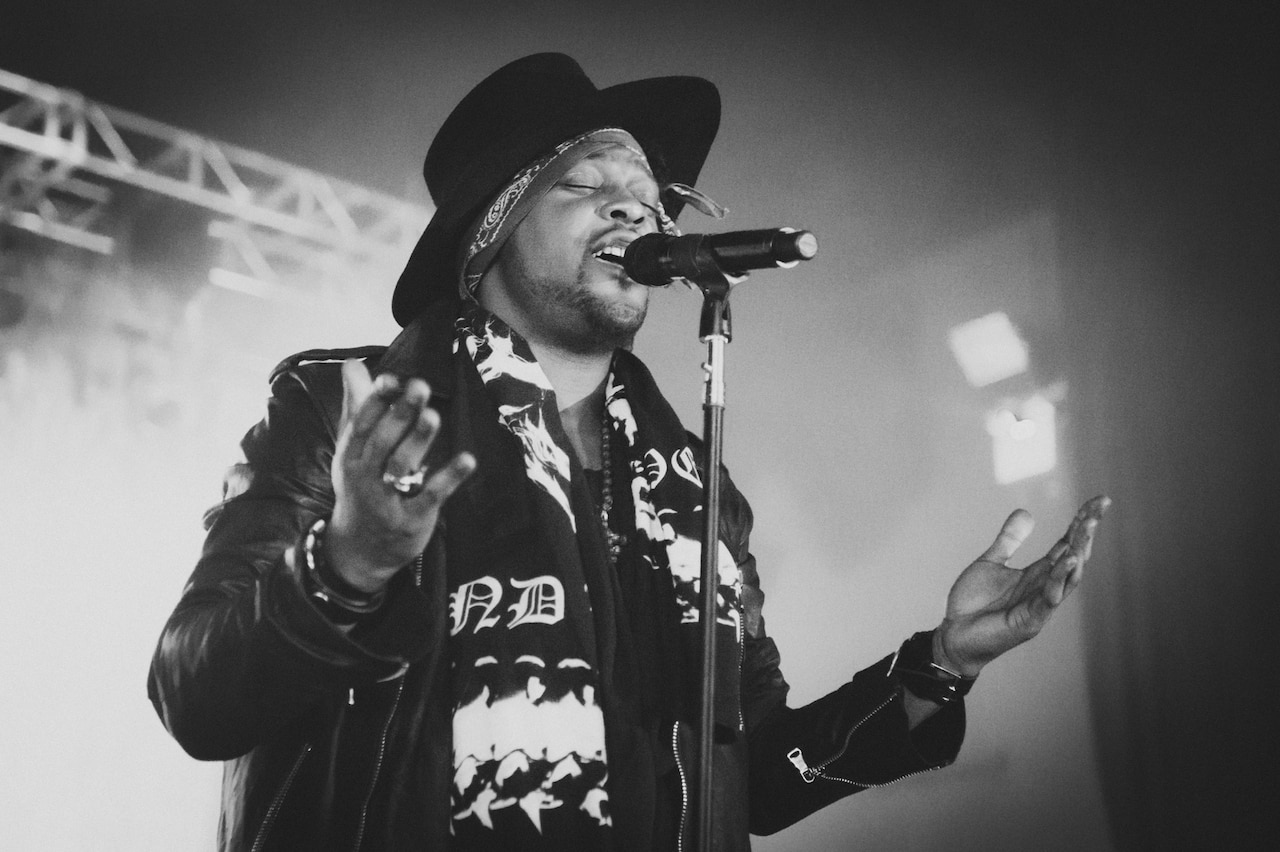 Black Messiah is an album that stands out for its multifaceted approach to both subject matter and production work. Take me through your writing process for the eight songs you co-wrote with D'Angelo for the album.
Kendra Foster
In places where melodies already existed and there were no lyrics, he would hum the melody, and once he decided what the song's subject matter consisted of, I would try to see what words would fit and how they would sound with his singing voice. I'd ask myself how these words would ring with his voice. Quite frankly, my process, especially with this project, I felt like I was channeling, because once I got started and sat down to dedicate myself to this situation, ideas would hit me like a lightning bolt. That is how I knew it wasn't me. It was the Almighty using me.
When we got in the same room, I wondered how I was going to deal because it's almost manic when I write songs. The information was coming to me so fast that I was shaking, running around getting coffee and water refills. [laughs] Naturally, I became calmer when someone else was around. If I'm alone, it really does become an electric thing. When the great ideas come, I try to keep them going. Sometimes the inspiration came from a documentary that sparked something in D'Angelo or something we read or a song we were listening to. The beauty of writing with him on this project was the fact I didn't have to write songs like I was writing them for someone else. Aside from taking his direction, I was just able to write how I write, although I had to remember that I was writing for a man. [laughs] The English language is interesting due to where consonants stop the flow of a note and how vowels open them up. A lot of times I would experiment both lyrically and melodically. It was really magical when D and I were writing together.
Some of the songs were already started before I met D. I'd say that I "filled-in-the-blanks" lyrically and sometimes melodically like on "Sugah Daddy," "It Ain't that Easy," "1000 Deaths," "Really Love," and "The Door."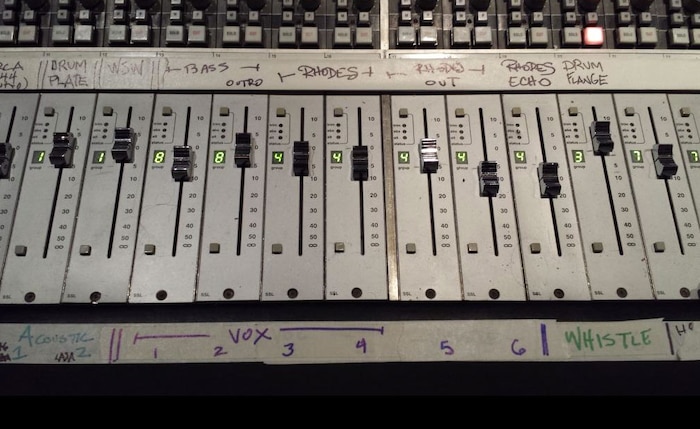 How did D'Angelo and you collaborate on ideas for "The Charade"?
Kendra Foster
"The Charade" is a special song. In 2011, we wrote it, and black men were getting shot down then, but it wasn't making news. It wasn't just about folks getting killed left and right, but other stuff like how you couldn't get a cab and even though you go above and beyond to get all these degrees, you're still not chosen for the job. When we were writing it, I came up with this melody, and after he approved the melody, I went ahead and wrote on the track. I almost wrote an entire song because sometimes I move really fast. When I called him and left the entire song on his voicemail, he called me back and said, "Something came to me." It was an additional melody that we ended up using. It was the line, "All we wanted was a chance to talk." I said to him, "Oh. That's where you want to go with it. OK. This is going to be a revolutionary song. Alright then!" [laughs]
As we began, he was checking out James Baldwin and watching a documentary on Fran Lebowitz where they talked about Baldwin quite a bit. Also, D was checking out Dorothy Parker as well. She was so clever, witty, and biting with her words. Another thing was how well James Baldwin would describe the black experience in America and anywhere in the Diaspora. D said he wanted to write a song in the way James Baldwin would say it, but through Dorothy Parker's voice. I told him I appreciated these type of brain challenges, because not only was I dealing with a beautiful piece of music before we started dealing with the words, but it was a cause that I wanted to champion by addressing the oppression and injustice black people were still facing in this country. We wanted to put it as eloquently as possible. We wanted to communicate it in a way that was so clever that it cut through. D's inspiration for the song's bridge came from a Dr. Martin Luther King, Jr. speech. I'm very proud of this song.
What about "Till It's Done (Tutu)"?
Kendra Foster
That's another special one. I remember when he gave me this track. It was so beautiful that it intimidated me a little bit. This one was fresh off the press as well. He was open to suggestions for melodies on this song. I came up with the initial melody, and that's all I could come up with for a long time. I would try to come up with melodies and sing a whole bunch of stuff, but I could not crack the code on this one. I didn't want to do just anything because the song was so pretty. He hadn't come up with anything on it, either. I told him maybe we should just make this one an instrumental. He was like, "Yeah. OK." [laughs]
He called me after the Sandy Hook tragedy happened, maybe a whole year later. He asked me, "Did you hear about this?" Shortly thereafter, another melody came to me and so did the words. The words came immediately to me right after the melody... "In a world where we all circle the fiery sun." Then he wrote that awesome verse on carbon pollution. We were trying to speak about the human community on this song. There comes a point when you have to realize that we're all human beings. We all are asking questions about life.
And "Another Life"?
Kendra Foster
When he played me the track for "Another Life," I was blown away. I thought it was so pretty. He said to me, "What I'm thinking is I'd like to put some beautiful language on this record like Thom Bell and Linda Creed used to do." He wanted to find a beautiful way to put his mack down! He said, "Please keep the lyrics beautiful, but please remember that I'm a man." [laughs] The both of us went back and forth on the lyrics on this one. It was beautifully brain crunching to do this project. For me, I never completed college, so Black Messiah was like my Master's and Ph.D. It was so beautiful to see how it was received in the same spirit that it was created by. I really appreciate him giving me the opportunity to write on this great project and being open to my artistry. He is such a brilliant lyricist and artist.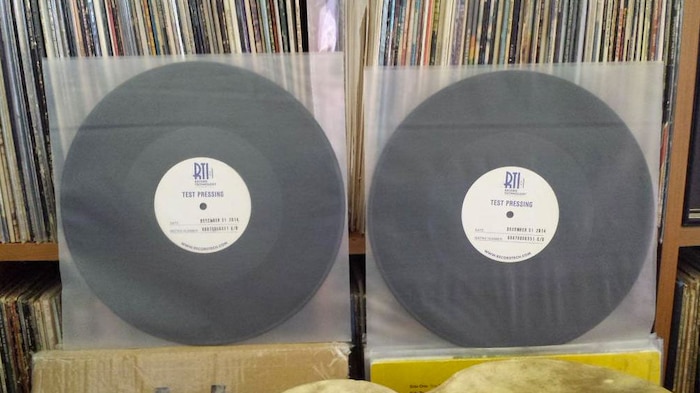 This album was recorded in all analog. What was your approach as engineers in tag-teaming on the timing and structuring of the sound quality for each record?
Russell Elevado
One of the main ingredients was that everything hit the tape at one point or another. When we had a drummer in, we would record everything straight to tape. Any jams with two or more people were always recorded to tape. All of D'Angelo's vocals were recorded to tape. He doesn't record on anything but tape. He does all of his own vocals. He sits there with the tape machine and the remote, and he does his own punching and everything. He uses a lot of vari-speeding like George Clinton and Prince used to do to change the texture of their voices to make it sound deeper or high pitched. No plug-ins were used on the record at all. I've got all the real things that the plug-ins are trying to emulate, so why would I use a digital copy of it? [laughs]
Also, I was mixing as we were going along. At a certain point, midway through the creation of a song, it would pretty much be mix mode from then on. I would be mixing drums as we went along. Eventually, the drums would stay where they were as far as the sound of it. As we did more overdubs, I would mix those in. So it was pretty much a virtual mixing process up until the end. Also, another thing, we didn't mix anything inside the box. Everything was coming up on the console. There are very few records these days that are being mixed off a board like they used to do. This was a big thing, too.
Beside the 14 year gap between Voodoo and Black Messiah, what were some of the similarities and differences in the recording process for these two classic albums?
Russell Elevado
One major difference between those two records is with Black Messiah about 70 percent wasn't done quite as live as Voodoo. We did a lot of live takes, but as far as initial collaborations, there were a lot of solitary times where it would just be D'Angelo and I. So that was a major difference. We didn't have a drummer, bass, and guitar player coming in every day. For Voodoo, there were times where we would be alone, but there would also be jam sessions for an entire month. With Black Messiah it was just D, Ben [Kane], and me, except for the last few years of the record when he started to jam in studio again. There was a lot of experimenting on his own, whereas Voodoo was very collaborative.
D wanted to introduce the gospel quartet element that comes from church culture.
What was different about your mixing process for Voodoo and Black Messiah?
Russell Elevado
I was able to stretch out more as far as using effects and reverb. We definitely went for a certain sound for Voodoo that was mostly dry, barely any reverbs and delays. We didn't stray too far away from that. By midway through, I knew, when it came time to mix Voodoo, I wouldn't do as much processing on the drums versus Black Messiah, where there was tons of processing on the drums with compression and reverbs. I was thinking more on the rock and roll side as well, where the drums could be more of an open sound versus a tight Al Green sound. There were major differences in that as well as treating D'Angelo's vocals. There were a lot more reverbs, echoes, and processing effects on his vocals like chorusing and running it through a Leslie cabinet. It was definitely more varied on the engineering side for me on Black Messiah.
How was the collaboration process between you, D'Angelo, and the backing vocalists during the creation of the album?
Ben Kane
A lot of the backing vocals on the record were done by D. The backing vocalists did appear on a couple of songs on the record. They're an amazing group: Ahrel, Jermaine, and Kendra. Kendra also sings on "The Charade." We would build on their vocals a lot. He's a hands-on producer. He knows what he wants, too, but he leaves enough room for people to be themselves. He always has the bigger picture in his mind of where he wants to go.
Kendra Foster
It was a blessing working with such great background vocalists like Jermaine Holmes, Ahrel Lumzy, and Charles Middleton as well. These guys come from quartet legacies and that's another element on the album. D wanted to introduce the gospel quartet element that comes from church culture. Also, they're all cousins. When you're related, your voices tend to blend well. They have these wonderful, beautiful textures to their voices.
When was the last time someone of his stature came out with a political record? No one is talking about any social issues.
Were there any extra songs cut from the album that didn't appear on it?
Russell Elevado
Yeah. There were a ton of songs, actually. Originally, he wanted 14 songs on the album. There were a few songs that were pretty close to being done, but they didn't make it on the album. Probably five or six songs that were close. I'm pretty sure he is going to finish those in some form or another.
Ben Kane
And there are probably fifty songs in the archives that popped their heads up at different times, so there is no shortage of music. This album combined some things that had been around for a while like "Really Love" and some things that were newer. I think his future projects may have that, too. He can come up with amazing songs pretty quickly.
As you look back from the beginning to the end of making the record, how do feel about the potential impact the album will have on popular culture, and how it can lead to a resurgence in authenticity from more artists in not just R&B music, but music, period?
Russell Elevado
I secretly have higher hopes for the record than maybe people would imagine or think. I hope enough people will hear about it and take a listen to the album. Hopefully, it will open some doors, so record labels want to sign more artists who have a higher musical level. I want to bring back that type of quality songwriting and the production of real record making, where when you buy an album, you want to listen to the whole album. You know, bring back the soul of music and make it appreciated again. People take music for granted these days. We can stream everything for free, so people have lost the value of music. Disposable music, cheap music you won't remember three years later. And when was the last time someone of his stature came out with a political record? No one is talking about any social issues. Let's bring that back, too.
Ben Kane
I hope it does have that impact. I think the music that is on Black Messiah really comes from a pure place of creativity that isn't constrained. It comes from a pure place, whether that's a divine place, as many people who played on this album would say, or a place in your soul. I guess, either way, it gets a little bit spiritual. I think there's been a big dumbing down of music in all genres, and it's a result of the corporate mentality that the major labels have taken with their corporate radio allies. I think they've driven music into a less creative direction because it's easier for them to do so. The same kind of political fight that the lyrics on this album touch on, they are relevant to that fight for musical freedom and being able to break out from these money-driven aesthetics in music. I hope when people hear this album, it paves its own path for others to follow.
Header image © Drew Gurian