Detroit Electronic Music Festival - The First Year
"It's damn near Woodstock for raves," an excited NYC-Raver posted when the lineup for the first Coachella Festival (October 9 and 10, 1999), in Indio, California, went live. Coachella featured reliable names like Beck, Rage Against the Machine, and Tool. But the undercard had little in common with the headliners. Roughly two-thirds of the first Coachella lineup was, nominally or overtly, "electronic," including the Chemical Brothers, Underworld, Moby, Juan Atkins, Derrick May, Kevin Saunderson, Richie Hawtin

View all , and BT.

Coachella helped clarify something in the air: European-style festivals were finally taking root in America. "It was brewing," says Rob Theakston, then label manager for Carl Craig's label Planet E. In fact, even while he was playing Coachella, Craig was quietly talking with Detroit officials about doing something similar in his home city's downtown – at Hart Plaza, a large open space right on the Detroit River.

The idea had developed out of the ashes of 1994's World Party, a disastrous event (about a thousand people showed up to Joe Louis Arena, which holds twenty times that many) organized by Carol Marvin. She still believed a showcase for local dance talent could be an international draw, and she started talking to Derrick May. "She tried to convince me [to] let her find somebody with money to back one of the old factory buildings here for Ford Motor Company," he says. "Over the top, totally ridiculous. But I was able to sway her from that to talk about some other opportunities."
The idea eventually reached [Detroit] Mayor Dennis Archer; [Carl] Craig nearly missed the meeting after [Rob] Theakston forgot to remind him of it.
One of them was a real-deal festival – not a rave – showcasing the city's homegrown DJ talent, an idea that had been kicking around Techno Boulevard's inner circle for years. "Derrick May, Carl Craig, Kenny Larkin, and I had an organization called CK DJ," says Kevin Saunderson. "It was meant to throw events, put out records, [and] one of those meetings was about a festival at Hart Plaza." But the inner circle was scattered around the world at any given time. "It was a community idea," says Craig. "Everybody wanted to see it happen – [but] Derrick and I had been more productive about discussing it. And then he brought in Carol." Saunderson recalls Marvin attending one of the meetings: "Derrick was like, 'She's connected. She can get sponsors.' But no progression happened from that meeting for a year, year and a half."
May got out before Marvin lined anything up – but she kept pushing on her own. The Detroit Electronic Music Festival (DEMF) was becoming Marvin's cause when she approached Craig. "They had a feel for how one another worked, for how well they would work together," says Theakston. "They had a good rapport." Marvin owned a PR company, Pop Culture Media; she had local government connections. In 1999, the idea was kicked upstairs, eventually reaching Mayor Dennis Archer; Craig nearly missed the meeting after Theakston forgot to remind him of it.
"I felt assured after the meeting," says Craig. "I knew we were going to make it happen." He and Marvin summoned Joshua Glazer, the Real Detroit Weekly's dance music columnist, who also booked the Hamtramck nightclub Motor. This was strategic, says Theakston: "If the city backfired, it wouldn't be because of us. Putting all this information out there forced their hand." Craig and Marvin told Glazer: "We signed the contracts with the city yesterday. You're going to break the story in next week's issue."
Carl Craig wanted to have families come down that normally wouldn't go to an electronic music concert.
Craig's far-flung contacts came in handy when staging the first DEMF. "Carl was calling people in his Rolodex going, 'I need to work around your booking agents. I'm cashing in my chips,'" says Hobey Echlin. Craig's old friend Jonah Sharp (Spacetime Continuum) recalls picking up the phone and hearing: "Dude, showtime!" Another personal call went to Questlove (Ahmir Thompson), drummer-leader of hip-hop band the Roots. "Carl was adamant of the Roots playing there," says Questlove. "I was a little thrown off because I was a little worried that we would be the oddball out. I knew it wasn't a hip-hop crowd." Nevertheless, Thompson agreed. "[Craig] wanted a really good balance," says Theakston. "He wanted to have families come down that normally wouldn't go to an electronic music concert: 'Well, Mos Def – or the Roots – is playing for free down in Hart Plaza.'"
There was still a lot of skepticism from the locals. "Carl went through a lot of criticism and a lot of heat to do the DEMF," says Theakston. "But he also knew the reward if it was a success." Rita Sayegh, a local designer who'd done work for Planet E, was tapped to film a documentary: "Part of us didn't think this festival would actually happen. There were names we thought, 'My God, how is he going to get them here?'"
Craig and Marvin were mooting a deal with the city to put on DEMF for three years. If a performer wasn't booked in 2000, they figured, there was always 2001 or 2002. "Carl never saw this as just a one-off thing," says Theakston. "When you're trying to do something of that magnitude, trying to have a diverse lineup, someone's going to be left out, and someone's feelings are going to be hurt." When Robert Hood wasn't invited, he says, "I remember feeling like, 'Wow – this ain't cool.' I got past it, because it made me realize, 'You're stronger than this. Deal with it and move on.' But it left a bitter taste." Alan Oldham aired his feelings on the matter publicly, telling an interviewer: "It's plain to see how I'm regarded by the people in charge of the festival, and we all know who's in charge of it."
"DETROIT ELECTRONIC MUSIC FESTIVAL," blared the entrance to Hart Plaza, through a series of cutout letters over television sets showing static. Walk past them and there were five stages, all pumping out a more or less continuous assortment of house, techno, breakbeats fast and slow, and more. Most of the lineup were locals who'd played plenty in their hometown, but not usually for the general public.
The question Saturday afternoon: What general public? "Hart Plaza is quite a large area," says Sayegh. "You can have hundreds of people there and they can all be different places and you wouldn't really fill the place up." "Because it was a free, open festival, for the first few hours [it was] just homeless people," says Glazer. Gazing from the main stage during Spacetime Continuum's afternoon set, Jonah Sharp counted fifty punters: "It was really weird and empty." The festival itself, though, was a welcome change from the gold rush mentality Sharp had watched creep over U.S. dance music; even with a sparse crowd, this was more like it.
By the afternoon, the gaps at Hart Plaza were filling in – noticeably so. "The paper had been doing coverage on it in various degrees every single day leading up to it," says Ozias. "Half the people there had friends or relatives that were involved in it."
"That was a huge thing for nearly every veteran that played that festival," says Theakston. "At that point, a lot of the producers' and DJs' families didn't understand what they were doing. Having this happen in their own backyard, where their families could come down, was a momentous thing for a lot of people. It was a huge point of pride. One DJ-producer who's been around forever, Delano Smith, actually hired a limousine to bring his family down, and gave them the five-star treatment. This was a validation for him."
Ozias had left Hart Plaza that afternoon to pick up Josh Wink – Motor's headliner that night – from the airport; Wink wanted to see the festival, so back they drove. "My friend comes running up to me: 'Oh my God! Have you seen it?' And she grabs my hand and she takes me over to the steps that lead to the main stage. Little by little I see that in two hours, this thing had turned into a solid sea of people all across the way. I get chills just remembering that moment."
"It takes a lot of people to fill it," says Sayegh. "You think it'll be the Detroiters, or supporters of electronic music in the area. You never think that it's going to be the variety of people I remember seeing." Black inner-city Detroit had turned out; white suburban metro Detroit turned out; European diehards who spent their free time fussing over Detroit matrix numbers on 313 turned out; people from all over the I-94 strip looking for the next killer (free!) party turned out. Everyone turned out.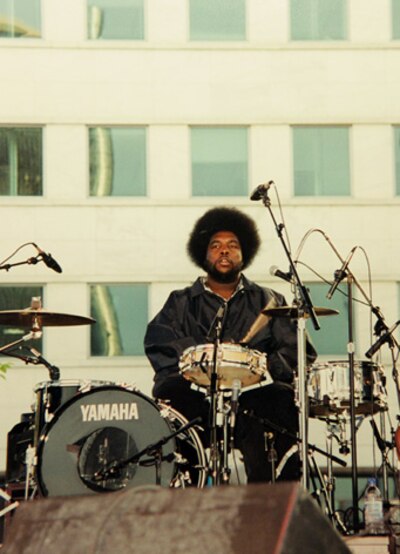 Most of the weekend's hip-hop was on day two, with Mayor Archer introducing Slum Village on the main stage. J Dilla – then known as Jay Dee – hung with dance as well as hip-hop producers, and remixed acts for Planet E. He also hipped Questlove to the Thomas Bangalter twelve-inches on Roulé he was sampling, turning Quest into a Daft Punk fan.
"The stage was set up weird – not a place that was ready for a band," says Questlove. Instead of a staircase, he had to step on a plastic milk crate to get onstage. "At the time, I was dangerously obese – about 420 pounds. I took one step on the milk crate and my foot went right through it. It went three inches into [my leg]. When you get stabbed you don't try to yank it out" – but he did. Then he got on the riser and played a two-hour set with blood pouring from his right leg. "Because of the adrenaline, it was painless. And of course, being mortified in front of thousands of people – and my idol, Dilla – I played it off like I wasn't hurt." When they finished, Questlove forewent a hospital visit because Dilla wanted to play him a new remix. "He said, 'What about your leg?'" That summer, the drummer began a diet, eventually shedding 150 pounds.
Not everyone felt as welcome as they might at the festival. Juan Atkins didn't show up for his 4 P.M. Memorial Day slot – which he admits was a silent protest at his place on the schedule: "I felt like I had a lot to do with the creation of this whole sound. Why would you have me playing in the afternoon? I got there at the time I thought I should have been there" – e.g., prime time. Dan Bell, who'd missed Sunday due to faulty equipment, filled in.
Watching Derrick May play at 7 PM from behind on that day were Craig and Hawtin – Carl expectant but utterly at home, Richie's hands stuffed into his black Windbreaker, rocking on his heels. He was the weekend's final performer. "Rich was fucking terrified," says Theakston, who'd asked if he needed anything and waited ten seconds for a response. "He was so in his head about everything. He was polite, but he was so focused."
Theakston watched Hawtin's hands shake as he dropped the needle on his first selection. "The weight he must have carried for this – it was an unenviable position," says Theakston. "He couldn't win, in some ways – [it's] synonymous with race relations over the decades in Detroit." He opened with Vapourspace's "Gravitational Arch of 10," a record he'd put out but not made, a Detroit-identified track from somewhere else that went out to the world, from a time when people thought techno might stand a fighting chance at commercial success in America – an era, however recent, that now seemed as far away as the Music Institute.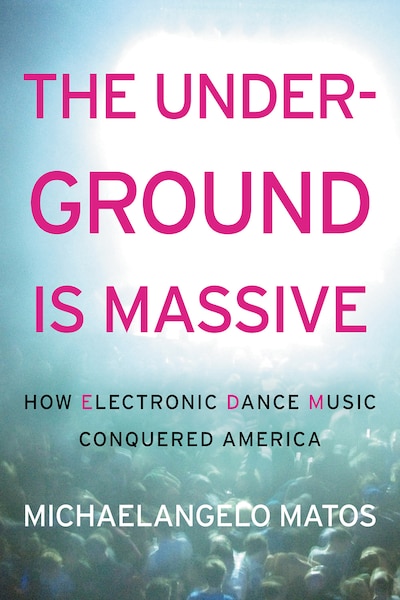 But Hawtin was also reaching back to the MI itself. He'd promoted Consumed with live dates that advertised him on "tables/909 - fx/synth/controls," a hybrid recalling old-school Chicago-Detroit methodology, and rediscovered himself as a DJ in the process. In November 1999, he issued Decks, EFX & 909, a sizzling DJ-mix CD that stands as one of techno's strongest officially released sets. That was the setup, and spirit, Hawtin brought to the first DEMF. "He was phenomenal," says Theakston. "He had Carl and Kenny Larkin dancing. It felt like being in the locker room of a team that just won the Stanley Cup. Everyone was just hugging each other."
Backstage, Theakston got numbers backstage from a city official. The final estimated three-day total, he learned, was nine hundred thousand. That estimate would keep rising, unrealistically, to over a million. But everything felt possible right then. DEEE-TROIT! DEEE-TROIT! chanted the crowd. "It was dark out," says Glazer, "but I had my sunglasses on because I didn't want people seeing me get teary-eyed."

Header image courtesy of Tim Price

From the book THE UNDERGROUND IS MASSIVE by Michaelangelo Matos. Copyright 2015 by Michaelangelo Matos. Reprinted by permission of Dey Street Books, an Imprint of HarperCollins Publishers