DJ Screw: A Fast Life In Slow Motion
Screw said, "All y'all out there crumbsnatching. If your name's Joe, that's a Joe tape. If your name's Mike, that's a DJ Mike tape. If your name Paul, then that's a Paul tape. My name is Screw." It's not a Screwtape unless Screw did it.
In the early 1990s, a teenager named Robert Earl Davis Jr. pioneered the DJ style known as "screwed and chopped" in a small apartment on the Southside of Houston, Texas. His friends already called him DJ Screw back then, but the world hadn't yet learned about the quiet dude with the flat top and that big sound. Just a couple of years later, his music would become impossible to ignore around Houston. Over the next decade, Screw mixed and record hundreds of "Screwtapes" with dozens of collaborators, birthing a legacy that would continue to grow long after his death in November 2000.
Screw's influence spread first through hip hop, fueling the Houston rap juggernaut of 2005 (when the city's rap game reached heights unseen since Geto Boys broke in 1991), and has now stretched around the world. Contemporary rappers like Drake and A$AP Rocky have adapted the Houston sound into their own, bringing it to an even wider audience, and the term "screw" has been co-opted to describe any kind of music that has been slowed from its original speed.
The techniques are no longer confined to hip hop, having now been applied to everything from country music to cumbia, even spilling over into the mainstream to adorn the works of pop giants like Justin Bieber and Lady Gaga. Screw's tree is alive and well, even if it's grown branches that no longer recognize the trunk.
Part of the reason is that most slowed and chopped records are processed digitally now. Screw didn't even use compact discs. There were no computers involved. The warmth of vinyl records was central to the frequency he carved out, as was the depth of the sound he got by recording to tape. And then there was the live aspect of it, the unwritten part.
Screw would have two copies of the same record spinning on the turntables, one playing just behind the other, and he'd "chop" back and forth between them with his crossfader at moments he wanted to bring out; scratching and running records back to repeat phrases and double up beats, sometimes dragging a finger alongside the wheel to give it a warble. He had his fader set to Hamster style, the reverse of most turntable setups, so that he could make quicker stabs between the discs.
This would all be recorded live to tape, with Screw knowing exactly how long he could record for and still stretch it out to fill one side of a 100-minute Maxell gray cassette. Then, he'd run that recording back through the tape deck, slowing it down with the four-track's pitch control and taking the tape down another generation. The waves of the music were buried into the natural rattle of the cassette, and that was where Screw found his frequency.
"The technology we have today makes it real simple," said Lil' Randy, a DJ who appeared on numerous Screwtapes and still implements the same vinyl to tape methods as Screw. "They doin' it now because of Serato, and all these other programs that they got that tell you the beat count. But doin' a blend? Screw was doin' that straight off his own mind. There was no machine that was showin' him how to do it. The turntable didn't have a beat counter on it. Nothing had a beat counter on it. He was just actually listening to the song through his headphones and hearing a beat count in his mind. There was no such thing as BPM to him."
Screw towed a whole swarm of analog sound with him into a new dimension: where you could hear the music being torn apart as it rushed by, where you could count the letters of every word being spoken like they were being spoken to you. The storytelling came alive, and the vibration beneath it was built from a vast library of hip hop, funk, soul, reggae and R&B records that Screw would rope together and drag down to the same level, no matter the origin of the sound.
Hip hop reigned in his playlists, particularly 2Pac, but he wove anything he liked into the tapestry, and an entire generation of rappers grew up accustomed to hearing their voices slowed down more often than regular speed. Their rhythmic sensibilities couldn't help but be influenced: you can hear it in the styles of Screwtape regulars like Fat Pat, Lil' Keke, Hawk, E.S.G., Big Pokey, and Big Moe. Screw moved the beats around like a drummer, and the voices of the rappers that freestyled on his tapes shifted with it, consciously or not. Everything followed his hands.
That sound came from their neighborhood. South Park was the epicenter. Before there was DJ Screw, there was Darryl Scott, who was spinning records in the Southside nightclubs of Houston club mogul Ray Barnett in the late '70s and early '80s while everybody banged his mixtapes. Scott's tapes were heavy on funk rather than rap: Cameo, Freedom, and The Gap Band. He numbered his releases and, in a precursor to Screw's personal tapes, would sometimes release them to a certain few before running off copies to sell at the car wash and MacGregor Park – where he was all too happy to take your $20 over that guy's $10 if the line was long enough. The tapes were their own hustle.
Scott's mixes 8 On The Double and 33½ included the two basic elements for what would become screwed and chopped music: doubled beats and records slowed from 45 to 33. The earliest cuts he slowed in the clubs were Mantronix's "Fresh Is The Word" (1985) and Laid Back's "White Horse" (1983) – accidentally at first, and then intentionally when he saw the crowd was feeling it. He put those slowed tracks on one tape, and the doubling (chopping) on another, but not combined.
In 1984, Scott opened Blast Records & Tapes on MLK Boulevard in South Park. A young DJ Screw would end up hanging out there years later, around the same time as a protégé of Scott's named Michael Price, a party DJ who was a wild enthusiast of 33½. Screw's name comes from his cousin Shorty Mac, but the genre actually gets its name from two different places.
The legend has it that Price was out on Calumet Street in Third Ward one night, blasting one of Scott's tapes, when the batteries in his boombox started to fail. As it was when Scott had his records going the wrong speed in the club, the party on the street was into it – and so was Price, who went home and rigged his tape player with a screw to slow down the motor. That was how Price slowed down his party.
"I tried to show him how to slow it down with the voltage regulator," Scott says of working with Price. "It slowed it down, but it didn't slow it down to his pace. All I could do was slow it down to an 8, and that was based on the little CD player and 4-track that I had. I would slow it down to that, and that wasn't slow enough for 'em. They wanted it just draggin'."
Screw's name came not from slowing his records down, but from scratching them up. Shorty Mac dubbed him "DJ Screw" after watching a young Robert Earl use a screw to scratch through the grooves of songs he didn't like. This was back in Smithville, a town of about 3,000 on the Colorado River in Central Texas, where Screw grew up with his mother Ida and older sister Michelle.
It was his mother's blues records that he would first put under the needle and drag with his hands, later wiring a primitive fader between the stereo and a borrowed turntable. He and Shorty Mac would set a cassette recorder in front of the speakers and lay on the floor talking into it while records played. This was in the mid-1980s. These were Screw's first tapes.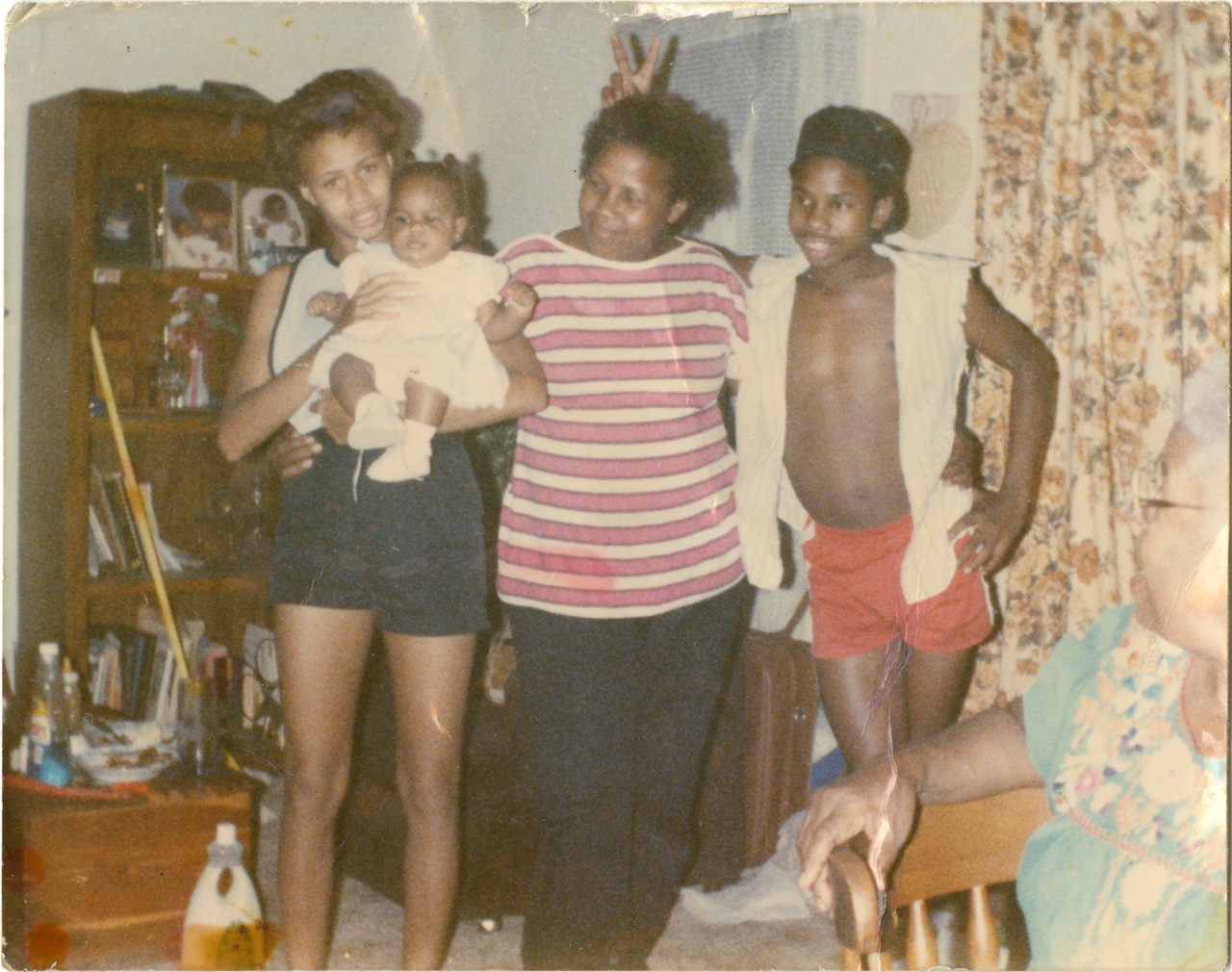 Screw left Smithville early one morning. Shorty Mac came over to see him, and Screw's mother told him he had gone to Houston to live with his father because he couldn't pay child support. Shorty Mac and Screw were separated. Years later, he saw the move as necessary for Robert Earl to become Screw, but it would always be the moment when his childhood was ripped apart. For Screw, it was when he entered the world in which – for many – his story begins.
Screw met Albert Driver at Sterling High School in South Park, the same high school as future Houston rap stars Fat Pat, Hawk, Corey Blount, K-Rino, Lil' Troy, and DJ Chill. Screw was living with his father in the Quail Meadows apartment complex just south of Hobby Airport, and would work with his turntables while his dad worked nights driving trucks. Driver would make Screw laugh so hard in class that he would cry. Screw would come over to Driver's house when he didn't have anything to eat, and Driver's mother would feed him. Driver would walk miles from his house in South Park to see Screw, who started calling him his little brother.
"Me and Screw both got kicked out of Sterling," said Driver, a.k.a. Al-D The Lion. "Screw got caught with some weed, and he never went back. He started working at Rice Market, sellin' five or six tapes a week, and living off those tapes. He was hustling a little bit, and had a connect at the store so he could get groceries for free. He didn't have nobody. He raised himself. All he had was the hood, and they made sure he was okay, everybody from Quail Meadows."
This is where Screw's first real crew formed: at Quail Meadows. Pop from 3-4 Action was ones of those close to him there. Another was Toe, who was the first to offer to pay Screw for one of those tapes he was making. People heard about that and started asking for their own. Screw told them to bring him lists. Then those lists filled a shoebox, and Screw started working around the clock.
The first tapes he slowed down appeared in 1990. Darryl Scott taught him about tape pauses. He picked up new tools, like 4-track recorders. He was DJing around town, eventually in the nightclubs of the late Houston club mogul Ray Barnett, a run of gigs that sharpened his skills, but weren't paying well enough to keep Screw out of his bedroom making tapes.
Once Screw started slowing his tapes down, hustlers from Quail Meadows started pushing that sound into the streets. "It was a bunch of dope dealers," said Al-D. "A bunch of hustlers, pushin' Screw's music in their fuckin' cars. When Screw started slowin' the music down, them ni***s was jammin' that shit, all of them had bangers and shit, slabs with swangers and candy paint, comin' down — they were the first ones. Everybody say, 'What the fuck are they jammin'?'"
The area referred to in the Houston rap world as "Southside" encompasses a region south of Third Ward between Highway 45 and Highway 288, all the way down to Missouri City. It includes the neighborhoods of South Park, Sunnyside, Cloverland, Herschelwood, Dead End, South Acres, Long Drive, Hiram Clarke, and Yellowstone — some of which aren't formal neighborhoods you'd find on a map, but are hoods all the same. DJ Screw is associated with South Park because the Screw shop was located there, but that's not where Screwtapes were made. The majority of Screwtapes were actually recorded east of the Southside, in the neighborhood of Golfcrest, just north of Hobby Airport.
"Screw was stayin' with his dad at Broadway Square when we met him," said Will-Lean of Botany Boys, a group from Cloverland that would become an early part of the Screwed Up Click. "It was 1991. DJ Chill used to leave his turntables and his fader, and that's when we started hookin' the mic up to the fader, doin' our freestyles. And I'm talkin' about man, we out here doin' grown n***a shit, but we were kids."
It was at Broadway Square that Screw's tapes really began to heat up. He was sharing equipment with DJ Chill and Michael Price (who was murdered before he would see the genre he helped found come to life) for DJ gigs, and more people were bringing him lists, knocking on his window at all hours. He would mix them together as listed, and page them when they were done. Screw was hustling up a sound, a mystique, and a steady flow of income all his own.
Then came the rappers.
There remains a smoldering legend that Screwtapes only ever made it to the Northside of town because somebody jacked a car from the Southside with a Screwtape still in the deck.
By all accounts, C-Note of the Botany Boys was the first to appear on a Screwtape, with Fat Pat close behind. A whole host of rappers followed. Botany Boys Will-Lean, D-Red, the late B.G. Gator. Lil' Keke and Fat Pat's brother Big Hawk were all there early, as were so many more. There was a lot of traffic. The landlord at the apartment complex wasn't happy, and the last landlord hadn't been happy. They'd already had to move a couple of times before. So Screw and his longtime girlfriend Nikki Williams moved out of the complex and to a one-story house further north in Golfcrest, on Greenstone Street. Screw was 22 years old.
On Greenstone, the recording sessions could last all night. The rappers coming around to freestyle on the tapes were sending their voices right back out into the neighborhoods they were from, and people started lining up to buy tapes. The freestyles gave a live, unfiltered look into the culture that was developing around them all, and it was coming off the top of their heads. Everything was of the moment. They were saying the names of streets people drove down, places they drove by, places they stopped, and people they knew.
Not all of the voices on the tapes were those of rappers, but the culture was way more than just rap. Car culture was huge in Houston because you have to drive everywhere to get anywhere, and public transportation has long been a black hole in Houston where you can get lost for hours traveling across town. So everyone just drives instead. And when they drove, they drove customized cars with candy paint ("slabs") and listened to DJ Screw. But this was mostly on the Southside. There remains a smoldering legend that Screwtapes only ever made it to the Northside of town because somebody jacked a car from the Southside with a Screwtape still in the deck.
Regardless of which side of town, the sonic texture of Screw's sound was like the air in Houston: reflecting the heat, radiating the humidity and celebrating the slowness of moving through the long Houston streets, where it feels like sometimes you're driving forever. DJ Screw had created the perfect soundtrack for dealing with driving in Houston: make the music that sounds like how Houston feels.
"There's a rhythm and a tempo to that music that just sets you off a different way," said C-Note. "He'd get into his zone and he'd know what song or what beats he wanted to play. If you listen to all those freestyles, he was into it. If he let you flow for this long, you flow for this long. He ain't say pass the mic or nothin'. You ain't have to be the best rapper. He embraced everybody and gave everybody a chance to be who they was. You get on there and do your thing even if you messin' up. That record still gonna spin, man. He would just put on another beat and keep goin'."
With more people coming around to rap and buy tapes (sometimes both) came new things introduced. During that first year on Greenstone, Syrup (AKA Drank, Lean, Codeine Promethazine) arrived in Screw's world. Recreational use of cough syrup had been a Houston thing for decades – Houston bluesmen drank it decades earlier with beer in the same neighborhoods the rappers would come out of – but once it was adapted into the lifestyle being created live on the Screwtapes, the connection was inseparable. Make no mistake, though: the music came before the Drank.
"Once he moved on Greenstone," said Will-Lean of Botany Boys, "he had so much traffic people thought he was sellin' drugs. But he wasn't in that life. He did music. We didn't start drinkin' Syrup until like mid-1994. A lot of people think Screw slowed his music down because we drank Syrup. Wrong! We was drinkin' Olde English 40s, and he was chop, chop, tappin', tappin'."
Rappers tell stories of being locked in Screw's house for days. Screw would lock the bars around the front door and give the side eye to anyone trying to leave.
"The first time I ever drunk lean," said Shorty Mac, "we drunk it in Boones Farm Wild Island. It was about the middle of 1994. I went over there and Screw was like, 'I'm not gonna pressure you, but you wanna drank some Drank?' I thought we was gonna go get some liquor, 'cuz growin' up in the country in Smithville, we had a dude that had a store, and he used to let us get 40s after the store closed. But he would tell us we had to go home and sit in our own yard and drink 'em. When Screw came with that, I looked at it, and he was like, 'Man, you don't have to.' I drunk it!
"And at first I didn't really feel nothin', so I told Screw, I said, "Man, I'm fittin' to go back to Austin.' This chick I was messin' with had to be back that mornin'. So we was on our way back, and I decided to smoke me a blunt after I got past Katy. I got through Brookshire alright, but by the time I hit Sealy, it hit me. I pulled over on the side of the road, and she was like, 'What are you doin'?' I said, 'I ain't doin' nothin', but you gotta drive!' I went back two weeks after that and they were drinkin' it in soda."
In line with the effects of the codeine or not, perception of time was suspended at Screw's house. Rappers tell stories of being locked in Screw's house for days. Screw would lock the bars around the front door and give the side eye to anyone trying to leave. Plenty of them were current and former hustlers, and Screw was going to try and keep them out of the streets if he could. By the time Screw turned 23, his tapes had become an industry, and he worked hard to feed that industry. It made the rappers work that hard, too. They had a place where they could express themselves, take the tape back home that night, and then hear the tape in the streets. Their stories got out into the world from Screw's house.
Screw had his turntables set up in what was known as The Wood Room, with crates of records on the floor behind him and in front of the bed, with a clear demarcation set by Williams for anyone coming into that room to record. "There was a bed in that corner," she said. "Right in front of those closet doors, and our TV set was at the foot of the bed. People would come in, and there would be like ten of them, and I'd tell 'em, 'Y'all can sit anywhere you want to – don't sit on my bed while I'm asleep.' And I would sleep in the same room where they were makin' these tapes. I had been a part of that situation so long that today I can sleep through anything!"
"A session at Screw house consisted of this: drankin', smokin', and rankin'," said Mike-D, AKA Bosshog Corleone, a rapper from Third Ward whose brother Bamino runs South Park mainstay Bam's Auto & Detailing. "What we call rankin' is just us talkin' about each other, playin' The Dozens. We used to go on all day. And the thing about Hawk, Pat, and Screw, is that they may be talkin' about each other, but the minute you laugh at one of them too hard, you in the game now. As soon as you say somethin', they gon' be like, 'Oh what you talkin' bout?' They gonna get you in there, man. Real characters. Never a dull moment."
A microphone would be passed around the room while Screw stood at the turntables facing a wall full of posters, running instrumentals all night long while the rappers freestyled over the beats. Every once in a while, the mic would make it around to the turntables, and Screw would take it and walk you back through the room, telling you who was there with him, even if they weren't rapping – the Screwed Up Click was always made up of more than just rappers. There were people there for the music who were just there for the music.
And Screw never ran out of music. He had double copies of every record, and a dozen copies of Dr. Dre's The Chronic. It was with those multiple copies (he used four turntables on a couple of recordings) that Screw stretched out the experience of music for his ears; so he could hear the words being put down, and then he could move those parts around between one another, rewriting the song within its own structure.
He would often overlay one instrumental with another, perfectly on beat over the length of an entire song, crossing up the melodic and even emotional tones of disparate pieces of music – something he did famously in 1995 with Lil' Keke's "Pimp Tha Pen." Screw recorded everything straight to tape, and all of it, the music as well as the freestyling, was improvised.
"There never was no serious rappin' at Screw house," said Lil' Randy. "Probably ever blue moon there would be somebody, but for me, the first time I ever seen somebody with a pen and pad at Screw house was Big Hawk. I had never seen nobody write no song at Screw house. Everything was off the head. Even Screw. Most DJs now sit down and take days or weeks to do a mixtape, but Screw didn't do that. When you brought Screw your list, he mixed the song right then and then mixed the whole tape. It might take him a long time because of the tryin' to get high and the drankin' and messin' with the games – that's what made the tapes so long. Somebody might call him and say that Screw owed them from the last pool game, and he'll stop and go shoot that game, come back, and press the tape. I remember I was recordin' a tape and Screw done went in the back lookin' for a record and fell asleep back there! Biggie had just realized that first album, and we listened to that whole album while he was back there asleep. Screw ain't do nothin' fast."
What was moving fast, though, were the Screwtapes. A broadcast was making its way through the streets of Houston. For a lot of people, Screw was the radio. They heard rappers from their neighborhoods alongside Biggie and 2Pac, E-40, Ice Cube, and Screw's favorite rapper C-Bo. Houston knew about Cash Money in New Orleans because of Screw. He was the tastemaker for Houston. The voices of the Southside went through him. Like Darryl Scott, Steve Fournier, and RP Cola in the decade before him, Screw put the sound of Houston back into its streets.
"I was dozing off, and he said, 'Nikki! Come here, you gotta listen to this!' He had tears in his eyes... E.S.G. was the first to say Screw's name on a song, and that was so big."
And he kept everything street level. It was never about money for DJ Screw. His relationship with it was different from most folks. He barely wore any jewelry, and even that wasn't until much later. He wore Dickies every day of the year, and would clean out the local Fiesta in his size, taking day trips up to their outlet store up near Austin, stopping with Nikki in Smithville to stay with his mother on their way up. He was always sweating whether or not he'd be able to pay the bills, even when he started making money. Screw was cautious, but generous. If a friend was locked up, he'd make sure they had money in their commissary and encourage them to call him collect. He kept his people close.
"Screw was cool, but he wasn't cool with everybody," said Chris Ward, a rapper from Yellowstone who got involved with the Screwed Up Click in the late '90s. "He had a relationship with a lot of people that was deeper than the music. I'd see him somewhere and there'd always be a crowd of people around him. It'd be hard to get next to him sometimes, but he'd holler at you."
It may well have been that DJ Screw had an idea in his head about who he was going to have over at his house on certain nights. No matter who it was, though, they all coalesced around him. If guys came in there with a problem boiling between them, Screw made them either work it out, or leave. Everybody had to get along. That was what created the gumbo of voices. Fat Pat and Lil' Keke were at the top. Botany Boys, Big Hawk, Big Pokey, Big Moe: rappers felt blessed just to get their names out in the streets, and found themselves becoming stars. The music of the Screwed Up Click was growing far beyond the Screwtapes. It became a movement, and it drew in new faces, even some that were already established.
"Corey [Blount] brought this vinyl to Screw," Williams said. "They didn't tell him what it was, they just told him you gotta listen to it. That night, after he finished workin' on his tape, he played it. It was 'Swangin' And Bangin'.'
"I was layin' on the sofa, dozing off, and he said, 'Nikki! Come here, you gotta listen to this!' He had tears in his eyes; he was so geeked about this. 'Listen to this!' And I flipped out, too, because it was something different. It was something new. Scarface had made a reference to Screw, but he had never heard his name. Right then and there, E.S.G. had become an extended part of our family, and he didn't even know it yet. He was the first to say Screw's name on a song, and that was so big."
Louisiana transplant E.S.G. (Everyday Street Gangsta) would go on to freestyle on countless Screwtapes and, as he had done with other Houston artists, Screw would frequently mix "Swangin' And Bangin'" onto his tapes. Screw supported the city. The Geto Boys, South Park Coalition, Street Military, Convicts, OG Style, Port Arthur's UGK all appeared on Screwtapes. Houston rap veterans Mr. 3-2 and Big Mello became part of the Screwed Up Click. Voices from outside of Texas started to appear, like Bay Area rapper Spice 1. The idea was always for the sound to branch out. Screw told everybody he wanted to "screw the world."
The cars lining up outside of Screw's house every night were coming from outside of Texas, too. Screw sold tapes through his gate, with someone running inside to pull the tapes and people passing on handfuls of cash. He would make thousands of dollars in just a couple of hours, from 8 until 10 PM every night but Sundays.
They'd line up for hours ahead of time, with cars stretching for blocks through the neighborhood. After a while, the neighbors complained and the police got interested, kicking down Screw's door multiple times pointing flashlights around looking for drugs, and only ever turning up tapes. The record labels became interested, too – majors and independents – but for different reasons.
In 1995, Screw released his first official albums, 3 'N The Mornin' (Part One), 3 'N The Mornin' (Part Two), and Bigtyme Vol II All Screwed Up, on Russell Washington's Bigtyme Recordz, a staple of Southside landmark King's Flea Market. The albums were Screw's first releases outside of the homemade mixtapes, and the Bigtyme machine (who were also working with UGK, PSK-13 and Point Blank) helped bring him international attention. On the West Coast-flavored 3 'N The Mornin' (Part One), Screw mixed in an ultra-slowed version of Laid Back's 1983 hit "White Horse" for mentor Darryl Scott, who slowed the same track on 33½.
This was different money for Screw. He finally bought a car, and was helping out people around him. "Screw really had a village," said Williams. "There were some people that were really, really good to him, and good for him. Screw refused to buy shoes because he was that tight with his money. He was scared that if he spent $100 on shoes, then he wouldn't be able to pay this or he's scared that he won't be able to make it back. So Stick-1 made sure Screw had shoes. When he bought shoes, Screw had shoes."
Screwtapes were the currency, but they were just part of a larger economy of cottage industries in the culture growing around Screw. A guy working at the Sam's Club on Interstate 610 would purchase blocks of blank tapes and then bring them to Screw's house to be reimbursed. Screw and Nikki called him "610." A young DJ Red learned how to fix people's Screwtapes when they broke, making himself a dub each time. Ike would spray the cars in his shop with candy paint (Southside red mixed with metallic powder to make it look wet), Big Jut the barber would cut the Southside fades, and Leon Clark drove the "Screw Cab." BAM's Auto & Detailing, King's Flea Market, Timmy Chan's, and Blast were focal points of a thriving culture on the Southside. There was enough money for everybody, and so of course there was a market for bootlegged Screwtapes in full swing.
"The bootlegging was an issue," said Williams, "but calling your music 'Screw music'? That was bigger. He didn't really care what you did with the music. He had people that helped him start. Darryl Scott was instrumental in what Screw did, that was his brother, but at the same time he didn't call himself Darryl Scott. That was Darryl's trademark. Screw developed his own, so for somebody to say, 'I screwed this,' that was an issue for him."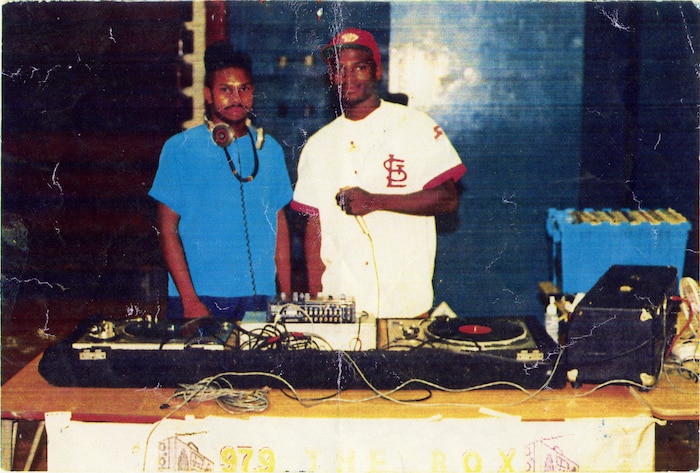 Prolific as he was, Screw had created a demand almost no one could satisfy. Houston was already a huge market for hip hop, and people were still buying records in stores, but a lot of them were mostly buying what they heard on Screwtapes. The music had spread through the cities and towns around Houston into Louisiana, and then into the rest of the South. Texas is flush with military bases, and Screwtapes would leave through those when people went off to faraway places. No matter where you are in the world, you never forget hearing DJ Screw. His sound made an impression everywhere.
Even the record labels noticed. They tried to get Screw to sign many times, but he wouldn't sign unless everybody could sign. He wanted everybody to eat. Even before they were trying to get him under contract, the labels were sending him boxes of records because a Screwtape was the best promotion in the South. Everybody heard it. The release of a new tape, which was sometimes twice in a week, became an event. Some served as the soundtracks for big events like the car shows, the huge Kappa Beach Parties in Galveston and the Bayou Classic in New Orleans, and others came out on holidays, like his July 4th tape from 1996.
When Screwed Up Records & Tapes opened in South Park on February 2nd, 1998, the cost of Screwtapes went from $10 cash up to $10.81 to account for the tax. Screw's operation was finally legit.
Only in Houston, Texas could you have a hit song over 35 minutes long. June 27th was a birthday tape for Long Drive's DeMo Sherman, who met Screw in 1994, and the track, which was based on a Kris Kross beat produced by Jermaine Dupri, featuring DeMo, Bird, Big Pokey, Big Moe, K-Luv, Key-C, Haircut Joe, and the debut of Yungstar. In the same room, the members of the Screwed Up Click always stepped up their game, but something special came across that day. June 27th is a holiday in Houston. It's become the best selling Screwtape of all time, likely having gone platinum by this point, and is a testament to the magic that happened around Screw.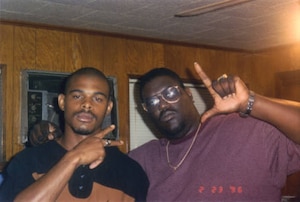 Missouri City rapper Z-Ro, who got to know Screw in the late 1990s, became part of The Screwed Up Click and is now one of Houston's biggest stars, said, "You ain't wanna be up there fuckin' with Screw, and he workin', and you just sittin' up there just not doin' shit. And you got a motherfucker that's great tellin' you, 'Okay, you ain't got the shit that it takes to be great, so you can be a spectator,' you're gonna be embarrassed. You gonna look around the room, motherfuckers is writin', motherfuckers is freestylin', you got Chris Coolie on the keyboard makin' the beat. When he fall asleep I'm gonna sneak on that motherfucker and make me beat. Everybody's doin' somethin'. If you just sit in that bitch just... not doin' nothin', you out of place. It's like bein' in the locker room at a Texans game, and you don't know shit about football. What the fuck is you in here for? You must be washin' jock straps or some shit, 'cuz other than that, you out of place."
By 1998, the stresses of running his business in a residential neighborhood had taken its toll, and Screw was starting on a long game. The artists in the Screwed Up Click were starting to get record deals and cut their own career paths. Screw never did sign anyone to a contract. They were all free agents. The idea was always for Screw to be the springboard. That way everybody could be their own CEO, including Screw. When Screwed Up Records & Tapes opened in South Park on February 2nd, 1998, the cost of Screwtapes went from $10 cash up to $10.81 to account for the tax. Screw's operation was finally legit.
Then, the week Screw opened the store, Fat Pat was killed. It was on the eve of the release of his first album, Ghetto Dreams, and almost certain stardom. Pat was the younger brother of Big Hawk and the star of the Screwed Up Click – its voice, its swagger, its soul and its style, all together in one big, boastful rapper from South Park's Dead End. Fat Pat was bigger than the Screwed Up Click, bigger than the city. His murder sucked the wind out Screw. Right after that, Corey Blount, the father of Houston car culture whose own swagger and style had people calling him "The Slab King" and was the blueprint for the Screwed Up Click, was sent to prison. Fat Pat and his best friend were gone. Most people who knew Screw say he never recovered from Pat's death.
It was around this time that he left Greenstone, moving out to the suburbs of Missouri City to escape the noise that had begun to follow him around. He kept making Screwtapes out there, though the releases were fewer and the problems with the neighbors just as bad. In the new environment, Screw kept up the same insane work schedule, working around the clock. "He never relaxed," Williams said. "Screw didn't care if you mentioned his name or not. As long as he was doin' something he was passionate about, he didn't care if he made a dime. So he never did take a breather. He just wanted to make music."
"He did have a heart attack," Al-D said of Screw's health. "Me and Nikki ran Screw into the hospital at least six or seven times, man. He would just get stressed out on phone calls and shit. You look at him in the backseat and he's got his hands all crunched up. When you gettin' ready to have a heart attack, just like you grippin' a baseball or somethin', your hands start lockin' up and shit. Stayin' up late, workin' all the time, eatin' greasy ass goddamn food, no proper sleep, no exercise whatsoever – I mean, that was enough to kill you."
Screw was found dead on November 16th, 2000, in the bathroom of the Southwest Houston warehouse he was building into a studio. He was 29 years old. His citywide fame got him on the news – not for the first time – but this time it took a dark turn, and Screw's name was dragged across the news under headlines warning of a Codeine epidemic. No doubt the drug played a part in Screw's death, but it was a cocktail of things that exacerbated existing heart problems that killed Robert Earl Davis Jr. The media only focused on the Syrup, and Screw was forever linked to it.
He had a lot more than that in mind, though, for his future. He was going to make beats. The studio was going to be set up for recording, and he was going to have computers for cassette orders. He was even going to start pressing up CDs. The space was going to be the Screwed Up Headquarters, the start of a new chapter for the Screwed Up Click. But Screw never got to see over the edge. He was buried in Smithville that next week, leaving a legacy as big as an entire culture.
"If Screw wouldn't have passed away," said Lil' Randy, "there wouldn't have been no Michael Watts and all these other DJs that's tryin' to come up under him. Because he had the game cornered. None of that even would have been relevant. They would still be pressing up vinyl for Screw. Because it turned from Screw bootleggin' to people wantin' they music on them tapes, because he had so much popularity, it was almost like free market. His marketing scheme was bigger than the radio. That's why Screw was able to open up his own record store. If it wasn't on a Screwtape, you weren't listenin' to it."
The genre may live with his name, but as every Screwed Up-affiliated person will tell you: it wasn't "screwed" if it didn't go through his hands.
"When he was makin' those tapes," Shorty Mac recalled. "People would come in and buy tapes based on the way they felt. If somebody was just havin' a bad day, they go in there and find a tape that has music on it that pertain to what they dealin' with that day, or that week. And that's what they wanted. That's what they needed to hear. Half of these songs that you hear slowed and chopped, Screw probably never woulda slowed 'em down, because they didn't have no meanin' to him. It's nothin' that's gonna last where you can go back five, ten years later and say, 'Man, I want that tape that this DJ made and I wanna hear that song.' Screw wanted music that would wake the world up."
"When I say my prayers at night, I still pray for him," Williams said. "Just like I do for my daughter. I still pray for him because I've never loved like I loved him. I still love him. People think that I just listen to Screw all day long, but I can't. Although it will be 15 years in November, it's still really fresh to me. When I hear his voice, it takes me somewhere. I'll listen to a few songs, but the minute he starts talkin' I turn it off. There are some times when I just can't take it, and then there are some days when I can talk right along with him, but those days are far less than the ones where I can't deal."
"Me and Screw had a bond out this world," said Mike-D. "I know everybody talk about the bond they had with Screw, man, because he was so special to have a different bond with everybody. I knew he was an angel. I didn't recognize it until he was gone, but I thought me and him was best friends. Come to find out he was best friends with shit – everybody! It takes a special person, man."
Screwed Up Records & Tapes in Houston only sells the music of DJ Screw, and it has been open for nearly 15 years since his death. It is the source for Screwtapes (which are now CDs), and is still run by Screw's first cousin from Smithville, Big Bubb, who releases a handful of new titles through the shop each year. Those are legit, mined from the lost mixtapes, freestyles, and personal tapes that have emerged over the years since Screw passed.
They come from his tape deck, and are real Screwtapes, of which there are over 300 in release. Hundreds more could emerge – some speculate that he recorded thousands – but there are no "new" Screwtapes. The genre may live with his name, but as every Screwed Up-affiliated person will tell you: it wasn't "screwed" if it didn't go through his hands.
"DJ Screw was a man," said Scarface of Houston's Geto Boys. "So how can anything be 'screwed' if he's no longer with us?"

The author, Lance Scott Walker, has put together a special mix composed of material inspired by this article. Stream it below.
Header image: DJ Screw (center), 1989. Courtesy of Robert Earl Davis, Sr. Special Collections, University of Houston Libraries