Dominick Fernow and William Bennett: A Conversation
Otherwise known as Prurient and Whitehouse (and a variety of other monikers), Dominick Fernow and William Bennett are two of extreme music's most compelling (and sometimes controversial) figures. In the summer of 2013, we sat the duo down in Berlin to see what would happen. Published here for the first time, the conversation touched on their increasing interest (under the Vatican Shadow and Cut Hands aliases, respectively) in the dancefloor, as well as their shared frustration for those who would call their music "extreme."
Have you ever read something in the press and been like, "Ah, yes. They got it."?
Dominick Fernow
Very rarely, almost never. And that's not a put down. It always seems like one of two sides. Either you're the bad guy or you're the bad guy in the movie that they like. But it can only be seen as – for lack of a better word – some kind of "extreme." I just really reject the idea that it's extreme, because that just begs the question, "Extreme to whom?" I think that it really reeks of an outside perspective. It somehow seems like it's not sincere if it's something that's extreme.
William Bennett
I mean, personally, I don't feel the need to care about that. That aspect of it is not something that I think is worth spending energy worrying about. Things are what they are, you know what I mean? It's outside your remit, it's outside your control. You just have to accept what you get really.
Were you surprised, though, when you first started out by the reactions – not just in writing – to what you were doing?
William Bennett
When you start out in a position where you're just totally disenfranchised with even the genre and the domain in which you work, then what people say about you isn't relevant. And that's been the case for 30 years now. You just get used to it.
Whose opinion do you value and trust when you're making music, William?
William Bennett
No one's. The way I usually test music is to have somebody else in the room. But they don't have to say anything and I can sort of vicariously experience the music through them being in the room, to see whether it's good or bad. I'd rather they didn't say anything. I think it's the same even within relationships. For children, whether they get encouragement from their parents or not... You can't really trust how people respond, because they have vested interests in you that aren't necessarily parallel with your own. I believe in taking responsibility for how you feel about something. I don't trust my own instincts either, by the way. That's why, if I'm making any music, I feel I need to sit on it for several weeks before I can begin to trust whether it's any good or not.
That hasn't changed over the years?
William Bennett
No, it gets worse in fact. There's more paranoia now than ever.
Dominick Fernow
That's absolutely true. Most stuff that comes out, for me, is two to three years old before it's released. The primary exercise is just listening and trying to understand – especially with repetitive music. If I can listen to something repeatedly and it doesn't annoy me after a day, a week, a month, a year, then I feel like, "OK, maybe this is actually worthwhile."
William Bennett
There's another aspect of this as well, which I'm sure afflicts a lot of people, that you can't listen to music without having this monitor of –
Dominick Fernow
– how was it made?
William Bennett
How was it made. The production, the EQing and stuff like this. It's very difficult to enjoy music. It reminded me of when I played classical music, where you'd listen to this beautiful piece of music by Bach or John Dowland and as soon as you learned to play it, the mystery had gone. It's the same with electronic music. You're listening to it, and as soon as you hear that's a preset from such and such bit of software, it just ruins the mystique.
Dominick Fernow
Do you think that that is felt more or less in the live context?
William Bennett
I know people say they like to see what people are doing on stage, but I prefer not to. I mean, Dominick's a good example of that actually. He's got this big case and nobody really knows what's in there. I mean, I've seen –
Dominick Fernow
You haven't seen. That's just a dummy, that's a decoy. The real stuff's in the back. I wanted to ask, did you ever consider doing Cut Hands without the video, without the visuals?
William Bennett
Yeah, I've done it a few times. The video actually started because I wanted to play in complete darkness and the clubs would never allow you to do that because of health and safety, blah, blah, blah. I thought, "How can we get around that problem?" The scam I came up with was to have a video, but just a black screen. So they would think, "There's a video being shown, we need to turn the lights off." It'd have the title "Cut Hands" at the beginning and then it would just go black. Then I made the mistake of thinking, "Let's just add a bit more." One thing led to another and now it's a full-blown Technicolor spectacular.
Dominick Fernow
You and Van Halen.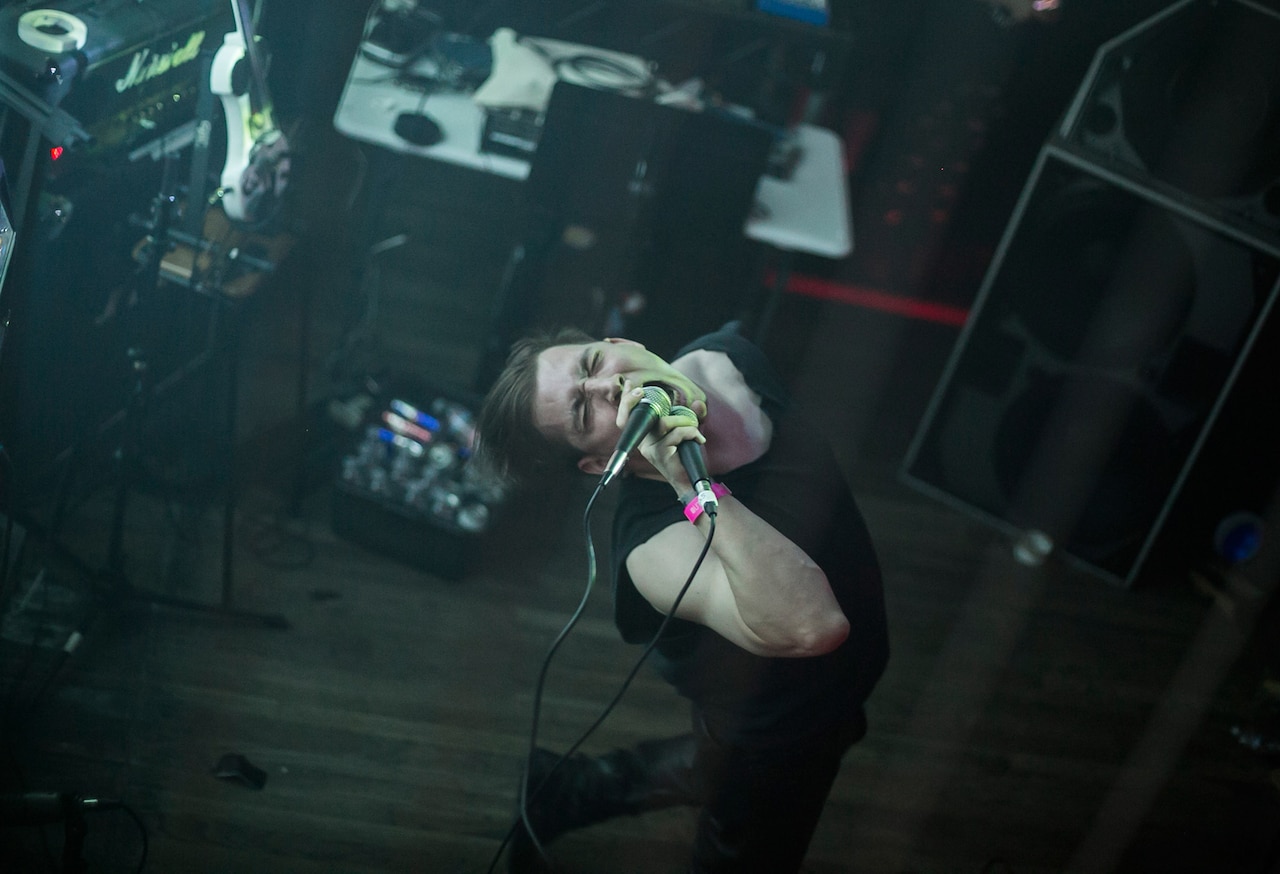 Dominick, can you talk about how the live show has developed?
Dominick Fernow
When I started playing with Prurient, it was all feedback and there was such a direct connection with what you were doing with your body and how the sound would change. If I was moving quickly there was an immediate translation between sound and body. Prurient was more head-based. With the frequencies, treble addresses the head, the ears, the teeth. Vatican Shadow is much more lower body, so I think the way I interact with the sound is different between the two projects. Live, I'm trying to not fiddle around with Ableton. I don't have anything against that. It's just not a consideration for me. I have no problem with playback. At some point it's all playback, whether you're sampling or you're activating a trigger that's a sample of the sample. That's an irrelevant issue to me. Also, what's so goddamn interesting about watching someone play the guitar? I mean, you know what's going to happen. "My god, there's a guy sitting at a drum set. What's going to happen? Wow, he's really doing it." I mean, haven't we moved beyond that?
William Bennett
It depends on the performer. It's about you and your presence on stage, rather than the instrument. I mean, as far as guitar – to me, a person with a guitar strapped around them, strumming away, just looks fucking silly.
How have your performances changed over the years, William?
William Bennett
Well, it's embarrassing, but I started playing guitar in a New Wave band. I remember we did like a 30-day tour with Robert Rental and The Normal, and I spent a lot of time in the back of a minibus with Daniel Miller of The Normal and Robert Rental. We talked a lot about electronic music. I just fell totally in love with the whole concept. He had this vision of music, which was revolutionary at the time, that music would go to a venue and they would essentially just listen to the sound of drum machines. When you consider that back then in the UK that it was illegal for drum machines to be on a stage because of the Musician's Union, it's pretty amazing to think that somebody could see that far into the future. It sounded like a utopia to me. I very quickly ditched the whole guitar thing.
Dominick Fernow
I never knew that.
William Bennett
Yeah, I remember some of the big names like The Human League ran into a lot of problems.
Song titles are something that you both seem to care a lot about. Is it just other art that's inspiring you, Dominick? When do you know you have a good song title?
Dominick Fernow
A lot of it is just headlines. I always look for the thing in the title that is unusual. The details of these stories, that's what excites me. Chechen soldiers communicating on radio, but what kind of radio is it? It's a Motorola handheld radio. I like that kind of detail, because that's the human element. I think it just builds an atmosphere of imagery. Because the sound is abstract and there are no vocals, by bringing in that sort of minutiae, that's how the audience can connect or start to form a picture. It kind of fills in for the lack of voice. A lot of it's very funny, but I don't think people pick up on the humor, the absurdity of, "Well, what kind of radio?"
A lot of what I do is about the media. I mean, sometimes you can't even make this up, these headlines. They're like miniature poems. They have a beginning, a middle and an end. Sometimes I just can't believe my eyes that this is a huge, printed piece of paper on every street corner. It's almost like the person writing the article is revealing something about themselves when they're choosing what to emphasize in the story. I think that's interesting. It's also a kind of commentary on that, because I think so much of it is just egregious. It's so grotesque and so absurd and so laughable, that I think recontextualizing that humanizes something that's been presented in an incredibly inhuman way.
One of the things I always loved about the true crime books is those little details of the investigations. In the JonBenét Ramsey story there's been this debate about a spider web, and whether or not the killer could have exited the basement and broken a spider web. They've had experts come in and argue about whether spiders that were indigenous to that region could have spun a web, had it broken and then respun it in time for the police to discover it in a photograph. That's so much more interesting to me than the gory details. It's everything that surrounds the event. It's never been direct. That's how you have an atmosphere I think.
People talk about, "Do you go into a kind of trance when you're on stage?" For me, the trance is in real life.
You mentioned true crime books. William, you're a fan of that type of stuff as well.
William Bennett
Yeah, I used to be a lot in the '80s. They used to have these fashions in publishing. I remember it used to be very difficult to get books on true crime, and then suddenly there were thousands of them everywhere. When you're reading obsessively, though – perhaps a book every couple of days – you quickly get to the end of the line and you have to move on to something else.
What did you move on to?
William Bennett
Let me think. My memory's not as good as it used to be... I became very interested in the technology of drama, particularly method acting and building scripts and performance techniques and things like that. I found it fascinating how much could be applied to music.
Dominick Fernow
Like what?
William Bennett
Well, this is very influenced by Stanislavski, but what they call mask work. Where you just work in a mask or you literally go without a mirror for a couple of days – and how that affects you psychologically. Because so much of what we do, whether it's in the real world or in the music world, is filtered through our illusion of identity. This illusion that we've created about how we see ourselves. When people say, "I am this kind of person" or "I don't do this," it's really all an illusion because everything in actual fact is affected by what's around you rather than what's inside you. And so a lot of these activities I found very interesting for creating music, because you can get past these obstacles and enter a different domain where you can find very unexpected things.
Dominick Fernow
But is it about losing identity?
William Bennett
It's not about losing – because there is such a thing as your core identity, the way I see it. But that's very different from the illusion of identity – what we believe we are. The kind of person we think that we are is very different to what we really are. But it's very difficult to bridge that gap and, artistically, I find that a very interesting place to explore.
Do you turn into another person when you go on stage?
William Bennett
I think it's the other way round. People talk about, "Do you go into a kind of trance when you're on stage?" For me, the trance is in real life. It's snapping out of the trance when I'm performing and making music. It's actually probably the real me that's on stage, rather than in the real world, because it's that moment of freedom when you can truly break through. I always find that when you go from the dressing room to the stage, especially for noise performances, it's very difficult to go from one thing to another. It's quite a big, nasty kind of jump. It feels uncomfortable and awkward and I have my own ways of dealing with that. You can just use alcohol sometimes, but I think it's nice if you can do it without alcohol, because the sensory payoff is much bigger. But once the sound is right and you're getting this sense of being overwhelmed by the sound that you're making, that's the core you. That's real freedom right there, fantastic freedom.
Dominick, what William was doing 30 years ago is now part of a lineage. There is this history that has built up around noise. I wonder what it's like to now create in that situation.
Dominick Fernow
Uh-oh. That's a question?
Just because, in a way, it's not about shocking people anymore.
Dominick Fernow
I think that it never was. I mean, I understand what you mean, from the outside. But that to me, that's the problem right there. That's what I meant earlier about "extreme." I just don't accept those terms because I don't feel that they have a relationship with the reality.
I think that's an interesting perspective and, for many people, it's tough to make that jump.
Dominick Fernow
To me, it's just a reflection of my life, what I'm interested in, where I am, who I know, what I'm doing. It is just personally driven, and why is that extreme? I'm not sitting around saying, "Geez, I have such an extreme life. I'm just such an extreme guy." No, it's just the day-to-day, it's normal, it's mundane.
William Bennett
You see, every kind of art can be measured by its intent, but what tends to happen is that people measure it by what it represents. If you measure it by what it represents, then you look at a piece of content or the style of music, the instrumentation, the age, what they look like, where they're from, these kinds of things. And I think it ignores what is the most important thing, which is, "What is the intent of that person?" And what I mean by intent is, why they're doing what they're doing. It's a simple question but I think it's completely overlooked. People make music for all sorts of different reasons – because they want to get laid, they want to meet people, they're interested in making money.
There are a million different forms of intent and I think it's interesting. Going back to what Dominick was just saying, I think we definitely share this: it's a very personal intent. The intent is simply we want to make music. It sounds trite, but I think it's actually quite rare that people simply want to make music and you're very passionate about it. I mean, if Dominick or myself had a different kind of intent, we certainly wouldn't be making this fucking music, because it wouldn't be successful. If I wanted to make music in order to get laid, it wouldn't be like early Whitehouse. That said, it's funny and ironic how that very lack of intent actually translated back into other types of intent, where people actually do get off on it and they're attracted to you because of the music you make. To put it in three or four words, the intent is just to make music that I – and hopefully other people – can get off on.
So it is all about getting laid.
William Bennett
I use "get off on" because "like" is a very abstract word. It doesn't really mean very much, but to say "I get off on spicy food" implies that there is this physical and emotional response. I think life is more fun when you have an emotional and physical response to the thing that you're enjoying, and that applies to absolutely everything including sex, of course.
Dominick Fernow
I think liking is okay, but it's more about, why do you like it, or why do you not like it?
William Bennett
There is a problem with the language because it sort of filters the experience. If somebody says to you after the show, "I liked your show..."
Dominick Fernow
That's like saying they hated it.
William Bennett
Yeah, you might as well say "hated it" and be honest with me. But if somebody says to me, "I really got off on it"? Fuck, that's just music to my ears. That's great. How you use language makes the experience, a lot of the time. If I say to people I get off on spicy food, as I'm saying that, it's affecting. Even as I'm saying it I'm feeling a tingling in my mouth. I could murder a fucking curry right now.
Dominick Fernow
Especially in regard to the Prurient stuff, this was something that I really struggled with all along. There was the implication that I liked what I was doing. I think that was really misleading. People would come up after a set of pure feedback and be like, "Where's the bass?" It was as if there was some kind of assumption not only that I wouldn't know that the bass was gone, but also this kind of expectation about what's okay, what's liked or not liked. Also, furthermore, that if I was using something, it was only because I liked it. I mean, maybe I hated the show too. Or maybe I wanted to create something that was imbalanced, that was unfulfilling, that was boring, that was tedious. Getting back to this idea of communicating an emotion, communicating a response, feeling something, getting off on it. I think that doesn't necessarily mean that you like it or you don't like it. It's about feeling, about having an experience. I think it's a constant problem.
As someone who loved techno as a kid, I never identified with the imagery or the subject matter or the typography.
Didn't you study linguistics, William?
William Bennett
Yeah, I mean I've always been obsessed with language. That was another in my procession of obsessions, if you like. You go on these sorts of journeys. I got obsessed with... I went into a library in Edinburgh. I was looking through the books and out fell this small piece of paper, which had "Magic Circle" and a telephone number. I felt compelled to telephone that number and a guy answered and he said, "Come to this address" and gave the address, at such and such a time –
Dominick Fernow
This is bullshit.
William Bennett
No, it's absolutely true. I went down this dark alley in a part of Edinburgh I'd never ever been to before, and went up the stairs and it was a sort of Victorian style drawing room with all these elderly gentlemen there, all members of the Magic Circle. They said that if you became a member, that after two or three weeks you could get to access all the secrets of how everything's done. After that, you get access to these libraries with these special books that are only printed in runs of 100 or 200, specifically for professional magicians, which talk about technique. There were some incredible books. Some of them are simply books about how to astound, so it's not about the actual effect, it's about how to astound people with whatever effect you were doing. I got so much out of this stuff, it was fantastic. Again, as with the Stanislavski, it was great to apply these things to music.
So, on a basic level, how do you astound? What were some of the key lessons?
William Bennett
Well, I can't –
Dominick Fernow
You have to join the Magic Circle.
William Bennett
I'm not even lying. There was an initiation ceremony. It's not for the faint-hearted.
Their eyes began to roll back in their heads. They started grinding their crotches. You can tell they were having huge fucking bass orgasms, literally, right there in front of you.
I wanted to talk about dance music a little bit. I find it very interesting that more traditional dance music seems to be enjoying noise than it has been for a long time. When did you first start to see that happening?
Dominick Fernow
This is a question that I've been faced with a lot lately, but I don't think it's new at all. I just think the contexts are changing. I think what's new is that you have this whole crowd of people who are home listeners, who are not experiencing dance music in a club exclusively, who are listening to 12-inches made by producers at home, as records. I think one reason it's starting to blend is that the aesthetics are changing. As someone who loved techno as a kid – in my limited capacity, the access that I had to it – I never identified with the imagery or the subject matter or the typography. I think that's what's changing. I don't think the sound is really changing.
William Bennett
I've got a theory that a lot of it reflects on listeners, because you notice at shows now that there are really young people coming, between 18 and 25. There's a sort of – for want of a better term – smartphone generation, where they're curating their own musical experience. So they have a very broad range of tastes, because there's so much different music on their devices. It's not like a record collection where you keep some sort of thematic purity going on. That doesn't seem to happen anymore. I think that seems to be one of the reasons that the people coming to the shows are very receptive to what people like Dominick and me are doing. I don't think that would have worked five or ten years ago, because we wouldn't have been given those opportunities. I don't think, even if we had been given those opportunities, that the audiences would have accepted it either.
But you have played at Sub Club in Glasgow a decent amount, and that obviously is a dance music venue. So you have been given those opportunities and it worked, right?
William Bennett
Yeah, but I think that was pretty much the beginning of these opportunities. You could see that people thought, "This is a bit fucking weird, this isn't what we're used to." Whereas now I've done a hell of a lot of shows at basically regular dance music events and it just fits in.
Can you talk a little bit more about the Sub Club?
William Bennett
The Sub Club's amazing. It's called the Sub Club because they have this whole wall of subs. Then they decided to go a step further by ripping up the dancefloor and putting subs underneath, so people are essentially dancing on top of a floor of subs. We were talking about emotional and physical response... I mean, that is off the scale. I remember the first time I went in there. I was in the booth playing, I was first on, and these girls just rushed in. They weren't interested in getting drinks, they weren't interested in guys, they weren't interested in doing their makeup. They just wanted to go straight to the fucking center of the dancefloor, in a cluster, and they started just dancing away. Their eyes began to roll back in their heads. They started grinding their crotches. You can tell they were having huge fucking bass orgasms, literally, right there in front of you. At first one's response to that is, "Well, this fantastic, this is just great. My music is fucking incredible, look what it's doing." But they don't care about your music. They don't care who you are. They just want that bass, so that's a bit dispiriting.
I have a guilty pleasure – it's not that guilty to be honest – but I like the voice of Karen Carpenter.
Does your music have to be played loud?
Dominick Fernow
Yes.
William Bennett
I would agree about Dominick's music. I think so. Because there's a threshold, isn't there, where the music changes. And not all music sounds good loud. That's not to say that everything should be loud, but certain types of music depend on a certain... I mean, I've had shows where I've actually uttered the immortal words, "Can you please turn it down?" Have you ever done that?
Dominick Fernow
Live? No.
Why can't I listen to your music softly?
Dominick Fernow
You can, but live it has to be loud. And it's not about volume in itself, it's about the world. If there are these other elements that come in and start interfering with that world, you lose it. You lose it very quickly.
William Bennett
The emotional and physical response doesn't kick in until a certain volume, whereas if it's... I have a guilty pleasure – it's not that guilty to be honest – but I like the voice of Karen Carpenter. It has a very powerful emotional impact, but it would have the same emotional impact if it was played very softly. In fact, it would lose its impact if it was played too loud. I think all music has its sweet spot in terms of volume.