Mount Analog Finds a Niche in Los Angeles
On a black leather couch in the back of Los Angeles record store Mount Analog, Mahssa Taghinia is looking stressed. She and co-owner Zane Landreth have just closed up for the night, ushering the last few customers out of their small shop and clanking a rusted front security gate shut. But it's the Friday before Record Store Day, and they have a long night ahead of them. Boxes of records are sitting on the floor. Still more boxes are sitting in a back room. They recently got in a massive order of RSD exclusives and other new releases, and now they have to put everything into the computer and stock it on the shelves in time for the 10 AM opening rush.
"It's been a hectic week," Taghinia says, stealing a rare break.
"A hectic life," Landreth adds with a chuckle. "Just trying to live, man."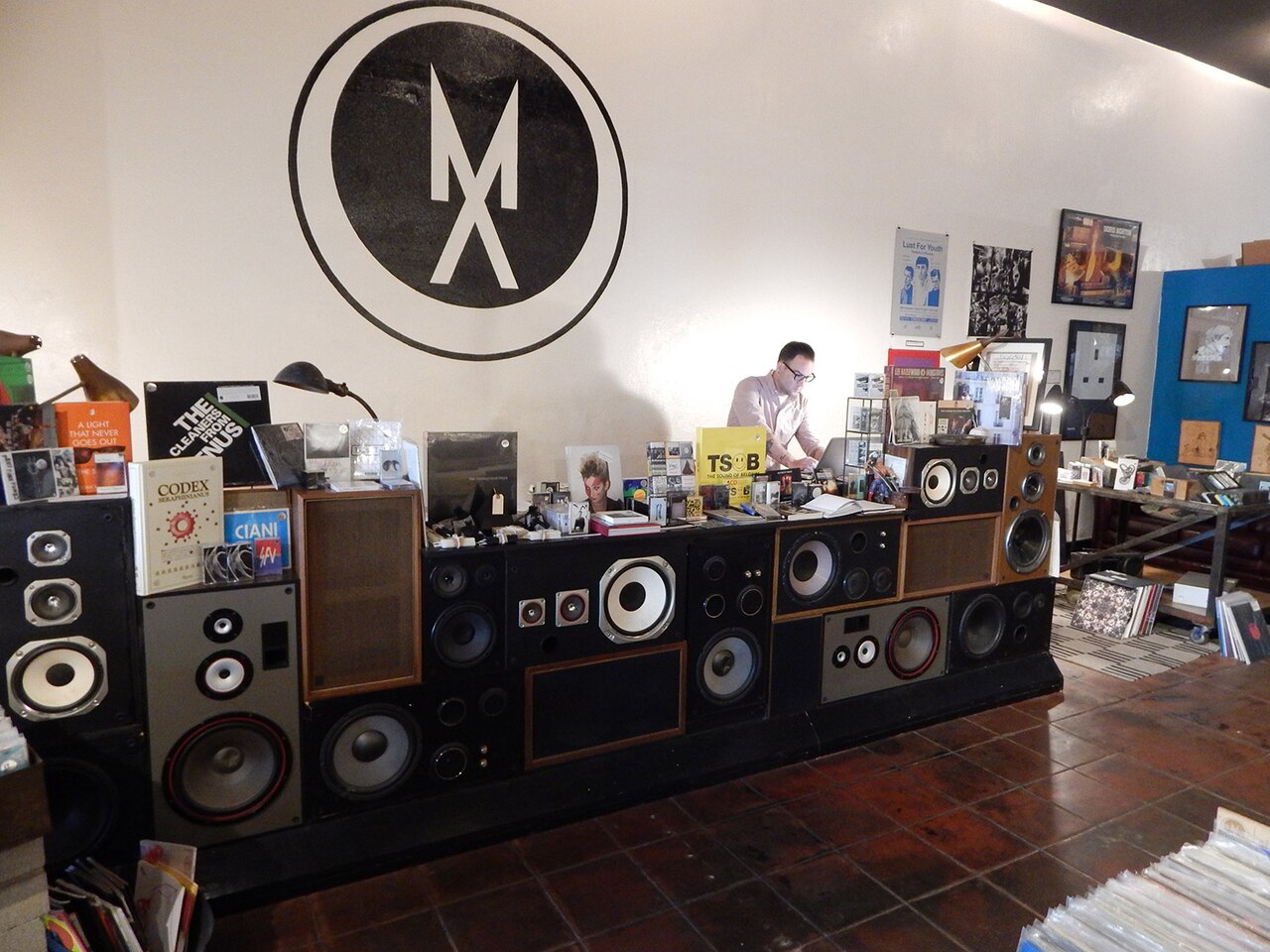 There are plenty of record stores in Los Angeles, but Mount Analog is one that really makes you realize how well brick and mortar music shops can do in an age of online streaming and digital distribution. Located on a main drag in L.A.'s up-and-coming Highland Park neighborhood, the shop specializes in a dazzlingly niche, carefully curated inventory. Vinyl bins are filled with industrial, experimental noise, techno and house records, and there are also more curious selections – Belgian New Beat box sets, Persian pop cassettes, books on the occult.
With its determinedly experimental bent, the shop is sure to seem remote and maybe a bit snobby to the lay music consumer. But it's been doing quite well since launching in July of 2012, drawing a customer base that includes DJs and musicians as well as studious record collectors and all-around lovers of the sonically weird.
"It's just an option that wasn't available before… The weird stuff is the norm. The outsider stuff is very much accepted there," says Juan Mendez, AKA Silent Servant, a DJ/producer who works regularly with Taghinia and Landreth. "Overall the shop has been a really important thing for me as far as living in Los Angeles. I haven't felt a kinship with a shop in a way that I have there."
At Mount Analog on Friday night, Swans' 1982 debut EP emanates from an intricately arranged, Tetris-style bank of speakers that make up the shop's counter. This rare record from the New York noise-rock band has been reissued for Record Store Day, and it fills the shop with nervy basslines and halting saxophone, not to mention the bracing voice of a young Michael Gira. Taghinia, munching on peanut M&Ms, says it's been busy times for the two lately. In addition to running the shop, she also helps run the label Finders Keepers and serves as a booking agent while Landreth manages bands and DJs. But most of what they do gets filtered through this shop, which essentially doubles as a retail outlet and office space.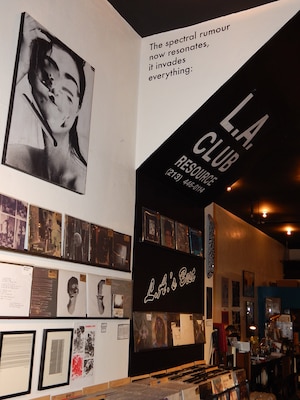 The first time I wandered into the shop was by chance. I'd gotten locked out of my house and was strolling around the neighborhood. Intrigued by the elegant black-and-white logo on the front, I found stark industrial techno pumping over the store speakers while local New Age conjurer Matthewdavid was chatting with somebody behind the counter. On a shelf in the back I was impressed to see a stack of CDs by the prolific experimental musician Muslimgauze. The store isn't very big, but on more recent visits I've come across other curious items, like a rare double-album cassette copy of Popol Vuh's kosmische musik works In the Gardens of Pharao / Aguirre, and a pamphlet printing of The Art of Noise, Luigi Russolo's famed Futurist manifesto.
Everything in here tells a story.
Taghinia and Landreth get some of their rarer items from their travels around the world. Indeed, after the RSD weekend Taghinia was set to visit Berlin. They decline to say where exactly they dig up their gems – "If we told you that, we'd have to kill you," Taghinia says jokingly – but the shop doesn't just hawk expensive stuff for collectors' sake. Instead there's a strong sense of discovery going on, as well as a more personal approach to organizing titles. Some sections are given categories of the owners' own making – Krautrock, library records, New Age and other unique strains of electronic music are grouped under "Out Sound," for example – and even the more mainstream stuff is in the shop for a reason.
"There's Black Keys records in here, but Mahssa has history with Ohio and the Black Keys," Landreth says. "Everything in here tells a story."
The concept behind Mount Analog in some ways mirrors how most people get into music in the first place – not through the thorough examinations of a music critic, but via serendipitous moments and cultural contexts. Taghinia grew up in Columbus, Ohio, and there the local scene wasn't as balkanized as it can be in bigger cities. She went to punk shows, raves, hip hop nights and saw garage rock bands, and only later did she come to think about music in a more historical or intellectual way.
"Going to a rave, I didn't understand it as 'techno' or 'house' or 'industrial,' or going out to an 'industrial' nightclub. To me, it was just like, happenings," she says. "I didn't quite understand a group as Nitzer Ebb as 'industrial' because I heard it out at a rave. But now I can talk about it as being in this canon of EBM music or whatever."
Landreth is originally from Seattle, and he was reared on all things grunge – Nirvana, Mudhoney, Tad, everything on Sub Pop. Gradually his interests expanded as he began collecting records and getting into managing bands and going on tours.
"I don't think anybody's story of how they got into what they're into falls in a linear narrative, you know what I mean? It spirals and spider-webs and tangles out and goes all over the place," he says. "You're in a car and somebody's playing a mixtape and you hear your new favorite song, and it takes you down a complete left turn and you're all of a sudden into really weird music."
What I think is super normal is really fucked up for a lot of people, and what other people consider is super normal is really fucked up to me.
Landreth and Taghinia, who also put on shows and parties under the Mount Analog name, decided to start the shop when they realized that there wasn't a store in the city that catered to they and their friends' particular sonic passions. At the time Landreth was working for a management company and Taghinia was at another record store; they were both also putting on regular club nights in the city. "Everybody was tired of buying records from Europe," Landreth says, noting that some electronic and experimental records are only available as imports through distributors like Boomkat and Discogs.
Today, a lot of their business comes from mail order as they sell records from small labels that would normally only be available in Europe. The bonus is that customers get a lower markup on import costs. "They pay four dollars instead of paying fucking 24," Landreth says. "Taking one for the team."
Which helps explain what's so cool about the shop. At first glance a lot of the stuff they're selling seems too niche to build a business on – the kind of music other shops would relegate to a tiny section in the corner somewhere. But if you put it all together, thoughtfully and with an eye for a neat floor plan, and then throw in some surprises along the way, it becomes clear that this weirder world of music is much more connected than it seems, and has a much bigger audience than you might expect too.
Then again, what is weird music, anyway?
"What I think is super normal is really fucked up for a lot of people, and what other people consider is super normal is really fucked up to me," Landreth says. "Did you know there's a genre called nu-grass? Yeah, like new bluegrass dudes – nu-grass. That sounds fucking crazy to me."