Nightclubbing: The EndUp, San Francisco's Gay Epicenter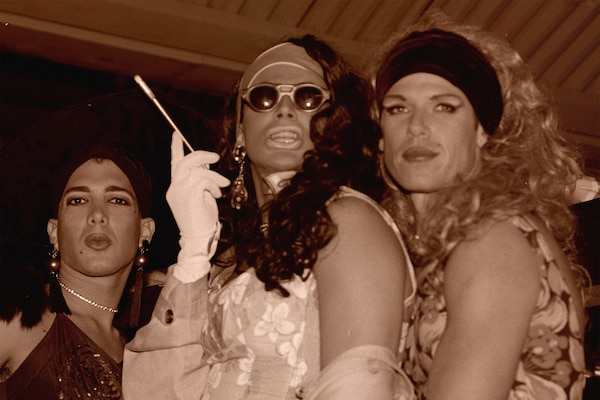 Can a single club's history encompass the wild arc of gay liberation? If the walls (and throbbing dancefloor) at The EndUp in San Francisco could talk, they'd reveal an epochal tale that leads from the hedonistic disco days of Gay Lib right through to today's pop-EDM mainstream assimilation – with stops at Hi-NRG and sleaze, '90s rave, soulful house, and underground techno along the way. Marke B. details the club's long past, and its parallels with the cultural upheavals of the time.
In its four-plus decades, the EndUp's long, narrow dancefloor and maze-like layout have hosted everything from long-running reggae nights and club kid provocations to minimal techno showcases and live hip hop performances. Club geeks know it as the birthplace of Hi-NRG in the '80s, the gravitational center of the West Coast's deep house scene in the '90s, and an American entry point for Berlin-style techno in the 2000s.
One sparkly thread runs through it all: The End Up's gay party legacy – Church, Club Uranus, Dekadance, Fag Fridays, Shangri-La, and many more – forms an analogue to the social, cultural, and political upheavals of modern gay identity. That most of these parties had strong non-gay followings as well attests to the importance of the EndUp as a center of San Francisco dance culture history.
A SHORT(S) INTRODUCTION
In November 1973, would-be gay club impresario and hard-partying playboy Al Hanken (catchphrase: "If they don't want to drink Bud, fuck 'em!") opened the EndUp in an old 22-room hotel at the corner of Sixth and Harrison Streets. A companion to his nearby club the Roundup, a country-western themed gay hangout, the EndUp was meant to capitalize on the disco craze. With its transparent, light-up dancefloor and quadrophonic Cerwin Vega sound system booming through mounted speakers, it predated behemoth SF disco clubs the I-Beam and Trocadero Transfer by three years. DJs like Steve Newman and Mike Webb broke new records that bridged the funk-soul-disco divide from the Salsoul and Casablanca labels and later Motown and Philly soul acts, like Eddie Kendricks and Harold Melvin and the Blue Notes.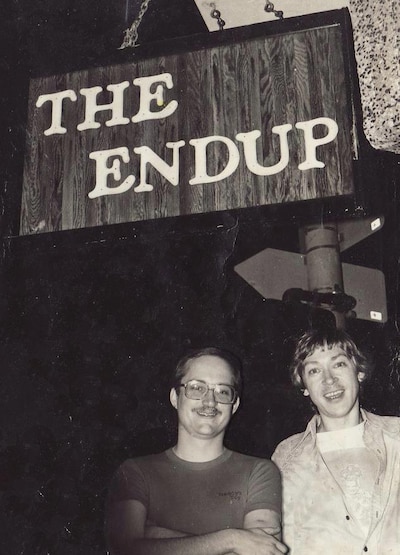 The music was the sound of gay liberation, whose political launch had taken place at the Stonewall riots of 1969 (and, in San Francisco, the Compton's Cafeteria Riot of 1966), but whose sexual implications were playing out in gay discotheques and steamy bathhouses. As gay men took to the streets in annual Gay Freedom Day parades and protest marches, dance floors were heaving with a new influx of out-and-proud men, expressing their newfound freedom and exploring the intimate ins-and-outs of gay life.
The Roundup closed soon after the EndUp opened, the property folded into one of the city's ongoing redevelopment projects, but the EndUp thrived, in part by welcoming a historic wave of gay migrants relocating to San Francisco, the new gay mecca, in the wake of the new liberation spirit. "The Castro neighborhood was turning into the Greenwich Village of the West," says Jerry Pritikin, the EndUp's first promotions director and coordinator of the EndUp's bowling team. "And a never-ending supply of new arrivals of gay men of all ages" were streaming in. "Right from the very beginning, the EndUp was attracting a really diverse group of guys," Pritikin says. (The club was a home – for example – for San Francisco's huge Asian American community, which the gay scene had previously rarely catered to.)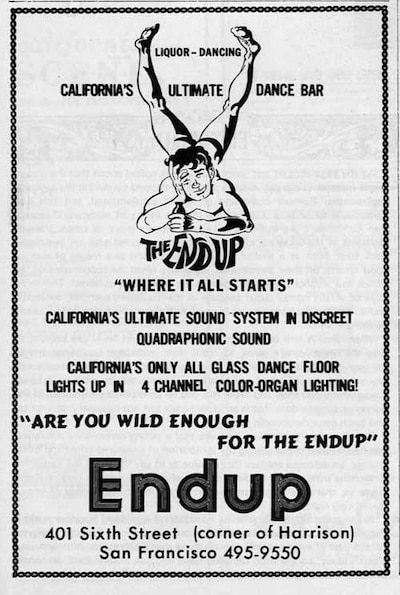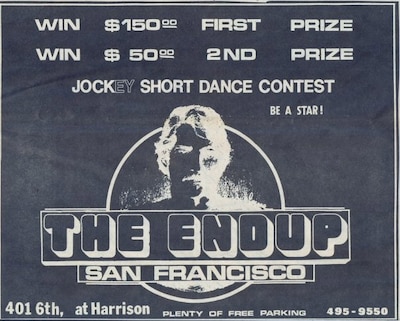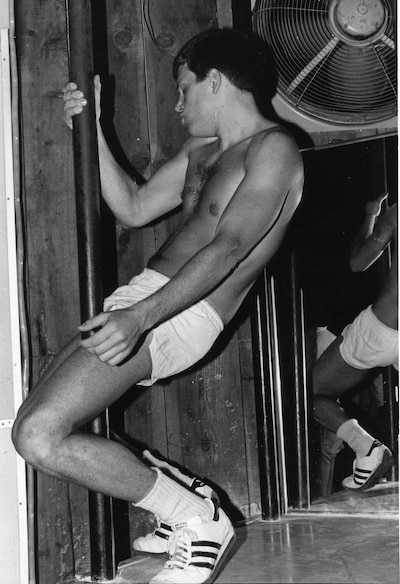 The EndUp was located in the South of Market area, a ways from the super-gay Castro, and some gimmicks were needed to fill weak spots on the schedule. "A friend and I had gone to Fort Lauderdale, and one of the bars there, the Marlin, was right on the beach. The boys would come in from the beach on Sunday afternoons to drink and dance," Pritikin says. "It was a tea-dance, with a wet t-shirt contest for the guys. Well, we didn't have a beach, but by osmosis, we somehow came up with the idea for a jockey shorts contest. And then we were off. Sundays at the EndUp became the hottest place in the entire week. I think we were the first in the country to start a contest like that."
Unsurprisingly, dozens of recent San Francisco transplants eager to earn a $150 cash prize by gyrating around in their underwear struck a chord. Hosted by Randy Johnson with DJs Steve Newman, Peter D. Struve, and Rod Kimbel, the Sunday afternoon tea-dance became a disco institution. The EndUp itself became so popular that the scuffed-over illuminated dancefloor had to be replaced, and, after a fire in 1979, a patio was built in the backyard to accommodate crowds.
GOING TO CHURCH
When huge gay disco the Trocadero Transfer opened in 1977, it pushed the city's nightlife boundaries by staying open until 6 AM. In 1979 a DJ named Wayne convinced Hanken to open the EndUp at 6 AM on Sundays, at first with DJ Glenn Judd, so the Trocadero crowd could continue the party. Steve Fabus, a young DJ transplant from Chicago, replaced Judd soon afterward. Fabus would spin at the I-Beam with DJs like Lester Temple and Tim Rivers, and then the Trocadero, opening for that venue's main DJ Bobby Viteritti. Then he'd hightail it down to the EndUp to play at Church, the "morning after" party.
I got there at 6 AM and would usually play until 2 PM. In those days it was normal for people to lose a couple nights of sleep a week.
"I got there at 6 AM and would usually play until 2 PM," Fabus says. "In those days it was normal for people to lose a couple nights of sleep a week, they were dancing all night at the Trocadero. There were other parties too, like Michael Maletta's Creative Power Foundation 'disco-visual-entertainment' parties, and the ones Rod Roderick would throw at his mansion on McAllister Street. Rod was like the gay Hugh Hefner. He was instrumental in bringing out DJs from all over the country like Richie Rivera, Vincent Carleo, Robbie Leslie, Larry Racielo, so we could hear what people were doing on Fire Island, in New York, New Jersey, and Chicago."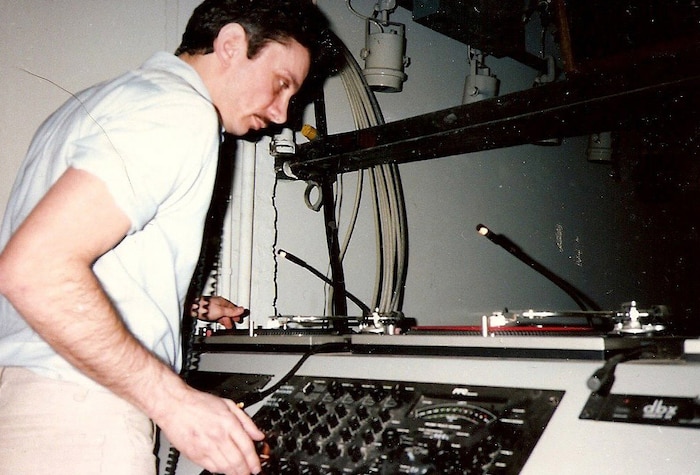 "The other places that were open all night were the bathhouses, the sex clubs which had DJs playing music. There was one just down the street from the EndUp – the notorious Handball Express. I worked there when I was learning my chops. Rod Roderick had gotten me the job when it was simply called the Hotel. The music in the bathhouses was mostly sleaze, which was pioneered here by Bobby Viteritti. It was slower stuff you couldn't normally play in a dance club: Esther Philips songs, Chuck Mangione's' 'Land of Make Believe,' big orchestral production numbers, anything kind of spacey. You could experience ethereal music. Let's just say it set a mood. Then we could take some of that over to the EndUp."
DJs Lester Temple, Randy Tyler, and Tommy Rogers would also spin on Sundays, and George Ferren of the T.O.P. 25 DJ Record Pool filled the 2 PM – 8 PM slot after Fabus to form a solid 14-hour block of debauchery
"On Sunday mornings, it became really about shaping a set," Fabus says. "I'd start with sleaze as the boys would arrive, 100-110 bpm, then bring it up a bit into a different attitude, very soulful: D-Train's 'You're the One for Me,' Donald Byrd's 'Love Has Come Around,' 'Can't Nobody Love Me Like You Do" by General Johnson, "Can't Fake the Feeling" by Geraldine Hunt, and Class Action's 'Week End.' And then, because people had been up all weekend and wanted changes, I'd peak it with some Hi-NRG."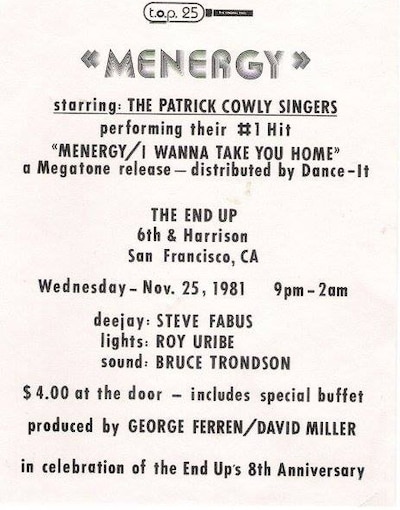 Hi-NRG, the uptempo, harder style of disco pioneered in San Francisco and New York, had been creeping into clubs, and helped push dancefloor mayhem and drugged-out bliss beyond the wee hours. This was the pre-AIDS period of unbridled revelry when backrooms were groaning and dancefloors reeked of sweat and poppers. "It was a unique sound that was happening, the 'San Francisco Sound,'" Fabus says. "We had Patrick Cowley, Marty Blechman, John Hedges, Bill Motley, and a number of people producing records. Patrick Cowley, the dynamo who really brought the sound to the world, was inspired by Giorgio Moroder, so you had a European electronic element, but fused with a soulful, funk sound.
"The singer Sylvester, of course, was a huge part of the scene, and he'd come to the club right through the height of his popularity with '(You Make Me Feel) Mighty Real' and 'Dance (Disco Heat),'" Fabus recalls. "He was a fusion, too – androgynous, male but he was feminine. He could be a boy, be a girl. He was whatever he wanted to be, and he was very up front about it. But his music was a fusion also. He was in the theatrical troupe the Cockettes when I first met him, and had a rock band, the Hot Band. This was all in the period before disco started, when we would hang out at bars like the Mind Shaft, Rendez-Vous on Sutter, The Shed. It was as if we were all waiting for the disco bomb to hit, and then there we were, all together on the dancefloor. It really was a time of 'anything goes,' and anything did."
"NOTHING TO LOSE"
Cowley started his own Hi-NRG night at the EndUp called "Menergy" in 1982, premiering his own soon-to-be classic records like "Right on Target" with Paul Parker, "Do You Wanna Funk" with Sylvester, and his heady 15-minute megamix of Donna Summer's "I Feel Love." But Cowley had already begun to feel ill. Doctors couldn't figure out was wrong. He died at his home in November 1982, at the age of 32, an early case of AIDS, then called GRID. Soon diagnoses of the then-fatal and mysterious disease were clearing gay dancefloors and panic replaced euphoria in the backrooms.
"It was the end of the real party time, when people started to get sick," EndUp booking agent Alison Page told the SF Bay Guardian. People stopped going out. "They were afraid to get sick, if they weren't sick already," Page said. Fabus moved away in 1983 to DJ elsewhere, and many DJs fled nightlife altogether. The EndUp emptied out so quickly that it diversified into "straight nights" – something that at first confused and even infuriated the remaining gay patrons, but which ultimately paved the way for the mixed crowds contemporary clubgoers now take for granted.
(Owner Al Hanken himself died of AIDS in 1989, succeeded at the club by his brother Helmut, who was killed four years later in a suspicious gun incident. Third brother Carl took over, but only after wresting the ownership away from former manager Doug Whitmore, who ran a cocaine-dealing operation out of the upstairs office with Helmut, and embezzled $160,000 from the business. In 1996, Whitmore showed up at Carl's house and shot him in revenge. Carl survived, but Whitmore shot himself after being cornered by police in his trailer in an all-night standoff. EndUp drama wasn't limited to the dance floor.)
The young generation that was trying to grow up through the AIDS devastation valued outrageousness, personal expression, and marathon partying.
Once the initial shock of AIDS subsided, the gay community found its political voice again and took to the streets demanding more research on the disease and a stake in American society. From the late '80s through the mid-'90s, groups like ACT UP (the AIDS Coalition To Unleash Power) and Queer Nation were projecting a well-researched, punk-like aesthetic of resistance that addressed wider issues such as class, race, and gender. An anarchic spirit took hold of gay nightlife, and the young generation that was trying to grow up through the AIDS devastation valued outrageousness, personal expression, and marathon partying.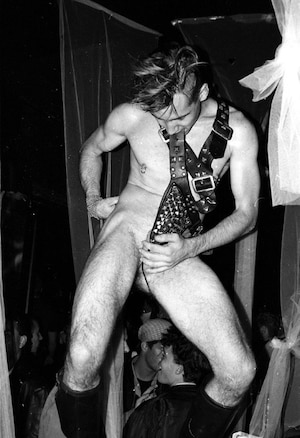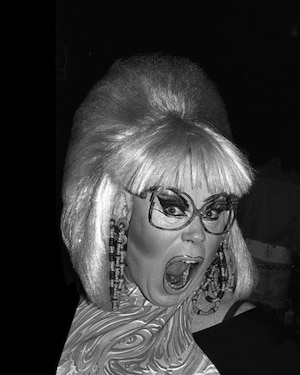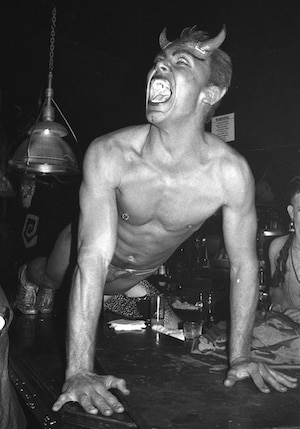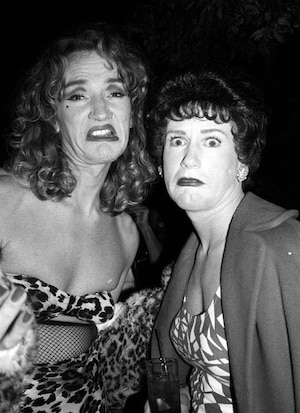 Club Uranus was there to fill the party bill. Started by DJs Lewis and Michael Blue and running from December 1989 to December 1992, it quickly became San Francisco's celebratory freak magnet, drawing rambunctious club kids, artists, drag queens, and activists. It coincided with another wave of gay immigrants, drawn to the city by the huge Victorian houses that had emptied out, cheap rents, and San Francisco's vaunted gay history.
With outré themes like Crisco Twister and the notorious annual Miss Uranus Pageant (an incident with a hamster made local news), Club Uranus mixed eager newcomers with eccentric natives, providing a platform for performers and personalities like Trauma Flintstone, Ggreg Taylor, Jerome Caja, Michael Angelo, The Steve Lady, Arturo Galter, Shannon Trumble, Heklina, Sister Aqua Divina, Quartknee, Phatima, Elvis Herselvis, photographer Dan Nicoletta, and Betty Pearl.
Uranus music consisted of "anything but diva house."
"Michael and I were bored with the music being played in all the homogenized gay clubs at the time," DJ Lewis has said. "Without any experience, we just played music we loved. We encouraged a mix of crowds – gay, straight, and lesbian – because it created less of meat rack and more of a crazy wild party atmosphere." Uranus music consisted of "anything but diva house," including post-acid, post-industrial, early rave and tribal techno classics like Praga Khan's "Out of Control," Eon's "Spice," and Revolting Cocks' "Beers, Steers, and Queers." (Lewis went on to host SF's classic progressive and tech house club Sugar after Uranus faded.)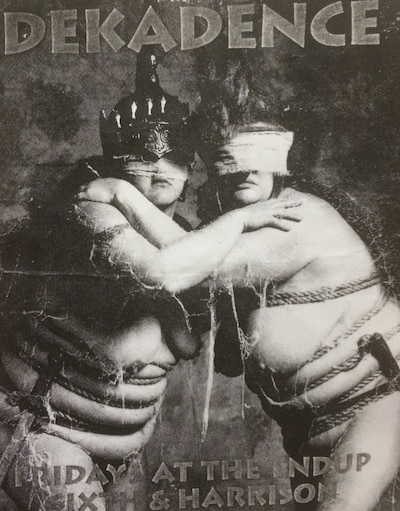 Running concurrently with Uranus was Oakland DJ Bugie's Friday night Klub Dekadence, the flipside of Uranus in terms of music (thumping diva house was the order of the night; Bujie later took over Sunday afternoons) but similar in aesthetic, with performance artists as go-go dancers and provocative flyers featuring fetish photography and collaged porn images.
"It really wouldn't have worked without AIDS," Alvin Orloff, AKA Alvin a-Go-Go of anarcho-theater troupe and band the Popstitutes told me, able to look back with a laugh. Members of the Popstitutes – Diet Popstitute, Tyler-Bob Ingenue, Tony Vaguely, Zeon, Fruit Fly, and more – were at Uranus almost every week, threw their own era-defining party at the Stud called Klubstitute, and hosted other nights at the EndUp. "People really felt they had nothing to lose. If we were all going to die then why not go for it? People partied harder, they expressed themselves more, they had deeper conversations. People didn't want to be exclusively this or that, and they didn't want to be boring, either. At Uranus, all the boundaries broke down into this panoply of iconic personalities and sexy misfits."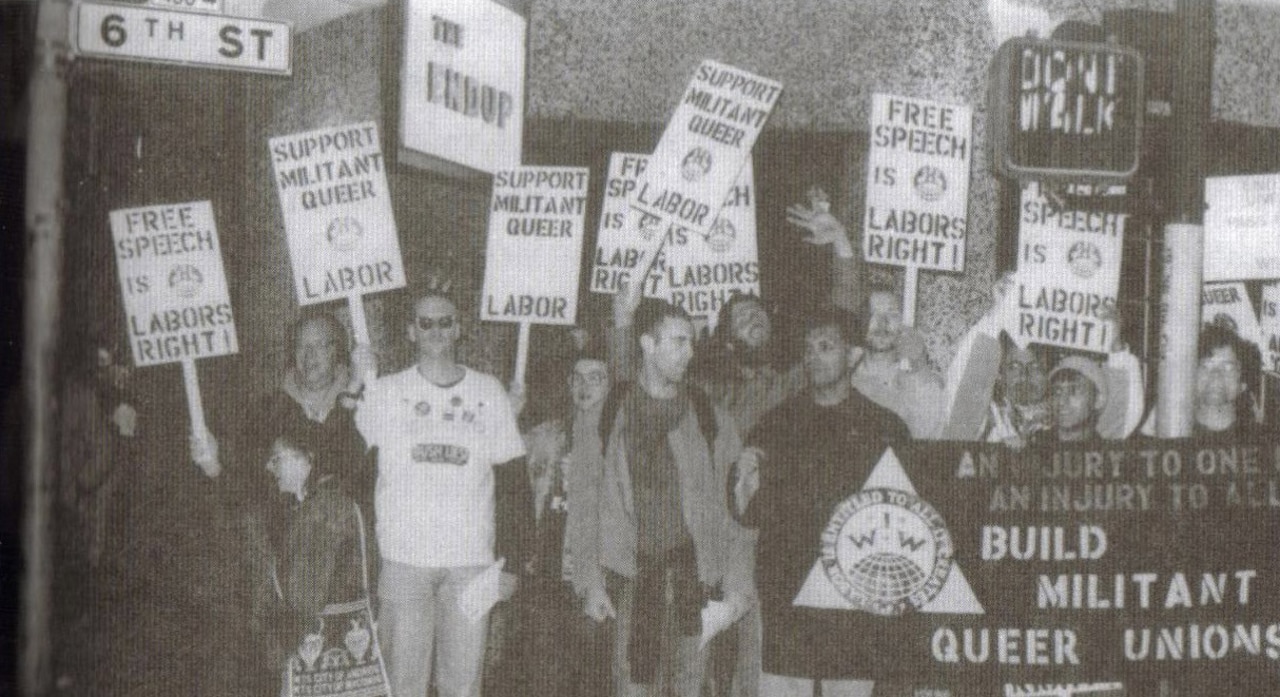 Even as queer expression and activism was finding its way to dancefloors (this was also the age of lavish AIDS fundraisers, many of which the EndUp hosted), another kind of queer protest descended on the EndUp. As the club's ownership passed from Helmut Hanken to his brother Carl, employees claimed they were being unfairly treated and subject to harassment by management. An attempt to unionize was quashed – all employees involved were summarily fired. In protest, queer labor activists unleashed pickets, pamphlets, and creative protests (they blocked liquor deliveries to the bar for several weeks) until an out-of-court settlement was reached, the funds from which were donated to the Queer Victory Labor Fund, which was assisting harassed employees from several other local organizations, including the SF AIDS Foundation.
DEEPER AND DEEPER
Dave Peterson had been a go-go boy at Uranus and, by 1995, had worked his way up to become manager of the EndUp. But he was looking for a different sound than the grittier tech house that Lewis and Mike were playing, or the carnival-like circuit music that was taking over bigger gay clubs. "Growing up in New Jersey, listening to DJ Tony Humphries

View all on the radio and hearing a more soulful house sound all around me then, I wanted to host a party that featured the music I love," he says.

Clubs were slower to take to the more soulful sound, but by 1995, there were a few successful parties featuring the kind of Latin-flavored and deeper house that had been coming out of New York and Chicago for years. A young gay native of San Francisco named Aaron O, commonly considered the patron saint of SF's house scene, was holding down his Thursday party Lift at DV8 and spinning at the EndUp on Sundays, while fellow native Pete Avila was turning out the Sound Factory on weekends. Another young DJ named David Harness had worked his way from Monterey's After Dark club to headlining Saturday night party Universe at the cavernous 177 Townsend, an all-night affair that was the city's "big room" house night. Harness and Avila, along with MC Foxxee, even had a popular weekly radio gig, Your Mama's House, on KMEL 106FM. DJs Rolo, Blackstone, Ruben Mancias, Neon Leon, and a few others were starting to gain slots at clubs around the city.
I wanted to create a place where everyone, including the muscle boys, felt welcome.
Despite this nice little scene of gay Latino, black, and Asian DJs, the wider gay scene in San Francisco felt unwelcoming to most people of color, who were coming out in droves in the '90s, as gay identity became more acceptable, definitions of sexuality more flexible, and HIV more broadly discussed by society. "Sound Factory was closing," Peterson recalls, "and I wanted to keep Friday nights multicultural. I came up in a multicultural club scene. I didn't want everything to be white circuit queens and muscle boys and that music." Perhaps in response a decade of AIDS imagery of wasting and death, more mainstream gay advertisers were promoting a dominant image of fresh, white, monied, healthy muscle boys – at the expense of including vast swaths of actual queer people. (One of the big political struggles of the '90s was to expand the definition of "gay" to include other sexual minorities.) "I wanted to create a place where everyone, including the muscle boys, felt welcome," Peterson says.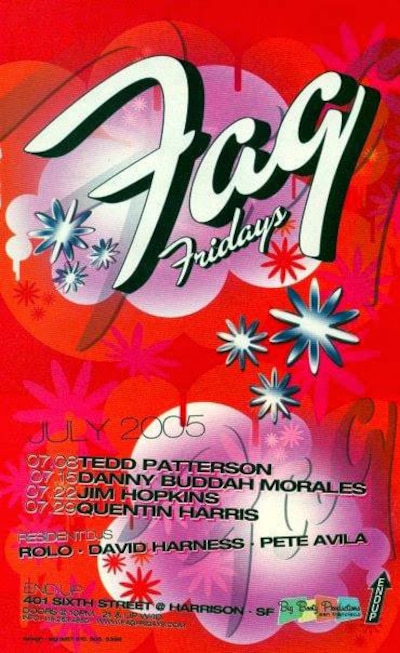 Along with his future husband Jose Mineros, Peterson launched Fag Fridays in 1996. Open from 10 PM - 6 AM and featuring the aforementioned DJs, it settled into a solid lineup with DJ Rolo, David Harness, and Ruben Mancias. The party immediately attracted personalities like drag queen Juanita More, Miss Hoo Hoo, Stacy "The Light," Astroboy Jim, and a cavalcade of energetic dancers. Anthems included anything by Masters At Work, especially India's "I Can't Get No Sleep" and "Love and Happiness," Dajae's "Brighter Days," and Barbara Tucker's "Beautiful People."
When Aaron O began to have health issues (he eventually died of AIDS), David Harness stepped into Sundays with his Super Soul Sundayz party, bringing in a more gospel house sound. Later, Mancias would take over Sunday nights with his Devotion parties. With the packed Fag Fridays, Super Soul Sundayz, and Devotion parties, and Universe in the middle, club kids could dance to soulful house for almost a full 50 hours.
This was no joke: in the middle of the '90s, crystal meth, and later GHB, had replaced cocaine and poppers as the drugs of choice and people would basically move into the EndUp for the weekend. Straighter parties on Saturday morning and evening with DJs like Charlotte the Baroness, Nobel, Vince, and Christine and guests like Doc Martin, Josh Wink, DJ Sneak, and Tommy Sunshine would keep a funky techno and psychedelic vibe going, one descended from classic rave crews Wicked, The Gathering, and the Hardkiss Brothers. EndUp denizen Miss Polly published a book around this time called I Found God at the EndUp that detailed a to-do list for round-the-clock party people. Rule number one: "Don't forget to breathe."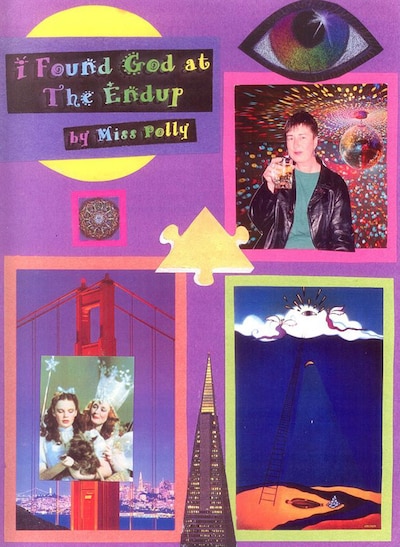 "The EndUp was a place where you could see the who's-who within the SF scene right with the cracked out kids who were off their heads," David Harness says. People sprinkled baby powder on the dancefloor to facilitate marathon dance sessions. "Everyone had a corner – you had the straight kids, the tranny kids, the more stylish kids all holding their part of the patio. And then you had the gay kids holding it down by the pinball machines in the back. They were over at the pinball machines the whole weekend, doing whatever all they were doing over there. The EndUp had a lot of nooks and crannies, and sometimes you'd fall into them for a couple days."
The weekend block of parties also offered opportunity for some of the bigger touring DJs and house acts of the '90s. Frankie Knuckles, Lil Louie Vega, David Morales, Marques Wyatt, Honey Dijon, Tedd Patterson, Angel Moraes, Tony Humphries, Danny Tenaglia, Gene Farris, Derrick Carter, and every house diva imaginable would come in to perform, often at two or three of the parties. "My fondest memories were when these big DJs would come into town," Harness says. "And they'd play Universe, but then they would come check out Sunday afternoon at the EndUp and play little impromptu sets for that smaller dance floor, for the family. And we were living! We were living."
The soulful sound of the dance floor also drew patrons for one more reason: Effective HIV combination drug therapy ("the cocktail") started to become widely available around 2008, and the dance floor became a center not just of necessary community in the face of tragedy but of outright celebration. The uplifting soulful and explicitly gospel house (Mousse T's "Testify," Sakura and Co.'s "Rejoyce," "The Light" by Michelle Weeks, "He is the Joy" by Donna Allen) of Sunday mornings was the former Church taken to its literal extreme by a club full of survivors.
In 1999, to hear Kenny Bobien sing "I Shall Not Be Moved" in the same falsetto as Sylvester, who had died of AIDS in 1988, was like listening to a ghost through the speakers. David Harness: "This big old rainbow of gay, straight, somebody wants to be this, somebody want to be that type of crowd – I wanted to tell our story through music, about how if it wasn't for our Lord and savior or whoever it is you call to, that was the reason we could all come together on the dance floor during that time."
END UP WHERE, EXACTLY?
The EndUp had a rough late '90s and early '00s. San Francisco's first Internet Boom was in full swing, and a swarm of new neighbors and nearby businesses were filing nuisance complaints that often threatened the club with closure. Even though the parties were still packed, the prevalence of designer drugs GHB and Special K was causing problems not just with the EndUp's notoriously imperturbable security staff, but the police as well. So many ambulances were being called to the EndUp that people jokingly referred to their sirens as "the new DJ."
Police Captain Dennis Martel took particular aim at the EndUp and even managed to shut it down for a month in 1999. An overzealous nemesis of all SF nightlife at the time, Martel was eventually shipped out of the city by his superiors, and a special Entertainment Commission was formed to protect club venues from undue persecution. Also in 1999, two guests at Monday night's Club Dread dancehall party were shot by another patron. (Monthly party Reggae Gold replaced Club Dread in the dancehall category in 2003, and became one of the EndUp's most successful nights.)
Kontrol was mostly straight, but it inspired a core of gay followers to create their own parties that opened the gay scene's ears to new possibilities.
The EndUp struggled to diversify in the Internet age. It never found a way to capitalize on the breakbeat, downtempo, and glitch genres that swept the Bay Area in that period. Owner Carl Hanken was getting ready to retire. He sold the EndUp with relatively little fuss to a group of promoters and investors in 2005, who kept the EndUp's slate of parties but added two new crucial ones: Shangri-La and Kontrol.
Kontrol, thrown monthly by promoter Greg Bird with DJs Nikola Baytala, Alland Byallo, Craig Kuna and Sammy Dee, became San Francisco's first regular night featuring minimal and Berlin-style techno. Launched in a small art gallery in 2005, the party moved to EndUp and soon drew guests like Pan-Pot, Isolée, Alex Smoke, and Cosmin TRG. Emphasizing the live performance element, it was the first time the scene was exposed to the future techno sounds coming from around the globe. The sound wiped the cluttered house and techno slate clean. "I call it Windex music," Bird said when the club moved to the EndUp. "It's crisp and clear and a lot more funky in a kind of grown-up way."
Kontrol was mostly straight, but it inspired a core of gay followers to create their own parties that opened the gay scene's ears to new possibilities, among them the DJs that would become Honey Soundsystem.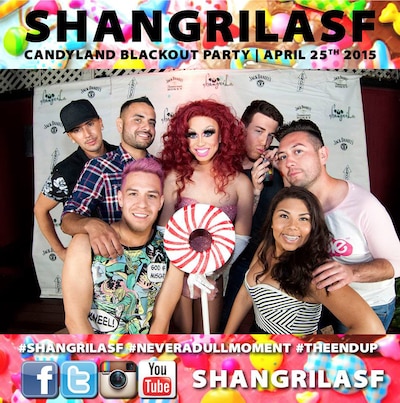 In a completely different vein, Shangri-La was resolutely pop-friendly, unabashedly candy-colored, and gay, gay, gay. The party, started in 2006 by new EndUp owner Sydney Leung, drag queen Tita Aida, Michael "Papasan" Daniels, and photographer Danny Dan, was a reburnishing of the EndUp's reputation for serving the Asian gay community (albeit in a less wince-inducing manner than the EndUp's Wild Rice parties of the '70s). The sugar-rush top 40 and Asian pop music, cutesy theme nights, colorful video documentation, and guests DJs from Asia like Japan's SAWA, Singapore's Big Kid, and Taiwan's Alan Lia still draw out a dedicated crowd on a twice-monthly basis. "LGBT Asians are a big part of SF life," Danny Dan told me. "I think the gay Asian community is growing much stronger, and we're happy to provide a safe and fun social space, especially now that other gay Asian spaces and parties like N'Touch and Dragon are no longer." Shangri-La also offers HIV testing and other community services.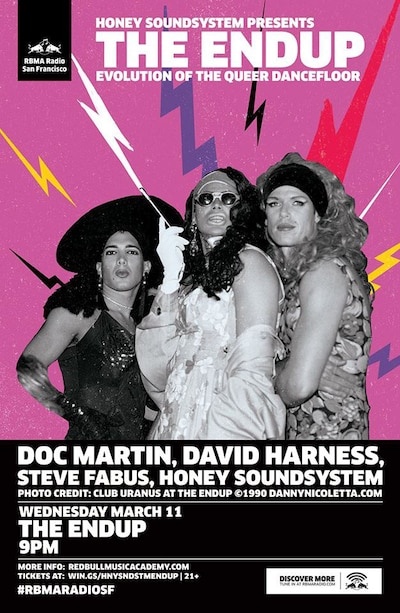 In 2011, the EndUp changed hands again. The new owners moved quickly to fire beloved bartenders and staff members, in the process alienating several of the long-running parties' promoters. (A few vowed never to come back). The EndUp shed a lot of its gay allure, and repositioned itself as a bottle service, VIP-heavy, pop-EDM and commercial hip hop hotspot. White banquettes and other ultra-lounge touches were installed. Scattered glimmers of the old EndUp shone through, but the club lost almost all of its former patrons. The gay past of the EndUp was being erased, just as the gay community at large was being assimilated into mainstream America more than ever. In San Francisco, another tech boom is currently driving even more gay artists and musicians out of the city due to astronomical rent hikes, and what few traditionally gay venues are left seem constantly under threat of closure.
The EndUp may yet be restored to its former gay glory. In March of this year, Honey Soundsystem paired up with Red Bull Music Academy to throw a party celebrating the EndUp's gay legacy. (This article is based partly on RBMA Radio interviews conducted for research.) Fabus, Harness, and Doc Martin spun records from their heyday, and several generations of clubgoers, including young people who'd never heard of the EndUp before, packed the place. In April, both Ruben Mancias of the Devotion party and David Harness headlined parties there. As of this writing, America is waiting to hear the Supreme Court's ruling on gay marriage, and the EndUp is dusting itself off to possibly hold one hell of a gay reception.

Header image: Club Uranus denizens by Dan Nicoletta