Earl Sweatshirt: Rapping Is Drawing Lines
The Los Angeles rapper comes of age on his third album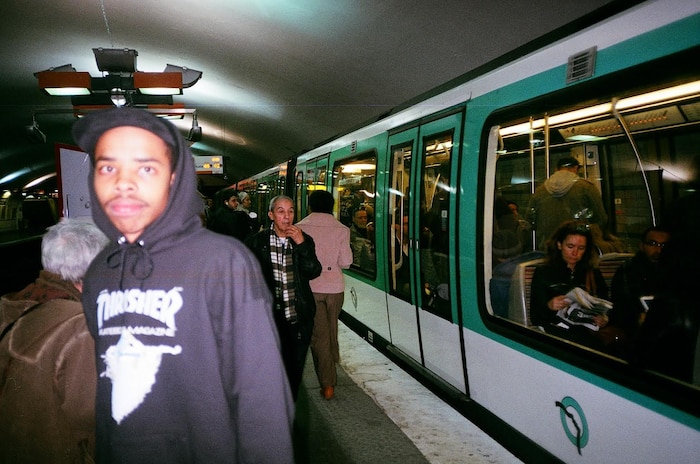 If you listen closely to I Don't Like Shit, I Don't Go Outside, Earl Sweatshirt's third album, you will notice a couple of things. The first thing is that Earl doesn't seem interested in mere shock value anymore. Which makes sense. After all, he wrote his first album EARL when he was 15, before being sent away to a Samoa boot camp by his mother. He also doesn't aspire to work with his heroes anymore, like he did on his second album, Doris, where he featured people like Pharrell or RZA. On I Don't Like Shit, the 21-year-old rapper has somehow found himself.
What made Earl (and Odd Future)'s music so interesting to begin with? The classic themes of pop culture since the '50s: Rebellion and teenage angst. They rapped about absent fathers and peer pressure using the sarcasm and bitterness of young intellectuals, and got props from everybody including Mos Def and Kanye West. Aside from group leader Tyler, The Creator, Earl always seemed the most gifted artist of them all, even when he was just 16 years old and dropping vicious lines about rape, drugs and violence. The group has slowly disbanded over a period of some years (just like most youth cliques do). And now, five years later, Earl doesn't come across as angry anymore, but he's still unwilling to compromise his art for the sake of radio spins.
Clocking in at 30 minutes, I Don't Like Shit lands on the other side of the spectrum of modern day hip hop as Kendrick Lamar's magnum opus To Pimp a Butterfly. Earl produced most of the beats himself, with only one contribution from his former Odd Future buddy Left Brain. On Doris, Earl did half of the beats himself under the name randomblackdude, sampling krautrock and jazz fusion. One day he was visiting Flying Lotus and considering beats for the follow-up, but FlyLo eventually told him he wouldn't need anything – he just needed more confidence in his own skills.
The instrumentals on the new record sound even more sparse and creepy, somewhere between pitched down Memphis rap tapes, early Wu-Tang productions and Madlib's dusty loop sketches. "When I first started making beats, a lot of my shit sounded like Tyler's old shit. Just because that was who I saw making beats first," Earl admits when I met him backstage at the Red Bull Music Academy stage in Berlin's Mauerpark. "Madlib though, he is definitely the one that influenced me the most. There's no specific Madlib sound, even though there is a specific Madlib sound. What I'm really saying is: You can always hear it's a Madlib beat, but it can literally be anything."
Talking about his lyrical influences on the new record, Earl clearly refuses to drop names like MF DOOM or Clipse – rappers that he admired in his youth, but that don't appeal to him as much anymore. "As I got older, and that's not even a disrespect to him, I kind of outgrew DOOM," Earl says. "There's a comic-book element to his stuff that he does really well, but right now I'm just trying to hear about a brother's real and honest pain." Earl laughs as if he finds his own words sounding hilarious, right after he uttered them. "Clipse is also something that I put so much into when I was younger and then I grew up. Don't get me wrong, Pusha T is still a hell of a rapper, but you just see when he's consciously being a rapper. You can see that when he starts doing this." Earl stares at me aggressively with wide opened eyes, then chuckles to himself.
Rapping to me is just drawing lines. Connecting the dots between this word and this word.
Today, Earl's lyrical influences mainly come from rappers that you wouldn't normally expect. For the past year or so, he's been listening to M.O.P.'s 1998 anthemic New York rap album First Family 4 Life religiously. Aside from that, he mentions slick drug rappers like Styles P or Boldy James. "Boldy's brain is like a crazy computer. He's a crack dealer, so his brain works in mathematics. You can hear it in his rap music. He's mathematic with his bars, like line after line, every single part of it – not just the last word or rhyme, but every single word from the beginning to the end of the bar. And then Styles P, his flow is just so dirty. He'll have you thinking that he's going one way, but then he's turning around and going the other. His style is so unorthodox. You know, rapping to me is just drawing lines. Connecting the dots between this word and this word. It's just painting and illustrating. So you just paint what's going on over here, start painting something different, but then you take step back and look at these different parts and it's all the same painting. The ones that are the best rappers to me do this, instead of each line being separate."
When asked who's the best in drawing lines these days, he mentions his good friend Vince Staples, whose recently released debut album Summertime '06 is already atop many rap critics' unfinished year-end lists. Staples – who grew up among gang wars, drug trafficking and poverty – is already being hailed as the next Kendrick Lamar, but Earl Sweatshirt has the potential to be something entirely else: A rapper that transcends the borders of the subculture he grew out of. Not because he was among the first black kids in L.A. to make Vans sneakers, Supreme hoodies and skateboarding fashionable in the hood again, but because he's an artist with a clear vision about his craft and his sound, a vision that – funnily enough – not only appeals to rap nerds and other people counting syllables, but also to metalheads and fans of electronic music alike.
Earl Sweatshirt might not like shit, and he might not go outside a lot, but he's got a lot of different types of fans – which is not a bad place to begin. After all, he's only 21.