Gizmotron 2.0: The Comeback of a '70s Guitar Gadget
Eli Zeger recounts the strange history of this cousin of the EBow
In 1977, English songwriters and recording artists Kevin Godley and Lol Creme released the triple-LP, Consequences. As their debut under the name Godley & Creme, the intended, lofty concept ("man's last defense against an irate nature") was figured with an orchestra in mind, but there were immediate obstacles for the duo. "A string section was costly and time consuming," says Godley, in an interview with Rocktimes.de. "We wanted to play things as we thought of them, with a sound that was unique."
With help from the physics department at Manchester University's Institute of Science and Technology, Godley and Creme created the Gizmotron: an effects device that's gone down in modern music technology history as an oddity that, for various reasons, has had a strange and enduring life. What distinguished the Gizmotron from other effects devices, and gave it its groundbreaking potential, was how it allowed the guitar to mimic the long-lasting stroke of a violin bow: in holding down a note, or group of notes, to produce an unwavering tone, it made "musical sustain" a more controlled, workable technique.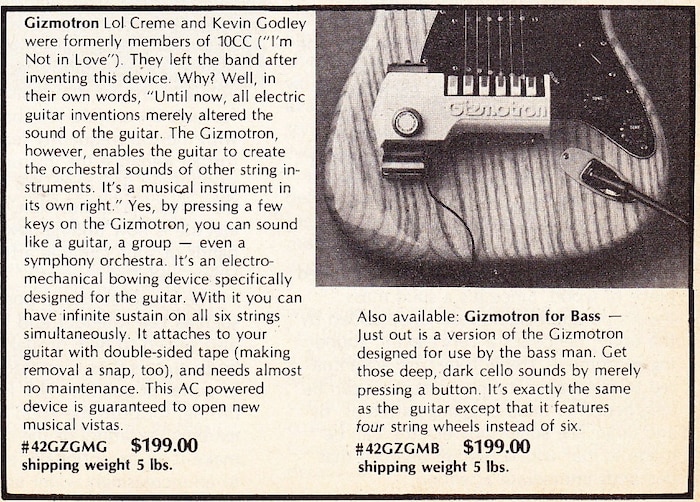 Working musical sustain into their pop recordings had been part of Godley and Creme's repertoire for some time. It's fed through their most memorable hit, 1975's "I'm Not In Love." Imagining an entirely vocal "wall of sound," Godley recorded over 250 separate vocal a cappellas and looped them simultaneously to create the effect of an amorphous, celestial choir. (This arrangement was used as the backing track for "I'm Not in Love," with 10cc recording the main instrumentals and vocals later.)
Hooking onto the guitar (or bass guitar) bridge, the original Gizmotron's six buttons align with the strings; pressing one of the buttons would revolve a wheel against the respective string 100 times per second, resulting in a prolonged sustain. In fingering a group of frets, and pressing the right buttons, musical chords could be formulated. At its most elemental, it was the grand piano's sustain footswitch.
For all its forward-thinking conceptual weight and effort, Consequences wasn't a commercial success - peaking at the #52 spot on the UK albums chart and not even charting on the Billboard 200 - but it did serve as an early encapsulation of the Gizmotron's potential. It was picked up, sporadically, throughout the '70s and '80s. Led Zeppelin's Jimmy Page used it for the introduction of 1979's "In the Evening," reportedly finding it more convenient than his famed violin bow-to-guitar technique, and Cocteau Twins' Simon Raymonde used it throughout ambient super group This Mortal Coil's 1984 LP, It'll End In Tears.
Despite the occasional masterstroke in the studio, the Gizmotron was unsuccessful in the mainstream market. Highly susceptible to humidity and temperature, it was easily damaged, and maneuvering it on the guitar was laborious. So fundamental were the challenges of its design and use that it actually bankrupted Mu-Tron, the Rosemont, New Jersey company that manufactured it. "30% of the time, it sounded like the sweetest violins and cellos," said Godley in Rocktimes. "70% of the time, it sounded like chainsaws." As a remedy, the majority of Gizmotron-ified instruments on Consequences were heavily processed or double-tracked to achieve a better sound. The prototype was mediocre, and so was Mu-Tron's version.
The other problem was the Ebow. Built by Greg Heet in 1969 and patented in 1978, just a year after the Gizmotron appeared on Consequences, the Ebow quickly became the more consistent avenue for guitarists looking for sustain. (Hovering the Ebow over a string vibrates it through magnetization and, similarly to the Gizmotron, sustains notes to produce a violin-like timbre.)
Since it's only able to affect one string at a time the Ebow is considered less dynamic than the Gizmotron, but its more varied and controlled mobility renders it more dependable. One of its more notable appearances was on Big Country 's 1983 hit, "In a Big Country," when it was used to affect their guitars to produce bagpipe-like blares. More recently, post-rock bands like And So I Watch You From Afar and Sigur Ros have included the Ebow extensively in their own music.
With the Ebow remaining a sought-after piece of equipment, interest in the failed legacy of the Gizmotron has developed and, almost four decades after its debut, one expert gear-head named Aaron Kipness is helping the Gizmotron make a comeback. In 1999, Kipness founded Clavinet.com, "the first (note: and the largest) company to manufacture replacement parts for the Hohner Clavinet, and later the Hohner Pianet," he tells me.
After the rise of Clavinet.com, Kipness deliberated on which other models of gear could and should be rescued from becoming obsolete. Having been familiar with its sound from his childhood, he chose the Gizmotron. "I first heard the Gizmotron when Jimmy Page used it," he remembered. "I was about 8 or 9 years old. The sound of it haunted me."
For the past few years, Kipness had been toiling away at a refurbished and more reliable version of the Gizmotron. By studying rare, original prototypes and going through constant trial and error, Kipness built the Gizmotron 2.0. Black, shiny and compact, it's a sleeker rendering of a rickety original. It's an ongoing process, though. "Kevin Godley contacted me during development of the Gizmotron 2.0, gave us his blessing and graciously offered his support," he says, but according to Gizmotron.com, Kipness and company have yet to receive a patent.
What was once a fossil of rock and pop studio arrangement is soon to be a point of interest next month at the Summer NAMM in Nashville, the mid-year edition of one of the most highly regarded symposiums for musical equipment. Kipness knows that the device had, and still holds, staggering potential: "It's going to entirely change the way electric guitar and bass is played. It's not really a 'reissue.' It's really a total reboot of an idea that failed in its original implementation." The Gizmotron was on the brink of being a '70s anachronism. Today, true success and celebration is finally a possibility.