A History of Hip Hop Zines
Have you ever tried to round up your most semi-literate friends for what you said would be a cool project that turned into a quagmire? Did you then spend hours at Kinko's, digits conjoined by haphazard gluestick use? And did you then purposefully look directly into the photocopier, risking temporary blindness, just because? If you answered "yes" to all three questions, then you, too, have made a zine.
For the purposes of this article, the definition of "zine" has been loosened a little as very few photocopied rap zines have been documented, and fewer could reasonably be considered influential or notable. (I have a theory about that.) The ten zines included here were all labors of love: No one fields threatening phone calls from rappers or tries to track down advertising money because it's fun. Those listed were small, short-lived publications that came and went well outside the not-so-watchful eye of the mainstream.
This list also doesn't include the best known rap zines – ego trip, Stress, Frank151, Mass Appeal, Urb, Stop Smiling, and The Source's days as a newsletter – because those are, to varying degrees, chronicled and archived.
The Bomb
Before dating apps and search engines ruined San Francisco, it was the most wonderfully weird city on earth, a hilly, wind-and-fog-chilled agglomeration of Summer of Love victims, Chinese immigrants, black radicals, gay bon vivants with wrists ranging from limp to heavily muscled, street gangs of every flavor, and The Bomb. The Bomb was, during its run from 1991-1996, probably the premier rap zine. Started by Dave Paul, The Bomb's Xeroxed style, smart-assed attitude, and limited-run flexi discs closely mirrored the aesthetics of punk and hardcore zines. The Bomb's 1992 flexidiscs included work by a young Dan the Automator, as well as "Jack The Mack" by then little-knowns Charizma & Peanut Butter Wolf.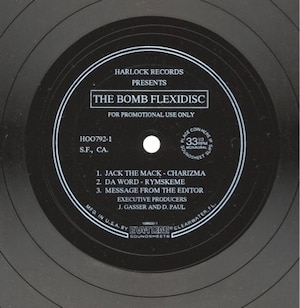 The Bomb's stable of writers included Cheo Coker, Dave Tompkins, DJ Shadow, Kutmasta Kurt, and the inimitable Dave "Funken-" Klein. Klein's day job, the head of Disney-owned Hollywood BASIC Records, allowed alter-ego Funkenklein's near-unparalleled access for his column, "Gangsta Limpin." "Gangsta Limpin"'s stream of consciousness style and sense of humor made for couplets like "I just like this guy's name: JT the Bigga Figga. Tonya Harding's ex-husband's name is Galooli." Funkenklein's thinly veiled shot at The Source ("Fuck a TLC cover") caused then-Source editor Jon Shecter to angrily call Dave Paul and impugn his work as "a stapled-together piece of shit." Stapled together? Yeah. But a piece of shit? Never.
In Search of... Divine Styler
Divine Styler was dedicated to the search for a mostly forgotten member of Ice-T's Rhyme Syndicate, the enigmatic Divine Styler. In reality, the Ontario-based Divine Styler was an absurdist take on underground rap that lasted eight issues between 1996-1999. Published by Ryan Somers under the pseudonym "Fritz Tha Cat," Divine Styler was, initially, a 100-count photocopied zine funded by Somers' welfare checks, which briefly grew into a professionally printed enterprise.
Despite its relative obscurity, Divine Styler managed to land interviews from The Fugees, Saul Williams, Company Flow, Aceyalone, MF Doom, and Eazy-E. Well, sort of. The interview with Eazy-E was drunkenly conducted with a Ouija board, which, Somers claimed in a 2007 interview, resulted in him being possessed by a demon and puking green. Divine Styler's ultimate demise wasn't seance-related – Somers simply grew tired of writing about underground rap music. He now owns a juice bar in Bayfield, Ontario, and, because of his zine, eventually got to meet Divine Styler.
The Kronick
The Kronick's origins were, unsurprisingly, humble; Meshack Blaq started the zine in his home office in the West Adams district of Los Angeles, an architecturally notable, historically black neighborhood near the city's downtown. West Adams was, in the mid-20th century, the home to black celebrities and intellectuals – a self-published magazine documenting black culture is well aligned with the neighborhood's history. In an interview with David Wollock of the Los Angeles Times, Kronick creator Blaq explained that the title of his zine was a double entendre – it was a chronicle of the streets, and, like good chronic, he gives it to readers "raw, uncut, and fresh off the bush."
The Kronick did well to cover both LA's diverse rap scene (which Blaq called "a scene comprised of a dialectic opposites") and larger, national stories. Blaq was an intrepid journalist: He questioned Pharrell Williams and Chad Hugo about racism in rap, asked Dr. Dre "Is George Lucas set-trippin' on you and are you Player-Hatin' on Napster?," and got Kid Rock to threaten Vanilla Ice with an ass kicking. The one interview Blaq never got might've saved his life. Blaq claims to have been the last reporter to ever speak to Notorious B.I.G., having hung out with the deceased at Vibe Magazine's Soul Train Awards after-party and being invited along with the rotund rapper as he left the function.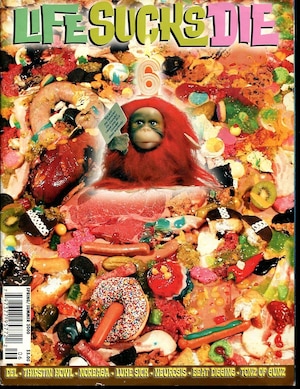 Life Sucks Die
Minneapolis' Life Sucks Die was so named for a portmanteau of punk legend GG Allin's tattoos, which read "Live Fast Die" and "Life Sucks Scum Fuck." Life Sucks Die didn't solely focus on rap; the magazine was founded by a crew of young graffiti artists from the Twin Cities, and the articles and layout reflected their developed artistic sensibilities and underdeveloped sense of maturity. In addition to the standard hip hop elements, LSD regularly ran wise-cracking how-to guides, and coverage of skateboarding and punk.
While many rap zines were lighthearted, Life Sucks Die pushed the boundaries of tastelessness with articles like "Vote For Your Favorite Celebrity Pedophile" and how-to guides like "How To Fuck a Hole in Your Bed" and "How To Tower Dump." (It's about shitting off a water tower, naturally.) LSD had accounts of a woman's love life with and without a hair weave, Invisibl Skratch Piklz' Shortkut documenting his job at Little Caesars, and scored an incredible interview with Noreaga of Capone-N-Noreaga. Speaking to LSD, the New York rapper claimed that "I like the dirty hoodrat bitches with hookworm, ringworms. I like a dirty bitch, sometimes I like a fat bitch, you know, it's nothing for me to get a big, fat girl." In spite of its polished look and memorable features, Life Sucks Die only lasted eight issues. After cessation of their magazine, Andrew Broder, Wes Winship, George Thompson, and late addition Mike Davis founded Burlesque of North America, a successful Minneapolis design firm.
Caught In The Middle
Though Chicago is the United States' third largest city, it has historically been underrepresented in the rap media, likely a result of said media aggregating in New York and Los Angeles. Kevin Beacham and Jason "J Bird" Cook's Caught In The Middle sought to rectify that. Beacham told Complex that "It was sort of this feeling in Chicago of frustration because [rappers] weren't getting noticed by the West Coast or East Coast record labels...that was sort of the theme of Caught In The Middle – a magazine that would push hip-hop Chicago to the outside world but also have the outside world involved in it, too."
Caught In The Middle's debut was auspicious; Common (still "Common Sense") received the cover and an extensive interview, during which he's largely referred to by his real name, Rashid. The magazine also landed interviews with Notorious B.I.G., Craig Mack, and Twista ("Tung Twista"), and reviewed long-since-forgotten mixtapes – literal cassette tapes, not DatPiff downloads. Unfortunately, Caught In The Middle only lasted two issues; according to Beacham, the major labels which advertised in the magazine refused to pay for the rendered services because their artists weren't being covered. The financial burden of printing the mostly-finished third issue were too great, and CITM folded. Beachem and Cook now work for Minnesota record label Rhymesayers.
The Flavor
As the Riot grrrl scene was exploding in the Pacific Northwest, Seattle's Alison Pember was fomented her own DIY ambitions. Pember's The Flavor matched the ethos of her neighboring Riot grrls – the magazine's diverse editorial staff was included of two white women (Pember, Rachel Crick) and a Hawaiian (Sarah Honda). Its art director, too, was a woman, who once claimed to have run Montana's only rap radio show.
An explicit goal of The Flavor was to promote Seattle's rap scene; local stars DJ B-Mello and KCMU radio host Mike Clark contributed to the magazine, and Flavor sponsored a stage at the Northwest Folklife Festival. For The Flavor's second anniversary in 1994, the magazine celebrated with a performance that included Nas, The Fugees, and Coolio. Alas, in 1996, Flavor ceased publication, its final cover featuring De La Soul. Pember left Seattle to work in the music industry, before returning as the head of marketing for Xbox's video service.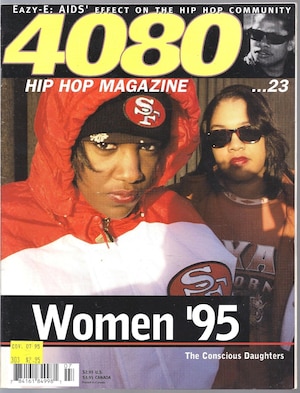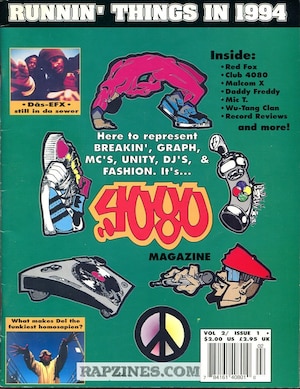 4080
Started by Lauchlan McIntyre in his mother's house in downtown Berkeley, 4080 began as a single black and white sheet named for A Tribe Called Quest's most well known record industry rule. Despite its humble beginnings, 4080 quickly grew into a more glossy, professional enterprise, and with its increased profile came madcap antics and increased controversy. Speaking with Complex, former Editorial Director Eric K. Arnold recalled Master P, then based in nearby Richmond, calling the offices and asking/demanding to be put on the cover. When McIntyre refused, Master P put his phone next a gun, which he then fired into the air. Master P was put on the cover.
McIntyre once blamed Vibe and The Source for sensationalizing, and escalating, the East Coast-West Coast rivalry that lead to the deaths of 2Pac and Notorious B.I.G.. In a severe ironic twist, 4080 was the source of a lesser known beef: E-40, former NBA star Rasheed Wallace, and AZ. Wallace made an appearance on BET's Rap City, during which he insulted E-40. Soon after, AZ gave an interview to 4080 in which (as E-40 later explained to Complex) AZ was misquoted by 4080 as questioning the Bay Area rapper's bonafides. The result: "Record Haters" by E-40, which included lines like:

Got another muthafucka on my shit list
I'm a cut off his dick list
I mean my hit list
My rest in piss list
Dude that be hangin around Nas
You know, gay baby
N***a said some negative shit about me up in a magazine called 4080

AZ never responded to "Record Haters." The beef between E-40 and Wallace was eventually settled with an apology from Wallace.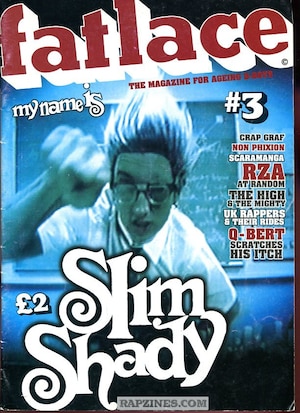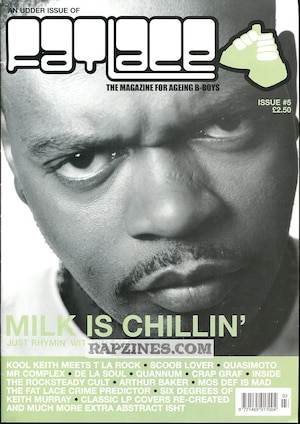 Fat Lace
London's Fat Lace was a quarterly founded by DJ Yoda (Duncan Beiny) and Dan Greenpeace in February 1997. Advertising itself as "The Magazine for Ageing B-Boys," Fat Lace was, roughly, the English equivalent of ego trip, and shared the irreverent tone that pre-dated the rap blog explosion of the early-mid 2000's. Fat Lace and ego trip were initially friendly, but things eventually turned rivalrous, a tension likely exacerbated by their similarities. In a moment of divine rap fan cliché, tensions came to a head between members of the editorial staffs at a Big L tribute concert.
Fat Lace and ego trip likely had more in common than they'd admit; inspired by ego trip's "Ignorant Lyric of the Month," the inimitable J-Zone penned a column called "Ig'nant" for Fat Lace, which documented his love for wildly inappropriate raps. The comedy didn't stop at J-Zone's column, though. In one memorable feature, "Cover Me Badd," the staff of Fat Lace poorly imitated famous rap album covers – staffer Drew Huge had the unenviable job of replacing Darlene Ortiz for their version of Ice-T's Power, which involved dressing up in a women's one-piece swimsuit. When Fat Lace petered out in 2001, much of the staff moved on to Hip-Hop Connection, with Yoda and Greenpeace continuing to DJ and hover around the rap scene in London. Their Unthugged mix series is available for purchase online.
Beat Down
Before ego trip came Beat Down, Sacha Jenkins' second attempt a zine, but his first at covering rap (His first zine, Graphic Scenes & X-plicit Language, was dedicated to graffiti.) Founded in 1992 with childhood friend Haji Akhigbade, Beat Down managed to enlist future ego trip staffers Elliott Wilson and "Chairman" Jefferson Mao. Mao and Jenkins met at a now-defunct film production company, Third World Newsreel; Mao was a young filmmaker fresh out of NYU, who'd made a dark comedy about Chinese identity, and Jenkins an intern. In an interview with Asia Pacific Arts, Mao claims he was told about Jenkins, but finally met the Beat Down founder in person when Jenkins recognized a kindred spirit by his outfit: Mao's New York rap-standard Carhartt sweater.
Beat Down's existence was short-lived; a falling out between Jenkins and Akhigbade ended the magazine's run at a brief ten issues. Soon after, Wilson, Mao, and Jenkins would form the core editorial staff of ego trip. At present, Jenkins is the creative director of the resurrected Mass Appeal, Wilson runs Rap Radar, and Mao is a fellow contributor at RBMA.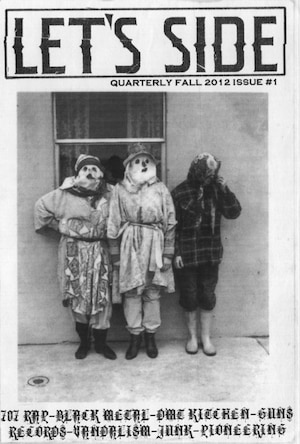 An avowed fan of the aforementioned 4080, Life Sucks Die, and Bomb, Luke Sick's ongoing Let's Side is keeping the flame lit for Bay Area rap zines. Let's Side is, nominally, a quarterly, but the one-man editorial staff's nine to five gigging and rapperly pursuits have been known to derail a production cycle that includes rampant gluing and visits to Kinko's. In an email typed during workplace smoke breaks, Sick wrote that he was inspired to make a zine because "I wanted there to be a publication where you felt like the writer was like 'Damn I love this obscure record/tape/cd so much, I want to find out as much as I can about it, and tell the world what it means to me.' I just saw most bloggers trying to be rockstars for clicks, or just being banner ad salesmen... and to me that's still some mark ass lame shit I wouldn't like to do."
As gentrification in The Bay spreads like patchouli at a Berkeley co-op, Let's Side is a callback to the area's historically vibrant counterculture. The debut issue of Let's Side featured a recipe for DMT, the active hallucinatory chemical in ayahuasca, which Sick reports is both extremely outdated and extremely dangerous. Another featured a statistics class term paper which explained, empirically, that Ice Cube has gotten softer over time. In his career as a rapper, Sick startled Scarface with his apparently robust mohawk; received compliments, a zine, and a personal performance from the late Eyedea; and once ran over his own foot while ghostriding his Nissan. There's nothing more authentically Bay Area than a sideshow-related injury.

Header illustration taken from Let's Side #2