Key Tracks: Bell Biv DeVoe's Poison
Four producers behind the R&B / hip hop hybrid talk about its construction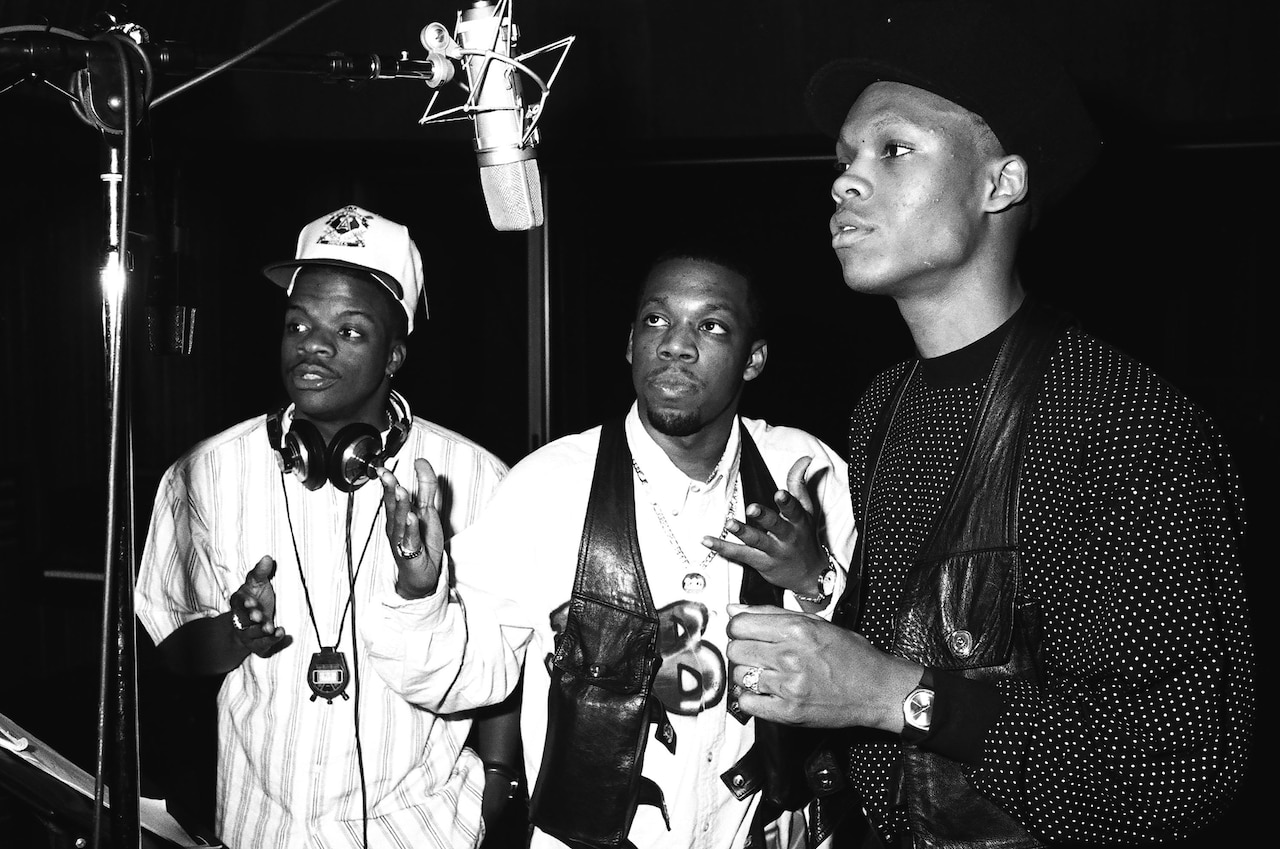 At the beginning of the 1990s – after releasing platinum selling albums throughout the previous decade – the members of New Edition mutually agreed to go on hiatus to pursue other opportunities. While lead singers Johnny Gill and Ralph Tresvant branched out on their own, the three remaining members: Ricky Bell, Michael Bivins, and Ronnie DeVoe joined forces to form their trio, Bell Biv DeVoe. Under the purview of Louil Silas, Jr. and Hiriam Hicks, the group began working with an assemblage of high caliber producers: The Bomb Squad, Dr. Freeze and Spyderman, Alton "Wokie" Stewart and Timmy Gatling, and Carl Bourelly.
The result was an overwhelming smash, selling over four million copies. The record would spawn five singles, including the timeless hits "Poison," "Do Me!," "B.B.D. (I Thought It Was Me)?," "When Will I See You Smile Again?," and "She's Dope!" For the album's 25th anniversary, we spoke with Hank Shocklee from The Bomb Squad, Elliot "Dr. Freeze" Straite, Alton "Wokie" Stewart, and Carl Bourelly about their roles in constructing this groundbreaking album.
How did you become involved with working on Bell Biv DeVoe's debut album?
Hank Shocklee
I knew Michael Bivins for a long time prior to working on Bell Biv DeVoe's album. He told me that he, Ricky, and Ronnie wanted to do a project together. Hiriam Hicks, their manager at the time, contacted The Bomb Squad to produce the record because they didn't have any direction for the guys. For me, it was about crafting a sound [where] the rappers and the singer could co-exist together. That was the tricky part, because most of the time there were singing parts in the record, and in the break portion, the rapper came in. We couldn't use that structure for every record. The rapping and the singing had to be married together.
At the time, rapping was still kind of underground. It was just starting to get mainstream acceptance. This allowed for the opportunity to have an R&B based rap record, as opposed to the rap records at that time, which were more street-oriented. This album was more of a bridge into the R&B world. Plus, there were producers like Teddy Riley doing New Jack Swing and Uptown Records was also having R&B singers on rap beats. The climate was right to have a group with two rappers and a singer.
Elliot Straite
At the time, I was being managed by Hiriam Hicks. I was working with other groups prior to working with Bell Biv DeVoe. I was also working on my record at the same time. "Poison" was one of the songs I wanted to do for my album. When the guys heard it, they went nuts. I didn't think that record was going to be that big because it was a personal love letter to my ex-girlfriend at the time. It wasn't a song at first. It was a letter. When I wrote it as a song, I let a lot of my friends hear it, and they said it was weird. After that, I put the music together. I was thinking I wasn't going to be on the album because such heavyweights were already on it. I ended up having two songs on the album: "Poison" and "She's Dope!"
Alton Stewart
I think Timmy Gatling and I were the first producers to work with them on this album. They were nervous as hell because Ralph [Tresvant] and Johnny [Gill] had been singing the leads on New Edition records. Mike, Ricky, and Ronnie were in the background. When Ralph decided that he wanted to do his solo project, Jimmy Jam and Terry Lewis came up with the name for their new group called Bell Biv DeVoe. Louil Silas, Jr. brought me and Timmy in, and he told us, "We have three guys from New Edition: Ricky, Ronnie, and Mike, and we want you guys to produce music for their new album." We said, "OK. Cool." I wanted a challenge. Many people were saying, "Man, that ain't going to work. Y'all need Ralph in there. They're not singers. How is that going to work?" They were the underdogs. So we went into the studio, and we did five songs. They ended up choosing the two ballads for the album.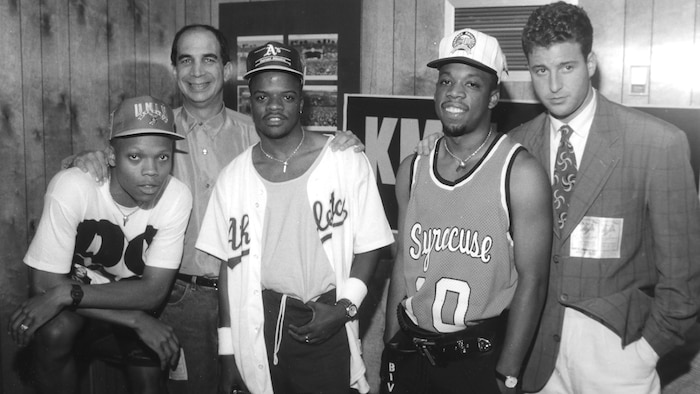 What kind of influence did Louil Silas, Jr. have on this project?
Alton Stewart
He signed on to A&R the project, but he and the group were about to come to blows in the office because Louil's vision was different than the fellas vision for the group. The fellas' vision for the group was to be raunchy, like BBD became. Louil wanted to have them back in suits like they were still in New Edition. They said, "Hell no. We're not doing that." They were about to come to blows and it was a big issue for a while. Thank God they stuck to their guns, because when the album came out, everyone started telling them that they knew they could do it. But the record company didn't want the fellas to sing "Do Me!" The fellas stood their ground there, too.
When did you begin working with group on the album?
Carl Bourelly
We met at Battery Studios. Before we started working on "Do Me!," I already had some lyrics that I came up with that day. I had them in my pocket. When I heard the lyrics that those guys came up with, I put my stuff back in my pocket. [laughs] They had the vibe of the song and everything. They were coming with something that was really original, and I dug it. They had a good mix of singing and rapping on it. My approach was going to be like "My Prerogative."
I was really shocked that they came up with that approach for the song because, in my mind, they weren't prominent members of New Edition. I knew they were good at what they did, but most people would talk about Bobby Brown and Ralph Tresvant. I was like, "These dudes got skills!" They had a concept that I knew was coming at the right time. I knew they were going to blow up.
Hank Shocklee
At the time, the guys were on the road doing some heavy touring. We had to work with them in between the breaks they had. Everything had to be precise like a sniper. When we were in the studio, we had to write the song, record it, and mix it right away. Once the New Edition tour started, they wanted to blast this thing off after it. The tours are the things that sell the records. These records had to be finished fast, so they could catch the next touring cycle that came out.
The engine for Bell Biv DeVoe was Michael Bivins. He had a vision for the group. New Edition was all about wearing suits and dressing upscale. Michael brought it back to the street realm. They really brought out the hip hop element by wearing Timberland boots and sagging pants. This is what gave the group their visual look. From the recording perspective, there were a few people that needed to be brought in. I brought in a couple of writers that could write R&B rap. I brought in Darrol "Shamello D" Durant and Roney Hooks, who wrote the choruses and hooks for me. It's funny that his name is Roney Hooks. [laughs] Eric Sadler and I laid down the beats and all the melodies, and I structured all of the songs.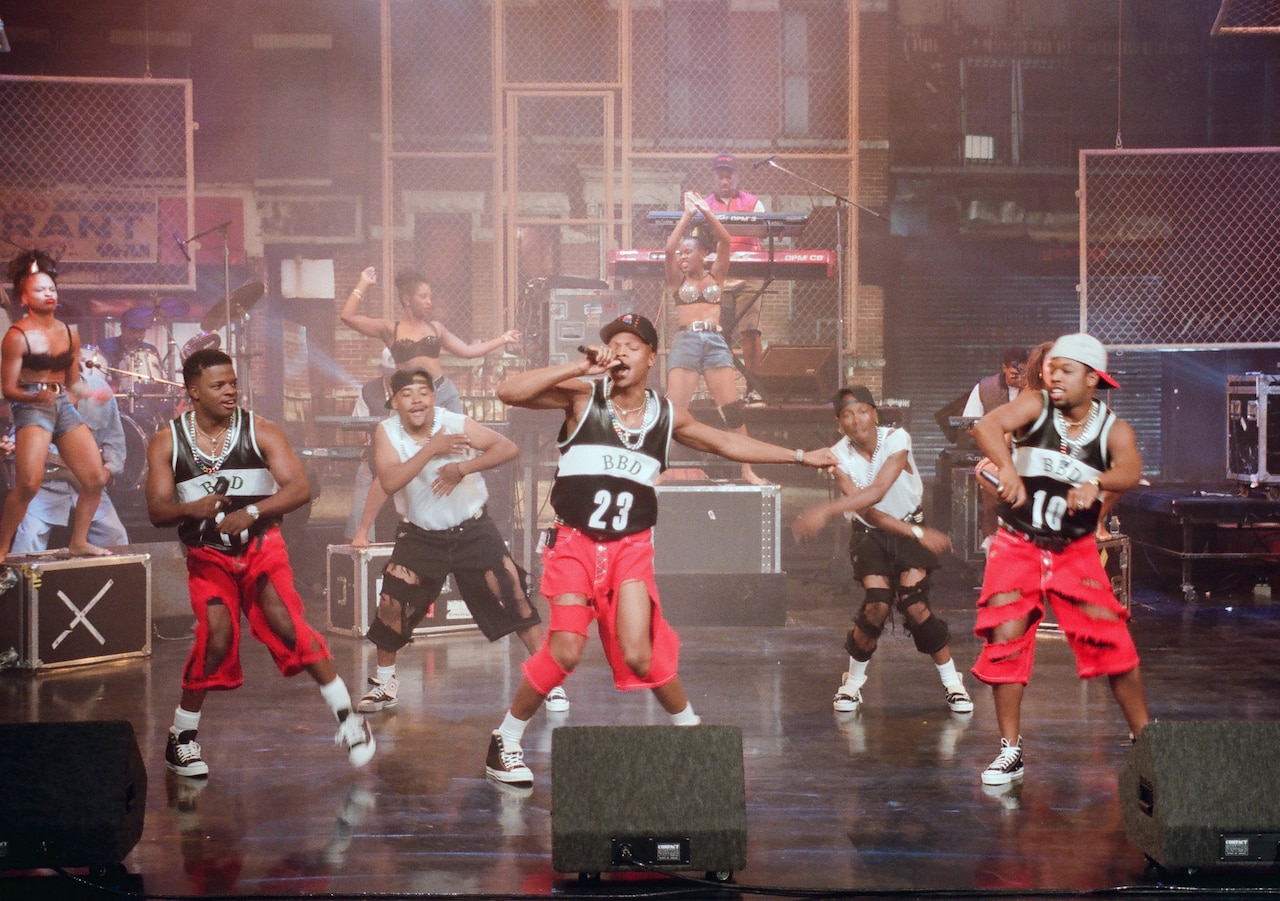 Talk to me about the collaboration process between you and Bell Biv DeVoe inside and outside of the studio during the making of the album.
Hank Shocklee
I knew I couldn't go into the studio and give them a Public Enemy sound, an Ice Cube sound, or a Slick Rick sound; I had to create a new sound for Bell Biv DeVoe, so it could be theirs. It happened that it fit them very well. The reason why the songs worked so well was that their personalities meshed well with the personality of the music.
There are two things going on in a studio: the science of music and melody and the marketing of it. Bell Biv DeVoe had to come across as having the sensitive bad boys' style. Bobby Brown was the bad boy of New Edition, but Bell Biv DeVoe had to be the sensitive bad boys, meaning that they understood women, but they were still rugged. Mike came up with their slogan, "Smoothed out on the R&B tip."
I had to instruct them on how things needed to be sung. The hard part was creating the melody line and making sure they stuck to the script so-to-speak. The melodies had to be there, they had to be short notes not long notes. Ricky couldn't be too long or too short with his notes. He had to have the melodies long enough to get the melodies there, but at the same time, it had to be quick enough to keep the pacing going, so that it wouldn't slow the record down. The most important part wasn't just getting the music and lyrics, but understanding how the melodies needed to be kicked.
The vocals on the record were up front and in your face, like a rap record, whereas in an R&B record, the vocals are laid back on a track. Their vocals were on top. At that time, there was no Melodyne, pitch correction, or Auto-Tune; an artist really had to have a good vocal performance in order to put the vocal up. This is the area where they excelled in, and it's what made the project work.
Michael [Bivins] gave us the go-ahead to do our thing. Mike told us, "Do your thing. Just make us sound hot. Make us sound big. Do whatever it takes to make sure we sound great out there." That right there is the kind of confidence you need as a producer coming from your artist, so you could deliver the best product for them. If you look back, Michael and Ronnie weren't really rappers. They dabbled in it, but they never had a big role in it. They took the material and learned it so well that it blew me away.
The guys are originally from Boston, the Roxbury area. They have a different type of accent than we have in New York. The one thing they had to work on was their accents because rap is all about accents. If you had a different type of accent, an artist had to work to take advantage of it or work to hide it, in order for their music to get across. A lot of stuff that was done, I accented it, so that it flowed. Their vibe had a lot of slurs in it to capitalize off that Bostonian accent.
Alton Stewart
When they first came into the studio to work with me and Timmy, they were very nervous, so they told us, "We know that you know what you're doing. We trust you to take us somewhere." They were in the embryonic stage. They heard the people laughing and joking in the background. They already knew what the world was saying. They didn't know if they were going to make it or break it. I told Mike and Ronnie that they were going to sing. They said, "We don't sing. That's what Ralph and Johnny does." I told them, "You have to get that out of your minds. Don't worry about them. Just trust me with your voices. Let me take over your voices. That's all I need." So we worked, and we worked hard. We had the tracks done already. The background vocals that you hear on "When Will I See You Smile Again?" and "I Do Need You" were done by me.
They came over to the house, and I would sit at the piano with them. We would go over the notes, and we perfected everything. For me, the song had to become part of the artist's soul. They would have to figure out what exactly they were singing about. The song had to become a part of them, and then I would work with them on the melodies, notes, and adlibs to make sure they sounded right. When you sing a ballad, you can't hide anything. All of us put in work on those songs.
Elliot Straite
At first, they didn't understand the type of style I was doing. I grew up listening to Earth, Wind & Fire, Frankie Lymon, and Michael Jackson. But they picked up what I wanted to do with them pretty quickly. We came from two different worlds. They were from Boston, and I was from Brooklyn. It was a fun experience, though. Michael Bivins and I really hit it off. We became best friends at the time. These guys were comedians. They were funny dudes. They used to look at me like I was weird, too. I didn't have nice clothes and jewelry like they did. I looked like a little bum or something. I used to look at those guys like, "Wow. I'm working with New Edition." They were already stars. I was very nervous around Ricky Bell. The way he sang was so impressive.
We mostly worked on the songs at night because they were very busy. They had photoshoots, interviews, and radio spots to do. We usually started our sessions at 8 PM. It was flexible for their schedules. The best time to record was at night because everybody was calm and focused. We recorded "Poison" first and then "She's Dope!" I produced "She's Dope!" right after "Poison." "She's Dope!" was a song complimenting a woman. I had to go back in there and produce a song that wouldn't have women hating me. [laughs]
Carl Bourelly
I never worked with anyone that had a concept like they had. They had a vision for what they wanted to do and where they wanted to go. I was older than them, and I almost forgot that they had been in the music business since they were young teenagers. They saw all sides of the music business. They were very, very savvy about what would go over. I never saw guys who were so dedicated to their craft. They would come into the studio ready to kill. Seeing that made me want to become a better producer.
When we were together in the studio, it was a long mix, and cats were tired, but those guys pulled us through because they were very passionate about what they were doing. It took each guy 15 or 20 minutes to knock out their parts. They came in and were focused. It was like clockwork. They were in the studio encouraging each other and in the booth encouraging each other. It felt like they were on sports team or something. [laughs] They had a real camaraderie.
Hank Shocklee
Once all the songs for the album were done, they brought the stuff back to me to listen to. I thought all the songs were good, but they sounded a little too R&B. I went in there and remixed most of the songs. I wanted the songs to have a similar feel, so the album's sound had a cohesiveness to it. The other thing was I wanted to make sure that the hip hop element was strong. The song that I got my hands on to remix was "Poison." When it came to me, the record was very mellow and laid back. I thought it was a little too laid back. I had to take it and give it a boost and pump it up. Besides changing kicks and snares, I wanted to make sure it had some power and punch. The drums had to be loud. When you hear the intro to the song, that's what set the whole song off. I wanted it to be loud and big.
We remixed most of the album at Greene Street Studios with Rod Hui and Nick Sansano. To me, they were the premiere engineers a producer could've had back then. The music that we were making back then was a collaborative effort. It had to be collaborative. I think it's one of the reasons why people look back on this era of music and say it was fucking incredible. The reason it was dope is because there were no egos involved. It was OK for me to touch Spyderman and Dr. Freeze's work.
When you hear them say "poison" at the end of the record? That came from Kraftwerk.
Elliot Straite
When I made "Poison," I was studying Kraftwerk. When I heard Kraftwerk's Trans-Europe Express album and their "Numbers" record, it made me want to change my whole style and approach to music. It gave me the musical inspiration to do "Poison." I'm also mixed with Black and Puerto Rican. I had uncles that played with big Latin bands like Tito Puente and Mongo Santamaria. You could hear the Latin elements in "Poison." I wanted to bring the Latin element into that record by using timbales. When you hear them say "poison" at the end of the record? That came from Kraftwerk. It brought a futuristic element to the track as well. I didn't want it to be a regular R&B record.
What recording techniques and equipment did you utilize during the making of the songs you produced for the album?
Hank Shocklee
I used the MPC 60 and the MPC 3000. I used them interchangeably. The MPC did a lot of musical things. It's all about taking the sounds. I love the way of playing them off the pad, and how that feels and how it worked in the record, as opposed to actually recording the playing of the keyboard onto the track. Back then, everything was two-tracked. It was going through an analog board onto a two-track machine. There are different ways a producer can do that. One of the ways I was big on was using the sequencing from the MPC. The MPC sequencing was very good. From the keyboard perspective, I used the Roland 1080. I never used a lot of synths.
Alton Stewart
We mixed the two records at M'Bila Studios on the SSL board there. It was done on a regular type of SSL Board because M'Bila didn't have major, trendy equipment. We took our time to mix those two records because you can ruin a song during a mix. A song is priceless. A producer had to see it through from the beginning to the end. The same thing went for mastering a song. After we mixed the songs the first time, we put them in a cheap, piece-of-garbage radio. If they sounded good in that cheap radio, then when we put it in a $40,000 system, we knew it was going to sound off the chain.
I drove around LA for a while listening to the cassette tape to let it marinate. We would be in the studio for two or three days and call it quits to go home. I'd get up the next morning and listen to the songs. I'd take them into another room and turn the volume down low to see if the vibes were right. If anything stood out, I'd write my notes down and go back into the studio to fix those things. When you're multi-platinum producer, it's like you're making a pot of gumbo. We had to take our time.
Elliot Straite
There is a funny story behind all of this. The equipment that I used to make "Poison" and "She's Dope!" Andre Harrell and Eddie F. bought it for me. They delivered the studio equipment to my house. I used the SP 1200 and a Korg M1 keyboard for those two tracks. That's all I had.
Are there any interesting background stories with the group during the making of this album?
Hank Shocklee
Well, I have to give a nod to my brother, Keith. I'm not a social person like my brother is. When they first came to the studio, they were dressed up. They were a little timid. We were used to being animated in the studio, so we were wondering why they weren't. I've always liked crazy energy in the studio. They were very laid back and almost had no energy. I told my brother, "They came in really dressed up. We don't dress up. We have jeans, sneakers, and t-shirts on. Take them up to Harlem to do some shopping at all the hip hop spots and get them dressed." [laughs]
This was before our first studio session together. I sent them up there for a few hours because the energy just wasn't right. My brother took them shopping. When they came back, they had new life. They were hype! They had the right look. It was the thing that kicked everything off. The ice was broken, and we went to work and got down to business.
Carl Bourelly
This studio at Battery Studios we were working in had a little commons area outside of it. There were these guys out there smoking weed. I was like, "Damn. I've never smelled any weed like this before." [laughs] I didn't say too much to them, but I was shaking their hands. They told us, "Yo, man. What y'all are doing in there sounds all right." I asked them, "Can you hear it out here?" Years later, I found out the guys were Raekwon and Method Man from the Wu-Tang Clan.
As you look back 25 years later, how do you feel about the impact that the album has made on popular culture?
Alton Stewart
To be able to come from the hood and make history was special to me. I was a fan of New Edition. I bought all of their albums. When I had some money or got an allowance, I would always walk to the music store in the Bronx and buy their records. The fact that I went from listening to their records to being in the studio with them is something to this day that is mindblowing. We sold four million records with this album. I just thank God for it. I've been to many countries, and I've seen people who can't speak English sing my songs from this album. These songs have been in video games and movies. What more can someone ask for?
Elliot Straite
I feel it's made a huge impact on popular culture. I can still hear artists trying to sing the style that "Poison" brought to the mainstream. "Poison" was way ahead of its time.
Carl Bourelly
I feel really good to be a part of something that helped to define that year in R&B music. The album took the genre in a different direction. I didn't feel like we were doing that at the time, but as time has passed, I've been able to see how innovative it was back then. It was just a beautiful time.