Letta Mbulu's In the Music...
How apartheid, exile and America helped shape a classic LP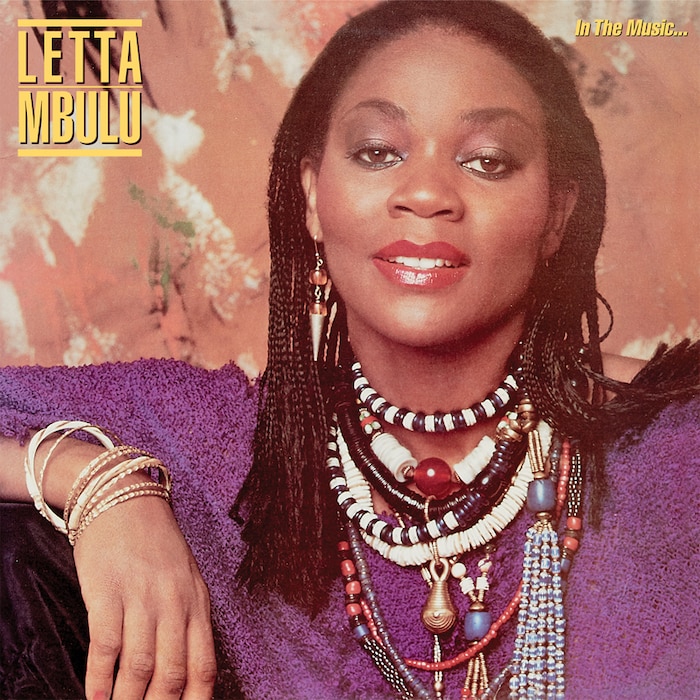 A period of exile can be a very fruitful – if painful – catalyst for many artists. In the case of South African singer Letta Mbulu, who fled the country due to apartheid in the mid-'60s, exile not only led to studio work with David Axlerod and Quincy Jones, but it helped spawn a musical conversation that spanned continents.
While Mbulu is perhaps best known for her vocals on Michael Jackson's "Liberian Girl" and contributions to soundtracks for The Color Purple and Roots, it's her solo work that's gaining renewed interest these days. A case-in-point is Mbulu's In the Music, the Village Never Ends, a rare LP that's getting a vinyl reissue this month via UK imprint Be With Records. Heads have long prized the LP for its blend of R&B, African influences and West Coast studio sheen, but it's been nearly impossible to get.
The reissue is sure to be one of the year's most essential, yet Mbulu herself is shocked at the rebirth. "I didn't even know anyone was listening to that record anymore," she says over the phone from her home in Johannesburg. "For it to be surfacing now as a record that people enjoy, it's like, 'Okay?' But it's quite pleasing at the same time."
Unlike many other rare, holy grail LPs, In the Music isn't some home-recorded curio. It was actually a moderate seller – just not in the US. While the record was cut in Los Angeles with some of best gear that 1983 could offer, it was made specifically for the South African market – a blessing and a curse.
When I told my friends … they would say: "Letta who?" I would answer, "Ask your maid."
Mbulu had been recording for A&M Records and collaborating with the likes of the Crusaders and Stewart Levine, but despite a clutch of singles, none of her records really caught on in America. But she was a steady seller in her homeland. Around this time, South African businessman Ian Fuhr (now famous in the country for a chain of beauty salons) approached Mbulu and her husband, producer Caiphus Semenya, about starting a new record label. In Fuhr's 2014 autobiography Get That Feeling, he talks about wanting to break Mbulu to white audiences in South Africa: "The musical tastes of the race groups in South Africa were so far apart that no white people had ever heard of Letta Mbulu. When I told my friends … they would say: 'Letta who?' I would answer, 'Ask your maid.'"
Free from the constraints of the US major label system and the tastes of American listeners, Mbulu and Semenya (who produced the album) were able to infuse traditional African folk music with modern studio techniques. "Not that we didn't want America to hear it, but y'know, sometimes America takes a long time to deal with stuff that probably, to them, doesn't sound American," recalls Mbulu.
Mbulu explains that a friend would send her records from South Africa, and she was also into reggae from Jamaica, calypso from Trinidad and R&B from America. "So we were mixing things in unconsciously," she says. In hindsight, it was a brilliant formula. One of the record's big tunes is "Nomalizo," which features Mbulu's sparkling vocals underpinned by a moody, slinky groove built to echo a woman's walk.
"Nomalizo is the name of a girl, a young woman who comes from the countryside to the city of Johannesburg, and she was looking for work," Mbulu explains. "She knocked on all kinds of doors trying to find work, and the response was very negative. They would just slam the door in her face."
While recording the album in America meant access to top-level musicians like bassist Nathan East, engineer Gerry Brown and drummer John Robinson, it also posed a few challenges, especially when trying to translate some of the record's African tunes. On the African boogie of "Hamba Nam We" and the Rod Temperton-like title cut, Mbulu had to get creative with the musicians. "Particularly with the singers, we used phonetics so that they would get it," she says. "We would give them the sounds, but tell them to write it the way they heard it, so they would be able to pronounce the words."
Another LP highlight is the soft and vibey "Down by the River," a love song co-penned by Mbulu, Semenya and soul vocalist Maxi Anderson. "I always wanted to make music that would be original, that would sound South African, but also have some new stuff in it," says Mbulu. The desire to maintain her South African identity came early in her immigrant experience, and it was affirmed by watching Miriam Makeba at New York's famed Birdland jazz club in the mid-'60s.
"I said, 'Wait a minute, you really don't have to be Aretha Franklin, you can just be yourself.' I knew I was a refugee, but … it also gave me that freedom as an artist to express myself." In the Music sold decently in South Africa, but fell short of Mbulu's previous LP, which spawned the disco single "Kilimanjaro." Meanwhile, the album was re-released in Japan as Sweet Juju in 1985, it never made an impact in America or Europe.
Throughout the decade, Mbulu put her solo career on the backburner and worked steadily as a vocalist in America. But the desire to return to her country remained strong. "There were times when I would really get depressed, knowing 'I shouldn't be here, I really should be home.' But we overcame."
After apartheid ended in South Africa, Mbulu took a trip home in 1991 to find that she was a star. "I had no idea. I came into the stadium to perform and everyone was singing my songs, and I was like, 'Wait a minute, when did you all learn this?'"
By 1997, Mbulu and Semenya had returned to South Africa permanently, where they continue to perform to this day. But with a new generation of listeners and DJs digging for danceable, melodic music, the crowning artistic achievement of her time in America is finally getting its due. "All I can say is, we did a record, and we tried to do it the best that we could at the time. We hoped for the best, and I guess now it's bearing fruit," she says. "And that's all I can say. I really don't know why people are latching onto it now. It's hard for me to fathom."