A Guide to Raider Klan
Torii MacAdams offers a tour of the SpaceGhostPurrp universe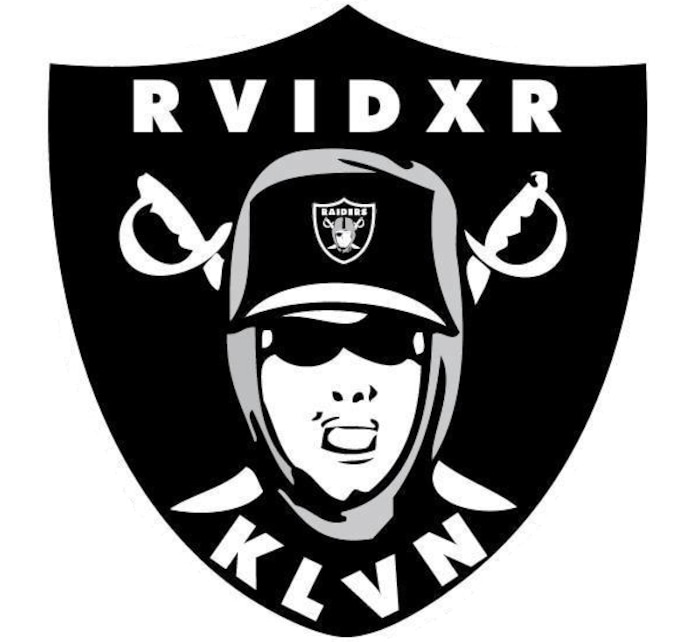 Find your nearest Egyptologist and ask them: "How would you translate the hieroglyphics 'Blvcklvnd Rvdix'?" If the answer isn't "Blackland Radio," then they're not Rvidxr Klvn – er, Raider Klan – fans, and they should be barred from future archaeological digs. In the early '10s, Raider Klan's hieroglyphics had every half-decent blogger reaching for little-used letters on their keyboards
With a low-fi, 90's revivalist sound, and all-black attire, Raider Klan purposefully conjured images of a teenaged Three 6 Mafia. Led by mercurial rapper-producer SpaceGhostPurrp, Raider Klan's core group was, at its peak, a font of rap talent from the group's Carol City, Miami base, as well as Memphis (Xavier Wulf (formerly Ethelwulf) and Chris Travis), Seattle (Key Nyata), and Houston (Amber London). Recent years have seen repeated defections from Raider Klan, with SpaceGhostPurrp's unpredictable behavior being a widely cited cause. The departures of Xavier Wulf, Chris Travis, Nell, Key Nyata, and, in particular, Denzel Curry, robbed the group of much of its dynamism and momentum. While its former members carve out solo careers, Raider Klan soldiers on. The group's recent mixtape, Raider Klan: The Mixtape 2.75, caps a couple years of internal tumult, and occasions a look back at some of their best moments.
(For the sake of readability, all Raider Klan hieroglyphics have been translated into standard English.)
SpaceGhostPurrp - Like a Strippah
NASA: The Mixtape, Purrp's debut EP, had a low-end that sounded like a VCR in a trash compactor. Blackland Radio 66.6 was an improvement, but well-mastered mixtapes were never part of the early Raider Klan charm, anyway. On "Like A Strippah," Purrp raps about a woman who's attractive and shaking her ass like a stripper. Hardly a high-minded conceit. The gangster rap-standard subject matter, vocals buried too deeply in the mix, and overly heavy bass reverb are homages to the popping cassettes Purrp professed to have loved as a child. "Like A Strippah" is emblematic of the early Purrp sound; shitty enough to be endearing, good enough to warrant repeat listens.
Amber London - Low Key
Much of London's first EP, 1994, was already finished before London reached out to Purrp via Twitter. London found in the Miami producer a kindred spirit – in an interview with Pitchfork, Purrp described London as the female version of himself. "Low Key" was the duo's first collaboration. For the overtly masculine Raider Klan, London's Gangsta Boo and Mia X-reverent style – unmistakably female, unmistakably raw – would prove to be a savvy addition.
Denzel Curry & Lil Ugly Mane - Twistin
Despite never joining Raider Klan, the semi-anonymous, Richmond-based Lil Ugly Mane was a consistent presence on the group's releases as producer, rapper, and cover artist. Mane and SpaceGhostPurrp's sounds dovetailed so heavily that a Mane track, "Hood," landed on Blackland Radio 66.6. "Twistin," Denzel Curry's initial collaboration with Mane was a logical step for the young rapper. The track's BG Knocc Out vocal sample and dusty sound is a standout on three different mixtapes/albums: Purrp's God of Black, Curry's King of the Mischievous South Vol. 1, and Ugly Mane's Mista Thug Isolation.
Ethelwulf & Amber London - Trillanation
According to an interview with Memphis Flyer, Ethelwulf released "1st Chapta of The Phonk," and shortly thereafter was contacted on Twitter by Amber London. The result was the surprisingly delicate, Xscape-sampling "Trillanation." The track, alongside "1st Chapta…" would land on Ethelwulf's impressive debut mixtape, The Wolf Gang's Rodolphe. After "Trillanation"'s release, Ethelwulf was invited to join the Klan.
Yung Simmie feat. Denzel Curry - Black Raven Phonk
Even in a group of outré knuckleheads, Yung Simmie's self-confident goon attitude stands out. If we strip away the Japanophile eccentricity of Ethelwulf, the blood-shot, third eye-open lyricism of Denzel Curry, and Fruity Loops obsession of Purrp, we're left with Yung Simmie. This isn't necessarily a negative. Simmie's lack of lyrical depth is well compensated for by an unhurried, confident flow – he has two volumes of a mixtape called Shut Up & Vibe for a reason. Simmie's introduction to Raider Klan came through member Renegade; it was only after being told about the group that Simmie realized that longtime friend Curry was already a member. "Black Raven Phonk" has Simmie and Curry trading verses; Simmie stands on a corner, shooting sideways glances, Curry stands in front of telescope, staring deep into the cosmos. Curry can't throw lyrical darts fast enough. Simmie, when prompted by a Juicy J "Yeah, hoe!" adlib, calmly replies, "No, no, no...I go in when I feel like it. You ain't gotta scream at me."
SpaceGhostPurrp - Tha Black God
4AD and Purrp were strange bedfellows; 4AD was, and remains, an indie rock goliath, and Purrp was, and remains, a gold-grilled Miami rapper with an avowed love for strippers and drugs. This version of "Tha Black God" was a remake of a song of the same name from Purrp's third mixtape, God of Black, and was the album's lead single. (Much of Mysterious Phonk's material was remakes and re-masters from Blackland Radio 66.6 and God of Black.) In retrospect, Purrp's mix of Masonic-style self-mythology, ultra-dark sound, and grimy lyrics arrived at the wrong time – with the rap world collapsing, Purrp was never going to be a good bet for financial viability. Mysterious Phonk is, to date, the only SpaceGhostPurrp project to be released by an established label.
Chris Travis - Psychedelic Funk
Like fellow Memphian Ethelwulf, Travis joined Raider Klan through the Internet thanks to prior relationships with Key Nyata and Amber London. In true Raider Klan form, there's an unmistakable retrograde Memphis quality to Travis' music, even if it has a contemporary, Internet-ready twists. In an interview with The Memphis Flyer, Travis said that he grew up listening to Memphis legends Three 6 Mafia, 3 Memphis Kniccas, Skinny Pimp, and his personal favorite, Tommy Wright III. Much of Travis' oeuvre is patient and pneumatic funk, a direct-line successor to his idols. "Psychedelic Funk," released on Travis' Codeine & Pizza mixtape, could pass as early Juicy J, with half-ridiculous claims like "Sippin so much lean, a n---a pissin' purple urine" and "She say a n---a artsy – that be my right brain."
Key Nyata - Bring Me the $$
The Raider Klan sound is inspired by fertile, localized gangster rap scenes (Memphis, Houston, and Los Angeles), which made Seattleite Key Nyata's presence surprising. Nyata never quite fit in with the lyrical gunplay and opiate-happy tomfoolery of the Klan, nor did he fully inhabit the anime-obsessed geekery of the group's more liberal branch, but he was a respectably productive member nonetheless. "Bring Me The $$," from mixtape Two Phonkey, was the type of lighthearted experimentation that other Klan members likely wouldn't have pursued.
Denzel Curry - A Day in the Life of Denzel Curry Pt. 2
Curry's Nostalgic 64, released shortly after his departure from Raider Klan, is a fully realized version of his latent nerdiness, artistic ambitions, and hardscrabble childhood. Mark Maturah, Curry's manager, told Complex that during the recording of Nostalgic 64, seven of Curry's friends died. "A Day In The Life…" is melancholy and confusion filtered through the mind of a horny 18-year old. On "A Day In The Life…" Curry directly addresses leaving Raider Klan:

Markese [SGP], Andrew [Yung Simmie], Darnell [Nell], etcetera
Its still my n----s, know things will get better but
Things take time, and all things change
Some people venture off and make they own lane
Amber London, SpaceGhostPurrp, Dough Dough Da Don - Fuck Out My Way
It can be difficult to tell whether Raider Klan exists on a day-to-day basis. Purrp only has a Twitter account long enough to spew homophobic invective at former (or current) groupmates and disband Raider Klan before deleting his account or being banned. In the lead up to the release of Raider Klan: The Mixtape 2.75, Purrp got in a public spat with Raider Klan label head Kadafi and insulted Yung Simmie; this level of self-sabotage has become status quo for Purrp. Though he appears overly familiar with the self-destruct button, Purrp is still a gifted musician. "Fuck Out My Way" harkens back to Purrp's low-fi beginnings. A jazzy horn riff is interred below six feet of pounding bass, Amber London is still getting money, and Purrp is still a misanthrope. It's almost like nothing's changed. Almost.