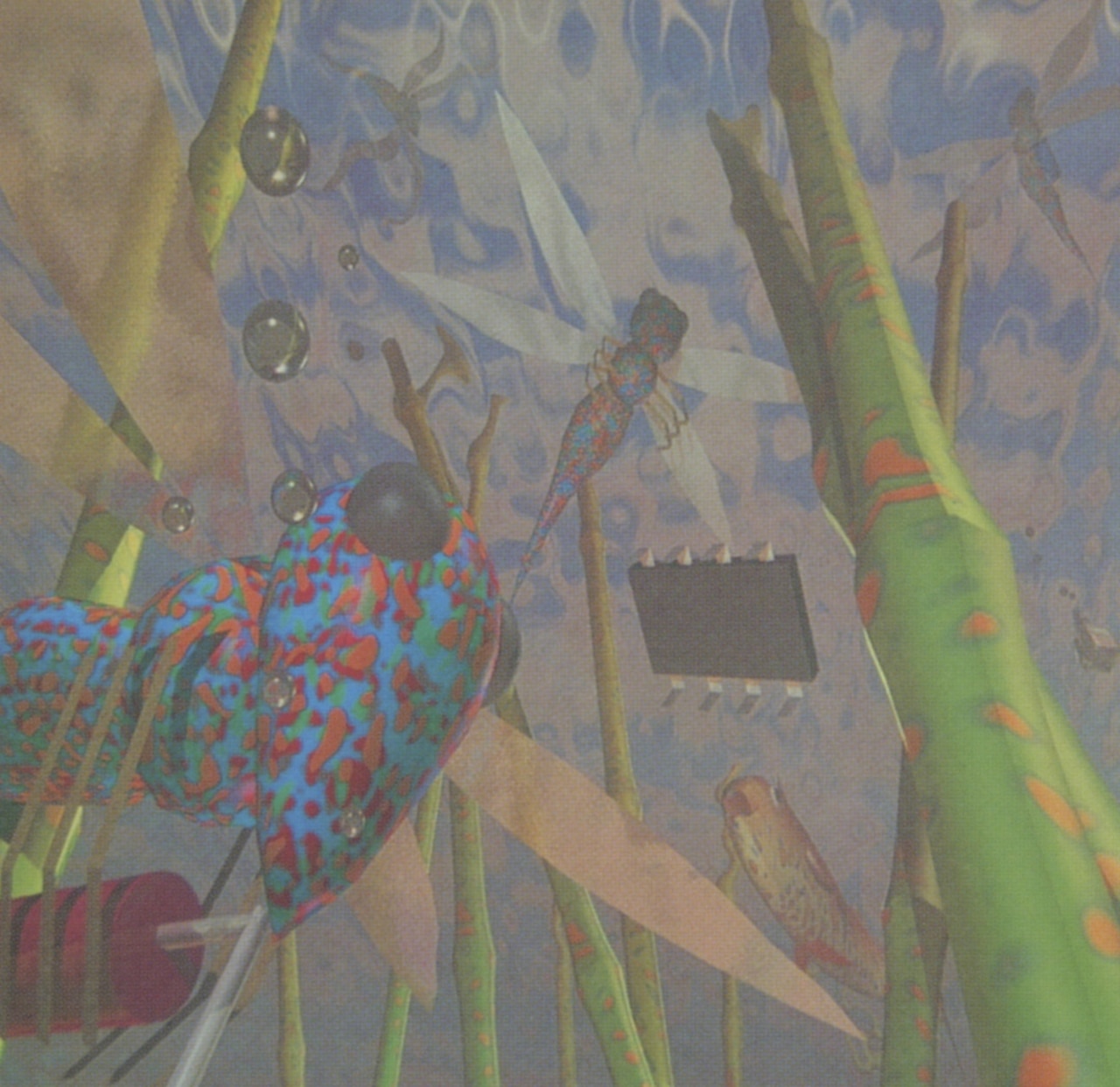 Welcome To The New Age Disco: The Untold Story of London Techno, 1989-1997
The UK has always carried considerable weight in the electronic music world, especially within the realms of hardcore, jungle, drum & bass, garage and dubstep. However, in the shadow of the acid house explosion a focused network of producers and labels gave rise to a sound that, for a moment in time, blended soul and synths with sci-fi aspirations that stood equal to the innovations of Detroit. Oli Warwick tells their story.
Many of the names involved in the early days of British techno have some kind of recognition in the annals of electronic music, from The Black Dog, B12 and Mark Broom through to Stasis, Baby Ford and Kirk Degiorgio.
While house music took hold rapidly in the UK, an original techno sound germinated slowly. But, for a few years in the early '90s, there was a hive of activity around a network of artists and labels in London that married haunting sci-fi romanticism in the Motor City tradition with a strange, angular funk that could not have come from anywhere else. Balanced neatly between club-centric sounds and home listening fare, this music presents a cohesive vision, even if – at times – the reality felt fractious or solitary for those involved.
London-based producer Ben Sims was an observer when the first strains of homegrown techno started to emerge. "A lot of the producers came from a similar 'hip hop kids who discovered acid house' background and you could hear that in the music," he explains. "A bit of attitude, the use of breaks and samples, but with a huge influence from Detroit and Chicago."
"You'd hear early Black Dog or B12 at parties like Knowledge and Rage," he continues, "and you could tell that times were changing. The big raves were getting bigger and sillier, the music faster as drum & bass or early jungle became the main styles, so UK electronica, or whatever you want to call it, was really the soundtrack of the breakaway and the real start of a proper UK techno scene."
BLACK DOG
Most agree that it was The Black Dog that first shaped a new abstraction of techno with their self-distributed debut release Virtual. The trio was made up of Ed Handley, Andy Turner and Ken Downie.
"We first started writing together after Ken placed an ad in a music paper looking for people interested in writing acid house," explains Turner. "Ed responded to that. I was DJing for a pirate radio station near Old Street at the time, and being an old school friend of Ed's, I was roped in shortly after. Ed and I had grown up with electro and then started raving in the mid- to late '80s when the warehouse party scene was taking off around London."
While the ghost of rave can be felt in the chord progressions, stabs and vocal samples of Virtual's title track, the soft attack of the synths and the deft drum breaks, erratic arrangement and spiritual atmosphere are a step away from the hyped-up hysteria that was common at the time. "The Weight" was an even more explicit mission statement of soothing ambient techno loaded with sweeping pads and delicate drum machine patterns.
RECKLESS AND FAT CAT
"Ed and Andy of Black Dog came to see me in Reckless Records," recalls Kirk Degiorgio. "They said, 'We've just hooked up with this guy Ken, he's got a little studio in central London and we're just starting to make some music, would you like to come in and put some ideas into the project?' That was when they first released Virtual." While he would go on to an accomplished career under a multitude of aliases including As One, Degiorgio's position at Reckless in Soho placed him at the centre of the emergent scene. "I gave one of the very first copies of the record to my boss Patrick Forge and he played the more breakbeat track that night on Kiss FM. Immediately after him was either Colin Dale or Colin Faver, and they played the more techno track... The following week I spent most of my days in a van with Andy from Black Dog taking the record to shops like Jazzy M's shop over in Parsons Green, Black Market, and a few other outlets."
You'd hear stories of people partying on a Friday night and sleeping on the doorstep waiting for Fat Cat to open on Saturday morning.
The role of record shops has always been vital in musical developments, as a physical meeting point away from the noise of a soundsystem as much as a source of new music. While Reckless played a vital part in those initial releases, most agree that Fat Cat became the go-to shop for house and techno. Starting life in Crawley, Surrey in 1989 before moving to Covent Garden in London the year after, it was set up by a team that included Lee Purkiss, who recorded a string of celebrated EPs on Irdial-Discs as In-Sync.
"Initially Fat Cat was just another record shop to hit on the West End circuit I'd been frequenting since the mid-'80s," recalls Sims, "but it quickly became the shop for techno, Chicago house and electronica. If you weren't there when the delivery came in, at the counter, with your hand up when someone dropped the new Axis promo, you couldn't get one anywhere for love or money. You'd hear stories of people going out partying on a Friday night and sleeping on the doorstep waiting for the shop to open on Saturday morning."
B12
The duo of Steve Rutter and Mike Golding were among those who had their lives changed after encountering Detroit techno for the first time. "When I heard 'It Is What It Is' [by Rhythim Is Rhythim

View all , I was crying like, 'What the hell is this music?'" Rutter recounts. "I just wanted to emulate that. Not plagiarise it, but do the UK equivalent of it. It planted a seed and it's still there."

Named after one of their favourite presets on the Akai AX80 ("it sounded like a Larry Heard track"), Rutter and Golding set up B12 Records, with their first single emerging under the Musicology alias. Inspired by Richie Hawtin and John Acquaviva's Plus 8 label, they released their records anonymously, adhering to a strict design format and leaving cryptic, sci-fi-inspiring messages in the run-in and run-out grooves. Their attention to detail paid off: Due to the presentation and the music, many assumed the label hailed from Detroit.
"Mike Golding used to come in to Reckless and buy a lot of the rare US stuff I had brought over," explains Degiorgio. "He played me a tape of his own music, and it was the first B12 records. He asked me to stock the label in the shop... I got really close with Mike and he gave me the inspiration to start A.R.T."

After the success of the Musicology 12-inch, Rutter and Golding went on to employ different aliases to maintain the mystique, with names such as Redcell, 2001 and Cmetric throwing a red herring to trainspotters trying to figure out the source of these new sounds. The only two people Rutter recalls opening up to in those nascent years were Degiorgio and Steve "Stasis" Pickton, with the former scoring his first release through the label in 1991.

"The first demo tracks I did, Mike ended up putting out on B12," Degiorgio reveals. "Shortly after that I did my first A.R.T. EP, which was myself and Balil, which was Ed from Black Dog, and that got licensed to Planet E and in return Carl Craig

View all gave me an EP." Degiorgio was one of the first from the UK to forge a connection with the Detroit techno contingent, thanks to a chance meeting with Derrick May

View all at an Inner City gig at the Town & Country Club in Kentish Town in 1989. Degiorgio's bootleg Transmat t-shirt drew May's attention, and a lasting friendship was formed, leading him to take trips to Detroit and Chicago for records to stock in Reckless.
PURE PLASTIC
Ed Handley and Andy Turner managed to have quite a reach in those formative years. Aside from their work with Ken Downie in The Black Dog, the two were tangled up in a web of collaborations and aliases that was typical of the era. Handley recorded as Balil and Close Up Over, while Turner also produced tracks as Atypic and Tura, and they started Plaid initially as a vehicle for tracks that just featured the two of them. One of Turner and Handley's most fruitful connections outside Black Dog, though, was with Mark Broom and Dave Hill, with whom they released smoky, often surprisingly downtempo records as Repeat.
Most of the Repeat material was released on Broom and Hill's Pure Plastic label, which joined the dots for many of the early UK techno innovators when it started in 1994. One of the key people Broom met through Pure Plastic was Peter Adshead, AKA Baby Ford. Ford's legacy in electronic music ran back a bit further than most, having already carved a reputation for himself with the likes of "Oochy Koochy" in the early acid house days, but as Broom, Hill, Handley, Turner, et al. were hitting their stride, he too was turning to a more emotive, ambient kind of techno.
"I met Baby Ford down at Fat Cat Records," Broom explains. "I got chatting with him, and he was about to start a club night up called Nude with Ian B [also known as Eon]. The night was going to be a Sunday night thing in Maximus in Leicester Square. I just gave him a demo of my DJ mixtape and he loved it, and from that day we just bonded."
Nude never really took off due to its untimely slot at the end of the weekend, but it provided the backdrop for Broom and Ford to start collaborating regularly, resulting in records both on Pure Plastic and Ford's Ifach imprint. As well as Ford's own tracks, Ifach played host to Broom and Hill's more electro-leaning Sympletic project, the all-star line-up of Broom, Hill, Ford, Turner and Handley as Baird Remo, and joint efforts between Ford and the aforementioned Ian B (largely under the Minimal Man banner).
STASIS
As Stasis, Steve Pickton was one of the artists who truly defined the era of UK techno with his singular sound. Like everyone else, he had plenty of aliases from Phenomyna to Paul W. Teebrooke, which in some ways helped to keep him shrouded in mystery – even if he had strong connections with the likes of Degiorgio, Broom and Golding.
"Steve was so funky," insists Broom. "He was a big vinyl collector, so had loads of soul, funk, disco. He was the first guy that I met who knew which break is on which album, and you can tell through the style of music that he makes. It's got that soul, and he had a lot of really nice analogue stuff as well. A really unique sound."
After first appearing in 1993, Pickton went on to multiple appearances on Pure Plastic, A.R.T. and B12 as well as the shortlived Likemind label. A sure sign of the broader appeal of his music, Stasis records ended up appearing on Peacefrog, most notably with the albums Inspiration and Fromtheoldtothenew. Pickton also moonlighted on the label as The Other World Collective. 11If a posting on the Discogs entry for the 1993 release is to be believed, the artist himself claims with some pride that it was the worst selling record on Peacefrog at the time.
THE WIDENING SCENE
From these foundational artists and labels, it didn't take long for more protagonists to enter the fray, either looking to present their own unique slant on the emergent style or engage in getting the music out to wider audiences.
"Those Black Dog EPs were coming out, the Plaid album Mbuki Mbuki had come out, B12 had had five or six releases under their belt, I'd had my first A.R.T. EP, Dave Angel was doing lots of good stuff at R&S," Degiorgio remembers, describing a time when the music had found its feet. "Shortly after that a guy called Grant Wilson-Claridge brought a white label in to the shop and it had 'Digeridoo' and 'Analogue Bubblebath' and all that stuff, so that was the whole birth of that whole Aphex thing. A couple of weeks after that a guy called Tom Middleton came in with the Evolution stuff and it was booming by that time. You had five or six labels and they seemed to have a connection."
Coming from Cornwall, Wilson-Claridge and Richard D James had already started Rephlex Records, the beginning of the Aphex Twin phenomenon that – for the purposes of this article – existed in a world of its own creation. Meanwhile, Tom Middleton had been working with Mark Pritchard on a range of projects, including Link & E621, Reload and Global Communication. Elsewhere, Russ Gabriel had started up Ferox Records and Luke Slater was starting to forge his own path.
"I used to regularly go to Jelly Jam records in Portsmouth," says Gabriel. "Luke Slater was working there at the time and he introduced me to some great music. When I got around to starting Ferox in 1993, he also handed me some demo tapes from new artists that had sent him unreleased stuff."
Closer to the hub of East London and Essex, A13 was a label that supported less connected artists such as LA Synthesis as well as some of the Repeat and related output. Meanwhile, General Production Recordings had a strong hand in releasing early material from a whole host of characters. Beyond the early The Black Dog 12-inches and the aforementioned Plaid album, Wayne Archbold's enterprise gave rise to the esoteric styles of York-based producer Beaumont Hannant and more challenging fare by John Dalby and Germ (an early moniker for Tim Wright). One of the widely agreed successes of GPR was Luke Slater's 7th Plain albums My Yellow Wise Rug and The 4 Cornered Room, which stand as landmark techno releases to this day. However, some have mixed feelings about the practices of GPR in those years.
"We don't have fond memories of our time with GPR," states Turner firmly. "Wayne lost touch with us, as his model was not to pay his artists. He put out some good music, but the label wasn't there at the start. It capitalised on the scene that pre-existed."
One step to the side of this hive of activity was Irdial-Discs. Akin Fernandez's label contributed to the musical progression of the time. But their modus operandi was staunchly independent from any other concerns – commercial, social or otherwise.
"I started Irdial-Discs to release music simply because it should be released," explains Fernandez. "I didn't care if it sold or not, knowing that eventually what we were doing would take its proper place."
The label started in 1987, releasing a variety of Fernandez projects, the most prominent of which was Aqua Regia. In 1992 the label made some decisive entries into the annals of UK techno history, signing Lee Purkiss' In Sync for the evergreen classic Storm, releasing the first single by the late Matt Cogger as Neuropolitique and tapping Luke Slater for his In the Shadow release as Morganistic.
Irdial managed to establish itself as a force among British electronic labels, despite – or perhaps because – of its divisive appeal. Certainly with its wild card tendencies (particularly in Fernandez's own productions) there was less stylistic consistency.
"In the 90's, Irdial's DJ return forms were split down a very wide middle," recalls Paul Chivers, AKA Ramjac Corporation. "People either loved his tracks or hated them. 'Leaders in the leftfield' was one of Akin's slogans, and 'In your hearts, not the charts.' Later, [it was] 'Fuck you if you can't be bothered to listen.'"
BEYOND THE BEDROOM STUDIO
While the various artists pursuing this sound were having success putting out records, the engagement of UK techno with the club scene was a more ramshackle affair. "A lot of [UK techno] wasn't overtly club-based, so there wasn't really a club that exclusively covered that stuff," explains Degiorgio. "It all got mixed up. There was a crossover with venues like Dungeons and Labyrinth where you would hear really purist techno, but then also you would hear something by The Blapps Posse, very jump up rough ragga breakbeat-influenced kind of tracks."
For the likes of B12 and Plaid, early forays into live performance tended to be uncertain affairs that involved an entire studio's worth of equipment and a crowd that was used to feasting on the progressively intensifying rush of lively party music.
"We started playing out fairly early on," reveals Turner. "Our first show was in Kings Cross when we sat on the floor with synths and drum machines. It was pretty weird playing back then. You'd often get comments from the in house engineers to the effect, 'Where are the instruments?'"
"We used to get booked for proper raves," Rutter recalls, "and we used to turn up and make B12 ambient chill music or whatever you would call what we do. We were always cringing 'cos we would have people just glaring at us thinking, 'What are these guys doing?'"
Tucked away in the Cable Street studios in East London, however, there was a brief, unique gathering that represented an alternative to the glassy-eyed laser-reaching revelry of most nights in the early '90s. It was called Spacetime, and it was set up by Mia Manners and her business partner Richard Sharp, who produced holographic clothing that would go on to feature in Adamski's iconic "Killer" video as well as becoming synonymous with the look of Mixmaster Morris. "Within minutes of getting Spacetime going, we began having these little soirees," Manners recalls, "and then these soirees started to turn into parties, and once the word was out that we had this most amazing space, the world started coming."
Amongst the characters woven into the fabric of the Spacetime parties were Jonah Sharp (who would go on to bring the British ambient techno sound to San Francisco as Spacetime Continuum), the aforementioned Morris, Paul Hartnoll of Orbital fame and Mr C. More significant than the line-ups, though, was the ethos. Hedonistic revelry came second. The spirit was instead centred around ambient electronica and deep, experimental techno, with plenty of space afforded to live performance.
"The final curtain came down on Spacetime in 1992 when we got kicked out of the studios," explains Manners. "It had to happen. There were a thousand people in a studio that really could only take seven hundred. People were on the roof. It got to that point where it was like, 'You know what? The party's over here at Spacetime.'"
That same year, Colin Dale, Colin Faver, Brenda Russell and Jane Howard started Knowledge at SW1 by Victoria Station in central London, recognising the similarities in the techno that Dale and Faver were playing on their respective Kiss FM shows and sensing an opportunity to work together.
With its uncompromising selection of tougher techno and a stream of high-profile international guests, Knowledge was an immediate success, despite behind held on a Wednesday. "The first club nights that I regularly attended were in London," explains Russ Gabriel. "Knowledge at the SW1 club and Deep Space in Holborn were both nights that Colin Dale and Colin Faver started. I was still religiously listening to their shows and it was great to hear the same tracks they were playing on the radio, full blast on a club sound system. Also, at Deep Space there was an ambient room where I would spend a good deal of the night on a beanbag with my eyes closed."
If there is one London club night that looms large in the folklore of UK techno, however, it's Lost. Steve Bicknell and Sheree Rashit's party began in 1991, using warehouse spaces and pursuing a purist agenda that brought some of the most forward-thinking techno artists to the UK before anyone else. In truth, there was a strong focus on international artists (not least the deep-running relationship the club had with Jeff Mills) but there was always space afforded in the alternative rooms for the more esoteric UK sounds bubbling up in London.
"Lost became both a meeting place and breeding ground for the next generation of UK producers," states Ben Sims. "It felt like a return to the roots, warehouse-style parties, members-only entry and guests, just a smoke machine, a strobe and proper music. It was also the first place to book guys like Jeff Mills, Robert Hood, Richie Hawtin, Basic Channel and have the UK represented by Stasis, Mark Broom, Kirk Degiorgio, Luke Slater, Plaid, the Fat Cat guys, the Colins, so it had the right balance of styles. The tougher, raw end of things in the main room and housier or more electronica themed in the others."
As Lee Smith described in his extensive article about the night for Resident Advisor, "the blue and purple spaces soon became mini-events in their own right, with crews turning up solely to hear everything from Mixmaster Morris's epic excursions into abstract electronics to… the increasingly complex experiments of artists like The Black Dog."
That, of course, only gives a small snapshot of the places that cutting-edge techno could be heard in London at the time, and there were clubs such as Quirky in Brixton that provided a platform for more experimental sounds from groups such as Autechre. Soon, the festival circuit started to catch on and provide greater opportunities to play to bigger crowds. This wider interest in the music was facilitated to some degree by Warp Records, whose engagement with the London scene in the lead up to the release of the seminal Artificial Intelligence series had a profound influence on how the music would develop from the mid-'90s onwards.
We're looking at this contract and saying, "Is anyone gonna buy this stuff six albums down the line?"
EXTERNAL INFLUENCES
"I think we'd had about six or seven releases out," says B12's Steve Rutter, "and one day this fax came through and it just said, 'All London electronic artists be at this pub, upstairs, this date, this time, and it didn't say who it was from. So we went to this pub, went upstairs, and it was full of music people. We knew the Black Dog boys, there was A Guy Called Gerald, Cabaret Voltaire were there. It was a bit standoffish, no one was really talking to anyone properly. This guy says to us, 'Are you B12?', and it was Rob [Mitchell] from Warp. He was a lovely bloke, Rob, and he absolutely loved our music. Us and a few others were offered six album deals, and we didn't sign it. I remember chatting with Mike [Golding] and we're looking at this six album contract and saying, 'Is anyone gonna buy this stuff six albums down the line?' and we wouldn't be able to put out any EPs by ourselves any more. We kind of saw it more as the death of B12 Records rather than the launch of B12 as an artist."
While the meeting was the launch pad for Warp to sign up the London artists that would eventually appear on the Artificial Intelligence series, according to Kirk Degiorgio it wasn't actually orchestrated by Warp themselves. "There was a journalist or PR guy called Jones and he wanted to get everyone together and put it as some kind of collective," Degiorgio recalls, "and I remember we all met up, and it was Aphex and Grant [Wilson-Claridge] and A Guy Called Gerald came down, and myself, B12, Black Dog. We all had this meeting with this PR guy Jones, and the idea was to put on a united front like this is the new UK techno movement, but everyone was so individual that it never really happened like that. Everyone just carried on doing their own thing, which was good I think."
"Rob from Warp got in touch with us after we released the first Plaid album Mbuki Mvuki," explains Andy Turner, who still releases most of his music through the label to this date. "He was really into [early Plaid single] 'Scoobs in Columbia.' Warp only had a few releases out at that point. The first album we [The Black Dog] wrote for them, Bytes, was their ninth album release. Even so, they already had a great reputation and it was a huge jump for us after running our own label and the disappointment of working with GPR. Warp were organised and honest in their dealings with artists. Rob was our first real A&R, offering advice, buying us kit if we needed it. That was a big break for us."
While B12 were cautious at the meeting, they eventually signed a one album contract with the label. "All that stuff we put on B12 Records was Redcell, Musicology or aliases," he says, "and we didn't even talk with them about what the artist was gonna be. When we got the finished product back it was there, 'B12, Electro Soma,' and we were like, 'Oh. Who are B12?' He [Rob Mitchell] praised our stuff, talked about what the market was doing. They were proper visionary, they knew what was happening, and we didn't...They didn't take advantage or anything though, it was good."
Kirk Degiorgio's own experiences following the meeting in the pub were more mixed, leading to a checkered relationship with Warp ever since. "I had a disastrous meeting with them actually," he explains. "We got talking. They'd signed B12, they'd signed Black Dog, they'd signed Aphex, but I got into a massive argument with them about the heritage and the legacy of electronic music. They were saying, 'We're a Sheffield-based label, we're very much the whole roots of Human League, Cabaret Voltaire,' and I said, 'I don't know anything about those bands.' For me, techno comes from electro and P-funk 'cos I was from a disco and soul background. They basically said, 'You're completely wrong, this scene isn't another soul boy scene, this is a continuation of synth pop,' and I just said, 'Ah, you're talking rubbish,' and that was it, end of meeting. I think it was just me and A Guy Called Gerald who went off on our own paths after that."
Despite the mixed experiences, there is no doubt that the Artificial Intelligence series had a profound effect on the development of the UK techno scene and its recognition on an international level. The series began with a compilation that featured Richard D. James as The Dice Man, B12 as Musicology and Ken Downie from The Black Dog as I.A.O, amongst others. Seminal albums from Polygon Window, Black Dog Productions, B12 and more followed.
An event heralding the series was held in London in March 1993. "I remember playing at the launch party at Ministry Of Sound for that Artificial Intelligence album," says Mark Broom. "That album really brought to attention the fact that we were making [the music] for fun, but now it could be taken seriously."
While Warp steered certain artists towards challenging new pastures on the frontiers of electronic exploration, in 1994 James Lavelle's rapidly expanding Mo Wax label tapped into the soulful, rare-groove-grounded aspects of the music with the Excursions series. In hindsight, it could be seen as the unintentional opposing stance to techno's industrial and synth pop roots, the very essence of Degiorgio's disagreement with Warp.
There was a good deal of diversity in the series over its two year run, taking in drum & bass from DJ Solo & DJ Aura as well as outright downtempo cuts from DJ Shadow and The Prunes, but more significant were the commissions the label sent to Mark Broom and Dave Hill (who recorded an EP as Midnight Funk Association), Baby Ford (who moonlighted on the label as Twig Bud) and Stasis. Broom even mixed the second disc of the CD compilation that documented the series.
"James [Lavelle] picked up on this UK techno thing," recalls Broom, "but tried to make us mix hip hop and the techno. I was going out with a girl that worked in the Mo Wax office, so I used to go down there quite a lot and hang out with James. There was another guy, [Trilogy Tapes head] Will Bankhead. He was James' right hand man, and he was more on the techno tip. He was telling James, 'This is the shit.'"
It's telling that the entries from Stasis on the series don't deviate a great deal from his other output, neatly highlighting the grey area UK techno seemed to inhabit between sample-based funk fundamentals and otherworldly synthesiser exploration. As well as the Excursions series, the other notable engagement Mo Wax had with the UK techno scene (not to mention their dealings with Detroit techno artists such as Urban Tribe) came when they signed Kirk Degiorgio's As One project. Starting with a track on the seminal Headz 2B compilation, the release of the As One LP Planetary Folklore in 1997 was a clear sign that the once cohesive UK techno scene was heading in many different directions.
THE SPLINTERING OF STYLES
"While Warp were going in a more academic, white view of synthesiser music, I was still very much into my soul, funk and electro roots," explains Degiorgio, "and Mo Wax and Excursions picked up on that sound, but the big influence on us at that time was drum & bass. It really divided the techno scene. The Artificial Intelligence artists that were influenced by breakbeat, it was more like a pastiche of drum & bass, like the drill & bass stuff. I started working with Photek, and I was very much into the sound of Peshay and a lot of the artists who did end up on Mo Wax, so there was a divide. Drum & bass really split the camp. A lot of techno guys hated it, and took the piss out of it, but a lot of us loved it because it was in that whole jazz funk roots thing. Techno by that time in the '90s was very hard and dark, a lot of it wasn't my kind of thing. It was getting faster and more heavy and industrial, and I didn't really relate to that scene much at all."
While the evolution of hardcore, jungle and drum & bass certainly played its part in polarising many techno artists, there were plenty of developments that seemed to have less to do with outside forces. Mark Broom was naturally edging towards a more tribal, looped up style. By 1997 Plaid had released their first album on Warp, Not For Threes, which was a bold step into outright electronica territory. Baby Ford was progressively turning to more minimal methods of production, hinted at on 1997's Headphoneasy Rider LP and developed more explicitly with his PAL SL label.
"It's hard to pinpoint exactly what changed or split the scene," muses Ben Sims, who by 1998 had embarked on his own production career with the launch of Theory Recordings. "Certainly many were pulled between making or playing more club friendly techno and the rise of labels like Warp offering advances and encouraging artists to make albums and develop as electronica acts. I guess the development of the scene naturally split it into many sub-genres, whereas initially it all felt part of the same thing."
B12's lengthy hiatus from 1998 onwards perhaps most succinctly sums up the point at which UK techno fractured into many different forms, when the original spirit of the music had either mutated or eroded away. "When we dropped out is when Aphex Twin was making this music that I didn't really understand," explains Rutter. "All that glitching and stuttering, and then Squarepusher came along and I thought, 'I'm not into this and I can't make this, maybe things have changed.' We never said, 'Let's not do anything any more,' but I definitely remember we were at a festival with Rob Mitchell, and Aphex Twin was playing, and I just saw everyone going bezerk to what sounded to me like a box of screws being shaken. Not to say it was shit, just to say I didn't understand it. What I saw was a thousand people going bananas. It had all that energy and movement, and then I would listen to what I would do and it was just not the same thing."
From that point, B12 delivered one last EP to Warp, 3EP, which by their own admission was an attempt to meet the evolving trend towards faster, more complex productions, before ceasing operations until Josh "Posthuman" Doherty dragged them out of retirement in 2007. It felt like a sign of the time when, at their comeback gig in which Rutter and Golding set up a monolithic live hardware rig, Ed Handley from Plaid followed them and simply plugged his laptop straight into the mixer.
POSTSCRIPT
All of the artists mentioned in this corner of electronic music history have stories that run deeper than there is space to outline here, and most have since gone on to even greater accomplishments. Mark Broom continues to work prolifically in techno and beyond, most recently delivering a second album of complex electronica alongside James Ruskin as The Fear Ratio. Stasis slipped into downtempo productions before emerging with slow, warm deep house as Soul 223, while Baby Ford became a key figure within the European minimal house scene on Perlon and other labels. Plaid continue to work closely with Warp, further developing their distinctive melodic brand of electronica. Kirk Degiorgio balances his jazzy leanings with his techno grounding across many projects and aliases, most recently kicking off the Korrupt Data pseudonym on Planet E.
The shortcoming of a piece such as this is that it can never tell the full story, and there was plenty of other important players in UK techno in the early '90s. Dave Clarke and his Magnetic North label, Dave Angel and his momentous releases on R&S, Aubrey and the Solid Groove empire, Surgeon, Regis and Female pushing a tough minimalism in Birmingham, Cristian Vogel and Neil Landstrumm leading the wonky techno charge, Bedouin Ascent and the Rising High contingent, Affie Yusuf, Ian O'Brien and many other artists hovering around Russ Gabriel's Ferox label, Billy Nasty mixing the first installment of the Journeys By DJ series, Spiral Tribe and their lasting influence on free party culture. No matter how many artists you mention, there are always many more who made as significant of an impact in the development of electronic music.
I know people look at it as part of a movement but we didn't feel that at all. We were just making music 'cos we enjoyed it.
Even within the particular sounds and scenes that this feature has focused on, most of the artists involved feel as though they were operating on their own rather than as part of a movement. "We've always felt the scenes have developed after the music really," says Andy Turner. "It tends to be journalists that lump things together and call it a scene. We don't feel as artists beholden to write in any particular style."
Steve Rutter perhaps sums up this individualistic notion the most effectively. "I know people look at it as part of a movement but we didn't feel that at all. We were just making music 'cos we enjoyed it." Whatever the case, there was an undeniable connection between these artists that birthed some of the most original, heartwarming and timeless electronic music to have ever emanated from the UK. At times it may have been overlooked in favour of more commonly namechecked influences, but hopefully this story goes some way to shed light on an exciting chapter in electronic music's long and winding history.

Header image: Tequila Slammers and the Jump Jump Groove Generation, WARP010