Interview: Hudson Mohawke
Julian Brimmers chats with the 2007 Academy alumnus about his new album, his battle DJ past and the Arches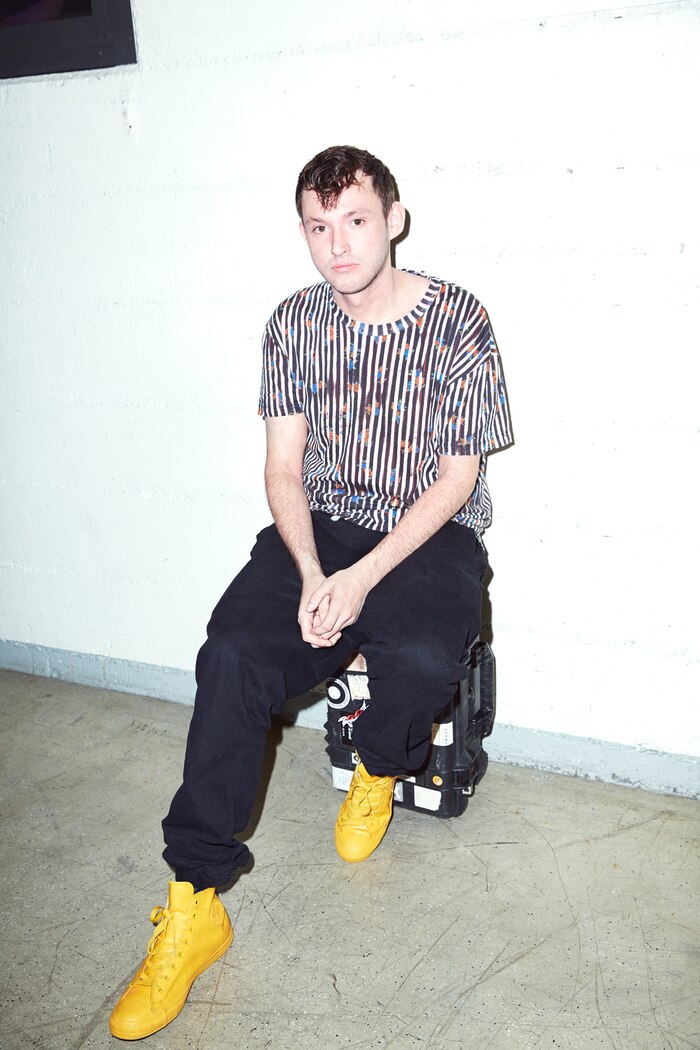 Atari 8-bit crunch, synth encounters of the third kind, and the type of cone-wobbling mix that should probably be criminalized – that's what it sounded like when the former scratch prodigy DJ Itchy re-introduced himself to the world as Hudson Mohawke. HudMo's early output – including rumpshaking R&B bootlegs on Glasgow's LuckyMe and the sought after Hudson's Heeters beat tape – quickly caught the attention of Warp Records.
His debut album for the iconic British imprint, Butter, established a new form of glossy maximalism for the beat world and challenged journos worldwide to come up with absurd genre neologisms such as wonky and aquacrunk. Still, HudMo was never made for a glitch niche, and his subsequent compositions saw him putting his unique spin on the building blocks of classic soul, Southern hip hop, electronica and R&B.
Along with fellow Academy alumnus Lunice, HudMo was responsible for some of modern instrumental hip hop's most commonly identified floor-fillers (as TNGHT), and his production work has found its way on to Grammy-nominated albums by Kanye West, Pusha T and Drake. A core member of Kanye's G.O.O.D. Music camp, HudMo took some time out from his solo works, only to return with the translucent avant-pop of his sophomore record Lantern. In this recent catch-up with RBMA Radio, we started the conversation a bit closer to home, talking about the recently closed Glasgow institution, The Arches.
How do you feel about The Arches closing?
Yeah. The situation with The Arches in Glasgow is really sad because it's not just a club. It's a theater venue, and a center for culture in Glasgow in general. It's a really adaptable atmospheric space. It's such a shame to see them closing it over ... Not to play down any of the drug problems because obviously it's an issue, but I don't think that's necessarily any more of an issue than it is in a lot of other venues. To see them wipe it off the map like that is quite upsetting. That was where I did some of my very first shows in Glasgow.
How was it getting together the live show?
It's fun. It's a new experiment for me. It's still in the early stages. We're working with a couple of people who have put together some other recent electronic live acts, and apparently the way that we've configured our set up is a lot more live than what some supposed live acts are doing at the moment.
To some extent, it's still a blend. Ben is the drummer, Redinho is doing talk box and keys, and I'm doing a lot of the sample based stuff. We've just done a handful of shows so far, so each time we come away with a new idea to incorporate. It's exciting. My background is obviously in DJing, and I'm used to having particular structures of tracks that are the same every time. It's fun.
What was DJ Itchy's battle tool of choice?
The original scratch records I was buying were DJ Rectangle and stuff like that. That was before I knew about Dirt Style Records and all that type of stuff. I've rediscovered quite a lot. I've been going back to Glasgow more frequently, and I've been looking through a lot of my old records. I found stuff like Hee Haw Brayks. The one that has all the pictures of the horrible sexually transmitted infections on the back of it, STD Breaks. A lot of Skratchy Seal.
Was it hard to go from vinyl to all digital?
As far as the digital realm at the moment, I still have the very first Serato box. I immediately knew when I saw it that it was something that I needed to be involved with. I continue to play with Serato, but I still continue to use turntables. I own CDJs and I can play from them, but I choose to use turntables. I think it's a matter of feeling for me. I don't get that same feel from CDJs as I do from playing from an actual, physical turntable. Not that I dislike CDJs or anything. I just don't find them particularly intuitive or anything.
I remember you played "Blood on the Leaves" as TNGHT at Sonar the night before Yeezus leaked. How did the TNGHT track "R U READY" become Kanye's "Blood On The Leaves"?
Myself and Lunice didn't set out with any particular goal in mind. We were just messing around. I think that, quite often, the best music comes from those kinds of circumstances, where there's no expectation. We made a couple of beats and didn't really think much of them. Before we even had a name for the project, I started playing them in my own DJ sets, and realized that people were really reacting to these particular tracks. We didn't have even an idea to release them at that point.
From there, we decided we might as well. I guess we were in a period where neither of us had solo albums ready and we were like, "Well, this seems kind of fun. Why don't we just mess around with this for a while?" From there it took off. It was so much fun. It's very indulgent, but it's very fun to go and play really big, aggressive, dense music to huge festival crowds.
As for "Blood On The Leaves," we tried a lot of different things with that. I can't really remember to be honest, but I think it was basically the combination of that track and a particular sample that Kanye had, but he didn't know what track to incorporate it into. We ended up one day just messing around. It so happened that the two elements really worked together, and it turned into "Blood on the Leaves."
At one point, the track was even slated as the intro for Yeezus, right?
Yeah. I think originally it was an intro track. I can't remember.
In terms of programming an album, is that something that you learned from Kanye? I noticed that Lantern has some crazy back and forth dynamics. Especially "Warriors" turning into "Kettles."
This is a silly thing to say, but it just seemed to make sense to me to sequence it that way. As you say, it's the dynamics, and kind of fucking with people a little bit. "Warriors" has a big, almost gospel-esque chorus and then to go into "Kettles," which starts off as quite a delicate song and ends up quite euphoric.
Is there ever going to be high quality audio of Hudson's Heeters?
That's one of those projects that always get lost in the vaults. I don't even know if I have the CD quality version. I think I probably exported them as mp3s for Ellipse. I don't think they even made wavs of them. I just moved studio again recently, and I made a point of digging out my old computer, which was the first computer that I made music on. I built it myself, and it's completely falling apart. That's what I made all those beats on. When I get back to London next week, I'm going to try and turn it on and see if it's still alive.
If you compare Butter to Lantern, in terms of the pressure that was on you at the time, which one was harder?
I felt a lot more pressure with the first record. Because we'd done the TNGHT project, various other EPs in the last couple years... I realized that I'm extremely fortunate to be in a position where people are willing to listen to a wide range of different things from me. Obviously, there are people who just want to hear the one particular thing, but people who tend to be fans of my music are relatively open-minded. You feel like you have a bit more breathing space to just do your own thing and trust your instincts. With the first record, I was like, "Oh, shit. Are people going to like this?" Whereas, with this record, it was a much more relaxed and fun process putting it together.