A Brief History of Light in the Attic Records
The founder of the venerated reissue-centric label talks us through some of its key releases
Light In The Attic founder Matt Sullivan is hooked on tracking down lost gems of the past and presenting them to a new generation of music lovers. Starting with '60s soft psych band The Free Design, the fledgling LITA team of Sullivan and lifelong friend Josh Wright got the label off to a flying start and they haven't looked back since, with classic releases from Serge Gainsbourg, Jackie Mittoo, The Last Poets, Rodriguez and Seattle's soul originators Wheedle's Groove among many others. Whether releasing seminal re-issues or grooming young bands of the future, Light In The Attic doesn't paint itself into any corners – great music is simply what they live for.
In this excerpt from his recent RBMA Radio interview, Matt Sullivan takes us through some of the label's most memorable releases.
The Last Poets
In the beginning it was simply like, "What could I even license?" I didn't know anything about licensing. It was about finding music that either hadn't gotten its due and was off the radar, or had a cult following but was never "done correctly." The Last Poets had been reissued a lot, but it had always been done so poorly. As one of the most seminal groups in the history of recorded music, something like that is such a slap in the face.
I must have spent eight months in this tiny apartment I had at the time with a roommate, just going through all the lyrics and the booklet. I hired a designer named Scott Webber who had just been laid off from Virgin Records. They had signed Mariah Carey for like $80 million around that time. Her record bombed, and then Scott as well as many other people got laid off. I heard and felt that Scott was a music nerd and, through the goodness of his heart, he wanted to help out, so he designed many of the early reissues.
It wasn't like the Last Poets where the most obscure thing ever, but it was nice to see people being positive about it. I think it's always been about giving these records their long-overdue respect. That might be through packaging, sound or presentation, or (for a lack of better word) marketing in getting it out there.
The Free Design
One of the more defining projects would be licensing the full catalogue of The Free Design, a '60s and '70s American pop group, with a soft psych vibe, in the vein of the Beach Boys or the Carpenters. Licensing seven albums is overwhelming, but it also kept us busy and was the first thing that we could see two years ahead with.
I licensed them from Joe Zynczak, who was the master rights holder and was married to one of The Free Design sisters, Sandy Dedrick. He was a total character – a classic music industry guy. I would get so nervous over before calling him up. I would do tequila or whisky shots by myself in my kitchen because he would just tear me apart every time, like I knew nothing. It was a constant learning experience. I want to say that it made me a better person, but it's more that he made me have a better idea of how these things work. Those characters were at the core of the music industry. Not that he was bad guy – it's just that I was this young, enthusiastic and dumb kid.
Around the time of doing The Free Design catalogue, we realized that we wanted to sell direct to record stores, in order to be more hands on. We were having difficulty getting good distribution. We started going to other labels to try to build the catalogue and distribution company. Well over a decade later, the distribution model is about 30% of our business. We sell direct to around 150 stores and have distributed over 50 record labels. We've been fortunate to have those labels believe in us as much as we believe in them.
Jamaica to Toronto
We went to Toronto to try to find Wayne McGhie, who was responsible for one of the first Canadian soul records. There was a massive snowstorm, one of the worst in decades, and it was absolutely insane. Then, out of the blue, we ended up finding through Wayne other musicians from the Jamaican side of Toronto.
Growing up outside of Seattle, I had no idea that during the '60s and '70s over 30,000 Jamaicans lived in Toronto. It's one of the biggest populations of Jamaican people outside of the Caribbean – and now it's up to maybe 300,000. These are the people who chose to Canada over the States, because in the States they might get drafted to go to Vietnam, and Canada had good immigration policies and schools.
It was like a domino effect. Through Wayne we met Noel Ellis, Alton Ellis's son, who made this incredible dub record for a label called Summer Records, which was owned by this mastermind engineer named Jerry Brown. From that trip all these other releases started happening: a compilation called Excuse Me, another called Jamaica to Toronto and an anthology on the Summer Records story.
The Jamaican community completely opened their doors to us. They were so supportive and sweet, and understood that we had genuine good intentions. It was definitely the case that a lot of these musicians that had fallen on hard times.
We ended up doing a tribute show in Toronto at the Harbourfront Centre. Having Noel, Jade Douglas and a lot of these legendary musicians from the community play to 5,000 people was a really moving experience. Having done this for a while now, that was a moment that I will always remember.
Wheedle's Groove
A key Light in the Attic release over the years started with a 45 by a band called Black On White Affair and a song called "Bold Soul Sister, Bold Soul Brother." Supreme, a legendary digger out of Seattle, suggested that we do a compilation on the Seattle soul scene. Being a nerdy white kid growing up in the suburbs, I couldn't get my head around the idea that there would be a soul scene in Seattle outside of Quincy Jones and Jimi Hendrix and whoever else I was familiar with at the time.
Supreme would laugh at me, so I said, "Bring over some records." They brought over a stack of 45's and in there was Black and White's "Bold Soul Sister, Bold Soul Brother," an amazing funk 45 on a little label out of Seattle called Topaz. It was recorded by Kearney Barton – the George Martin of the Northwest music scene. Within five seconds of hearing it, I thought, "I have to find these people." That morphed into a compilation we put together on the Seattle Soul scene called Wheedle's Groove. To this day, that's one of the records that I'm most proud of.
The Wheedle's Groove project morphed into a second volume, which focused more on the modern soul disco years and a documentary that my wife, Jennifer Moss, directed. The film played at festivals around the world and, at the very least, people should watch it to see Kenny G from another angle. Kenny G was in a black power funk band when he was a nerdy high school kid with a 4.0.
Jennifer and I met through that project. She interviewed me into August 2004 for another documentary, but she said, "Forget that documentary," and decided to work on the Seattle soul project instead. When the film premiered at the Indie Memphis Film Festival in September 2009, we made it our honeymoon. Good things do happen through records. Love happens.
Karen Dalton
Karen Dalton's In My Own Time was released in the early '70s on a label called Just Sunshine, which was owned by Michael Lang, the Woodstock promoter. (I think he's the guy with big crazy afro in the Woodstock film who tells you not to take the brown acid.)
This record – I don't know what it was about it, but people called "acid folk" or something. But it's just her voice. It has this Billie Holiday quality to it, but it's folk music, and the arrangements and production on it are by Harvey Brooks. There's nothing quite like it. It took a serious talk to convince Michael Lang, this sweet stoner guy, to give us the master to let us reissue the album – persistence, maybe stupidity and the desire for it to happen. It must have been two or three years of haggling, endless phone calls, emails and faxes, begging and pleading, before Michael agreed.
We interviewed Nick Cave on the phone, and then found key people that were fans to give proper context to it. Lenny Kaye from the Patti Smith Group wrote this beautiful essay… It felt like there was something in the air at the time. People were really getting back into folk music and there was a great scene of young artists making it.
Betty Davis
Betty was a funk musician and singer who was married to Miles Davis and released these insane funk records from about 1973 to the end of the decade on Just Sunshine. The first record has Sly the Family Stone's band as the rhythm section. Greg Errico, the drummer from Sly the Family Stone, produced it. After that, she produced everything and wrote most of her own songs.
It took forever to find her, but fortunately there's a guy in Los Angeles named John Ballon who writes copy for film trailers and movie posters. He was an insane Betty Davis fan with no experience in the music world. He ended up finding her (and the $40,000 of unpaid royalties that she was due) in around '05-'06.
With Betty, John was this angel who vouched for us. She really stepped out of music world in the late '70s. She was completely burnt out. In the beginning, all we wanted was one interview for the liner notes, but she wanted to get more involved. For us, it seems criminal that these things have gone undocumented – and absolutely insane that someone is going to let us reissue these records. We're currently working on more Betty Davis stuff. There's a wealth of material.
Rodriguez
Around the time I started Light in the Attic I picked up a mix CD that the British DJ and producer David Holmes put together of his favorite songs. One of them was "Sugar Man" by Rodriguez. "What is this?" I thought. "How can I hear more of this?"
I started emailing the Sugarman.org website because they had all this information about Rodriguez: how he disappeared, how they found him and brought him to South Africa; how he played shows there. Within like a day or two this guy who called himself Sugar emails back and says, "I have a record store here in Cape Town called Mabu Vinyl – and we actually carry some of your records."
A lot of people had reached out to Sugar about Rodriguez, but he didn't really have any faith in them. He ended up putting me in touch with Regan, one of Rodriguez's daughters, who lives in Detroit. We drove down to Detroit to meet her and when we walked into The Magic Stick venue, there was Regan – and Rodriguez, with that classic Jose Feliciano vibe, black pants tucked into his boots and sunglasses on. It was a really hot summer day in Detroit, too. I was like, "I've listened to this record me more than any record in my life," at the time. "I can't believe I'm here with this dude."
We walked around town with him and smoked a joint at this little coffee shop, and he was totally into us reissuing the music. He gave Josh and I each a copy of that day's New York Times. My first thing is like, "Wow, he must have been in New York Times today! That's really crazy!" He goes, "I just want you to be well informed of what's going on the world." I think I still have that issue. I tried to get them autograph it and he refused. The dude was just one of those people you can't put your finger on.
This all happened around 2005 or 2006. Trying to figure out how to reissue the music was a total, total nightmare. Mike Theodore was one of the producers of Cold Fact (the other being Dennis Coffey). He contacted Clarence Avant, the original and current Sussex label owner who originally released the albums. Mike and Clarence were still close and Mike understood what we wanted to do.
I spent two years bugging Clarence like there was no tomorrow. I've never haunted someone that bad in my life. I feel like that's what mostly how I spend my days – haunting people. I remember sending him boxes of records and press kits, faxes and emails – and I don't even think he emailed, back then. We would talk on the phone and he would get really emotional about Rodriguez, but just had no interest.
We look at all these projects as if they are contemporary.
He had no faith in us. He saw our catalogue and didn't understand it. Then, out of the blue in maybe 2007, I get this call. And he never called me, ever. "I'm going to Seattle for my 50th wedding anniversary. We're going to be staying at the Four Seasons. Why don't you come down and have breakfast with me tomorrow morning?" I'm like, "Holy shit."
At this point, this thing meant so much to me that for this not to happen would be a devastating experience. We sit down at the Four Seasons – me, Clarence and all these dudes in golf wear. I handed him this pretty big thick press kit that I had made – maybe like 50 pages and really heavy – and he was so funny. "How the fuck do you guys get all this press? What the hell – Betty Davis? This is great. People care about this?" I said, "People really do care. They are going to care about Rodriguez." We look at all these projects as if they are contemporary, not just stuff that is archival and old. We are going to put as much care and loving and this is as if Rodriguez is 21 years old and playing nearly every day.
This is four years before the movie, too, so it was a big success for us even before the film. In 2008, Rodriguez mentioned there was this Swedish guy who was working on this documentary. I thought, "Shit, there's no way in hell anyone is ever going to make a documentary on you. You don't like to talk about the past. There's no archival footage. Most people don't even remember much." He didn't like to do interviews. He didn't even have a cell phone. NPR went to interview him and his daughter would have to go knock in his door and hope that he was there. I remember we would walk around the block with Rodriguez and people would walk up and like, "Hey Rodriguez!" I'd always wonder: Do these people know his music, or do they just recognize him because he's such a distinct character?
Shin Joong Hyun
Another project that's really special to us is Shin Joong Hyun, a South Korean artist who's now in his late 70s. Shin more or less brought rock & roll to Korea in the late '50s by listening to the radio of the US soldiers stationed in Korea. If you had to compare him to people in the West, he is like Korea's Brian Wilson or Phil Spector. He's worked on dozens of projects in Korean music, from singer songwriters to crazy psych records that sound like the Velvets, to acid folk, surf and disco.
A friend in Seattle heard a song from Shin on a blog and sent it to me around 2009. I was coming down to LA and found out that Shin's sort-of manager was based here, and within a week of hearing this song I had a meeting with him, which never happens. The project came together pretty quickly even though he doesn't speak English and I don't speak Korean.
With the help of this great label we distribute called Lion Production we had Shin come to play at the MET Theater in Los Angeles for the first time, for the Light in the Attic 10 year anniversary show. I think he'd only played outside Korea maybe three or four times in his entire life before then. In many ways, Shin stole the show. He's about 5' 6" tall and came out in all white, with silver hair to his shoulders, playing the guitar. He sounds like Hendrix. He's one of only (I think) six people who Fender has ever made a custom guitar for.
Donnie and Joe Emerson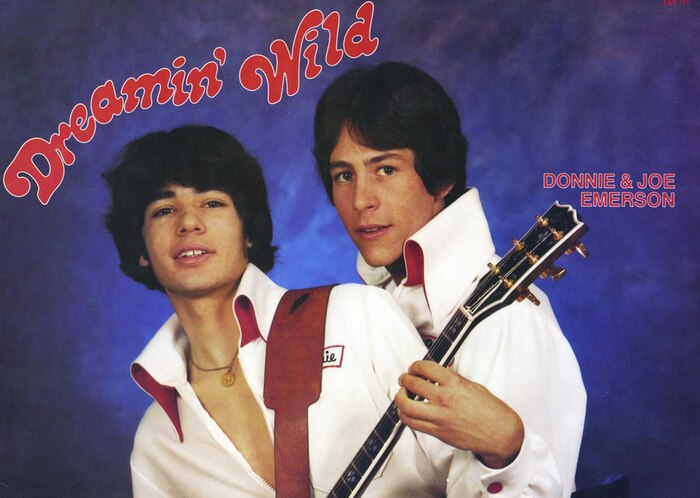 This record was made in Fruit Land, Washington, which has a population of literally 50 people. Donnie and Joe grew up on a farm. And after they finished up their chores, they'd make music. Donnie was this obsessive kid, and his parents spent $100,000 building a log cabin studio. They even took out a second mortgage on the farm.
They had no money, but took a chance and bought the finest guitars, amplifiers, mixing console. They thought that they were going to be big stars. Their music teacher got the vinyl pressed and, in class, everyone laughed like, "Who gives a shit, what the hell is this?" The record disappeared and then, years later, a record collector named Jack Fleischer was passing through, and saw a copy of the record sitting on the wall in an antique store. He buys it for $5, and takes it home and was just as floored as we were. This music has such maturity to it, but it's also so pure.
Jack ended up tracking down the Emersons and starts buying copies of the record, because they still had sealed copies. We ended up going out to the farm and it was one of the most emotional trips I've ever been on. We made a little short documentary for it on YouTube about them. They were worried that we would make fun of them at first, but they opened their hearts to us when they realized we wouldn't.
These people put their heart and soul into these recordings, with their dreams of making it financially big in the music business and have a career. When things went south, here we are, turning up decades later, enthusiastic and passionate about it. They're like, "Well, I don't know if I really want to go back there and open that closet with those demons inside." I think, in the best way, that it's one of those private press records where the cover doesn't reflect what's inside at all.
When starting Light in the Attic in 2002, I never thought we would reissue music like Donnie and Joe Emerson. I didn't have an understanding of it, but as your taste evolves and things change you see things in a different light. You realize that there's good music everywhere. It's in every genre, in every country. It's endless.

This monologue was taken from an interview conducted by Frosty.