Key Tracks: Jimmy Jam on Johnny Gill
The famed producer talks about the New Edition member's 1990 smash album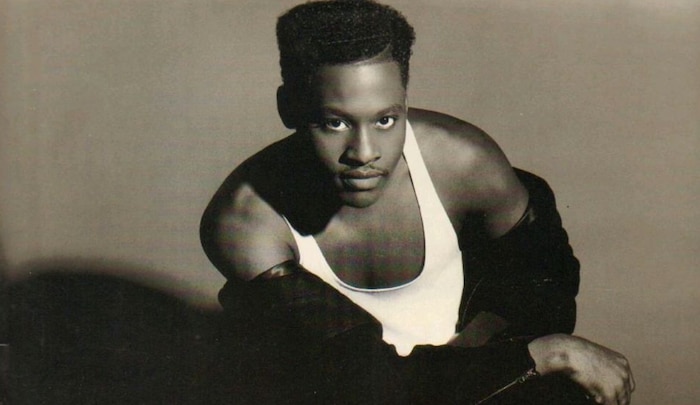 At the beginning of the '90s, Johnny Gill joined his New Edition comrades by embarking on a career as a solo recording artist. This opportunity would be Gill's second stint as a solo artist. He released two moderately successful albums as a young teenager, Johnny Gill (1983) and Chemistry (1985), as well as duet album with fellow teenage sensation Stacy Lattisaw, prior to joining the R&B super group. After releasing the multi-platinum record, Heart Break in 1988, New Edition mutually agreed to explore separate avenues, and it proved to be a brilliant decision for the quintet.
For Gill specifically, it served as a springboard for a new phase of his career. Under the steady hand of record executive, Jheryl Busby, he began working with the reigning kings of R&B production and lyricism, James "Jimmy Jam" Harris III and Terry Lewis and Kenneth "Babyface" Edmonds and Antonio "L.A." Reid on his third solo effort. The result was an immediate smash. On April 17, 1990, Johnny Gill was released by Motown Records. The record would spawn four singles, including three number one hits: "Rub You the Right Way," "My, My, My," "Fairweather Friend," and "Wrap My Body Tight." For the album's 25th anniversary, we spoke with Jimmy Jam about his role in crafting this timeless R&B classic.
How were you chosen to produce records for this project?
Well, we had a meeting with Jheryl Busby in 1988. At that time, Jheryl was the head of urban music at MCA/Universal Records. He actually called Terry and me into a meeting, and he wanted to sign a male R&B singer. He had a few different people in mind, and I'm not going to mention their names, because they're all prominent people, but they were all out of their deals at that point, and they were free agents.
He had three people on his list that he was interested in. He asked us, "Which one of these guys would you be interested in working with, if we signed them?" Terry and I looked at each other and replied, "There is one guy missing from your list." Jheryl asked, "Who is that?" We said, "Johnny Gill." He said, "Oh. I didn't think about Johnny Gill. Would you guys work with Johnny Gill, if we sign him to a deal?" We replied, "Absolutely." This was before New Edition or any of this other stuff was happening. This was a conversation before New Edition's Heart Break album. Jheryl said, "OK. I'm going to do the deal with him."
The Heart Break album ended up happening because, once Jheryl signed Johnny, he thought it would be cool to do one album with New Edition. That really delayed his solo album from happening, but the wheels were put in motion for the solo album two years before it happened. It ended up being a great thing because it allowed us to learn more about Johnny, to get used to recording him, and for him to get used to recording with us. The cool thing about this album was that it was Terry and I producing one half of the album and Babyface and L.A. Reid producing the other half. It was the only album that we did that was like that. At the time, we were supposed to be rivals, but we weren't. We were friends with Babyface and L.A. I thought it was very cool that our talents came together on that album, although we didn't work directly together. It was our energy and our writing and producing energy that went into that record, and I couldn't think of better vocalist to pull it off than Johnny Gill.
That is a great segue. It was unprecedented that the two most prolific songwriting tandems of the time period split this album in half, and it was the only time where you and Terry Lewis and Babyface and L.A. Reid shared an entire album. Was this planned or did it work out that way?
It wasn't planned on our part, but it may have been part of Jheryl's plan. Jheryl thought of us as his go-to guys, because if you think about it, Terry and I produced the Heart Break album and L.A. and Babyface did the bulk of Bobby Brown's solo project. So I think there was a thought that both of our production teams were the go-to guys, and if both teams agreed to tackle half of the album, there was no need in looking anywhere else.
We knew whatever records we didn't do; we knew they were going to be great records. L.A. and Babyface were brilliant at what they did. Honestly, a lot of times, when we would work on records, we would produce three or four songs on an album, and then we'd look at whoever the other producers were. Many times we felt like, well, not to hate on anybody, but the quality of the rest of the record wasn't going to be as good, and we were going to have to carry the record.
In a weird way, we helped L.A. and Babyface get "My, My, My" on the record because Johnny wasn't the best A&R guy for picking songs. [laughs] I remember at one point when we were working on Johnny's record, and we asked him, "How is the stuff going with L.A. and Babyface?" He replied, "It's cool. They brought me this song, and I don't know about it. I'm not really feeling it." We said, "Let's us hear it." So he puts the song on, and as soon as he comes in singing, "Put on that red dress and slip on your high heels," I looked at Terry and said, "I love this!" Then when it got to the chorus, Terry said, "Man, you're nuts. This is a smash record. Are you kidding me? This is your signature song right here." Johnny replied, "I don't know. It's OK." We said, "Dude, you're nuts. That song is a smash." [laughs] I think the song would've made the album anyway, but Terry and I were just adamant that the song had to be on his album because it was a smash. Later on, it did become a smash.
As you previously mentioned, the plans for this album started two years prior to its release. All of the members from New Edition were dominating the pop charts back then. Specifically, for Johnny, his voice was so different than the other members of the group. What direction were you and Terry Lewis aiming to take his sound as solo artist for this album?
Looking back, one of the things we thought about Johnny was that he always had a super strong voice, and we always thought the thing that worked against him was that he was so young. He had that same voice when he was 14 or 15 years old. He had that same voice, but it didn't necessarily fit. The fact that he was now a young man when we started working on this album had a lot to do with how we wanted to produce him.
Also, I can't underrate the experience we had working with him on the New Edition project, and him getting the chance to handle the lead vocals on the "Boys to Men" song. When we did "Can You Stand the Rain," we combined the two lead voices of New Edition, with Johnny being new and Ralph being the traditional voice of New Edition, it was important to establish that, and I think that ultimately shaped what we did with Johnny for his solo album.
We thought Johnny on his own was a super strong singer, though he was an aggressive singer, and when I say an aggressive singer, I mean in the style of Teddy Pendergrass. We saw Johnny in that same mold, where he could do up-tempo, very aggressive songs like "Rub You the Right Way." To me, a lot of singers couldn't have handled that song with the aggression of the track and tempo and the whole thing. Johnny made it seem easy in the way he sang the song. He killed it. Also, he was able to scale his voice back and do songs like "My, My, My" and "Wrap My Body Tight," which was a more sensual record. He could do all things, but now he was the age that fit his voice. For us, it was about writing great songs and giving him great production and letting him be Johnny Gill.
Can you discuss Jheryl Busby's influence on this album in particular?
Jheryl is someone I hope people will take the chance to google and read and learn about him. He was a very significant force in the record industry, certainly on the urban side of music. He had huge concepts. When you talk about the years between 1988 and 1990, where Bobby Brown, New Edition, Johnny Gill and Ralph Tresvant released their records, he had his hands on all of those albums. It wasn't about making one record at a time, but having a plan for everything. He was that kind of an executive. He cared about the music, the producers, the creative process, but he was also a businessman. He knew the value of music.
He was instrumental in guiding New Edition through what could've been a rocky time for them. Busby was around when New Edition released "Cool It Now" and "Count Me Out." Four or five years later, he had to figure out how to give them a grown image and sound after they lost one of their most significant group members in Bobby Brown. He had to balance things out. It was Jheryl's plan to put Johnny Gill into New Edition. To this day, Johnny is associated with New Edition. Bringing Johnny Gill into the fold was the brainchild of Jheryl Busby. He had a lot of foresight and vision. He was a pivotal piece to all of those records being made.
How quickly did you and Terry Lewis move into making Johnny Gill's record after New Edition's Heart Break album?
It was pretty quick. I remember the final Heart Break concert, and I remember we were scheduled to work with Johnny right after that. There was a two week break between the end of the tour and starting on Johnny's record in the studio.
What was your and Terry Lewis' approach to working with Johnny Gill in the studio?
It was a pretty easy process. Johnny is pretty quick with singing his parts. He worked really hard in the studio. He had a really short attention span, which is kind of funny. We had to get him quick and while he was into it. If we didn't, he would've been off doing some other stuff. We used to know his routine. Johnny's routine was always the same. We would tell him we wanted to start recording at 6 PM. Johnny would roll in sometime between 6 -7 PM, but he would never arrive right at 6 PM. Then, he would talk a lot and tell a bunch of jokes. Next, he would order food, and he might play some pool. After that, he would get on the phone with his girlfriend making small talk. Around 9 PM, we would get him in the booth to do a vocal. We would be able to keep him in there for an hour at the most. After that, we were going to lose him due to his attention span.
A lot of singers we worked with needed to have a couple of days to rest their voices, but not Johnny. He was always ready to go.
The key was to make that hour with him count. It was simple. He loved doing lead vocals, but he hated doing backgrounds. So we always tried to keep the backgrounds down to a minimum. When we worked with other artists like Janet Jackson and Ralph Tresvant, they wanted to do their own background vocals. With Johnny, we would always bring someone else in to do the background vocals. Doing background vocals takes a lot of patience. It's a very meticulous process. He was never into doing the patient, meticulous thing. He was into us giving him the songs and letting him sing them, so this was the way we tried to approach him in the studio.
He was amazing and a hard worker. He showed up every day ready to work. A lot of singers we worked with needed to have a couple of days to rest their voices, but not Johnny. He could sing anytime at any place. He could get down. He was always ready to go. It was a pleasure recording him. I remember we had a lot of fun. We weren't in the studio for long hours working with him. When he was around, it was always a good time.
How did you choose the right singers to do background vocals for this album?
It was pretty simple back then because Terry Lewis used to do a lot of background vocals. You could famously hear him singing backgrounds on Human League's "Human" record. Randy Ran ended up doing a lot of the background vocals as well. Between Terry and Randy, we handled the background vocals for Johnny for this record.
Take me through your and Terry Lewis' creative process in constructing the five songs you're credited for on the album.
"Rub You the Right Way" was among the first songs we worked on for this album. We knew we wanted to do an up-tempo, aggressive song with him. It is the first song that I remember recording, but it doesn't mean it was the first song we actually produced for him. I remember putting the track together for it, and Terry wrote the lyrics. I laughed when I heard the lyric, "Rub You the Right Way." I thought it was hilarious, but it was perfect for Johnny. This song was done early on in the process.
On "Wrap My Body Tight," even though we didn't work with L.A. and Babyface on it, we kind of tried to take a little piece of their production approach in the way the drums sounded, as if we were in the studio together. "Wrap My Body Tight" was an attempt to bridge the L.A. and Babyface and the Jimmy Jam and Terry Lewis sounds together. I think we pulled it off pretty well. That was the song I remember where people would ask, "Which one did this song?" Because it definitely had elements from both camps in it.
We had a writer named Randy Ran. His official name was Randall Davis. Randy Ran was actually Cherelle's boyfriend. We had a group that we signed that he was in. Randy was involved in writing "Lady Dujour," "Giving My All to You" and "Let's Spend the Night." His writing style was tremendous. It was very romantic. He was like a bedroom writer. All of his lyrics and ideas were based on that experience. He was a great collaborator. Unfortunately, he was killed in a motorcycle accident. He was never able to reach his potential, but if he did, he would've been one of the great singer/songwriters of our time. On "Lady Dujour," "Giving My All to You" and "Let's Spend the Night," Randy really brought that bedroom approach to what Johnny was doing. Johnny was still aggressive on these songs but very sensual, too. It's nice to bring up Randy's name because he was such a tremendous writer and talent. These three songs are testament to his writing prowess.
What instruments were used in the creation of each song?
I figure it was around the time where I was using a combination of the LinnDrum or Roland 808 drum machines. I know for certain I used the LinnDrum on "Rub You the Right Way" and "Wrap My Body Tight." As far as the keyboards we used, we would always switch keyboards before going into a new project. One of the things I enjoyed doing back in that day was going to the keyboard store asking them about the newest keyboard on the market. Whatever it was, I would get it, and I would always use it to write new stuff. Different sounds and different programs would inspire different ideas. We used a Korg M1 keyboard during the making of this record.
There is nobody that looks at Johnny Gill and says, "I don't know why Johnny Gill's records are selling."
Can you tell me who was responsible for mixing and mastering these records and the process involved with making them sound technically precise?
I thought the overall sound of the record ended up being good. It was an interesting process because one of the things we've always enjoyed doing was the sequencing of the record. We did it with Janet Jackson and Alexander O'Neal's albums. We really liked the idea of picking which song went after the other, but we didn't have a hand in the sequencing on this album. Jheryl Busby was in control of this project. I think they asked us what we thought about the ordering of the songs, and we told them it was fine.
When they asked us who we wanted to master our songs, we told them Brian Gardner. He was the one who mastered our records for this project. He was our go-to guy for mastering since we worked with the S.O.S. Band on "Just Be Good to Me." The songs sounded great on the radio and in the clubs. We definitely felt L.A. and Babyface's presence on the record, and I'm sure they felt ours also. It pushed us to do some of our best work. The beneficiary was Johnny Gill.
During this time period, you and Terry Lewis were involved with the production of many successful records. What does this record mean to you as you look back at the influence its had on popular culture for the past 25 years?
The thing in my mind when we're creating music for artists is that a song sticks with that artist for the rest of their career. After we're done working with an artist, we move on. When Johnny Gill was done making this record, he went on to make music videos and tour the country. So it becomes part of his reality, whether he's doing a song at a concert or he's talking about a song. For me, the significance is not so much personally, but if we did songs that contributed to his career path, whether he makes a new record or not, he can go perform a classic song like "Rub You the Right Way," or "My, My, My" and those songs become his signature songs.
At the end of the day, it's about the artist and not the writer or producer. It makes me feel real good that those songs have become timeless classics for him and songs that he can perform when he's 60 or 70, if he wanted to. I love that. If we've done our jobs correctly, then that should happen. We set out to do that, but it doesn't always happen. The other thing is when you think about Johnny, he is such a quality artist. There is no gimmick. There is nobody that looks at Johnny Gill and says, "I don't know why Johnny Gill's records are selling." People know why his records sell. It's because he can sing his ass off and perform his ass off.