Key Tracks: Debbie Deb's "When I Hear Music"
Debbie Deb and Pretty Tony break down the freestyle classic
Before freestyle music developed an obsession with lovesick themes and minor keys (indeed, before the term "freestyle" even existed), 1983's "When I Hear Music" and its 1984 follow-up "Lookout Weekend" were pure unburdened candy for the club, two simple, teen-relatable lyrical shots backed by equally fun-loving production, all bass and bells and whistles… plus laser raids, twinkles, crispy claps and ticking clocks.
The story behind "When I Hear Music" reads like the plot of a John Hughes movie mixed with a Miami Vice episode. Liberty City's "Pretty Tony" Butler – a self-taught engineering whiz turned DJ, super-producer, and independent record label mogul – hears Debbie Wesoff Lopez's adorable voice behind the counter at Peaches Records and spins the fun-loving teen into an unlikely two-hit wonder, making a duo of post-Arthur Baker bangers that still rock the clubs over 20 years after their debut.
It isn't all peaches 'n' cream, though – Tony's business partner is Sherman Nealy, "a sub-lieutenant for Opa Locka crack mogul Rick Brownlee" (according to writer Dave Tompkins), and Tony eventually spends some time behind bars in 1987, but only after four years of churning out mega-hits such as Freestyle's "Don't Stop the Rock," "They're Playing Our Song" and "All Night" (for his then-sweetheart Trinere), and his own "Jam the Box" and "Fix It In The Mix." Meanwhile, teen dreamer Debbie also endured a spell of music-industry heartache after getting ousted by a doppleganger and swearing off the dancefloor for good. (A revival in the mid-'90s eventually brought her back.)
But you can't hear any of this strife in "When I Hear Music," a shiny, irresistible, 808-driven nursery rhyme wherein denim 'n' lace Deb struts an everlasting loop around strawberries searching for the cutest guys. We caught up with the two Miami natives to ask them more about how it all came to be.
Debbie Deb
I grew up in North Miami Beach. It was very unaffected in the early '80s. Things weren't built up yet. I wore Playboy bunny necklaces and symbols everywhere – that was the big thing back in 1983. I was always going to R&B and disco clubs: Strawberries in Hialeah, Sun Range Roller Skating Rink, Galaxy, Backstreet. There were so many clubs in Fort Lauderdale, Miami Beach, Hialeah and Hollywood. It was kind of like what you'd watch on Krush Groove. Madonna was out at the time and Cher and they were pretty popular.
I wasn't really a good student but I didn't want to drop out so they put me in a work program my senior in high school. I told them all I was into was music, so they got me a job at Peaches Records, which was the ultimate go-to record store. I really focused on the R&B/Rap section. (This is when Run-DMC and Whodini were first coming out.) In the summers I would spend two or three weeks with my grandma in New York and I would hear all the newest rap songs on the radio and record them with my little cassette player. I knew of Tony because he was one of the well-known DJs in town that would come into the store, along with Luke from 2 Live Crew.
I only ever had four keyboards the whole time I was making these tracks.
Pretty Tony
When I was in high school I was DJing different high school parties and one of the biggest skating rinks in Miami, Superstars Rollerteque. It was owned by Nat Moore and Larry Little from the Miami Dolphins and this guy Willie Taylor, who owns Burger Kings. I was playing Soulsonic Force, Planet Patrol – it wasn't hip hop yet at the time, just dance music.
The major labels had record pools – they'd give the DJs 20 records and then you give them your feedback. What they noticed is every one that I told them was going to be a hit, was a hit. Then they asked me, "Do you think you could make a record that was a hit?" So I went from DJing to producing. I built a studio, found the artists, wrote the songs, engineered the sessions, recorded them, and set up the label, as far as distribution, accounts receivables, payables, promotion and all that.
When I first built my studio, it was set up like a DJ booth because that's all I knew. I recorded my first records standing up because I'm a DJ and that's how I got my groove. My first record was "Summer Delight" by a group of cousins called Freestyle. They were actually a garage band with guitars and drums when they started out. I was friends with Jerry Rushin, the general manager at the radio station 99 Jams; he taught me the record business. I made this record on cassette, took it to the radio station, they played it, and the phones just blew up. That record went gold.
People was going crazy over the record and the guys in the group went crazy as well. They were turning into superstars. They were such a pain I told them, "I'll do it myself." I went and bought a Vocoder, a Roland 808 drum machine, and a Juno 60 keyboard, and made "Fix It in the Mix." After that, I made "Jam the Box" and that went double platinum. By then I had a Prophet 5 Emulator, but I only ever had four keyboards the whole time I was making these tracks.
At the same time, I was promoting concerts: Luther Vandross, Gap Band, Midnight Star. One day, I went to Peaches Records to give them more tickets. I was working on the music for "When I Hear Music." There's a voice I heard coming from behind a wall and it was the exact voice I had been hearing in my head. That was Debbie Deb. I go, "Do you sing?" She goes, "No, dude." I go, "Do you want to make a record?" She said, "I guess." I gave her my number and my address and asked her to come to the studio that night.
One time, I was in the studio and these guys came knocking on the big steel door with big machine guns.
Debbie Deb
The studio was in Liberty City. I was a 17-year-old girl driving in my Pinto into the hood. It had totally state-of-the-art equipment, the best of everything. There was a lot of drug money put into that studio. It was in a warehouse with no windows or anything and only one door to get in and there were security cameras outside. One time, I was in the studio and these guys came knocking on the big steel door with big machine guns. There's no way they could have gotten in, but it was pretty scary.
Anyway, Tony played me the music to "When I Hear Music" and said, "Do what you want to do, and we'll record it." Two days later I went back to the studio, and we recorded it and it just fit hand in glove.
Pretty Tony
You don't have to be the greatest singer in the world to have a good record, as you know. Debbie Deb's tone is what people like. I got to say, about 75% of her notes were off. I had her sing and recorded it to the two-track, which has a variable speed knob. The parts where that I knew she was flat, I turned it and the pitch went up and it got her in tune. It was hard to make those records!
Back then, there weren't any samplers. I had to have everything on a two-track and every time I wanted the sound to happen I had to hit play. If you saw the old radio programs where they have all these sound effect things on the side of the microphone, it was like that. For the breaking glass sound, I took a cardboard box and I put a dumbbell in it. I hung the mic down in it and threw a champagne glass, hit record and broke it. That drove people crazy.
Debbie Deb
I wasn't looking to be a singer. It was the furthest thing from my mind. I was a heavy girl and I had low self-esteem. I just did it as a fun thing. I didn't even know the song was out, and one night I was driving home from a club about two in the morning and the R&B station played "When I Hear Music." I pulled over and I just couldn't believe it was actually on the radio. It was an insane feeling.
Pretty Tony
"When I Hear Music" went triple platinum and I go, "It'd be cool to do another record." Me and Debbie went in one day – I already had the tracks done – and did "Lookout Weekend." That went triple platinum. Now I go, "It'd be cool to have some guys go out and tour this." I had decided Freestyle would be more of a concept group. So I took my records like "Fix It in the Mix" and "Jam the Box" and reworked them and Freestyle went out touring on my songs.
People in New York had me bummed out at first because they didn't take my stuff seriously. The mindset was if you're not from New York, you were shunned. After my fourth platinum record, Debbie Deb, and their acts like TKA and Lisa Lisa started opening up for my acts, I guess they figured, "We should at least acknowledge the guy."
Debbie Deb
"When I Hear Music" started blowing up and within four months it hit all the charts. Then I started feeling a little injustice. I started and finished beauty school while my song was being played every three hours on the radio. Thousands of dollars are coming in to somebody, but not to me. I didn't know; I was young and inexperienced. I was given an artist-for-hire piece of paper and $75 to sing it.
I did a few shows, but they were a total disaster. I was a heavy girl and I didn't know what I was doing. So they hired a blonde skinny girl named Anne to perform under the name Debbie Deb because nobody knew what I looked like outside of South Florida. You could totally tell the difference in voices; she did "I'm Searching."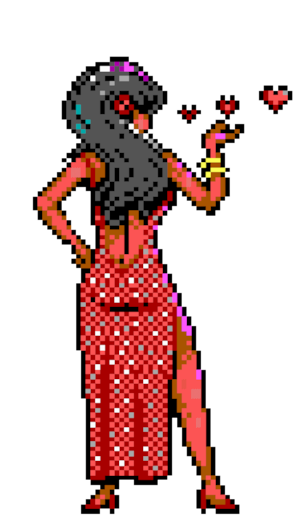 Pretty Tony
I went away "on vacation," so to speak. Trinere, Debbie Deb, none of the artists wanted to sing for anybody but me. I was the only producer at Jam Packed and Music Specialist, but after I left, all kinds of people came in to make records, because now the studio was a free-for-all. I didn't make that record "I'm Searching," but they put my name on it as producer. If my name was on it, it didn't guarantee it would be a hit, but the radio station and the DJs would at least listen to it.
Debbie Deb
I got pregnant with my son and I just put the whole business behind me. I was so devastated that I didn't even listen to the radio for years. All I listened to was reggae. I know every song there is. People were always freaking out in Miami because they know me – I worked as a hairdresser for 12 years in the same salon, Hair Sensations in Aventura – as Debbie Deb.
Fast-forward eight years, I was just doing my thing, trying to pretend the music industry didn't exist. Bo Crane from Pandisc Records came in the salon and said, "How do you feel about getting back into the industry?" I said "Why not?" This was 1992 or 1993, so I signed with them and did a whole album called She's Back! I worked with Calvin Mills from Freestyle on a lot of the songs.
It was so devastating at the time being shunned because I didn't have that Vanity 6 look and now I'm nearly 50, and I'm turning stuff down I'm so busy. I do the Freestyle Explosion tour every year with artists like Lisa Lisa, Shannon, Nu Shooz, JJ Fad. It's, like, karmic.