Key Tracks: Shannon's "Let the Music Play"
The story behind the mega-hit that kickstarted a movement
No one can agree where the term "freestyle music" came from, but nearly everyone agrees that Shannon's "Let the Music Play" is the hit that started it all. Birthed from a demo entitled "Fire and Ice" – made in a bedroom studio by Bronx teenager Chris Barbosa – the addictive interplay of its laser-light melodies, bubbling synthetic basslines and that icy electronic whip were the shot heard 'round the world, adding a more feminine and romantic touch to the electro-hip hop template innovated by Arthur Baker and John Robie on tracks like "Planet Rock" and "Play At Your Own Risk."
Between summer '83 and '84, when Shannon's first full-length album was released, "Let the Music Play" was inescapable, ringing out at breakdance battles and blaring from boomboxes, lighting up roller rinks and igniting clubs from Downtown NYC to Miami to Chicago and beyond. It landed on the worldwide Billboard dance charts, netted Shannon a Grammy nomination, and captivated a teenage audience of (largely Latin) producers and vocalists looking for a new sound to call their own.
"Let the Music Play" is as much a love song to then-new sounds of beat machines like the 808 and the 303 as it is an extended metaphor for gaining and losing love on the dancefloor (of life). Vivian Host talks to some of the team behind the track to find out how they made magic from the very start.
Shannon, vocalist
The song dropped in July of 1983. At the time there was no freestyle. Dance music wasn't even taken seriously. Lisa Lisa and Planet Patrol weren't out yet, but Afrika Bambaataa was. "Let the Music Play" is influenced by all of those flavors, but it's more Latin, Cuban, African.
When I heard "Let the Music Play," I went "God, I want drums like that," when they had, basically, taken the idea from one of my records.
Chris Barbosa, Producer/Co-Owner Ligosa Records
I was born and raised in the Bronx until I was 18, and then moved to Brooklyn. I came up as a mobile DJ in the Bronx. I used to DJ at the paddle ball courts at 161st Street regularly, and the two Bronx parks: Joyce Kilmer Park and Ferran Park, which I lived across from. I wanted to make music, so I asked my grandmother to help me buy some equipment because all the new beat machines had just come out. I got a Roland JX-3P, a Roland TB-303 Bass Line, and a MC-202. And a CR-8000, which had the 808 sounds.
I just started putting things together and programming. The difference was the syncopation that I was putting into the kick drums. I think that came from just growing up Puerto Rican banging sticks to Latin salsa music, plus always listening to pop music growing up in the '70s. I was home sick for a while and I started messing around and that's how ""Fire and Ice" – which was the original version of "Let the Music Play" – came about. The "fire" is the street bass and the beat and the "ice" is the pop melody that sits on top.
I met a Billboard reporting DJ named Nelson Cruz; he joined the mobile DJ group I had, The Mixologists. Record companies would have promo pick-ups every Wednesday and Thursday and we used to go to Emergency Records a lot together. We were really funny so Sergio Cossa, the owner, had the idea of signing us as a comedy team called Chris and Nelson – I still have the 8 x 10 press shot of me holding a boombox on my shoulder and goofing.
Sergio was like, "What are we going to do with you? Why don't you guys go in and do a rap record?" So all of a sudden I'm a rapper overnight. Well, I wasn't a rapper, and neither was Nelson. Sergio brought an instrumental track back from Italy and I did a rap over that called "The Game of Life," about how it is in the streets and how there's AIDS and incurable diseases, blah, blah. Mark Liggett was brought in to produce Nelson and I on the rap song and at that session is when I pulled out the music that I had done at home. Mark heard it and he was like, "Man, what are we doing this rap for? This demo sounds great. Do you mind if I give it someone to write lyrics?"
Shannon
"Let the Music Play," "Give Me Tonight," "My Heart's Divided," "Do You Want to Get Away" – all these things were more than just tracks. There were so many people involved in the actual creative part of it. Robbie Kilgore did a lot of the synth programming. Herb Powers did incredible mixes. You had the writer of "Let the Music Play," Ann Godwin. She was signed to Jobete Music so she never got the credit; she gave her brother, Ed Chisolm, a recognition for it. Chris Barbosa's grandmother even implemented some things.
Chris Barbosa
There was a friend of Mark's hanging out at the session; he said he knows a girl who he thought might sound good on the track. She was the first girl to audition, Shannon Brenda Green, and she married the track perfectly. So, that's how Shannon came about.
Shannon
I was a goody two-shoes. Prior to "Let the Music Play," I was at university in New York and working full-time as a bookkeeper; I was also in a band called Brownstone. When I wasn't doing that, I was rehearsing. Someone saw me rehearsing with a jazz ensemble at York College and asked me to audition for Mark Liggett; Chris was not there. Mark said, "We have this incredible song and we would like for you to try it out and see what you can make up." He put me in a room, separated me from everyone and he said, "Okay, let me see what you can do."
Chris Barbosa
We added Jimi Tunnell just for color and backup, but he sounded great on the hook so we left it alone and had Shannon ad lib over it. Part of the "Shannon sound" was the sound of Jimi Tunnell, who is a man, singing on the chorus of "Let the Music Play" and "Give Me Tonight."
The drum sound on "Let the Music Play" came from "Looking for the Perfect Beat" by Arthur Baker. The part that says "Beat this. Boom!" where it gets real heavy – I wanted to have this ambience through the whole record. Rod [Hui] was the engineer and he was an integral part of getting that sound. Mark and Rod were using the 808 with the plate [reverb], and they started thinking, "We can't keep the ambiance loud and out of control like the tape. Let's start gating it."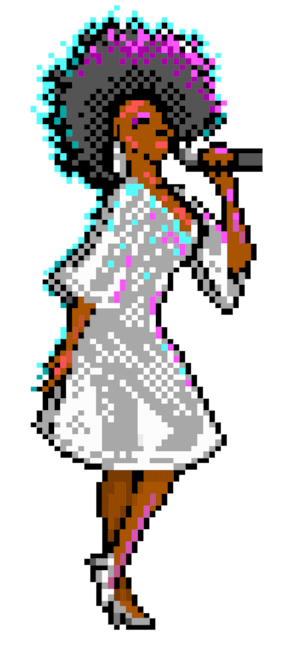 Arthur Baker, producer
They used gated reverb on the kick and the snare throughout the record. Of course, when I heard "Let the Music Play," I went "God, I want drums like that," when they had, basically, taken the idea from one of my records. We were all listening to each other.
Shannon
When you listen to a lot of records now, you'll hear the whip and the percussion and the rhythm from our song.
Jellybean Benitez, Producer/Remixer & Funhouse resident DJ
Chris Barbosa brought the demo of "Let the Music Play" to me and I played it at The Funhouse. These records became really big because they sounded so different. I was still playing records that were being recorded by live drummers. People using the LinnDrum or a Roland drum machine sounded so new. Just the sound of that 808 – the audience really ate it up.
Aldo Marin, WKTU DJ & Cutting Records owner
When I hear "Let the Music Play" or "Give Me Tonight," it takes me back to being at The Funhouse right in front of the clown face, between the two stacks of speakers, with one side of my pants going one way and the other side of my pants going the other way to that huge kick drum. The sounds of those systems made you want to go out the next day and buy the song and blast it in your house.
Shannon
No one had any idea that "Let the Music Play" was going to be as big as it was. It was climbing the charts with a bullet. It became #8 in the US, and then started to peak in other countries. By 1984, it became part of the world Top 10 chart. It had so many different types of elements that the world fell in love with it, especially the Latino market. They were calling it the "Shannon Sound" at the time, which became the Miami Sound, which became the South Florida Sound and, eventually, after you had so many artists coming out, they changed it to "freestyle." We had Lisa Lisa, Stevie B., Coro... There were so many people coming out with the sound and they were taking little elements from "Let the Music Play": the wit, the character of the song, with all the different rhythms.
Chris Barbosa
That was kind of the beginning of that. My life changed a lot, because instead of working for the city board of elections delivering paperwork, I was now full-time in the studio working on the Shannon album. Then I went on to work with Xena, Nolan Thomas, Robin Gibb, Monet, George Lamond, Sa-Fire. My lifestyle was about the same, but now it was like, "I'm a record producer. This is what I do for a living."

Additional reporting by Bruce Tantum