Nightclubbing: Sheffield's Niche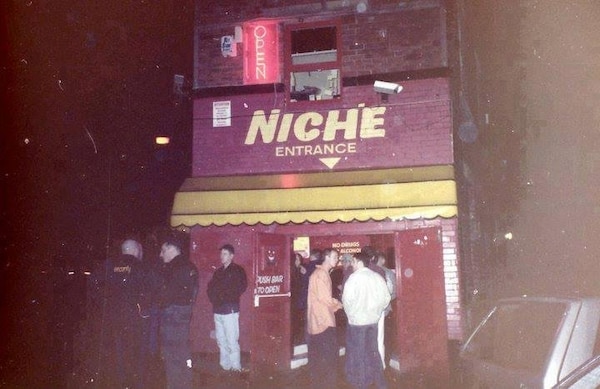 When I moved to Sheffield in 2004, I was warned about only two things in the entire city: a darkened pathway called Frog Walk, a shortcut known for muggings and sexual assaults, and a nightclub called Niche. The rumour mill churned and spat out tales of stabbings, drive-by shootings and gangsters. It became the haunted house at the end of the road that all the kids talked about.
In 2005, the club closed after one of the largest police raids in the city's history. It served to confirm the bogeyman stories, but it later became clear that something deeper had been going on below the chaotic surface. This was a club that people drove the length of the M1 to party in all weekend and, almost uniquely for British club culture, spawned its own genre of music: Bassline. All of this from a back street in Sheffield, surrounded by disused cutlery works and boarded-up pubs.
Drop: The Story of Bassline is a new documentary that aims to cut through the myth of Niche and extract the legacy of bassline. The film's producer, Evelyn Rooney, says that "wherever creativity lies it should be respected and honoured. We wanted to remind the people of Sheffield and the UK that bassline was important and influential. With the club closing, a lot of people seem to have forgotten that."
One of those most affected by the closure was resident DJ and club manager, Chris Bailey. While training to be a sound engineer in 1995, he found a leaflet advertising a job at a nightclub. When he called the number and was told that the nightclub was Niche, "Everybody was like, 'Oh Christ, you don't want to go work there, they'll kill you!'"
Clearly, Niche came fully loaded with a reputation. Original owner Steve Baxendale had previously run a club called Rebels, "and there was a standing joke with Rebels: as you went in, they'd check you to see if you had any weapons on you. If you didn't, they'd say, 'You probably need one of these then, mate,' then offer you a knife or a knuckle-duster," recalls Bailey. Bailey refers to Steve Baxendale as "like a dangerous version of Del Boy," although admitting, "we were all like that: dodgy geezers in the best British tradition." Bailey wasn't put off, however. He got the gig. His first night, he says, was "pure terror."
I think that they loved it so much that it sort of hit a nerve. It were almost like punk: if you like it, you spit at it.
From 1995 until 1997, Niche played a peculiar mix of underground and commercial dance hits (such as Sandy B's "Make My World Go Round" alongside Faithless' "Insomnia") but the foundations were being laid for its coming idiosyncracies. The resident DJs gravitated towards obscure remixes and B-sides: limited promotional releases that weren't available to the buying public. Resident DJ Shaun "Banger" Scott recalls Armand Van Helden's "European Vacation Mix" of the aforementioned "Insomnia" being an early indicator of the crowd's appetite for "nice, heavy, rolling basslines," and Bailey notes that Nik "Off The Hook" Dresti's "Loop Da Loop Uptown" remix of Todd Terry's "Something Goin' On" as a turning point.
"It were this really dark, bassline-led version of it – not like the kind of thing we'd been playing up until then. And [the clubbers] went mad, throwing cans and bottles at Mark [Carr, DJ]. I think that they loved it so much that it sort of hit a nerve. It were almost like punk: if you like it, you spit at it. Mark's freaking out and Tony and Les [the managers] were like, 'Oh, you're not playing that one no more. It's too much, too aggressive,' but it did get played again. And at a point you think, 'This has got something to it, hasn't it?'"
This remix drew the sonic template of a genre that would be defined as speed garage. Anchored by a warped, propulsive, almost submerged bassline, speed garage worked at a faster BPM than most contemporary UK garage and its core was grubbier, too: the bassline seemed to snarl at the euphoric, female vocal-led melodies that would lounge over them. It was this fusing that would send crowds into frenzy and lead other DJs on a mission to find similar records. As Bailey recalls, "Everybody's got that Todd Terry one by the next morning, and then you're out looking for stuff like that. Every time you're playing these tracks there are these big reactions – as if it's like what people have been waiting for all along."
Both Bailey and Scott – who by 1997 were residents alongside Jamie Duggan, Andy Spoof, Nev Wright, and Mark and Les Skelton – had unconventional introductions to DJing. "When I turned up at Niche," recalls Bailey, "the manager, Mick Baxendale, Steve's brother, said to me, 'Right – you're supposed to be our sound engineer, aren't you? Go stand over there and make sure nobody nicks the decks.' We opened at midnight but we didn't have a DJ come on till 2 AM. I just had a CD player. People would come up and say, 'That's a great tune, mate, have you got such and such?' Looking through these commercial dance CD compilations, I thought, 'I can bloody teach myself to do this.'"
Soon, Bailey and others filled that spot. "I went to Niche as a punter," says Scott, "and one night in 1997 there was a rumour going round that one of the DJs, Mark Carr, were ill. All the Barnsley lot that knew me were going up to Mick and saying, 'Let Shaun do his set.' Mick came up to me and said, 'Don't ever spread rumours that my DJs are going to let me down and as long as I've got a hole in my arse, you'll never play here.' The rumour about Carr was true, though. He came back to me and said, 'You've got 45 minutes.' I absolutely smashed it and ended up getting a residency from the following week."
He came back that night, this mountain of a guy, crying his eyes out. He was covered in blood. He had held Mick in his arms.
That year was also memorable for more tragic reasons: Mick Baxendale was stabbed to death outside the club after an altercation. (Bailey recalls thinking, "Christ, has somebody shot an elephant out here?", as the cleaners threw buckets of water over the pools of blood.) "One of the doormen was in a relationship with my sister," remembers Scott. "He came back that night, this mountain of a guy, crying his eyes out. He was covered in blood. He had held Mick in his arms." After Mick's death, the residents were determined to keep up Niche's momentum.
"The only way I can describe the scene then were that it were like Northern Soul," says Scott. "[Northern Soul DJs] took it one step further and used to go to America to get records, but I used to go up and down the country. My favourite place were Liverpool because everyone there were into Scouse house and trance, so all the garage got chucked into the bargain bin." It was a race in and out of Sheffield to find the next big track. "You would not believe how competitive we were," he says. "If you played a big tune and it became an anthem that every DJ played, then you'd be known for playing that record first."
Much like in the Northern Soul tradition, too, chasing these reactions was dependent upon supply. It was not uncommon for DJs to scratch off track names on insert labels to keep such finds obscure. Since there weren't enough of these records in circulation to play dedicated sets. A rough style of genre-switching sets that wove more commercial tracks with these rare, heavier, underground mixes and B-sides emerged.
Although this gave Niche an air of unpredictability and excitement, Scott does recall there were minor classics during this 1996-97 period: George Morel's "Let's Groove," Duke's "So in Love With You," BBE's "7 Days and One Week," Tori Amos's "Professional Widow (Armand Van Helden's It's Gotta Be Big Mix)" and Soul Brothers vs. Kathy Brown's "Turn Me Out" are cited as part of this lineage.
I had so much bass in there it were unreal. It made your ears bleed.
A unique aspect that emerged in the Niche sound was the re-recording rather than remixing of tracks, typically by adding a fresh vocal performance. After hearing a remix of The Mamas & The Papas' "California Dreaming" on Kiss FM, Scott remembers thinking that he could do a better job himself. "I wanted to re-record it for a B-side remix for Niche. That was the thing that was starting to go down there: a tougher bassline, with more sub bass or an organ bass. I wondered what it would be like to put these styles of bass together, so that's exactly what I did."
This rough and ready mixing of formats – hard-to-find B-sides and club mixes played alongside original re-recordings of existing tracks – meant that clubbers were going into local record stores, excited but unsure, asking for "Niche tunes." Niche was becoming the genre itself: shorthand for the term "bassline" that would follow.
By the early 2000s, Niche's local reputation for its unique, almost in-house production and mixing style was riding high. David Baker, who ran the Sheffield-based bassline record label Reflective Records, also attributes the club's growing appeal to the exclusivity it offered. "Steve Baxendale was very clever, a good businessman. To a great extent, he kept his DJs locked down so that people would want to come to his venue. It made Niche a destination."
The club itself was far from ostentatious, though. People were lured there by its gritty charm and notorious heat. Sweat would drip from the ceilings from open (midnight) until close (midday). "It weren't palatial," says Bailey. "It were as grim as it got. Once we opened the second floor it was a bit nicer, but it weren't grandiose: you got a wooden bench with carpet tiles on it for seating. Nobody cared, though. The sound system was woeful in the beginning, too. It were begged, borrowed and stolen. Well, mostly stolen."
After convincing the surviving Baxendale brother that this was a necessary investment, Bailey got the thumbs up in 2001 to spend £30,000 on a sound system "that transformed Niche. The sound were unbelievable. I had so much bass in there it were unreal. It made your ears bleed." Scott concurs to the affect of the new system. "It was stupid. People just used to take pills and stand in front of the speakers and just soak it in. People would literally feel sick, it was nuts."
Now notorious for a sound system that rippled across Sheffield, clubbers flocked from across England. BAFTA Award-winning actor Vicky McClure (best known for her role in Shane Meadows' This Is England) rememembers going to Niche as a teenager, brimming with giddiness as they sped up the motorway from her hometown of Nottingham. "Chris Bailey was my absolute favourite. We used to listen to his tapes in the car on the way to the club. I've still got them now..."
These tapes were crucial in spreading the Niche sound in the pre-internet days. Since they were only available to buy inside the club, on top of the £10 entrance fee, they became badges of honour: DJ sets recorded live by the residents each week. "The amount of tapes we used to turnover was nuts," Scott recalls. "We'd have to record all the sets so that there would be a fresh release for each weekend. Bailey used to sit in the office with a MiniDisc player and record them in mono so that the recording lasted longer."
Bailey eventually graduated from resident DJ to club manager, but not before a few others tried to follow on from the murdered Baxendale brother. At one point Steve Baxendale's daughter, Angela, took up the role. "Angela were a tough cookie," notes Bailey. "She's a nice girl, but she had a lot trouble with her husband. Then that all went tits up and Steve asked me if I'd be interested in the job. 'This is a poisoned chalice,' I thought. 'What's going to happen to me?' I knew that really it were just a name on the paperwork, so when shit comes down, it comes down on you. But you think, 'Nothing ventured, nothing gained. I'll see if my luck's any better than them lot.' And of course it weren't, were it?"
There would be people going in there who had enough money to buy two ice pops, and they were bouncing about with millionaires.
Bailey initially tried to forge a harmonious relationship with the police, but it was short-lived. During his first annual review as manager, the police objected to the renewal of the club's license – "They really went to town on us: I were in tears, literally in tears" – and had pulled together a long list of complaints against the club. However, they had also attached any report that occurred in the local area whether it was related to the club or not, even during hours the club was closed.
One night, the police asked Niche to keep an eye out for a young man who had been involved in a stabbing at another club. "Half an hour later, who appears on the door but this kid with blood all over him. We cuffed him to the front gate and phoned the Old Bill, who came down and questioned him. It turned out that it weren't him, coincidentally, so we hadn't got any problem with it. But there it is, on this report: 'Response at Niche nightclub, to a youth involved in stabbing incident.' We were trying to help them. We handcuffed him to the fucking gate. But now it's all our fault." With the help of a solicitor they got their license renewed, but from then on Niche decided to avoid the police entirely – even in very extreme cases.
One night, a group of teenagers who had been ejected from the club came back with chainsaws and stood facing the door, ready to strike.
Even though the club's reputation attracted the attention of the Sheffield drug market, Niche operated a door policy that favored no one, ignoring known murderers who would turn up and "demand respect." It became a place where criminals, gangsters and drug dealers were operating under the same guidelines as regular paying punters – the students, bricklayers and travelling ravers. Scott recalls this sense of unity within the club as being one of its greatest assets. "The uniqueness about Niche was that there would be people going in there who had enough money to buy two ice pops, and they were bouncing about with millionaires."
The atmosphere was largely harmonious, but the minority of those who did cause trouble did so on such a horrifying scale, that it could immediately upset the congruent balance. One night, a group of teenagers who had been ejected from the club came back with chainsaws and stood facing the door, ready to strike. "We're like, 'Don't go charging straight at them,' so we spread out and surrounded them," Bailey remembers.
"Eventually they realized they were going to get it. The doormen were closing in on them, and they don't back off. That's the Niche way. You go towards somebody with a chainsaw, not away from them." They caught the kids, gave them "a royal pasting," and Niche acquired some new chainsaws.
The rumors of drive-by shootings, too – were they exaggerated? "Things like that happened all the time," Bailey says. "When somebody had shot at us for about the 99th time we had these mega-heavy metal screens made. They wouldn't have stopped a bullet because they were only two-mil steel, otherwise we couldn't lift them, but you'd rather be stuck behind a shield than in front of it when somebody is firing bullets at you."
By the early 2000s Sheffield was bassline's biggest, almost sole exporter: operating in all capacities from producing and releasing the music, to playing said music in dedicated, local clubs. While running successful bassline club nights in larger, more mainstream venues in the city, Reflective Records looked to the bedroom producers of the day as new technologies such as Music 2000: Music Creation for the PlayStation 1 began to emerge.
"In the 90's we were re-working tracks by very established producers like Armand Van Helden, but as it went on we started to work with producers like Big Ang, Veteran and Jon Buccieri, who were just kids that went clubbing locally," says Baker. Scott sees this period as a particularly fertile one. "Niche became that big that they knew what the crowd wanted and since the tapes were on sale, they had so many reference points and so much material to work with."
Whilst the genre gained popularity in Sheffield and spawned successful clubs and scenes operating in cities and market towns like Birmingham, Derby and Dewsbury, it was to be a stunted growth. In November 2005 the police began Operation Repatriation, a raid involving nearly 400 police officers at a taxpayer cost of £680,000, executed with SWAT-style tactics involving weapons, helicopters, horses and road closures. The aim was to shut down Niche on a two-pronged legal premise: under the 2003 Anti Social Behaviour Act, and with a closure order of it being Class A Drug Premises. The language used by the police and passed onto the media, often referring to Niche as a "crack house" closure, is something that upsets Bailey to this day.
"It's a loaded term that they thought would make Niche sound as bad as possible: that they were heroes saving all the little children in Sheffield from this evil place that were going to twist their minds. I went mental when I saw that. You don't have to have coppers inspecting a crack house to make sure you've got enough bleeding cameras, do you? You don't apply to the council for a license to run a crack house."
In terms of drug seizures, the raid was a relative failure. The club, which at capacity could take 700-800 people, was combed for the equivalent of 0.3 ecstasy tablets per head, and 2.6 grams of cocaine and 2.6 grams of amphetamine in total. The police intention of proving Niche were in on the drug supply of the club failed because, quite simply, they weren't.
Since Niche was in Bailey's name, he was arrested and put in the cells. "I was more bewildered than scared," he recalls. "That was a bad night." Upon searching Bailey's car and home, the police found small quantities of drugs and weaponry. He accepted the drug possession but argued self–defense for the weaponry, citing the club's reputation and the fact that he often drove home alone with £100,000 in cash from the club's takings. Operation Repatriation did not lead to a single conviction. The Anti Social Behaviour Order on the club was lifted, too, but under conditions so harsh and with a surrender of the original license terms that it meant that Niche was no more.
Despite the closure, bassline music boomed in this period. The DJs were freer to play across the country and, keen not to lose out on what had been built up at Niche, Baxendale opened a new club in 2007, Club Vibe, to create a new home for bassline in Sheffield. It's at this time that Scott marks his encounter with a Sheffield teenager as the moment that bassline went mainstream.
"I'd been pushing this music to contacts I had at major record labels in London and they always said that 'it'll never take off' – and then T-2 gave me a record. T-2 didn't have much in his life except his music. After I started playing his stuff I did an album for him – because he couldn't mix – which sold a tremendous amount of units. Then he gave me a single, 'Heartbroken.' My phone was red hot for weeks after that, talking to the record label people who had previously laughed at me." After "Heartbroken" peaked at #2 in the UK Singles Chart, London super-club Ministry of Sound approached Duggan, Scott and Wright to work on a Niche compilation for the in-house label, which sold 150,000 copies in the year of release and brought bassline into the mainstream clubbing consciousness.
In 2009, after the success of the compilation, Baxendale went one step further and tried to recreate Niche (literally basing it on the old Sidney Street venue) in a new building. However, more violence occurred: five stabbings were reported outside the club in one night. A temporary closure was put in place but, again, police restrictions were so tight on its operations after re-opening that it couldn't sustain itself financially. The police insisted on a membership policy that would rule out walk-in punters and so Baxendale closed Niche and left Sheffield for good.
By the late 2000s, bassline had changed enormously from its early manifestations of speed garage and house music re-works. The popular female vocal-led hooks were replaced by male MC's, with a heavier, grime-leaning flavour. As a consequence, a more male-dominated club crowd began to take shape, something the police grew to fear. After the second closure of Niche, the police attempted to ban bassline DJs from the city and surrounding areas entirely, Scott recalls.
"They didn't just close Niche once. They closed it twice and the second time... it killed me. It was, 'Oh, you can't play here, you can't play there.' I wasn't allowed to play in Bradford for about two or three years. The police outlawed us. They [effectively] said to promoters and venues, 'If you put Scott or Duggan on, it will go against your risk assessment and we'll close the night down.' I had a meeting with a police Sergeant in West Yorkshire who agreed to let me play if I notified them four weeks in advance. At a Keighley gig [before this agreement] I had played two weeks earlier to 1000 people: a good night, with no problems. The next week, after the meeting, there were armed response forces, CCTV and metal detectors at the club. Only about 450 people came that night. Everyone saw what was going on and thought, 'I'm not going in there.'"
The police approach, which Scott, Bailey and Duggan argue attacked the music rather than the criminality of some of the clubs more hardened patrons, was reminiscent of the amendments made to the Criminal Justice and Public Order Act 1994. Coupled with the split in styles of bassline that divided some of the once-united DJs, and its general decreasing popularity once the brief commercial bubble led by Ministry of Sound had burst, bassline music fans had an unshakeable reputation – and nowhere left to go.
Some have left, and some have stayed. Baxendale lives in Thailand and operates with a distant hand: he currently owns a house music club in Sheffield called Tank, the daily running of which is handled by Duggan. Bailey hasn't spoken to Baxendale for ten years, saying that he spent "eight years in a darkened cupboard" and "had a nervous breakdown" after the first club had closed – even contemplating suicide. Both Bailey and Scott DJ regularly but Niche's Sidney Street premises, which have been empty for over a decade now, are set to be demolished this year. If a certain group of bassline ravers have their way, though, there may well be one almighty party before it goes.
Header image © Courtesy of Daniel Dylan Wray