Rescued From The Fire: Aug Stone on Pop Negatif Wastad
An ongoing series in which we ask artists and writers the record they'd risk life and limb to save from a burning inferno. This time: RBMA contributor Aug Stone picks a forgotten Welsh EP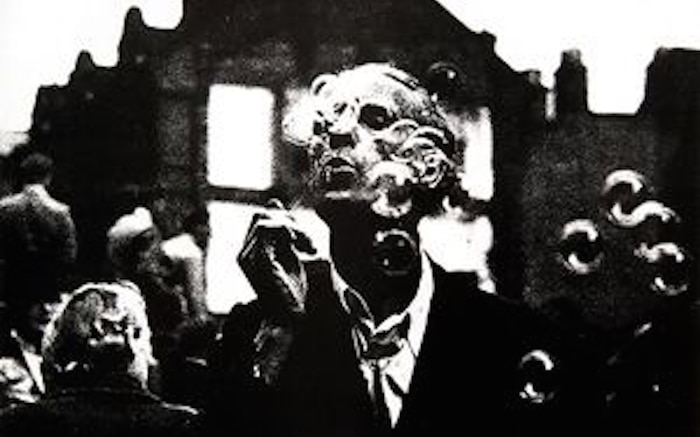 In 1989, Central Slate Records in Bangor, North Wales released a most curious EP. The 12-inch slab contained six songs by a boy/girl duo called Pop Negatif Wastad. Except, in opposition to the usual, the boy – Gareth Potter – was the one singing while the girl – Esyllt Lord – handled the music.
Inspired by the KLF book The Manual (How To Have a Number One The Easy Way), Pop Negatif Wastad set out to do just that, only "singing in Welsh and with no money," laughs Potter. The two enlisted the help of Super Furry Animals producer Gorwel Owen who committed what the two were hearing in their heads to tape.
The band name translates as Pop Negative Always. Esyllt explains, "Pop was our big thing, so it had to be 'pop' something and we liked having three words. The 'negatif' had the same spirit as The Manual – 'Burn down the school! Take over the world!' But we were just being silly, because really we were very upbeat and positive about everything."
Potter continues, "It was a very exciting period for music. Acid house really appealed to us. We were both obsessed with 'Voodoo Ray' by A Guy Called Gerald. You'd get music coming from the most unexpected of places. And being from such a marginalized place as Wales, you really wanna push things and express your frustrations. You may as well do it in a really exciting way. And that's how I felt when I first heard Big Black's 'Kerosene' (covered on the EP, in Welsh). A brilliant sentiment about small town anywhere, and it translated very simply and direct. I wanted to make club music and it was a good crossover."
Every time I listen to "Helo Rhywbeth Newydd" these days I think, "Oh look, we're inventing dubstep, 20 years before."
The EP kicks off with another cover. "Valium," released only the year before by Gruff Rhys' first band, Ffa Coffi Pawb. Potter: "A gorgeous naughty little tune. We wanted to do a disco version of it to subvert it even further. And Esyllt found this fantastic sample from Pobol y Cwm – the long-running Welsh soap opera – about some acid having found its way into the river of the village."
Gruff Rhys reflects on his then 18-year-old self hearing it. "It was a really surreal experience for me. Someone covering your song is the ultimate compliment, and it was really amazing that this song that I wrote with my best friend was released on a real vinyl 12-inch. Our original only came out on a self-made cassette."
Of the original songs, Potter says, "Every time I listen to 'Helo Rhywbeth Newydd' these days I think, 'Oh look, we're inventing dubstep, 20 years before,'" he laughs. And it was the video for 'Iawn' that convinced Alan Holmes of Central Slate to release the record. Holmes: "It really stood out for me as they were clearly influenced by the contemporary house/rave culture and they also seemed to have absorbed the entire history of pop culture. Their lyrics and visual imagery were crammed with playful references to cultural iconography – Andy Warhol, Coco Chanel, Morrissey, etc. – which was even more unusual in Wales."
Esyllt: "I was really influenced by the Derek Jarman video for 'The Queen Is Dead.' I just loved how fast it was and how many cut-ups there were of everything you can think of really. So we collected hundreds of postcards and cuttings from magazines, and made lists of films to include."
The duo clearly cared about aesthetics: The cover is a shot by the photographer Izis from one of Esyllt's favourite childhood books, Gala Day London, which features pictures of London after the blitz, while the back of the sleeve came from a postcard found in a gift shop in Aberystwyth.
The duo made the whole thing perfect by splitting up the day it was released. Potter, who went on to more success with Tŷ Gwydr (Greenhouse), still considers the Pop Negatif Wastad EP one of the best things he's ever done. Esyllt muses, "We just missed the timing. Similar things came out soon after. I remember John Peel playing 'Iawn' one night. That was such a surreal moment. And I heard it was played in The Haçienda."
The EP remains an artefact to both listen to and behold. A reissue is most definitely in order.