Interview: Anne Horel on #EMOJINALPARISTRIP
The director talks about her internet-inspired Paris Now! film
In advance of Red Bull Music Academy Paris 2015, Paris Now! is our first foray into fiction film, and it gathers a diverse group of five directors that we've given carte blanche to explore and examine the creative pockets and reverberations of Parisian culture.
With #EMOJINALPARISTRIP, Vine and Instagram superstar Anne Horel takes us on an emoji-inspired virtual tour through the City of Light, absorbing local culture through a computer screen that offers equal ease of access to international vacations and hot dogs. We caught up with Horel recently to talk about the intense technical work that went into bringing her vision to life.
When you got the brief for Paris Now! was a trip through Paris what immediately came to mind?
I had no idea it would be like that. I worked on something that is very digital because this is how I feel about my life in general. The whole collage thing went a little bit out of control.
Obviously the Internet is a big influence on you.
When the Internet came out I was extremely excited and immediately into it. I have a feeling of attachment to it. I've always been a screen addict, I would say. I feel like I've been around so many visual influences and stimuli, I am sort of a collage of being and watching my entire life.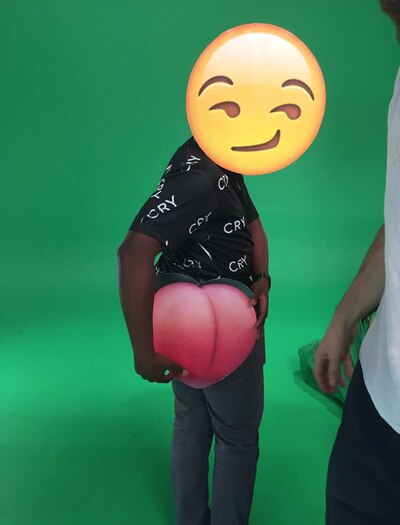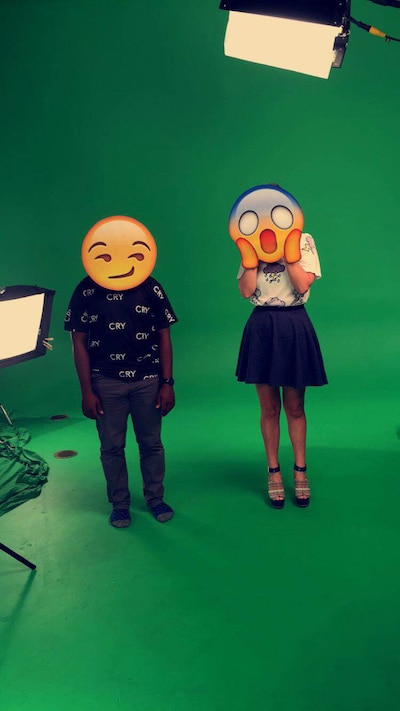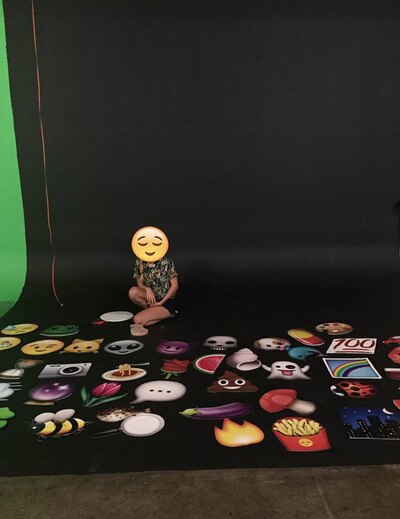 Can you tell me about the process of making the film?
I wanted some stock videos that would be extremely neutral and very basic, to use them like a canvas. I took all these videos from Paris, added some transparent elements, and I started animating them. Then I used them to shoot some actions on green screen. I would think of the actions interacting with the animation that already existed. I put them on the timeline with the animations and had an animation that was extremely long, and I cut the whole thing maybe ten or eleven times and every time I was adding some layers and some transitions on top of it. It was basically the most intense collage work I've ever done.
I read in your bio that you're doing segments on French television about web 2.0 culture. Are you still doing that?
I'm a contributor for a TV show. I just send videos and eventually it's on the air and so I just present them like, "Hey, this is me and I found this video and it's cool." That's it. I just share what I like. I'm very passionate, so when I like something I just want the entire world to watch it or be aware of it.
One of the things you obviously seem to like including in your art is pizza. When did this start?
I've been working on the Internet and social media for a long time now. When I was in arts school I wrote an essay on the signs of the Internet and memes in general and I was actually sort of making an inventory of important signs. I found out that pizza was something that was very big. I started questioning why and I found out it was a very international food. It's called pizza in any language. In this TV show I work for I made a segment about pizza art and it kept growing and it's now totally inside me. I have a pizza tattoo now.
In the last two years my social life and professional life has completely changed because of Vine.
It seems like Vine specifically is one of your favorite creative outlets. Why do you feel like that's particularly well-suited to you?
Because it's short and nowadays people don't have a lot of brain time to watch videos. I can make a video that people are going to actually watch. It's only six seconds. It's the smartest outlet that was created lately. It's also a very strong community. It's an artist community and I've met so many people that I can work with. I could talk about Vine for hours. The thing that is really interesting with the loop is that the principle of the meme is also a principle of repetition. A meme can be born in a Vine. A Vine can be very viral and go into your head. It's very fascinating. It's growing very, very fast.
All the characters, all the performers in the movie are from Vine, I met them on Vine. I met so many people I can work with and relate to on Vine. In the last two years my social life and professional life has completely changed because of Vine.
What about Snapchat? People have made something of the thing that you're doing art there. I don't know the arts scene on Snapchat. What is that?
I really like Vine and I really like Snapchat. Communicating with people is very easy and fast. I like the fact that when you send a message it just disappears.
People are like, "Oh, it's very frustrating. You can't save things." Which is not true. You can always screen capture. It's the same thing in real life. We are having this conversation. You are recording, right? But if we had this conversation in real life, you can't screen capture a conversation.
They added a feature with emojis so now you can just add emojis and make collages with the emojis in your stories. That's something I really like. I feel like it's the movie of your own life that you're editing on a 24 hour basis.