parachute pulse & Ipek Gorgun: An Alumni Conversation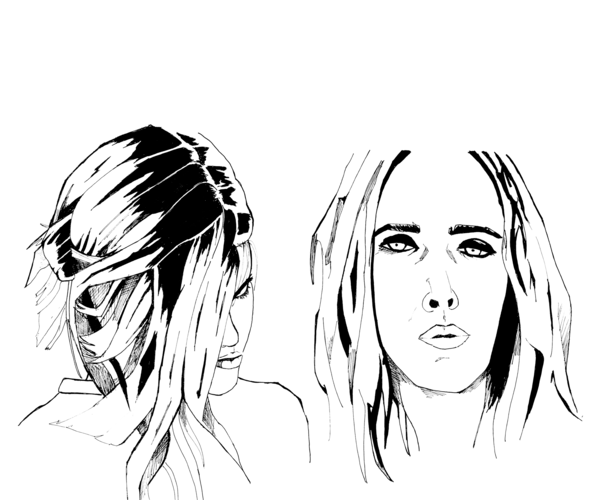 Ipek Gorgun and parachute pulse are two of our favorite sound explorers that came through the Red Bull Music Academy in recent years. Both graduates of the 2014 Academy in Tokyo, they share an ear for detail and for the uncommon. The electro-acoustic experiments of Turkey's Ipek Gorgun are oftentimes heady and noise-inflected, while Romanian-born parachute pulse specializes in conjuring atmospheric depth through her slowly unfolding downtempo beat soundscapes. As part of our series of alumni conversations, we brought the two producers together to talk sound design, sunflower seeds and everything in between.
parachute pulse
How do you find a balance between sounds that are very improvised and raw and the need to be clean and polished? Is that a big struggle for you? My day job is in sound design, and everything has to be very organised and very precise in my work, much like composition, I guess. At the end of the day, when I finish all my projects, I'm like, "Okay, I'm just going to make music from a subconscious place, just to escape from my job." How do you balance those two approaches?
Ipek Gorgun
Well, when I was trying to learn documentary photography, which, to me, is the hardest branch of photography actually. I felt like, at some point, I was getting so deeply into these rules of photography that I felt like I lost my way. I asked one of my friends who is a really good photographer about all of this, and he just said, "Learn all the rules, and learn them really well, then just forget them. When you start to do your own thing, they will just come back and then just everything will have its place." That was a nice solution for me.
I think my own music is kind of the ghost of what I do for my work as a sound designer.
When I began studying composition, that became my solution. I try to improvise a lot. I try to create sound material a lot through improvisation. Also through improvisation, I try to push any kind of limitation that I have in mind. I try to find all of these possibilities. After that, when I begin editing, I start to talk to the material. Instead of thinking it through, filtering it through all these rules, because when you're thinking about the form it's always easier to think it through a rule.
I realize that when you have these elements connected to each other, it's trying to speak to you in a way. When you put some sound in some place, and you feel like that sound doesn't fit there. There's a reason for that. As long as you treat it as some entity that you're trying to communicate with, it just starts to find its way. That was my basic solution for it. I don't know if it was clear...
parachute pulse
That makes a lot of sense, because I do tend to start from structures and then think about the material. I always start small when I work on new tracks. I think more about a structure and how it can evolve. Sometimes I feel like, "Oh, those bits are clashing so much. But sometimes they're clashing in a good way. I need to keep that."
Ipek Gorgun
What about narratives? For example, when you're writing a track or a song or a piece, do you have narratives affecting the form?
parachute pulse
Well, my narratives are very full on. I really like to have an actual film running in the background and just mute it and kind of create an imaginary score to it. I do this especially if I don't even know the film at all. I choose films that I appreciate visually, and then I mute them and start to imagine how they would sound like. There's this Czech film called Marketa Lazarová that I'm obsesed with at the moment. It takes place sometime in the Middle Ages and it's very visceral. It's a historical film, but it's very grabbing, has this very beautiful pagan-like vibe.
Ipek Gorgun
How did you come up with this idea of using a visual material as a narrative for your music? Did working in sound design have an effect on you?
parachute pulse
Yes, I think my own music is kind of the ghost of what I do for work. I specialize in sound design for animation and the best part of it is when I receive an animated film and it's just totally empty. It's cool just to see it with nothing and then come up with a bunch of sounds. I like this part of imagining more than doing actual work.
Ipek Gorgun
One of the few things that I do for creating sound material, I sometimes rip off recordings from local radio and TV broadcasts. I always use their voices. In recording all of that, my focus was, firstly, on the sound itself. The thing is, for me, while composing I try to avoid the visual references. I try to connect with visuality in a more kind of... OK, today's word is subconscious...
parachute pulse
Yes, word of the day.
Ipek Gorgun
Yes, exactly in a more subconscious way. Whenever I encounter, or "see" something inspiring, I just try to hold it, conserve it in my mind. But as I keep revisiting that particular memory, I realise that its traces are distorted. So instead of having a direct reference to the "original" moment of encounter, these distorted traces become the basis for narrative, during compositional process.
If I'm specifically thinking about a visual source for narrative, or a mood, I can begin with something like "Okay, I want this track to have a film noir kind of atmosphere." But instead of directly referring to the cinematography; I'm only talking about the overall feeling the experience has left on me. Probably something deeply uncanny. So I always hesitate from directly contacting the visual, while composing.
On the other hand, it's hard to escape from a visual reference while listening. When you place the sound of woods, you start to imagine the woods. It's both good and bad.
parachute pulse
Yes, I think your point is really valid. We live in a visual culture. Every time I go to a gig, I try to have my eyes closed. I find it very difficult, the first minute, when I close my eyes. I feel really scared, as though I'm going to fall. I find it it's so scary to detach yourself from...
Ipek Gorgun
From the eye.
When you think about how we perceive and interact with music, you can't separate it from the body.
parachute pulse
I was doing this sound design course, and this was our very first lesson: take critical decisions while listening with your eyes closed. It's such a simple but powerful thing to close your eyes every day for a minute or two and not receive that visual input. I was also listening to a podcast about how a few visually impaired people can make use of rain when they walk. They perceive the space better because they can feel how rain patterns fall on different surfaces around them. I found that really interesting, how they reconstruct reality using sound.
Ipek Gorgun
Have you heard of acousmatic listening?
parachute pulse
Oh yes, of course.
Ipek Gorgun
Yes. Pythagoras was teaching his lectures from behind a curtain, so that his students wouldn't be distracted through his image, they would just interact with his voice. In musique concrète and the French traditions, acousmatic listening is eliminating the sound source, so that you could focus on the sound as sound itself. It's really hard to achieve actually. I try to do it myself. There have been only one or two moments that I have found that piece of mind. I have always found inspiring though.
parachute pulse
I wanted to ask you, how do you feel about music in the academic context? Because I come from that background as well. I found that especially in the UK, electroacoustic music coming from universities is very much dissociated with commercial, club music. In general there are not too many people who bridge that gap. In the US, for example, Holly Herndon is the best example of both worlds combined.
Ipek Gorgun
In Turkey we've had some really important composers like İlhan Mimaroğlu, who worked working in the Columbia-Princeton Electronic Music Center, so we already have the legacy. But it was only in the late '90s that people started to include electronic music composition in academia here. In most universities where they study electronic music composition, the instructors and professors are much more open-minded which helps them talk about dance music too.
The thing is that, when you think about music cognition and how we perceive music and how we interact with music, you can't separate it from the body. It's all about the body, it's an embodied experience. And, when you reach the topic of embodiments, it becomes hard to avoid dance music. I consider myself lucky, since our teachers are also open to it. On the other hand, when you have a recital or something, you don't hear any dance pieces. You have specific events for dance pieces.
parachute pulse
At my school there was a general vibe against rhythm. Beats were off the table. As much as I love experimenting with textures, I found it very difficult not to integrate rhythm. I understand why some music schools avoid it. Because it's just so obvious and in-your-face and recognizable. Maybe experimenting with rhythm is not seen as "worthy enough" to pursue like other topics.
Ipek Gorgun
When I'm thinking about textural pieces, especially heavily textural pieces, I always feel like there is some kind of rhythm going on. You don't count the beats. It's not one, two, three, but there is something going on. As long as material is interacting with other material in the track, it creates its own rhythm. It's like a dialogue.
parachute pulse
This sounds similar to the spectral tradition. There are a few composers from that school that I really admire.
Ipek Gorgun
Like who?
parachute pulse
From the Romanian school, I like Horațiu Rădulescu and Iancu Dumitrescu. The rhythm is very hidden in their work – but always present in the way you described it, even if they don't count the beats. I really love that. Do you ever use music in a therapeutic way? Do you ever try to heal yourself with the music that you make? Is that cheesy?
Ipek Gorgun
Oh, no, not at all. I use other people's music therapeutically. When I'm composing music or when I'm improvising, I try to regard it as some kind of meditation. Especially when I'm improvising, because when you start to compose and edit, your brain gets involved and you start to think about it. If you get too busy on focusing how therapeutic it is or how you're trying to get something out of it, though, then I feel like you start to lose the moment.
I try not to be way too solipsistic while forming the narrative. So instead of prioritising my inner world i.e. "emotions," I tend to look up to, for example, poetry, or to simple, daily observations.
parachute pulse
That's important.
Ipek Gorgun
You can become so self-involved that you don't realize what's going on around you. I feel like that's the risk. I try to put a bit of distance between my inner world and everything, but of course, you always have some personal tracks and compositions too... Of course, that's inevitable, but the ratio can change. How do you feel about it?
parachute pulse
Yes, the reason I asked you is, I'm trying to do that. If I'm struggling with something from the outside world, I try to record sounds that I think are ugly and I try to transform them. For example, there's this guy who sells hot dogs and has this huge grill in the middle of the street. They're probably really good, but the sound of the sizzling just comes from hell. I find it really therapeutic to transform the association into something different. I find the process really interesting. Start with a sound that you don't like at all and try to make something out of it. I have this huge database of people screaming in London. It's such a loud city. I don't know if you've ever been...
Ipek Gorgun
Yes, I have been to London, but since I was 16 and all into loud music it didn't make a difference to me. Istanbul is extremely loud too.
parachute pulse
How do you feel about the way Istanbul sounds?
Ipek Gorgun
Well, it sounds complicated. The city is covered with the noise of construction, drills and bulldozers... And cars... And traffic. Then, when you dig deeper into that, you hear the voices of the people. When you hear the stories sometimes you feel horrible and sometimes someone makes you laugh. The way Istanbul sounds is really, really complicated for me.
parachute pulse
Yes, so just by listening to it, you can get clues about the political, social situation.
Ipek Gorgun
Exactly, and it's so obvious that you can't avoid it. It's everywhere and you can't get out of it. At some point, I think, you just begin to learn how to live with it.
parachute pulse
What's your favorite sound in Istanbul? Something that you think is unique and you can only hear it there.
Ipek Gorgun
I would definitely say the wind. With the Bosphorus, and access to both the Black Sea and the Marmara Sea, there are so many different types of winds coming from each region. There's some kind of wind that goes through the Bosphorus and the seas, but there's also the wind that goes through the land... yes, through the Asian side and the European side. Sometimes the wind is so soft and you can hear how it reflects on leaves and on the streets and you can feel it on your skin.
Sometimes the winds get so dynamic and it changes so fast, that you can even feel how it moves. The way that it makes that sound as it passes through our windows. It just passes through a filter or something. You hear it whistling, you hear it going shoosh. Then, it just goes like a small whistle. And the city itself filters the sound of the wind. What about you?
parachute pulse
I don't have a favorite sound in London yet. I've been living here for two years, so it's probably not enough time to process and digest its sound world. I do have a favourite sound in Bucharest though. I've never heard it anywhere else. Not even in other Romanian cities. In Bucharest merchants go from block to block, from one gigantic communist block to another, in the search for old pieces of metal or empty jars. They collect scraps of iron that people don't use anymore so they can sell them later. The sound of their voice bounces from one block to another, and it echoes everywhere. The acoustic space that these blocks create is very intense.
Ipek Gorgun
Is it like the walls are speaking to you?
I have an emotional connection to sunflower seeds.
parachute pulse
Yes, it's very powerful. The collectors usually come in the morning. It's an old tradition. It also happens in the city center, not only the outskirts. They sing: "We buy old jars and empty bottles."
Ipek Gorgun
Oh my God.
parachute pulse
I think it's going to die in a few years because people started recycling. Or because no one buys used bottles anymore. I find it really beautiful, they are so many and they all have the same song. When I wake up in the morning to the sound of their voices, it's like "Okay, I'm home now." You don't hear this kind of stuff in the rest of world. I think I'm more passionate about voices rather than nature.
Ipek Gorgun
Which part of London are you living in?
parachute pulse
I live in East London. I actually live in a Turkish neighborhood. It's really cool. I'm really obsessed with sunflower seeds...
Ipek Gorgun
Yes, sunflower seeds! It's the thing.
parachute pulse
It's such a thing. I have an emotional connection to sunflower seeds. People don't know how to eat them here. In Romania, when we watch a film, we'll have our beers and sunflower seeds ready.
Ipek Gorgun
Yes, it's exactly like that here. Especially, the sunflower seed, when you're in the park, when you're hanging around, when you're drinking tea...
parachute pulse
Exactly. Sunflower seeds in the park, it's a classic. I remember when I was growing up, my mom was telling me, "Oh, you shouldn't eat sunflower seeds in public because it's not lady-like and not elegant." And I was like, "Why not? Boys are free to do that if they want." It was my first conscious way of revolting against how I should act. It's funny but it's true – eating sunflower seeds in public has weird gender connotations.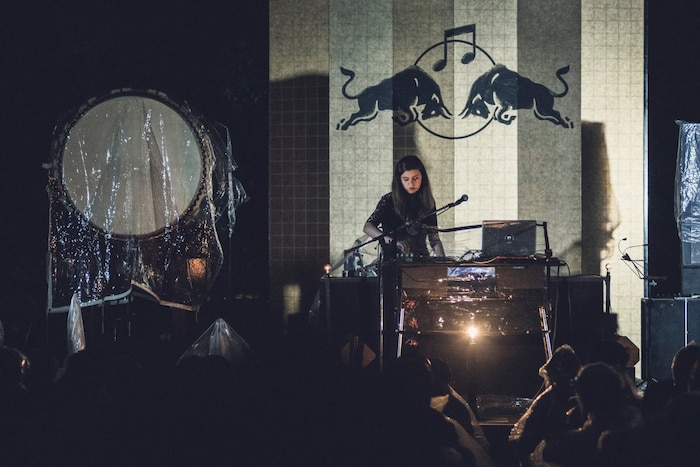 Ipek Gorgun
It's absolutely true. I have an RBMA question for you actually. Going back to your concert in Tokyo, did you improvise or was it a prepared set?
parachute pulse
It was super prepared. I mean, I tried to improvise as well. It was very much rehearsed as in, "It's going to have this part, this part, this part, I'm going to start with this track..." I had an order in mind. The best thing about it was that it actually rained during the set. The audience was given emergency ponchos. It was very meditative and very low-key. I really enjoyed it.
Ipek Gorgun
It was very rich in terms of texture. It had this feeling of tranquility actually. I'm so glad you talked about feeling the elements of water. That music really fits in that kind of idea. Somehow, I also associated it with water too. When I was listening to it, I felt like it was flowing. It wasn't a set that had extreme highs and extreme lows. It was very in the mood of water, like a river or something.
parachute pulse
I really obsess with making music for places. I knew that the Tokyo show was going to be in a museum, so I wanted to make something that was very much like a sound design kind of thing. Something that would fit the place. In an ideal world, that's what I would like to do, just make music for spaces. I don't know if you know this composer, Trevor Wishart.
Ipek Gorgun
Oh, yes. François Bayle and Trevor Wishart, in terms of composition and using sonic material... They are in such a place that you always just turn back and listen to their music, not only as music, but as a lecture.
parachute pulse
Yes, I was really lucky because he came to our school and did a few workshops with us. I even got to look at his old scores. He was such a nice guy to talk to. I really like his process. He does a lot of research. For example, for Globalalia, he spent years researching the most common syllables of all human speech. Then, he spent another few years touring with this 30 minute piece he made out of those syllables. I like this idea of doing a lot of research and then taking the piece with you to different spaces and adapting it to where you go. At the same time, I really love club music. I wish there was something in between. Imagine how cool it would be to just make music for specific clubs, in the way electroacoustic composers make music to be diffused in specific spaces.
Ipek Gorgun
Imagine yourself composing, like a mini tour or something, where you compose music for 15 spaces... You are not just playing one piece for another space. It's music being specifically made for that space. How cool would that be? That would be amazing. Sadly, the reality of the world...
parachute pulse
How about you? I listened to your set as well and it feels very improvised.
Ipek Gorgun
It is. I usually have a beginning point, an ending point and a middle point. As long as I have those small destination stops, I improvise the rest of it. I usually work with seven or eight send channels, and through those channels, I usually have a combination of effects. I don't use one channel for reverberation, one channel for EQ, one channel for delay. I just jam it all together. I never have a singular effect on any of my sounds. Whenever I use a send button, which is something I usually do a lot, I filter one type of sound through so many effects, it's like nine or ten effects at each channel. Once you have seven send channels, it's like 70 effects actually.
parachute pulse
Wow.
Listening to live music together with other people makes you vulnerable and more aware of yourself.
Ipek Gorgun
At some point, you just lose it. I like the way of losing it, in the sense of knowing what my pool is, where I'm swimming at. As long as I know what I'm doing or as long as I have the awareness of what I'm doing, at that particular moment, I keep on improvising. At some points, yes, I have the check points to feel like, "Okay, I was here, I'm going there and I will, eventually, end up there." All that space that's in between, it just relates to what mood I am in, what the room feels like, how I feel about the audience and how the audience feels about me...
parachute pulse
Yes, that's really important... I'm really happy you said that, because I feel that, sometimes, people don't take the audience into account.
Ipek Gorgun
Yes, it's the thing that people always forget. This is one of Horacio Vaggione's perspectives: The composer is not only the composer, the composer is also the listener. If you look at from that perspective, you can also realize that you are a listener too. What makes us different than the people who are looking at us? We are listening to the same music. Okay, we are doing this, but we are also being exposed to the results of our work.
parachute pulse
I think it's a kind of a ritualistic experience. Sometimes you can lose track of that vibe if you're alone with your records, but listening to live music together with other people makes you vulnerable and more aware of yourself. It opens you. I think that's the beauty of live music.
Header image © Stathis Kalatzis