Quad Maximus: A Car Audio Bass Primer
Jesse Serwer highlights some essential recordings from the competitive music genre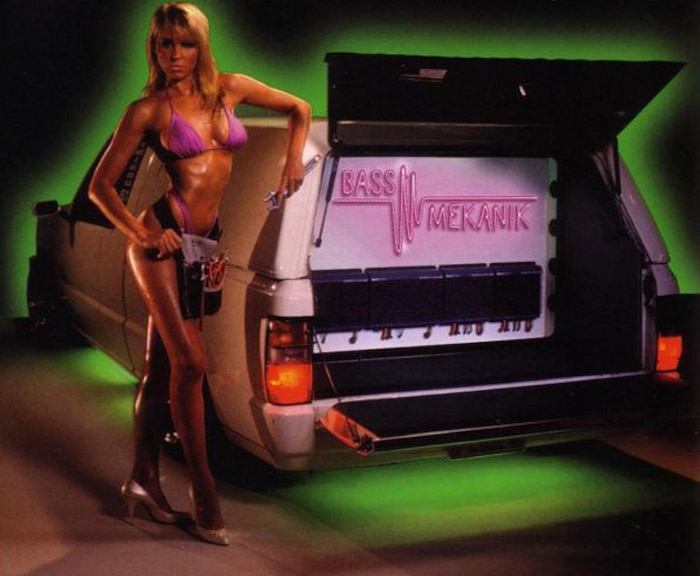 Hip hop and basketball. Punk and skateboarding. Yacht rock and... yachting. Most every style of music has its counterpart in the sports world. But only one genre can claim to have fostered an international sporting circuit as Miami Bass did with car audio soundoff competitions.
From its inception Miami Bass appealed to car audio enthusiasts, as rapid advances in mobile audio technology and the genre's emphasis on the bottom-heavy sounds of the Roland 808 drum machine set producers on a never-ending quest for more boom. By the time L'Trimm hit #54 on the Billboard Hot 100 with their subwoofer ode "Cars with the Boom" in 1988, the original Southern rap genre was becoming synonymous with the sound of rattling trunks in cities across the U.S.
Play this stuff on an inadequately equipped system, and suffer the inevitable consequence of blown speakers.
De-emphasizing melodies, lyrics and other elements that appealed to casual listeners, producers such as DJ Magic Mike, Techmaster P.E.B. and Jamaican-born Neil Case AKA Bass Mekanik began making records engineered specifically for maximum impact in aftermarket car audio systems. By definition, this new subgenre known as car audio bass targeted insiders who'd earned the right to enjoy it by investing in the correct equipment. Play this stuff on an inadequately equipped system, and suffer the inevitable consequence of blown speakers.
Concurrently, "outlaw" boom car soundoffs held in strip-mall parking lots were developing into international sound-pressure competitions overseen by sanctioning bodies like the International Auto Sound Challenge Association and the Mobile Electronics Competition Association. In the late '90s, the DB Drag Racing Association took things even further, packaging the pursuit of extreme sound-pressure levels as a thrilling spectator sport with a required soundtrack of Bass. Neil Case suggests the advances pioneered by himself and car audio bass colleagues have reached far further. "Contemporary hip hop is now all about the bass, and even other genres like rock, country and R&B have far more low end than they did 20 years ago," Case says. "This lust for bass comes first from car audio."
Here's a look at some of the essential recordings that laid the foundation for and advanced the spectrum of car audio bass.
DJ Magic Mike – "Feel The Bass"
Car audio enthusiasts immediately gravitated to the chrome-rattling low end on "Drop The Bass" from DJ Magic Mike and the Royal Posse's platinum-selling 1989 debut. But Mike was irked when he heard people slowing down the song's tempo for more effect, so much so that he created "Feel the Bass (Speaker Terror Upper)," giving listeners the slower tempo they wanted on a track literally capable of doing just what its title suggested. "I talked to my engineer and came up with a song that was already slowed down, but if you slowed it down any more would damage your speakers," Mike says. "That's where the name 'Speaker Terror Upper' came from."
Techmaster P.E.B – Bass Computer
Patrick E. Baker, better known as Techmaster P.E.B., was the first producer to entirely remove MCs, DJs and syncopation from the Miami Bass equation, honing in on the sound's ultra-low frequencies. Released in 1991, Bass Computer was a pivotal release for the nascent genre, establishing a market for instrumental Bass entirely separate from the booty-shake style popular in clubs. Among other notable features, Bass Computer was the first album to be packaged with the soon-to-be-commonplace warning: "CAUTION: ULTRA LOW BASS MAY DAMAGE SPEAKERS."
Beat Dominator – Techno Bass
As a teenager in Jamaica in the '70s, Neil Case apprenticed with reggae producer Byron Lee at Dynamic Sounds studio in Kingston, engineering sessions with the likes of Ras Michael and Sons of Negus. Relocated to Davie, Florida in the 1980s, he engineered seminal Bass releases like Maggotron's "Return To The Planet of Bass" for Pandisc Records before creating albums of his own for Bo Crane's influential Miami label under a variety of pseudonyms. "When I started sequencing it was only natural that I would try my hand at creating some of the music I was working on as an engineer," Case says. "This was also the period when techno music was breaking through, so I got the idea of layering some techno sounds and riffs over a Miami Bass style foundation."
Released in his Beat Dominator guise, 1992's Techno Bass found favor with competitors at organized soundoff competitions like the Spring Break Nationals in Daytona Beach, inspiring Case's later rebranding as Bass Mekanik. Notable cuts on Techno Bass included "Bass… Can You Hear Me?" and "123456 Bass," the first car audio track with its own music video according to Crane. "Neil had a grasp of the technical end of it that was more advanced than the booty bass guys," Crane says. "With the emphasis less on the lyrics and more on the sound, particularly the bottom end, Neil was superior."
Power Supply – Bass Boom Bottom
The success of DJ Magic Mike, Techmaster P.E.B. and Neil Case's early car audio bass experiments inspired established producers from Bass' booty-shake wing to tap this new market using different pseudonyms. Power Supply was an alias used by Derrick Rahming of Afro-Rican (of "Give It All You Got" fame) on a string of albums for Fort Lauderdale's Hip Rock Records, beginning with 1992's Bass Boom Bottom.
DJ Magic Mike – "Feel the Bass III"
Unlike other producers who dove full-force into car audio bass or who created separate aliases to differentiate from their more booty-centric work, DJ Magic Mike kept his feet planted simultaneously in both worlds, releasing albums with windshield-breaking instrumentals next to rap tracks featuring his Royal Family crew. Perhaps that explains why his "Feel the Bass III," from 1991's Ain't No Doubt About It album with MC Madness, is such a classic, a boom car staple melodic enough to enjoy on any system. "It was different because it had a jazzy feel to it and it also was the first to use that five-second bass drop," Magic Mike says. "That totally changed the game because you got to feel the bass drop for longer."
DJ Billy E – Nightmare on Bass Street
New record labels sprouted up specifically to cater to the burgeoning car audio market, selling and marketing cassettes and CDs through custom installation shops and sound-off events as well as traditional record shops. Some of the earliest and most successful were Mark and David Watson of Bass 305's DM Records and Orion Car Audio rep Ed Firestone's Innovative Bass Productions. IBP's first release was Nightmare On Bass Street by future Bass Mekanik collaborator Bill Okon (aka DJ Billy E), which launched the label with the cover warning, "The Price Does Not Include New Woofers!" and a campy, horror movie theme replicated on later car audio releases.
Bass Mekanik – Quad Maximus
Neil Case's first release as Bass Mekanik is the archetypal car audio bass album, the first designed squarely for the needs of the sound-off competitor. "In 1994 I went to my first car audio show, and I heard my Techno Bass album all over the place but I noticed that most folks were only playing short sections of different songs that sounded awesome on their own car systems," Case says. "At that moment, I decided to create another alias, Bass Mekanik, in which the songs would be geared totally towards the optimum bass frequencies, as opposed to arrangements and chord progressions used in standard music production."
Alongside musical tracks, Quad Maximus also contained a "test section" of signals, sweeps and tones designed to help users calibrate their audio systems for maximum effect, a feature would practically become standard on future car-audio bass releases. "One of the best ideas I've ever had," Case says "I just thought it would be a really handy bonus for car audio peeps, and it was. At one period in the late 90's you couldn't walk into a car audio installation bay, either at big national chains like Best Buy and Circuit City or smaller mom and pop shops, without finding a Bass Mekanik album being used for testing and demos."
Bass Patrol – "Nothin But Bass"
With its mostly anonymous talent and the absence of lyrics, car audio bass generally lacked personality. DJ Fury and RX Lord's Bass Patrol group predated the car audio bass revolution and, though the pair dove headfirst into the market during its early '90s explosion, they still rapped on many tracks and even appeared on their own album artwork (albeit alongside the bikini models, the standard stars pasted on). While it didn't trade exclusively in car audio bass, 1994's Nothin But Bass was a favorite of the custom audio crowd, not least for the windshield-shattering low end of the title track.
DJ Magic Mike and Techmaster P.E.B. – Back in Bass
In a collaboration for the ages, these two giants of car audio bass combined their efforts on 1996's Back in Bass and a 1998 sequel, Gods of Bass. The title track to the former, a bass remix of AC/DC's "Back in Black," is, arguably, the funkiest track of its type, though, with its heavy use of scratching, it's as much of a DJ track as it is a tool for testing sound-pressure limits. "I teamed up with Techmaster to give the bass game a kick in the butt," Magic Mike says. "The genre had started getting stagnant and we figured that people would be totally surprised to see us doing something together."
Various – Pandisc Records DB Jams
Wayne Harris, a Dallas engineer famed for turning a 1960 Cadillac hearse into the iconic boom car "The Terminator," launched the DB Drag Racing Association in the late '90s, rejuvenating the soundoff circuit with head-to-head competitions inspired by automotive drag racing and official CDs featuring Pandisc Records acts like Bass Mekanik and DJ Laz. "If you were going to compete at one of their events, you actually had to buy and use the CD," Crane recalls. "It came with the registration pack." In the end, the same innovations that elevated the genre contributed contributed to its decline, as actual musical productions have largely been superceded at sound-off competitions by pure bass tones. "It used to be you'd have to play a particular song off the CD," Crane says. "Now it's more scientific or technical. When they really analyzed it, they said, what do you need 3 ½ minutes of a Bass Mekanik tune for [to measure sound pressure levels], if you can just use that tone for 17 seconds?"