Interview: Quentin Dupieux on Being Flat
Mr. Oizo talks about his Paris Now! film featuring his infamous creation, Flat Eric
In advance of Red Bull Music Academy Paris 2015, Paris Now! is our first foray into fiction film, and it gathers a diverse group of five directors that we've given carte blanche to explore and examine the creative pockets and reverberations of Parisian culture.
Quentin Dupieux is, of course, also known as recording artist Mr. Oizo. Perhaps his most beloved creation, however, is a puppet named Flat Eric that was the star of Oizo's breakout hit "Flat Beat." In this film featuring his beloved puppet, Eric auditions dancing lookalikes with the help of Steve Little from Eastbound & Down. We caught up with Dupieux recently to ask him a few questions about the film.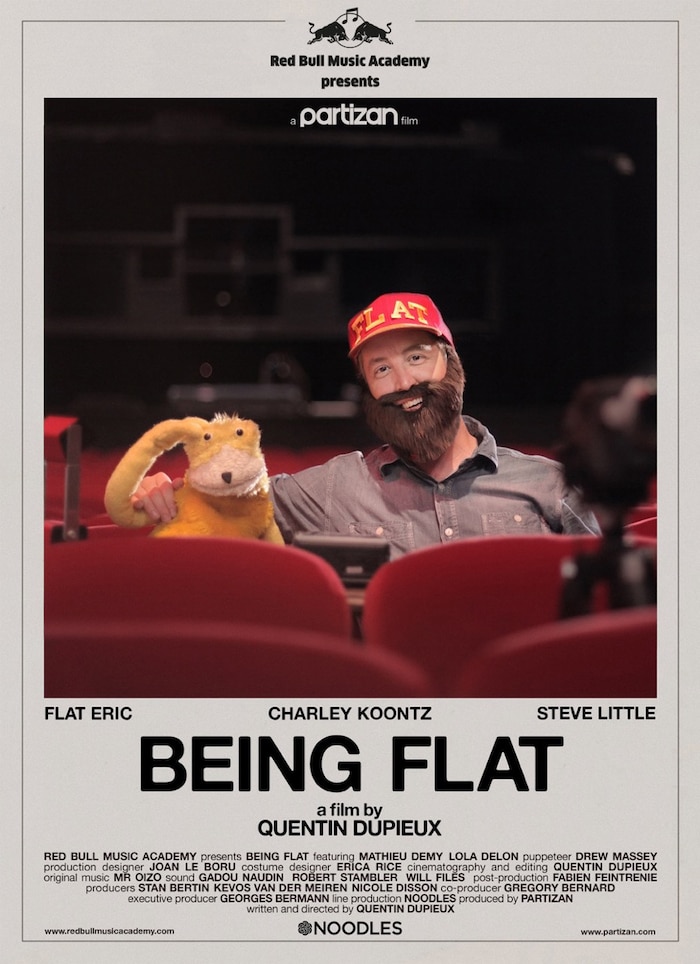 The return of Flat Eric. How long has it been since we've seen him?
Not that long ago. Last year I did some stupid photo, a stupid Vine because I was putting out my record on Brainfeeder. I shot, maybe three or four years ago, a tiny video of him playing chess with a famous musician. He hasn't been around, but it's not a real return.
Why do you think he's been such an enduring character for you?
It's this character that represents joy in my opinion. When you see this character doing something, like cooking an egg or whatever, it's instantly joyful. It's hard to explain, but this character has this free positive energy. It's connected to everybody's childhood, I guess, but there's more than that. We turned the character into something strong. I have to keep him alive.
In this case it's kind of funny though. It's like you're poking fun at yourself in this video. "This stupid musician, I don't want to play him any more." How did you get the idea for that?
Basically my producer called me from saying, "Hey look, we have this thing for Flat Eric." So I was like, "Yeah, that would be great to do something with Flat Eric again. It's a good connection. So let's try to find an idea." I typed Flat Eric into Google, I don't know why, and on the first page was a guy dressed in a Flat Eric costume. That costume was amazing. It's something I've never seen before in my life. Instantly I had the idea. Flat Eric is going to audition for people to play his role. Then we had this costume designer here in L. A., and one of the producers managed to find the girl that did the costume I saw on Google.
I used to go to The Rex a lot, but I was in the DJ booth. I was not dancing. I'm not a dancer.
Wow.
The costume was done like ten years ago for a Levi's party. We had to have the girl to do another one. She did it almost the same. The costume is amazing.
You worked with Steven Little before. Why did you think he was the right one for this particular role?
That's a good question. But I have no idea. Sometimes you just feel it for someone. The first time I saw Steven I was on a plane watching Eastbound and Down and I was like, "I love that guy. Let's contact him." I asked a casting director to contact him and we hired him for the role.
I think, much like Flat Eric, whenever I see him on screen I'm immediately happy for no reason.
Me too. I think he's an amazing actor. I think he's just ... I don't know how to say it in English. In France we say crever l'écran, which means he destroys the screen.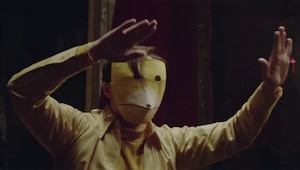 I assume all of the dancers just freestyled basically when they got up there, is that the case?
Yes, because I didn't want to get too precise on the dancing. I think it was fun to let the people do their thing. There's one who wears a tiny mask, he's not even dressed. He was amazing. He created a really special dance, really full of tension. I think it was exhausting for a lot of them because some of the costumes were really hot.
Since you're playing at our event at the Red Bull Music Academy Paris 2015 later on in November, I wanted to ask you: What was the last time you played in Paris at Rex Club?
I think I played... You know what? Maybe I've never played there. I'm not a club person. I usually don't go out unless I'm playing somewhere. But I used to go to The Rex a lot because I was hanging with Laurent Garnier. So basically I was there all the time. When he was playing there, I was in the DJ booth. I was not dancing. I'm not a dancer.