Interview: William Basinski
The US avant garde composer unravels his early years, from jazz school in Texas to lofts in Brooklyn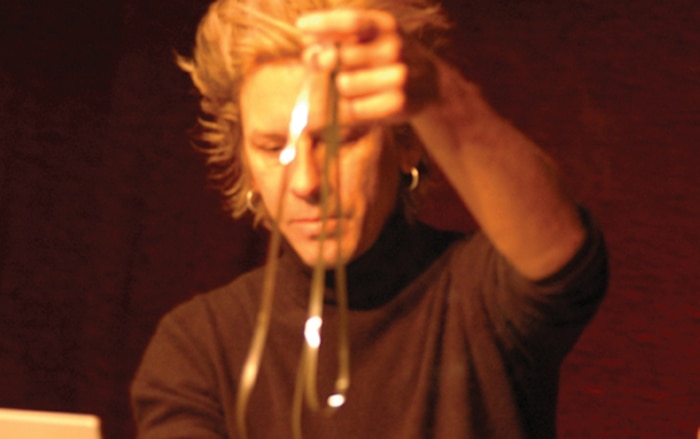 William Basinski is often associated with New York City, but the avant-garde composer currently resides in California and actually spent many of his formative years in Texas. A classically trained clarinetist who also studied jazz saxophone and composition at North Texas State University in the late '70s, he landed in NYC in 1980, where an interest in the minimalist creations of artists like Brian Eno and Steve Reich prompted his own series of abstract compositions and tape-loop experiments.
Much of his most celebrated work was first created during the early '80s, and though he continued performing and remained active in New York's art and music scene into the '90s, even opening his own performance space called Acadia, Basinski incredibly didn't have a proper solo release until 1998, when Raster-Noton issued Shortwavemusic.
His crowning achievement, however, is The Disintegration Loops: a four-album series documenting the disintegration of 20-year-old magnetic tape recordings, as they repeatedly passed a tape head. Basinski completed the project just before the September 11 attacks, and spent much of that day listening to The Disintegration Loops while watching the burning World Trade Center site from his Brooklyn rooftop.
The albums were released in 2002 and 2003 on his own 2062 label, and have since become intrinsically tied to September 11 while being greeted with universal acclaim. Since then, he's continued to release music, much of it archival, although new creations have also appeared, including his collaborative work with fellow minimalist Richard Chartier.
In this excerpt from a recent interview with Hanna Bächer for RBMA Radio, William Basinski talks about the heyday of New York loft culture, creating experimental music and more.
Before you lived in New York, where were you and what were you doing musically?
I came from a very particular environment in a weird little town in Texas called Denton. It was a university town with a big art school and a very big music school, which was called North Texas State University (now, it's The University of North Texas). They were serious business. They had this stupidity tax (for students in the free market big bands): if your shoes weren't shined, or your suit had a crease, or you stunk or something, your pay from being in the bands got docked. Once most people made their money, though, they'd take off a year, go to North Texas and chill out.
The town was awash with drugs: marijuana, acid, mushrooms, whatever. It was just a bunch of hippies saying, "Okay, let's kick ass. We don't have to wear our suits and shine our shoes any more." On the other side of the campus, there was this crazy art department with all these wild queers, fags and drag queens, and people that did all this work with fabric and found objects. They called it "Texas Funk Art" back then: this art microcosm that was was kind of famous at the time.
I tried to get into the jazz bands when I came out of high school. You could get a very high quality music education in Texas in those years. The music administrators were all in competition with one another and had good budgets, and they were very serious. It was almost like the way American football is now: they had not the same kind of money, but they had the same kind of competitive spirit; the 300-piece marching band would go to kick the other people's ass at half-time.
It was all a really great experience – especially for someone like me, that was weird and needed to focus – but by the time I got to the auditions at North Texas I was with all these professional musicians. I'd never heard of John Coltrane, or Albert Ayler, or all these other amazing players. I was a terrible auditionee, too. I always have been. When I heard these guys play, I got so nervous that I could hardly even play my scales. I didn't get into any of the bands, of course.
Changing my major to composition took the pressure off. I took some great classes in contemporary music: learned about John Cage, and how to stretch my ears. I learned about the freedom that Cage gave himself, particularly at that time in the classical music department. Steve Reich and Phillip Glass were just coming out then, but only the kids knew about them. The department didn't know – and they didn't want to know. They were teaching "modern music," which was serial and twelve-tone music then.
I did like it – because it was so mathematical and weird that you really had to work on it – but it wasn't what I wanted to do. All my friends were stoners and record collectors, and I'd go and listen to new music with them and think, "That is... what is that?" Hearing Steve Reich's Drumming, and all these tape loop things which he translated into his orchestrations with Music for 18 Musicians – to me, that was a masterpiece.
That's when I met Jamie, my partner. He's an artist and a collector of everything, especially records. At the time, you could go to the Salvation Army or the Goodwill on a Thursday, and for 25 cents they would give you a bag about a meter and a half wide, which you could stuff it full with anything in the store. All these old people dumped all these fabulous union-made and designer clothes from the Victorian age through to the '60s there. It was heaven. All the queens and everybody on art school side of town were [in the Goodwill]: gathering everything up, wearing it and using it in their paintings and installations.
I knew I was gay, but I didn't want to be then. I thought I was the only one and that it was probably the worst thing in the world.
There was this girl I'll never forget. She was called Champagne Harlow, and she was the punk rock goddess of Denton in '78. She was 16-years old and had tested straight out of high school and into college. She was brilliant: tall, platinum blonde, blue-eyed, thin, and knew everything about Warhol, Interview magazine and New York; all this stuff that I knew nothing about (I was the glam rock kid who was into Bowie: really long high-waisted pants, '30s vintage shoes and a ladies blouse).
The first time I saw her I was driving my little Volkswagen on the other side of campus. She walked across the street in front of me, in the dark. She had a blonde, asymmetrical bob that started in bangs and came around her face – it was very severe. She had black eyeliner painted on, like Jean Harlow, little black bow painted lips, and was wearing shards of black fabric, fishnets and this giant pair of platform stiletto sandals. She was also walking a cat on a leash – and the cat was lavender.
I thought I was going to crash into a tree. I had never seen anything like her before. "What? Her? And the cat's purple? I didn't know we had purple cats…" It turned out that all her friends were hairdressers, and they would dye the white cat with food coloring. I eventually met her after class – I was in the hallway, waiting. I was like, "Oh my god, she's awesome." One day, I found an old Cadillac V emblem on the curb which I somehow made into a necklace for her with a chain, and got the nerve to present it to her outside the class in order to make conversation with her. She loved it, accepted it, and we became friends.
She talked, mostly, and most of the time I had no idea what she was talking about. It was drag queens this, Andy Warhol that. I was fascinated. I didn't know any gay people. I knew I was gay, but I didn't want to be then. I thought I was the only one and that it was probably the worst thing in the world. But then all of a sudden, this whole world of fabulous opened up through Champagne Harlow.
I flew out of the closet and towards all of these wonderful artists, and Jamie was sort of the king of this group. He had already moved to San Francisco – which was basically Mecca – and when he came back to visit we met and hit it off. By then, I had already started making some tape experiments with just a cassette deck. I figured out that if I put a piece of Cellotape over the erase head, I could roll tapes back and do overdubs.
I would work on these pieces and randomly allow myself to go back on them: kind of like the technique of double exposure in photography. I had a piece that turned out pretty great and that I was really excited about it, but I was just this new kid in the group and they were like, "Yeah, whatever. Who's that?" My composition teacher was great but he would never teach me anything. But Jamie was interested in what I was doing. He heard and he said, "You're a genius." And who doesn't want to hear that?
Anyway, we fell in love and I ended up going to San Francisco in October '78 to live with him. That's when I started my real experimentation in the typical "school of hard knocks" graduate school, with this brilliant artist who could be considered a musicologist. He worked at records stores in Berkeley then, so he was on the buying truck and knew everything about music. He would come home everyday with armfuls of records: classical music, the German new age stuff, all the Brian Eno and Tangerine Dream, and Connie Plank.
Was there anything in particular that was inspiring you then?
When Brian Eno's Music for Airports came out, that was the third side of the triangle that just blew my mind. It's so discreet, so heartbreakingly beautiful. I was a very sensitive and weird child. I had a lot of frustrations and was quite melancholic, so Music for Airports resonated with me. On the back of Discreet Music there was a diagram of a reel-to-reel situation: where you run the tapes through one machine, get a tape delay, and run that through the next machine; which then takes up the second machine and sends it back to the first machine.
I went to junk stores and saw piles of tapes and tape machines everywhere. I got two, giant, old Philips Norelco portable machines for $10. They were solid as rocks. I started cutting up used tape, making loops and recording everything. I was working for my aunt at this factory in Oakland at the time. My aunt's boyfriend was called Tip Tipper and he was an industrialist who kind of revolutionized the meat packing industry.
In the old days, they used to tye turkeys and sausages with string. But he invented these machines that ran aluminium wire through presses and into staples, taped them together, and then another machine would clamp it on to the meat. Now, that's called mass production. But he made a fortune doing that.
I would run these machines all night and record them as I worked. Then I'd record the sound of the old refrigerator in the house, playing with both recordings and various speeds on the tape decks. I was a mad scientist. I wanted to be a composer but I didn't think of myself as one. All my friends were painters, so I saw myself as painting with sound.
When you moved to New York, was there a similar scene to that of the minimalists?
I was definitely intimidated by the scenes in SoHo and Tribeca. You'd be surprised by how small the art world was back then. Rhys Chatham was the director of The Kitchen when he was 19–years old. Some people are comfortable in their skin, and I guess I wasn't. I didn't realize how cute I was and how much power that kind of beauty has. I used to feel like a freak. I'd walk in places and people would stare at me. I learned how to kind of walk through it all, like a model does. When I look back at pictures, it's like, "Wow – I wish I still looked like that and could appreciate it now."
Anyway, I was immature and wasn't sure of what I was doing. I didn't think to go over to The Kitchen and ask for a job. I was working at answering services and strip clubs, like a dumbass. But we always had these huge lofts that were pretty much ours for as long we could pay the landlord for. We didn't go out to clubs. We came home, painted, worked and made music.
We probably could have gotten in Studio 54 because we were fabulous and always wore cute clothes – but we didn't know that, thank god. I had friends that got into the club scene and they all burned out. They were talented, but if the party is suddenly over and your teeth are falling out, you're not going to get in anywhere anymore, are you? Luckily I was kind of a dope. We wanted to make it, so we worked.
But you must have found some sort of scene or found some sort of confidence in the musical world before you founded Arcadia, right?
In the early '80s I had some little shows here and there, and then I kind of a very big, important show put on by Creative Time in around '86 in what was called The Anchorage. It was this enormous, 50–ft high series of barrel-vaulted brick spaces underneath the Brooklyn side of the Brooklyn Bridge, where all the cables are locked into the ground. In the days before terrorism, 9/11 and all this bullshit, they let Creative Time have these massive concerts and installations under the Bridge.
I did two sold-out nights there with Jamie: one and a half hours long, with soprano, alto and tenor saxophone pieces; tapes and objects, smoke and lights. It was very dystopian. There were a lot of art world people there, and everyone loved it, but there was nothing about it in The Village Voice or The New York Times. I'd spent a fortune doing it, too. It was heartbreaking.
The record industry had changed... people who were "making shit happen" and giving Led Zeppelin a fucking airplane. It turned into a fucking dynasty.
Did you ever stop doing music?
No, you have to keep going. I love rockabilly, so I started playing with this English rockabilly band in the early '80s called Smutty Smith and The Rockats. They were the original new wave rockabilly band, before The Stray Cats, and they were crazy. Smutty Smith is fabulous. He was the first person I ever saw that had full sleeves of tattoos and he was the prettiest little thing you ever saw, flying around on his pinstriped upright bass. RCA Records signed them and they were going to be big, but I think they were on heroin and fucked it all up.
Before all that went to hell, though, and when MTV first started, some friends of mine from college in North Texas looked me up in the phone book: "Hey, Billy, we're in New York and we're in charge of a video for this English guy on RCA for MTV. They need a saxophone player and we thought: do you want to do it? There's money in it."
When I showed up, I was ushered into a room with a choreographer and everything. They tell you exactly what to do. When you look at these old videos they all feel very formulaic. There are three cameras, everyone's sitting there lip-syncing their songs with their unplugged keyboards and guitars, and there are girls dancing around.
Did these experiences made you want to become a producer yourself?
Eventually, yes. When I was still with The Rockats, Patty Smyth's band Scandal was supposed to open for David Bowie on the Serious Moonlight tour in Hershey Park, Pennsylvania, but she was sick. She was on RCA then, so they called The Rockats and we opened for my idol in front of 30,000 people.
Did you talk to David Bowie?
I didn't have the nerve to speak to him. My friend Dean would have just walked back to his dressing room, and hung out and flirted with him while he was doing his make up, but I would never have dreamed of doing that. I had a brand new tape of Shortwavemusic that I wanted to give to him, though, so I talked to Bowie's manager: "Maybe he might like to listen to it on the plane, it's really very way out there. It's not pop music, but I know that he'll understand. I'd love it if you could give it to him."
He said, "Of course. I'm sure he'd love to hear it. Would you like to meet him as he goes on stage, too? Just wait here." He briefed Bowie on me and then Bowie came over to me. "Billy, that was a great show. Would you like to watch from the wings?" I was like "Oh, yes, thank you!"
When I went home with these rockabilly dorks on this long road home to New York, they wouldn't take me home because I lived in Brooklyn: just across the bridge from where they lived, in the East Village in Manhattan. They dropped me off at the edge of the bridge with my saxophone, so I got my first ever yellow taxi cab (with the hundred dollars I got paid in my pocket) and had this amazing cab ride over with this wonderful, old, elegant black gentleman. There was a full moon over the East River shining on the water and he was playing this fabulous jazz music. I was sitting there thinking, "Wow, Serious Moonlight indeed. I'm going to make it."
But, nothing ever happened with that band. It was weird in those days. New York bands weren't getting signed. The record industry had changed and "our people" were really the sons of the big A&R people of the '60s: the people who were "making shit happen" and giving Led Zeppelin a fucking airplane. It turned into a fucking dynasty and it was bullshit.
By the late '80s you'd moved to Williamsburg, right?
We were in downtown Brooklyn from '80 to '89, in Jay Street Borough Hall, but then they wanted to tear down the whole neighborhood and build offices. We fought them for year with all the other artists in the neighbourhood, who had already been kicked out of SoHo and Tribeca, and eventually they had to settle with us so everybody got some money. We found, rented and renovated our own place, and built our Arcadia in the middle of nowhere, on the north side of Brooklyn.
We were there for almost 20 years. It was spectacular. All these young artists would come and do whatever they wanted. It was almost collegial. We'd print flyers and put them in cafés. Then there were all these abandoned buildings on the waterfront of Manhattan where people would get the electricity from the street lights, run it to the place and set up massive sound systems and installations for parties and shit. And no one "official" even noticed any of it, because there was no one there.
Was the place big enough so that you could actually live there, though – to maintain a private space?
It was a 4,000 square foot loft: 40 feet wide, 100 feet long. It was the size of a Venetian palazzo. It had a sense of glamour about it, too, with crotch-vaulted ceilings, octagram shapes and columns. I knew that there had to be a stage at the end of the big room. It was like: stage, living room, dining room, bedroom, a wall of closets and a storage room in the back.
We had curtains for the bedroom and on the other side it was a control room, a drum room, a TV room and a dressing room for shows. When you went down the hallway you came into this gorgeous space with a secret stairway, that went upstairs and downstairs to other lofts. Then there was a bathroom, a kitchen and Jamie's three big studios in the back. It was kind of like a theatre company. We promoted a very focused group of people that I liked. We all helped each other.
Was this when you started to assemble your own machines?
Yeah. My guitar player (from my last band) and this great engineer friend of mine helped me figure out what I could get with my budget and Jamie put that into the studio. Todd and Doug Rice helped me to spec out equipment. There was no automation, but there were some really nice consoles at the time. I got the Soundcraft 600, a beautiful 16-track Tascam tape deck with MIDI, an early computer that hooked up with a tape deck and synthesisers, and a nice two-track mastering deck and cassette deck. Everything you need just to have a nice control room. I designed all the cabinets for it all and when it all came together, it was like the control bridge on The Starship Enterprise or something, but with wires snaking everywhere. That's how it all started.