Interview: Gilles Peterson's Inspirations and Influences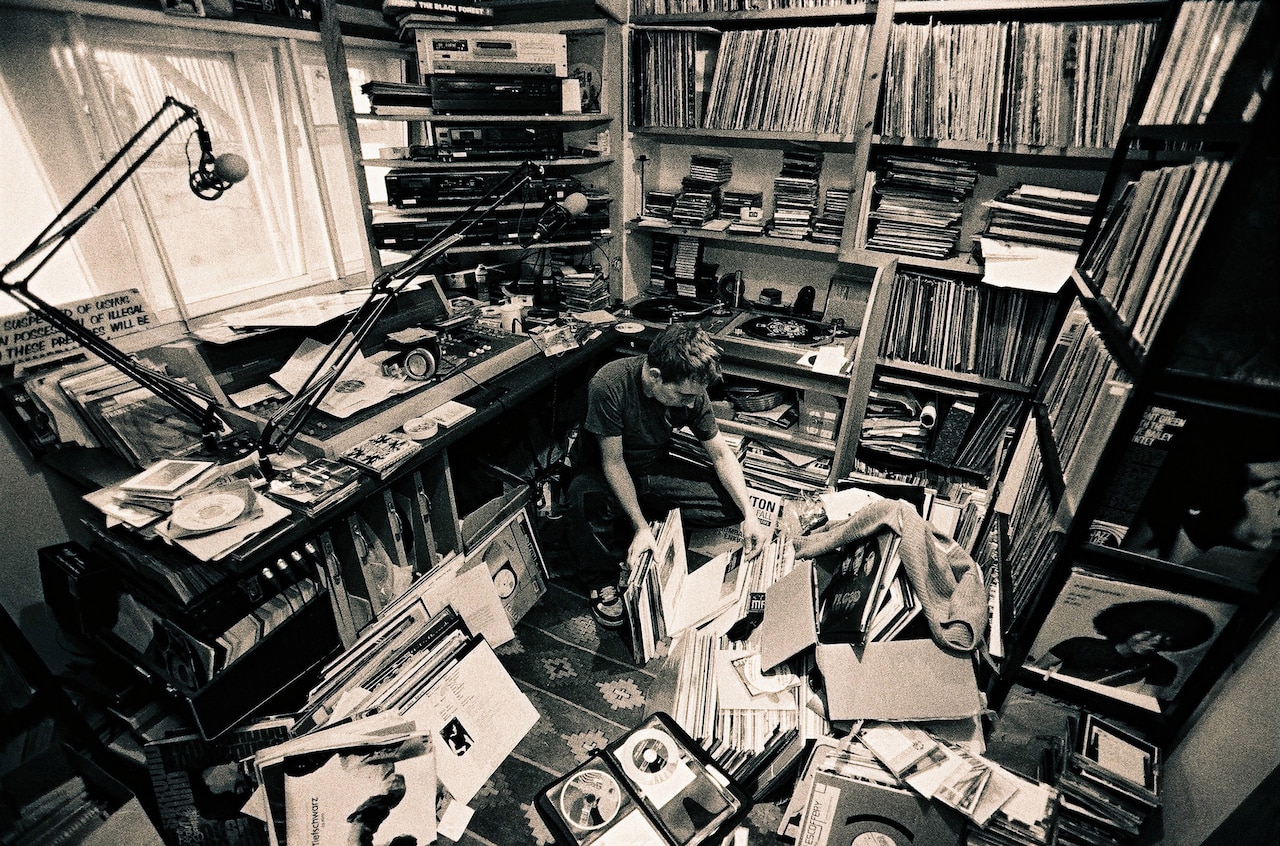 DJ, radio host, producer, label owner, curator, collector – Gilles Peterson wears an awful lot of hats, but he appears to like it that way. The British selector got his start in London's club scene during the 1980s, but it was in the pirate radio world that he first made his mark, largely by championing the then emerging acid jazz sound. Peterson actually co-founded the Acid Jazz label in 1987, but left shortly thereafter to start up Talkin' Loud, a wider-ranging dance label that would ultimately garner all sorts of acclaim while releasing music from Nuyorican Soul, Roni Size's Reprazent, MJ Cole, 4Hero and countless others.
Still, it was on the radio where Peterson continued to make the biggest impact, spending eight years at London's Kiss FM before taking his eclectic Worldwide programme to BBC Radio 1 in 1998. The show continues to broadcast today, making the move to BBC 6 Music in 2012, and a separate international version of Worldwide has been syndicated around the globe.
Throughout it all, Peterson has consistently dedicated himself to new and emerging sounds, and has shown a particular interest in the music of Brazil and Cuba. In 2009, he launched Havana Cultura, an initiative designed to showcasing emerging Cuban talent. The project has spawned numerous releases, the most notable being 2012's Mala in Cuba, an LP that found the dubstep legend traveling to the island nation and collaborating with local musicians. The album was released via Brownswood Recordings, a label Peterson founded in 2006, that has also played host to music from the likes of Ben Westbeech, Ghostpoet, José James, the Owiny Sigoma Band and numerous others.
In this interview with RBMA Radio and Jeff "Chairman" Mao, Peterson discusses his early career and influences at length.
What would you say was your gateway experience to your life and career in music?
When I got to 14, 15, I was a little bit lost in my life. I hadn't yet had a girlfriend and I didn't really know what I wanted in life, and suddenly I went to my friend's house whose sister had a Bobby Caldwell record, a couple of Earth, Wind & Fire albums and a Cameo album. I got into that and I was like, "This is really, really great. I love it."
Probably the gift I have got is I've got quite good energy, so energy helped me really want to get more of these records. What toys I had, I sold them. In fact, I sold them the weekend my Mum and Dad went on away for their wedding anniversary. I think they'd been married for 25 years or something. They went away for the weekend, and when they came back half of my toys are gone and I had a Citronic Thames, which was a kind of prehistoric double-deck with a cassette player in it which you could [use to] record that was quite advanced in those days. At the time, it was one of the best of the mobile disco units you could get.
I obviously very quickly started selling myself as a DJ - weddings, bar mitzvahs - as you do. I set it up with my next-door neighbor called Andrew, and we use to call ourselves the G & A Disco, Gilles and Andrew. I started organizing parties, and that would make better money, which would allow me to go to Sutton Market, which is where I lived in South London, and buy these imported records from America or Japan even. Then British white labels. It was a really good time because it was like groups like Level 42, Slave, Trussel and Sharon Redd.
I spent my money on that, and then I basically went and did more parties. I was working in a gay disco in Croydon when I was 15. My mum thought I was just going to see somebody I'd made up in Croydon. What we got away with! The most important thing that I did was passing my driving test when I was 17, which allowed me to travel around London putting aerials up. I became a sort of pirate, I suppose. That was what gave me the platform to shout about the fact that I liked jazz-funk music and music from America. I was like a disco DJ but a little bit jazzier than the others.
How did you start to get more deeply immersed in the jazz funk scene?
Let's remember this is the punk era, right? I went to a French school initially, because my mum and dad are French/Swiss. At ten, my parents decided to switch me over to English schooling. And suddenly I was in a boy's school, where you had to belong to a tribe. You had to be either a mod, a skinhead, a teddy boy, into your heavy metal.
Through my friend Andrew and his sister, who introduced me to this soul music by the time I was 12, 13, I decided that I wanted to be into jazz funk. I would go and buy my pegged leather trousers from Jones in King's Road, and I would go out and buy my shoes, called pods, from a special shop in Kingston. I had the uniform. I had my hair in a wedge haircut, and I wore it proudly.
If you were into that music, you'd read one of two publications, Blues & Soul or Black Echoes. Blues & Soul was more what was going on outside of London, because at that time there was only a few DJs who'd play this particular type of music, and most of the clubs would be outside of London in the suburbs, places like Essex. I mean you've got to remember that punk comes from Essex as well. A lot of the original punks were going to a place called the Goldmine on Canvey Island, which was a club run by Britain's Larry Levan, a guy called Chris Hill.
I would go to the Goldmine, in Canvey Island which is a little island off Essex. Horrendous industrial place, takes you three hours to get out of London. Miserable, but there'd be this beautiful little nirvana at the end of it where Chris Hill would be behind the turntables playing records by Tania Maria, the Brazilian pianist. He'd play records like Kleeer "Intimate Connection," and he'd play "Jingo" by Candido. They were the coolest crowd, that's where I wanted to be in life. I wanted to belong to that.
What I would do... this is a tip for DJ's who want to make it, because everybody's as good as everybody else, right? Unless you're Prince, fundamentally we're all pretty average. So the only way to give yourself an edge, if you want to be a DJ, is you need a following. What I used to do was organize coach trips. I'd organize 50 tickets, and I'd call the club, and I'd say, "Look, I'm Gilles Peterson, I'm going to bring 50 people if you put me on the lineup. Give me a gig, I'll warm up for Froggy," who was a great DJ at the time, and they're like, "Yeah no problem, 50 people, they're going to buy drinks, there you go." I'd organize the thing, and I'd bring a crowd, they'd love it and support me, and suddenly you're beginning to get a bit of a buzz. I'd do anything to get people to come listen to me! That's what you have to do! People forget that.
Your London residencies became hugely important platforms for you over the years. Dingwalls, of course, but the Electric Ballroom as well where it was initially kind of trial-by-fire for you?
Before Dingwalls, yeah. The most traumatic and most important club I ever played at. Friday nights at the Electric Ballroom in Camden. Upstairs was a place they use to call The Jazzy Funk Club. It still exists, and it still smells of the '50s.
The main room was Paul Anderson and George Power. And the best dancers would battle downstairs, and if you were good enough, you'd end up upstairs. That was the proper challenge. This guy Paul Murphy was doing that. He had a record shop where he'd sell these incredible jazz records that he'd find to people like me who would come along from the suburbs. I was that really little annoying runt that all record shop guys made fun of. He decided, having spent a couple of years as the DJ in this place upstairs, it would be quite funny to throw me in there. That was the probably the most difficult gig any DJ could do, because he knew I didn't really have the tunes.
Every DJ has those nightmares. Where you're constantly going for your record box, or you're constantly going for your iTunes, and you can't find that record to play. That moment was like eight hours. I failed, miserably. The dancers didn't dance and they were all like, "This guy's lame." It was pretty much the end.
At that time, if you were black and you didn't have the right clothes on in the West End, for example, you wouldn't get in.
At the end of the night, one of the guys, Jerry Berry who was in this troupe called IDJ, I Dance Jazz. They were like a collective of really great dancers, and he was the top boy. He lived in Acton, and I was living in Richmond at the time, which wasn't far. He found out I had a car and he asked me if I could give him a lift home. Even though I'd been terrible that night, I gave the top boy a lift home, so he gave me another chance the following week. He thought, "Oh yeah, he's going to give me a lift home every week." It was that or the night bus. The second week, I'd had a week to get more tunes together. And Jerry, he managed to convince the dancers to give me another chance. Slowly I became better at it. That was where I sort of earned my stripes.
Dingwalls was interesting in the sense that, number one, it was a club that was on a Sunday afternoon. This is before the days of Body & SOUL and those clubs that played on a Sunday afternoon. It allowed more people to come from different backgrounds and different ages. At that time, if you're black and you didn't have the right clothes on in the West End, for example, you wouldn't get in. It was much more racist and much more difficult back then. People forget about that era, in London anyway.
So the great thing about Dingwalls was that it was in Camden Market. People would come from all over the world, and anybody could come into that club. It was only two pounds to get in, and I use to mix up live bands with DJ culture. Which is something that I always did. I felt that it was important that it worked for both groups, both parties. Back in those days, having the band and the DJs, there was a lot of education to do, because the band scene was one thing and the DJ thing was another thing. DJs weren't of the status that they are these days, so you had to make everyone understand everything.
On one hand, you could play New York records like "Hot Music" by Soho, which is a sort of Dingwalls classic. On the other hand you could play something like Pharoah Sanders "You've Got to Have Freedom," which is a traditional uplifting jazz track which everybody used to go bonkers to. You could play Richard Evans "Capricorn Rising," a boogie soul record. That was a very intrinsic part of Dingwalls. Dingwalls was really about playing great jazz heritage music, Latin, Latin jazz, fusion.
I think it's quite an interesting subject, the residency. Because if you look at DJs today, there aren't that many who do residencies. It's not commercially viable. Why would you go to play in New York every week, when you could just play twice a year and get paid loads of money for it?
I understand why people wouldn't do residencies these days from a business point of view, but from an artistic point of view, residencies are really important, because that's how you break music, that's how you develop a scene, that's how you create a movement. That's part of your responsibility, I think, if you're going to be pushing the music out there.
At what point did your jazz funk roots evolve into what became known as acid jazz?
The [initial] scene gently grew into something that was more substantial, the clubs became slightly bigger and people then started going to Ibiza. I was part of the whole scene with Nicky Holloway and Danny Rampling that went to Ibiza in 1985. We use to organize holidays, again similar philosophy, you'd get 300 people to come from London, you'd give them a cheap ticket to Ibiza, then we'd all go and DJ. And, suddenly, these kids who were previously just drinking beer in pubs in South London listening to jazz funk records were taking ecstasy tablets, listening to music from Detroit and Ibiza. That was acid house.
I didn't really know if I wanted to be a part of that, in a way. I'd always been the part of the wild lot, but suddenly the straight lot were wilder than us, because they taking tablets. We'd just been smoking stuff before then. We were like, "Oh, okay, we like the music, but we don't know if we like what's happening to all these people." Although, in retrospect, it was great what was happening to these people in a way, because they were opening up to a degree. I suppose, I'm not sure.
From my point of view, it was a good opportunity to be able to create a subversive, alternative version of acid house – and that is what acid jazz was. In a way, it was the drug culture energy, but mixed with a much more freaky soundtrack. We would mix acid house with free jazz and funk and stuff like that. I set up a record label called Acid Jazz on the back of that. The first record was by a guy called Galliano, and it was called "Frederic Lies Still" and the B-side was called "I Love You, Baby Jack, Jack, Jack Your Body," which kind of tells it all about how we saw the whole picture.
That was a lot of fun, but then acid jazz kind of got kidnapped a bit by the mods. I set out with a guy called Eddie Piller who was great, funny guy who was managing a group called James Taylor Quartet at the time. They'd lost their scene a bit because mods had gone and it was all a bit weird, but they found in acid jazz the potential to sort of relight what modism was all about. It didn't really clash with where I was at, I was more into the now, rather than the then. Even though the old school stuff was an important inspiration in terms of what we needed to fuel the scene that was only part of the fire. The other part was newness, and all these exciting groups coming through. Whether it was A Man Called Adam, Leftfield or what became house and all that good stuff. I needed that. In a way, acid jazz kept me a little bit back, even though we signed Galliano and Brand New Heavies. It just felt a little bit like it couldn't develop. It was always going to be stuck in its retro world.
How important for you was broadcasting as an initial outlet versus the club work?
It was very important. Going back to my initial inspirations, there were two radio shows. There was a show on a Friday night presented by Greg Edwards on Capital Radio. It was live from the Lyceum in London some weeks. I remember I use to go babysitting, and I'd think it was the perfect thing. "I'm getting paid to listen to Greg Edwards." It was really great.
Then on Saturday, there was a show by a guy called Robbie Vincent on Radio London. That was the show for me. That was where he would play Japanese imports, he'd have a thing called the jazz funk 40. It was on his show that I heard "Nights Over Egypt" by The Jones Girls for the first time. I'll never forget that moment. Power of radio, so amazing. There was also a radio station called Radio Invicta, which was the only pirate radio station that played black music. That was on Sunday afternoons. That was the coolest station imaginable.
When I set up my first pirate radio station, I had this set-up in my back garden, turntables, mixer with a recorder. I used to record an hour on a TDK cassette and my next door neighbor would record the other hour. At this stage in my life, my dad had given up on trying to get me to do anything else. He used to help me and my friend set up the transmitter, which we would place a couple of miles away from our house in a high part of South London called Epsom Downs. He would give us a lift up there, and we would connect our transmitter, so we would have an aerial in the tree, aerial would go into the transmitter, transmitter would be connected to my cassette player. We'd press play, go through the transmitter. Of course the power would come from a car battery. That was how it all worked.
Then while we pressed play on the cassette player and the first 60 minutes went out, we'd give out our phone number in this prerecorded show. We'd go and sit in a British telephone box in the middle of a field, all three of us, hoping that we'd get a phone call. That was enough energy for us to just live off and be excited about for months. We'd get that one or two phone calls, so it was brilliant, that was the buzz.
What happened was, and this was another big [moment] for me, was that the guy who built my transmitter, a guy called Bob Tomalski, who's passed away now unfortunately, he also built Radio Invicta's transmitters, which was the station I loved. One week, they got busted by the home office, and they needed a transmitter. He got hold of me and he says, "Look, they're looking for a transmitter, can they borrow yours?" I says, "On the basis that I get my own show, on Radio Invictas." That's how I got onto Radio Invictas.
At the age of 17, I was on Radio Invicta, and suddenly I was going to college, school. People said, "What do you do?" I said, "I was on Radio Invicta." It gave me massive status, and respect. That was what it was, at the time it was Radio Invicta, it was Robbie Vincent, and it was Greg Edwards. That was the only places you could hear that music, in London on the radio. Radio One, the national station, did not have a black music radio show at all, at that time. Dance music was miles away from where it is now. There wasn't a lot of room for this sub-genre with guys wearing leather pegged trousers, like me, but it came through.
Radio Nova was the first station that I heard where they would play the music I loved, mixed with music from other genres.
The other thing for me that was really important part of inspiration I suppose as a broadcaster later on in my life, [was] I use to go to France quite a lot because my grandmother lived there. It was in France that I kind of listened to radio, because pirate radio in England was obviously the result of the channels, the airwaves being controlled by radio stations that weren't that interesting. They weren't giving licenses out so pirates existed, right, but in France they realized that quite quickly, so they created free radio stations.
There was a revolution in radio in France before there was in England. It was through that revolution that I got to hear stations like Radio Nova in Paris. Radio Nova was the first station that I heard where they would play the music I loved, mixed with music from other genres. They would play world music, that's where you'd hear a Salif Keita record or a Tony Allen record or a Mulatu Astatke record next to a Talking Heads record, next to a Brit funk record, next to some early hip-hop, Grandmaster Flash, Whodini, whoever. That was amazing, because that was a long way away from British-ness. British-ness was about, you have to belong to a camp, you have to be part of a tribe so the radio's just about that. In France it was much more open, much more arty, much more like, "Whoa."
That for me was very interesting because I heard radio in that sense, and I also heard radio in a really fanatical British sense. In a way, I put the two together. Those are my biggest inspirations.
In your many years on the BBC, which very specific shows or memories are particularly crucial for you?
When Radio London offered me a job I was like a kid who knew a bit about music, but no one had told me about Charles Mingus, or Roland Kirk, or Sun Ra, or any of that, I didn't know any of that really. I was just learning as I went along, and I think the main thing was that they would just think, "Oh my God, there's this kid who looks 14, he's 18, but he looks even younger and he's playing Mark Murphy and Miles Davis records. We need this in jazz!" This old-fashioned jazz lot, they kind of saw me as somebody who was going to give jazz a nice little boost.
I had a very, very incredible three-week phase, when I was working with Radio London, where in three weeks I met three people. I met Jalal [Nurridin] from The Last Poets. I was on the radio and I used to do this show, it was a Tuesday night, and it was called "Mad on Jazz," 10 till midnight.
He was in London, in a taxi, and they've got [my] Radio London [show] on. And I'm playing "It's a Trip" by The Last Poets on the radio. He probably never heard it played on the radio. I'm sure when it came out - this is the Hustler's Convention period, Douglas [Records], all that stuff - it was super underground then. So he's in a taxi and there's some guy playing his record. He stops the taxi, "I got to find out where this guy is! Who is this?"
He gets through to the BBC on the phone, obviously must have got to a phone-box or something, because there were no mobile phones in those days. This is what they tell me, he was like, "Unless I can speak to the person playing this record, I'm going to plant a bomb." It was that sort of era, you could get away with stuff like that without going to prison, right! Basically, he managed to get a hold of me, and then we met. For me – a white kid, South London, French-English - this is Jalal of The Last Poets, this is another world. There's no Wikipedia here, this is a whole thing.
I met him week 1, he gave me the whole blackness civil rights, radical thing. Week 2, Wayne Shorter. Wayne Shorter is at Radio London and his album's out, Phantom Navigator's out, and I'm interviewing him. He was in the [Jazz] Messengers, and I knew "Witch Hunt" and a few of those great records, Speak No Evil. But, this is Wayne Shorter, and we're in the studio downstairs in Radio London, and it's only meant to be a 20 minute interview, but he ends up with me for two hours. We record all this stuff, and it's like why was he being so giving to this kid who knew nothing! This was Wayne Shorter: Buddhism, Miles Davis, jazz! This is royalty, the real thing, incredible.
The week after that, [I met] another person who for me is incredibly important in the world of jazz, the jazz singer Mark Murphy. Mark Murphy was living in London at the time, and I loved everything he did, but he was coming from this sort of bohemian, San Francisco, gay jazz kind of world. Which at the time was offbeat.
In the space of three weeks, I was given these three lectures by these three notable people within the music, who'd all had their own life journey. I would say that three week period was kind of my teaching, that was like my free college course on jazz.
How've you been able to sustain that enthusiasm over the years? Does it still possess something resembling the excitement of those experiences for you now?
I feel very privileged to be on the BBC at this time. I feel very fortunate that I was around during this whole transition with the digital age, and being part of an establishment that had the global reputation to be taken seriously. When they decided to make their music available online, it was really beneficial to people like myself [who have been there for some time]. I mean I've worked with John Peel, and all these greats. He was on before me, he gave me records. I remember he gave me "Dreaming" by Sun Ra on a 7-inch on Saturn Records. He says, "Oh yeah Gilles, you'll love it!" I said, "Oh my God."
I've had that loveliness about the BBC and the support I've received from them and the respect it has globally. I think that's been really important for me, because it's meant that I've been able to be heard outside of the UK. Of course, I love radio. I'm in a great position, no one tells me what I can play, what I can't play. And I appreciate it every week. I mean it could be taken away from me anytime, because it's like, how come? I can go on there and play whatever I'm feeling, and they give me that freedom. It's amazing.
With the shows that I do these days, you're only as good as your last show, right? I have a crap show and I'm like, "I'm giving up, I'm never doing it again, that's it." You have to have that at least once a year, But the buzz I get when I do a good show is brilliant because it kind of incorporates everything about being a club DJ, about being able to mix live on air, have the conversations, have the right amount of everything is great, when you nail it. It's very rare that I nail a great show, but that is my art, more than DJing.
I remember Jalal Nurridin saying to me, "Gilles, you've got to remember always that the music industry is 95% business, and 5% music. As long as you know that, you're good."
DJing I love it, I love playing at Output, and playing for eight hours in New York on a great sound system. That's the amazing experience of interaction with an audience, especially when they're dancing and they're feeling the music and you have long sets and the sun's coming up. But when you can do that on the radio, you're reaching even more people and there's another dimension to it somehow. I love that.
Something I think is important for me, is the fact that [I] can sit on both sides of the desk. On one hand I can be talking to you right now about being "an artist" and doing my thing I suppose, but actually I like being in your situation and listening. I think that's the same with what I've done as a record person, executive, in the sense that I quite enjoying the mentoring bit as much as the bit where you're under the lights, being focused on. I like being in the background. I mean it's the best job in the world, right? I can't imagine anything else really. I love it.
Well, speaking of the record business, how have your experiences with the various labels that you've been associated with, Talkin' Loud in particular, prepared you for nowadays with Brownswood?
I think everything I've done has had its moments of trauma. You've got to go through difficult moments. You've got to constantly put yourself outside of your comfort zone. The older you get, the more difficult it becomes, because the more you just can't be bothered with like, "Oh dang, you know, it's easier this way, I'll just go the easy route." It's like, you know when you want to go out, you know when you know you should go out, but you can't be bothered? So you stay at home, but on the odd occasion that you actually do force yourself out, you have the best night ever, right? That's how you got to approach everything. Actually taking it back to Jalal, I remember Jalal saying to me, "Gilles, you've got to remember always that the music industry is 95% business, and 5% music. As long as you know that, you're good."
That was a big period of learning for me - going from having a bit of fun, putting out compilations, and doing my Acid Jazz record label from the back of my bedroom, back in the day and putting out little 12-inches and stuff. To suddenly working for PolyGram, Universal [via Talkin' Loud], and having to go into A&R meetings where they're talking about Dire Straits marketing campaigns. I'm like, "No, no, no, what the hell am I doing in here?" Everyone looking at me going, "So what have you guys got? What records you got this week?"
I'd play them "Step Right On" by Young Disciples thinking it was the most amazing record I've ever heard, and they'd be like, "Rubbish." Taking away, sucking away, any confidence you had. [Or] everyone going, "This is awesome, awesome!" Everyone there would be, "This is the most amazing thing we've heard in our lives." The next day you'd be completely forgotten. I had to learn about the bullshit of business, but it was great, because... I realized that that's how business is done.
I had to go through that. I had to go through the trauma of being just trodden on by horrendous A&R cliché people. The worst of the music industry. You've got to remember, when I was running Talkin' Loud, it was just the back end of the '80s. The '80s was the worst period [for] the worst kind of ... vile record industry people. It was awful, right. I was working around all of that, but that was great because if you can fight through that, and learn through that, it made me stronger.
With Brownswood I just wanted to put out records I liked without any of the rubbish, really.
So when I ended up doing Brownswood Records it was just because I just wanted to put out records I liked without any of the rubbish, really.
You don't make any money, right? There's no money in it any more. Let's just get that straight for people who think that there's a career in putting out records. Adele only comes up every now and again, you know? It's a real lottery but then again, it's lovely to be able to have records out there that you have might of been involved in, helped get to that point. At the moment, I've got the singer called Dayme Arocena from Cuba that I'm really excited about. We've got a new Mala record that he recorded in Peru that's brilliant. I've just done a third Owiny Sigoma album, which is a group from London going to Kenya with some musicians from Kenya. I'm just proud that we've made it to three albums, on this quite experimental Afro, electronic project.
I'm going back to Brazil to do another Brazilian Songziera album, which I'm working on with Alexander Kassin. We're going to twist the Jose Prates album Tam...Tam...Tam...! from back in the day and just give that a modern twist. I'm doing a lot of things that I'm just loving at the moment, so it's good.
From the outside looking in, it's always appeared as though you've been in the privileged and great position to be able to just follow your heart. And that's why the music has taken you on this great journey, and you've been able to present things that have been of such quality, via whatever forum. Perhaps that's overly romanticized, but from where you sit does it feel that way to you?
Yeah. I love it. You go through ups and downs, life is a journey, you have kids, you get married. It's not easy, right? But I think if you know how [tough] it is, you appreciate every minute you get. The reason that I'm still, hopefully, still semi-relevant with what I do [is because] I'm in the now, you know what I mean? I think the moment you start relying on your history, it's all over. It's not all over, but you're just not going to be in the now anymore.
Especially right now with music, electronic music in particular, it's a very golden period of time to be able to see someone like James Blake doing what he's doing. Or to see the kind of work that Floating Points is putting in, or Four Tet and people like Dan Snaith.
There's so much great music, and then you've got all that music from around the world, and people are really interested in it. People are more into music than they've ever been, I think. There's certainly a portion of the audience that is just giving you a lot of love and making you want to carry on. Maybe the mass of the world isn't interested in music and there's far bigger problems in the world to have. For us artists, or people involved in music, sometimes it's a bit like that LCD record about losing your edge. [You ask yourself], am I losing my edge?
I just think that you just got to basically stay in the now. That's my thing, stay in the now, and the now is a good place to be.