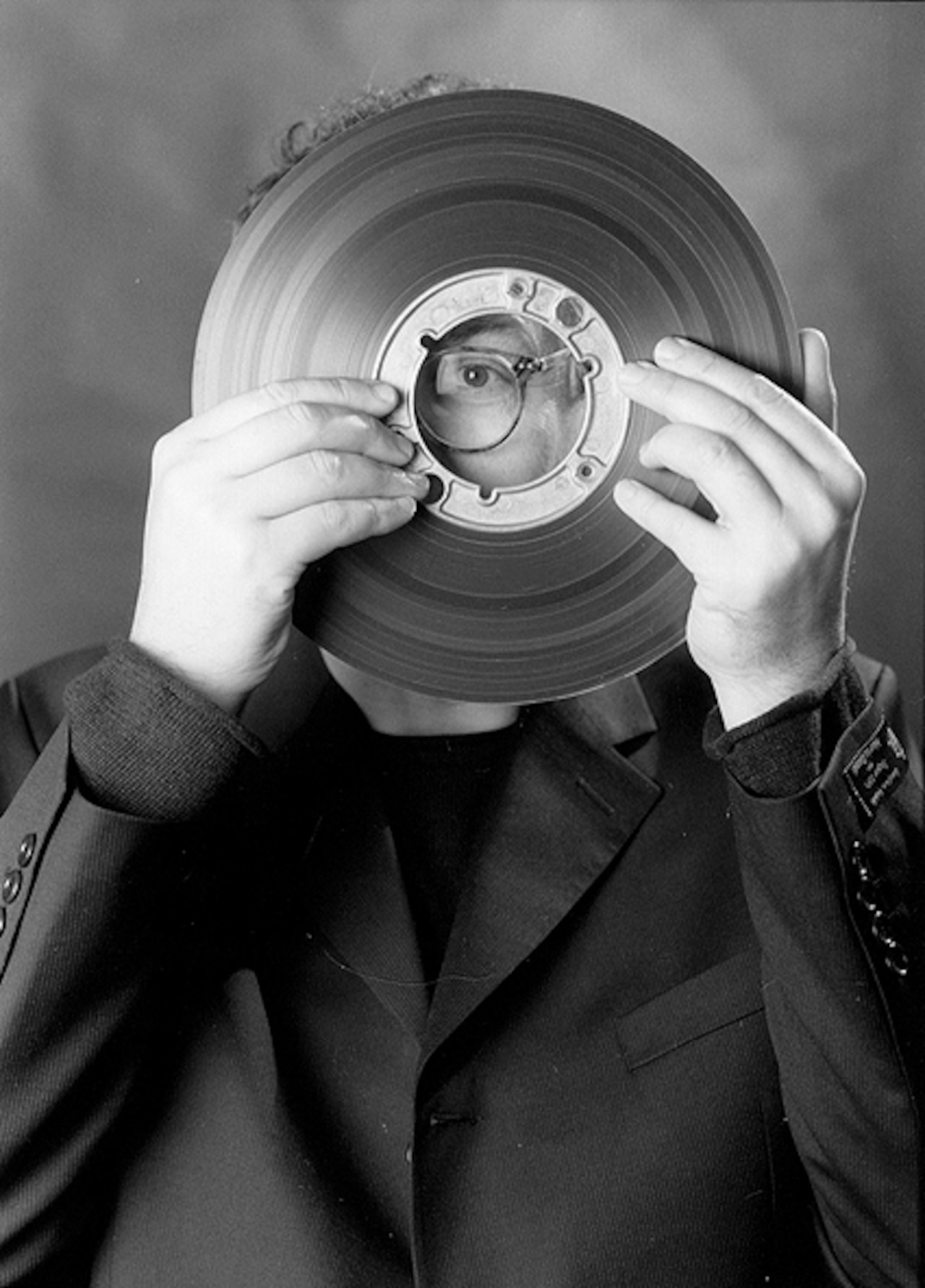 Light and Shadow: The Story of Hector Zazou
It was September 8, 2008. Somewhere between the dying moments of the night and the early morning hours, Pierre Job, who most of his colleagues and friends called Hector Zazou, "Zaz," or "Zazou," passed away at the age of 60. He was a musician, producer, director, journalist and activist. Worldly, idealistic, intellectual and a dreamer. Autumnal, tormented, pragmatic... A father, friend and enemy, he was a man of elusive dualities.
Given the quantity of undeveloped works he left behind him, he probably still had plenty to say. In his project notebooks, there were outlines in various states of progress like "an album of religious songs performed by stars" or "a project mixing a string quartet and dolphins." In the days before his death, a procession of family and friends filed through his bedroom. They all say that his passing was a surprisingly quiet and peaceful time.
Pierre Job was not much interested in the fate of his oeuvre. Or rather, he didn't really have time to ruminate on this, so engaged was he in thinking about existing record projects, concerts and shows, which were numerous, collaborative, complex and interwoven. He left a monumental discography that is difficult to decode, full of coarse records of bawdy post-punk, electronic chamber music, synthetic funk sung in African languages, ambient music, electronic music independent of connections accompanied by traditional Celtic, Corsican folk or Inuit shaman songs...
A mutant discography unlike any other, notable for its catalog of collaborators: Brian Eno, Harold Budd, Asia Argento, Fred Frith, Henry Kaiser, John Cale, Marc Hollander, Papa Wemba, Björk, Ryuichi Sakamoto, Jon Hassell, Gerard Depardieu, Bill Laswell... A list so rich in illustrious names that it makes us wonder: how is it that recognition for this remarkable French intellectual – with several of his records released to great fanfare on major labels – was greater 6,000 kilometers from home than around his studio in Montreuil?
Specifically, seven years after his passing, who is still familiar with Hector Zazou? Who still listens to his records? Judging by the crazy prices of some of his projects on Discogs (quoting up to several hundred euros for his album La Perversita), there are still a few people delving into the mysteries of his oeuvre. But sketching an outline of this key French counterculture figure's life is much more difficult. There's scarcely anything about him online from a biographical perspective, apart from a rather thin Wikipedia page entry and some dazed obituaries.
Beginnings
Pierre Job was born in 1948 in Siddi Bel Abbès, a small town surrounded by mountains located south of Oran, "which is known as the cradle of the Foreign Legion." This quote, attributed to Job himself, is from an article by Hervé Guibert dating from 1985 in Le Monde. It's the only mention found referencing Job's pied noir11Algerian-born European roots. The first single he bought was "Apache" by The Shadows. Like millions of teenagers around the world, Pierre decided to become a guitarist. But in 1962, Algeria gained independence and the Job family had to leave suddenly. With the exception of the song "Siddi Bel Abbès" in 1984's Géographies, Zazou would hardly ever refer to this rupture in his art.
The Job family moved to Marseille. Pierre didn't like the city, but got used to his new life. Rock music began to obsess him. Privately, because he was having a hard time playing the musical scores of the cool and trendy bands, he began composing little melodies. Switching with greater ease to the bass, he started playing in bands. 30 kilometers away, he also began an Economics degree at the university in Aix-en-Provence. There he would develop his taste for knowledge and theory, gradually forging his worldview – a perpetual Marxist. Years later, his son Valentin confirmed this religion. "He was a Marxist by faith. For him, everything was economic. There are only the power relationships between classes. But he was a romantic Marxist. His other idol was Erik Satie. I'm not sure whether these are compatible. But it's a known ploy in the history of philosophy. Isn't a Marxist a closet idealist?"
In any event, none of his friends remember ever seeing him vote. When May 1968 came, he was excited but kept his distance from the barricades. As he later told Guibert, "I didn't so much sense this event politically but rather as a change of perspective, the opportunity for new fusions." In parallel with a thesis on the Hopi Indians that he would complete years later, Job devoted himself body and soul to the formation of a libertarian and multidisciplinary group.
The Two Barricades and the Revolution
Accordingly, the legendary Barricade was born, a libertarian group amongst the libertarian groups that emerged all over France on overturned cobblestones, slogans and ideas. The original idea behind the collective came from François Billiard, a saxophonist and fan of free jazz who would later become a journalist, critic and worldwide expert on the accordion. At his side was a gathering of distinguished visiting enthusiasts and personalities from French underground rock: the keyboardist Cyrille Verdeaux, who would be the first French artist signed by Virgin with the prog band Clearlight; the saxophonist Manfred Kovacic, future fellow traveller to singer / songwriters Alain Bashung or Jacques Higelin; the French writer Jean Echenoz; and lastly, Joseph Racaille, a singular songwriter who achieved some minor critical success with a vocal group named Feuilles d'herbe.
40 years later, Racaille, who would go on to become one of the most sought-after arrangers of French chanson, remembers the improbable way he fell in love with "the finest band of long-haired guys in the region." The year was 1972. Originally from the city of Reims, Etienne Crubeiller, who was not yet known as Racaille22Which translates as riffraff or scum, arrived in Aix-en-Provence to take up studies in Modern Literature. He came across the group in a small advertisement plastered on the university walls, because he was looking for a Hohner electric piano. As it happened, Barricade, for a combination of obscure musical and personality reasons had just split into two groups. Unwittingly, Racaille joined Barricade II. They were the ones with a piano for sale. And they made a great deal, since they sold the instrument and kept the piano by hiring the pianist who bought it from them.
From the Barricade II years, nevertheless Racaille gained a surprising and precious musical apprenticeship: a veritable discipline of indiscipline that structured even the most eccentric ideas. For instance, in Barricade's musical practice, there were exercises that owed as much to Dada or Fluxus as good musicianship. Racaille recalls, "We played for example a very famous piece keeping only the melody's rhythmic division. The best known – recorded with Zazou – was "A Hard Day's Night" by the Beatles. Or alternatively we would draw notes from a hat to compose a melody. It was a bit silly but great training."
Another unlikely way of learning the music profession included impromptu street performances, less motivated by the pleasure of encountering random audiences than refilling the coffers when money was short. "We were occasionally forced to panhandle. Touring the pizzerias around the town of Aix, all the old dames used to give us money. We would play songs by Les Chats Sauvages33One of the first French rock & roll bands, popular from 1961-1964., or traditional songs from the Auvergne region. Oddly enough, it worked. We would buy camembert cheese with the money."
Within the group, or rather the community, things were changing all the same. The group's singer Pépée Minègue renamed members. Etienne became Racaille, and later Joseph Racaille. Pierre Job renamed himself Roquet (grouchy), but everyone called him Zazou for his long legs44"Zazou" was the name attributed to a French youth subculture associated with swing who adopted an eccentric sartorial style in the '30s and '40s, similar to zoot suit fashion in America., and he took Hector as his first name – an homage to Berlioz, as legend has it. As Racaille recollects, "He was jealous of my name. And since he was the leader and could do as he liked, he decided to name himself Hector Zazou."
However, with regard to the music, Zazou was forced to take a back seat. He lacked the instrumentalist talent and expertise to score his musical ideas. Since the position was up for grabs, Racaille stepped in. "I infiltrated the thing. Zazou had a hang-up about composing and was not at all confident. Undoubtedly the reason he was also so bossy. But that's probably why he left so much of the composing to me."
From Barricade to ZNR
And then it became necessary to stage a coup. Racaille, increasingly frustrated with his role as right-hand man, decided to rebel. But the revolt turned against him. Though some time later, Zazou was ousted in the end. He retaliated by robbing all the equipment, including Racaille's electric piano, which he then returned to him, doubtless with some idea of future collaboration in mind.
Racaille was more than willing to give it another shot… on one condition: they could no longer live together. "The first thing we did was to live together again." The duo moved to La Ciotat, 30 km from Marseille, a small seaside municipality famous for having been the backdrop to the first Lumière Brothers film. Initially, ZNR was envisaged as a trio. The "N" in the middle was Hervé Néneux, Barricade's guitarist. But he couldn't embrace the wild notions of the other two. The first project was a concert that would follow the stylistic quirk of Nouvelles impressions d'Afrique (New Impressions of Africa) by Raymond Roussel, with its parentheses within parentheses: a piece inside another piece, inside another piece... "And the parenthesis closes at the end."
The most surprising instrument on the strange and exquisite Barricade 3 is the VCS3 from the EMS company, a synthesizer popular among those crazy about British prog rock. Zazou had gotten hold of one and he extracted utterly strange, novel and beautiful tones from it. "In concert, it was hell. We never managed to create the sounds we wanted. It emitted noises like a barrel engine."
Soon, a very distinctive poetics was established. Literature was very present. "Zazou had the idea of translating the titles into the Provencal language. He also thought of lifting the titles from the chapter headings in Robert Musil's The Man Without Qualities. He had certain complexes. When he found something that interested him, he absolutely insisted on getting on the bandwagon and associating his name with it." Despite this, ZNR was thoroughly original. Zazou's first significant musical experience, his musical character was beginning to emerge.
In Marseille, Zazou met Jacques Pasquier and immediately spotted a valuable ally. He was a founding member of Libération, a leading leftwing daily newspaper in France, for which he had organized major festive events. Pasquier had the idea of playing rock and anarchist songs in the May 1st parade of 1970 and arranged for bands like Soft Machine, Lou Reed, Captain Beefheart, Tangerine Dream and Kraftwerk to perform for the first time in France. He had an organization, an agency and communication tools. Not to mention the possibility of making records with the SCOPA Invisible record label. The two men got on well almost immediately, finding that they shared a great deal of common ground, including their political beliefs.
Exit ZNR, Welcome La Perversita
At the dawn of the '80s, Zazou also began working as a journalist. He would shortly relocate to Paris where he had met the people involved in the legendary magazine Actuel, the main organ of the "underground" press in the French language. It had just risen from the ashes in Paris, still under the aegis of Jean-François Bizot (a renowned French journalist, writer and founder of Radio Nova).
This marked the beginning of a parallel career that Zazou would pursue – using either a pseudonym or his real name Pierre Job – for the rest of his life. As Jeanne Folly recalls, "I was working in Libération's culture section and I could commission some freelancers to write articles. I had noticed some articles written by Hector Zazou, as they were very well written with a delicate wit... He visited the newspaper's offices one day: very tall with a mustache wearing blue spectacles and a pink velvet jacket."
He set a tape recorder on my belly, and then wrote an article entitled "Belly Music."
It was period of experimentation in the French press, and Zazou quickly carved out a niche for himself with eccentric ideas approximating the immediate ramifications of his musical ideas from ZNR. Folly, who became his partner, remembers some fanciful experiments, "So I was living with him, and he often came to the newspaper with these outlandish articles: he had set a tape recorder on my belly and wrote an article entitled 'Belly Music.' That kind of thing, which I published since I had a free hand."
As for ZNR, however, things were turning sour. Zazou and Racaille, whose mutual understanding had always been precarious, were getting along less and less. Racaille laments this breakdown. "He was unbearable. We ended up getting really angry at one another. He had just begun working as a music journalist for Libération. And he wrote articles about ZNR, signed with his real name. The problem was that he spoke only about himself in these articles and never mentioned me at all. That thoroughly annoyed me. After a while I snapped." Despite very positive reviews, ZNR broke up. Never again would the pair work as a duo. Anyway, Zazou already had his new project in mind: La Perversita.
La Perversita
After an extended stay in the United States where he completed his thesis, Zazou went to New York and met key members of the punk movement including DNA's Arto Lindsay and Suicide. Zazou began to imagine his first concept album: a concentration of dissonant and refined art rock accompanied by the most lewd lyrics possible, highly explicit stories of bestiality or scatology. Jeanne Folly, who swears that she didn't write a single line of the lunacies on the record, remembers the recording sessions, which were challenging to say the least. "Zazou asked me to sing and I agreed because it was hard to oppose him. As I'm quite shy, it wasn't easy for me to sing things like 'I dream of being sodomized by a dog.' The studio technicians gave me some funny looks, as though I did things like that. I kept a low profile at Libération. I also remember the photograph printed on the record's center label: A little girl who is looking at her pussy. She was the producer Pasquier's daughter, who also took the cute photo."
Meanwhile, Zazou became indirectly involved in the French presidential campaign underway at the time. The stakes were high. The second oil crisis pushed the economy into the red, exploding unemployment and inflation rates. Valéry Giscard d'Estaing, who had been in power since 1974, possessed a remarkably modern style of political communication but was haunted by terrible scandals included the suspicious death of Robert Boulin, the Minister of Labor. Facing Giscard d'Estaing was François Mitterrand, first secretary of the Socialist Party.
More from playfulness and the pleasure of activism than any real political commitment, Zazou allowed Jacques Pasquier to involve him in a superb hoax. "We went to Giscard's campaign headquarters masquerading as journalists from Rolling Stone magazine," remembers Pasquier. "We explained to the people in charge of his PR that we were working on an article about political marketing. They were so flattered they gave us everything you could want in terms of preview material, recordings of speeches, and the official campaign photo prior to its publication... Above all, I managed to leave with a signed contract authorizing me to do whatever I wanted with all this to please the Americans. We rubbed our hands together in glee. Taking one of the tracks from La Perversita that we hadn't put on the album, we created a montage that we released together with Giscard's official photo. It was released on Virgin and was a big hit. On one side of the record, there was a genuine track. On the other, silence with a toilet flushing noise that was entitled 'Pensées et maxims55Thoughts and Maxims of Valéry Giscard d'Estaing.'"
A President for France from Valerie Gee's Car Band would be Zazou's last real subversive stunt. In 1981, the Socialist Party was elected. Regime change and the arrival of independent radio stations created a huge arena of freedom overnight. It was no longer a time for protest, but for celebration.
At Crammed, with Zazou / Bikaye
In the early '80s, Zazou released Noir et Blanc66Black and White and despite its chaotic development and the fact that he didn't play a single note, it was among his finest achievements. Everything stemmed from Zazou's introduction of CY1 (two Frenchmen adept with electronics, Claude Micheli and Guillaume Loizillon) to Congolese singer Bony Bikaye. As a journalist, Zazou was well aware of the pop music coming from Africa at the time. So while the debate raged among the New Wave pretty boys about whether it made more sense to sing in French or English, here was an album in Lingala and Swahili.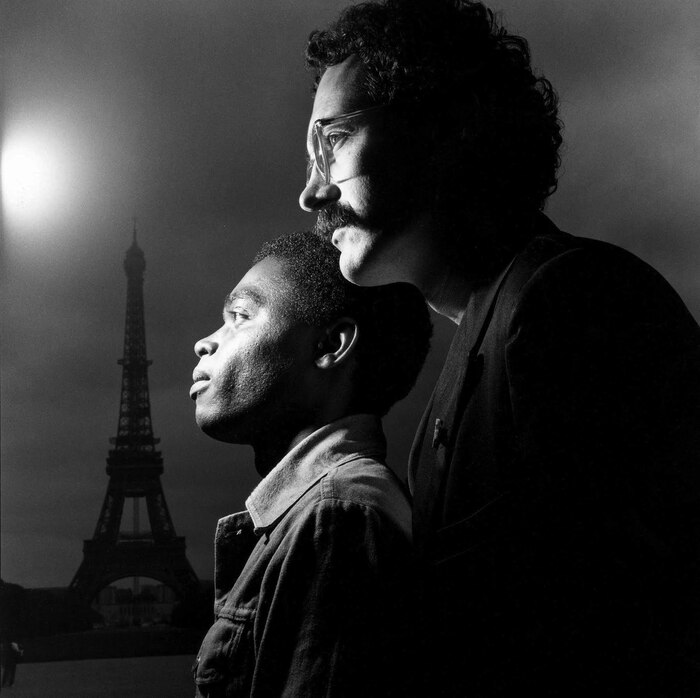 Noir et Blanc, released on the Crammed label in 1983, was an international critical success, as well as a popular hit. 30 years later, it is still considered a classic of world and electronic music fusion on par with My Life in the Bush of Ghosts by David Byrne and Brian Eno. Zazou, CY1 and Bikaye formed a real band and embarked on a tour that would take them to the Club Méditerranée in Dakar with Youssou N'Dour and New York where they inaugurated the new Kitchen, which had just moved to the Chelsea neighborhood in Manhattan. Jean-Michel Reusser, a journalist and John Cale's manager, remembers a concert in La Defense, Paris. "It was crazy. There were lots of black people dancing. Nobody did that in France. It made quite an impression on me."
Noir et Blanc also established a paradox for the first time that would become central in Zazou's career: how can one assert oneself as the leader of a musical project without composing a note, singing a word or playing a single instrument? On the back of the Noir et Blanc album sleeve, we see only Zazou and Bikaye. CY1 were not invited to the photo shoot. However, Loizillon, one half of CY1, remains positive: It was definitely Zazou at the helm. "Sure, he was not the one playing synths, sure, it's not him singing, but he was the one who saw that uniting the two was going to create something special. Without him the project would simply never have come into being."
The Great Mix
So in the cultural whirlwind of the '80s, Zazou was making a name for himself as the head honcho of fusion. He couldn't play an instrument properly and he hadn't mastered harmony like Boulez or Debussy, but it didn't really matter. He would become a genius of the shadows, a studio heavyweight. Above all, as an intellectual, he knew how to handle concepts.
First, he appropriated, and then pasted things together, manipulating more than actually writing. And he worked with those who mastered tools that were alien to him. Jacques Pasquier: "He needed others to compose for him. Racaille first of all." Indeed, Racaille saw a unique talent in him: "He was a mixer in the original sense, an arranger. His way of thinking and operating was ahead of his time. The problem was that he absolutely insisted on putting his name in big letters on the record sleeves, which was not to the liking of all his collaborators and caused some clashes."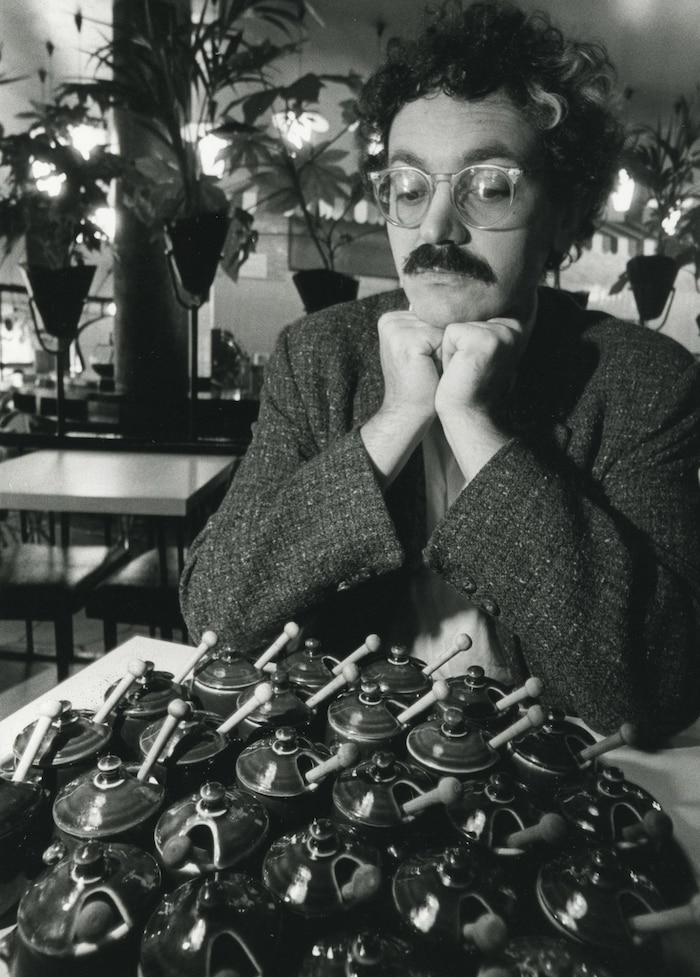 Nevertheless, the outline of a singular demiurge gradually became clearer, one who maintained an increasingly complex relationship with the creative act. On some of his records, he would leave things entirely to others and take on the role of producer, sound director and organizer. On others, he wanted to forge the notes himself. Surprisingly, his hand is recognizable regardless of his level of investment. So much so that only those involved in the actual production of the records can tell the difference.
Both dilettantish and yet fiendishly precise, Zazou accumulated materials to the point of saturation, with a procession of all kinds of musicians visiting his studio. Sometimes without really knowing in advance what he planned to do with their contributions. Comparing his father's approach to that of a film director, Valentin Zazou has only one model in mind: "Godard was doing the same thing. Ultimately, when filming a scene, he didn't know which movie it would end up in. In my father's office, there were piles of backlogged things stacked upon other piles on the backburner. I would say it's an integral part of this commitment to mixing that was specific to him, combined with the period when he became a professional musician. The mixture is limitless; everything is potentially mixable and material to be mixed. This is the DJ's ideology. Nothing should ever be gotten rid of because everything can be used one day."
Reinventing the Album
More and more versed in his art of arrangement, with the dawn of the '90s, Zazou felt the future lay in record-objects where the concept was almost as important as the music. It was on Nouvelles Polyphonies Corses77New Corsican Polyphonies – a novel project combining Corsican sacred songs and electronic music – that he would build upon his idea.
Cumbersome and complicated to finance, Zazou was obliged to use cunning to bring it to fruition. "We literally squatted in one of the studios where Ryuichi Sakamoto was working," Jacques Pasquier recalls. "When he turned up and heard the music, he forgot to yell at us. Zazou turned round and told him: I want you to play on this music. We recorded his part, with no mention of money or contracts. The whole record came together like this, in bits and pieces, by convincing people progressively. Before that, nobody wanted anything to do with it. They thought we were crazy." The record was finally released in 1991 on Phonogram, and went on to win a Victoire de la musique award88An annual French award ceremony which recognizes outstanding achievements in the music industry. earning a lot of money for all the contributors, to a greater or lesser extent.
Sahara Blue, Les Chansons des mers froides: The Era of the Jet-set Albums
The '90s would feature the big Zazou "jet-set" projects. Released in 1992 on the Crammed and Sony labels, Sahara Blue marked the centenary of Arthur Rimbaud's death and brought together an unprecedented star-studded lineup of music figures (Tim Simenon from Bomb the Bass, Bill Laswell, John Cale, David Sylvian from Japan) and French actors (Gérard Depardieu and Richard Bohringer).
Yet those who participated remember an enterprise that was more perilous than prestigious. Once again, Zazou and Pasquier were up to their old shenanigans. Marc Hollander: "It all started with an event produced by La Villette99A group of institutions dedicated to music, located in the Parc de la Villette in Paris. to celebrate the centenary of Rimbaud's death with Hector Zazou programmed for a continuous twelve-hour performance... Pasquier somehow hijacked the event to make a record. He told everyone that it was a commission by La Villette. Pasquier dragged all these people into an expensive studio and then sent the bill for the album to the people at La Villette who were totally unaware that they were funding an entire album. It was a con, but a pretty awesome con, with a result that would have been impossible if the pair had done things by the book."
For his next project entitled Les Chansons des mers froides (Songs from the Cold Seas), Zazou wanted to do something no musician had ever done before. A bit like the filmmaker Werner Herzog, he likely wanted to lay claim to being the musician who had recorded on every continent. It all started with a movie, directed by documentary filmmaker Philippe Romeo, who captured Zazou recording musicians and singers in Japan, Alaska, Greenland, and Lapland.
Jean-Michel Reusser, who had been Zazou's publisher and collaborator since Sahara Blue, recalls the fabulous conditions in place for making the record: "We managed to get a massive budget from Sony, quite considerable for making an album. Recording took a very long time, because some artists whose names had been put forward in meetings with the label – and with whom we sometimes didn't even have a tentative agreement – were driving us nuts. For instance, we had to wait two years before Björk's session. She had just left the Sugarcubes when she'd agreed to participate, and she'd become a superstar in the meantime. We had to combine shooting a music video and a recording session in Los Angeles and then there was an earthquake... It was in 1994. The mixing was already underway. It was really close to the bone right until the end."
Seeking Something Else, A Personal Quest
Two decades after its release, Songs from the Cold Seas remains the most iconic record of Zazou's career. Nevertheless, its incredible scope would remain without a sequel. The record sold less than anticipated, and the crisis facing the record industry was just around the corner – and, predictably, Zazou had other ideas in mind as well.
He certainly never made it easy for himself. Despite working with singers, he systematically selected artists with complex, broken or ragged voices like Sandy Dillon, Barbara Gogan or Katie Jane Garside. Or he would shoot himself in the foot, when the topic of conversation had nothing to do with art, or almost. As Jean-Michel Reusser recalls, "I remember a meeting in an advertising agency. He was asked to make his music for some commercial sound like the Concerto No. 2 for Piano and Orchestra by Rachmaninov, and he just said right in the middle of the meeting – 'Well, why don't you ask Rachmaninov?'" Conversely, he would plunge into a sort of stylish, cold and arty variety genre whenever an eminent organization like the Présences électroniques Festival, the preserve of avant-garde electroacoustic music lovers from the GRM (Groupe de Recherches Musicales) would invite him to propose a work.
For Posterity
By the late '90s, Zazou was beginning to see his artistic desires more clearly. He aspired to legitimacy. Valentin Zazou, who had begun working with his father, remembers that "the most conceptual projects started at that point: composition for digital birds on Joan of Arc, Carl Dreyer's silent masterpiece. And Quadri + Chromies with the painter Bernard Caillaud." This ambitious multimedia record project set paintings by Caillaud to music and electronic images. It included Sakamoto, Brian Eno and Peter Buck from REM, and is probably the most recalcitrant and opaque of all his records. It reflects his desire for recognition more than any other Zazou record.
But Zazou probably didn't care about the avant-garde. He was too provocative at heart, too reliant on his activist education. Valentin reveals that his father may well have realized that he had gone wrong at some point in his musical life. "It seems logical to me that he has not been recognized by the avant-garde. His career does not bear comparison with that of a professional composer. He didn't speak music. It was one of his fault lines. And that had its origins in his career beginnings. No doubt out of provocation at the time, musical language being deemed too academic... We can try to renege, but we always end up paying the price. All the ambivalence of the provocateur was there. Like Satie, his musical mentor. Satie found himself in the grip of the same duality: a great melodist, but no Debussy."
Debussy. But Satie too. And then Poulenc and Ravel. Those are just a few names that spring to mind when listening to Géographies and Géologies, two whimsical and literally fantastic albums that Zazou produced for Made to Measure in 1984 and 1989. In many respects, these are his two most personal records and often cited as favorites amongst Zazou aficionados. These are also the ones that are said to bear the strongest Hector Zazou stamp as a composer. Probably not by chance.
But why did Pierre Job the composer express himself so little? "He had too many hang-ups," conjectures his old comrade Racaille. "I didn't realize it until later on, but Zazou was a great composer. One day I said to him: 'Pierre, you're an underrated composer. But you are more misunderstood by yourself than by others.' He got very upset. But I haven't changed my mind about this."
Hector Zazou knew primarily how to listen to the world. The musical oeuvre he left is vast, contradictory, packed with highly valuable episodes, disconcerting interludes and even nondescript moments. In other words, it's terribly human and absolutely deserves to be discovered and rediscovered again.
Header image © Lucia Baldini