Interview: Dancer from the Dance Author Andrew Holleran
A chat with the man behind the post-Stonewall, pre-AIDS paean to the dancefloor
Andrew Holleran's debut novel, Dancer from the Dance, is a cult classic of the post-Stonewall, pre-AIDS era, vividly depicting the dance music scene in New York in the first days of disco. The 1978 book centers around Malone, a wildly good-looking Midwestern lawyer who realizes his same-sex attraction and hightails it to the big city. He quits his dull job and links up with Sutherland, a socialite of the highest order and hobby drag queen who introduces Malone to fictional nightclubs such as the Twelfth Floor in Chelsea.
Early '70s funk, soul and disco tracks are referenced throughout Dancer, including Zulema's "Giving Up," The Temptations' "Law of the Land," Jerry Butler's "One Night Affair" and The Love Unlimited Orchestra's "Love's Theme." Most notable is Patti Jo's "Make Me Believe in You," which is repeatedly invoked to hint at the unbridled yearning and hopefulness the characters feel as they amble from clubs and bathhouses to public parks and janky apartments on the Lower East Side, searching for the perfect connection. The book is ultimately a cleverly disguised city symphony, coolly asserting that the love these characters so desperately seek is not that of other men, but of New York itself.
Though Dancer is a work of fiction, what emerges is a sense of the extent to which underground gay parties built the foundation of all that is recognized as club culture today. In describing what it was like to go out dancing in queer spaces of the era, Holleran's language is breathtakingly evocative. The story is told from the point of view of one member of the amorphous mass of revelers in Malone's social sphere, and this device allows Holleran to pepper Dancer with philosophical musings that strike a chord deeper than basic tenets of sex, drugs and rock n' roll: "For that is the curious quality of the discotheque after you have gone there a long time," he writes. "In the midst of all the lights, and music, the bodies, the dancing, the drugs, you are stiller than still within, and though you go through the motions of dancing you are thinking… as grave as a judge: What will I do with my life? What can any man do with his life?"
Holleran's real name is Eric Garber; he took up the pen name when Dancer was published to avoid homophobic backlash and has stuck with it through the years. After writing multiple novels, short stories and articles and spending time teaching English Literature at American University, he is now working on new material. With Dancer poised to become a feature film in 2016, Ali Gitlow spoke to Garber over the phone from his home in Washington, D.C. about gay nightlife then and now.
What inspired you to write Dancer from the Dance?
I'd wanted to be a writer and had gone to a writer's workshop after college. It was really ten years after that. I had been trying and not getting anything published and I was about to quit. One winter I was in Florida visiting my parents and I was getting letters from gay friends in New York. They were written in this campy, wonderful style that I just love. I thought, "What would it be like to write a book in that voice, that style?" I had never ever thought of writing about my gay love life in New York and that's really why I had not succeeded, I think, with the other stuff. But once I wrote that it came pretty easily, actually. After many years of not succeeding I was lucky enough to hit on a subject that worked for me. And I was lucky enough to be describing a time in New York which for some reason has become a subject of nostalgia, apparently.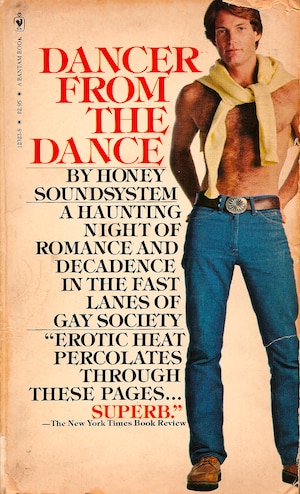 In the past, you've described the book as critical satire – the characters are pretty apolitical and narcissistic. Do you still feel this way about the world you created?
Absolutely, it was. I was trying to portray the harshness, the bleakness of gay life, of a life based really on aesthetic values where it was all about beauty and pleasure. But now that I'm older and I look back on it, I have a more forgiving attitude toward it because I think in a more macro sense all those people in New York at that time were people who had been told it was wrong to be gay and had come out of a really very difficult climate. In a sense, everybody who got to New York in the '60s and '70s was coming out of a really, really repressive, witch hunting cultural climate in which you were told it was better to be dead than be homosexual. So it's understandable that everybody went a little crazy. They just were suddenly free and New York was kind of empty then; nobody cared what was going on.
Everyone had fled to the suburbs, so there was this wonderful empty playpen in which gay men and gay women created these wonderful spaces. It was very involved with dancing. But it was also bathhouses, gymnasiums, Fire Island, parks: the whole city. I look at it in a much more sympathetic way now. It's understandable that there was a heady, giddy quality to it. Although it was obvious at the time, I think to all of us, that it just couldn't go on accelerating in that way. And AIDS is what brought it to an end. I don't know what else would have done that.
I remember hearing [Handel's] "Hallelujah Chorus" to a disco beat and I thought, "This is getting crazy."
Since AIDS is no longer necessarily life threatening, people are able to experience gay nightlife now relatively similarly to how you portray it in the book. How do you feel about the state of the scene today?
That's such a wonderful question because I just haven't gone out in so long. The last thing I went to of that sort, there's a club here in D.C. called the 9:30 Club and they had some kind of event for bears, dancing, once a month. It was so much fun being there. I've lost my nerve as far as going out on the dancefloor and everything, although it's wrong to feel that way. But at a certain age you just think, "That looks crazy." So I just don't know where they go, and I'm always curious about the music. I wonder what the music has evolved into. I understand there's a kind of nostalgic renaissance of R&B from the '70s.
Disco evolved so rapidly. There came a time when I couldn't stand disco. I remember thinking that Donna Summer was heartless and slick and just too manipulated. By the time Saturday Night Fever came along I thought, "That's the end of it." It became a mass phenomenon and then that guy in Chicago burned all the records in the baseball stadium. One night I was in a bar called The Cock Ring in New York and I'm pretty sure I remember hearing [Handel's] "Hallelujah Chorus" to a disco beat and I thought, "This is getting crazy." So I think it burned out. But I don't go out anymore. It's interesting to see people and how they dance; I would love to see that. Maybe I will go out.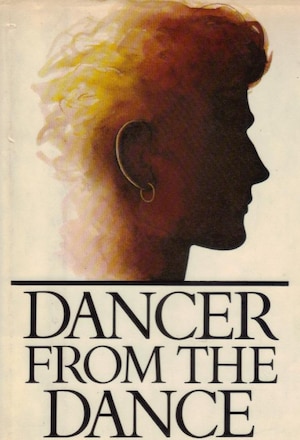 Many of the passages about going clubbing feel like they could have been written today. Were you writing from personal experience?
It's nice to hear that because I always wonder whether that experience can still be had. And yeah, absolutely. I began with David Mancuso's Loft. Really, we were in his living room on Lower Broadway. That's where I first heard "Girl You Need a Change of Mind" by Eddie Kendricks. And then I was taken to the Tenth Floor, which was a very small disco. That's where I first heard Barrabas' "Woman" and "Deodato," the theme from 2001. And then I started going to Fire Island, and it was still called The Sandpiper then, and that was a wonderful dancing experience.
And then, this is when I began to feel things were changing in that accelerating way that I wasn't so happy with. I started going to Flamingo and Paradise Garage. My quarrel came with, theoretically, the best of them all – but somehow it was starting to wane for me then – and that was The Saint on 2nd Avenue, Bruce Mailman's club. They did everything perfectly and that was the problem by then: it had become kind of sterile. And yet the irony is, if you were young and that was your first club, I'm sure it wasn't sterile at all. But by that time, the people I had started out dancing with at The Loft, we were all getting jaded. We were coming to the end of our own dancing careers; maybe that's all it was. But it also coincided with this increase in size and in making it a big deal. Because when you went to David Mancuso's Loft, there was a table along the wall with a punch bowl and you really were dancing in someone's living room. That's why it was so great.
I remember going out to really bizarre clubs like the Gilded Grape off Times Square, and La Escuelita. We were getting so tired of the mainstream clubs. I'm leaving out The Tunnel; Limelight. By the time we quit dancing we were already just burnt out.
There was a secrecy about it, and the music took you out of yourself in a way religious ceremonies can.
Did you do research for the book?
I didn't do research. I kept a diary but it wasn't about the dance clubs, it was about the bars. It all just came back to me when I started writing Dancer.
Did you have any particular DJs in mind that the characters would've been interested in going to see?
The DJs were Ray Yeates at the Tenth Floor; Richie Rivera and Roy Thode at Flamingo; Howard Merritt on Fire Island at the Sandpiper/Pavilion.
Of all the music that is cited, why did you choose Patti Jo's "Make Me Believe in You" as the centerpiece?
Patti Jo is mentioned more than once in part because the title of that song, "Make Me Believe in You," captures for me what going out was about – looking for the Other, the One, the person – the romanticism of it all, the wish to surrender, believe.
The book even posits that a dancefloor is a holy place via its religious references.
When you went dancing in those days, it was a group gathered in a room at strange hours. There was a secrecy about it, and the music took you out of yourself in a way religious ceremonies can.
At one point, the narrator describes how gay friends can be the best dancing partners: "The friend you danced with, when you had no lover, was the most important person in your life."
I think I took this from my roommate and his best friend. They were inseparable, they always danced together, neither one had lovers. But I would notice other pairs like them.
Clubs in the outer boroughs are mentioned a bit in Dancer. These places were probably very exotic at the time?
Going to the outer boroughs was put in to indicate the way people go through a romantic fixation and then need to find renewed expressions of it – which often entails going to less sophisticated places, perhaps, to capture the original thrill. I remember hearing about a roller skating disco in Brooklyn and thinking: "That's the end of disco." But I can't remember if I actually went to it.
A film version of the book is in the works. How do you feel about it?
I think it's a tricky book to film because it's so much about atmospherics. I think it has to succeed on the basis of clever use of the music, because the music was so much a part of it. And that music is still so powerful. I just can't imagine that music wouldn't still have an effect on an audience.
What's your take on the idea that mainstream acceptance of gay people is bringing about the deradicalization of queer culture?
A friend of mine calls it the white picket fence era. I think about this at the oddest times. I was swimming laps the other day and thought to myself, "Maybe the picket fence thing is just a response to AIDS." If you were young and gay and you knew about that era and what AIDS was, I imagine the human reaction is to want to go the farthest away you can go. So in a way the phenomenon is a rebellion and a reaction against everything that the '70s were, just as the '70s was a reaction against the '50s and all the periods before that. Everybody's reacting against the previous thing and they often go to extremes.
I think human history is a zigzag. It careens from one thing to the next and goes bouncing around and I think this is all a reaction. There's also this element of entitlement, egalitarianism and envy. So much of the gay movement is, "I'm not going to be denied anything because I'm gay. I'm just as good as you, I can have everything you have, hence I can get married, I can have children, I can fight in the army," which is fine. But sometimes I think it's a little bit based on this sense of, "I'm not going to be denied anything." How it will all settle out … it's so interesting! I would love to be around in 60 years and find out what a gay person is; what does that mean to be gay 60 years from now? I have no idea.