Interview: Marcus Miller
One of the great session players talks about his work with Luther Vandross, Miles Davis, Aretha Franklin and more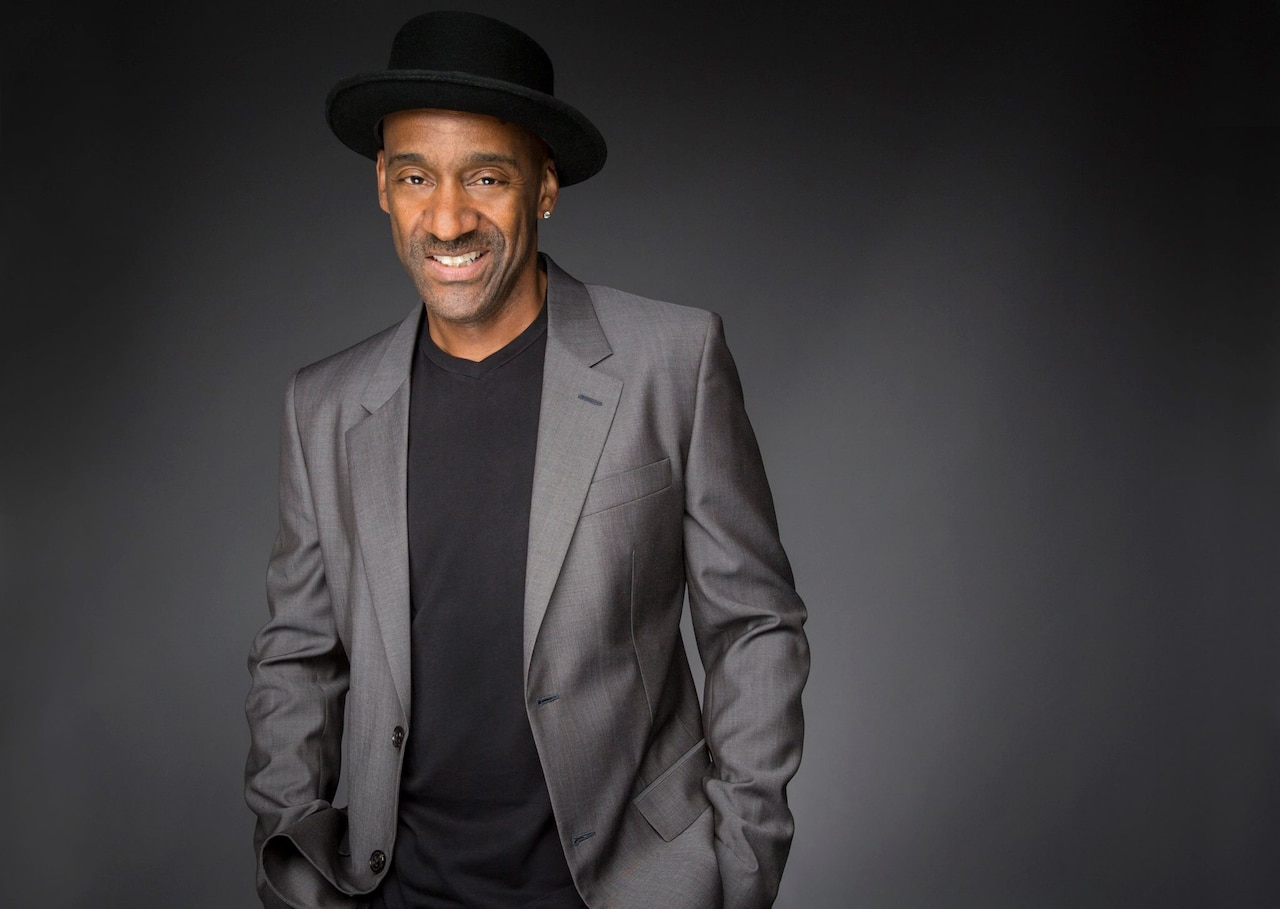 Brooklyn-born bassist, multi-instrumentalist, composer and session hero Marcus Miller has worked with pretty much every legend in the game, across all genres, from Frank Sinatra to Dizzy Gillespie to Chaka Khan and many more. Starting out playing in bands fronted by cult jazz leaders Bobbi Humphrey and Michael Urbaniak, Miller was soon gigging all round the city, and sitting in on sessions in every studio available.
As a composer he worked with Luther Vandross for over 20 years, wrote several tracks on Miles Davis' Tutu album and has a parallel career as a film score composer. As well as his own records, Marcus has featured on over 500 albums for the likes of Michael Jackson, Roberta Flack, Donald Fagen, Herbie Hancock and Aretha Franklin. He's also been named a UNESCO Artist For Peace, which means he promotes dialogue, peace and unity through jazz. In this excerpt from his recent interview with RBMA Radio, Miller talks about his remarkable career.
Could you give us a quick insight into your musical upbringing, where you grew up?
I was born in Brooklyn, New York. My dad's a musician. He plays the piano and the organ primarily in church in classical music. He was practicing in the house all the time, so I grew up in a very musical environment.
My dad's dad, my grandfather, was a Minister for a church called the African Orthodox Episcopal Church which is a church that was created by Marcus Garvey who was born in Jamaica, came to the US and was a really, really important civil rights leader back in the '20s. My grandfather was a friend of his and my grandfather became a Bishop of the African Orthodox Episcopal Church. He was also a piano player himself. They told me he played a really cool calypso-style piano. Anyway, my grandfather named his son after Marcus Garvey. My dad's name was William Marcus Miller and I'm William Marcus Miller, Jr.
How did you come to meet and play with Bobbi Humphrey?
I had neighborhood bands in Brooklyn and then in Queens. At the age of 10 we moved to Queens, started playing in neighborhood bands there and met a fantastic drummer in high school named Omar Hakim. I realized really early that I needed to just stay right by the side of this guy and soak up as much as I could. He's my age, but he's already way down the road in terms of his musical development.
Anyway Omar and I had a band called Harlem River Drive that we had for a couple of years while we were in high school. The guitar player in that band got a gig with Bobbi Humphrey and he said, "You know she's looking for a bass player. Come audition." I came and auditioned. I guess I was 16 or 17 years old at the time.
She was really hot at the time. She had been recently signed to Blue Note Records and she was doing a kind of pop jazz mix that was very popular in the late '70s. We're talking Bobbi Humphrey, Roy Ayers, Lonnie Liston Smith, people like that. That was my first kind of step into that world.
Is that how you met Ralph MacDonald?
Yes, Bobbi Humphrey was getting ready to go into the studio to record an album and her producer was going to be Ralph MacDonald. I said, "Bobbi I have a song." Even at 15, 16 years old I was putting together my little tunes and I said, "Let me play you my song." She actually ended up liking the song and asked Ralph her producer if they could include that song on her next album. Then she was bold enough to ask Ralph if he would allow her bass player from her band to play on the session. Ralph rolled his eyes a bit but he said, "Well, hopefully he won't screw things up too badly."
I came and I got to play on that one song; the song which I had written. I got to meet Ralph. Did the same thing a year later. Ralph was producing the next album for Bobbi and I wrote another song. This time in order to make a better impression, I incorporated a bass solo into the song, so I got to play and show off a little bit more.
I didn't really pay attention to the distinctions that a lot of people create around music. It was all music.
After that session Ralph said, "Can you read music?" I said, "Yeah." He said, "You know, don't fool with me. Tell me the truth because I'm about to recommend you to do studio work here in New York, and you have to be able to read music really well." I said, "Man, I play classical clarinet, man. There's no bassline that you can put in front of me that's going to give me any problems." He said, "Okay. That's what I want to hear."
Ralph started recommending me, and within three months I was working from 9 AM until 11 PM doing sessions. He was really instrumental in getting my studio career started.
How did you come to play with Michal Urbaniak and Urszula Dudziak?
I was doing the studio stuff in New York, making a name for myself, but it was also important to play live, particularly in New York. One of the people I fell in with was Polish violinist Michal Urbaniak. Michal was playing fusion music which was very popular at the end of the '70s, and he was adding all these Eastern European influences to it. Instead of playing in the normal 4/4 time that American musicians are familiar with, his stuff would be in 7/8 time, 11/8 time, odd time signatures that were more common in Poland where Michal was from.
How easy did you find it to move between the worlds of straight up jazz and Bobbi Humphrey, and then switch to electric funk and Tom Browne, Bernard Wright, Lenny White? Was moving in between those worlds easy?
In New York there was all sorts of styles happening. It's like London. You walk down one block and you're hearing African music. The next block you're hearing Caribbean music. The next block you're hearing the beginnings of hip hop, you know what I mean? There's all sorts of different styles and we the musicians who were born and raised in New York, we prided ourselves in being able to go between the different styles. By the time I was 21, 22 years old it was very, very natural. I didn't really pay attention to the distinctions that a lot of people create around music. It was all music.
You wrote and played with Roberta Flack. What was that like?
I was in Roberta Flack's band for a couple of years. I met Luther Vandross in that band. It was amazing to play in her band and learn how to really play a ballad, how to use space, how not to play all the notes, just play the right notes. I think I was 19, 20, maybe just turning 21, right before I started with Miles Davis. I was playing with Roberta Flack and she's still very important to me.
A few years later in the mid-'80s I came back to Roberta Flack, but this time as a writer and a producer. I produced an album for her called Oasis, and I was very proud to return to somebody in whose band I had worked. It was fantastic to give back to Roberta Flack after I had received so much from her.
Another singer you worked with extensively was Luther Vandross. What was it like playing and recording with Luther?
Luther and I started together in Roberta Flack's band. Luther was singing background. I was playing bass. During that time, I'm talking 1980, Luther said, "You know what? I have dreams of becoming a solo recording artist myself." I'm going, "Why would you want to do that? Why would you want to endure all the hassle, man? You know you're the number one background singer in New York."
Luther was doing sessions for everybody; Chic, David Bowie, Bette Midler. He was just the man. He was singing on all the commercials; commercials for McDonald's. He was making good money. I'm like, "You really sure you want to give all that up to try to be a solo artist?" He was resolute. He was like, "You know what? I have this sound in my head and I really think that this is my destiny."
He got the guys in Roberta's band together and we did a demo on a Sunday morning, which was the only time he could get studio time. We recorded a song called "Never Too Much, ""Once You Know How" and "You Stopped Loving Me" which were all songs that ended up being on his first album. Those actual versions ended up being on his first album. We recorded about four or five tunes. He spent a year trying to get a record deal with his demo which wasn't as easy as one would think.
He was just a flat out singer. He didn't have a gimmick. He didn't have 12 guys in the group with uniforms and outfits. He was just a singer. The record companies were a little wary. They were like, "You have a good voice man, but we're not sure people are ready for a guy who just sings." After about a year, Luther finally hooked up with a guy named Larkin Arnold who was working for Epic Records and Larkin believed in Luther, gave him a record deal.
Although the record execs weren't sure, when that record came out the public was completely sure. They loved it and Luther was an instant star. It was incredible to watch the ascendancy. It was incredible to watch this guy who was my buddy just become a star so quickly.
After his first record, Luther got a call from Clive Davis. Clive was the head of Arista Records at the time and he said, "Luther, I know you're a big fan of Aretha Franklin. I'm wondering if you'd be interested in producing something for her." He called me and said, "Marcus we've got a chance to write something together for Aretha Franklin, so write me a track and I'll put the words and the lyrics together."
He came up with a hook, "Jump, jump, jump to it." He was so excited. The thing I loved about him was he was so sure of himself. He said, "Man, this is going to be a number one. No question." We recorded the song and Aretha sang it and sure enough it was our first #1 together.
From that point on we just fell into a songwriting thing where I'd write tracks and he'd write some melodies, and I'd go back and change the track to accommodate the melodies that he was writing.
Aretha and Luther developed such a cool relationship, and he was such a fan of hers that the stuff he wrote always seemed so natural for her to sing. "Get It Right" was another big song that Aretha and Luther did together.
One of the characteristics of those songs was really big basslines. I played the bassline with my bass guitar and then I'd get a synthesizer and I'd overdub the same thing, so you had two types of basses playing the same bassline at the same time.
Do you still speak with Aretha?
I still speak to her from time to time, usually texting saying, "Aretha, you've got to come to the UK." She said, "I don't like airplanes." The most recent correspondence I had with her, I said, "Aretha you've got to let me bring you to the UK. You've got to come. They would love to see you." She said, "Okay." I write back, "Okay? You mean it?" And she says, "As soon as they build that highway from New York to London I'm on my way."
When you are in the studio and you write something like "Never Too Much," can you tell it's going to be massive?
I remember we were recording, I think it was his third album, and we were recording a song called "Superstar" which was a version by Luther of a song that had been done about ten years earlier by a group called The Carpenters. The Carpenters were a real, real true pop group. They weren't a soul or R&B group. Beautiful melodies, but it's not a song that you would immediately recognize as a song that a soul singer would choose to cover.
Those are usually the cool covers; when a soul singer takes something unexpected and flips it. Luther flipped this song "Superstar" and we were in the studio recording it. In those days, you recorded everything at the same time. It wasn't like today where you do the drums then you rewind the tape and add the bass, then you rewind and add the guitar, and then you ultimately add the vocals. No, this was the old school where I'm looking at the drummer and the guitar player.
Luther is at the mic, singing behind the little door so that our instruments didn't leak into his vocal microphone. Anyway, we get towards the end of "Superstar" and I'm going man, I am going to be hearing this song on the radio for the rest of my life. I'm sure of it. So I just played a little extra thing on the bass towards the end, just to say hi to myself down the road, you know what I mean?
I didn't mess the song up by adding this lick. But, in fact, if you listen to "Superstar" you can hear Luther singing "Keep it right there, keep it right there" and people think he's talking to whatever woman he's singing to. He was actually talking to his rhythm section, because he had a lot of jazz cats in his rhythm section and they tend to add stuff and improvise even when it's already feeling good. Luther was warning us. "Don't add nothing to this, man." We got it.
Can you tell us about playing with Donald Fagen on Nightfly?
Now in the 80's, early 80's, Steely Dan had a huge reputation. In the late '70s they had already had an album called Aja which was beautiful album, like a standard-setting album; some incredible musicianship. So in the early '80s, Donald made his own album. I got a call from him, saying, "I need you to come down and play some bass on some tracks I have." Now I think I was 22 at the time. I had heard a lot about these Steely Dan cats. I had heard they put musicians through it; making them play songs 20, 30 times to get exactly what they want. People were warning me, "Just be ready to spend a lot of time in the studio."
I came in and Donald played me the song called "Maxine." He said, "Here's the music." I looked at the music and I played the song down one time. He said, "Okay, that's great man. Can you do one more?" I said, "No problem." I'm ready for the whole journey to begin, the journey of takes. I played it the second time. He said, "Great man. Let's move on to the next song."
I said, "That's it?" He said, "No, that sounds great." What that means is either he doesn't like it at all or it works. When I heard the album, I played on maybe four or five tracks. He actually kept all the tracks, so I was very surprised, very pleased because it's another standard-setting album in my opinion.
Playing and recording with Miles is one thing, but you also composed tracks for him. Was that nerve-racking?
I stayed in Miles' band for a couple of years as the bass player, had an amazing time. But then I got into doing the stuff I was doing with Luther and David Sanborn. A few years later I heard Miles had decided to move to Warner Brothers Records. David Sanborn, Al Jarreau, people I had been working with at the time were on Warner Brothers Records so I felt pretty comfortable to call Tommy LiPuma who was the A&R guy who had signed Miles.
I said, "Tommy, is Miles with Warner?" And he goes, "Yeah man, and he's looking to do something different." He sent me a George Duke tune that Miles liked and he says, "This is kind of like the stuff that Miles likes now." It was very contemporary for 1985, had a real solid techno element to it. I said, "Man, if Miles wants to go in that direction, I'm going to write something. I'll call you back."
I sat down and wrote "Tutu" and a couple of other songs and came to the studio. I played Tommy the songs I had written. He said, "That's great man. Let's start recording them." I said, "Where's the band?" He said, "Don't worry about the band. I want it to sound exactly like your demo." I said, "Well, I played all the instruments on the demo." He said, "Well, then get all your instruments here to the studio."
I started layering the instruments like I would do on a demo, and I said, "Man, I don't know how Miles is going to feel about all this one guy playing everything. This is more how we do like pop records." Tommy said, "I think Miles is going to love it."
Miles said, "Look, I know you know what I should be doing. Tell me what you need."
A few days later Miles came in and he actually did love it. He said, "Man, continue. That sounds great. Let me know when you need me." When I finally did need trumpet that's when things got a little intimidating, because now here's Miles Davis sitting in a chair and I'm sitting next to him. He's waiting for me to give him direction.
We played the tape of "Tutu" for Miles a couple of times and he's just doodling, and it's not quite what I had hoped he would play, but I'm a little too nervous to say. Then he finally stops the tape and says, "Listen, man. When are you going to start telling me what to do?" I said, "Oh, I'm sorry man."
He said, "Look, I know you know what I should be doing. I know you have the sound in your head. Tell me what you need." I began to give him the first instructions, the first directions. He would do it and it sounded exactly like I hoped it would sound. I got more comfortable because the music began to take over my fear. By the end of the song, I was dancing around him while he's playing the trumpet. I'm pointing at him. I'm holding my hand up: "Don't play here." He got a little tickled grin on his face as I'm having fun because that's my natural nature. I love music. I get excited.
I continued working with Miles for the rest of Tutu because they asked me to write more. Originally it was just three songs, but they liked the direction of those songs and they asked me to continue. Then we worked on a soundtrack called Siesta and another album called Amandla. It was an incredible period of my life.
Leading on to your own music, was it a natural progression to write your own albums?
Miles Davis died in 1991. Who else do you work with after you've worked with Miles? You know what I mean? I said I guess it's time for me to get serious about doing my own thing. It was very natural and if you listen to the music that I did right after Miles passed, you can definitely hear that I was still in that period where I'd been writing for Miles. There is very much a connection between Amandla and my The Sun Don't Lie album. I realized, "Okay, I need to continue. I need to develop my own proper sound, something that people will recognize as mine." That was '93 and here we are in 2015. My latest album is Afrodeezia and I'm pretty confident that I have a sound that people know is me. As a matter of fact, I'm on like the second or third version of myself after those 24 years.
Talk a bit about the Afrodeezia album. Does it feel different because you're doing it in conjunction with UNESCO?
Afrodeezia was the first album that I decided not to just have the music be influenced by different styles, but to have musicians who played these different styles perform with me. I have some musicians from Senegal, Mali, Burkina Faso, Morocco. I have some musicians from Rio de Janeiro, from Trinidad in the Caribbean. With this album I decided to follow the voyage of my ancestors. I'm the spokesperson for a UNESCO project called The Slave Route Project and the goal there is to raise awareness of the history of slavery and make sure the story isn't forgotten.
How do you think music has the power to bring about positive social change?
Music absolutely has power to help bring about social change. It's not just an idea of mine. I mean, I was 8 or 9 years old when Martin Luther King was assassinated and all I remember is watching the black and white TV and watching all hundreds of people marching, mourning Martin Luther King's passing, hand-in-hand singing "We Shall Overcome." I didn't know much, but I knew that this music, this song that they were singing, was providing them with strength.
Then James Brown came out with a song called "Say It Loud. I'm Black and I'm Proud" and that was the first record I ever bought. I put that thing on and it changed my whole world. I started wearing my hair in an Afro and enjoying my blackness, just being proud of that. Music was one of the important things that changed that mentality for me.