Wysing Arts Centre
A gallery tucked away in the UK countryside becomes a surprising new home for electronic experimentation
Over the last 15 years, Wysing Arts Centre has gone from offering artists low-cost studio space in the remote Cambridgeshire countryside to giving electronic musicians a new (and quiet) place to conceptualize their work far outside the club. With artist residencies from Border Community's Luke Abbott and Raster-Noton's Emptyset to an annual music festival that has included the likes of Cut Hands and Helena Hauff, WAC has become a hub for new experiments in visuals and sound. Chris Duncan investigates.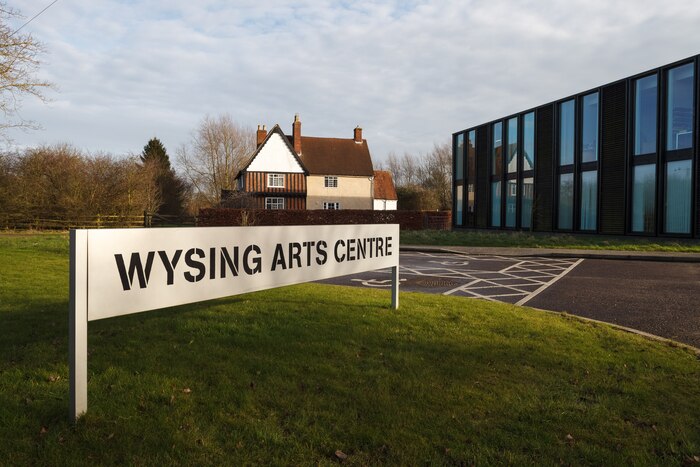 Founded in 1990 and situated on the fringe of the village of Bourn in South Cambridgeshire, Britain's Wysing Arts Centre (WAC) is a space dedicated to the progression of the visual arts with a keen focus on collaborations across mediums. The site was originally a farm – its barns and outhouses have been converted into studios and exhibition spaces, and an old hay shed now functions as the main gallery space. The Wysing of today operates on an alternative model in which "artists can think, debate and make, without defined outcomes and in response to individual needs."
For the past decade, director Donna Lynas has guided the centre and defined its artistic direction. Lynas landed at WAC after a four-year spell at Modern Art Oxford and six years as a curator at South London Gallery, where she worked with international artists on their solo exhibitions and established the venue's performance and off-site programme. During her time there she commissioned Her Noise, an exhibit focusing on the role of women in music; one part of the show invited visitors to record improvised music using the voice of Sonic Youth's Kim Gordon.
I was looking for a space where I could focus more on what happens before work reaches the gallery.
"With those combined experiences, I was definitely moving away from the traditional exhibition format and looking for ways to disrupt pre-conceptions around what art could be and do," she says. "I found that the energy for me somehow disappeared the moment the work hit the gallery walls. This is in part to do with expectations around finished product and the 'paraphernalia' around exhibition making such as the exhibition catalogue – there was an expectation that things needed to be presented within strict parameters, which I found frustrating."
"I was looking for a space where I could focus more on what happens before work reaches the gallery – what my role could be in setting up structures that would support artists to push at the edges of what's possible. Wysing has given me the freedom to do this – we've done things here like take the roof off the gallery and fly aircraft overhead for artists! I really wanted to try and establish a space for that kind of freedom. I also wanted to establish room for people running an arts organisation to have a creative role working in collaboration with artists to actually develop work, not simply exhibit it once it has been made. I honestly think that a lot of work that exists now wouldn't have done so if those artists hadn't come here and taken the opportunity to develop, experiment, and even change direction."
Each year WAC selects a theme to be explored from various viewpoints. "The themes at Wysing emerge from the ongoing discussions that take place here when artists are in residence," says Donna. "Usually we won't know what the forthcoming year's theme is until around October or November, as we need to have fully investigated the previous theme and thought about what has occurred across the year." Donna describes the selection process for residencies as "carefully considered," with applicants encouraged to show what they could bring to the residency and how their skills could be used in collaboration with others.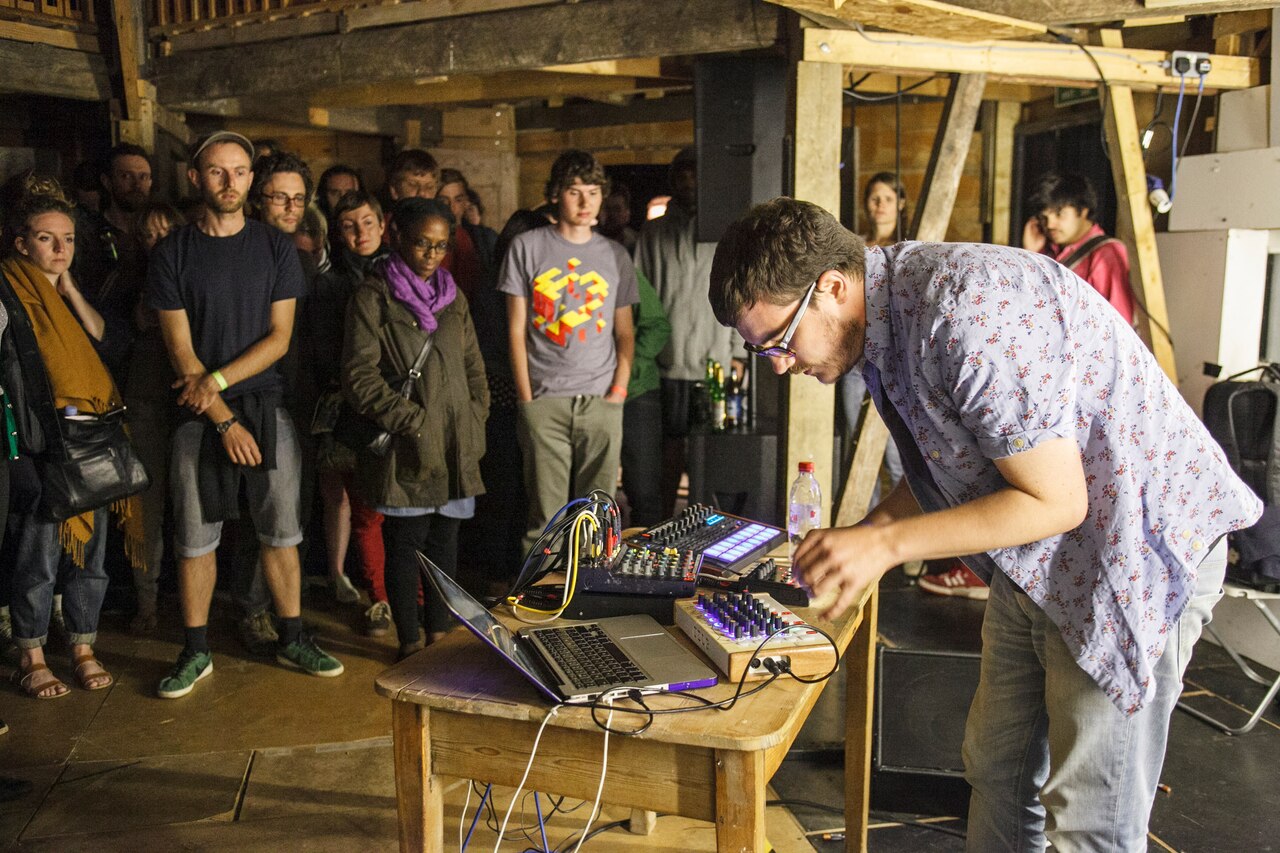 Typically, visual artists comprise most of the residents, but in 2012, the centre hosted a unique residency from Norfolk, UK-based electronic music producer Luke Abbott. The theme for that year was "The Forest," which had a special connection with Abbott's LP Holkham Drones. "They were kind of entreating me to get involved because there were already references [to that theme] within what I did," says Abbott. "Not just about forest but about landscape or sense of place."
Out of Abbott's six-week residency at WAC emerged the album Wysing Forest, released on James Holden's Border Community imprint last year. "While I was there, there was this sense of a very desolate world," Abbott recalls of the recording climate. "Also, because there were very few people there, I was thinking a lot about this idea of post-humanity – in the future at some point, if people could somehow stop being part of the world. As long as we have not destroyed the earth to the point at which it was a big desert, the first thing that would happen before people disappeared would be that the forests would return."
"One of the themes within the music [on Wysing Forest] is this idea of growth and mother nature, the power of nature, the majesty of nature and how it is kind of a looming presence. If we were to stop farming land and cutting grass, if people were to stop using roads and buildings, it would be only a matter of a few decades before this forest would start to take over again."
It is kind of magical at Wysing.
Although working solo, Luke acknowledges the impact the centre's surroundings had on the record. "It is kind of magical there: just walking around the grounds and stuff, the buildings, the office," he recalls. "The people who work there are very accommodating to a wide range of artists and are very interested in fringe activities and very encouraging of experimentation. They are very interested in people from very different disciplines interacting and possibly collaborating on things. That kind of ethos just feels kind of ingrained in everything there; because there is not a lot there and it is so focused upon, it gives such importance to these fringe arts. That is a rare thing, I think."
Luke shared his residency with visual artists Jonathan Baldock, Emma Hart, Edwin Burdis, sculptor Jessie Flood-Paddock and the writer Patrick Coyle. "There were lots of other people coming and going and doing various things. It was the dead of winter. We were sharing a house and hanging out. We would talk about what we were doing and try to share. In terms of influence on what I was doing, there was definitely an inclination to do a kind of 'show and tell,' [to] explain what I was doing to people who had no idea about the types of equipment I was using."
"My overriding memory of being there was a sense of isolation, which was what I got into. My little studio space I had set up there was in an old straw bail barn and the walls were all white. The outside was snowy, so it was all white outside, and there was this cold, desolate, isolated feeling, being in the middle of nowhere, having no mobile phone reception and very limited internet access. There was a pub that would take about half an hour or an hour to walk to. On a cold night that would not be too appealing, so I just got on with working while I was there, mostly by myself."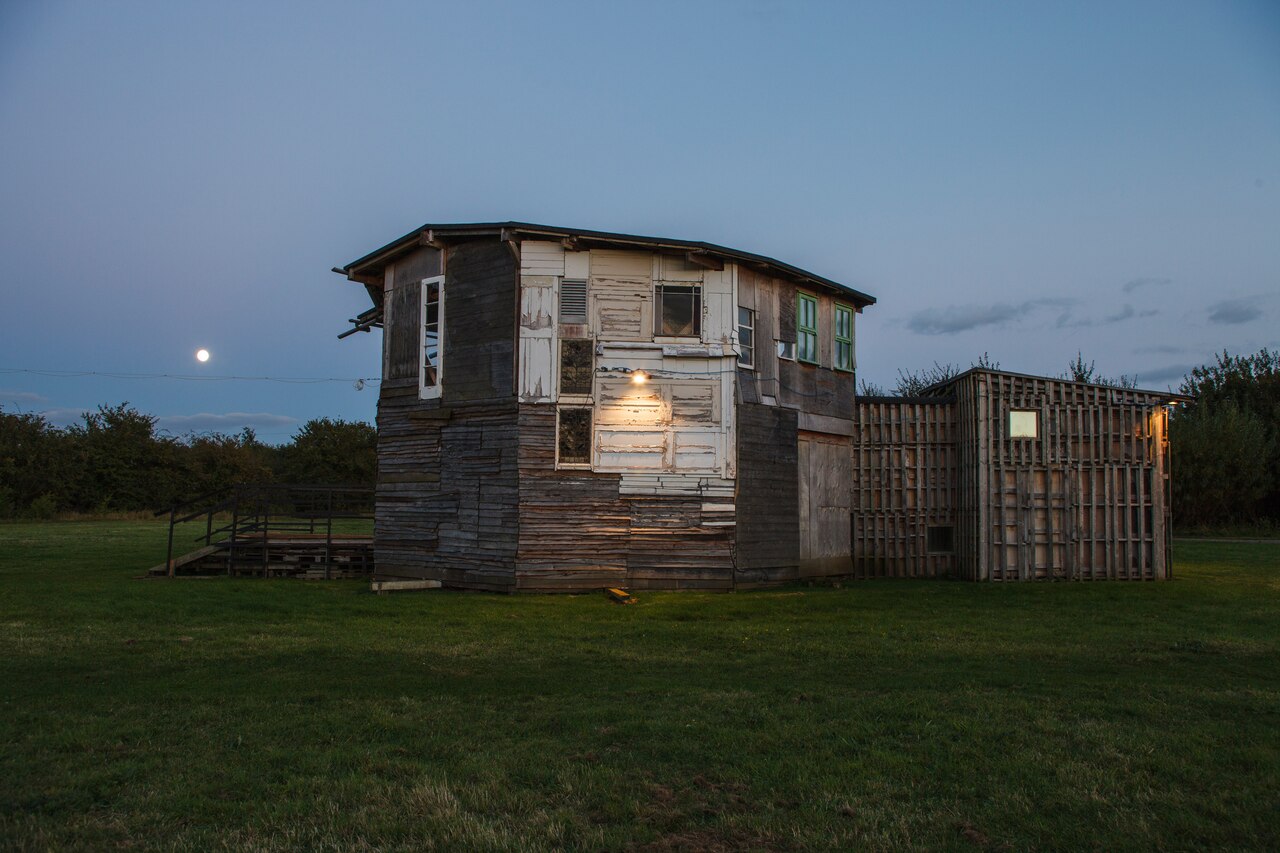 The artwork of Wysing Forest also reflects the stark and mysterious feel of the woodlands surrounding the centre, and the music contained within. "[My partner, photographer/artist Katherine Mager] and I went [into the forest] and took photos of the ground around a tree," Abbott recalls. "We were trying to make it look as if there was some sort of ceremonial activity that happened in the woodlands, a quasi-pagan ritual or some kind of nature prayer. Katherine took a bunch of photos of this and we gave them to Jack, a graphic designer, who we've worked with quite a bit. He used those as the basis for the design of the record and the inside of the cover, the dust sleeve. There are a lot of little doodles and drawings taken from scans of a notebook I kept during the residency. So some of the visual material was a further interpretation of the ideas that were explored during the residency."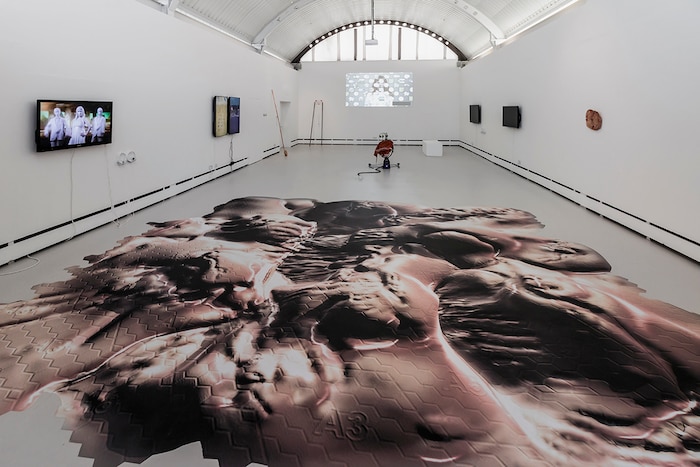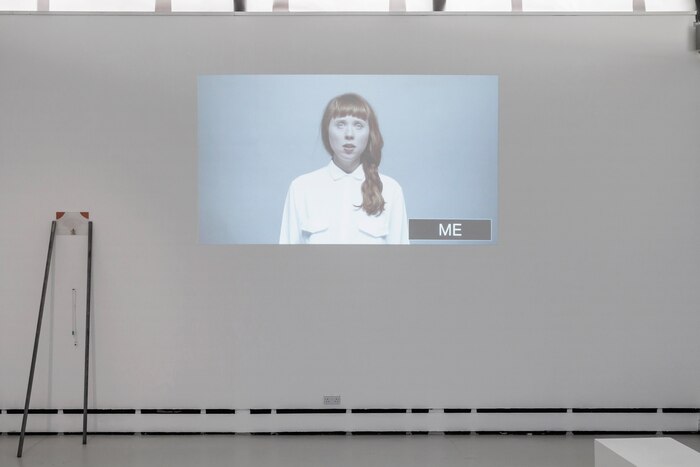 Earlier this month, Wysing hosted a group show called The Uncanny Valley, based around the theory of "Bukimi no tani gensho," the idea that, as a robot's appearance becomes increasingly lifelike, an onlooker's feeling toward it will become more and more positive. However, when the robot becomes almost indistinguishable from a human, the response switches to being very negative, evoking a sense of strangeness.
Featured within the exhibition was the video for Holly Herndon's track "Home," where Herndon addresses NSA agents observing her through her laptop. "'Home' is looped every 15 minutes so that is projected on the end wall of the gallery and also broadcast over speakers, so it's loud and dominating when it comes on," says Lynas. "The purpose of 'Home' is to introduce a sense of paranoia. It's about all those entities on your computer and phone who know you better that yourself, as she says in the song. The lyrics build a sense of unease once you have heard it a few times. It also sits nearby to a work by Sophie Jung that is extremely Kafka-esque, about someone sneaking into your room at night. 'Home' also points back to this notion of having an odd personal relationship with your computer and the online world – you know 'it' is watching you."
"The works in the show aren't all there to illustrate the uncanny valley phenomenon," she continues. "It's more of a starting point to trying to build a sense of unease in the space; reflecting the phenomenon rather than illustrating it. That's why the first thing you have to do when walking into the gallery is deliberately step onto a work by Joey Holder."
Though at first an anomaly, Wysing's collaborations with musicians have been so fruitful that more will continue throughout next year. Next up, the Centre is working with Paul Purgas of experimental Bristolian techno duo Emptyset, a resident who will create a sound work to be broadcast during a discussion on November 21.