Benjamin Damage, In His Own Words
The RBMA alumni talks about his relationship with Modeselektor's 50Weapons label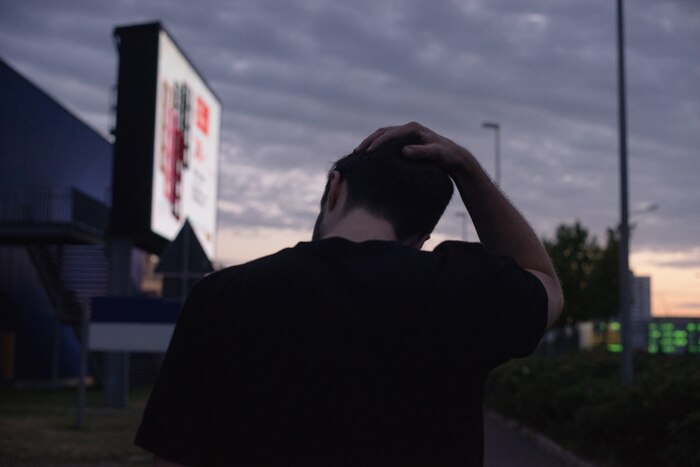 Benjamin O'Shea was born and raised in Swansea, a quiet Welsh city on the sea, but following a move to London — which involved heavy doses of clubbing and electronic music — he eventually became Benjamin Damage and starting making tunes of his own. Within a short time, he caught the attention of German duo Modeselektor, who eventually signed him to their newly launched 50Weapons imprint.
After hearing "Creeper," a track Damage had made in collaboration with old friend Doc Daneeka, Modeselektor commissioned an album and ultimately invited the pair to come and produce it in their own Berlin studio. The experience was transformative, and it wasn't long after the completion of the LP – 2011's much-lauded They!Live – that the two Welshmen both relocated to the German capital. Years later, Damage is still there, and while his music has retained traces of his UK roots, he's moved firmly into the techno sphere, balancing melodic anthems against dark, industrial-tinged efforts.
Throughout it all, he's remained a fixture of the 50Weapons family, as the imprint issued his 2013 debut solo album, Heliosphere, a pair of subsequent EPs, and his 2015 sophomore full-length, Obsidian. With the label closing up shop — Obsidian is the final artist album to appear on 50Weapons — exactly where Damage will be releasing his future efforts remains a mystery, but there's little doubt that plenty of listeners will be eager to hear them, regardless of where they land. In this excerpt from his recent interview with Shawn Reynaldo for RBMA Radio, Damage gives an overview of his career so far.
It wasn't until dubstep came along that I found something fresh and new.
Swansea
I'm from Swansea, which is a small city in Wales. It's quite removed from the rest of the UK and pretty provincial. I grew up before the Internet had really taken off and before you could find everything instantly. The music shops were basically the chain shops. There was one that sold rock and metal music, but there weren't any dance music shops for a long time. I grew up listening to my parents' music on vinyl and had a vinyl player from when I was about three years old.
When I heard snippets of rave and house music when I was really young, I would be like, "What is this? It sounds so different." I used to get all this music from CD compilations. People would take what was being played on pirate music stations, which you couldn't get in Swansea, and put them on a CD and sell them for not very much money. Then they would be sold off in bargain bins. That's how I found out about techno and old house.
I didn't really like the music in Swansea clubs. I listened to [dance music] in a strange way. I would listen to these long dance tracks from beginning to end at home, without a full sound system. It was interesting to hear it all mixed together and with a proper bass that you can feel. It was really great when I moved to London.
When the rave and breakbeat scene turned into jungle, and then jungle split into happy hardcore – that was too much for me. When I got into drum & bass I got some decks. I started to learn to mix and built up a proper vinyl collection (which unfortunately got stolen), but after a while it became difficult to get excited about drum & bass. The ideas became so repetitive. It wasn't until dubstep came along that I found something fresh and new.
First Productions
I used to have an old computer program called a tracker, which was designed to make computer game music on the Amiga. It was so easy to use that people made music on it. It was also free (or close to free), so you could just use a computer and start making music with samples. That's how I first got into producing.
My first vinyl release was through the Venom and Damage project, with a track called "Deeper." Venom was a London producer who I made music with. It was fun but wasn't particularly serious. We gave the track to Jackmaster, who was very young at the time and DJing with Modeselektor. He played the track and Modeselektor liked it and put it on their Resident Advisor podcast.
When I went to see them at fabric I thought, "Maybe they'll play it." I'd never heard one of my tracks played in a massive club before. And they didn't just play it, it felt like a big part of their set. I met them afterwards and they were really nice, like, "Wow, you made that track? That's amazing. Here's our email. Send us some more things," which I obviously did. One of the tracks that I sent them was called "Zeppelin." They said they loved it and wanted to release it on their new label. I agreed, of course, and that's how I got my first release on 50Weapons.
Doc Daneeka
I've known Doc Daneeka for a long time. He promoted a night that was one of the few nights with good electronic music in Swansea. He was also in a band with my brother and we made tunes together. After I moved to London we'd talk and send each other music on AIM. He'd say things like "That's a great track, but it's all wrong. You need to give me the stems and I'll make it work."
When I went back to Swansea for Christmas that year, we went to his studio and finished it in a few days. I sent it to Modeselektor and they literally got back to me in less time than it would have taken them to listen to the whole track saying, "This is really cool, we want to sign this immediately." After that, they told us about building 50Weapons and asked us to send more tunes.
Doc Daneeka got some more equipment and massive speakers for his small studio and we made some tracks. We made some more demos for Modeselektor, but the speakers didn't suit the room and so we couldn't produce properly with them. There were too many reflections going on. When they said "no" to the demos, I went back to London and we tried working by sending tracks to each other on AIM, but the inspiration had left us.
It felt that Modeselektor had started to get impatient with us. They wanted us to work on new material in their own studio and got us a gig at Melt! Festival. They said: "We're going to give you an album deal. We'll put you up in Berlin. Everything's going to be great." It had been such a long time since we came up with something very good, so we had doubts but we obviously said yes anyway. When we got there we had about ten weeks to produce the album. We even had a mastering date booked. The first day we got in there, the first thing they said to us was, bluntly, "Don't use the old demos, we want new music." Looking back, I think that was very much the right thing to say.
We got out of that "nothing will ever work out and everything is rubbish" Swansea mentality.
We got into this great studio, with these massive speakers and all this analogue gear. I could never have afforded a 303, an 808 or any of these things. It was a really good period for both of us, creatively and personally. We got out of that "nothing will ever work out and everything is rubbish" Swansea mentality. Then finally we were here. We told each other "Something good has happened. Maybe that [Swansea mentality] isn't true..."
We worked really hard, spending six days a week in the studio, arriving early and staying very late. Writing that album was an exciting time because, suddenly, we were actual, serious musicians. Since we enjoyed the experience so much, we came back to stay in Berlin quite quickly. It feels so free here after having lived in the UK. We got an apartment together and tried to bring out as many people as we could to be with us. Doc and I brought our brothers to stay and there was always someone sleeping on the sofa. There was a producer called Rat Catcher, who decided he would just stay in an inflatable boat in the hall. He was quite happy staying there. People would just walk over him.
Solo Album / The End of 50Weapons
50Weapons then asked me if I'd write my first solo album for them. I was quite nervous about doing it. You think "What if after writing a good album with my friend I do one on my own and it's rubbish?" But I felt that I'd learned a lot from the experience of doing the first album. You can't just noodle around in your bedroom. It has to be done, and that forces you to learn very quickly. And I think I'm naturally not really a "worker." I'm not someone that works at something I really hate doing. If it's a chore, I just won't do it.
Obsidian
I tried to start working on my second solo album in a small studio, which 50Weapons originally wanted it in 2014: "Okay, I've done albums very quickly before, I'm going to try to do it again." But it didn't work. It sounded like a rehashing of very old ideas. 50Weapons accepted that it wasn't going to happen but then, at the beginning of 2015, they told me that they were closing down the label and that they wanted me to make the last album for it.
I was quite honoured that they wanted me to do this, and it made me think about everything that had happened with them: from me signing to the label, the move to Berlin and now, here. I realised that I really believed in them, and then the album became much clearer to me. When you're working on something you believe in, then it's easy.
I can't stress how important 50Weapons and Modeselektor have been to me. Almost everything I've done has come out on the label. Now that it's closing it means I no longer have a home for my music, but I don't feel sad about it. A lot of labels go on too long and become tired. It's better for them to just finish, make a statement and close. Maybe they're right to just leave it, but regardless, it's been nice to have this home.