Interview: New York Record Producer Bob Blank
The influential disco and No Wave producer recounts his life behind the machines: from Arthur Russell to Kid Creole and Talking Heads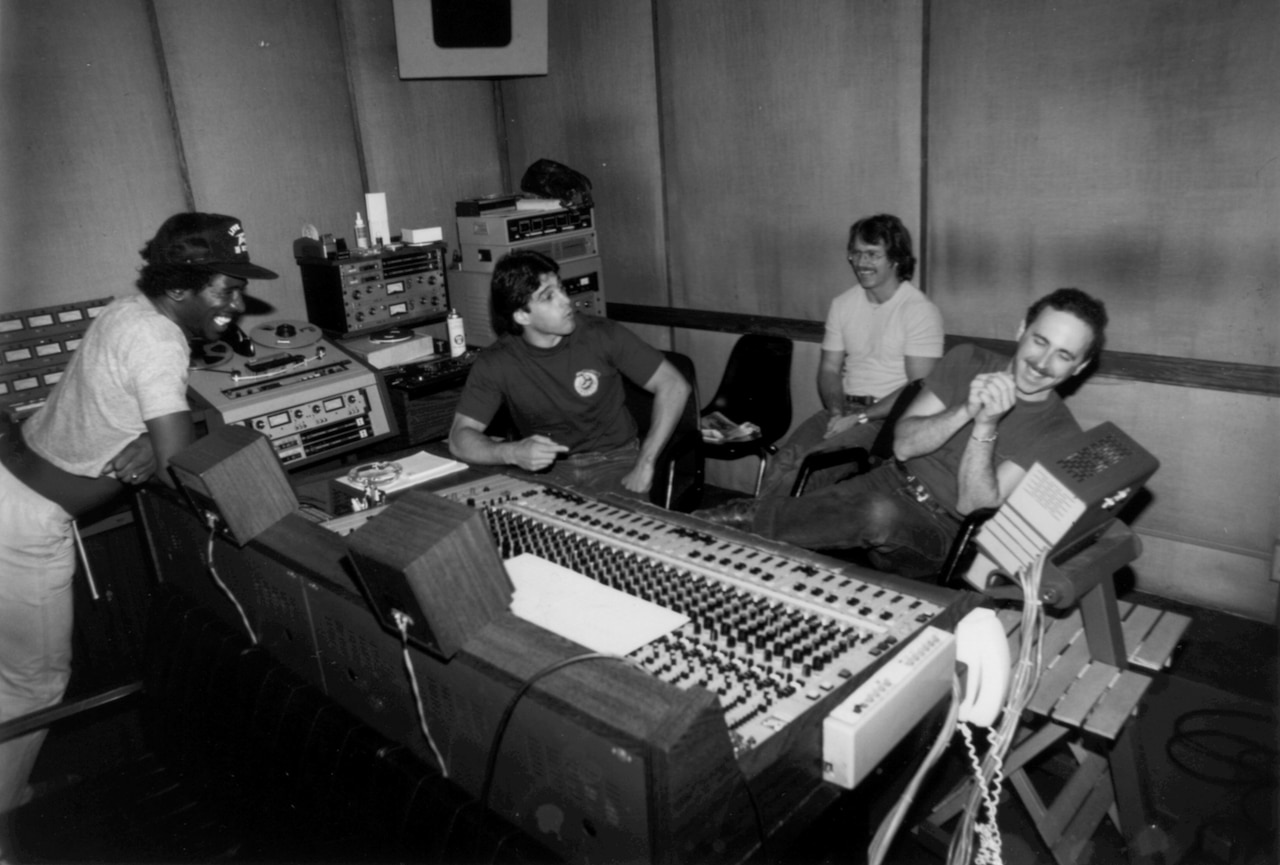 Bob Blank originally wanted to be a hotshot session guitar player, but after moving to New York City in 1973, he quickly realized that he didn't quite have the chops to penetrate that circuit. Undaunted, he continued to work in the music industry, moving into production and working as an engineer. Spurned on by the success of Jimmy Sabater's 1975 disco hit "To Be with You," which he'd engineered, Blank founded his own studio, Blank Tapes, an offbeat operation which gradually became one of the city's main hubs for left-of-center funk and disco sounds.
The studio became a key place of the so-called "mutant disco" scene, meaning that Blank produced and/or worked with the likes of James Chance, Lizzy Mercier-Descloux, Kid Creole and Cristina, amongst others, but his efforts didn't stop there. During his studio's decade of existence, Blank lent his talents to a wide variety of groundbreaking acts, including Arthur Russell, Sun Ra, Lydia Lunch, Patrick Adams, Bumblebee Unlimited and even Gladys Knight. For a time, he also recorded and performed in a group of his own, Aural Exciters, which released the Spooks in Space album via ZE Records in 1979.
Although his talents were long unrecognized by those outside of his particular corner of the music industry, Blank continued working even after his studio shut its doors, and in 2010, Strut Records put together The Blank Generation, a compilation highlighting many of the forgotten gems that came out of Blank Tapes' memorable run. In this condensed and edited excerpt from his recent interview with RBMA Radio's Jeff "Chairman" Mao, Blank discusses all of this and more.
Where are you from originally? How did you become inspired to make music your career?
I grew up on Long Island. I was a nerd who loved to read. My method of art was drawing and painting, and I actually wound up at the end of high school getting a scholarship for school based on my artwork. However the '60s were real and I fell into the Woodstock-era thing and took up guitar. I actually moved to the southwest in the late '60s and worked in a number of bands as a player.
What kind of music was captivating you when you started to become a musician?
When I was growing up in the early '60s, the music that I was able to hear on radio and television was the British Invasion. But I grew up haunting record stores. I was really a big fan of '50s music. I started collecting records. I remember when I was 8 years old my uncle, who owned a number of black bars in Elizabeth, New Jersey, brought me records and a tape recorder. While other kids were listening to the pop music, I was listening to Bobby Blue Bland and early James Brown. That's what captivated me. When I started playing I had very limited options because all the kids with long hair were playing rock & roll. Fortunately, that was transitional. It never really was that interesting to me in the long run.
You moved back to New York. What was life like for a young musician in New York in those days?
When I was in the southwest I was playing around, and I actually backed some big artists as a guitarist. By the time I moved back to New York, I wound up in a recording studio called Sanders Recording Studio. I talked my way into doing a session. When I sat down, it was me and two other guitar players. They put some sheet music in front of me, which was paralyzing, and they said, "Okay, let's run this down." I looked left and right and the musicians were fabulous in playing. It was like a finished product. It was a commercial.
I was just shocked because unless you've grown up with a guitar, you never can do that. I realized then that my passion for music was not going to be translated as a musician. That being said, on all the productions I've done, I play guitar. But if you've heard all the productions I've done, they're usually one bar of repetitive stuff and not very memorable or recognizable. I did try and keep that up as long as I could.
Can you describe how you made the transition from session player to starting your own studio?
I left Sanders after two years, and I wound up at Delta. I walked in, and for some reason they were looking for an engineer. I had experience. They hired me. I go into the studio and they said, "I hope you like Latin music because this is our thing." I said, "Okay." I was thrown in the deep end. But I loved Latin music and I loved all the people.
One day Bobby Marin who is a record producer who was working on a lot of projects at that time with me said, "We should do a disco record. I have an idea for an artist." It turned out to be Jimmy Sabater, who was the singer for the Joe Cuba Sextet. Chico Alvarez arranged, Bobby and I produced and my girlfriend at the time sang background. "To Be with You" was one of the first disco records. We had a lot of success. It was great.
I can't say my phone was ringing off the hook after that, but I was being asked to do other things. I walked into the office and I said, to the owner, "This is really great, and we did this at night, a freebie thing. I'd like to continue this." He said, "We're a 9:00 to 5:00 studio. The Latin music we do at night is great, but we'd rather have you not do it." There was a big argument, and I said, "Oh yeah? I'll open my own studio!" That's what I did, and that's what idiots do. Fortunately, at that time in the mid-'70s, it was a golden time for that.
I started in what was a little one room studio. I slept in the back. There was a lot of industrial stuff going on in the building. Above the studio was some guy who had a paper cutting machine. Every time he ran it, the place would shake. We really encouraged artists not to do quiet stuff during the day. When you're young, you do that kind of stuff and everything seems okay.
What other circumstances did you have to overcome as far as dealing with the industrial studio space?
Nowadays it's very cool to have unfinished spaces or high ceilings, but back then people were freaked out. A few years after we started we had a lot of the floor, and I was working with Carlos Franzetti on an album. We were doing the classic engineering trick, three microphones in the hallway and an amplifier at the end to create instant echo.
All of a sudden, there was this big noise and we're like, "What the hell is that?" Back in the day, there were these guys who would come in to buildings and steal your typewriter by using a sledgehammer to break through the walls. The walls in these buildings were made of this special very soft brick. We walked over and there was smoke coming out and a big gaping hole and the typewriter was gone. We had those problems, which was amazing.
That's all they wanted? The typewriter?
Yeah. That was high tech for 1977, 1978.
How did the word get around about Blank Tapes? What kind of clientele did the studio attract?
My interest was in more esoteric stuff. We did a lot of jazz, which was great. Of course the Latin musicians started to love us. Then two groups of people found us.
The first was the No Wave and the punk scene all of a sudden start showing up. Michael Zilkha, the owner of ZE Records, walks in and goes, "I'd like you to work with John Cale." He was a big hero of mine. John Cale comes in and says, "You won't believe the project we're doing," and I'm thinking, "Oh, this is great," because he walks in with Ian Hunter from Mott the Hoople. The song is for Michael's girlfriend at the time, Christina, and it's named "Disco Clone." Cale called Ben Lanzarone, who's the famous arranger for Kool and the Gang. And Michael's girlfriend says, "Oh, we saw this great actor on stage in the park and he was doing Shakespeare. We want him to come in and do a recitation." It was Kevin Kline, who at that time was unknown.
The other big moment was Prelude Records came in and asked us to work with Patrick Adams on a low-budget closeout thing. Pat comes in, he says, "You won't believe, I've got to do this disco record." As the musicians are filing in and all saying hi and everything, he's writing a chart to one of the songs, "Summer Love." He wrote that in the studio. Push Push in the Bush was my first gold record as an engineer.
Can you tell me the story behind Walter Gibbons' mix of Double Exposure's "Ten Percent"?
I met Walter Gibbons through Ken Cayre, who was one of the co-owners of Salsoul Records. Salsoul had a lot of confidence in certain DJs, and they would give people a chance. They said, "Here, Walter, you've got three hours. You're going to go in with Bob on an afternoon." I actually have a picture of the session with him and a friend at the console and he's in his little overalls.
He was very smart. He says, "I'm just going to make millions of pieces." He walked out of the room with maybe three reels of tape of pieces. We had an editing room in the back. For a couple of days he was working there. Of course the editing room had the crappiest machines, old Ampexes. You had a knob to rewind and fast forward. If you didn't pull the head gate out, you'd blast your ears out and if you hit stop in the middle of fast rewind the tape would explode.
Walter's in there for days and when I heard what he did, it was great. He said, "Well, this is my idea. Now let's go and make it." I said, "What?" To me, that's it. But we actually went to the studio, made all the pieces with better sounds. "Ten Percent" was very unique. It was a big learning experience. A lot of the remixers in those days did one of two things. Either they came in and they said, "I need a long intro" or they sat in the back and watched. He really changed my head around.
Staying on Salsoul for a second, can you talk about Instant Funk's "I Got My Mind Made Up"? You've said you never want to hear it ever again.
That's right. Ken Cayre, the owner of Salsoul, would come in with Sunshine, who was the head of marketing and promotion, a woman who basically was a big fan of music. They brought in an eight track tape of a song called "I Got My Mind Made Up" that Bunny Sigler had produced of a group called Instant Funk.
It was an okay R&B song and Ken said, "We have to make this work and we have a week to do it." I said, "Okay, what day do you want to come in?" He says, "No, you don't understand. We have to work on it... we're working eight hours a day till the end of the week because this is important."
I remember standing there with a fader, turning up the bass to make the accents, because the demo had no dynamic range. Or he had 100 compressors and he was using them all.
We finish the thing, it sounds pretty good. Then Ken says, "We really need to get some ideas for a remix." Bobby DJ Guttadaro mixed it, who was a guy I would see every day. I think Tee Scott came in and mixed it. Finally Ken says, "We'll get Larry Levan in here." Larry comes in and we start working on it, and he adds his input. Everybody added their pieces. And in order to do that, it meant I had to sit with a razor blade and take this 14 seconds of music and just... That's why I say if I never hear that song again, it'll be great.
Every two or three years somebody calls me and says, "Bob, do you know where the master is for this?" When Salsoul finished their contract with RCA for distribution they had an agreement that they would either store all the tapes or destroy them. That included Earl Young playing endless grooves because one of the theories was that we need Earl to play on these things and what if he's out of town? It was amazing. You never really know what history will call important. That's pretty nuts.
Which recording was the first that Arthur Russell did at Blank Tapes? Was it "Go Bang" or something else?
I started working with Arthur Russell right after "Kiss Me Again" had come out. It was very cosmic. If something worked, he really glommed on to that. At the time he was under contract to Colombia Records. John Hammond had discovered him. It was Billie Holiday, Bruce Springsteen and Arthur. There was a lot of weight on him. We would get these purchase orders from Colombia Records to record him. He would come in and, whatever they wanted him to do, he would do the exact opposite. They said, "Please do something solo," he'd bring in a band.
As a studio owner I constantly had to remind myself that my ideas were not the only ideas.
It's been said that he subscribed to the idea of "first thought, best thought." Did you see that in the studio?
He never told me this directly, but everybody around him said, "Look, you better run tape because when Arthur sits at the keyboard and starts playing, that's the record." His philosophy was that Buddhist philosophy you mention: first thought best thought. If you pulled out the masters of the "Go Bang" sessions, he would basically show up, sit at the electric piano and as the musicians were filing in they would play along, play a groove.
I remember the Ingram brothers playing drums to what he was playing. He finishes and he goes, "Okay, next song." They freaked out. "Wait a minute, I was playing this and I would like to play that! I missed the break!" And he said, "It's great." Of course he was absolutely right. The best thing about his music was the immediacy and the interactions. You had a bunch of musicians in the moment, and that's why it sounds like that.
What was Arthur's reaction to the Class Action record on Sleeping Bag?
That was interesting. Arthur formed a record company with Will Socolov and Juggy Gales was the minor partner. The idea for Sleeping Bag records was to do Arthur's music. Will was such a purist, and he loved Arthur. We all loved Arthur. This was a great opportunity.
It'd been a few months and I came up with this brilliant idea... I'd made this record with Patrick [Adams] a few years ago. Let's recut it with a more contemporary sound. I brought the idea to Will, he thought it was a good one. I went out to Brooklyn with Fred Zarr, he did all the keyboards. Brought in Chris[tine] Wiltshire who had been performing it as Musique. We cut the record, and Arthur went crazy because the label was supposed to be centered around his kind of music, and this was a blatant commercial record.
Juggy, who was the minor partner, was also the genius behind getting the records played. Juggy Gales is an all-time record promoter from the '40s. His claim to fame back then was promoting "White Christmas" for Bing Crosby. Juggy had a lot of pull, even though he was the minor partner. Juggy said, "No, this is a great record." The record started selling. And that was a difficult time because right after that Sleeping Bag decided that there was too much tension and everything split apart a little bit. Will started finding more commercial stuff, but Arthur was not happy.
Sun Ra was featured on the Blank Generation compilation. What do you remember about that session?
I remember the record company came in the day before and they hung this pyramid over the console. "Sun Ra really needs this." A pile of people came in that night. One of the things about Sun Ra is that it's always been a communal situation. The musicians are not necessarily getting paid. Some of them are sleeping on the floor just to be near Sun Ra. It was pandemonium. I'm proud of the fact that it sounds cohesive musically, but it was crazy. A lot of the stuff you hear, it was very lucky that somebody was close enough to a mike to be heard.
They were there playing all night and, finally, it's like 5:00 AM and Sun Ra says, "Okay, it's time to go." Everybody starts filing out and it's totally empty. I'm asking Phil, "What's the deal?" he says, "Well, I found out one of the reasons they did this session now is so he didn't have to pay for hotels for anybody." They were playing all night, and at 5:00 AM they probably threw them at a bus station. Our jazz heroes.
A lot of the sound a studio was the great technicians who worked there battling the equipment.
What were the challenges being a producer and engineer as well as the owner of the studio?
When I started Blank Tapes I was the sole owner. I eventually took in two partners. One of the big challenges of being an owner and also being an active music maker was either a sense of jealousy or competition. Obviously when musicians came in and they heard my production work the only people who stayed were people who liked it, but I'm sure we lost a lot of business. As an owner I constantly had to remind myself that my ideas were not the only ideas. We had a great staff of people, and they all had their own talents and things.
Of course I was ambitious and I always wanted to do everybody's project and I wanted to be involved in it, but the big difficulty with owning a studio like that, which eventually wound up having four studios running 18-20 hours a day, was that conflict was inevitable and there's no way with the name Blank on the door... I was always being brought in either as somebody to resolve the conflict or: "See Bob, look, look what your guys did." It was very difficult to keep that separated. A lot of times it was just … it was unfortunate. You'd make an enemy simply because they didn't have a hit that month.
Did Blank Tapes have a particular sound?
It was the 1970s. Sound in those days was based on the fact that multi-track recording was still young and the goal was, if you turned up track eight, you wouldn't hear what was on track nine. The rooms are very dead. It was all about burlap and insulation. We were in an open loft space. I think that the fact that we used all MCI consoles was a big factor in the sound. They had a very awkward sound. They were not great consoles sound-wise. There was leakage every time. You do automation, and you'd hear this buzzing.
So we bit the bullet and bought a SSL console. I think that was the first time that I realized a lot of the sound a studio was the great technicians who worked there battling the equipment. "Push Push in the Bush" was recorded on a console with low, high and a midrange switch you could boost. It's not like there was a lot of technology involved in making these records.
When you hear records that came out of there like "Burning Down the House" or "Solid as a Rock," those records were done on the very sophisticated console with three band EQ. These are a tribute to the engineers there.
A lot of mixers – Larry Levan, Walter Gibbons, Tee Scott – worked there. Did it become a particularly reputable place with mixers or was it just because of your relationship with the particular labels?
That's a great question. The labels would hire the mixers. The mixers would sometimes request Blank Tapes. What happened with me was Salsoul Records would routinely book every remix with us, even though the same record was mixed with Tom Moulton in Philly. I guess they did what a smart record label should do, which was listen and see who did the best mix. We got a reputation of being the deconstructors. Tom always was into a very complete sound, and ours was, "Let's see what we can get rid of to do that." If they asked the younger mixers if they had a preference, they would say us. But I think at the beginning when a remixer came into the fold, they really didn't have much choice.
Why did the studio close?
In 1986 the business had changed a lot and somebody made an offer to buy the studio and I wound up selling. Part of deal was that I would receive a certain amount of studio time. For maybe two years after that I was in there making records.
We sold the studio because owning a console that had an $8,000 or $9,000 a month lease in a studio that took $15,000 or $20,000 a month for the space with a staff of 16 people was unsustainable. Like I said earlier, when started out it was a little loft that I slept in the back. Money was very easy. The business became very expensive. Of course now, for a couple of hundred dollars, you can get a state-of-the-art situation which dwarfs anything we had in those times.
Do you think you got out at the right time?
Two things make me feel good about the ten years that we had the studio. By 1980 I had done so many mixes and I was literally working every day and night. It was sort of okay, but there was a lot of synthesis coming in and a lot of drum machines. My personal feeling at that time was I really wanted to work with musicians. I changed my focus and started declining work and started doing jingles and soundtracks. It was crazy, but I'd rather work with really cool local musicians playing live than sit in a room for 30 hours working on the bass drum. It was a really good thing to leave New York at that time because New York was changing for the bad. The music business was not a happy place to be.
Interesting.
I sound really bitter, right? I got out just in time.
It's just an interesting perspective that it was a turning point for you, whereas for somebody else that moment might be a little bit later.
I feel that when I sold the studio it was my decision to move on. I wasn't forced to make that decision. I was real fortunate about that.
Every day I looked forward to going in, working with these people.
How do you feel when someone like ZE Records is reissuing all these recordings, and people are looking back to that specific era for inspiration?
I guess when I look back at what we did, it's like anybody else. You go to work every day and you're working and you see these people and they're your friends. Blank Tapes used to have an annual picnic. What was great about the time was that it was very interactive. The three studios were sitting next to each other. You get bored in one, you'd walk into another and meet people and they became your friends.
When in the early '90s Michael asked me to come in and remaster a lot of the early stuff, I remember listening to DNA and all the outtakes of James Chance and thinking, "Okay, this is my personal legacy, but nobody's going to be interested." I'm just floored these days that people are enjoying it. I'm just so happy that people care about it because I have to say, every day I looked forward to going in, working with these people. Sorry, that sounded really corny. I'm sorry. It's true. I really like those people.
Do you have any thoughts on the term mutant disco?
Yeah. When we made "Disco Clone," that was the idea. We were going to break apart disco. Michael came in and said, "Here's what we need. We need a really good compressed EQ-ed bass drum playing at 120 or 124." I said, "Great." We brought in Jimmy Young, a famous drummer and he plays the bass drum. "Okay, now what?" Michael said, "No, that's it. Just record that and put it on a record, because we'll take it to the clubs and whatever they're playing, they can put that on top of it and it'll be a disco record." I looked at him like he's crazy, which he was. That's the kind of thing that they did. People would walk in and they'd say, "Okay, we're going to make a dance record, but we're going to use a cello player or we're going to read a joke in Jamaican." It was a golden time and it was mutant. When a hit record came out of that, it was beside the point.
Any memories of Lydia Lunch?
Lydia had been doing a lot of really heavy duty No Wave stuff. I figured we'd do more of the same because Pat Place and all these people were around. But when she came in, she said, "No, no, I have this poetry. I want to read poetry," which is what she did all the time. I said, "Okay, great, what's new?" She said, "I want it to be like a beatnik coffee house." I wound up calling an arranger we had been working a lot with who had done a lot of cartoon music.
We come in and start recording this orchestra. She says, "This is really great, this is really great." [But] what you hear on the record is only half of the orchestration because she said, "Okay, I'm going to talk about knives in my drain and whatever." I said, "Great. Now we have to bring in the strings and finish this off." She says, "No, no, we'll bring in Robert Quine. Let's take the tape, turn it upside down and have him play." That's the record you hear. I'll never be more grateful to her because it was really like presiding over a Peggy Lee album. She had a lot of vision.
And August Darnell?
August is a genius. He wrote some of the greatest music of the century, starting with "Cherchez la Femme." When I met him he had just lost the Grammy to The Brothers Johnson for Best New Artist in 1976. He came in all dressed in the zoot suit and everything. It turned out that he lived in a pied-à-terre. He finally had gotten his dream, and he was living on Central Park South in a room about 12 by 14 with just a bathroom. He was clawing his way through everything. It was scary to think that somebody who was as talented as him, who could do such a great album as the first Savannah Band album, couldn't get a break or couldn't get arrested.
Since the end of the Blank Tape era, you've become a competitive dancer. How did you get into that world?
My interest has always been in danceable music. I've produced it and played it and mixed it and I married a professional dancer. When we split up, she said, "You need a social life. Why don't you go to Arthur Murray and learn how to social dance?" If you know anything about engineers, we don't do things. We become obsessed.
When I go into Arthur Murray, I can't move, I've never danced, but I get into it. I met the woman that I've been dancing with now for 15 years. She couldn't dance either. We became buds and we compete around the world. I've got to brag. We're world champions over 55 in Latin. We won in Paris last year. For me to be moving at my age and doing all of this, it's a great thing. I will say what every dancer says, "I wish I had started younger." I started when I was 46 and it's been a great experience. It's funny when I teach The Hustle and I put on a record that I've worked on.