Que Bajo?!
The nomadic New York party-starters and label owners talk to Puja Patel about the complex connections in their international sound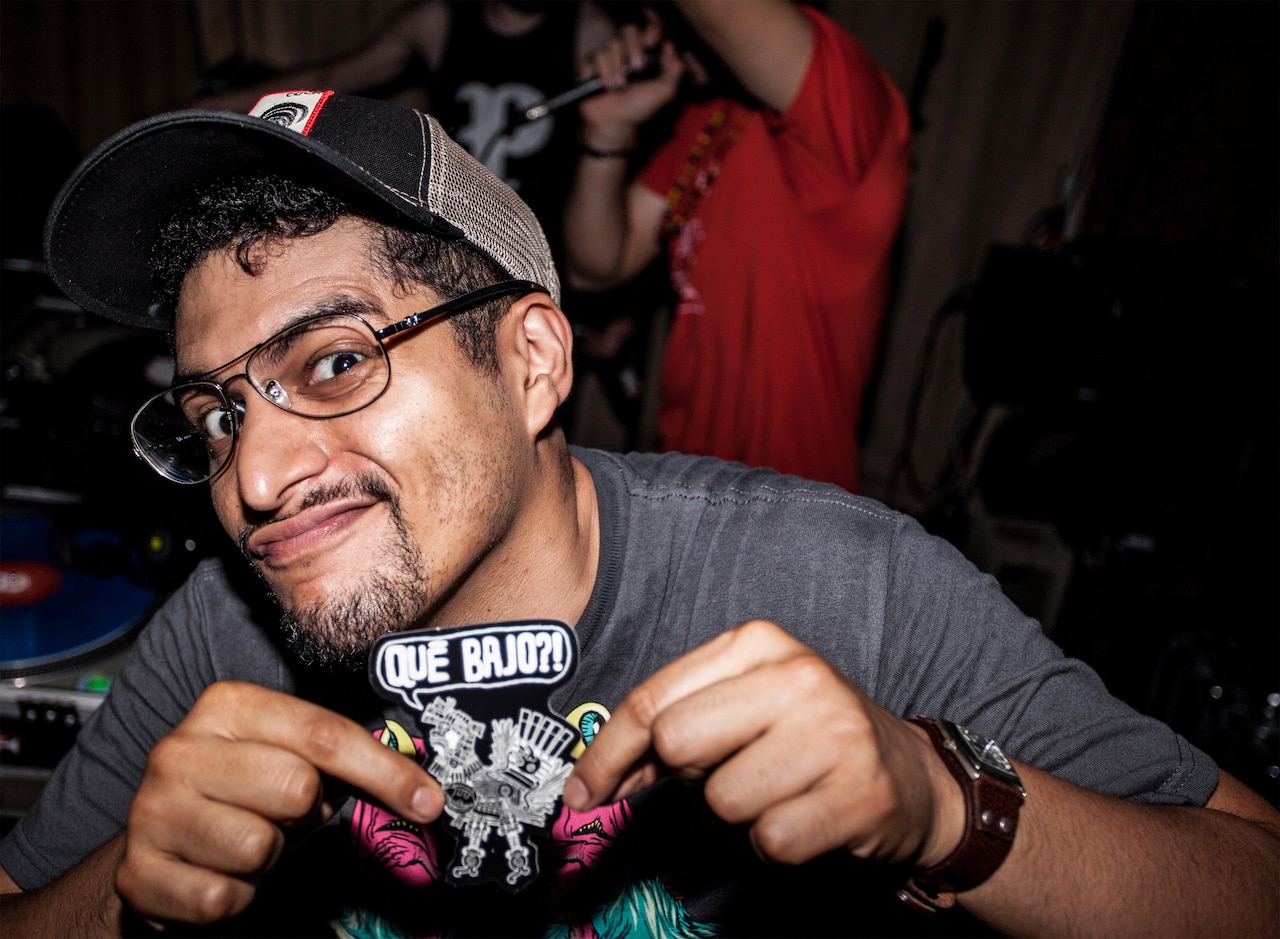 "Repping your city is equally about repping the people who actually live in the city as it is about artists from the city," says Uproot Andy. We're at a taqueria in South Williamsburg, Brooklyn: home to a rich Puerto Rican and Dominican community increasingly pushed out of their neighborhood by newer, swankier apartments, and the transplants that can afford them.
"New York is New York because there are so many immigrant cultures that have collided. Some have mutated, and all of them have unique characteristics, but they sometimes get buried when people can't find a place to celebrate them," he says, referring to the bottle service mega-clubs that have ousted many DIY warehouse spaces and promoter-friendly bars. "From a musical standpoint, the city's diversity is amazing," Andy continues. "It's just about finding a way for people to participate in it."
Andy's bright-eyed enthusiasm is personified by Que Bajo?!, the Latin dance party that he and fellow Brooklyn resident Geko Jones started eight years ago. It began as the duo's attempt to bridge regional musical scenes within the Latin diaspora into one inclusive space, and for local and traveling musicians, dancers and curious partygoers to stop by.
Our whole existence feels like it revolves around trying to get people into it accepting a blend of musical styles and cultures.
In 2009, a Que Bajo?! party featured Disco Shawn supplying tropical disco, DJ Saboon with reggaeton and it's then-trending sister moombahton, and GHE20G0TH1K's Venus X with dancehall and ballroom, all alongside the resident duo. Everyone is welcome, just as long as they're willing to sweat.
In the years that have followed, Que Bajo?! – the amorphous Spanish phrase that can mean anything from "What's up?" to "How low?" – has become the go-to party for the Latin underground, and the DJs behind it have toured the US, Canada and Colombia. By being a hub for international artists and creating a space in which world music innovators are played alongside more contemporary mutations, the party has done the sort of dancefloor archival work that is found in label contemporaries like Sofrito, Federation Sound or Mixpak.
"We met because Andy came to one of my parties with [global crate–digging collective] Dutty Artz," says Geko. "I saw him looking at one of my flyers for a cumbia event and I ran up to him like, 'Hey! You like cumbia? Let's talk!' The duo pauses to faux-formally clink their beers and joke about nerding out in the middle of a club. "That we met in that way seems significant," laughs Uproot Andy, AKA Andy Gillis. "Our whole existence feels like it revolves around trying to get people into it accepting a blend of musical styles and cultures."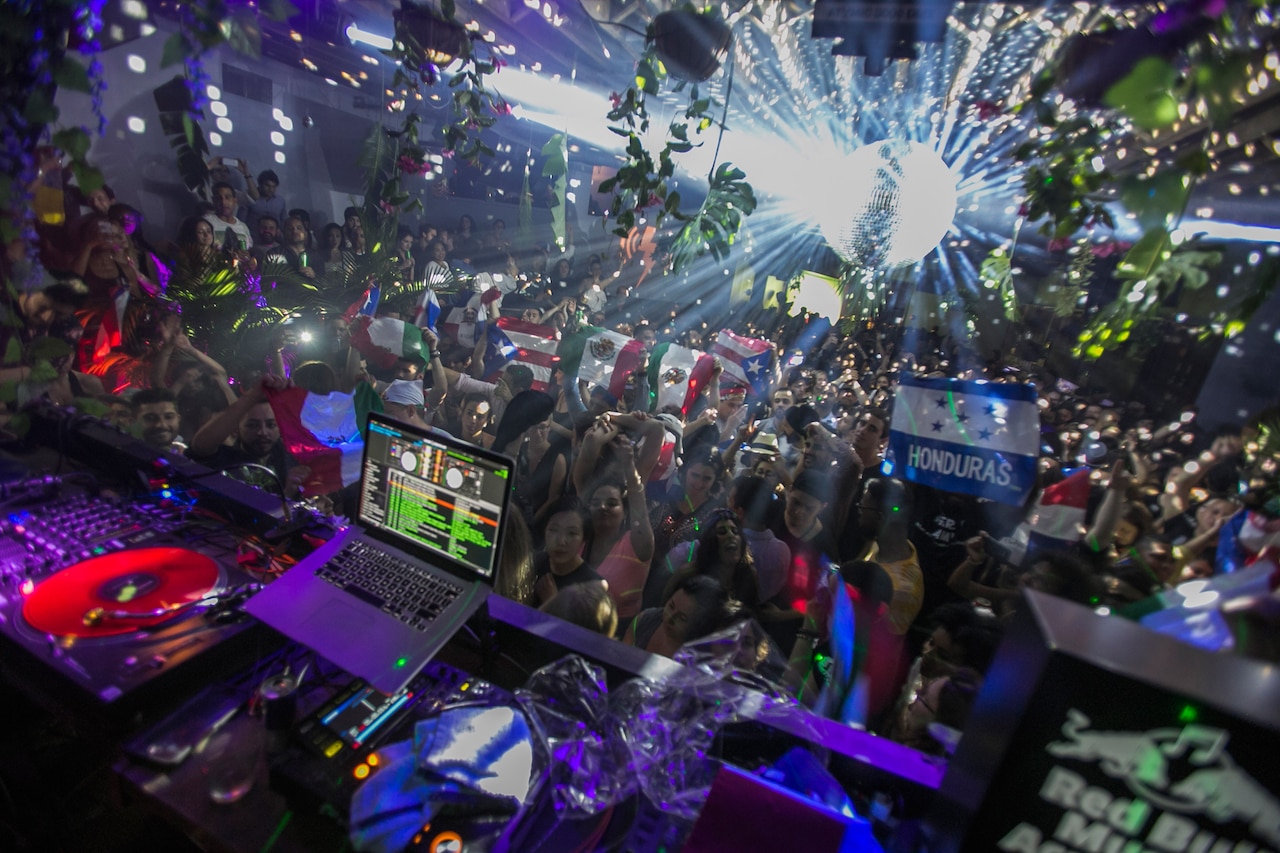 It hasn't always been easy. The early days were sometimes spent coaxing rap and pop audiences towards Latin beats through very explicit methods. As the party reframed beats in a context that those unfamiliar with regional genres could dance to, so to did their in-house productions. Gillis goes on to explain one of his early productions, "Brooklyn Cumbia," in which he samples Brooklyn-born MC Old Dirty Bastard, whose iconic neighborhood mural is only a few blocks away from where we're sitting. The song takes the signature keys and hook of "Shimmy Shimmy Ya" and puts them on top of a catchy cumbia beat: a regional dance music native to Colombia in which conga drums, timbales, claves and melodic interludes reflect the country's coastal rhythms.
Gills and Jones remember discovering this organically, layering elements of things they loved from each genre together to create something new: whether that meant putting a killer rap verse over a reggaeton beat, or revisiting Latin house stars like Louie Vega and the way they used pop hooks on a club track. "Once I played some of those songs out, my friends started to get it," says Gillis. "We just had to present it in a context they could understand – on the dance floor."
In the years that Jones and Gillis have worked together, they've built up Que Bajo?! through word-of-mouth popularity into a party that has actively bolstered the growing enthusiasm for Latin beats. It didn't hurt that island and Latin influences – from dembow and Balearic house to radio hits from Latino artists – had become more popular in mainstream radio and underground clubs alike.
Mixed-genre club sets were becoming more popular on the DIY circuit and at festivals, where genres like Nadastrom's moombahton – a blend of reggaeton with Dutch house – were played alongside tracks from DJ Sabo's Bersa Discos imprint and Miami innovator DJ Laz's tracks. Major Lazer's "Pon de Floor" and Gyptian's "Hold Yuh" regularly got play on New York rap radio, as Wisin & Yandel, Pitbull, Romeo Santos and Don Omar continued to top Latin Charts while debuting on the Billboard Hot 200. With Latin music on local rap and pop radio, Que Bajo?! found even more visibility while pushing the boundaries of the less commercially popular genres internally.
When we met, we both felt that this is a Latino city and there should be a party to represent that.
In turn, though, their own early years were disparate. Hip hop head Gillis originally moved to New York to study classical music theory and quickly fell in love with reggaeton, citing the beginnings of La Kalle Radio and salsa records by Willie Colón and Hector Lavoe as early influences. Jones reaches further back. Once a teenage "Rabbit in the Moon raver, who wore JNCO's and shopped at Barnes and Noble for their ethno–techno selections," the Miami transplant searched for downtown raves and found the freaked-out, mixed-art dance party Rubulad and South Asian club nights helmed by DJ Rekha. Before long, he found himself involved in local dancehall soundclashes and running with Brooklyn's global crate-digging ethnomusicologist crew, Dutty Artz.
"When we met in 2008, we both felt that this is a Latino city and there should be a party to represent that," says Gillis. "There are Latinos from all different parts of the world here," adds Jones, "and with each of them comes an incredible, danceable music." And so the pair began to work: sharing crates of music from all over South America, Latin America, the Caribbean and Africa, and trying to figure out how to bridge them.
While talking about production, they mention more popular genres of salsa, dancehall and reggaeton as well as the more further reaching: soca and zouk-influenced Angolan kuduro; the Miami bass and electro energy of baile funk, Honduran punta. "We recognize that a lot of music we are influenced by is independently beautiful," says Jones, explaining their production style. "We really try to keep that organic, gorgeous sound and also implement modern, electronic production."
By that, they mostly mean producing a sharper sound that is influenced by some of the trends of EDM, with the snares and synths associated with trap or the bass lifted from US festival-friendly house, while highlighting the signature elements of a regional sound like kuduro or cumbia. Gillis mentions revisiting DJ Laz mixtapes and Daddy Yankee vocals as points of current inspiration. "Those older tracks still play at block parties and in car radios, but feel so fun and modern at times. You can tell how forward-thinking those artists were at the time because of how the tracks sound today."
Trying to describe the cross-fertilized grooves that have become inherent to Que Bajo?! is half the battle – even for the duo themselves. Their Venezuelan friends call this hybrid mix "electro-cuero." Colombians prefer "chuku-chuku," while others often opt for "global beats." "The thing is that there's such a hodgepodge of different rhythms in what we do that there can't be one word for it," says Jones. "If it's got an arm from kuduro, knees from baile funk, hands from cumbia, and the singer is spitting a verse in French, what is it?" "A monster," replies Gillis, almost instantly cracking himself up. "A dancing monster!"
"Que Bajo?! has become a living, breathing thing,"says Gillis, on their decision to start a label. "We make music to play at these parties every month. It's a dialogue we share with our audience." Gillis' latest mix, Barrioteca, mines New York's reggaeton clubs and the legendary Latin DJs influence on disco and New York house, and the aptly named Worldwide Ting 1 and Worldwide Ting 2 preview the label's first two releases. On the first volume, Kenyan musicians battle with reggaeton dembow beats and Indian playback singers are played alongside Mexican soneroes. "If Que Bajo?! has a theme, it's taking regional, folkloric melodies and flipping them into waist-winnin' bangers."
By rotating the party through the boroughs of Brooklyn, Queens and Manhattan on any given night, the duo also subtly contest the growing gentrification that has pushed them out of previously affordable and open-minded spaces. The Latin community supports the party, even if the city's cabaret laws and increasing real estate prices do not. At an early party of theirs, I met Parisian cumbia promoters who had come to the party after hearing about it from a Brooklyn-based cumbia DJ online.
While the party is now a safe haven for enthusiasts who associate club nights with the Meatpacking District, overly expensive cover charges and enforced dress codes, they provide a local context for the international scene that they hope they embody. They carry on despite the shifting landscape, and share stories of venue owners who shy away from Latin-themed nights or enforce rules that go against the duo's core party principles. As a result, Que Bajo?! has been forced to jump from venue to venue and hasn't had a permanent location for years. "People from hot, tropical places like to peel off the layers to get sweaty and dance," laughs Jones. "We want to provide that for anyone who wants it. They'll just have to find us."

Que Bajo?! is live on RBMA Radio the 2nd Wednesday of every month at 4 PM EST. Tune in here.