Interview: Death, Detroit proto-punk rebels
The group narrate their story: from perfectly-formed cult band, to a resurrected career and critical acclaim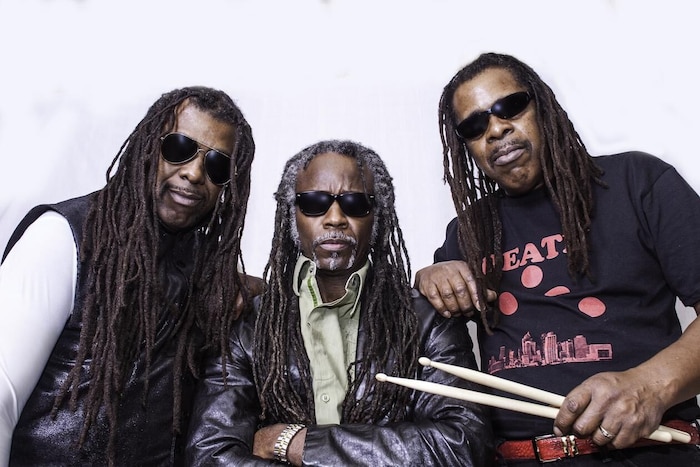 The band that were punk "before punk was punk," Detroit trio Death comprised of the Hackney brothers: Bobby, David and Dannis. Inspired by the local sounds of Motown, MC5, The Stooges and Alice Cooper, and British groups like The Beatles, The Stones and The Who, their choice of name played on the concept of "spinning death from the negative to the positive." In 1975, after interest from Detroit music mogul Don Davis and his label Groovesville Productions, and with funding from Columbia Records, Death recorded a set of seven songs. Columbia's president Clive Davis begged them to change their nihilistic title. On brother David's insistence, the brothers refused, leading to Columbia withdrawing their support.
Death instead used their advance to release 500 copies of a single from the sessions, "Politicians in My Eyes" b/w "Keep On Knockin'" on their own label Tryangle, which they gave out free at gigs. In 1977 Death split, a perfectly formed cult band just waiting to be rediscovered. Drag City re-released their demos in 2009, which led to much-lauded A Band Called Death documentary film in 2012, and brought the brothers back to club stages across the world. In this interview with RBMA Radio in London, three members of the reformed group discuss their remarkable journey.
How did you form the band? Can you take us back to the beginning?
Bobby Hackney
We started in 1971. We were originally called RockFire Funk Express. Right around the end of 1972 into 1973, we begin to explore and immerse ourselves in rock & roll, more or less thanks to the inspiration of a show that Dannis saw with Alice Cooper. That was actually the beginning of it. We immersed ourselves in rock & roll. We needed a new name. David, our brother, came up with the name Death in 1974.
Dannis Hackney
We were kind of searching for an identity. In Detroit, you can't stay a funk band too long before you learn about George Clinton and Funkadelic and the Parliament. They were the kings of the funk in Detroit. There was just no way around that. We began to explore heavy rock & roll.
I happened into a concert one night that was going on at what was then Cobo Arena, which is Joe Louis Arena now. It was Alice Cooper. That was my first time ever seeing a real rock concert. When I saw those guys, the way they performed on stage, it just grabbed me. I stood there just watching them. I couldn't wait to get home and tell my brothers that, "Dudes, if we want a new music to play, we got to get on this rock & roll thing."
They kind of rejected the idea at first. Then, two months later, The Who came to town on their Quadrophenia tour. David, who was the leader of the band, got a chance to see that. That's when he agreed with me that we should go deeper into rock & roll. This seems to be the music that we were made for.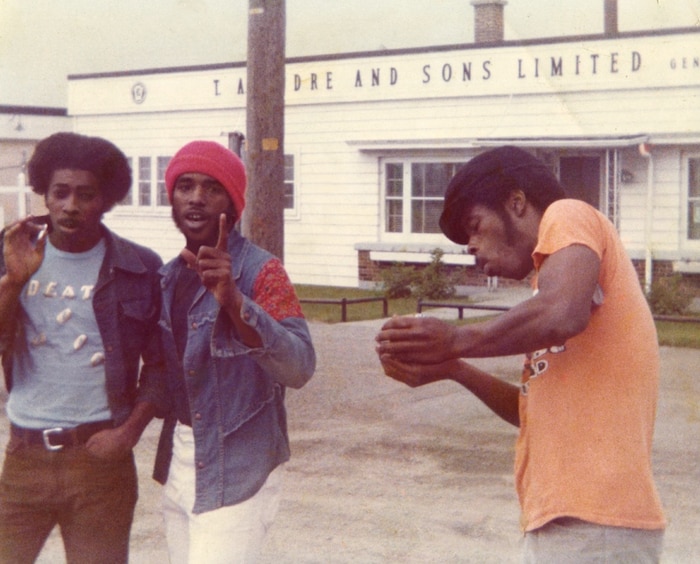 Was there a particular song from the Alice Cooper gig that got you?
Dannis Hackney
It was just the way they played. The reckless abandon they had on the stage. The way Alice stomped around and did all the things that he does. For me, I was particularly looking at the drummer. There again, I saw such freedom in his movements and the things that he was doing. It was just natural for me. I was just waiting for Dave to agree with me.
You're literally sons of a preacher man. How did church music play a role in your musical upbringing?
Dannis Hackney
We listened to and did church music. Mostly it was me and our brothers. Bob was too little to be in the choir. We sung in church with our mother. She only sang in church, but she had a nice voice. We all used to background sing for her. Then sometimes we'd sing solo. That's how we got involved with the church music.
What was it like growing up in Detroit? What was your relationship with the rock bands at the time?
Bobby Hackney
If you were living in Detroit anywhere from the early '50s right on up to and through the late '70s, you witnessed a lot of magic being made. Of course, the advent of Motown. Great Detroit rock like Bob Seger, the MC5, Iggy and the Stooges, Grand Funk Railroad. Alice Cooper, who moved to Detroit.
We've been saying all along that London and Detroit have a shared sister city kinship because during the early '60s when The Beatles came and all of the music industry in America was running scared, Berry Gordy invited them to West Grand Boulevard on Hitsville. They recorded "Please, Mr. Postman" and some other Motown songs. After that, the two names became synonymous amongst music fans in Detroit. Motown and Beatles. Just rolled off the tongue together. The Who came to Detroit, set up residency in Detroit, played the Grande Ballroom. The Rolling Stones were in and out of Detroit recording.
What we are very proud of is that our 1975 album ...For the Whole World to See was recorded at United Sound Recording Studios, the legendary Detroit studio, and the same studio where The Who recorded some music, as well as The Rolling Stones.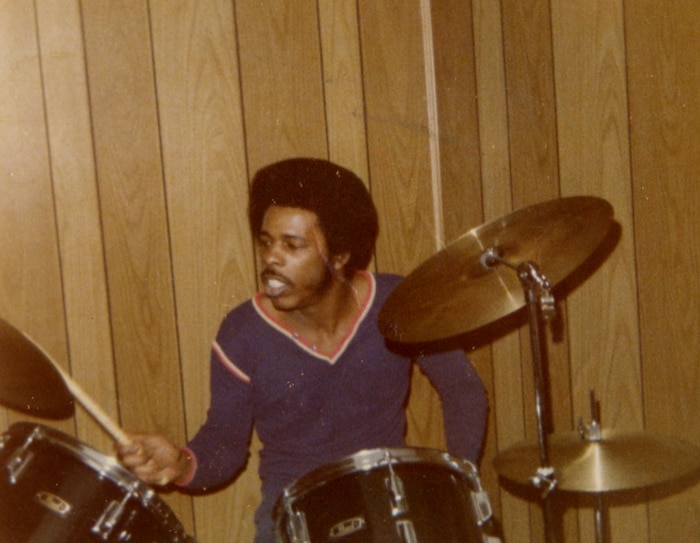 Growing up in the midst of Motown in Detroit, what was so attractive about British bands in particular?
Bobby Hackney
I think it's just two industrial places, you know? Detroit, there was always the churning of the automobile plants. I think that here, in the UK and in parts of Europe where all these great bands come from, there's a lot of industrial connections. I think there's the churning of all that machinery that gives us that rhythm and that backbeat that we all tune into. We've heard groups like U2 talk about how they were influenced by the industrial surroundings that they grew up in. I think that's really what it is. Whenever you see a place where there's a lot of industry and working class people, those are the places where great music comes from.
Can you explain what led to renaming the band Death? What was the significance of the new name?
Bobby Hackney
David looked at it as a real spiritual thing. We didn't want people to see it as a dark, gory thing. He was very convinced that Jim Morrison had the same idea in mind in naming the band The Doors and a song "Break on through to the Other Side." How death should be viewed as not a negative, but a positive because it's this journey that we're all going through. He used to call this world a waiting room. Once we make that journey, that's where [you find] the real party, the real life, the real fun, the real music, the real rock & roll, the real joy. That's where it all is.
Is it true that Clive Davis offered you a contract if you were willing to change the name?
Dannis Hackney
It wasn't Clive Davis personally himself. It was some of the people that work with him. They listened to the music. They liked the music, but [thought we] should change the name. That didn't sit well with David. See, David was a mad genius kind of guy. If he's going to sell you a concept, he don't want to sell you a piece of the concept. You have to buy it all. Okay? By them asking us to change the name, David thought that was giving up a little bit too much. He said, "Man, if they ask you to change the name and you do it, they'll ask you to change everything else."
It was David who stuck to the guns of our name, of the integrity of our name, the message of our name. I'm going to tell you the truth. Leaving it up to me, I would've took Clive Davis's offer. David saw past that. Nobody wants to go through heartache. For what we have today, I thank Dave very much. I look at him as more than a brother, but a prophet who told us the truth about everything we asked him. Now we're living those truths even though David is gone.
Can you tell us the story behind "Keep on Knockin'"?
Bobby Hackney
We would always practice 3:00 to 6:00. That was the time that our mom allowed us to practice. It was when school would get out. There was an elementary school down the street from us. Two blocks away there was the junior high and the high school. There would be kids on each side of the street coming and going from school as we would be practicing.
Our sister had some friends who would try to get up into our room as we were practicing one day. We heard them knocking on the door. We were laughing. Then David just went into this riff. We just went into this thing. "Keep on knocking, keep on knocking." You know? David just happened to have the little cassette tape recorder going. When we finished that little impromptu jam, he kept rewinding that tape over and over saying, "Man, we got something with this kind of song. We got something. This is rock & roll. This is what we're trying to do."
Pressing independent records was a completely different thing back then. Can you talk a bit about how the "Keep on Knockin'" and the "Politicians in My Eyes" 7-inch came together?
Bobby Hackney
That was all from the rejection. We had gotten rejected by radio stations. We had gotten rejected by record companies. Groovesville Productions, who we were signed up with, was gracious enough to give us our master tapes back because they didn't think that they were going to do anything with the music other than let it sit on the shelf. We took those master tapes and had 500 records pressed up.
We still couldn't get any airplay, even though we tried to distribute them locally. With all the radio stations that we tuned into, they'd play them, but they'd only play them just enough to really satisfy the fact that they could say that they played it. We never really could get them on rotation, which would lead to a local hit. A lot of that just had to do with our name. Even though that was kind of disheartening to us, those records were the catalyst that sent us on this journey that brings us here to this conversation right now today.
We didn't know anything about punk music, man. We just called it hard-driving Detroit rock & roll.
Can you explain the role of producer Don Davis with the band?
Bobby Hackney
Don Davis was a music mogul in Detroit, kind of akin to Berry Gordy. He had come there from Memphis where he worked for Stax as a writer. He bought United Sounds Recording Studio. We had all thought that Berry Gordy was the one to buy it, but it ended up being owned by Don Davis. He set up Groovesville Productions. It was his assistant, Brian Spears, who really saw the vision in Death and convinced Don Davis, who was not so convinced, especially with the name of our group. That's really what led to those great tracks being recorded at United Sounds.
The three of you were skilled musicians and instrumentalists, what did you think about the later evolution of punk?
Bobby Hackney
When we made this music in 1974 and 1975, if you called someone a punk, that was a negative term. You either got a black eye or a bloody nose. We didn't know anything about punk music, man. We just called it hard-driving Detroit rock & roll. That's what we were playing. Maybe we were a little faster, a little more aggressive, because everybody was telling us that we should be playing some other kind of music like soul music or funk music. We wanted to play rock & roll.
Did you ever think Death could come together again after David passed away in 2000?
Dannis Hackney
No. When we went to David's funeral, I was sitting there. I remember tears rolling down my face. I just looked over to Bobby. I said, "Bob, I think the Death concept is going to get buried with David." After that, I kind of backed away from it. We were involved in a reggae band called Lambsbread anyway. It seemed at that time to me that Death would just be a lost concept. I used to call us the greatest band that never was.
Bobby, how did you react when your sons formed a band covering your own material?
Bobby Hackney
We was all surprised by that. We was taken aback by that. They grew up in bliss watching us be reggae stars. Me and Dannis never really wanted to take them out of that bliss by telling them about all of our rejection that we went through with our rock band. They never really knew the Death story and never really even knew the music. I would just mention it to them in passing sometimes. My son Bobby would always be tuned into Bad Brains, The Gorilla Biscuits, Henry Rollins and The Dead Kennedys. I would say, "Me and your uncles were in a band that played rock & roll years ago." Bobby would just kind of laugh it off.
Then, when he found out the Death story, it was just crazy. Those three guys took it upon themselves to have the mission to get the music out. It took us by surprise. Me and Dannis went out and saw their first performance. It was very emotional for us. First of all, we couldn't believe that this music was coming back to us like this. Then to see them play it before us, music that we hadn't even played in all these years. It was quite moving.
What can you tell us about the new material?
Bobbie Duncan
We did a show, I believe, in Chicago. It so inspired me that I went home and penned a song by the name of "11/19/10." What I did, I brought it back to the guys after I got the arrangement together and a partial lyric. We just kind of collaborated on it. We wound up calling it "Relief." That was the first cut on the new album.
I had an opportunity to contribute a couple more songs on the album. The album also consists of sides from the old Death catalog, which were basically songs that Bob, Dannis and David meant to put on the ...For the Whole World to See album. As things happened, they didn't get a chance to actually press them up. What's old to them is new to you. A song is never old, especially if nobody's heard it before. The stuff is really poignant and consistent with today's grooves. That's the amazing thing about it.
Very few times in life do you get an opportunity to complete something that you thought was long lost and forgotten.
Do you think the new album is sort of a more reflection of your life today?
Bobbie Duncan
Yeah. I know Bob is cut from the same cloth as a songwriter. That's one of the things I've always focused on: We try to write things that are significant. You can just go ahead and write, "Baby, I love you." There's more to life. We try to keep a story in our songs.
People gravitate towards a good hook, a good melody, a good groove and a story that means something. You got a lot of songs out today with a nice hook and melody, but the story means nothing. We try to concentrate on that story theme that The Beatles would have. Every one of their songs, you can hear the story from beginning to the end. Every Motown song, you can hear the story from beginning to the end. It's all significant.
You've sort of reactivated Tryangle Records. Why is it important for you guys to be in charge of your own release?
Bobby Hackney
We have a wonderful relationship right now with Drag City Records who has been releasing all the historic stuff. They've also released the new album. Tryangle Records was a concept that David, myself, and Dannis came up with. We didn't really have no choice. We had our master tapes. We had to release a single. We had to have a label. We had to have a name. It's important to us because that was David's concept. That was our concept. Very few times in life do you get an opportunity to complete something that you thought was long lost and forgotten. We want to complete that journey.