The Rise of Gqom
Jake Hulyer profiles the South African sound being exported to the outside world via a new compilation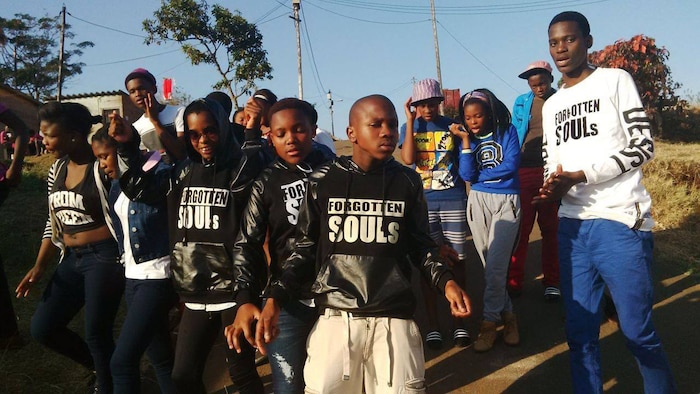 Over the past few years, a strand of house music known as gqom has emerged as the driving musical force in Durban. It's a murky, meditative deviation from the mainstream. Where a smoothed out image of house's four-to-the-floor is dominant in South Africa, there's a refreshing rawness to gqom in both its sound and attitude.
Pronounced "gom" (along with a click of the tongue best avoided by non-Zulu speakers), the attitude of those who attend the parties – striking in comparison to most European cities as well as neighbouring South African ones – has undoubtedly played a part. "I've played in Cape Town and Jo'Burg," Rudeboyz member Menchess says, "and people dance, but not like in Durban." Often taking place in surrounding townships, or in the city centre Havana Music Cafe, it's those ecstatic crowds which have been conducive to the music's slow-build sustain. They trade not so much in peaks and troughs as an ever-intensifying climb skywards.
The parties have had an influence in a very literal way, too. Those little hooks, which send everyone wild, often come directly from the parties themselves, where it's common to hear impromptu chants started by crowds. These will be recorded on DJ's mobile phones and incorporated, either directly or by re-recording them, into tracks which will be on rotation by the following weekend.
More surprising, perhaps, has been the prominent role of file sharing sites – like kasimp3 and datafilehost – in enabling DJs as well as listeners to tap into the sound from their laptops and mobiles. In a city where access to wifi can still be problematic, those sites are a big part of the reason gqom is the soundtrack to Durban's taxi ranks as well as (some of) its clubs.
Menchess positions gqom in partial opposition to the kwaito that rules the airwaves in South Africa. "It's the sound that you grow up to," he explains over a shaky Skype connection. "People usually sing on top of a kwaito beat, but we adapted it. We said, 'Let's just make a beat without vocals.' It was for people who wanted to get into a dark place."
Julz Da Deejay, a producer and DJ making tracks since gqom started to seep into Durban's clubs in 2011, agrees. "Gqom is like the new age kwaito, a bridge off house music," he explains. An unmistakably darker bridge: vocals are reduced to indistinguishable, rapid-fire loops, while super-compressed drums make things feel altogether claustrophobic in places. "Mostly we sample from kwaito," Menchess says of Rudeboyz' way of working. "You get a vocal, maybe, put it into the machine to bend it a bit." Rather than the pitched down vocals used and abused in dubstep's aftermath, however, this is in pursuit of something decidedly weirder: "We'll bring the pitch down," Menchess explains, "so it sounds like a dog or a bear growling."
Now that the tracks are being exported overseas, they've struck a familiar chord. "It gave me the same feeling I had when hearing Digital Mystikz for the first time," Nan Kolé recalls. The Rome-based DJ, a longtime supporter of dance music from Africa, explains how it's that feeling which drove him to set up the GQOM OH! record label, set to showcase the genre in a forthcoming compilation. He hears a natural UK inclination to strip things back to a sparse, introspective core in gqom.
Okzharp, a producer with roots in South Africa, hears something universal in it. "A lot of that fun energy in music comes from putting threes over fours and fours over threes," he says. "Using triplets breaks up the monotony of the 4/4. That's all funky house is, that's all bashment is, that's all jungle was: it's about breaking it up." DJing and producing in the orbit of those UK re-rubs of dance culture, and having played in Durban with the likes of Scratcha DVA, he's well placed to observe the shared sensibilities between their dancefloors.
This move from kwaito to gqom also bears a resemblance to another genre mutation: The evolution of ghetto house in Chicago to footwork. With old soul or funk records as a starting point, re-mapping the music to more frantic tempos through the MPC is standard practice for many footwork producers. "I reckon if you got videos of people dancing to footwork and slowed 'em down, it would look quite a lot like some of the moves people are doing to gqom," says Okzharp.
Meanwhile, as the music begins to take root elsewhere, things continue to move forward back in Durban. As Kolé observes, "I'm slowly seeing that some producers are moving into sgubhu sounds as they are growing up." Sghubhu, a growing force in Durban, rides on the ominous strings present in many gqom tracks but with a straightened out rhythm closer to that of kwaito. The problem with gqom, Menchess tells me, is that "it's getting too familiar."
A growing pool of copycats has diluted the creative output of the gqom scene, prompting Menchess to dig through old rave and breakbeat tracks on YouTube in search of new synths and ideas. It was through meeting Stormzy in a recent Noisey documentary, too, where he was told about the similarities between their tracks and UK funky. With Menchess now folding rave's stabs and funky's swing into the mix, the idea of a straightforward continuum in dance music seems increasingly bent out of shape.
Sat relatively isolated from the other epicentres of dance culture, Durban's music is rooted in the local. Made up of a large Zulu population, closer to a big town in feel than the metropolitan sprawl of Jo'Burg, Menchess says "it's full of the same kind of people: the same culture, seeing things in the same way." Its spread outward seems almost like an unintended, if inevitable, byproduct of their music's online presence. The close quarters in which ideas bounce around has played a big part in making the music what it is. That, combined with an instinct to push things to make them darker, is what's so exciting – it sounds new yet deeply familiar all at once.