Interview: Ian Levine, Northern Soul Legend
From the DJ History archives: Bill Brewster talks with the iconoclastic record selector and producer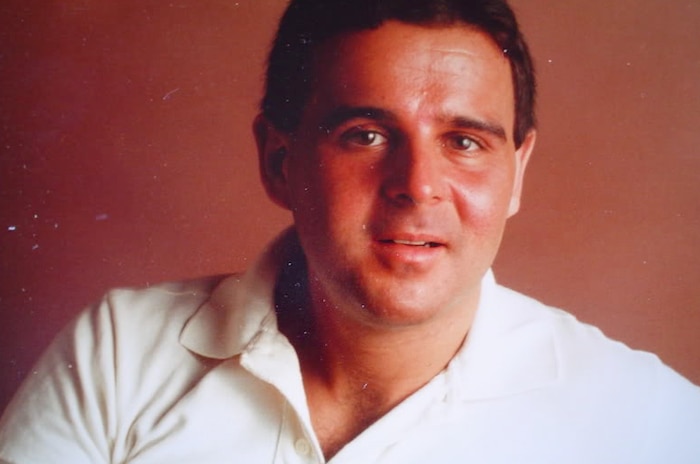 Iconoclastic and confrontational, few DJs have broken as many records as Ian Levine did at his Blackpool Highland Rooms residency during northern soul's '70s apex. Alongside Colin Curtis, he debuted new discoveries weekly, exploiting his wealthy background to make regular transatlantic record-buying trips (his parents owned a casino on Blackpool's Golden Mile). His stateside excursions eventually drew him to lead the northern scene out of its obsession with oldies and into a new era of disco and jazz-funk, a move that led to fatal fissures within.
As a regular visitor to New York City's The Saint and resident at the newly opened Heaven in London, Levine also pioneered hi-NRG – the sound of gay dancefloors worldwide that was later co-opted by Stock, Aitken & Waterman and sold as pre-teen pop. Levine went on to produce various boy bands including Bad Boys Inc and Take That.

This interview, presented as part of RBMA's partnership with DJ History, took place in 1999 in Ian's rambling post-Edwardian house somewhere on the road between Acton and Ealing in west London. We headed for his sitting room where Ian reclined in an armchair next to an original Doctor Who dalek, as a young lad brought him a plate piled high with bacon sandwiches. (Ian is larger than life in so many ways.) He had an incredible recall for music, reeling off an endless succession of artists and titles, all delivered with the bombast and self-assurance of someone used to getting his own way. - Bill Brewster
Where were you born?
I was born in 1953 in Blackpool. Started collecting Motown records as early as 13 years old. Really intensely by the time I was 14. I set out to get every Motown record ever released in the UK.
The guy who claims he was the first ever rare record dealer, Gary Wilde, he charged £5 for these rare Motown and northern things. He had a cigarette kiosk in Blackpool town centre in Victoria Street. He sold cigarettes and rare records and all the mods would congregate outside his kiosk. Real pioneer of this. This was '67 and '68. The first person to set a trend that 30 years later has people now spending £15,000 for Frank Wilson. By the time I was 15 I was going with my parents on holiday to America and finding very rare Detroit records in these record shops.
Whereabouts?
Miami, mainly. As far back as '70 we went to New Orleans and I found those Ric-Tic records: JJ Barnes, San Remo Golden Strings. Those things had never been discovered by anybody and I found them in a joke shop in 110° heat in New Orleans. I had a little Discotron I'd borrowed. I put this JJ Barnes record on and this Motown-type drum started and wonderful, Marvin Gaye-meets-the-Four Tops fabulous stomping sound came out of it. I freaked and my life changed from that moment on. JJ Barnes got me into northern soul.
There was a kid called Stuart Bremner who was older than me and I looked up to him. He had DJed at the Twisted Wheel and the Blackpool Wheel. The Twisted Wheel was the first all-nighter where northern soul grew out of. And he was DJing down there and going down with his mates, all these cool mods. More than Motown, he was into Curtis Mayfield, the Impressions. I couldn't go to the Wheel until I was 17, until 1970 just before it closed. I saw that I had a load of records with the same beat that people were dancing to that no one had discovered yet, and I'd brought them down.
"Hit and Run" by Rose Battiste, which is a real Detroit record, worth of a lot of money. I just blew everyone's mind by having these records that no one else had got. It was an embryonic scene. The Twisted Wheel was a club in Manchester that up until 1969 had been playing British releases. Some of them had a Motown sound, but some of them had a more earthy Stax, Memphis, Atlantic sound. And the northern scene moved away from the earthiness and into the very slick, smooth, orchestrated sound of the Supremes and Four Tops. Except it wasn't. It was by other artists on other labels that had flopped.
They stopped playing the Marvelettes and Velvelettes and started playing records like "Baby Reconsider" by Leon Haywood and "More Than Your Love" by Bob Brady and the Concords, which was a cover of a Smokey Robinson song; "Darkest Days" by Jackie Lee, Sandy Sheldon's "You're Gonna Make Me Love You." Those four records were super rare and were literally £50 each, because everybody wanted them and no one could get them. This guy from Gloucester called Docker came to the Twisted Wheel with the Leon Haywood record and there was only one copy known of in England, on a tiny little label called Fatfish.
Although Leon went on to have hits in the '70s, this record was super rare. Everybody would crowd round him just to have a look at this record because it was legendary and so rare. The DJ was a guy called Les Cokell who was around for a long time, but the main pioneer of that scene was a guy called Rob Bellars – he was also a DJ at the Wheel and he also lent his records to other people like Les and he discovered that by finding these hard-to-get records, the scene thrived. People were fed up with the same old songs, like Franki Valli's "Are You Ready Now" and Earl Van Dyke's "Six by Six" that had been played at the Wheel for years.
There was a hungry crowd at the all-nighters, pilled out of their heads on amphetamines, who wanted to dance to fast, Motown-style records. When I say new, it was as in undiscovered, rather than modern, because by 1970 and '71 America was making records like James Brown and Lyn Collins. Funky stuff. The Motown beat had gone out of fashion in America by '69. So instead of looking for new records as they had in the past, they had to hunt for records that were four or five years old.
When the Wheel closed in the last week of January '71, a couple of other smaller nighters got raided by the police, so everything then got focused on Blackpool Mecca because it was the one place in the country that played this kind of music. You had a thousand people congregating in the Highland Room every Saturday to hear these exclusive records. Tony Jebb was DJing there, with a couple of pop wankers called Stewart Freeman and Bill The Kid. He soon ousted them, because the crowd wanted to hear rare soul and I was the godfather, pulling the strings. And I said, "Get Les Cokell," but Les couldn't keep up with the records. He was using all mine and one time when he was ill the crowd said, "Come on, you can DJ," so I did.
Autumn of '71 my DJ career was launched by default. By '72, I'd got this huge reputation for finding and playing rare records. There was a big all-nighter in Stoke called the Torch; Tony defected there with Colin Curtis, Keith Minshull, Martin Ellis and Alan Day, leaving me at Blackpool with Les. We'd go down to Stoke and get there at three or four in the morning, after we'd finished playing. And I wanted to do the Torch, and Tony Jebb persuaded the promoter Chris Burton to get me on there. So Blackpool closed down for a few months, because Les couldn't do it on his own.
The Torch had a lot of trouble with drugs and the police closed it down after a year of all nighters there. It was the forerunner of Wigan Casino. It was the first big northern soul all nighter, in a converted cinema with an oval shaped dancefloor; a gutted-out cinema with balconies on top. It held about 1,600.
That was the one in the middle of nowhere, wasn't it? Tunstall?
Yeah. The Wheel had been a small clique. It had been the ultimate underground club. It held about 5-600 people, hosted all the legendary artists from the Drifters to Ike & Tina Turner, to the more esoteric ones like the Vibrations and James & Bobby Purify, Edwin Starr, Jimmy Ruffin. They'd all appeared at the Wheel. I went down there to film it and there is now this almost outrageously gay club in Manchester. It's got pictures of naked guys all around the walls. I took all the original Wheel DJs and they didn't know where to put their faces! It's called Chains.
But the Torch was fantastic. And Major Lance was an iconic artist. He'd had a run of hits in the '60s, but then a run that hadn't happened. The early Van McCoy and Curtis Mayfield productions. Although they hadn't been hits in America, they had this absolutely quintessential northern soul sound, with the vibes, the strings and the right beat.
Is this the stuff on Okeh?
Yeah, "You Don't Want Me No More" was the biggest. "Investigate," "Everyone Loves a Good Time."
Didn't he record a live album at the Torch?
That's what I'm coming to. Northern soul at the Wheel had seen the obvious artists, like the Drifters and Ike & Tina Turner, but they were treated to artists who were in England and who were trying to further their careers. Never before had they had an artist who'd never had a hit in the UK before whose sole interest in the UK were these obscure 45s that had flopped. Because he'd had more than anyone else – bar perhaps Jackie Wilson – that had been big on the northern scene. Because of that fact, he built up this legendary reputation. If there was anyone that people on the northern scene wanted to see, it was Major Lance. Chris Burton pulled off the amazing coup of finding him in Chicago, and getting him to come along just to perform at the Torch.
That night was the first night I DJed there and it was the most electrifying night of my whole career. You could not have squeezed one more person in that club. They were hanging off the rafters. It must've been 120°. It was so hot and packed, the sweat was rising off people's bodies as condensation and dripping back on to them from the ceiling. He sang with the worst band you've ever heard. It was some British band who had no concept of what northern soul was, and they went through all of his hits. "The Beats," "Monkey Time," "Ain't No Soul in These Old Shoes."
I went to Miami that summer and brought back 4,000 singles I picked up in old Salvation Army places for 5¢ each.
The Torch was a much better club than Wigan Casino. Wigan was an old ballroom, but again it had the big circular balcony like the Torch. What happened with the Torch was, firstly, Colin Curtis and Keith Minshull dropped out because they'd heard it was going to close, so they went to the Top Rank in Hanley. Tony Jebb got busted for drugs. It was just me and Martin Ellis left. I went from being the last of six to being the number one.
They closed it down and Colin and Keith very craftily had got Blackpool Mecca back. They lived in Stoke; I was living in Blackpool. When the Torch closed, Chris Burton took over the Top Rank in Hanley, so I was going from Blackpool to Hanley and Colin and Keith were going from Stoke to Blackpool to do their gig. I wasn't very happy about it. Keith Minshull wasn't really pulling the crowds in.
Colin was very hungry for the records I was discovering. I went to Miami that summer and brought back 4,000 singles I picked up in old Salvation Army places for 5¢ each. I discovered the greatest haul of northern soul records ever to be discovered. By then Radio 1 had interviewed me about it all. I was a name on the northern soul scene. I could look at the producer, arranger or singer and tell straight away whether it was going to be a ballad or northern soul record. In fact, we burnt it out too quick. By '75, there were plenty of stomping '60s records to discover, but they weren't as good as the ones we were playing in the golden years of '73 and '74 when we turned everything up: from Chicago, Los Angeles, Detroit, even Norfolk, Virginia. The standard was going down.
I was in Miami and I heard a record on a radio station by the Carstairs. They'd had a big record on Okeh, called "He Who Picks the Rose." They had this new record, "It Really Hurts Me Girl," and it blew my mind because it had this very throaty northern soul vocal, and a northern soul feel but a slightly shuffly beat. Not as modern as the Philly disco stuff, but just a bit modern, a bit dangerous for the northern soul scene.
Anyway, I tried to buy this record, but couldn't find it. No one had heard of it. I went to the radio station and they said they'd been sent a demo from the record company. Here's the number. I phoned the record company, Red Coach, Gene Redd's label, distributed by Chess – they'd lost their distributor and the record had not been released. It was shelved. I bugged the radio station; said I'd give them anything they wanted. They refused because they liked it as well. So I was fucked.
Back in England I found this dealer called John Anderson who'd moved from Scotland to Kings Lynn. I told him I wanted this Carstairs record and he'd just had a shipment in from America of 100,000 demo records from radio stations. We went through this collection, me, Andy Hanley and Bernie Golding and we found three copies of the Carstairs record. Went back to Blackpool, played the record and changed the whole scene. Blackpool Mecca suddenly became the home of this new northern soul sound. I would've heard this record in 1973, when it was supposedly released, but not obtained it until 1974. After the Carstairs came this record by Marvin Holmes called "You Better Keep Her," Boby Franklin "The Ladies Choice," Don Thomas "Come On Train," Jay Armstead "I've Got the Vibes." This new wave of shuffly, hypnotic rhythms, as opposed to the stompiness of the '60s stuff. It was wonderful for a while.
Wigan hated it and carried on playing the '60s stompers. But when things like the Carstairs got played, the floor was much busier than when some of the stompers were played. What had happened was the bootleggers had killed it off for us, because every record that we found – Eddie Foster "I Never Knew," the Glories "I Worship You Baby," the Sweet Things "I'm In a World of Trouble" – every time, four or five weeks after they'd started to break, they were bootlegging. Simon Soussan, who had been an entrepreneur discovering soul records, went to Los Angeles. He would bootleg the record, counterfeit the label – I think he bought some pressing plant to do it in – press 2 or 3,000 records, send it over to Selectadisc and sell it.
Our rule at Blackpool was, as soon as a record was bootlegged, we dropped it like a hot potato. If three or four bootlegs were coming in every week, which they were at that time, three or four records got dropped from the playlist and three or four had to be found to replace them. The quality of the sounds started to deteriorate. What was happening in '75 was the floor was packing to the more modern stuff and the crowd were dictating which way it went. Wigan was the complete opposite. They were looking for anything they could find with a beat, so all they could find at that time were pop records, like Gary Lewis & the Playboys' "My Heart's Symphony."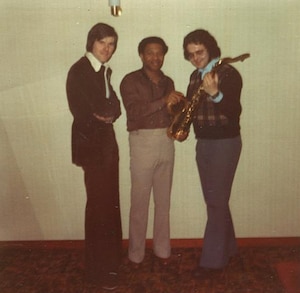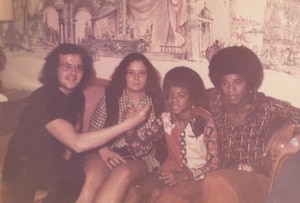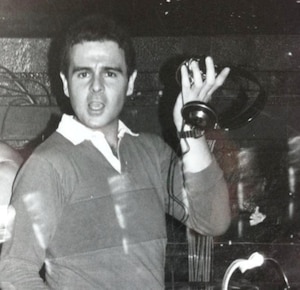 They were playing some good soul records, but a lot of white pop was getting played. Muriel Day "Nine Times Out of Ten," Lorraine Silver "Lost Summer Love," Brian Hyland "The Joker Went Wild." Then it got worse. It got to "Hawaii 5-0" by the Ventures and even to "Joe 90." The soul fans started to desert Wigan. At the same time, Dave McAleer was releasing these records on Disco Demand, by Wigan's Chosen Few. They had these horrible pop novelty hits that were masquerading as northern soul. So whereas the diehards hated it and quit Wigan, thousands of new people would see these dancers on Top of the Pops with their badges and singlets and think, "Oh, this is the new thing, let's get into this."
A new crowd descended on Wigan, who stayed for a while, but were really like sightseers and tourists who'd got into northern soul through the TV exposure it got. Blackpool Mecca was much more for purists. There was a huge war between Russ Winstanley and myself at that time. There were two feuds going on that split the scene. The one between Blackpool and Wigan, or between me and Russ. Funnily enough I get on great with him now, and respect him.
Immediately, we became the hated enemy.
The most bitter feud of all was between Dave Godin, who had championed northern soul in Blues & Soul for a long time and Tony Cummings at Black Music. In 1971, northern soul was Godin's baby. He'd been to the Wheel in 1970, and written this article called the "Land of 1,000 Dances," then he came to Blackpool Mecca and I was pictured with him on the steps of the Mecca in 1971.
Tony Cummings had been a very respected soul journalist, and ran a company called Black Wax, which sold imports, and opened up Black Music. In 1971, Cummings decided to come up with a load of London soul fans and see what northern soul was about. Dave Godin found out about this and phoned up the manager of the Mecca, Bill Pye, and had them barred from coming in. They'd come all that way and weren't allowed into the building.
When Tony Cummings became editor of Black Music magazine he became very interested in northern soul. He wrote probably the best article ever written about northern soul, which was about ten pages long. There was a record being played in 1973 by Eddie Foster called "I Never Knew." He picked up on this record as a fictional example. It was magical! It was fantastic and everyone was raving about this article. Dave Godin was seething because someone had out-Godined Godin. He couldn't stand it.
Immediately, we became the hated enemy. So he found this club in Cleethorpes that Mary Chapman was running. Suddenly in Blues & Soul it was saying Blackpool Mecca's finished, Cleethorpes is the place to be, all this stuff. The scene got ripped apart by it and in the end a load of it was very libellous.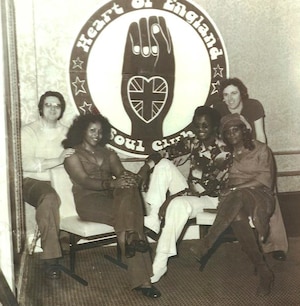 It all crystallised at the Ritz. Neil Rushton was running these all-dayers there. Everybody came. It was a huge success. 1,500-2,000 every Sunday. All the Blackpool crowd came because me and Colin played and all the Wigan crowd came because Richard Searling DJed. At that time we were playing all this modern disco stuff that we were playing at the Mecca: Doctor Buzzard's Original Savannah Band, Tavares, "Car Wash," "Jaws" by Lalo Schifrin. And they were playing anything with a stomping beat. It was like two football crowds: Manchester City and Manchester United. It didn't work. All of these Wiganites with their singlets and baggy pants were shouting, "Fuck off! Get off! Play some stompers!"
They went for me and one of the Blackpool guys, Steve Naylor, stepped in defence of their DJ – me – and got his glasses smashed. They started wearing these "Levine Must Go" badges and one Saturday night Pete King from Wolverhampton and Shelvo from Leicester had got an 11 foot banner that said "Levine Must Go" and walked through the Highland Room with it.
I'll go on record here and say: We went too far.
It was all getting quite nasty because they hated the change in the music from the stompers to the modern stuff. I'll go on record here and say: We went too far. The northern soul scene was very special. I've never been one to be told what to do. I was a soul rebel at 14. The concept of northern soul was that people could travel 200 miles on a Saturday night to hear records they couldn't hear anywhere else.
And what we started with the Carstairs and Marvin Holmes, they were equally rare but more modern. Then we're playing the Tavares, Crown Heights Affair and Kool & the Gang, even. And suddenly, you weren't hearing anything that you couldn't hear anywhere else. It had no uniqueness about it. We should've stopped it before it went too far. Because what we did was split that scene into two with an axe.
Wigan Casino, in retaliation to what we were doing, went so far the other way and played pathetic jokes for records like "Hawaii 5-0." And for us to be playing Sylvester "Mighty Real" or Colin Curtis got as far as playing Parliament and Funkadelic – nothing to do with northern soul. The fact of the matter is that northern soul never died, it just shrunk down. We all left it and it survived for 15 years and now suddenly blossomed out again. Belle and Sebastian are playing northern soul at their gigs.
How did you meet [Wigan Casino resident] Kev Roberts?
Through Jack Bonnington. The two of them came up from Nottingham every week, got into northern soul about '73. He was very shrewd and good, and I clicked with him. He'd come early and bring a box of records and sell them as a dealer. He'd be the first person there at 8 PM and I'd be playing the new discoveries, and he'd give his opinion. He took a real interest in it all. Kev and Richard were great, but Kev fell out with Russ very early on. But it was Kev, Russ and Richard who took Wigan to great heights. Kev went about '75. There was some major row between them.
When you were going over to Miami, did your parents have a business interest in Miami?
My parents owned a casino in Blackpool called the Lemon Tree. It was a complex: a casino, nightclub and disco. Funnily enough, while the Twisted Wheel was still on, Gary Wilde had a lodger called Bob Stephens. Bob Stephens came from Northampton. He was the first big northern soul record collector. Every record that got discovered on an English label – the Sapphires "Got to Have Your Love," Rufus Lumley "I'm Standing" – he would walk to his shelves and pull this pristine copy of the record from its sleeve. He had them all.
Tell me about the guy from the Catacombs.
Yeah. Carl Dene. Farmer Carl, they called him. He was the one that discovered the records that were taken up to the Wheel. He was the one they all thought of as a God. The Catacombs was a tiny little club in Wolverhampton, on Temple Street, upstairs rather than downstairs like the Wheel. Long and narrow.
The Wheel's policy of playing rare records was influenced by the Catacombs, who went out of their way to play rare records. They found this record by Richard Temple called "That Beatin' Rhythm" on Mirwood Records. Nobody even believed it existed. You had to go to the Catacombs to hear it. That's how come that guy from Gloucester got the copy of "Baby Reconsider" and took it to the Wheel. The Catacombs could find them, but weren't in a position to break them wide open. The Wheel, because of its prominence and crowd, was. So they were both equally influential.
Were there any crossover records during the Wheel's period? I thought Guy Darrell was an early one?
Wasn't a hit, was it?
Yeah.
"I've Been Hurt" was by Bill Deal and the Rondells. Guy Darrell covered it. Jerry Ross production. It was a very early Blackpool.
What about Cleethorpes, then? I thought it was quite good. They played a lot of new records there, too, like Silvetti, Rodger Collins.
They did. I was about to come to that. They played Black Nasty "Cut Your Motor Off," "Summer in the Parks." That grew out of Dave Godin's attention to them. It was better music than Wigan.
I see it as mixture between Mecca and Casino...
Yeah, that's what they've all said on the interviews I've done for this documentary. Got nothing against it in retrospect, but I was annoyed at the time because it was just Dave Godin using it to sink his teeth into something and be ornery. Where were we before we were talking about Cleethorpes?
First crossover records?
The first acclaimed northern soul record was "Hey Girl Don't Bother Me" by the Tams, which was played at the Wheel. But it was certainly the wrong sort of sound. It was not the northern soul sound. It was the earthy sound of the Wheel.
The first record to break out of Blackpool Mecca was Archie Bell & The Drells' "Here I Go Again.""Here I Go Again" was so big at the Mecca that Atlantic reissued it due to the demand and I went top five or something. But that had been a recent release, so I suppose it could have been a hit anyway.
But the super definitive northern soul record, that was only released because of its demand from Blackpool Mecca, was Robert Knight "Love on a Mountain Top." It caused a furore. There was no other excuse because it was at least five years old. Massive radio record. Everyone started getting interested in northern soul records then. Motown issued "There's a Ghost in My House."
Who played it originally?
Yours truly, I'm afraid. I got it out of my Motown collection. There were a couple of rare Motown records we played: the Dalton Boys "I've Been Cheated," R. Dean Taylor. We hadn't discovered the Frank Wilson record at that stage – I knew it existed but no one could get hold of it – and the Isley Brothers' "Tell Me It's Just a Rumour." In the Tony Jebb early period of the Highland Rooms, they had all been northern soul records. R. Dean Taylor, really, is a nasty white pop record on Motown, I suppose I should be ashamed of it.
Not really, it's a great record.
But it doesn't sound black.
So what?
For all my sins, I broke the R. Dean Taylor. It had been on a Motown Memories compilation in the '60s. But it had been on the VIP label. It had been available in some form. There weren't many Motown records played, really.
But wasn't that simply because so many crossed over in the first place?
Yeah, they were considered too commercial.
How do you regard Motown now, looking back, because Keb Darge slated it in an interview, saying it was pop rubbish.
Motown was my be-all and end-all. It drove my whole life. I was obsessed with Motown to the extent that I ploughed all the money I'd made from "So Many Men, So Little Time" into my Motown reunion and lost it. My love of northern soul grew out of my love of Motown. For me, they had to be good enough to play, they had to have that wonderful slickness of the Motown sound.
Look at the classics of northern soul at that time: Sandy Sheldon's "You're Gonna Make Me Love You," Jackie Lee "Do the Temptation Walk," Bobby Hebb "Love Love Love" and "You Want to Change Me," The Glories "I'll Worship You Baby," Bob Relf "Blow My Mind to Pieces." There are so many great records, and they still make the hair on the back of your neck stand on end. They're every bit as good as the classic Motown productions.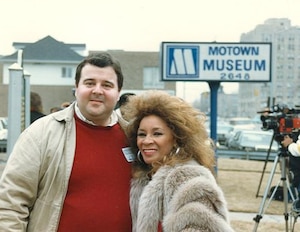 Some of the Brunswick records: Marvin Smith "Have More Time," the Artistics "Help Me How," Leroy Taylor "Oh Linda," Jackie Ross "Keep Your Chin Up." Northern soul was a slightly blacker, slighter rarer version of the Motown sound on obscure labels, but it all comes back to Motown. The thing that's keeping the scene alive now is this vault of undiscovered Motown songs that Chris King and Pete Lowry have found, like Patrice Holloway "It Keeps On Rolling," Brenda Holloway "Trapped," Barbara McNeir "Baby A-Go-Go," Frank Wilson "My Sugar Baby," Jimmy Ruffin "He Who Picks the Rose." As good as anything we've ever heard and they're all unreleased Motown masters.
Tell me about Simon Soussan.
Simon Soussan had a scam. He put a record list out. Bob Relf had this huge record, "Blow My Mind to Pieces." And he put this list out: "Bob Relf 'Reaching For The Best' - even better than 'Blow My Mind To Pieces,' only one copy. £35." At the bottom of the list it said, "You must state alternatives because there are no refunds if your first choice is not available." So everybody wanted the Bob Relf record. But it didn't exist. He made the title up. It was a scam just to get people to send the money in and he'd give them any old rubbish he had. So I thought "Fuck you," and I called my first record "Reaching for the Best" by the Exciters.
He damaged the scene and people have still not forgotten him after 25 years. He's still a figure of contempt. But he did discover a lot of great records. He went on to become a successful disco producer. He re-wrote northern soul songs: "Love and Desire" by Arpeggio was "Stronger Than Her Love" by the Flirtations.
Isn't that what M People did with "One Night in Heaven" though?
Yeah, Linda Carr "Highwire." That's exactly what happened, yes. Patti Brooks "After Dark" [on the Thank God It's Friday soundtrack] is "My Dear Heart" by Shaun Robinson. Soussan is a real character.
What records did he discover?
I need to really look at my records. Colin Clark "My Sugar Baby," Louise Lewis "With You I'll Let It Be You Babe," Benny Curtis "Dirty Hearts."
So tell me the Frank Wilson story.
Tom DePierro was quite high up at Motown. He was a very nice gay guy. He had got one of the only two copies that were in existence of this single. According to Frank Wilson, they pressed up some copies and because he was producing Brenda Holloway, Berry Gordy collared him backstage somewhere and said, "Hey man, do you really wanna be an artist with all the hassles?" So Frank says, "You're right Berry, I'm not going to be an artist."
So Berry destroyed the records and, somehow, two survived. Soussan borrowed the copy off dePierro. Every month he would ask for his record back and Soussan would say [mimics Soussan's French accent] "Oh, baby, I bring it tomorrow," not knowing that he'd sold it to Les McCutcheon. Tom DePierro got AIDS and went to his deathbed without ever getting the record back off Simon. Soussan bootlegged the Frank Wilson as Eddie Foster. He sped it up slightly.
Is that why records got covered up?
Yes. The first record to get covered up was Rob Bellars at the Wheel, who covered up a British release Bobby Paterson "What a Wonderful Night for Love," which Jetstar released in the UK. It was technically a new release, so he didn't want anyone to know. Of course, it was Benny Harper "What a Wonderful Night." That was 1970.
The Saint was unique in the history of disco music. The best ever.
Let's move on to disco and The Saint…
The memories of The Saint shut everything else out to the back. There never was a club like The Saint. There never could be again. It was unique in the history of disco music. The best ever. At Heaven, all we could even vaguely hope to do was aspire to be a tenth of what The Saint achieved. It was the ultimate. Fantastic.
Who were the original DJs at the Saint?
Sharon White, Terry Sherman, Shaun Buchanan, Robbie Leslie, Michael Fierman. All my mates. Some of them are dead now.
How did Shaun Buchanan come to move to America?
Shaun Buchanan worked for David Inches – you know him? – as a waiter in a little pair of white shorts at the Embassy. He was very good looking. He moved over to New York, got into the music. Shaun was one of my best friends. I made a record for him. Shaun was so into what I was doing, he asked me to make a record for what he called the "sleaze spot" at the Saint.
Remember that I spent four weeks at a time, something like six times a year at the Saint. I kept going over to New York just for the Saint. I knew everything and every record that was played there. I studied them. That's why I made Heaven so special during that period, because the Saint was my blueprint for Heaven. Up to eight in the morning was the stomping fabulous hi-NRG beat. From eight onwards was what we'd call sleaze. It wasn't sleazy sounding, it was very pretty. The Saint was about beautiful music, like the northern soul thing before it, the swirling strings and sophistication.
The big sleaze records at the Saint were things like "Take Me Down" by Johnny Bristol, "Somebody's Eyes" by Viola Wills. It was beautiful, lilting, swirling music at around 105 BPM, as opposed to 130.
Shaun said, "you should make a wonderful record with one of these Record Shack artists." We made this song by Miquel Brown called "Close to Perfection." That was in '85. He made it into the biggest ever sleaze record at The Saint. We exported so many copies. "I Hear Talk" by Bucks Fizz was another sleaze record, "American Love" by Rose Lawrence. Anything with a feel like Johnny Bristol's "Hang On In There Baby," with that Barry White mid-tempo feel. That's what they really got off on.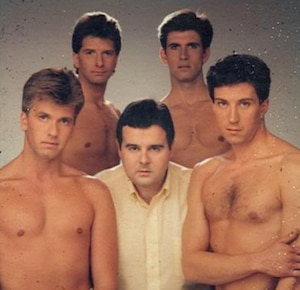 It was a very white crowd at The Saint, wasn't it?
White and gay and quite affluent. Sculptured pecs, sculptured six-pack abs. They would spend five days a week in the gym, eating healthy food, getting their bodies sculpted to perfection, then they would just get completely wasted at the weekend. Off their faces. So drugged up they didn't know what time of day it was.
Completely – much more than the northern soul thing – stuffed their faces with whatever they could get their hands on. Angel dust, all sorts of things. They would go at midnight and stay till midnight on Sunday. Then Sunday afternoon at St. Mark's Baths. You've never seen anything like it. 1,500 naked guys walking around.
And was the Saint always at Fillmore East?
Yes. Obviously when the AIDS thing started, the St. Mark's Baths were closed down. Everybody, but everybody, went there. I saw people in there that I knew from Heaven. We were back and forwards all the time.
The music at the Saint was so spot on. I can remember so many records: "Souvenirs" by Voyage, "Sentimentally It's You" by Theo Vaness. Everywhere else went for the pounding of the beat. The Saint went for the beauty in the music. Rattling their tambourines, these guys with their shirts off with these huge fans. And it was packed. There was 4,000 people in there. I never saw it, even in the summer, with less than 2,000 there.
The closing party lasted three days. I went with Ralph Tee and Stephen Wagner. It would've been '88 I reckon. Easter '88. Just as northern soul discovered the records of the '60s and played them in the '70s, so the Saint discovered the records of the '70s and played them in the '80s. They made Gods out of the cult disco records of the '70s. Cut Glass "Without Your Love." $200 a copy for the 12-inch on 20th Century. Charlie Grappone, of Vinylmania in New York, used to have them on the wall; these priceless 12-inch things. There was no bigger record in The Saint than Cut Glass. Thea Barnes – JJ Barnes' sister – was the lead singer. Mildred Scott who went on to do...
"Prisoner Of Love"?
That's right. Both sides, "Without Your Love" and "Alive With Love" have been covered. It epitomised the Saint, because it was a disco record from the end of '79, at the end of disco. It had not sold, it was very rare, yet both sides were massive at The Saint. People would come to Vinylmania on a Monday and they'd discuss and talk about, you know, "He shouldn't have played that record after that record." I saw people's letters to these DJs: they were fanatical about the music. Religion grew out of these records.
Theo Vaness "Sentimentally It's You" on Prelude, There was a T Connection remix that was nothing like the album track on TK. It was worth a fortune: "Let Yourself Go." They played "At Midnight" as well, because of all the percussion in it. There was USA's "European Connection," "Beautiful Bend." "Call Me Tonight" by Cerrone. They loved records with slow beginnings; they would like to stop it and they'd all be there like this [motions with hands waving in the air] before the beat pounded in.
Patrice Rushen "Haven't You Heard." "Souvenirs" by Voyage; not a rare record, but it was an anthem. Jimmy Ruffin "Hold On To My Love" on a Disconet 12-inch which was very rare and hard to get hold of. Linda Clifford "Don't Come Crying to Me," Phyllis Nelson "Don't Stop The Train." Marlena Shaw "Touch Me in the Morning," Thelma Houston "Saturday Night Sunday Morning," Sam Harris "Hearts of Fire" on Motown. Technique "Can We Try Again."
What did it look like?
A complete opaque dome, with a hologram inside and the stars moved and twinkled; they had planets with Saturn rings. It was very cleverly done. And the sound system was fantastic. The best I've ever heard in my life.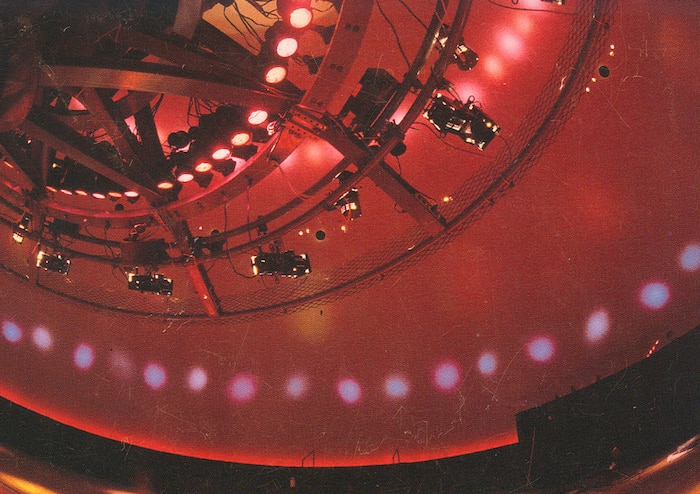 You mentioned the DJs earlier on. Who were the ones that stood out?
Terry Sherman, of anyone else. You have to find out whether he is still alive. I'm scared to find out because he had AIDS as early as 1986. Shaun Buchanan, if you want me to pick two. I liked Robbie Leslie very much, but I never heard anything very innovative in him. Sharon White, the only black girl on the white gay male scene. Again, very pedestrian. Michael Fierman because he played a lot of indie stuff, instead of soul records.
Me and Terry Sherman would be in stitches. It was a standing joke, he would play industrial music, or A-Ha. Shaun and Terry played absolutely beautiful disco music. There was another DJ: Malcolm Gluck. He'd DJed at the Monster down in the Village. Do you remember the Monster? In that little square.
Sheridan Square?
Yeah, that's right.
What about Roy Thode?
The first superstar Saint DJ. 1982, he was dead by 1984, I think. Very early on. When they closed, they kept hiring Terry to do the reunion parties. I suppose that would make him the number one DJ.
What's your greatest memory?
My highlight at the Saint was Easter of '83. We'd just finished "So Many Men." It was made to be an underground disco record. We'd finished it on the Monday and we had to get the factory to make white labels so we could be in New York on the Thursday with it. Robbie Leslie was DJing. Three in the morning, at the peak of the night. He stopped the last record dead, plunged the room into blackness, and then there was boo-boo-boo-boo-boo-boom. And by the Monday it was the talk of New York. It got to number one on the Billboard dance chart.
As I said, the closing party was something. Three days long and some of those queens stayed there the whole time! We went back to the hotel and slept, came back and it was Monday morning when it closed. Started Friday night, all through Friday, all day Saturday, all through Sunday and close on the Monday morning.
Why did it close?
They were pulling it down. People were fighting over getting pieces of the dome when it closed. Huge silver steel doors: two of them at the entrance. You would go in, there would be this huge downstairs area, and there were these banquettes where everybody would be off their face.
Then you'd go to the end, and you'd go up this spiral staircase to the next flight which was the outside of the dome, and there'd be four entrances to the dome and you walked around and you'd go in one of these entrances. There'd be these curved banquettes all the way around that you could sit on and there'd be just the whole dancefloor.
The DJ box was in the middle between two... If you walked out the back area, right, there'd be two more spiral staircases. It would never end. You'd go right up to the top, massively high and you'd be looking down on the dome. And when you came out of there, there was a cinema with tiers of seats all the way down where everybody was getting off. It was pitch, pitch black. Black spiral staircases. If you looked through the dome, because it was opaque, you could see the lights and then the opaque bodies of people dancing.

This interview was conducted in March 1999 in London. © DJ History

For the sounds of Blackpool Mecca, check out the playlist below, exclusively compiled by Pete Haigh for DJ History.