The Ennio Morricone of Soviet Russia
Mikael Tariverdiev's incredibly diverse soundtrack work in the USSR made him a national celebrity. Twenty years after his death, he's finally beginning to gain recognition in the West for his work
On New Year's Day 1976, composer Mikael Tariverdiev stepped out of his Moscow apartment and was greeted by an adoring crowd. The Irony of Fate had premiered on Soviet television the night before and was seen by seemingly everyone in the country.
Besides providing the score, Tariverdiev wrote the songs in this musical comedy still watched by Russians each New Year's Eve. (It is now considered a classic on par with It's a Wonderful Life.) The soundtrack sold millions of copies and propelled singer Alla Pugatcheva to stardom, a status she continues to enjoy today. And while Tariverdiev himself was already well-known, having scored more than 100 films in his career, The Irony of Fate was perhaps his greatest career highlight, catapulting him to the ranks of Ennio Morricone, Nino Rota, Michel Legrand and John Barry.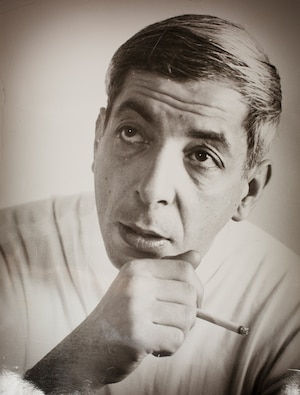 In Russia, at least. The Western world, for the most part, hasn't heard much of Tariverdiev's work. He's a great example of how the Iron Curtain worked both ways. We in the West believe the Soviet people didn't have access to our culture, but just the same, if it didn't come via the lens of dissidents such as Solzhenitsyn and Pasternak – or through quickly dismissed propaganda – we know little about theirs. But there were artists who were neither complicit nor rebellious.
London composer and The Real Tuesday Weld frontman Stephen Coates heard Tariverdiev quite by chance in a Moscow café in 2011 and has since been spreading the word about the man's wonderful music. "It feels like opening a treasure chest. There's this thrill of discovery. But also the possibility of more to come. From him, and other artists of his kind."
For now, Coates' Antique Beat label has teamed up with Earth Records to release a deluxe three CD/vinyl set, Film Music, complete with extensive liner notes and beautiful photo book. Coates: "His oeuvre was absolutely massive. What we've put out isn't even the highlights, just a selection of highlights from his film music."
The collection kicks off with "Boys and the Sea," the very song Coates first got lost in half a decade ago. And it's easy to see why. There's something mesmerizing about this piano piece, a perfect balance between dreamy lightness of touch and Slavic melancholy. The second half of the tune picks up in a lazy breeze, coasting wheels of a late afternoon train spinning one into reverie, as a male voice half-sings half-hums its own enchanting counterpoint.
"Boys And The Sea" is taken from the 1964 film, Goodbye, Boys!, by director Mikhail Kalik. Coates explains that Kalik believed that "what set Tariverdiev apart from other composers was how his music was very intimate and personal. At the time, Soviet film soundtracks were these huge stirring things, with orchestras and big themes, very black and white dynamics. Tariverdiev's music was nothing like that, it was a sort of steeling in, much more subtle and capable of infiltrating you.
He was quite influential in changing the way soundtracks were written in the '60s.
"In that way, he was quite influential in changing the way soundtracks were written in the '60s. A personal touch was completely atypical at the time. It may not seem so to us now but when Goodbye, Boys! was released, it was regarded as a radical film. Kalik had to sneak it past the censors. Filmmakers were there to produce films with big societal themes aiming towards the Communist future, you weren't supposed to make films about the inner life. And Goodbye, Boys! is very much about friendship, memory and nostalgia. It's very gentle, introspective stuff and the music is very introspective.
"Although he was a gentleman, Tariverdiev could be a taskmaster in terms of getting the performance he wanted from his musicians," Coates continues, "Those amazing songs from The Irony of Fate are beautifully performed, but that's not the natural way Alla Pugatcheva sang. Tariverdiev had strong ideas about how the songs should be – even down to how the words were to be pronounced – and he was quite exacting in producing them that way."
Tariverdiev was especially interested in the setting of poetry to music, something he called "the Third Trend." Film Music features such examples as "I Love," "You Have Such Eyes" and "I Am A Tree." Tariverdiev himself sings the verse translated from Shakespeare on "I Love," with his soft piano following ever so slightly (and beautifully) behind. Soon angelic, ethereal strings enter the fold to make this one of the gems of the collection.
Tariverdiev's widow, Vera, expounds on the relationship between these vocal cycles and her late husband's soundtrack work. "Experiments in cinematographic life roused him to make his art more accessible for the general cinema-going public. Mikael understood and felt that the aesthetics of his vocal cycles were not compatible with the cinema industry, but also that cinema was the only stimulus for him to facilitate his creations. Remember his great hopes for understanding, the chance of beginning the dialogue with the spectators, evoking their response. That passionate willing of being understood, expressing the inner emotions."
When asked "Who is Mikael Tariverdiev?," Mikael replied, and later sang, "I am a tree." Coates believes the composer meant he was the same at the beginning as he was at the end. "You can hear the same themes in Goodbye, Boys! as you can in some of the final films." He was a self constantly striving to express, coming back again and again to his roots but always continuing to grow. And hopefully – with the release of Film Music and the possibility of more to come – so will our appreciation of the man.