The Second Listen: UB40 and Aswad
Long dismissed for their lightweight tunes, Tony F Wilson takes a new listen to the early work of UB40 and Aswad, finding that the material is as heavy as anyone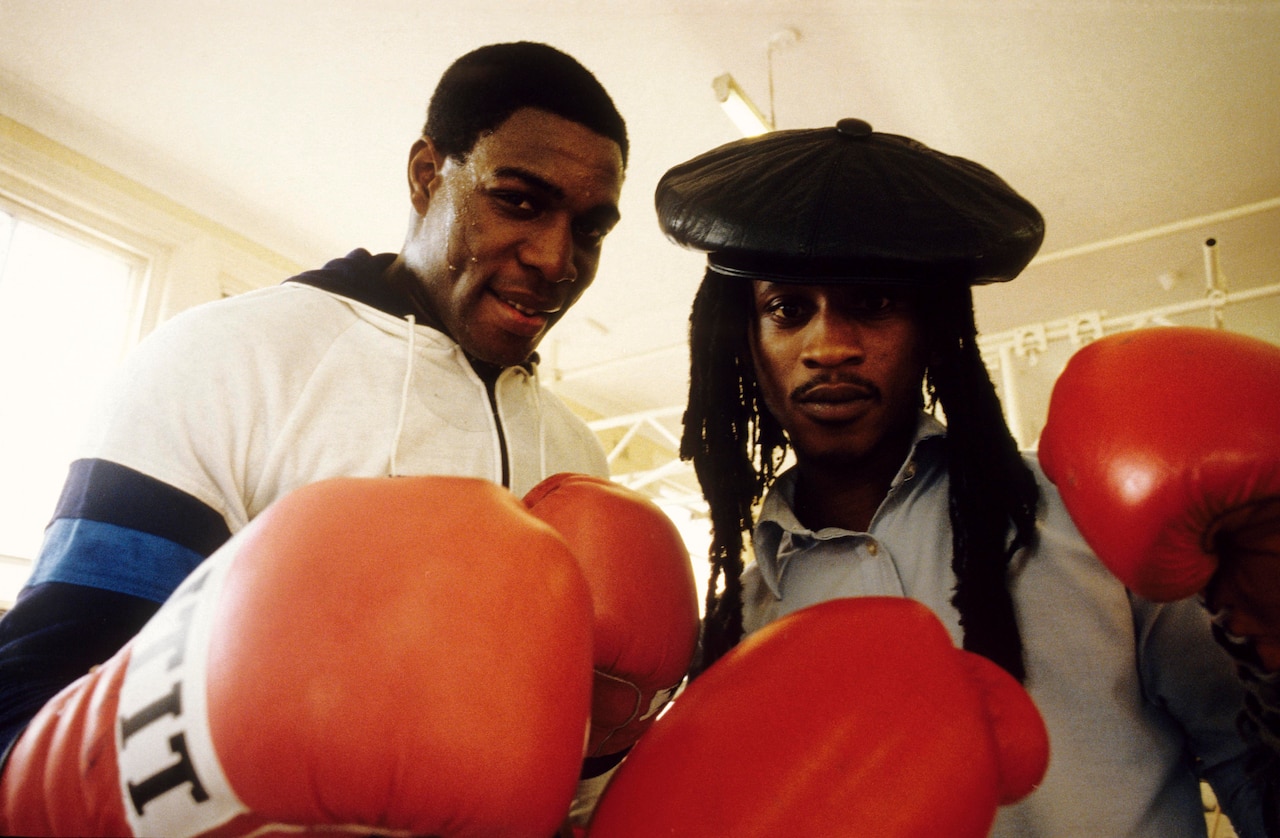 It is unlikely that you'll ever hear the bands UB40 or Aswad mentioned favourably in an episode of This Is England or bigged-up by a trendsetter in a style magazine. Nevertheless, for a brief time in the early '80s, UB40 and Aswad were as influential as the 2Tone record label, Saxon Studio or the Wild Bunch sound-systems in laying the foundation for a new British music steeped in the bass culture of Jamaica.
Indeed UB40's "Red Red Wine" (and parent album Labour of Love) achieved what few of their peers on the 2Tone label could ever claim – a place in the record collections of the Jamaicans that inspired them. I had Jamaican parents and grew up in south London in the '80s, and I certainly never heard a Specials or Selector record at a Jamaican relative's party or elders blues dance (at my then tender age, admittedly this would usually be following a dominoes match that my mum had taken me along to). For a good while "Red Red Wine" was a much coveted "rub-up tune" (slow dance song of choice) of many a reggae dance.
It might seem foolish to compare the 30-minute Labour of Love promo film to Franco Rosso's 1981 film Babylon or the works of the Black Audio Film Audio Collective, but bear with me here. Babylon featured the then-Aswad frontman Brinsley Forde in its central role. Rosso succeeded in creating a black British equivalent to Scorsese's Mean Streets, based loosely on the experiences of British reggae producer Dennis Bovell (who also contributed to the soundtrack). Yet despite Bovell's large involvement, it's Aswad's towering "Warrior Charge," which best defines Babylon.
The arrival of Channel 4 in 1982 increased Babylon's audience exponentially, as it featured the film regularly. (Until Babylon, film portrayals of Jamaicans were limited mostly to The Harder They Come (1972), Rockers (1978) and the deservedly much lesser known Countryman (1982).) To second-generation West-Indians born in Britain, whom had never visited Jamaica, Babylon felt as though it was entirely our own film. It was filmed on streets we recognized, with a multi-racial cast, speaking in a mixture of London and Jamaican patois, as we did.
It left such an indelible mark on black British culture that the film's dialogue is sampled on plenty of latter-day bass-music anthems like Horsepower Productions' "When You Hold Me," Kode 9, Benny Ill and The Culprit's "Fat Larry's Skank" and Gorgon Sound's "Find Jah Way" (the same sample and "Warrior Charge" also form the basis of Dizzee Rascal's "Can't Tek No More").
The Aswad albums that frame the release of Babylon, 1981's Showcase (featuring "Warrior Charge") and New Chapter cemented Aswad as a credible musical voice for young Black Britain. But it's 1983's collaboration with Jamaican legend Dennis Brown, "Promised Land," that stands with "Warrior Charge" amongst Brit-reggae's finest achievements. It was even sampled by Nas and Damien Marley on 2010's "Land of Promise." Perhaps tellingly, it was only once Brinsley Forde stepped away from vocals (allowing Drummie Zeb to take his place) that the band went on to the achieve huge success with the reggae-lite songs they are now globally synonymous with.
Getting back to Labour of Love, it's not a great film by any measure. It's essentially a collection of the band's music videos linked by a spurious love story largely acted out by members of the band. Nevertheless, it was a rare visual document of the relationship between white working-class youth, Jamaican sound system culture and British police racism, taking place on the very same streets depicted on the Black Audio Film Collective's Handsworth Songs, which would come three years later.
2Tone's upbeat vision of a multiracial British reggae seemed somehow too optimistic following the 1981 riots in Brixton, Handsworth and Toxteth. Indeed, UB40 with their unemployment form referencing moniker and tough political songs like "One in Ten" (their first UK hit) came on like a Midlands equivalent to the arrival of socio-political roots reggae in Kingston as opposed to 2Tone's revision of the much more playful ska era. The full 12-inch version of their second single, "The Earth Dies Screaming" is like The Specials' eternal "Ghost Town" dubbed out and slowed down by King Tubby or if reggae's dark prince Keith Hudson had covered early New Order (instead of the other way around).
Sadly, the massive success of "Red Red Wine" and the realization that UB40 could now make a career out of doing poppy reggae covers, cut short the band's period of dub realism (although 1985's Baggariddim does feature some great deejay collaborations and the sublime "Don't Break My Heart"). In many ways the grittier scenes from the Labour of Love short film are much better suited to their earlier albums than the album which shares its name. Like Aswad's New Chapter/Next Chapter, UB40 presented Present Arms in an alternative dub version. Present Arms in Dub though, shares much more in common with the sounds being issued the same year by the On-U Sound label than it does with Aswad. "Smoke It," "Return of Dr X" and "Walk Out" in particular sound uncannily similar to early African Head Charge or Dub Syndicate. It's a killer album.
Because of UB40 and Aswad's subsequent success with much less potent material, it's doubtful that you'll see either name-dropped as an influence by young artists looking to impress with their dubwise knowledge. Nor is it likely that they'll picked by more established credible acts to perform at an ATP or Meltdown festival. Yet in some small sense, every one from King Midas Sound and Mala to Ashley Waters and John Boyega owes something to the innovations both bands made in the studio and on screen between the years 1981 and 1983, whether they realise it or not.