Key Tracks: Bob Marley's Uprising
Guitarist Junior Marvin speaks about his role in the classic reggae album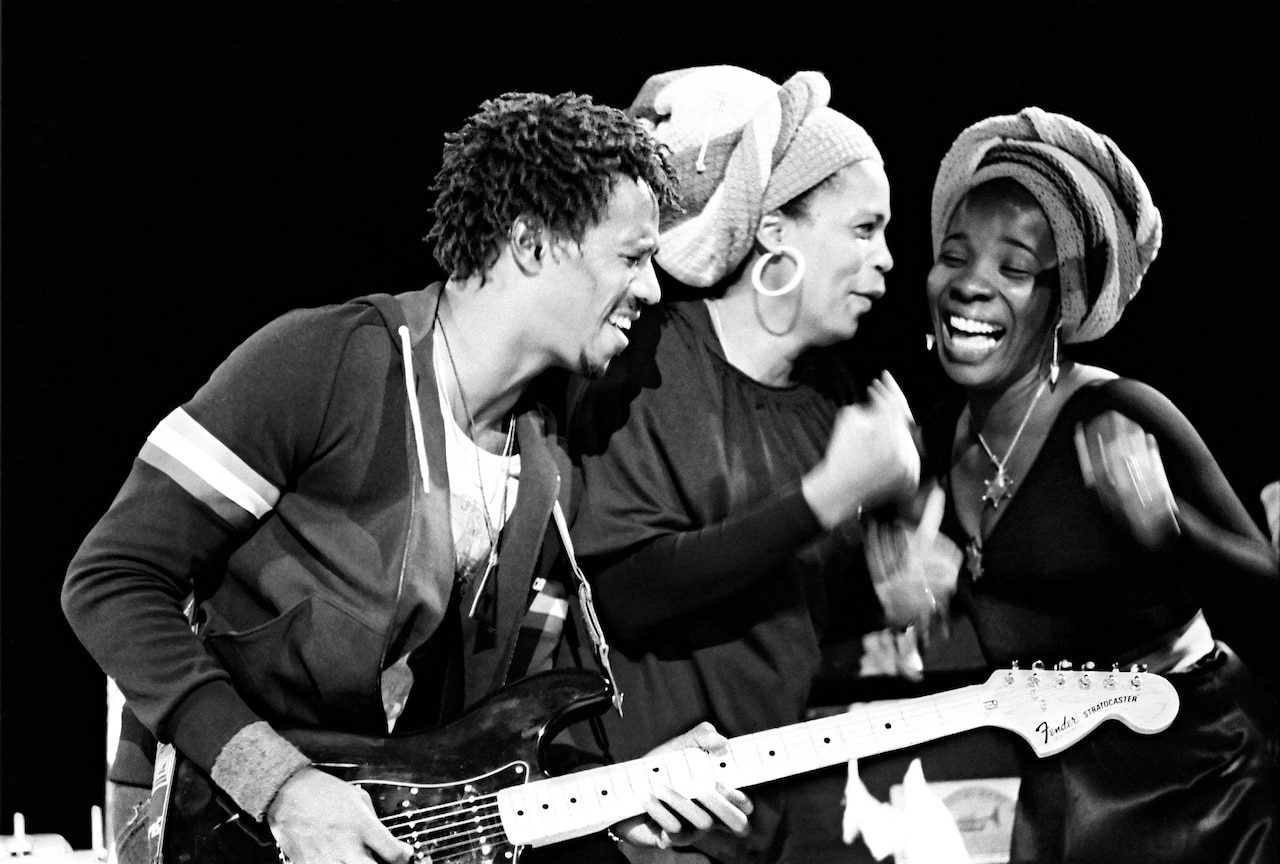 At the beginning of the 1980s, Bob Marley, Junior Marvin, Carlton "Carly" Barrett, Aston "Family Man" Barrett, Earl "Wire" Lindo, Alvin "Secco" Patterson, Al Anderson, Tyrone Downie and Carlton "Santa" Davis – collectively known as Bob Marley and The Wailers – were on the cusp of capturing the adoration of a musical audience they longed to reach during the height of their international success.
Following a string of successful recordings including Catch a Fire and Burnin', Natty Dread, Rastaman Vibration, Exodus, Kaya and Survival, Bob Marley had become the first Third World superstar due to his prophetic, revolutionary lyricism, charitable acts and incomparable musicianship. As the group was planning their next strategic move, Marley sought advice from a famous voice on New York urban radio, Frankie Crocker, on how to secure interest from black American listeners.
With Crocker's suggestions in mind, the collective went into the studio and achieved their goal by producing "Could You Be Loved," which became a smash in the United States and England. Unfortunately, during this juncture Marley would be stricken with cancer and given only a few weeks to live. As a result, Uprising, the LP on which "Could You Be Loved" appeared, was the Wailers' last studio album. For the album's 35th anniversary, Chris Williams spoke with legendary guitarist Junior Marvin about his role in constructing this timeless album.
How were you chosen to become a member of The Wailers?
Well, I was born in Jamaica, but I was raised in England. I went to school in England because my parents thought I could get a better education there. There was also more work for them in England. With Jamaica being a British colony, you didn't need a visa back then. You could go to any British Commonwealth country without any form of documentation other than your basic passport or driver's license. So, many Jamaicans migrated to England for better lives for themselves and their kids and for a chance of getting a better education. This was during my parents' generation, after World War II.
One day, I saw Jimi Hendrix perform in London when he first came there. Immediately I switched from playing keyboards to guitar.
My father's side of the family were Garveyites; they were followers of Marcus Garvey. Music was always in our family. My father's aunt was a professor of music and a piano teacher, so all of the kids in the family, before we could learn how to walk or talk, we had to learn how to play the piano. At the time, we didn't like it, but it turned out to be advantageous for us later on. It was a blessing in disguise. When I moved to England, my father started playing jazz piano, even though he studied classical and gospel piano. He ventured into jazz music like Ramsey Lewis and Oscar Peterson. He tried to teach me, but I was more interested in playing soccer and looking at girls. He would be frustrated with me because I wouldn't pay attention. [laughs] He gave up on me, but I started playing keyboard and organ for a while because I heard Jimmy Smith, a great organ player for Booker T. & the M.G.'s, Otis Redding, other Stax artists and James Brown.
My first professional instrument was the organ, and I played with quite a few bands while I was still in high school. I would take off on the weekends and go on the road with them to northern England in Birmingham, Manchester and Liverpool. It was fun playing with professional musicians that were much older than me. Because I started so young, I could keep up with them. One day, I saw Jimi Hendrix perform in London when he first came there. He was a very shy person but very warm. I just fell in love with the way he played guitar. Immediately I switched from playing keyboards to guitar because I wanted to be like Jimi Hendrix. [laughs] I had my own band called Hanson, which came from Junior Hanson. Hanson is one of my middle names given to me by my great aunt, the music professor.
My favorite guitar players were Jimi Hendrix, Albert King, B.B. King, Buddy Guy, George Benson, mostly the American guitar players. I was really into blues and jazz and a little bit of rock like Chuck Berry. Hanson were playing music akin to Jimi Hendrix's Band of Gypsys – I was inspired by more of the funk/rock sound. Although I listened to British rock bands such as Cream and Led Zeppelin, Jimi Hendrix was my guy. I recorded two albums for Atlantic Records courtesy of Emerson, Lake, and Palmer's label Manticore. I went to America with some of my songs, and I met a man named Mario Medius, who was the manager of Manticore Records, which was a subsidiary of Atlantic. He gave me a record deal for two albums. I recorded my first album and people started calling me "the young Jimi Hendrix." After I recorded those two albums, I went back to London because I realized that Emerson, Lake, and Palmer were using the label as a tax write-off. They weren't really promoting the acts they were signing. I was able to get out of that contract and I started working with a group called Traffic with Steve Winwood.
My best friend in the band was the saxophone/flute player named Chris Wood. He introduced me to Steve Winwood. I became very good friends with him, the drummer Jim Capaldi, and Dave [Mason], the bass player. They really took me under their wing, and they introduced me to Eric Clapton, the Beatles and all of the funk musicians. Then I started doing a lot of session work and I met Chris Blackwell, the CEO of Island Records. I recorded some tracks for him, then he sent me on a tour with a Jamaican reggae band called The Headtones. Then, I was invited by Steve Winwood to work on his solo album and Chris Blackwell heard the album because it was released by Island Records. He thought the guitar player on the album was Steve Winwood because he is a really good guitarist. Steve told him, "No. It's this British Jamaican guy that lives around the corner from the studio in Laburnum Grove."
Blackwell sought me out and he said, "Look. I have a job for you. Can I come and pick you up?" I wasn't too keen on the idea because it was Valentine's Day, and I promised to meet my girlfriend somewhere. You can't stand up your girlfriend on Valentine's Day. [laughs] I replied to him, "OK, Chris. I'll meet my girlfriend later on, but come and get me now, so I can meet with my lady later." Then I get a call from the United States. A friend of mine, Marlo Henderson, who was a guitar player for Stevie Wonder and Minnie Riperton, was expecting a baby, and he couldn't go on tour with Stevie Wonder. Because he worked with me on Hanson's solo album he recommended me to Stevie Wonder.
We walked in on the ground floor and there was this big dread with his back toward me. I couldn't see his face, but he had this large aura around him.
My phone rang, I picked it up, and it was Stevie Wonder. He said, "This is Stevie Wonder. I'm calling from the United States with Black Bull Music. I want to speak to Junior Hanson. I have something that he might be interested in doing." I replied, "Who is playing games with me? Who is playing this game pretending they're Stevie Wonder." He responded, "No. No. No. Marlo gave me your number. This is quite legit." I was able to recognize his voice. He didn't have to sing. I could tell it was him. [laughs]
He said, "I have a job for you. I need you to come to the States right away. I'm going to offer you a ten year contract to join Black Bull Music." I said to myself, WHAT! Me and Stevie Wonder. I didn't even know if I could play him a song. He was one of my favorite artists. I replied, "Wow. Listen. I have a meeting with Chris Blackwell." He said, "Oh. I know Chris from Island Records." I responded, "Can you give me a couple of hours so I can go to this meeting? Give me your number. I'll call you back. I'm very honored that you invited me to come and play with you." Of course, it's Valentine's Day, and now I'm all giddy that Stevie Wonder just called me, not even realizing he offered me a job with his band.
Chris Blackwell arrived, and I get into his Rolls-Royce. I thought to myself that we were going to a top session that day. He told me, "Bring your guitar." I replied, "I always bring my guitar. I don't go anywhere without my guitar."
I jumped in his Rolls-Royce, and we go to this very fashionable area in London called Chelsea, where all of the top fashion icons hung out. We pulled up to this house and it was seven stories tall. We walked in on the ground floor and there was this big dread with his back toward me. I couldn't see his face, but he had this large aura around him. I thought it had to be Bob Marley. He turned around and it was Bob Marley.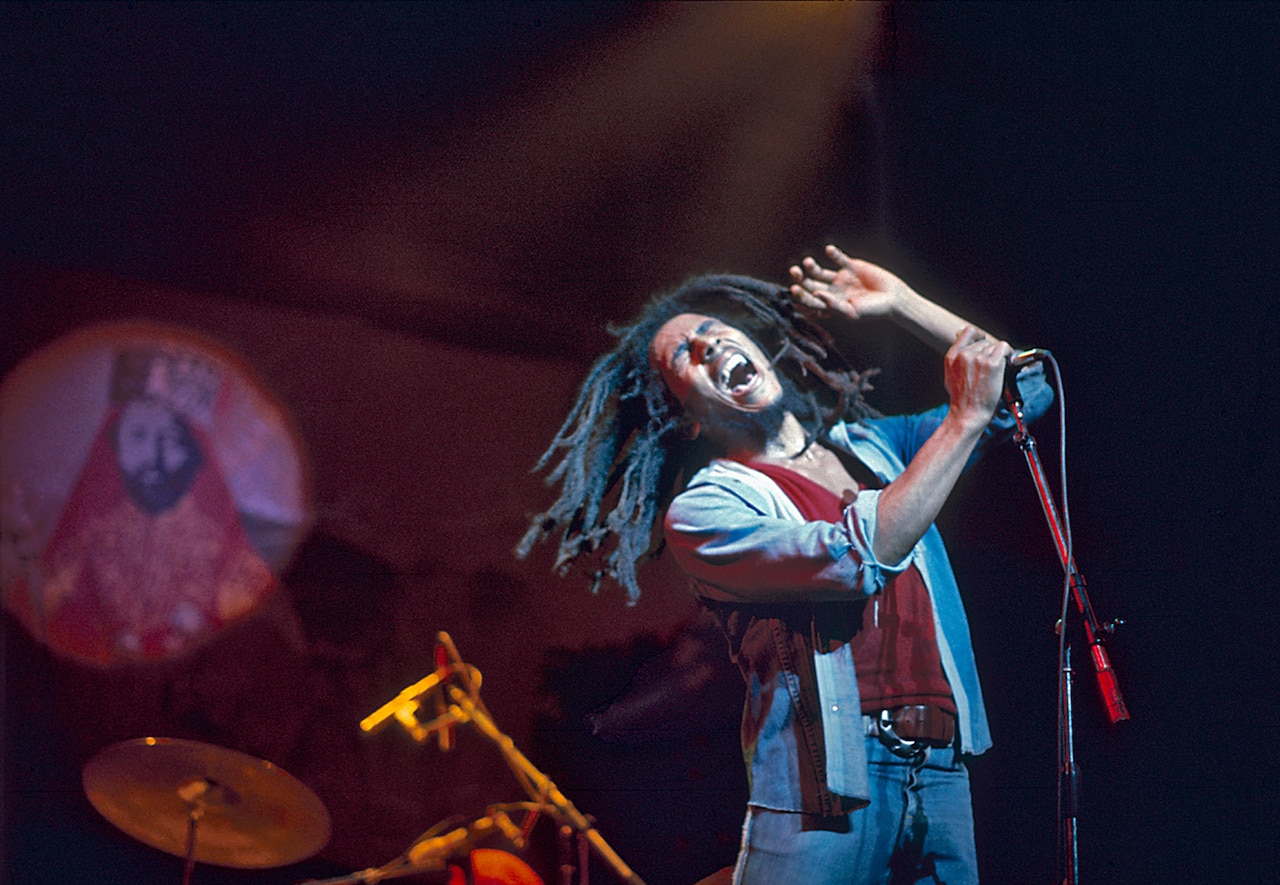 He had this big grin on his face, like a Cheshire cat. He said, "I'm Rasta. Me hear about the man, ya know. G'wan man, come play with I." [laughs] He was speaking in patois. He was saying I want you to come and play with me because I heard about you. I heard you were supposed to be the young Jimi Hendrix.
I told him, "I loved Jimi Hendrix, and I learned a lot from him, but I really don't want to be him because I can't be. I enjoyed what he did, and I'm trying to learn from him." He responded, "Well, we would love for you to work on the next album." I said, "Wait a minute. You want me to work on your next album?" He replied, "Yeah. And possibly join the band." I wanted to pinch myself because I wasn't believing this at all. And Chris Blackwell was looking at me shaking his head. He said, "Yeah. They want you to join the band." I'm thinking that Stevie Wonder just called me and Bob was looking at me waiting for an answer. I said, "You haven't heard me play." He responded, "We've heard you play and we've heard a little bit about you. We think you can fit in really well." I didn't know that Chris Blackwell and his crew had been studying me for a year.
Bob asked me, "Do you want to jam on a couple of songs?" Then a young Jamaican guy comes upstairs with a bass. I thought it was the bass player. I wasn't really familiar with any individuals in the Wailers. He started strumming away on the bass and Bob started playing his guitar and I was on lead guitar. We played, "Jammin'," "Exodus," and "Waiting in Vain." We played for about two hours. They were digging it, and I was digging it. When we finished jamming after two hours, Bob slapped five with me and said "Welcome to the Wailers." I responded, "Welcome to the WHAT!" [laughs] Blackwell was looking at me and giving me thumbs up. I was thinking to myself that I had to call Stevie Wonder back. I was on cloud nine. I told Bob that I had to go back home and think about it. Bob responded, "Think about it?" Blackwell chimed in, "Think about it?" I replied, "Well, it's kind of a surprise." They responded, "OK. We can understand that."
I went home and I called my mother and father, my friends, and every musician I knew. I told them I had two offers. One from my favorite reggae artist and one from my favorite R&B and pop artist, Bob Marley and Stevie Wonder. I asked them what they would do if they were in my position. Everyone said that Stevie Wonder was great and awesome, but Bob Marley is Jamaican and so are you. [laughs] You have to go with Bob Marley, and my parents said the same thing. They said, "Stevie Wonder can get many, many guitar players, but maybe Bob won't have that chance because of his background and history. There aren't that many great guitar players from Jamaica, who would understand and relate to his philosophy and the Jamaican way of living."
I called Stevie Wonder first. I said to him, "It's ironic that today I received an offer from Bob Marley and you. No disrespect to you, because I really love you and your music. It is a great opportunity and I can't believe you called me, but to sign with you for ten years is a long time." He replied, "If you come with me, you just can't leave. But when you do leave, you'll be a big star and everyone will know you." I responded, "Yeah. You're absolutely right. If I do a good job, it'll be very good for me. But the fact that Bob Marley is from Jamaica and I'm from Jamaica, I'd like to try to work for him. If it doesn't work out, can I call you?" [laughs] Stevie said, "Yeah. Of course. By the way, I just did a concert with Bob in Jamaica. We jammed, and we wrote a couple of songs together. In fact, I'm going to record some reggae songs in the future. I wish you well. Please keep my number. If things don't work out with Bob, please feel free to call me."
I called Bob, and I didn't tell him about Stevie Wonder. I didn't tell anyone except for my parents and friends. I said to Bob, "Thanks for the offer. I accept." He replied, "I was wondering why you took so long." [laughs] He gave me four or five albums to study. I went to Island Records, and we rehearsed for a week, every day for 24 hours, and I learned all of the new songs. We jammed and rehearsed and jammed and rehearsed, then we went to the studio for a month. We recorded Exodus and Kaya, two albums in the same session. It was great meeting the guys. They liked me a lot and I liked them. It was kind of like me getting to know Jamaica again, because I hadn't been back there since I was nine years old. The rest is history, as they say. I was with Bob from 1977 until he passed in 1981.
Going into the making of this album, what was the musical plan for it and feeling amongst Bob and the rest of the group?
Well, we reunited with Stevie Wonder and talked about doing a tour together. They planned a six-month tour with 60 shows across different parts of the world.
We met this DJ from New York and his name was Frankie Crocker. He told Bob, "You need to do a song that the black people can groove to on your next album." Bob was having a problem reaching a black audience. In America, black people had a ton of music to listen to: R&B, jazz, blues and gospel. Reggae music was kind of frowned upon. Black audiences didn't take to it like the American college white kids did.
Bob's biggest audiences were white American college kids. It was marketed to them by Chris Blackwell from a rock & roll standpoint. Before then, reggae albums weren't marketed that way. They were very low-key and didn't have great quality, production and packaging. Blackwell promoted and marketed reggae music very well. Catch a Fire and Burnin' did very well because they were marketed and promoted properly. Blackwell spent a lot of money on it, and Bob had the talent as well. Frankie Crocker said, "You need a song that has some kind of James Brown funk mixed with reggae."
I was messing around one day in London with the riff for "Could You Be Loved." Bob asked, "What is that?" I said, "I don't know. Something I'm messing with." He asked, "Can I have it?" I replied, "Yeah. Sure." The next day he comes back with "Could You Be Loved" as the chorus.
It was the beginning of the song, so we played it for Frankie Crocker, and he said, "Yeah. That's the song. That's going to get the black people." It became a top ten hit for us. This is when black people started digging Bob Marley. It worked well, and we were ready to go higher and higher. We were going to go on tour with Stevie Wonder. We did shows with The Commodores, and they were selling out all around the world.
Then, Bob hurt his toe while playing soccer in Jamaica. Bob was from the country, and in the country, you don't go to the doctor. You tend to use homeopathic medicine for everything. The thing was, he stepped on a rusty nail, which needed a tetanus shot. You'll get gangrene without a tetanus shot. He tried to use home remedies, but they didn't work. He didn't tell anyone about it. Then, he told me one day, "I need to go see a doctor because I got this injury from playing soccer. It's not healing up. It's starting to hurt and bother me now. It looks kind of funky."
So I took him to one of the top doctors in England. The doctors recommended that we cut his toe off because the blood was contaminated and poisoned, which could spread through his body if he didn't take care of it. All of the Rasta people said, "No. No. No. The Rastaman can't cut off his toe. It's some kind of conspiracy because your record deal with Island Records is almost over. Junior took you to the wrong doctor." They said a lot of crazy stuff that wasn't really true. The doctor knew exactly what was going on. He was spot on.
One of the reasons why Bob didn't want to cut his toe off is because he was a big soccer player.
Bob was a little bit confused because he was hearing so many different arguments from his manager, people he grew up with, doctors from Jamaica and other people. But none of them were accurate. So they took him to a doctor in Miami and a doctor scanned him. He told Bob, "Listen. We can take a piece of your rear end and graft the skin that is contaminated on your toe and do a graft and you'll be OK. We'll get rid of that bad flesh." But the thing was is that it was already in his bloodstream. That's why the English doctor told him to cut his toe off.
One of the reasons why Bob didn't want to cut his toe off is because he was a big soccer player, and he wouldn't have been able to play soccer anymore. It also affected your balance when you cut your big toe off. Bob loved to dance on stage, and he wouldn't have been able to dance the same way. He wanted to try the Miami doctor's suggestion, but it didn't work because it spread through his body. It became cancerous and spread to his brain.
He collapsed in New York just before we were going to go on tour with Stevie Wonder. They went to another doctor, and they discovered he had this huge cancerous tumor on his brain. They said he had about three or four weeks to live. They took him to the Sloan Kettering Cancer Research Center in Manhattan and gave him some heavy doses of chemotherapy. They tried to reduce the tumor in his brain. He was having headaches and the chemotherapy was really upsetting him. They said, "You have to come off of the road. You can't tour anymore because you only have a couple of weeks to live. If you're on the road flying a lot, the air pressure will make you weak."
Allan Cole called a band meeting and said to us, "Tonight is going to be the last show." We were all shocked.
We had a show in Pittsburgh, Pennsylvania at the Stanley Theatre. Promoters were calling him letting him know that the show was sold out. Bob decided that he was going to do the show as his last show, even though the doctors told him not to do it.
When we arrived at the Theatre, his friend, and manager Allan Cole called a band meeting and said to us, "Tonight is going to be the last show." We were all shocked. We didn't know anything at all. Bob never told us how he was feeling. He kept the information within a small circle. They gave him bad advice, and it was too late. They tried numerous things, then they took him to a doctor in Bavaria, who treated his patients with liquids from fruits and plants because the chemotherapy hit Bob so hard that his intestines were all knotted up. He couldn't digest any food. No food could pass through his system because of the chemotherapy, and his hair was falling out.
The doctor in Germany said, "I can help you, but it's going to be a slow process. I can only feed you in intervals for a while because your body's not strong enough for me to cut you and straighten out your stomach and intestines." Bob lost a lot of weight very fast doing chemotherapy. I think he dropped to 80 pounds or something. The doctor told him, "If I cut you, you're going to die because you're not strong enough, so let me build your strength up, by feeding you in intervals. We'll help you put on some weight and take you off of chemotherapy. Then, we can see what we can do."
I was sitting in my house in Jamaica thinking that everything was getting better, and then I hear on that news that Jamaican superstar Bob Marley just died in Miami.
He started to regain weight and started feeling well again. He was looking much better, even though he had a stroke while he was in New York, and he was a little bit paralyzed on his left side. He couldn't play the guitar anymore because he couldn't hold it. But he was in good spirits, and we had a birthday party for him. Most of the band members came to Germany to stay with him.
We told everyone not to give Bob anything to eat because he couldn't digest it. All of these people from Jamaica were coming in and saying, "Eat this. It's going to cure your cancer." The doctor repeated, "Don't give my patient anything to eat. He can't digest it."
One night, I left because Bob asked me to go to Jamaica to do something for him. I visited England to see my mother and then I went to Jamaica. While I was gone, somebody gave him something to eat. They gave him cassava and fish. Cassava takes about a week to digest for any normal person. Bob couldn't digest it and the toxins started to come out of his pores. The doctor came in the room and freaked out and threw everyone out of the clinic, including Bob. He said, "I can't do anything for you. I told you don't eat anything. Let me feed you. Let me bring your strength back. Let me build you up before we try to fix what's going on in your stomach." It was too late.
Bob collapsed again. The doctor told them to get out because they messed with his patient. So they went to Miami because the airlines didn't want to take Bob to Jamaica. They were afraid he was going to die on the plane, and that there would be a big lawsuit. They put him in a hospital in Miami, and he died right there.
I was sitting in my house in Jamaica thinking that everything was getting better, and then I hear on that news that Jamaican superstar, Bob Marley just died in Miami. I was like, "What? I just left him in Germany." It was true.
Tears fell from my eyes and I wrote a song entitled "Life Without You Is Not the Same." It's on one of my albums. I was crying and the song just came out of me. It took me five minutes to write it. My emotions were so strong. Bob told us to keep the band together and to keep going and try to work with each other.
It was very difficult because we never got the money we were due from the estate. Blackwell never helped us. The lawyers said, "We don't have to pay them. It means more money for us." The family decided that they would go with the lawyers' ideas. We still felt good about Bob and what we accomplished with him, but we never received the money that could've helped us educate our kids or helped our families. But I'm not bitter about it. I have no regrets. I enjoyed working with Bob. It was a beautiful experience that I'll love for as long as I live. I loved Bob, the music, and it was great to be a part of the team.
That is a really heavy story.
Well, not really. It is life. You have to take everything in stride and look at the positive side of things. Love conquers everything. Money can't buy life, even Bob said that. He had all the money in the bank, but he couldn't fix himself. So, you have to be grateful for life first, then having money is like icing on the cake.
Let's rewind a bit and revisit the making of the music for the album.
"Could You Be Loved" was started by me. It was mainly put together by Bob with my guitar ideas. Bob, Jacob Miller and I went to Brazil to promote reggae music with a company called Ariola in Rio de Janeiro. They were going to be the first Brazilian reggae company. We went down there in Chris Blackwell's private jet, which was quite exciting, and we finished "Could You Be Loved." The song was written by Bob, Jacob Miller and myself.
All of the other tracks performed well. They were all recorded in Kingston, Jamaica. None of the band members took royalties, instead we built a studio. Bob said, "I want to build a studio. Do you want to put your money in as well or do you want your money?" We responded, "No. We don't want any money. Let's build a studio."
We were very excited to record the first album in our new studio in Bob's house on 56 Hope Road in Kingston, Jamaica. It was awesome! We had state-of-the-art equipment and we had time. No one was rushing us. We didn't have to watch the clock. We had great engineers: Errol Brown, Carl Peterson and Dennis Thompson. Everything went great. The album came out really good and everybody was happy. We were ready to promote it and move on to the next one. The songs were very special.
One of the engineers made a mistake and synched all twenty-four tracks. When he pushed the record button, all of "Could You Be Loved" was gone.
So this album was the first one to be recorded at Tuff Gong Studios?
Yes. It was the first one done at 56 Hope Road in Kingston, Jamaica. It was used to help the other Jamaican artists, to record them and get the standard of their recordings much higher, because at that time studios in Jamaica didn't have the technology that you would find in the rest of the world.
We had a studio now, in Jamaica, which was just as good as any other studio anywhere in the world. We were very proud of that. Bob wanted to help many other artists. Everybody came to Bob saying, "Bob, I want to do my album next." Jimmy Cliff came by. Third World and everybody started coming by because they wanted to use Tuff Gong Studios. It was awesome. It was going to become the next Motown. The reggae Motown.
What was the group's regular studio routine during the making of this album?
We would rehearse early in the day, then Bob would play soccer when the sun went down. He would take a shower and eat something, then we would start working in the studio around seven or eight and go until five in the morning. Afterward we would get some sleep and get up. Then we would start rehearsing again, conduct some business, run on the beach, play some soccer and record. Somedays we would cut out soccer and stay in the studio for 18 hours a day because we wanted to hear our music finished. [laughs]
When the group was in the studio working on material for the album, who usually took the creative lead in coming up with riffs, melodies and lyrics?
It was really a team effort. Bob gave us ideas for songs. He had demos or he would sit down and strum the guitar. Certain people would say "Try this," or "Put the chords here." We would experiment with it and rehearse it and do a few takes. Then, we would start to get confidence about the song. Sometimes, Bob would say, "This sounds great! It didn't sound like this when I wrote it." [laughs]
By the time everyone put their different ideas on a song, it would take a different turn. It would grow in a positive way, and Bob had confidence in the people that played with him. He'd always say the songs would come out better than he imagined. He was always happily surprised when he got into it. I guess that's why he chose the people he chose to work with, you know.
We were very respectful toward each other in the studio. We were respectful of each other's talents. There were never any arguments or negative vibes. Bob would say, "Wow! You just played that. It sounds awesome!" The next person would do an overdub and we'd do the backing vocals and lay down the percussion.
Sometimes it would be four of us playing percussion. Bob was playing one thing, Aston "Family Man" Barrett was playing another thing, and I would be playing another thing along with Alvin "Secco" Patterson and Carlton "Carly" Barrett, then the song would just come alive with all these things going on.
It would be subtle, though. Nobody really overplayed or showed off. We were thinking about how we could make the song more colorful and meaningful and what words could we put in the song that would make people get the message right away. We wanted to make it simple, so they got it and wouldn't have to try too hard to figure them out. Bob would say, "Well, I want to make sure the lyrics are simple enough that a baby could understand them. If I say 'One Love,' 'Three Little Birds,' 'Waiting in Vain' or 'Could You Be Loved,' you get it. It's simple, strong, direct, and spiritual."
Do you remember the first song that the group cut for this album?
The first song was "Could You Be Loved." Bob was very excited to get that song to Frankie Crocker. Bob was a big fan of James Brown. He considered himself the James Brown of Jamaica, so he was excited that he produced something in that vein. It was danceable and it had good lyrics, a good message, and it attracted everybody.
I'll tell you a funny story. We had gone to Brazil, and when Bob, Jacob Miller and I came back we finished the song. There were four of us that went into the studio: the drummer Earl "Wire" Lindo, the clavinet/organ player, Bob and myself. We recorded another version of the song, and Jacob Miller put some drums on it and it came out very magical. Other musicians came in and strengthened certain things on the track. Then, one of the engineers was supposed to push one button to synch one track, and he made a mistake and synched all twenty-four tracks. Then, he pushed the record button. All of that music was gone. We were like, "We're not going to get that back again." Although we never got that vibe back, we still got very close to it.
The engineer wanted to bury himself in the ground. [laughs] I'm not saying any names, either. [laughs] We were recording in analog. We figured out how to make the amp not have so much of a hissing sound and to get rid of all the white noise and keep it warm. The engineers were really excellent.
Everyone in the band were engineers. Everyone loved the process of mixing. The band wanted to be involved with everything.
What was involved in eliminating the hissing sound and the white noise?
Everyone in the band were engineers. Everyone loved the process of mixing. The band wanted to be involved with everything. This is how it always was with Bob. The bass player played guitar and keyboards, the keyboard player played bass and drums. We all knew what each instrument was doing, so we could duplicate the sounds if we wanted to. Bob liked the fact that we could play each other's instruments and knew what was going on.
Sometimes the engineers didn't know how to capture the sound of the instruments, but we could tell them. We would say, "Hey. Take off the top end. Roll off the little bit of mids." They were always surprised that we knew how to do those things because most musicians in that time didn't really study how to manipulate sounds. We made it part of our job to control and understand what we could get out of our sounds, like how to make the bass sound fat, big, and not distorted and how to block it out and put it on its own channel, so it didn't get in the way of the kick drum.
We wanted to make sure you heard the kick drum and bass clearly. We didn't want them to clash. We wanted to compress it so it didn't overload. We studied all of that stuff and the engineers helped us to learn, too, because they knew a little more about frequencies. They would say, "This is 4K or 1.5." They taught us because we were interested in it, and we wanted our music to sound better. We always discussed how we could make our music better, and how we could put the words in the song that would help people think about their lives and stand up for their rights.
We weren't just trying to make great music and put it out. It was about the whole nine yards: the music, lyrical content and spiritual vibes. Our music was for everyone. It wasn't for one race, color or creed. Bob talked about Rastafari and Haile Selassie. For him, it was very real. It wasn't a joke.
Were the lyrics written in tandem with the music the group was creating?
We would rehearse one song for three or four hours, but at the end of the day, we learned so much about the intricacies of that song that it took on another shape or form. It became a part of us. We became the song. We would record all of our rehearsals, so we could go back and listen to certain parts and say, "Wow. You remember when you played that. You need to do it again. That is going to be the hook." It was good that we recorded our rehearsals because we got little gifts, which came from God, the universe, or however you perceive it. We put the ingredients in the pot and it became a beautiful thing.
What was your personal relationship like with Bob Marley?
Bob and I got along real well, both musically and personally. He liked the fact that I went to school in England and how I traveled around the world playing music with my rock band and all the other bands I worked with. I was an outspoken person and he was quiet. Sometimes he'd say, "I like what you just said." [laughs]
I grew up with my grandparents in the church, so I had a really spiritual background. Bob and I just clicked. The band thought I was from Ethiopia. Many people think I look Ethiopian, so they thought they got an Ethiopian guitarist. They were a little disappointed when they found out that I was Jamaican. [laughs] They made a big joke about it, but they were still happy with me. Bob had a big problem with people being yes men to him. If the table was brown, he'd say, "Give me the cup off of the green table." Everybody would grab the cup. He'd ask, "Why did you give me the cup? The table isn't green."
The people would imagine it was green because Bob said it was green. He'd say to me, "Junior, pass me the cup from the green table." I'd reply, "Bob, the table isn't green. You need to get your glasses or something." He'd laughed and say, "I've been looking for someone like you for a long time." I'd always tell him the truth. He wanted people to tell him the truth.
I never met another musician like him that was so musically and spiritually motivated.
Can you talk about his work ethic?
He was such a hard worker. He was a workaholic. Sometimes I wanted to go to bed and he'd say, "Just five more minutes." I'd say, "OK. Five more minutes." Five minutes would turn into two hours. I'd say, "Bob, I want to go to bed now." He'd reply, "OK. One more minute." And that would turn into 30 minutes. [laughs]
I never met anyone that worked as hard as him, except for my mother. When I met him, I called my mother and told her, "I've met someone that works harder than you." She asked, "Who?" I replied, "Bob." She cooked some food and took it to him. I remember when I first joined the band, I thought I had it. He came up to me and said, "You think you have it. You don't really have it. You need to work harder."
I was really upset because I thought I had it. I almost wanted to cry, so I called my mother. I told her, "This guy is too hard. I need to get away from him. I'm burning the candle at both ends, and he's telling me that I don't have it." [laughs] She said, "Keep yourself quiet," like a real Jamaican woman would. She told Bob, "If he doesn't listen, give him two slaps." [laughs]
She cooked for him, and he met her. He would tell me, "I'm so jealous of you because you have your mom and dad. You have your whole family. I don't even know my father. I don't see my mom that often. I grew up alone." He met my uncle when my family was there with me. He said, "You're so lucky to have your family by your side."
It made him think about how he grew up not having everyone around him. His father died when he was young. His mother was struggling. His mom used to sleep on the ground, on stone, without any blankets. They used to stay underneath people's houses just to have somewhere to sleep at night. He had it real rough. Seriously rough. Most people would've given up. I'd say 99% of people would've given up under the conditions he had to survive in. He stayed positive and wasn't bitter toward anybody. He was a real Buffalo Soldier.
This was the last studio album that Bob Marley recorded. As you look back 35 years later, how do you feel about your role in helping to create it and the lasting impact it has made worldwide?
Well, Bob wasn't ready to go. He wasn't ready to go at all. He felt like he was just getting started. We were starting to get better equipment to work with. It had always been a struggle for him to get good recording equipment in Jamaica.
This is why he recorded some songs a few times because he was never satisfied that it was what he really wanted. When we recorded "The Heathen" and "Natural Mystic" from Exodus, I thought it was the first time the song was recorded.
After the album came out, I went back and did some research. I found out they had been recorded four times before. One was recorded ten years before and the other was longer than that, but he never gave up on the songs. He stuck in there until he got what he wanted. It was good to see that he was able to get the recording and performing quality he wanted in the music, as well as the spiritual connection with Jah, Rastafari and Haile Selassie.
He wanted to get out to people that it wasn't just about dancing on stage and singing a song. There was more to life than that. He was about bringing people together, black and white. He said his mission was, "I'm an entertainer, singer, songwriter, but also I want to carry a message. My father was white and my mother was black, and I represent all people."
He had a deep, profound love for life and people, and he wanted to share it. He felt like it was his job to bring black and white people together. He really felt like it was his job and that's why he was sent here. He did it and he is still doing it. Uprising was another link in the chain. It was great to accomplish his mission and to be there doing it with him. I never met another musician like him that was so musically and spiritually motivated.