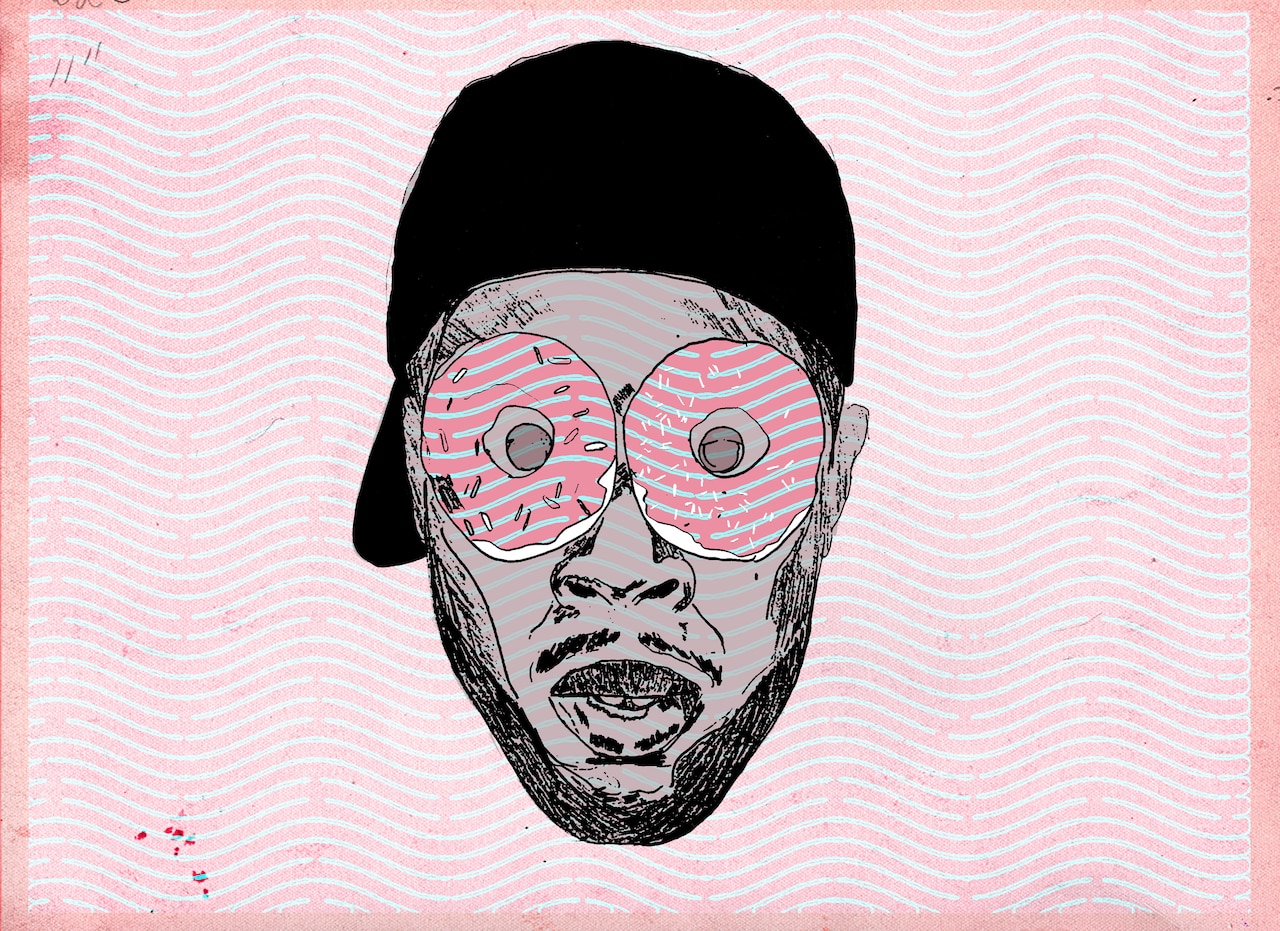 Life Is A Donut: Reassessing J Dilla's Legacy
We never hear his voice, but the first thing he does is tell us his name: J Dilla. Then come the sirens, and we're off. For 43 minutes across the 31 tracks of Donuts, released ten years ago this week, J Dilla breaks and rebuilds samples in a way that breaks and rebuilds the way you hear music. While the music is sample-based, the sources aren't so much looped as they are transformed into molecules of sound. Dilla's production turns tracks into convection currents, samples roiling in and out of the mix. And unlike any other instrumental hip hop album you've heard, you never once want, miss or even expect a single bar from an MC, let alone 16. Without question, it's the high point of instrumental hip hop. It was also the last album Dilla would make.
Nearly all the great origin stories in American music start outside. James Yancey's is no different. There's W.C. Handy waiting for a train outside Tutwiler, MS, hearing the slide guitar that inspired him to write the first blues compositions. Up the road a ways, there's Ike Turner and his Kings of Rhythm taking a corner so fast their amp slides of the roof and is knocked fuzzy from the fall. Or there's Coxsone Dodd and Duke Reid playing those jump blues and R&B records on Kingston street corners in the early '60s, paving the way for reggae and protégés like Kool Herc doing the same with funk and disco records in Bronx streets a decade later.
You can drop the needle on James Yancey's story in 1976: Harmonie Park, downtown Detroit. Yancey's father Dewitt, a fixture of the Detroit recording industry who ghost-wrote "It's a Shame" for the Spinners, walks up Randolph St. with a Fisher-Price turntable under one arm and his eldest son's hand in his other. James' free arm holds a stack of 45s, his young wrist still slight enough to slip through the record's center, wearing them like over-sized vinyl bangles. There, in the after-work magic hour of that small triangle, James spins records for those sitting in the park. It goes without saying: he was a hit.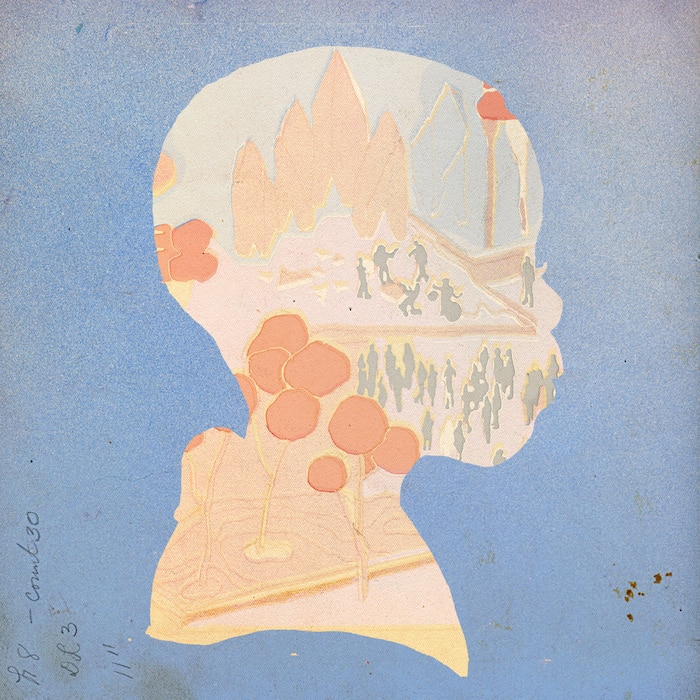 Yancey's early contributions to the musical vibrations in Harmonie Park augured well. From the 1920s to the 1950s, Harmonie Park was a part of Black Bottom (so named after the rich soil), a near-east side African-American neighborhood established during the Great Migration because no other neighborhood would rent to the recently arrived black southerners. But the area flourished. By the 1940s the neighborhood's business district, Paradise Valley, was flush with hundreds of black-owned businesses including drugstores, restaurants, hotels and 17 nightclubs regularly booking acts like Duke Ellington, Pearl Bailey and the Ink Spots. Before the city bulldozed it in the early 1960s to make way for I-375, thus making way for white flight, Black Bottom was, as Detroit historian Elaine Moon once described it, "The black downtown. Broadway. Las Vegas." Cueing up late '70s Motown hits, though he was still too young to know it, Dilla was tapping on the shoulder of that previous era of big band, jazz, and doo-wop – those foundational forms of American music – buried beneath his feet.
But like too many other American music stories, from Eazy-E to Notorious B.I.G to Kanye West, Yancey's goes inside L.A.'s Cedars Sinai hospital. The prolific Detroit producer had moved to L.A. in 2003 and into a third, fertile phase of his career. After cutting his teeth with four bar loops of rare groove records producing for his group Slum Village, a slipped tape to Q-Tip at Lollapalooza brought sessions with Pharcyde, Janet Jackson and A Tribe Called Quest on their last two albums. From there he'd entered a second phase of his career, moving more toward live instrumentation and working with the Soulquarians – a collective including the Roots, D'Angelo and Erykah Badu – helping to lay the groundwork for the neo-soul movement. A diagnosis of lupus and the rare blood disorder TTP, a flood in the basement of his Detroit home where he lost much of his gear, and increased collaboration with L.A.-based producer Madlib ushered in this third phase, a return to sampling, but with more microchops than 4 bar loops. Though his output remained high, circulating batches of beats monthly, he spent much of 2005 in and out of Cedars Sinai.
When his hands swelled and he couldn't program the drum machine, his mother would massage his fingers.
His mother Maureen, a trained vocalist in classical and jazz, came to L.A. to be with her son and would crate 45s in every week for her son to work with – an MPC, turntable and Powerbook orbiting the hospital bed as he edited a new project. While his body lost the ability to distinguish between healthy and unhealthy tissue and blood clots wore down his kidney, Dilla worked. He was relentless. When his hands swelled and he couldn't program the drum machine, his mother would massage his fingers. When he couldn't work, he'd listen or play early versions of songs for his doctor. He rested, read the book of Job, got right with God. Then he worked some more. The product of those sessions was Donuts, released on February 7th, 2006. Dilla suffered a cardiac arrest three days later.
Likely, if you know one thing about this album, it's that Donuts is Dilla's swan song. Second thing: that the album itself is about death – that Dilla worked ideas about mortality into the sample set. Jordan Ferguson makes a compelling case in his 33 ⅓ book on Donuts that multiple levels of the album reflect Dilla coming to terms musically, stylistically, and personally with his death. It's in the songs Dilla chose: "He gravitated to songs with titles like 'You Just Can't Win,' 'I Can't Stand to See You Cry,' 'Sweet Misery,' and the almost too on-the-nose, 'When I Die.'" There's the manipulation of the material in an effort to stop time: slowing down then re-cueing the guitar line on "Time: The Donut of the Heart" and momentarily pausing the track "Stop" when Dionne Warwick says so.
The sequencing: "Hi" and "Bye" coming just before "The Last Donut of the Night." Ferguson goes on to quote Questlove's explanation of the coded samples: "He really wasn't able to communicate. Which really makes Donuts that much creepier for me to hear because all of those [samples], I'm now certain beyond a shadow of a doubt, were actually messages from him." Less convincing is how Ferguson compares this artistic sensibility of continuing to work in the shadow of death to Sisyphus with the boulder, claiming: "Dilla's life was absurd in the extreme, but how he lived it despite that absurdity was heroic. If his illness was Sisyphus' rock, the descent was his music, the thing that made it bearable, even if it started mortality in the face."
While death was clearly on the horizon, and acknowledged in the album, Dilla still worked to stay in the moment. And work never seemed an absurdity in Dilla's music. In fact, it might even be the central theme of his prolific, era defining career. Donuts opens with "Workinonit," and later come "Lightworks" and "Airworks." His previous album was called Rough Draft. Long-time collaborator Frank Nitt said in a Stussy-produced documentary about Dilla that "I think what bothered him the most, people could call him about something he did three months ago, and he'd be like 'Aw man, they want this old ass beat, I don't even fuck with this beat right now.'" He always foregrounded the work. What the hospital production story illustrates is that the album thinks about more than just death. It's there, but the album does not fixate on it. It's also about Dilla working to be in the moment. The album's not haunted, it's full of life – explicitly so.
The many snippets of live show introductions insist that the songs exist in the present. We are live. Ad Rock is at center stage on the mic before "The New" gets going. Frank Zappa tells you to get your girlfriend and dance like never before as Dilla lets that piano line off the leash in "Mash." The Regal Theater MC tells you to go out and make a name for yourself before Dilla glazes the last donut of the night. And the whole album is itself a moment sustained: the intro is its outro; the outro its intro. Donuts begins and begins again – the album's verb tense is the present progressive. Listening is being there.
How do you mark the 10-year anniversary of an album made by an artist who didn't want to look back?
Which then begs the question, how do you mark the 10-year anniversary of an album made by an artist who didn't want to look back? What does this ten year period mark in the first place? There's no revival campaign to make; Dilla's status is solidified. There's no overlooked or forgotten genius to shine a light on, no remembrance that's not already been written. He's your favorite producer's favorite producer, likewise your favorite rap blogger, YouTube commenter, and neighbor's cousin's favorite producer (perhaps inevitable for a gone-too-soon artist who dropped a landmark album just as the Internet was going high-speed.) The Smithsonian has his MPC. The issues with his estate have been largely resolved and his family is now being rightfully and fairly compensated for Dilla's work.
The album's also readily accessible, most recently reissued by Stones Throw in a beautiful set of 45s in 2013, a fitting set of donuts for Donuts. What, then? These 10-year anniversaries can feel arbitrary, that they are just about time. But time is never just time with Dilla. How does time pass for an album that always wants to be in the moment? What's Donuts doing in our moment, ten years removed from its release? How has it persisted?
Its influence has never waned. Five years out, his reach was long, his grip on hip hop – both indie and commercial – as strong as ever. Just listen to two Kanye West beats, a producer Dilla greatly admired, one five years pre-Donuts, one five years post. First, cue up to "Izzo (H.O.V.A)" from Jay-Z's The Blueprint, one of Kanye's first major commercial beats. The beat is inspired, no question, and catchy as hell, but hear the relative reverence for the Jacksons sample. Now listen to "Otis" from 2011's Ye and Jay reunion Watch the Throne. Hear how chopped and jolting it is, how little deference is paid to the loop, to the sanctity of Redding's voice. It's garbled, warped, bleating. That's a donut.
Kanye acknowledged this influence in an interview for a Stones Throw documentary: "I have to work on behalf of Dilla. When I put a weird-ass Jamaican sample, it works at first but it's not until I put the [makes discordant musical noise] that it sounds like art or sounds slightly wrong. And now it'll go to the radio now that it's wrong." Maybe it took someone from the Motor City, with one parent a part of and the other outside of Detroit soul, to be so adept at sampling classic soul but minus the piety.
For the next five years, think about UK producer Jamie xx. Although the majority of his work is cut from cloth woven by Burial, whose self-titled debut was another idiosyncratic instrumental album from 2006, two of Jamie xx's major production gigs in the past five years suggest another influence. For Drake's "Take Care," Jamie xx twists Gil Scott-Heron's vocal line into a deranged chuckle. Last year with Young Thug, the producer makes strange bedfellows out of a bit of harmonizing from the Persuasions and Popcaan's dancehall croon. Donut b/w donut.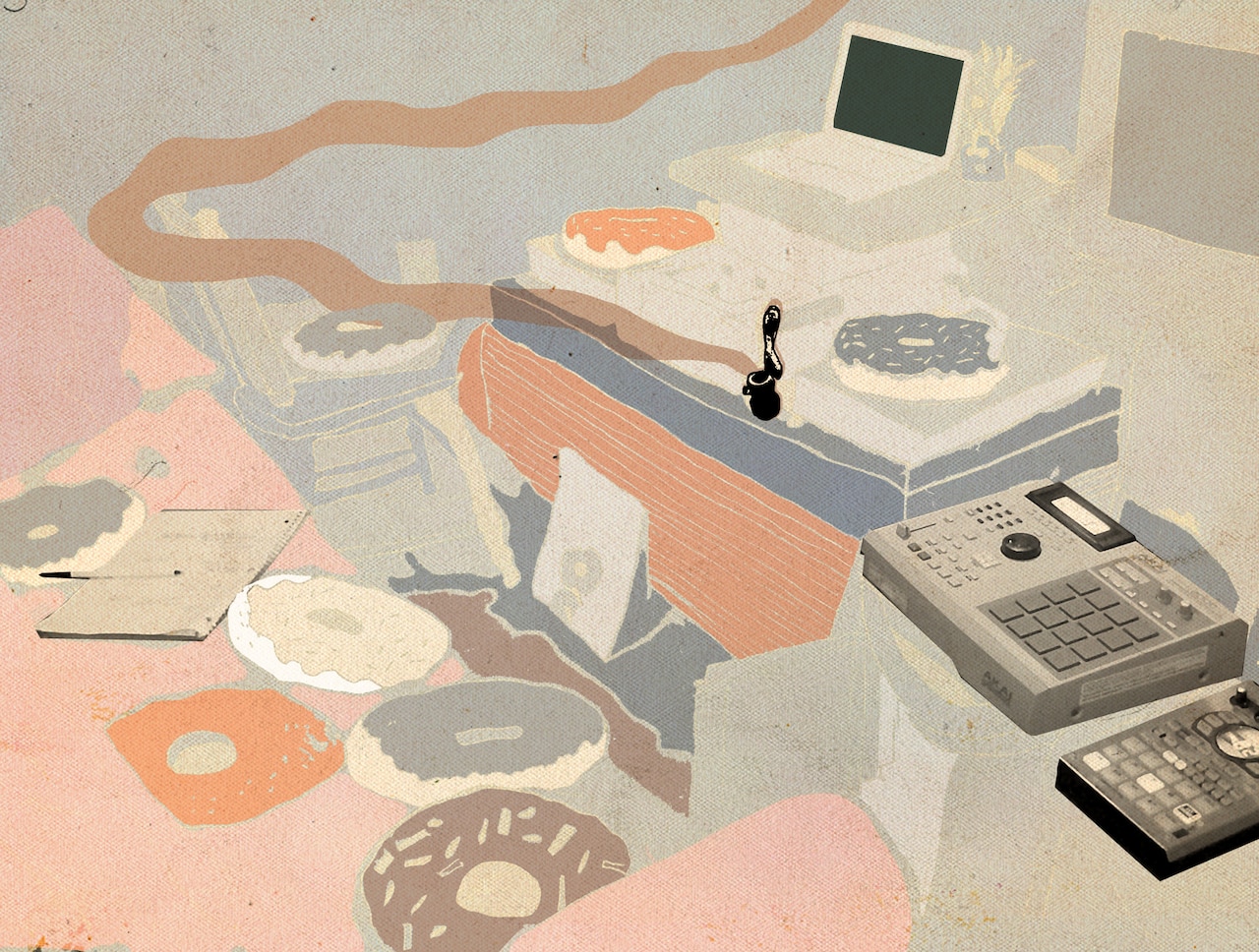 I know, I know – throw a rock and you'll hit a Dilla-influenced cat, but it's kind of uncanny how the music of 2015 provided a cross-section of Dilla's career. His first major influence was Pete Rock, who released the long-awaited follow-up to his Petestrumental series last year. Rock's influence is easily traceable in Dilla's early loops. The track most illustrative of first-wave Dilla style and genius is perhaps the 1995 Pharcyde single "Runnin," which loops a guitar line from Stan Getz's bossa nova track "Saudade Vem Correndo." It's buried two minutes into the track, utterly missable until you know it's there, at which time, of course, it seems predestined to be looped.
That's the genius of Dilla's ear, and he was inspired to apply it in this way by Rock. "I was trying to be you," Dilla told him of his early work when they met years later. On that new album, Pete Rock opens with (and returns to more than once) samples from live shows, a nod to Dilla and Donuts. More subtly but also more telling, the last 20 seconds of "90's Class Act (Ek)" feature the guitar line and vocalizations of Dionne Warwick that Dilla flipped for "Stop." Influence is a palindrome like that: where once Dilla wanted to be Pete Rock, honing his craft by listening to how Pete Rock looped that sax line in "T.R.O.Y.," Rock now finds inspiration from and pays tribute to Dilla. Pete Rock's label is even promoting the album with that quote from Dilla.
Two more albums reflect and extend the neo-soul sound that Dilla helped crystallize during his second-wave work with the Soulquarians. After a hiatus so long that folks started to doubt it would ever end, D'Angelo released the stellar Black Messiah. In the stuttering drums and the distorted, propulsive bassline of album highlight "1000 Deaths" it's easy to imagine a DJ kicking out of that song and into the midsection of "Lightworks," "Workinonit," or nearly any track from Welcome to Detroit. The album, of course, is more than the sum of its Dilla influence, but it certainly extends the sonic palette that Dilla worked with D'Angelo to codify 15 years prior.
Kendrick Lamar's To Pimp a Butterfly, released in March 2015, married that neo-soul sensibility with G-funk, heard in the bouncing harmonies of "These Walls" that follow the knock of "King Kunta." You hear more Dilla in the former than the latter, but there's much to connect in the album. TPAB begins with a loop of Boris Gardiner's "Every N---er is a Star," transitioning from a simple loop to a compounding series of vocalized intervals and landing on a different inflection of the first line, a touchstone late Dilla sampling technique. On "Momma," the hiccups and adlibs of the beat amid the swirling instrumentation harness the lo-fi sample-based production of Donuts with the expansive palette of his earlier days.
The last track, however, "Mortal Man," is the most powerful echo of Dilla's ethos. On it, Kendrick chops it up with a resurrected Tupac in a conversation that spans poverty, revolution, race, hustle, youth, faith, the fatigue wrought by institutional racism and rap legacies. Kendrick tells Pac that sometimes he feels like "the only hope we have left is music, vibrations... sometimes I get behind a mic and I don't know what type of energy I'mma push out." To which Pac responds: "We just letting our dead homies tell stories for us."
That exchange, perhaps more than any other line spoken, written or sampled in 2015, helps us understand the context of Dilla's work in producing Donuts. It wasn't Sisyphean. His belief in the power of the vibrations he could create, matched with their meaning for his audience, meant he had to do the work, and that it wasn't in vain. It was all there was. Dilla's work signals an unfailing belief, down at the very core, in musical vibrations' capacity to be telepathic, to time travel. Those vibrations resonate grandly in To Pimp a Butterfly and help us to better hear Donuts.
Behind the boards for TPAB was another Los Angeles-based producer and musician on an indie label and part of a collective of eclectic visionaries: Steven "Thundercat" Bruner. Like Dilla is to Common and D'Angelo, so Thundercat is to Kendrick. The collaborative, creative space that Thundercat has with Flying Lotus and Brainfeeder, Dilla had with Madlib and the Stones Throw crew.
The parallels between the two don't end there, though. The single from Thundercat's own 2015 release "Them Changes" takes its drums from the Isley Brothers' "Footsteps in the Dark," first sampled by DJ Pooh for Ice Cube's perennial classic "Today Was a Good Day." The hi-hat shimmy of the drums on "Footsteps" have since been sampled more than fifty times, including by, yup, J Dilla, on the closing track to his posthumous album The Shining. But both found such new and strange directions to take that break. Thundercat went funked out with chorded basslines and a freaky, depressed, club-noir story. Dilla made it new by speeding up the drums to go electro with filtered bass, skittering synth lines and a vocoder. To flip such a familiar track is a power move a lesser artist might have shied away from, but Thundercat is not a lesser artist. You can't be lazy taking a loop someone else already made.
Dilla is everywhere – his ear, his technique, his iconoclasm, his work all referenced, nodded to, extended – but he himself is absent.
Here's how Thundercat explained his thought process: "There's always that weird feeling of sampling something that people had used before, but I'm not gonna not explore the options of what it has to offer because you can feel it, when those drums start, they're real heavy." You can hear this mentality on the back end of Donuts with "Geek Down," where Dilla flips crate staple "UFO" by ESG and is able to find new and newly unnerving textures in the famous break. Like Dilla, Thundercat goes where his ear takes him.
Maybe it's crazy to make this comparison, because Thundercat sounds nothing like Dilla. But it's the sensibility they share. A go-to boast of Dilla's was that he could make a beat out of anything, no matter how obscure or familiar, so great was his belief in his distinct capabilities. Thundercat also has that ability in spades: the artistic impulse to work within and also far beyond the lineage of hip hop to extend and innovate and imagine new possibilities for the medium. That's a donut.
Bruner tells a story of sitting down with Flying Lotus and Herbie Hancock to talk shop when they had what he termed the "Dilla moment," each citing him as a musician they admire. Over the course of the conversation, though, Thundercat and FlyLo realize that Hancock had never heard Slum Village's "Get Dis Money," in which Dilla flipped Hancock's "Come Running to Me." So they play it for him.
Picture it: those three titans in a circle, listening to Dilla re-hear Hancock to produce music that got the two younger men to reimagine how they might make and hear music. Dilla is at the center of that circle, the uniting force of so much music, so much work, so much time. And yet this is a story that's come to be typical of the last ten years. Dilla is everywhere – his ear, his technique, his iconoclasm, his work all referenced, nodded to, extended – but he himself is absent. The donuts are everywhere, but so are the holes.
Like Kendrick talking with Tupac, like Hancock, Flying Lotus and Thundercat stitching together generations, hell, like Walt Whitman on the Brooklyn Ferry, Dilla had that magic to collapse time and be alive in so many ears and eras. It's so easy to time travel when listening to Dilla.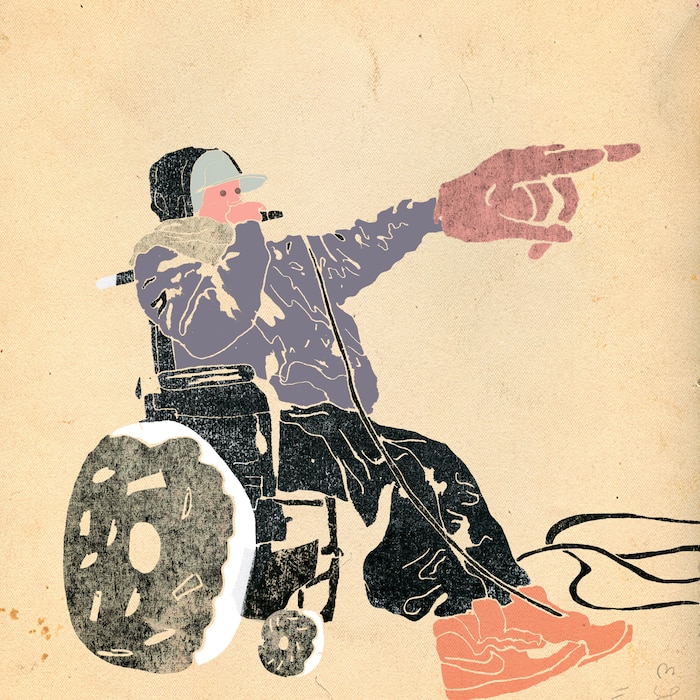 In the last bit of light on the first day of 2016, I stood at the edge of Harmonie Park and watched the sun dip below the buildings off Woodward Avenue. The main streets of downtown Detroit come out from the river like spokes from a wheel, creating these small wedges as the grid accounts for the diagonals – Harmonie Park is one.
I could hear the faint sound of horns coming either from a cigar lounge behind me or the radio of one of the men sitting at a park bench. The horns are two-stepping around in my head with the Jackson 5 guitar lick from "Time: The Donut of the Heart" that kicks up anytime I think about Dilla. Down the street not two blocks away is the soon-to-be home of Dilla's Delights, a donut company started by Dilla's uncle. The first floor windows of the Flatiron-type high-rise have butcher paper in the windows. On the door, a sign that reads: "Dilla's Delights. Because beats and donuts are made best before sunrise."
A little further up the block in a boutique window, a t-shirt says "Detroit Still Exists." The city is incentivizing a redevelopment of the area around Harmonie Park, claiming to want to honor the legacy of Black Bottom with black-owned businesses rejuvenating the area. Already some lofts are in. Dilla's Delights would be among them.
The park's not long, about fifty steps end to end. Along the paved park there are memorial markers to important Detroit artists and writers set into the ground. Paul Robeson. Della Reese. Robert Hayden and Dudley Randall share one. Ella Fitzgerald, Dinah Washington, Billy Eckstine and Duke Ellington another. Each step through this park vibrates with the past of black life in Detroit. All the history collapses into one moment here, and all the plans to bring it back in the future. That guitar line from "Time: The Donut of the Heart" kicks up in my head again. It loops and loops again, and when Dilla slows it down like it's finally out of steam – to my ears the most stirring moment on the album, thinking this is finally it – he picks it back up and loops again. Dilla harnessed so much sound from so many times, starting on this ground. Working for each moment of time traveling grace, for as many moments as he was able, he's still able to be in so many of ours.
Header image © Dewey Saunders