They were called The Eternals. At the height of the French Touch era, a 12-inch by these boys from Toulouse rocked dancefloors the world over, selling 25,000 copies. We revisit the story of these two brothers, who, after their glory days at the turn of the millennium, saw their career go up in smoke almost overnight.
He looks serious, yet self-assured. The first thing you notice is a pair of short sideburns trimmed to the nearest millimetre that frame his face, and then, a classic midnight blue suit and a crisp white shirt bearing but a few discrete ripples.
Ali Allalou means business. But not any kind – he is a financial advisor to a Parisian bank. Nothing in his appearance or his sparse business card betrays the background of this man in his early 40s whose salt and pepper hair is growing saltier day by day. When he is not giving advice on various financial investments, Ali Allalou likes to log onto his computer and create uptempo dance tracks. When he clicks on the mouse, this banker turns into Dirty Ali, an alias he bears to the world when he is at the controls, behind the decks. He has racked up an esteemed array of tunes and club nights during his career. "At one point, all that was my life," he confides, with a slight Toulouse lilt in his voice.
Today, the French Touch is nothing but a golden myth; Daft Punk are still surfing on its aura, whereas Dirty Ali is hard at work in his office, and Funky Farid is studying to become an electronic engineer.
It all happened a little over ten years ago. Ali was not yet a banker and worked at being Dirty Ali full time in the company of his brother Farid, AKA Funky Farid. These two, as well as a bespectacled German, Henning Specht, formed The Eternals. Three boys at home in the clubs and behind turntables, another bunch of kids caught up in the celestial workings of the French Touch.
One of their tracks, "Wrath of Zeus," released at the turn of the century under the guidance of half of Daft Punk, even travelled across the world. "We weren't aware of anything at the time. Let's just say that we were happy to travel and make music," smiles Farid, the younger of the Allalou brothers, whose local accent is much more pronounced when he speaks to me on the phone. "Now I realise we were part of a genuine movement."
Today, the French Touch is nothing but a golden myth; Daft Punk are still surfing on its aura, whereas Dirty Ali is hard at work in his office, and Funky Farid is studying to become an electronic engineer. The Eternals no longer exist. Ali buttons up his suit: "We never got lucky, and we lost a bit of motivation too after all that. But we lived through some wonderful times."
These weird and wonderful times begin in Toulouse, where the locals seem to sing when they speak. The scene is set: Southwestern France, on the cusp of those infamous '90s. Ali and Farid Allalou prefer house music to the local obsession, rugby, especially after Ali met a weird Dutch guy on holiday who had the bright idea of giving him cassettes with mixed tracks on them. In their room at night, the two teenagers would religiously tune into the dance hits of Radio Maxximum on their little transistor, lying there in the dark.
As soon as they had a little cash, they went off to buy 12-inches they played on the clapped out family record player. "Most of what you could find in Toulouse at the time was this Eurodance crap," fumes Ali, casting his mind back to the bad old days. "You really had to search for American imports."
To dance to the beats of New York and Chicago, you also had to be in the know. There was this gay club, for example, the Shanghaï, where the brothers sometimes managed to get in. "And we also ended up in people's basements, and sometimes at these little raves organised in fields on the outskirts of town," remembers Farid. "We got all this info as we knew everybody. The world of electronic music was tiny in Toulouse."
At Rough Trade, they took us for a couple of southern bimbos what with our accent.
The boys also ended up hanging out in the studios of a local community project, Radio FMR. Every Friday night, they would play techno, house, trance and jungle. The pair never missed a single program. In fact, they were so familiar to everyone involved with the radio that they ended up taking over the Friday night slot themselves. Welcome to "Vinyl Fever," the name they had given their brand new pair of turntables. "We were the only ones with a real house sound," declares Ali with a certain measure of pride. There was a third member of "Vinyl Fever," a bespectacled youth named Alain. He had just finished his military service in the town of Toulouse and was also in love with the grooves of house 12-inches. When behind the decks, he called himself Alan Braxe. And he knew people "up there," in Paris. He had this old colleague who could sing. Benjamin "Diamond." And he was also acquainted with two little upstarts who had just brought out a few records in succession on a certain Scottish label.
"Thanks to Alain, we met Daft Punk when they came to play a local club, La Mandarine. And we saw them again at the Boréalis festival in Montpellier. They were cool, and we really were on the same wavelength," says Farid. Then Homework came out and things exploded. Alain, who was about to bring out his first 12-inch on Roulé, Thomas Bangalter's label, took the Allalou brothers with him for his debut night in Paris, at the Rex. It was their second or third time in the capital. They made friends with several luminaries of the nascent French Touch scene like Jess and Crabbe, Pedro Winter and Gildas from Daft Traxx.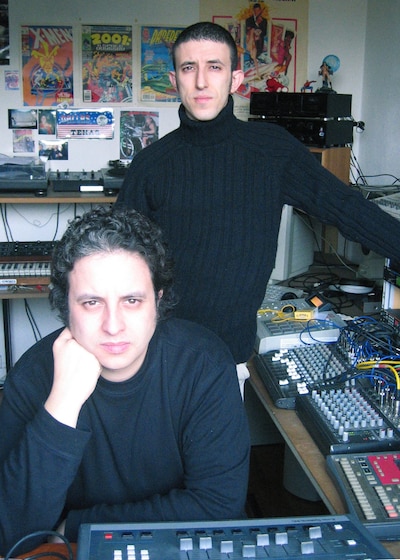 They also made the rounds in Bastille, visiting all the most famous record shops. "At Rough Trade, they took us for a couple of southern bimbos what with our accent," Ali seethes with anger. "So they made us listen to a pile of shit. But when we asked them to pull out more serious stuff, they realised we weren't a joke. I loved BPM. It was like being at the local betting shop." They went back to Toulouse, cases full of records and an offhand comment made by the boys from Daft Punk still ringing in their ears: "If Vinyl Fever had any music to play them, they shouldn't hesitate, they could even add them to their roster of releases." Back home, the boys worked as hard as they could on their synthesizers and the little beatbox they had managed to secure. The cables crackled and the amps looked like they'd been knifed but never mind, they managed to make things work and sent a demo tape to Paris.
In the end, it wasn't Daft Punk who picked up on them, but Discothèque, a subdivision of Versatile, the label managed by Gilb'R. In 1999, as Cassius were steamrolling the clubs with their eponymous album, Vinyl Fever responded with "Old Times," which brought together an array of funky samples over filtered house beats tailor-made for the era. Farid and Ali had just completed their studies. "We were already thinking of the next record we were going to release. It pushed us forward. We really wanted to turn that into our job at the time," remembers Farid.
The following year, under the neon lights of a club in Toulouse, the boys met an eccentric German, Henning. He was wandering around with all these brilliant disco samples. Together, they quickly formed The Eternals and imagined these wacky skits. "We were having a laugh, making things up," Ali remembers. "We had this story about a guy at a party who won't dance. Zeus comes along and strikes him with lightning, to force him to dance. So we used these samples that sounded like thunder."
The Eternals sent a demo of their first attempt to Roulé. "Finally, as he was getting on the plane to Los Angeles, Guy-Manuel told us he'd release the record," adds Ali. The tune came out in 2000 on Crydamoure, and 25,000 copies were sold across the world. "This time, we reckoned something was going to change. Maybe we'd come off benefits," notes Ali.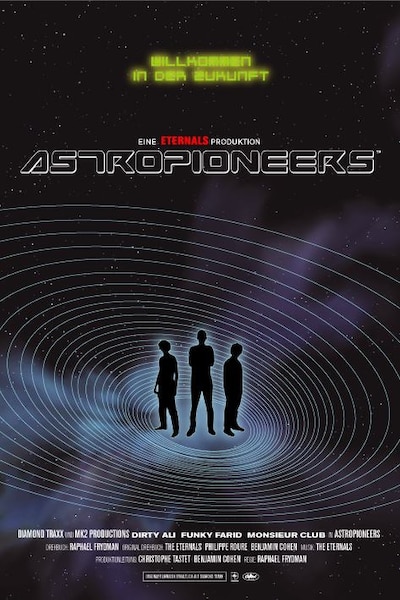 Further experiments saw them leave the happy stereotypes of the French Touch behind to invest in '80s kitsch, unabashedly conjuring up bolshie melodies and Carpenter-like themes. This time around, Guy-Manuel refused to release their new demo and "Astropioneers" ended up on Diamond Traxx, a label set up by Benjamin Diamond, then the mega-successful singer behind Stardust (along with Thomas Bangalter and former partner-in-crime Alan Braxe).
The debut album by the Eternals, also called Astropioneers, was released in 2004. It was presented for the first time in a large Parisian cinema, introduced by an obscure video, a new illustration of the dreams the brothers harboured. "This time, the story featured a group of astronauts sent off to discover another world, to find a new planet earth," explains Ali. The film seemed so authentic that some thought it was an old documentary about Soyuz spacecrafts discovered on a Kazakh air base. The press loved the record, Les Inrocks describing it as "fun and heady techno-house, cosmogenic and enthusiastic."
Capitol signed them for two subsequent offerings. Pedro Winter called them for remixes, Ivan Smagghe played beside them, Agoria congratulated them. Life on benefits was but a sepia-tinged memory.
And then, all at once, the rocket lost its momentum. The A&R man who got them a deal at Capitol was laid off and replaced by a figure raised on hip hop. "He didn't know the first thing about electronic music. He said he didn't understand our work. It felt like we'd been had. Capitol no longer believed in us, it was a lost cause," bristles Ali.
Fate dealt them was a fresh blow a little while later: Henning decided to leave. He wanted to go solo. "The problem was that the Eternals was an entity based on three people. It was hard to craft an Eternals sound without Henning," says Ali. And then Ali, at the end of his tether, also decided to let go and move to Paris "for personal reasons."
"There's nothing unlucky about what happened, it was just the way things were meant to be. I've no regrets," Farid shrugs. His brother, however, says he is still "disgusted" by the way things ended.
There was no more group, no more music. "It's weird how everything happened at the same time," ponders Ali. Far from Toulouse, without his brother or his gear, the new Parisian got a job at the post office, forced to make a living. Back down South, Farid, also did odd jobs to get by. He was a courier; he put on blue overalls to work on the assembly line of a local car factory. "There's nothing unlucky about what happened, it was just the way things were meant to be. I've no regrets," he shrugs. However, his brother says he is still "disgusted" by the way things ended. "There's nothing we could do about it."
Since 2004, and the release of Astropioneers, the Eternals never staged a comeback, the Allalous never got caught up in the excitement of getting up on the main stage, not in Bangkok, nor anywhere else. There was no second album. Over the last ten years, Ali has busied himself with other things. He climbed the ladder at work until he ended up in a suit, with his own office. In Toulouse, his brother is on the cusp of becoming an engineer. They wanted to make music their life. It is once again just a passion, like when they started out.
At home, Ali composes on his computer and sends demos to his brother who still has all the duo's machines. These last few months, the Allalous have resurfaced again, putting out a few unreleased projects. "But they're pretty silly really, stuff we did as a hobby when we had a bit of time on our hands," warns Ali. In the spring, they'll bring out a new unreleased track, inspired by their obsession with Carpenter, just like at the dawn of the millennium. They might play these tracks in a club, when someone offers them a gig behind the decks, as they do frequently. And the next day, they'll go back to work, in Paris or Toulouse. "There's no longer any point in wishing on a star, but we'll always be making music," says the man from Toulouse with the sideburns as he breaks into a grin.