Key Tracks: Earth, Wind & Fire's That's the Way of the World
Larry Dunn talks about the group's multi-platinum smash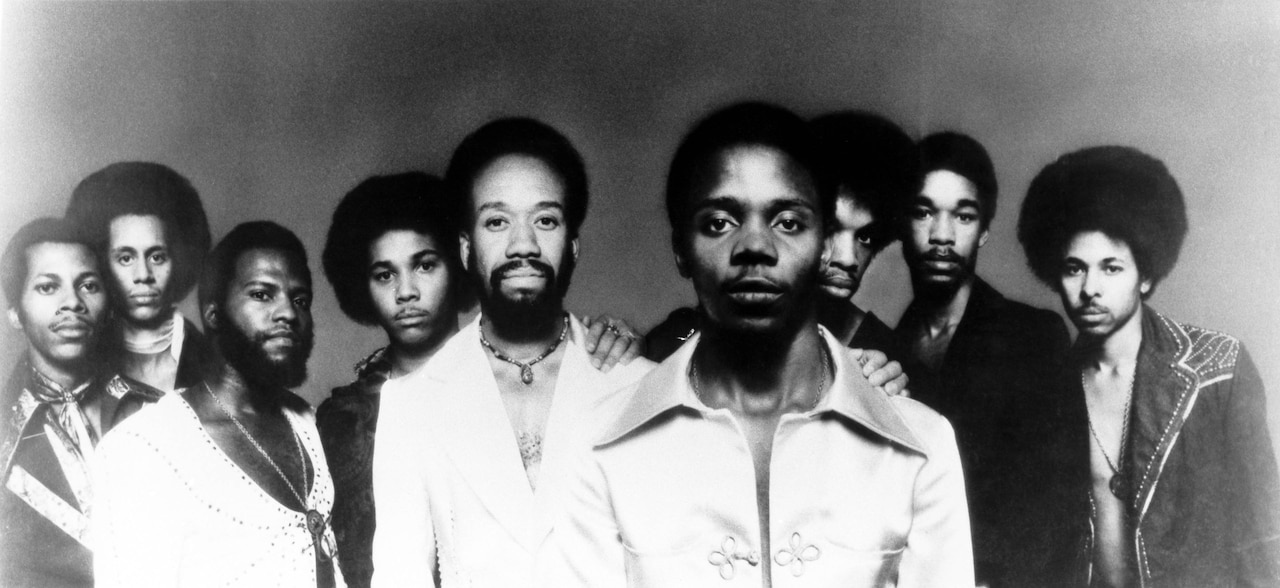 The Earth, Wind & Fire story begins in Chicago, Illinois in 1969 with the young and richly talented Maurice White. The original lineup included Wade Flemons, Don Whitehead, Sherry Scott and Yackov Ben Israel. After White migrated from Chicago, Illinois to Los Angeles, California to increase his group's prospects, he invited his younger brother, Verdine White, Michael Beale, Chester Washington, Leslie Drayton and Alex Thomas to create a ten man ensemble. As a lover of astrology, White chose Earth, Wind & Fire as the new name for the group, highlighting three of the four classical elements related to his astrological sign.
The group released two albums in 1971, but disbanded shortly thereafter. Maurice White, however, didn't want to give up – and started to recruit new members. Alongside his brother Verdine, he welcomed youthful musicians Larry Dunn, Ralph Johnson, Ronnie Laws, Roland Bautista, Philip Bailey and Jessica Cleaves to the group. Following these changes, they left Warner Bros. Records and signed with Columbia Records, releasing Last Days and Time in 1972. A year later, they put out Head to the Sky and it yielded their first two hit records and became their first platinum-selling record.
Around this time White forged a dynamic songwriting relationship with Philip Bailey that would prove fruitful in later years. The interplay of White's tenor and Bailey's falsetto along with the stellar arrangements of woodwind, percussion and strings became the bedrock of Earth, Wind & Fire's sound. By 1974 the group underwent another set of changes; new members were inserted into the recording lineup. New arrivals Andrew Woolfolk, Al McKay, Johnny Graham, and the younger brother of Maurice and Verdine, Fred White, became mainstays in the group for the next few years. During this juncture, Maurice White sought assistance from Charles Stepney in producing and arranging records for the group. After the release of Open Our Eyes in 1974, the ensemble continued to showcase their recording excellence, resulting in their second consecutive platinum-selling album.
These triumphs laid the groundwork for their next album. On March 15, 1975, That's the Way of the World would be released by Columbia Records, and it became the collective's first multi-platinum selling smash. The record would spawn three singles, including the number-one hit "Shining Star," "That's the Way of the World," and "Reasons." In the wake of singer-songwriter, arranger, producer and bandleader Maurice White's recent passing, we spoke with Larry Dunn about the making of this seminal album.
Cats were painting on fake mustaches, but it didn't matter because the club owner didn't give a damn.
What is the story behind you becoming a member of Earth, Wind & Fire?
When I was 13 years old, I was [already] in a group, and by the time I was 15, my mother allowed me to play in this 21 and over nightclub. It was owned by Wayne Hightower. He was one of the main basketball players for the Denver Rockets back then. At 15, I was playing at the club seven nights every week. Groups like The Whispers would ask, "Who are these little children?" The club owners knew who we were. Philip Bailey and the rest of the group were 17, and I was 15. Cats were painting on fake mustaches, but it didn't matter because the club owner didn't give a damn. We would play songs by James Brown, Dionne Warwick, Santana, Jimmy Smith, The Moments, The Stylistics, The Temptations, and The Supremes. We were playing it all.
As we progressed, we had another band called Friends & Lovers. We formed that band when I was 16. The main core of the group was Philip [Bailey], Andrew Woolfolk, Rick Delaney, Steve Sykes and his buddy Greg, and me. Our band was so tight, and we opened for the older version of Earth, Wind & Fire, when they had the guys from Chicago, Illinois.
Not even a year later, everyone in the band quit on Maurice and Verdine. Our group also disbanded and Philip moved to Los Angeles. One day, Philip came back to Denver, and I was playing with a little bar band called Sammy Mayfield. We were doing a gig at Manual High School, which was the only black high school in Denver at that time. We were opening for the group War. I performed about a ten minute solo on a Hammond B3 organ. I was playing all kinds of stuff.
So Philip went to the pay phone and put some coins in there and called Maurice and said, "Hey. I think we have the guy. He is a young cat, but I played with him. He can really play. He's a good guy. He just doesn't have a lot of experience." Later on, I told Philip, "Don't be telling people that." I was playing in clubs when I was 11 years old.
When I flew out there, Verdine picked me up from the airport. He almost killed us going up Century Boulevard. You know how you get over in one lane to get into the turning lane, well, he went one lane too far and he was heading into oncoming traffic. He and Maurice had a house in the Hollywood Hills. He broke out the piano and it was just Verdine, Maurice and I sitting in the living room. I played them a couple of their tunes, and I broke into a little bit of Herbie Hancock's Maiden Voyage just so they could see I could go there and the rest is history.
After the consecutive successes of Head to the Sky, Open Our Eyes and Another Time, how long did it take for the group to create new music for That's the Way of the World?
Well, the first album I cut with Earth, Wind & Fire was Last Days and Time, and that is when Ronnie Laws, Jessica Cleaves, Roland Bautista were still in the group. (The next album was Head to the Sky.) When we did That's the Way of the World, we were at Caribou Ranch in Colorado. It took us about three weeks to complete the album. All of the main tracks were cut, and then we came back to Los Angeles to put on the overdubs, horns and strings. Charles Stepney did that. I wrote all the music for "Shining Star," "Happy Feelin'," "All About Love," "Africano" and "See the Light." I was 18 when we recorded That's the Way of the World.
What was it like recording music for the album at Caribou Ranch?
When we recorded music for this album, it was the second time we used it. It was like a winter wonderland. There was snow everywhere. When we arrived, there were cabins for everybody. There were brass beds in the rooms and really expensive bear rugs on the floor. There were color TVs in every room. You have to remember this was in 1974. I don't think my mother had a color TV in 1974. [laughs] When she got one, I bought it. The place was so conducive for creating. There was a mess hall, and this tall, lanky white guy worked there. He was such a nice guy. He didn't care what we called him, so we used to call him "Mama." We could go in there at any time, day or night, and tell him what we wanted, and he would make it from scratch. This cat could cook. In the evenings, we would all have dinner together, and then go back to the studio to record. It was a magical time.
What was your group's regular studio routine during the recording process?
We used to have breakfast together, and we would get started in the studio around 11 or 12 o'clock. We worked straight through the day, and then we would take a break for dinner. After dinner, we would get back to the studio to make more music. We stayed in the studio until 2 or 3 o'clock in the morning, then we would go to bed. We did this for three to four weeks until the music for the album was finished. There was no reason for us to leave because all the necessities were there.
Who normally took the lead in coming up with music and lyrics for each song?
Well, Maurice was the main producer, and we had Charles Stepney as well. They were amazing. Every song was different. On "See the Light," I wrote all the music for it and wrote the first half of the first verse, then Philip got with me, and he wrote the rest of the lyrics. Maurice produced it and Stepney did the arrangements. When Charles Stepney put his thing on it with the horns and strings, it was like WOW.
On "Shining Star," it was early one day, and we were sitting there. Maurice was playing a groove, and I started playing the keys and everyone else started stroking it. "All About Love" was created by Maurice and me. Maurice had the music, and I came up with the nice chords for the big bridge. He created the melody and Stepney did the arrangements. All I know is a lot of love, integrity, tenderness and care went into every song. Every song we ever did is a monument. They can stand on their own.
Before the release of this album, can you describe the trajectory of your group's career and the popularity that followed?
People had the vision of EWF riding in limousines and going to cocktail parties. When I started, we flew from Los Angeles to South Carolina to do a couple of gigs down South to warm up just before we went to the big cities like New York and stuff. So we performed in South Carolina at a couple of colleges, then we went overseas to open for Santana in 1975. When we came back, we started getting a little bit bigger, then we performed at all of the colleges across the nation. After that, we started performing in arenas.
In the early years, we didn't have any catered dinners. We flew from Los Angeles to the Carolinas, and we would have to rent three station wagons. We'd do our gig and then drive to the next one in a little county and do the next gig. Then we'd drive up to Washington, DC and Baltimore to perform, then drive up to Philly and New York. We'd perform in North Carolina at a college gig, and we'd be done by 10 o'clock at night and there would be nothing open. All we could hope for was that we could get juice, a bag of chips, and maybe a Snickers bar from the vending machine at the hotel.
The first time we performed at Temple University, we only had one mic. I remember that because Maurice, Jessica [Cleaves] and Philip had to gather around it. The next time we came, we were a little bit more popular and we performed at the Spectrum. We were opening for The Four Tops and Gladys Knight & the Pips. Gladys Knight & the Pips were the headliners and then The Four Tops. It was pretty deep. We had the chance to talk to Gladys. She was letting us know that things were looking a little bit better. She said, "They didn't give us a dressing room before. We had to stand outside." When we performed that night, they turned down the lights, and we walked onto the stage. There were 20,000 people there. We weren't scared; we were ready to do it.
When I got a hold of the Minimoog, it changed my life. I used to take that sucker to my room every night.
What was it like for the group to work with Charles Stepney on this album?
I learned so many things about production from Maurice, but Charles being a keyboard player and arranger, meant a great deal. He was really in my corner. A couple of times we would be working on something, and he would try to pull Maurice in. He'd say, "I'm trying to tell this young boy how close he is to getting radio quality stuff on this little eight-track."
I remember I always used to bug him. I'd say, "Hey, Step. How can you do that?" He'd respond, "Look, boy. When you've been doing it as long as I've been doing it, you'll be able to do it, too." I'd reply, "I kind of have a little complex. I'm not a great reader of music." He'd respond, "Look, boy. Let me tell you something. If that's your problem, you can go back to school for six months and learn it. Let me tell you this: there aren't a lot of cats that can sit down at a keyboard and do what you can do." I was like, "Really? OK. I'll go to school then." He was just amazing.
He turned me on to the Minimoog which became one of my signature sounds. He was one of the first ones to employ the use of the Minimoog on a high music level. When I got a hold of it, it changed my life. I used to take that sucker to my room every night. There wasn't any reverb or effects on it. With the case, it used to weigh more than I did. I only weighed 150 pounds back then. With the case, it probably weighed 80 pounds. I was used to lifting a Hammond B3 organ, so I was strong and it didn't bother me. He was such a mentor to me. I learned how to arrange music from him. He told me, "It's more important to know what not to write than what to write." I've carried that with me forever. It is so true. What's important is the space in the music.
Another thing that stands out on this album is the lyrical content. When this album was released, it was only four years after Marvin Gaye's opus What's Going On. Plus, Stevie Wonder recorded Innervisions two years previous. This album feels like one of those moments in time where your group captured the essence of how Black America was feeling. Was this intentional or something that happened organically in the studio when you guys were writing the lyrics for these songs?
Well, it was both. Marvin Gaye's album changed everybody's consciousness. At that time, we were still fighting for equal rights. We were writing about love, peace and joy. We were all on the same page during this album. We were talking about humanitarianism. Our process for making the music and writing the lyrics was absolutely organic. Before I joined the group, I was playing "What's Going On" and James Brown in the clubs every night when I was 15 and 16 years old.
We were trying to create music with a message and a meaning. That's who we were. We were trying to bring some light into a very dark world. The great thing about the legacy of our music is it had something to say and it meant what it said. People could dance to it, cry to it, chill to it and do whatever you want to do to it. Underneath that beautiful music, was some vernacular that was really saying something pertinent.
By this time in your group's career, you all had been together for a few years. Can you talk about the group's musical chemistry and the intricacies involved in crafting the music for this album?
I'm a believer that things on that level were orchestrated by a much higher power than just us. It was a great thing. Verdine was such a great, rhythmic bass player. Freddy White and Maurice were outrageous, wild drummers, especially Maurice. Freddy was a great groove holder. Al McKay was such a funky guitarist. Johnny Graham was a blues playing mother figure, Philip had a beautiful falsetto, Maurice, with his church upbringing, was such a great jazz drummer, and I came in playing jazz music with pop chords. Andrew Woolfolk and Ralph Johnson were just incredible. We were a musical force made in heaven.
I dropped out of school with five months left to go to go play with Philip in Kansas City. My mother understood, and she knew I was about the music. None of us went to college, but our college experience was travelling together every day, driving the three station wagons, and kicking it every night. Sometimes, all of us would go into one of our rooms to chill, and we'd be playing around on the bed or sitting in the chairs and on the floor playing Weather Report or Miles Davis's Bitches Brew. It was so real for us. Stevie Wonder told us that when he heard "Shining Star," he was inspired and he went home and wrote his song, "I Wish." The other person who played a role in this album success was engineer George Massenburg. He was the icing on the cake. He engineered and mixed this whole album for us. He made our sound so clean. He was a genius level guy.
What were the recording techniques your group used during the making of this album?
Well, we would cut the basic track first. We did whatever it took to make the music sound good. For "Shining Star," we spent three or four hours doing ten to fifteen takes. We didn't have digital back then, it was done all on tape. We didn't even record with a click. After we cut the basic track, then we put on the overdubs. Once we had the rhythm part, Al [McKay] would put studs on it. On the bridge, he would enhance his chords, and they would put a chorus or a harmonizer on it to spread it.
Next, we would start with the keyboard overdubs and put synths on there with my Minimoog. Sometimes, I'd double Verdine's bass note for note with Moog bass to give it that real fat sound. Then, Maurice and Philip would go in for a few weeks and put their great vocals on it. After that, Maurice would get in the studio with Massenburg for a couple of months and mix it. When the track felt good from the intro to the bridge, we'd say, "At the bridge, cut the tape, George." From the bridge on to the vamp, we'd tell him to cut the tape there and put those two together and that would be the masters.
The recording techniques were important. George knew the best mic to use to record a bass drum. He was an absolute genius when it came to frequencies and sound and knowing what frequency wouldn't clash with something else. Once the mixing process began, Maurice would come in when George had everything set up and the music would be banging and he'd say, "Kill the vocal right there. Right here, I need a little bit more kick in the snare or I need a little bit more bass in there. Put a hi-hat there." They worked together to make sure when it came out it was going to kick everybody's ass. [laughs]