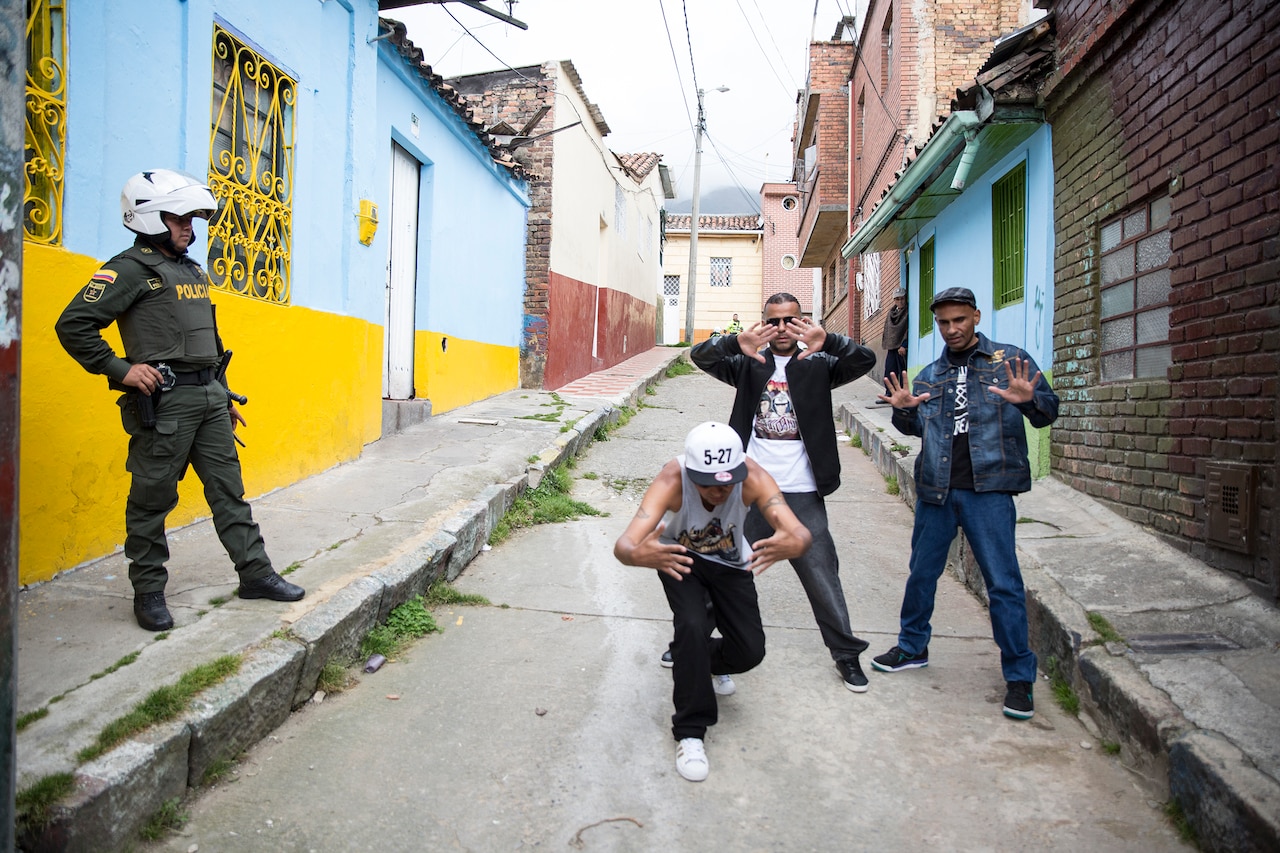 The Globalization of La Etnnia
As they release their most international album yet, we catch up with the long-running Colombian hip hop trio to chart their three decade history
"Cinco veinte siete! Va! Va! Cinco dos siete! Va!"

Young Colombian policemen on motorbikes were shouting through their helmet shields, riding around Bogotá's Las Cruces barrio with three local rappers in tow. They were singing "Manicomio 5-27," or "Madhouse 5-27," which refers to the address in this neighborhood of tight alleyway streets where the rappers started their record label, and where their faces are still well known. Old men passing in the streets stopped to shake their hands. Children scrambled around for autographs. The policemen could relate. They'd been fans since childhood, and no one in Colombian hip hop casts a longer shadow than this trio, La Etnnia. By the time "Manicomio 5-27" was released on La Etnnia's debut album in 1995, they had already been neighborhood superstars for a decade.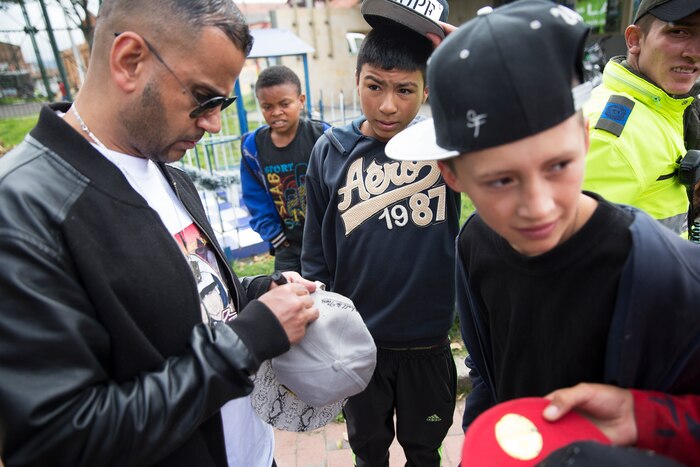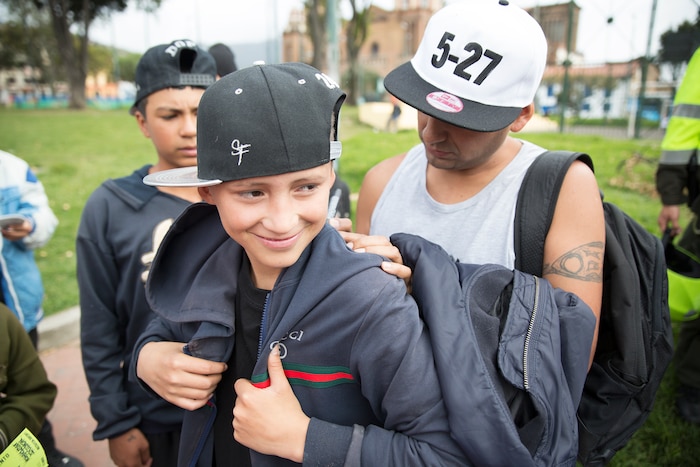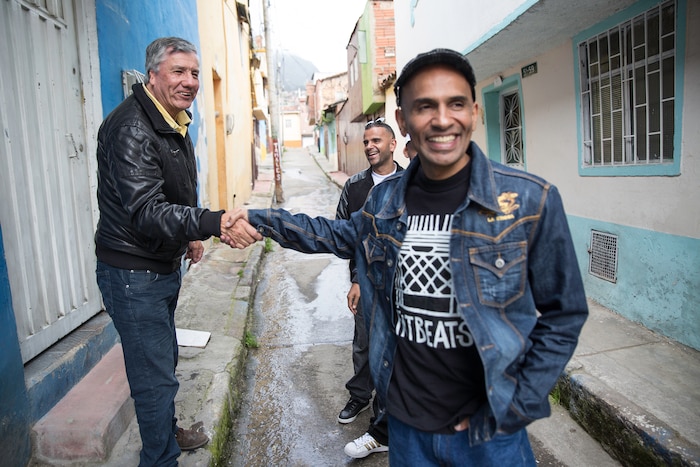 Hip hop made its first splash in Bogotá in the summer of 1984, also a watershed moment for the genre in the United States. Run–D.M.C., Fat Boys and Kurtis Blow were filling amphitheaters around the country on a big tour and the music was on the radio, on television, and at the movies. Breakin'. Beat Street. Breakin' 2: Electric Boogaloo. All three films came out in the same year, new records were coming out every month, and it was all so fresh that every new voice expanded what it meant to rap.
However, hip hop reached a new level as an art form when its elements of breakdancing, turntablism, rap and graffiti were adopted into the global community, and people began rapping in different languages about what was going on in their neighborhoods. The voices were different, but the elements translated. The DJing was experimental, but dance is universal, and graffiti is ancient. Rap is a natural street language, and every city in the world is full of streets. The marginalized and disaffected everywhere suddenly had a new medium of expression.
In Bogotá, it was graffiti and dance that first caught fire, because those were the elements in the movies. Their introduction to the culture wasn't Run–D.M.C. or LL Cool J, but Afrika Bambaataa and Boogaloo Shrimp: the movies reached where the music had not, and the epicenter of the movement was in Las Cruces, one of the oldest neighborhoods in the city. It's a working class district on the south side of town, full of colonial-style houses and parish churches (hence its name, "The Crosses"), and humbled over the years by the same problems with crime and drugs that victimize all of Bogotá's barrios.
Narco culture, drug-dealing culture, influenced all the spheres of politics in our country. It was everywhere.
Las Cruces is where, in 1984, the Pimienta brothers – Kany, Kaiser and Ata – first formed a group they called New Rapper Breaker, which soon became known as La Etnnia, or "The Ethnics." At first, they focused only on breakdancing. "In the '90s we were making the first mixtapes and demos of La Etnnia music," Kaiser said. "But our thing in the '80s was to breakdance in clubs, and have breakdancing battles between crews. There were still no rap battles in that time. DJs were very limited. There were very few DJs out there, and the same thing for graffiti. We were some of the first guys who started to spraypaint with graffiti. It was just breakdance and clubs."
Once they did make the transition towards rapping and writing, they had a lot to talk about. When La Etnnia started as a group, the infamous Colombian drug kingpin Pablo Escobar was midway through a criminal career gone global. Escobar was part drug baron and part politician, with a penchant for charity and bribes that allowed him to weave alliances across the social classes. His network had its fingers in the government as much as it did the poor communities, both of whom were as dependent on Escobar as they were victimized by what came with his line of work. But the poorest neighborhoods got hit the hardest. Violence always trickles down.
The powder that Escobar was smuggling into the U.S. was part of the late '70s surplus that produced crack cocaine. Crack was cheap, easily accessible, and its addiction rate was alarming, bringing new depths of crime and desperation to America's major urban cities. But the cocaine trade had already produced similar conditions in Colombia, whether in the form of crack or not. The people of Las Cruces and all of Colombia had been living under the shadow of Escobar's criminal network for years. "There were events that marked a time in Colombia," Ata said. "The war of drug lords against the government in which many innocent people fell. We even had a bomb explode in our school. One of the walls was knocked down. Luckily, there were no casualties."
"This is something that didn't affect only Las Cruces," said Kaiser. "This is something that affected the whole country. Narco culture, drug-dealing culture, influenced all the spheres of politics in our country. It was everywhere. People heard it on the radio, saw it in the media. It was common knowledge for people to know about Pablo Escobar and what he was doing."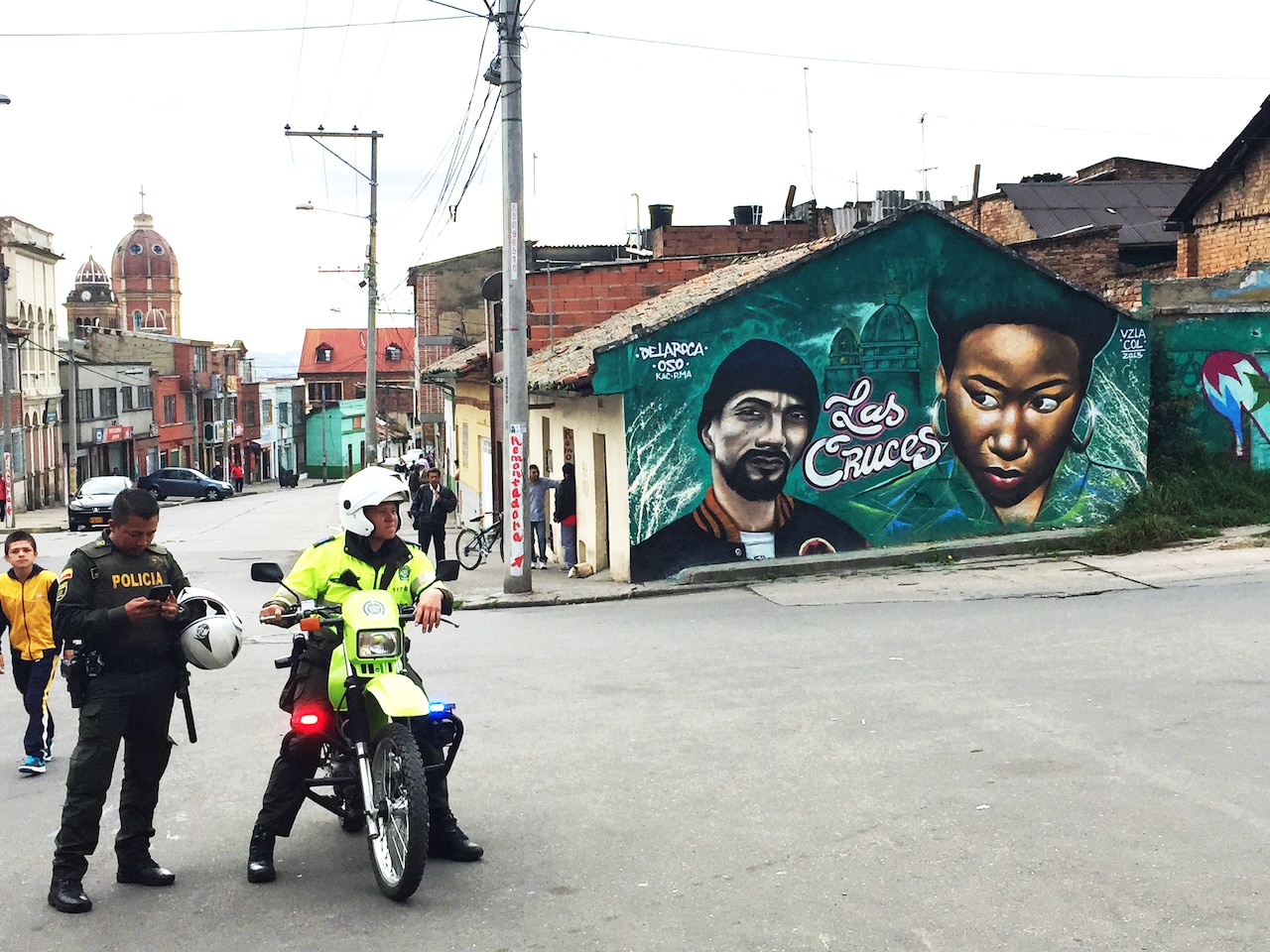 The culture of rap is the form of desperation. It's a natural form for Colombians.
The Pimienta brothers were freestyling over instrumentals that were coming into Colombian record stores in the late '80s, had grown up listening to Kool Moe Dee, Melle Mel and Grandmaster Flash, and their experience growing up in Las Cruces was unlike anything going on in the United States. "The guys of La Etnnia lived their own reality — similar or worse than the reality in which it was based on the gangsta rap of the United States," said Chuck Garcia, a Colombian journalist who has followed the group for years. "Las Cruces had historically been a marginalized neighborhood. Poor, rough, violent, without opportunities."
The message that emerged in La Etnnia's lyrics couldn't help but be political. By the time Pablo Escobar was killed by Colombian National Police on December 2nd, 1993, the Pimienta brothers had been witness to his blood-soaked legacy almost their entire lives. When they went into the studio to record their first album the next year, they had a decade's worth of material, and Colombian cultural mainstays like the lyrical piqueria battles of Colombian vallenato music provided a backbone that made them naturally confrontational.
"There's other folk Colombian music where they have battles, too," Kaiser said. "Like música llanera, and we have contrapunteo, which is similiar, and there are a couple of other musical genres, like all Colombian folklore, where they have battles, too. The culture of rap is the form of desperation. It's a natural form for Colombians."
La Etnnia's debut album El Ataque Del Metano was released on cassette in 1994 and CD the following year. It was more than a decade coming, a period during which hip hop had grown into multiple subgenres and geographical movements, and now Colombian rap had planted a flag.
"On our first record," Kaiser said, "There was the song 'Nieve De Colombia,' which is 'Colombian Snow.' It talks about the problem of the cocaine trade in general — the social problem of cocaine. We are one of the biggest producers out there, and the United States is one of the biggest consumers out there. It's not only the problem of Colombia but in the whole world. It's a problem we have to pick up by the roots. It's not a matter of responsibility, like being a martyr, but it's more like putting in a grain of sand, because there's a lot of things out there that the media doesn't show to the people, and the people do not find out."
La Etnnia followed up their debut with a string of albums, starting with Criminologia in 1999 and adding five more before 2013, as well as two compilations, Coleccion Muzikal and Historia & Leyenda. The lineup of the group has expanded to include other contributors over the years, including Miguel Onofre Chávez, also known as Zebra, as well as the rappers Fonxz and Buitre. When they play in concert now, DJ Manos is behind the turntables, but otherwise La Etnnia is just the three Pimienta brothers, who have never stopped serving as a voice for the streets.
We talk about violence because... it has gone through every aspect of our lives. It's impossible not to talk about this.
"We see a lack of opportunity, lack of representation by the government, and especially a lack of the state addressing education as a priority," Kaiser said. "And because of this, people are forced to hustle in all different type of ways here. We talk about themes of violence because of war that has permeated the culture here in Colombia for more than 50 years. It has gone through every aspect of our lives. It's impossible not to talk about this."
"We always touch upon social themes that are inherently political," said Ata. "Our lyrics are about exposing social problems, but sometimes we also highlight positive aspects of our country such as its people, music and culture. In Colombia, politics has been one of the greatest cancers in our country. Political corruption that has not allowed social changes to move forward. They change their faces, but they seldom change their last names."
In September of 2004 in Barcelona, they were awarded with a Messengers of Truth prize by the United Nations in acknowledgement of their socially conscious efforts. Since then, their global profile has only grown, but 30 years after forming, they are still independent. The record label they have run together since the release of their first cassette, 5-27, is still in operation, and Ata still draws the covers for all of their records.
As a nod to the label's name, La Etnnia's latest record is called 5-27 Internacional. It features guest appearances from some artists they'd never worked with and direction from a producer, Domingo Padilla, who wanted to go even bigger. "We have already worked with big artists separately," Ata said, "but in this album we reunite several of them. We had North American MCs such as the deceased Sean Price, Cormega, The Game, Kool G Rap and Chris Rivers, son of the legendary Big Pun. We had a dream team in this album, which makes a mark in the history of Latin hip hop."
People around the world listening to the record will first hear someone rapping in a different language, and maybe, even if they don't understand, they'll still get it.
The featured artists recorded first in the States, and then Kany, Kaiser and Ata went to work. Domingo created the lanes between the artists, and produced the record along with contributions from Toni Roc, Spkilla and Hazardis Soundz. The result is a mix of Spanish and English that rolls through the neighborhoods of Brooklyn, Queens, the Bronx and Compton, going around the world while somehow never leaving their barrio.
"The rap represents the neighborhood, the ghetto," Kaiser said. "It's the voice of the streets, the voice of the people that don't have a voice. And it's always been a part of the Etnnia state of the art to deliver a message of hope, and that there can be a better tomorrow – in the neighborhood and in the country. It comes to the point at Las Cruces: the people not only talk about its violence, but people talk about the rap, because rap has been such a big influence in the neighborhood that it's very popular as one of the biggest rap neighborhoods here in Colombia."
The song likely to get the most attention on 5-27 Internacional is "Coast to Coast" with The Game, whose verse appears in the last half of the song. In fact, on every song on this record, the guest may introduce La Etnnia, but the first verse always belongs to Kany, Kaiser or Ata. People around the world listening to the record will first hear someone rapping in a different language, and maybe, even if they don't understand, they'll still get it.
"To be honest, language was never a barrier for us," said Ata. "The beat was the main support in our beginnings as b-boys, and although not everything could be understood, there was a notion about what we were listening to. We have always thought hip hop and music in general to be a universal language."

Photography by Peter Beste. Interviews translated from the Spanish with help from Santiago Botero of Los Hosts.

Check out a mix of La Etnnia's finest moments from author Lance Scott Walker below. You can also find him on Twitter and Instagram.