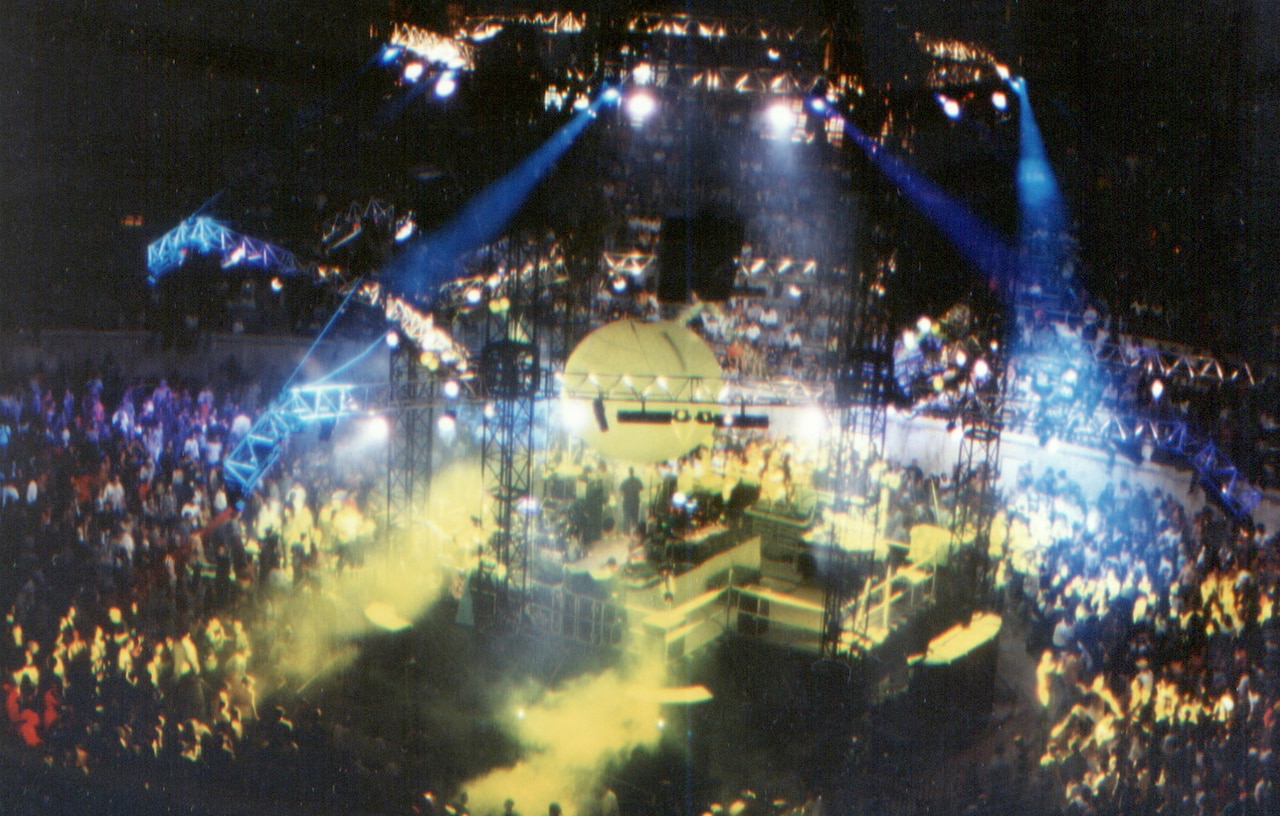 Memories Of Boréalis, 1993–1999
In the early '90s, "La Tribu des Pingouins" began to organize a series of raves and festivals across the south of France. This tribe was made up of about a dozen kids fresh out of school, ready to put themselves on the line for house and techno. They created colourful and hedonistic parties which attracted bigger crowds every year. But fate and natural elements ended up playing against them and finally Borealis was no more. Three members of the collective revisit some of their unforgettable nights.
August 5th, 1993
"The first edition of Boréalis took place at the New York, a disco in Pézenas," says William Recolin11William Recolin set up and managed the Pinguins Record store, one of the first specialists in electronic music in France. His activism also extended to the decks, under alias DJ Willy, to the creation of the Pinguins Music and Extraball labels. and musical production (as part of TBM). He now works in IT.). "We'd set up a dancefloor and a chill out zone inside, and a hardcore stage outside, in the carpark. That's where Liza N'Eliaz played. At that time, she was a big name on the hardcore scene. I'd seen her at the Nostromo rave in Paris, and us, Les Pingouins, we'd already invited her to play at our very first night, la Neurorave, in Montpellier. That evening, at Boréalis, Liza N'Eliaz gave us one hell of a mix, really thought through. She had this really special way of mixing, easing in the tracks very slowly. It was hardcore but with these elongated, intelligent transitions between tracks. She'd tell us a story that extended all through her set. Juan Trip's live show and the records spun by Jack de Marseille at sunrise were other great moments of that first Boréalis attended by more than 2,000 people."
August 13th, 1994
"I was living in London at the time," remembers Bruno Catala22An adopted Londoner, and Steve Hillage's former lodger, Bruno Catala has released several 12-inches under the names Jack Of Swords and Mothra on Andrew Weatherall's Sabres Of Paradise and Sabrettes labels. He is now a professor of meditation. . "On New Year's Eve, in 93, I'd seen Orbital at Megadog. It was a really great show, a bit of trance, really chilled. We decided to book them for the first edition of Boréalis in les Arènes de Nîmes." (Les Pingouins will always have a connection to England; they would go on to program The Orb, System 7 and The Chemical Brothers.) "In the meantime, Orbital had ended up on the bill at Woodstock 94." The date in the New York countryside took place on the eve of Boréalis.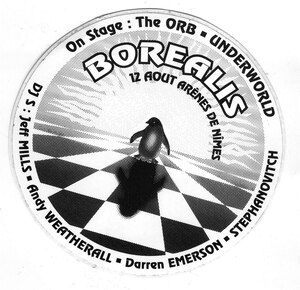 To play these two shows, the Hartnoll brothers ended up flying on the Concorde from New York to Paris. They then boarded a private jet headed for Nîmes. This was a pretty surreal situation for a pair of crusties more accustomed to the mud and cold of British raves. "We even ended up having to open the airport especially for them and then went to get them, straight on the tarmac." What was to follow was just as insane. Completely jet lagged, and on the beers for a while, the pair were AWOL right up until a few minutes before their show. Then, finally, in the middle of a live set, the two brothers asked the organisers for a plastic bottle. The smoke machine was put on a roll so that they could relieve themselves, on stage.
August 12th, 1995
"For this second edition in Nimes, we set up a central stage, this large metal spider of sorts, and we spent a week setting it up," describes Clément Vaché33After the Pingouins era where he manned the decks under the name DJ Citru, Clément Vaché opened two Parisian record stores – Da Groove and Da Phonics – as well as creating the group Aswefall. He is now in charge of musical curation at the Colette store. . "That contrasted with the setting, an ancient, Roman amphitheatre, usually home to bullfighting."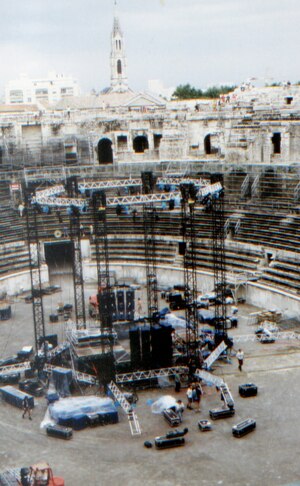 That very night, Underworld gave their first concert in France, "an incredible show," and Jeff Mills, "maestro on the decks," rounded off the night. But Pingouin Clément especially remembers a show by The Orb: "It was magical and really impressive! They played in the still of the night, with a very ambient live show, completely at odds with the prevailing mood of the time. During the Boréalis nights, we always wanted to present the more musical aspects of electronics. Programming a live show at that time of night was taking a huge risk, but the result was amazing. Especially with that scenic infrastructure and the members of The Orb bang in the middle, like gurus."
The crowds were out in full force: 11,000 people poured into the Arènes and 2,000 punters without tickets hung out outside. Some of them even fearlessly climbed up the tall and pointed railings to attend the party for free.
FEBRUARY 24th, 1996
"The Arènes de Nîmes ended up being too small for Boréalis," remembers William Recolin. "And anyway, with the trouble caused in 1995, the mayor no longer wanted to us around. As we no longer had the means to organise a summer event, we imagined a winter event in a closed venue." This would be Polaris, at the Halle Tony Garnier, in Lyon. The line-up was stellar, with The Prodigy, Carl Cox, DJ Hell, Charlie Hall, Miss Djax and Mike Dearborn. But the event never took place: "Under pressure from the local union for bar and club workers, Raymond Barre, who was mayor at the time, only authorized the night until 1 in the morning… We were forced to cancel."
Faced with this anti-techno repression, which was still very frequent at the time, they decided to enter the resistance. Les Pingouins received the support of many artists and organisers. This enthusiasm led to the creation of Technopol, and Josselin Hirsch, from Les Pingouins, became its first president. In 1998, Technopol, then based in Paris, launched the first Parisian equivalent of the Love Parade and still works for the defence and recognition of electronic music based culture today.
AUGUST 9th, 1997
"A majestic set by Laurent Garnier was a particularly memorable point of this first edition of Boréalis in Montpellier," says Clément Vaché. "He played at dawn, from 6 to 8 in the morning. The other stages had been switched off and so everyone had converged towards the main stage where Daft Punk and The Chemical Brothers had played during the night. That morning, there was a beautiful communion between the DJ and the dancers. Especially when Garnier played 'World 2 World' by Underground Resistance. The whole team got up on stage to celebrate that amazing moment. We were proud of that edition and of the line-up which also featured Andrew Weatherall, Darren Emerson, Autechre, Planetary Assault Systems and Slam.
"And especially, this Boréalis followed on from 1996, a disastrous year (cancellation of Polaris, no summer festival) and we were occupying a new site, absolutely enormous, le domaine de Grammont. This was in fact a huge field, with a slight slope, where concerts by the Rolling Stones and Genesis had already been organised, but no house or techno. Everyone had followed us; people came from the whole of France. There were 25,000 attendees, and among them, [ex-minister of culture] Jack Lang!"

AUGUST 8th, 1998
"Beyond our shared love of electronic music, the strength of the Pingouins was the diversity of our personalities and the care we put into organising each of our parties," opines Bruno Catala. "Some took care of the line-up, others of the technical aspects, the 'off' festival, the stage design and of the animations." That year, the line-up was incredible, with Plastikman, Photek, Laurent Garnier, Grooverider, Sven Väth, François K, Jeff Mills, Kerri Chandler, Green Velvet and more. And in the town, as part of the "off" festival, a rare live show by Stardust.
"On the Plaine de Grammont, one of the strongest memories of the night was when a huge ship constructed by street theatre company Malabar sailed through the crowds. We also worked with a collective, Les Nuits Blanches, who had dancers and acrobats on stilts. We created these enormous installations for the set, huge swathes of fabric, and polystyrene penguins three metres high. We payed crazy amounts of money for all of this and Boréalis producer, Bruno Asselin, went with it however megalomaniac we got. But all this did bring magic and wonder to Boréalis, and the images created are still etched into our collective memory."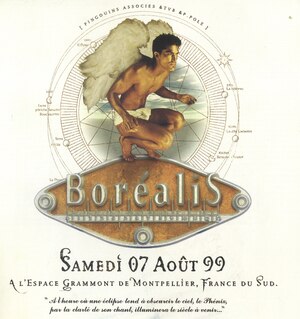 AUGUST 7th, 1999
"Boréalis 99 should have been the apex. It was in fact the apocalypse!" laughs Clément Vaché. "After a decade, our gang of mates had reached the end of a cycle. With Boréalis, as well as the other nights and raves we'd organised pretty much all over France, we'd achieved an incredible artistic endeavour. This cancellation marked the end of an era and that of a beautiful story, that of the Pingouins."
25,000 to 30,000 people were in fact expected to turn up at this 1999 edition. But the previous night, a terrible storm had wreaked havoc on the town. The Domaine de Grammont was totally flooded, impossible to use and the electric equipment was floating in water. Le festival was cancelled that very morning; its organisers close to tears.
"If the festival had taken place, it could have ended in real disaster, especially as they were announcing more storms." There was a meagre consolation: the DJs still wanted to play and went to see local club promoters. The Rockstore had a particularly incredible line-up which brought together Roni Size, Kruder & Dorfmeister and Thievery Corporation. But fate bore down upon them once more: there were more storms as well as power cuts in several clubs, and Laurent Garnier, though he wanted to play, didn't have any records as they had been mislaid by an airline company.
Header image © La Tribu des Pingouins