Nightclubbing: Starck Club
When ecstasy was still legal, America's most hedonistic and forward-thinking club was located in a surprisingly conservative city: Dallas, Texas
"Clubs were always a place we went to escape reality," says Kerry Jaggers, a resident DJ at Starck Club and a catalyst in the chemical reaction that sparked Starck's extraordinary success. "The better the club did separating you from what you were thinking or feeling before you walked in was a direct measure of how successful the club was going to be."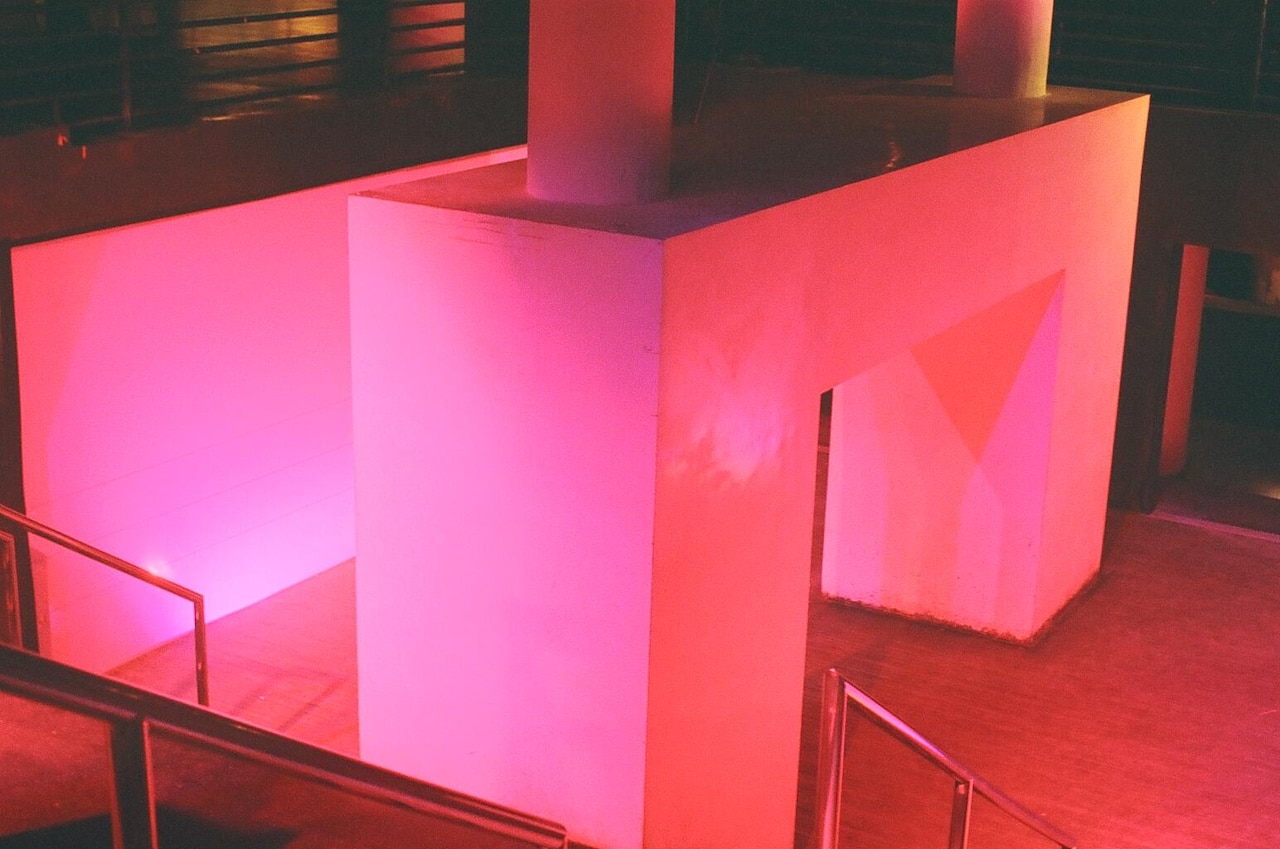 Located in Dallas, Texas, Starck Club unlocked that sort of transcendence on a regular basis from 1984 through 1989, with a cutting-edge design and futuristic music policy capable of taking dancers to space and back on any given night. The brainchild of local businessman Blake Woodall, Christina de Limur and Philippe Starck, the club wholly outclassed its competition in Texas on its way to becoming an international concern: destination for the celebrity jetset, target of the Drug Enforcement Administration and unheralded incubator of acid house. Starck Club epitomized the ostentatious excess of the 1980s architecturally, chemically and musically, destined to burn out fabulously but not before reaching previously unimagined heights. It was, quite simply, a nightclub the likes of which has rarely been seen in the United States since.
He wanted to build a space and experience so powerful it would change the world, ushering in a utopian future – an Age of Aquarius engineered through architecture.
Starck Club existed first in the mind of Blake Woodall, a scion of the Vent-A-Hood company, which manufactured residential oven ventilation systems and had roots in Dallas dating back to the 1930s. A man of vast ambition with a rebellious streak, Woodall was hesitant to take over the family business. He had his heart set on opening a nightclub, and not just another local honky-tonk. Woodall wanted his club to become one of the most prominent in the world, so architecturally stunning and musically adventurous it would achieve international acclaim. It was a lofty goal, but one Woodall chose to pursue doggedly. First and foremost, he needed a designer who could translate this dream into reality.
Woodall found an equally excitable and monomaniacal partner-in-crime in Philippe Starck, the French designer and architect. Starck is now renowned for his innovative design, with works displayed in the Smithsonian Design Museum and at the Museum of Modern Art in New York, but at the time he was relatively unknown, although he had previously worked on the interiors of Parisian nightclubs La Main Bleue and Les Bains Douches. Fearful that the Russians would invade France during the peak of the Cold War, Starck fled the country and ended up in Texas, falling in with Woodall and becoming enamored of his vision. However, Starck aspired to go even further than Woodall. He wanted to build a space and experience so powerful it would change the world, ushering in a utopian future – an Age of Aquarius engineered through architecture. "I think this club can be a temple of future people in 3,000 years," Starck says in the unreleased documentary The Starck Project. He feverishly set to work on blueprints while Woodall began to woo investors.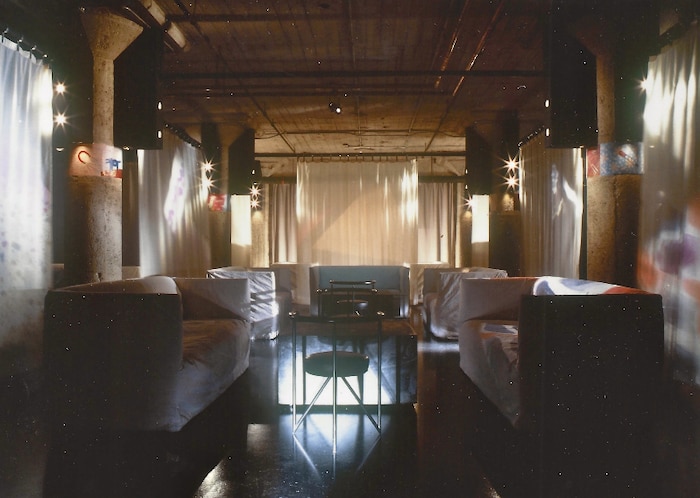 "I knew I needed a great designer, but that the great designer would not necessarily be involved in the culture," says Woodall of Starck's role. "This project was not one person – there was a design aspect, a music aspect, a fashion aspect, management aspect." However, Starck was the essential cog in the machine that allowed Woodall to believe he might actually achieve his plan. "Once I knew Philippe was interested, that's when I finally said: 'Okay, we're gonna move forward.'"
The strong personalities clashed early. Starck was a demanding architect and singleminded in his pursuit of perfection, fixating on seemingly insignificant details. For Starck, money was no object, whereas Woodall was sensitive to ballooning costs as the club's construction period passed one year, then two, then three. Along the way, Starck temporarily returned to Paris to redesign the Élysee Palace, the residence of the French president, and once he returned to Dallas got into a contract dispute with Woodall. They smoothed things over eventually, but it was just another obstacle in what had become a endless production process.
While planning was underway, Woodall visited Ibiza for the first time. The trip was his introduction to DJ culture and music beyond the American Top 40, and he became even more motivated to implant the inclusive ethos of what he witnessed in Ibiza into the DNA of Starck Club. "I was awed by the culture, the fashion and the music, and how it seemed so international," says Woodall. "We were listening to music from Barcelona, Munich, Tokyo, New York, Los Angeles. It was a remarkable music scene and I made the decision at that point that would be the music aspect of our project."
Starck Club borrowed liberally from other iconic nightclubs on its way to establishing a personality and legacy of its own. The name was meant to conjure memories of Manhattan's legendary Stork Club, but looming even larger was Le Palace, the Parisian theater run by Fabrice Emaer which became synonymous with over-the-top flamboyance in the late 1970s. The influence of Le Palace moved beyond merely conceptual inspiration when Woodall hired the club's doorwoman Edwige Belmore to work at Starck. Belmore had earned a reputation as the "Parisian Queen of Punk," playing in the band Mathématiques Modernes, walking in Thierry Mugler runway shows and famously turning away the King of Sweden from Le Palace. She brought that pedigree to Starck, blasphemously rejecting the Dallas Cowboys former star quarterback Roger Staubach and telling the Dallas Morning News in 1984 that "money has nothing to do with it. Some people belong to some nights, but don't belong to other nights."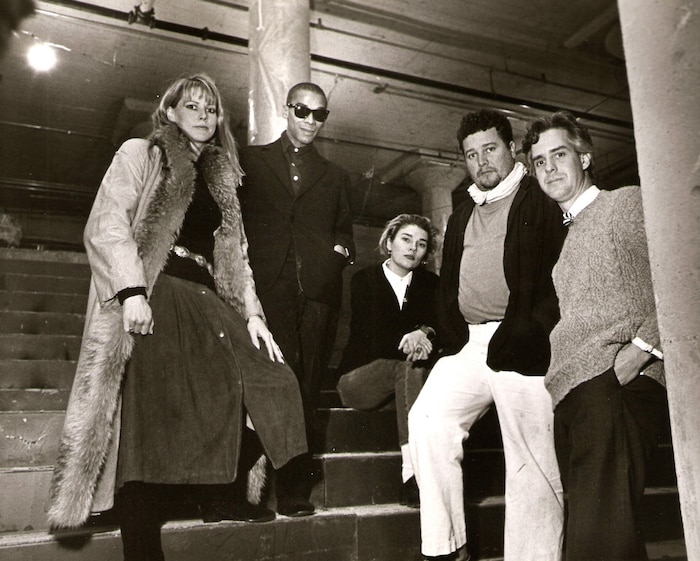 Fitting Starck's international music policy, Woodall thought the interior of the club should likewise be a microcosm of the outside world, an endeavor that demanded a strict door to ensure such a balance. "If you were of the gay culture you would want to know you were welcome," says Woodall. "If you were a business guy you would want to know you're welcome. I had this idea that inside there would be green hair and then there would be some of the most remarkable, political people in the world." Belmore, who passed away in late 2015, was notoriously tough but not completely emotionally impenetrable. "I had put on Sade's record," recalls Kerry Jaggers of one of his first gigs at Starck, "and in comes Edwige crying: 'That is my lover. That is Sade.' I'd never heard of her. But that was apparently her ex, and the big austere door lady was all mushy, so I thought I'd messed up at first."
His friend reached behind him, pulled out a sandwich bag full to the brim of questionable white powder, and tossed it at Jaggers, saying, "Spread that around. It will make it more fun."
At this point, if Starck Club could speak it would have been with a French accent and not a Texan twang. In addition to Belmore, Woodall's cofounder and creative force Christina de Limur was born in France, and Philippe Starck had recruited his best friend Philippe Krootchey to be the club's first resident DJ. Solidifying the connection with Le Palace, which had opened with a performance by Grace Jones, Woodall enlisted Jones as the headlining act for the official opening of Starck Club.
Starck Club finally opened to the public on May 12th, 1984. The entry price for the first night was an eye-popping $125, with performances by Jones and Stevie Nicks, who was herself an investor. "If Jay Gatsby were alive and living in Dallas in 1984, this is the sort of party he might throw," trumpeted Dallas Morning News writer Russell Smith.
There was still one problem. After so many delays, Philippe Krootchey was no longer available to fulfill his commitment as resident DJ at Starck on opening night. Dallas local Mark Ridlen, an eclectic DJ who had initially picked out records for the club with Starck himself, wouldn't do as a pinch-hitter full-time. So Grace Jones' manager put in a call to Kerry Jaggers, a DJ and club consultant who was living in New York at time but had previously opened clubs all across the United States, including experience in Texas at Club Foot in Austin and the Village Station in Dallas. "They suggested that they'd call their friend and I could get on a place and fly to Dallas the next day with my records, and that's what happened," says Jaggers.
The decision to call Jaggers had a seismic impact on Starck Club's future. Summoned on short notice, Jaggers stopped by a friend's house to tell him he wouldn't be able to make pre-arranged plans due to being in Dallas. His friend reached behind him, pulled out a sandwich bag full to the brim of questionable white powder, and tossed it at Jaggers, saying, "Spread that around. It will make it more fun." Jaggers took it and followed in kind. When he got to Starck, he handed it off again: "Here you go – spread it around."
"Philippe Starck literally thought he could build a club so special, he could change the world," says Wade Hampton, an underage attendee of Starck Club and producer/music supervisor of The Starck Project. "But he had no idea ecstasy was going to show up."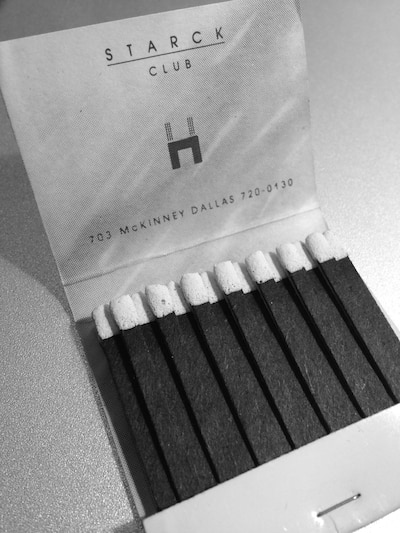 Ecstasy was legal in the United States in 1984 and not exactly an unknown entity – according to the Drug Enforcement Administration, former seminary student Michael Clegg was distributing upwards of 500,000 pills a month in Dallas at the time – but it spread like wildfire through the club in the ensuing weeks, the perfect enhancement of Starck Club's already overwhelming energy. It was sold over the counter by bartenders, or you could buy cigarettes from the androgynous cigarette girl Vaal Brougham and there would be a hit of Ecstasy in the pack of matches that came with it. However, the trade was run by individual employees and not being handed down by the top brass like Woodall, who couldn't risk losing their liquor license in spite of the drug being legal.
Meanwhile, Jaggers was refining the DJ style that would set the stage for everything that would come after at Starck. "We weren't afraid of playing below 110 beats per minute," Jaggers recalls. "Most DJs would say, 'Oh, no, that's too slow. You can't play that in a club!'" But Starck regulars warmed to the slower tempos, giving Jaggers permission to stray outside their comfort zone. Songs like the Smiths "How Soon Is Now," Billy Idol's "Eyes Without a Face," and Nik Kershaw's "Wouldn't It Be Good" all found favor when played out by Jaggers, who intentionally sought out tracks with a modicum of crossover on the nascent MTV to get the crowd to warm to his selections. "Things where they recognize the voice in time to get their attention, get them dancing and thinking, getting them to trust me, and then starting to spoon-feed them things that I cared about," Jaggers says. "They were always very responsive to it."
Philippe Krootchey eventually showed up in Dallas, but his time at Starck was short. Krootchey was a talented selector, but less inclined to stay in tune with the needs of the dance floor and the crowd's evolution over the course of a night navigating peaks and valleys of an ecstasy experience. Krootchey preferred to play one crazy song after another, flow or mixing be damned. The music was fresh but not necessarily unheard-of, and the interior of the club had turned out so beautifully futuristic it demanded music to match.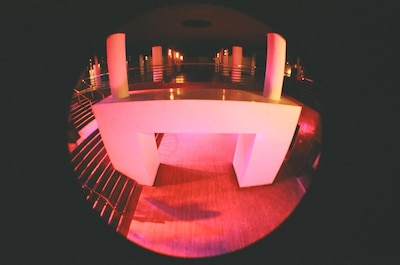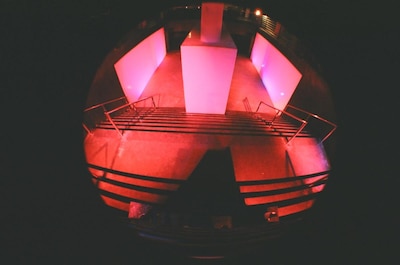 Starck was located in the Dallas Brewery building at 703 McKinney Avenue, underneath an overpass of the Woodall-Rodgers Freeway and across unmarked railroad tracks. That entrance was marked by giant, shiny black steel doors resembling a bank vault, and when you entered through the curtains there was an ocean of black terrazzo floor, polished and buffed to gleaming perfection.
The dance floor was sunk 12 or so feet into the space below the DJ booth, bisected by a thick marble arch, with a 32-foot wide marble staircase leading down to it. Starck had built the subwoofers into the dance floor, creating the sensation that you were inside the sound system. The side walls of the dance floor were covered in metal grating, similar to what a retail store at a mall would pull down when they close for the night, and the scrim behind the metal was lit with wash lighting. That chain link was good for those too lost in their own heads to actually dance, providing valuable support for people to hold onto with their eyes closed.
Opposite the staircase was the cold room, behind a seemingly solid wall that could be pushed back and opened into a sort of private bar with dim lights and candles. Upstairs, different sections of benches, columns and velvet-upholstered love seats were divided by sheer white curtains, with ample opportunity for exploring or disappearing. The general manager Greg McCone eventually realized he could use the projectors on those curtains as well as the dance floor walls, and it became standard to change themes weekly encompassing all projected surfaces in the club. Other than that, there were no mirror balls or strobe lights – Woodall thought they were too distracting.
"Everything had a very hard edge," remembers Mark Ridlen, who worked at Starck for almost the entire time it was open in a variety of important roles. "It was all granite, steel, chrome – high-tech looking but playful. Some of it kind of reminded me of Lego blocks."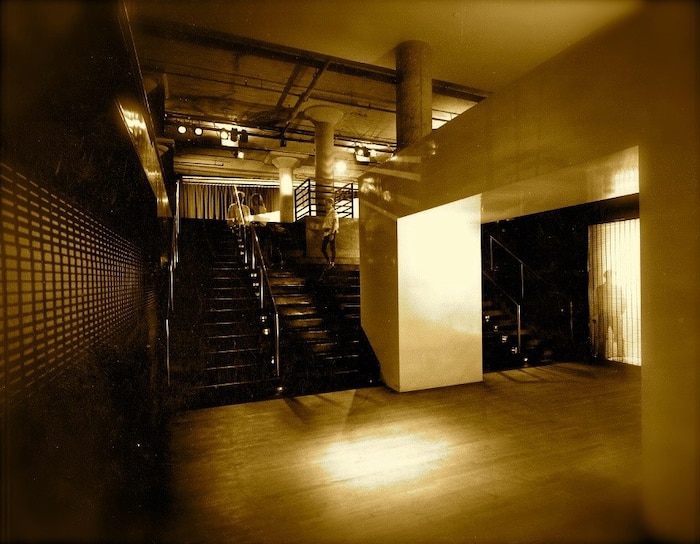 The bisected dance floor might seem counterintuitive, but it became a symbolic dividing line for tribal allegiances. "There would be people on the right-hand side of the dance floor and people on the left hand side," says David Muir, a Starck regular who also DJed frequently at the club. "It was the Capulets and the Montagues: we didn't go over and dance on that side and they didn't come over and and dance on our side. It was two separate worlds." Likewise, Starck became known for a subset of "stair dancers" who never left pre-designated spots on the staircase that led to the floor.
Such a focus on design was out of the ordinary for the time – people wanted Saturday Night Fever, not an artsy French film. But despite the stunning architecture, the marquee attraction at Starck was the crowd, the real art to fill Starck's sleek frame. Individual attendees were as much on display as any of the actual decor, and the styles were a mobile montage of diverse international tastes. MTV was still a fresh entity, and the crowd at Starck absorbed the androgynous visual representations of that era to create a gender-bending climate. "The Starck Club was a museum of people," says Michael Cain, director of The Starck Project. "You walked in and felt like you were in an amazing space with great music, but it was about the people."
"The true decoration was the crowd that came in," agrees Greg McCone. "The club was so ahead of its time, a Saturday night looked like Halloween. People were in drag as Marie Antoinette, or dressed up in tight suits painted green like Mars men. They'd come in naked with a terrycloth bathrobe on."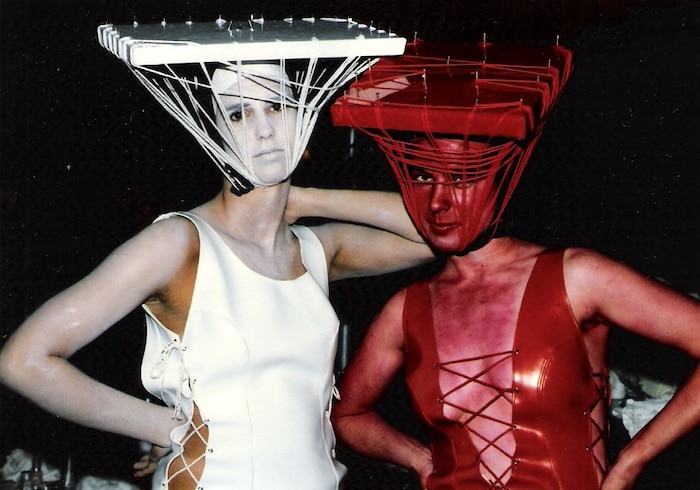 "It was like a disaster movie. People running around screaming, yelling, throwing glasses down, sweating, fainting." – Mark Ridlen
All of this human drama was set underneath a cordoned-off DJ booth looking down on the dance floor. Importantly, when you first walked into the club, you saw the back of the DJ before you saw the dance floor. The DJ wasn't performing for the people walking in the door but for those that were already there, lost in the music.
The level of care put into every small detail of the club was unprecedented for Dallas. Greg McCone had extensive experience in the food and beverage industry, and together with Woodall had slavishly gone through everything down to the size of the ice cubes they would use. To highlight just one extreme example of their commitment, the crystal glassware at Starck was chosen based on the sound it made breaking on the terrazzo floor, tested by dropping one glass after another until they found the one that made the cleanest shattering sound.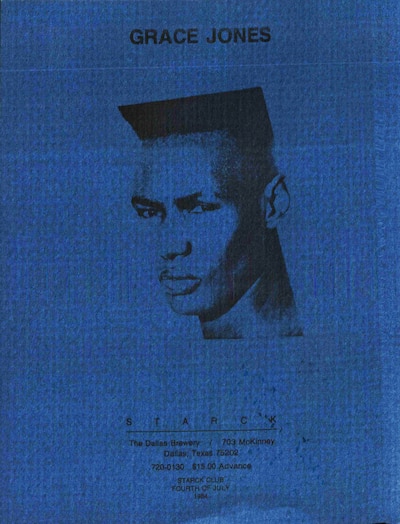 The attention paid off on the 4th of July, 1984, when Grace Jones returned for a second performance at Starck. Though it was the height of summer, the air conditioner was turned off at Jones' request. She was three hours late taking the stage, and the crowd was devolving into sweaty mayhem, smashing all of the crystal glassware on the floor in angry disapproval. "It was like a disaster movie," says Mark Ridlen. "People running around screaming, yelling, throwing glasses down, sweating, fainting."
"Everyone was sweating and taking off their clothes," says Michael Cain, "and suddenly she comes on." Jones was a mesmerizing force, and no one left despite the delay and discomfort. "Looking back, that was pretty clever of her to do that, get that kind of extreme reaction," says Ridlen. Word of the performance spread and the club became nationally known almost overnight. Starck drew lines of thousands, unheard of for Dallas before or since. This was the end of Starck Club the nightclub and the beginning of Starck Club the legend, and high-profile visitors came in swarms.
Rob Lowe visited Starck while dating the Princess of Monaco. Prince rented out the club for a private party. The cast of Dallas, at that point one of the most popular television shows in America, attended frequently. Tom Cruise stopped by. Peter Hook and New Order visited and were blown away. Dallas local Molly Emerson had a sister that worked at Virgin Records, and the two women would bring visiting artists to Starck all the time. "They wanted to see three things when they came to Dallas," says Emerson. "They wanted to see the Starck Club, they wanted to do MDMA, and they wanted to see where JFK was shot."
Most incredibly, future president George W. Bush was a young attendee of Starck Club alongside Maureen Reagan at a Young Republicans fundraiser in 1984. Taking place during the Republican Convention, the group had decided to hold their event at Starck, with Bush and Reagan visiting the spot with Secret Service in tow. Starck stayed open seven nights a week, so off nights were often given over to local political groups, but this created a tension with Starck's normal crowd. "On Tuesday night you might have a group involved with a cancer charity," says Michael Cain. "You'd have Ross Perot and the Mayor and city councilmen showing up and saying, 'Oh, this is like a museum. This is great, they're raising money for my charity.' It was a safe environment, and then it was very different by the time that they showed up on Friday night. Sometimes it worked and sometimes it terrified them."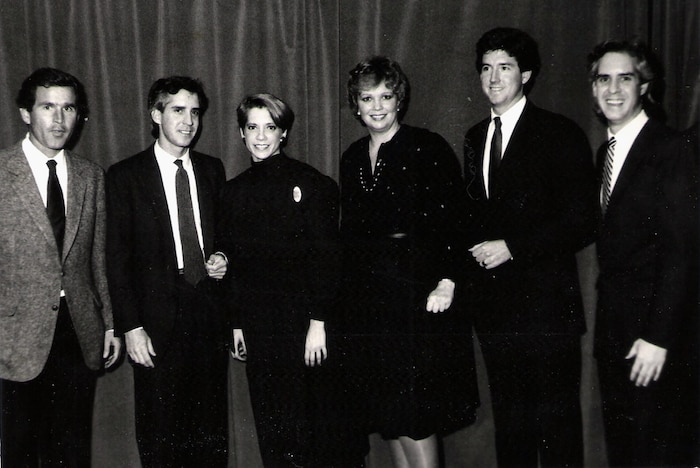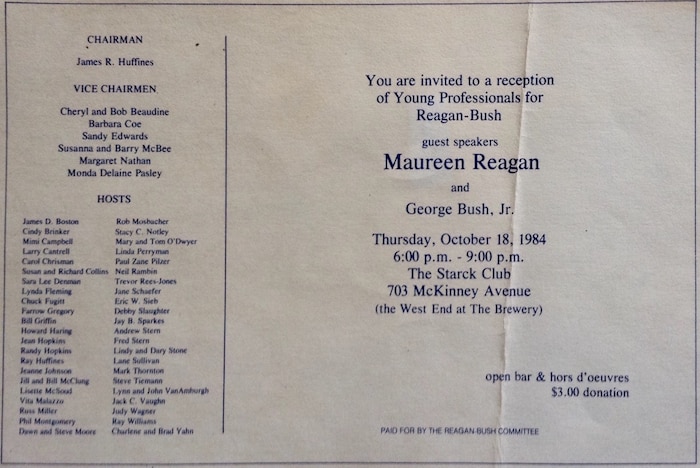 An unexpected highlight were the unisex bathrooms, which took on a life of their own as the club increased in popularity. "I think it was GQ that said, 'It is good to be seen in the Starck Club, but better to be seen in the bathrooms of Starck Club,'" cracks Woodall now. There were glass blocks used as stall dividers, so you could see movement on the other side but not see through them entirely, and motion-sensor TV sets were installed above the toilets that played custom videos. "You would go into a stall and shut the door and the TV screen pops on with a music video, which were new things for us," says Molly Emerson. "There were people that would hang out in there for the longest time just doing loads of coke – you could hear the giggling and the dropping of mirrors and the sniffling behind closed doors."
"The bathrooms became the most intimate club in the nation at that point," says Greg McCone. "There were honestly people that came into that club, went to the bathroom, stayed for 2.5 hours, and when they left the bathroom went home. Never even went in the club."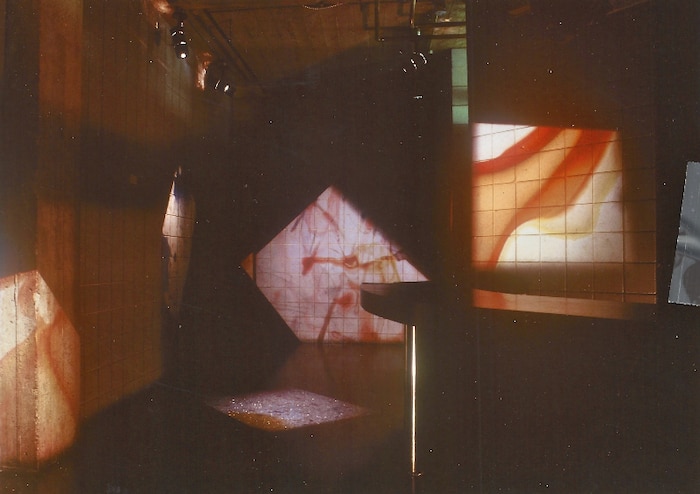 Kerry Jaggers had continued DJing at Starck alongside Philippe Krootchey, Mark Ridlen and others during this time, but he declined a permanent position in order to open his own club. Just as he had done with ecstasy, it was Jaggers who then introduced Starck to the magnificently mustachioed Rick Squillante, a forceful personality whose DJing continues to earn breathless tributes to this day.
Rick walked in and started playing music that none of us had ever heard.
Temporarily homeless after a falling-out with the owner of the Bonham Exchange in San Antonio, Squillante had moved in with Jaggers in Houston. Hearing rumblings that Philippe Krootchey wasn't long for Dallas, Jaggers had to position Squillante to take over. "They didn't like the sound of it, and I talked to him about them and he said, 'I don't want to go up there with all those attitude people with dress codes,'" says Jaggers. "Rick was a very Hawaiian shirt and flip-flops type of guy. I had to kind of trick them together, but that was one of the best things that I probably ever did to that club."
"Rick walked in and started playing music that none of us had ever heard," says Greg McCone. "At the time we thought it was 'Eurotech' or something." A deft mix of deep disco, New Wave, European synthpop, and pop B-sides, Squillante's music was glossy, maximalist and outwardly emotional, the ideal sonic accompaniment to the empathic atmosphere at Starck. "It's all very common today," says McCone, "but in those days no one had ever heard of it, and what it became known as was 'Starck Music.'" With Krootchey deposed and Jaggers relocated, Starck was Squillante's congregation through and through.
Squillante abided faithfully by the well-worn maxim that if you don't love it, don't play it. He and Jaggers had an agnostic approach to mixing, both believing that the mixes were not as important as the music. Trevor Horn and the ZTT catalogue were favorites, as were the likes of Pet Shop Boys and Echo & the Bunnymen. Squillante wasn't afraid to play the hits if the time was right, but his mixing connected the dots – he might play "Bela Lugosi's Dead" before George Michael, and somehow the blend worked in his hands. He would often close either with Yaz's psychedelic interlude "I Before E Except After C" or, if he was feeling more triumphant, Malcolm McLaren's "Madam Butterfly," a Balearic vocal track that stunned the Starck audiences.
"Rick didn't do much mixing," relates McCone. "He just played the exact right song one after another. He created excitement. If they weren't already on the dance floor, they were running to the dance floor." Given the reins of Starck four nights a week for nearly three years, Squillante held parties of his own inside the DJ booth, which Woodall had explicitly designed so DJs could have ample space for their friends to join them. "Rick would be talking to all these people and would turn away with 30 seconds left of music, walk over, pull a record out, throw it on, and it would be right on cue and mix right into a new track," says David Muir. "He was able to talk to people and in the back of his head know where the music was and what he was going to play next."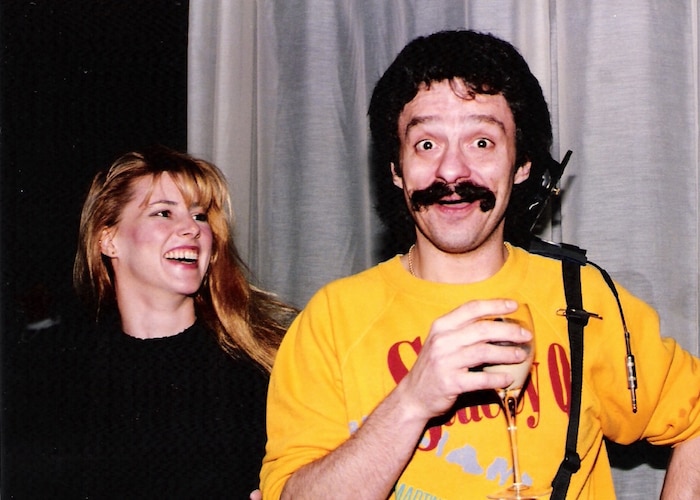 "Imagine Harvey Fierstein in Mrs. Doubtfire: that's Rick Squillante," says Jaggers. "Rick was totally sweet and loving and a hardcore New York Italian crazy person. It would rise up and he could take somebody apart in seconds and bring them to tears. Or he could be among the sweetest, most precious little puppy dog that you ever wanted to hug." His emotional volatility made him an ideal match for Starck's crowds – "He wasn't just somebody who wanted to play some songs for you – he was impassioned about it," says Jaggers.
Squillante had a knack for breaking hits, first in Dallas and then nationwide, including the extended version of Falco's "Rock Me Amadeus," but his biggest success was with a song that also came to be a Starck Club anthem – Uptown's "(I Know) I'm Losing You." A cover of the Temptations recorded in Dallas and released via Oak Lawn Records, a local record shop that moonlighted in ecstasy sales, the introductory sirens and jittery melody make an impact 30 years after release, as transportive and powerfully nostalgic as any other track associated with the club, and the opening salvo of sirens would bedazzle Starck dancers. "(I Know) I'm Losing You" broke into the Billboard Hot 100 in 1987. "That was a real call to arms around that club," says Wade Hampton. "It has a siren at the beginning and it meant, "Everybody get on the dance floor as fast as possible."
Another one of Squiggy's anthems was Section 25's "Looking from a Hilltop," which is still implanted in the minds of numerous attendees. "'Looking from a Hilltop' is like part of the architecture of that building," says Hampton now. "It's the only thing I can think that has the size and shape and sleekness and stealthiness that really equates with that room. If I had to pick one song that is the Starck Club, that's it."
With Squillante driving the crowds wild, at one point McCone joined an injunction alongside several Dallas gay bars that would allow Starck to open afterhours. The floodgates were open and for several years they closed at 6:30 AM or later. Squillante was unfazed by the additional time demanded of him, often playing from 9:00 PM until 7:00 or 8:00 AM the next morning.
Though Starck was riding high, a fall was coming. With alarmist news pieces in Time and the Dallas Morning News, Starck was set to become a victim of its own popularity, targeted by the Drug Enforcement Administration as the supposed epicenter of ecstasy distribution in Dallas. Ecstasy had pervaded Starck in a big way, true, but all of Dallas had joined the fun. "The whole city was overtaken by this phenomenon," says Wade Hampton. "Southern Methodist University was completely knee-deep in ecstasy. You've got the children of politicians and you've got the parents trying to see what the kids are up to – it wasn't unusual to see your parent's friends out at Starck."
Visitors to Starck were shocked at the scale of consumption, never expecting club culture to be taking root in a supposedly conservative city like Dallas. And, up until 1985, the local police department were woefully out of their depth when it came to investigating and arresting those they suspected of using the drug. "One of my friends always had a couple of ecstasy tablets on her – they looked like old Bayer aspirin tablets," laughs Molly Emerson. "She was arrested for a ticket she didn't pay, and when she got her property back, the envelope with the tablets was still there. There was a note attached that said: 'Believed to be a controlled substance.' But they had to give it back to her because they couldn't identify it as drugs!"
The DEA wasn't laughing, and they moved quickly. On May 31st, 1985, emergency actions were announced to ban ecstasy, partially at the behest of Texas Senator Lloyd Bentsen. MDMA officially became a Schedule I drug on July 1st, 1985. On July 9th, Dallas police made the first arrest for Ecstasy possession in America, and a year later, on August 7th, 1986, the DEA raided Starck. There were the expected arrests and confiscated drugs, but nowhere near the amount necessary to feed the nation as the DEA might have hoped. "The big quote was 'Drugs are so thick on the marble floors, the police dogs were tripping over them,' says Greg McCone. "All of which are total lies."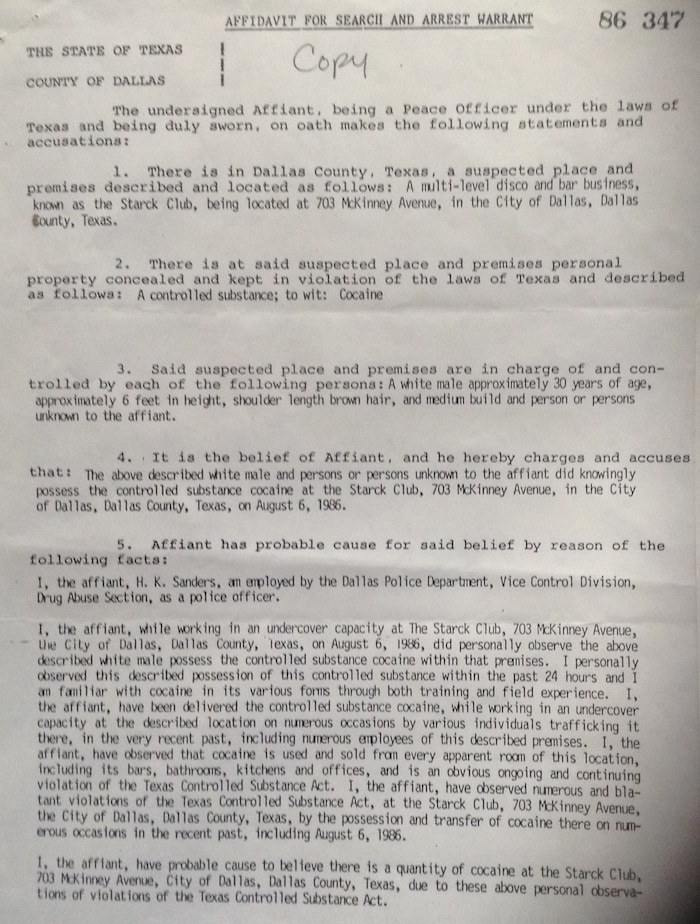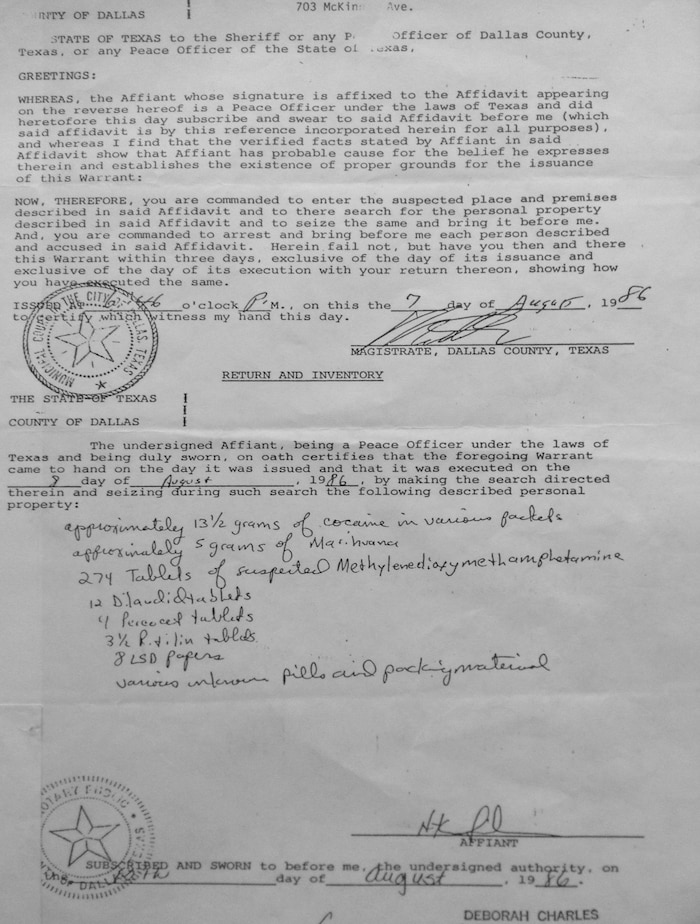 The bust, however, temporarily encouraged Starck's resilience, cementing their desire to push boundaries within legal limits. Following the raid, the city temporarily revoked Starck's dancing license, leading to a "No Dance" period from April 20th – May 4th, 1987, while Squillante was still installed as resident. "Lest patrons lose control and move their bodies with too much rhythm, employees dressed as 'dance police' are keeping vigil throughout the half-acre, ultra-modern premises," reported Joel Williams with the Associated Press on April 25th, 1987. "Friday night's special theme was a 'No Dance Party,' including a 'No Dance' contest and the distribution of pamphlets on 'Steps Not To Take.'"
Visually and musically, Starck was on a new journey. Celebrities and the elegant, monied friends of Woodall could no longer be seen at Starck due to the implications of their attendance and they were replaced by younger, edgier crews. "This had gone from the Lifestyle section to the Crime section," remembers Hampton. "Kids didn't care. Kids want to do anything they're told not to do, so that's who showed up, and they were into house music."
Politics, laws, greed – the music is the greatest thing that came out of Starck.
House music gave Starck Club a second life. Despite his popularity, Rick Squillante was replaced when he declined the position of program director, ceding his residency to "GoGo" Mike DuPriest, the man who popularized acid house in Dallas. At other clubs, a shift from Propaganda to Todd Terry might not have been so palatable, but the patrons at Starck were up for the shift in style simply because it was Starck.
In the hands of GoGo Mike, Starck was again at the musical cutting-edge. DuPriest's taste for acid house put Dallas ahead of the curve of most American cities, and he ended up having a titanic influence on Dallas' burgeoning rave scene. GoGo Mike had been influenced by Mark Ridlen's eclectic taste, able to weave acid house, hip hop, disco and freestyle into a seamlessly mixed whole. DuPriest kept Squillante's penchant for emotional storytelling intact but rewritten in the new language of acid house, murking the mix with 303 lines constricting the vocal-driven tracks Squillante might have otherwise let float free. Whereas Squillante honed in on melody, with a mixing style that allowed songs with many different changes to resolve, DuPriest was all about rhythmic propulsion and going deeper into the mix. "A lot of DJs could do this or that well," says Hampton, "but Mike could do it all well."
Even though ecstasy use had been pushed further underground, Mike's sets were as psychedelic and suggestive as Squillante's, in a completely different way. Talking about the Mount Rushmore of Starck Club DJs – Jaggers, Krootchey, Squillante and DuPriest – Blake Woodall says that "even though all four were in the same scene, they were different in the way they presented their music, in the way they enjoyed developing the evening. I saw in Ibiza what I wanted, and that dream was fulfilled in those four guys."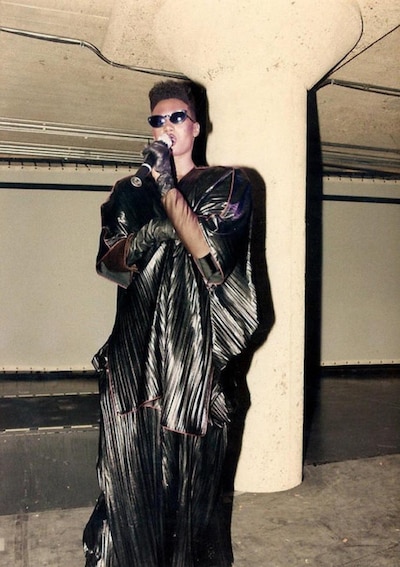 Still, Woodall was exhausted. As time went on, Starck Club had grown beyond even what he had anticipated. "It was fun being one of the owners of one of the most remarkable nightclubs in the world," says Woodall. "Then I started seeing how big it was getting, how almost out of control it was." It was time for Starck to shutter, but not before one final bash. The closing party was July 11th, 1989, featuring yet another Grace Jones performance and a DJ set from GoGo Mike. It was fitting that Jones played both the opening and closing at Starck – her gender fluidity and tendency toward experimentation could not have been closer to Starck's personality. If the angular, inimitable club was incarnated in humanoid form, it would have been Grace Jones.
Today, few of the main DJs at Starck are around to share their stories. Of the four primary DJs, three are dead – Squillante committed suicide in 2001, Krootchey passed away in 2004 from liver failure, and GoGo Mike DuPriest died in a car accident in 2006. The task falls to people like Jaggers, Hampton, Muir and Ridlen to preserve their memory, but the music also lives in the minds of Starck attendees, who operate vibrant online communities dedicating to preserving memories of the music that changed their lives. The people who attended Starck established bonds and friendships that persist to this day – whether it be the chemicals or the music that united them, it's something they'll never let go of.
For a long time, the black doors at the Dallas Brewery building were a pilgrimage site, where old clubgoers went to relive their glory days, but not for much longer – the doors have been torn away and replaced by plywood in anticipation of the building's destruction later in 2016. Starck himself went on to an illustrious career where his club is almost a footnote, and he was apparently unaware of its significance until the last couple of years, having only gone to the club twice before returning to France.
Three decades removed from the success of Starck, Blake Woodall sees the club's lasting legacy as somewhat of a Pyrrhic victory. "It was a great creative idea and a place where people could come and be who they are," he says, "But I also look back and see that parts of it were destructive. I have a dual view of it. From a creative standpoint: remarkable. From a cultural standpoint, I think we extended ourselves in ways that did not, in the big picture, improve some people's lives. It was destructive to them and led them into something that was not healthy and helpful to their well-being."
Woodall's partial regret isn't entirely unexpected from a 64-year-old born-again Christian who now serves on the Board of Trustees for Redeemer Seminary in Dallas. What Woodall describes as licentiousness, others involved view with more forgiving nostalgia. "I don't have a big X in my mind as far as X is concerned," says Greg McCone of Starck's chemical history. "In the seven or eight years I was there, there was not one night ever that I didn't want to go to work."
Kerry Jaggers believes the drug was an essential to the club's success, however serendipitous his and its presence there was. "I don't think they would have been nearly as open-minded had that not been part of the equation from the beginning," Jaggers asserts. "Groups of people that do it together learn how to be their best selves, because they're able to be open and not have that fear of rejection. It opens you up, make you comfortable being yourself and having your feelings. And once you learn to do that, if you do that with a group of people over a long period of time, they all learn to be that way together," Jaggers says now. "The people that were there know that and you'll never convince them that it's anything but a good thing. I'm in that camp."
The music, the fashion, the Ecstasy – Dallas wasn't prepared for all of what Starck Club had to offer. Each of Starck's primary players had different motivations that coalesced into one beautiful, fiery cultural moment, one that somehow that all took place in Dallas. Ultimately, though, it's the music that lives on. "There's all these agendas," says Wade Hampton now, "but the music is actually what ends up wagging the dog. Those agendas don't matter when the music does what it ended up doing, becoming a driving force powering through all that. Politics, laws, greed – the music is the greatest thing that came out of Starck."
Starck was vacant from 1990 until 1996, when Dennis Rodman of the Chicago Bulls and the owner of Dallas' Lizard Lounge Don Nedler conspired to re-open a club in the same space, christening it "Starck MCMXCVI." No matter – the magic of Starck was bigger than a building, and without Rick, Mike and all their dancing friends, the original Starck Club could never be replicated. "You could be great – you could be better than us," Greg McCone told Nedler when he opened his version of Starck. "But you won't be remembered."

Listen to mixes by Rick Squillante, GoGo Mike DuPriest and Avalon Emerson, directly from – or inspired by – Starck.