Nightclubbing: The Spectrum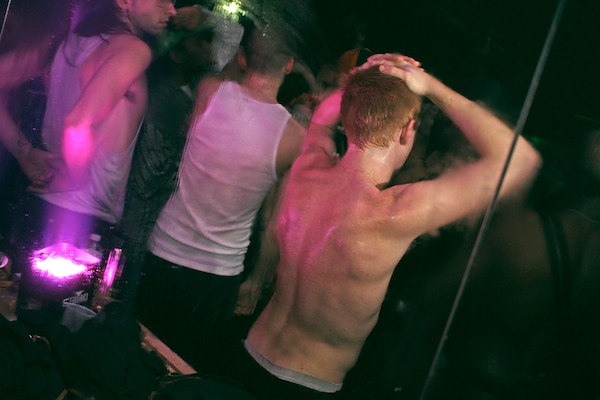 An under-the-radar queer safe space pushing the boundaries of music and art: How five years of The Spectrum breathed color back into New York nightlife
No stranger walking past the plain facade of 59 Montrose Avenue, Brooklyn, would have had any reason to give it a second glance. But inside, for five years, the address dazzled with unregulated energy and imagination as The Spectrum, a creative playground for New York's most recent generation of legendary children.
Both a daytime arts space, hosting everything from yoga to exhibitions (featuring the likes of Wolfgang Tillmans), and a nighttime party destination outside of the law and time, it built its word-of-mouth reputation on a bedrock of young talent, before closing its doors with a final send-off on New Year's Eve 2015 – forced to move on by the ever shifting demographics of New York.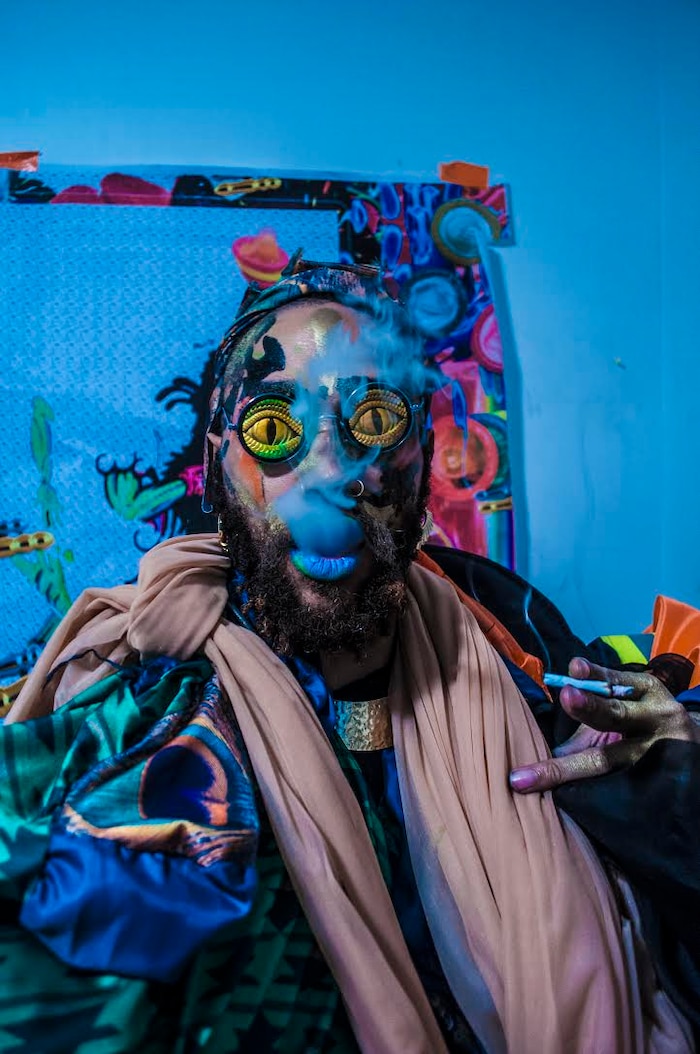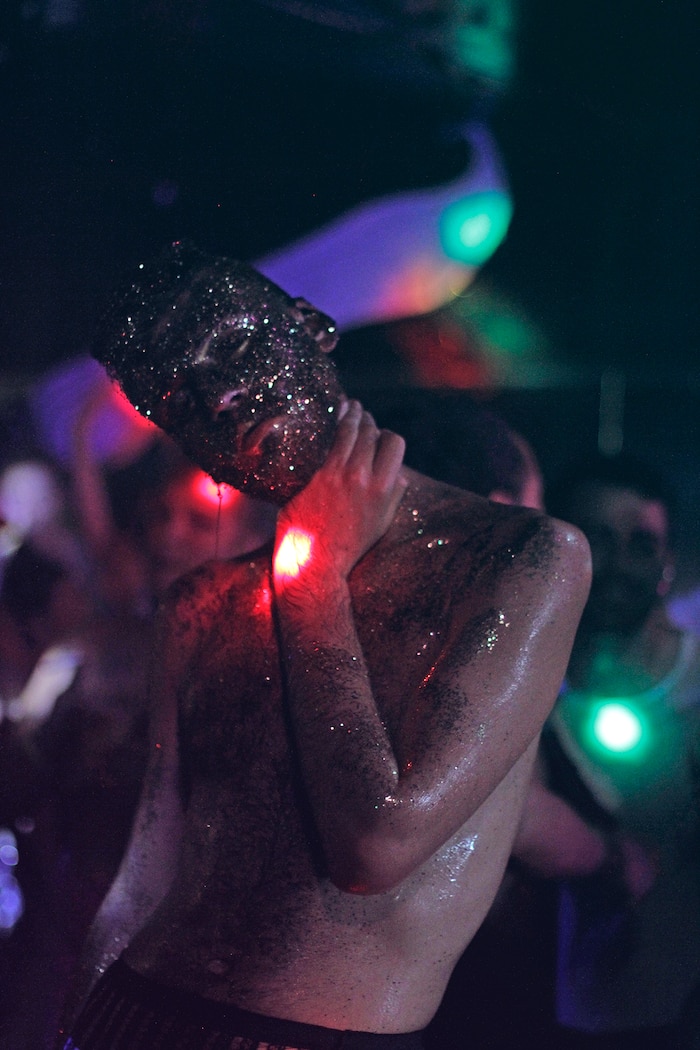 Housed in a former strip club, and home to dancer, performer, artist and Spectrum co-founder Gage of the Boone (who opened the space alongside Nicholas Gorham), a painted sign in the entrance hallway declared it a "Queer Safe Space," welcoming those disenfranchised by the often weighty inequalities of the homogenized mainstream. It made for a diverse and uninhibited community, and the music policy followed a similarly eclectic and wide-reaching arc, curated by Gage and UK ex-pat DJ and producer Danny Taylor, AKA A Village Raid.
The Spectrum hosted Dagger, a party specifically for women and those identifying as female or non-gender, with strictly female staff, performers and DJs. Boundary breaking hip-hop acts like La'Fem Dosha and Mykki Blanco cut their teeth there, while XPRM/E/N/TAL, now held at MOMA's PS1, showcased live music from acts including Bob Ostertag, Easter, Haribo, M Lamar and Light Asylum's Shannon F.
One night New York artist and DJ Juliana Huxtable might be dropping French Fries amongst freshly bounced club tracks, the next Night Slugs' L-Vis 1990 was playing on the down low. Tribal associates The Carry Nation could be heard channeling classic NYC-flavored house or A Village Raid was mixing up anything from UK garage to metallic techno.
This legacy is encoded in all who passed through its doors, meaning The Spectrum's DNA will be somewhere in whatever fills the vacuum it leaves in New York nightlife. We spoke to some of those who were part of its story to celebrate its all-too-brief flash of light.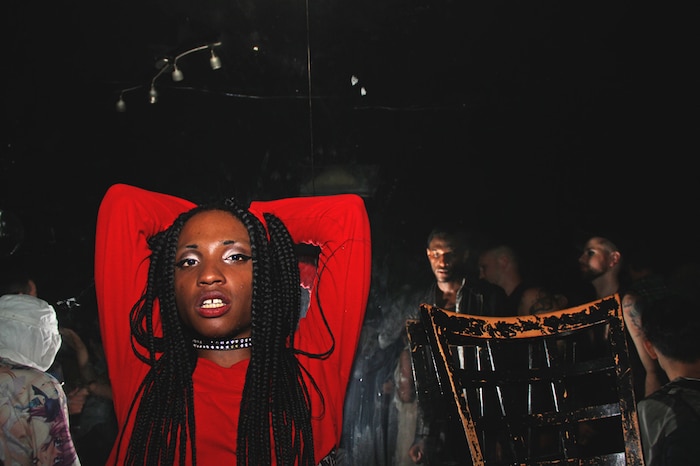 Danny Taylor, AKA A Village Raid
I'd been to New York several times in the 2000s and it was really lame, it was in a complete depression still from 9/11. But in reverse, at the end of the 2000s, London was becoming really stagnant after a really creative decade, so I decided to go to New York, rather than the already well-trodden path to Berlin.
Gage of the Boone
I started The Spectrum when I found the space in November of 2011. I was 26 years old. I had lived in queer houses and stayed in a lot of collectives, squats and land projects that had a very DIY and radical mission. In 2011 in NYC a lot of the existing queer spaces had disappeared. I had been really impressed with the queer spaces and squats in Europe where people lived, but also could have events and workshops.
A Village Raid
I first met Gage on the streets of Whitechapel wearing only plastic clothing and giant jewellery. He was quite like nothing from London... actually of this planet. We kept in touch and maybe a year or two later he told me about this arts space he had just opened up in Brooklyn... He invited me to come and live in the space, me not realizing that at this point everyone was living in cupboards literally off the dancefloor. These cupboards were once private rooms of the former Latina stripper club – wall-to-wall mirrors and claustrophobic. I just knew within seconds I couldn't live inches from a dancefloor.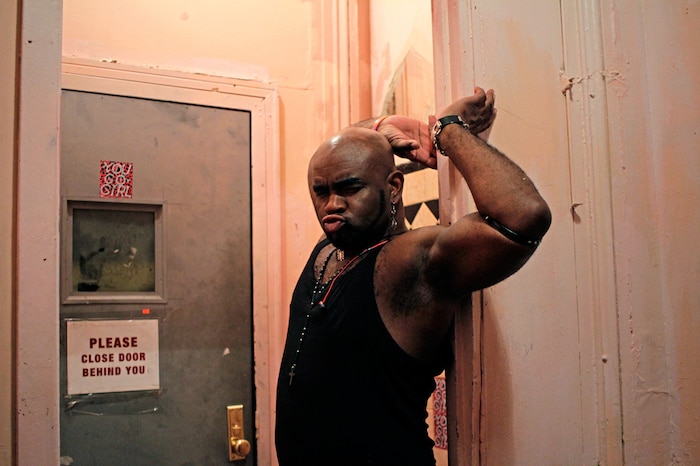 Gage of the Boone
I knew that I needed space to make my own work and be able to dance and rehearse. When I found the Spectrum with all of its mirrors, it was perfect for that type of creation. A lot of my closest friends, initially and still, are people who are gender queer and trans. I really wanted to create a space where people living their everyday lives could feel safe and comfortable making art, performing and coming to dance and party. It was also important for it to be a space for the POC community to exist as well. It was really amazing that we had the ability to have creative space for donation-based yoga, dance and Pilates, alongside community workshops, discussions, self-defense and wrestling training, as well as being able to have DJs and performers into the early hours.
Will Automagic of The Carry Nation
I DJed at The Spectrum on their very first night they were open, a New Year's Eve party. The speakers blew literally two songs into the New Year, and we ended up rigging up a guitar amp. That was the speaker for the rest of the night, and it was a blast. This didn't seem at all like a club, but rather a very cool space our friends had found and were literally living in, and decided to have a house party.
I was feeling a little bit over the gay world of bars and parties, so [the idea] was to really make the party world more queer and wild.
Nita Aviance of The Carry Nation
It felt like a secret, but if you knew the secret, you were welcome. You could walk right by The Spectrum and never know it was there. It had a white painted gate that kind of looked like a white picket fence. The front door looked like a suburban house's front door.
A Village Raid
I started DJjng there straight away all the time, but I didn't really get properly immersed into the inner workings until things got really busy. No one was around or even understood or cared about how to set up the sound properly, nor the fragile world of DJs, so I stepped in. The space really did need someone who understood music. It wasn't long before I found myself renting my own equipment to the club, doing all the sound for performers, curating all the events with Gage and booking all the DJs and performers, as well as designing flyers, cleaning toilets... The work tasks mounted and mounted. The workload got so crazy we decided to have office hours on the dance floor in the daytime.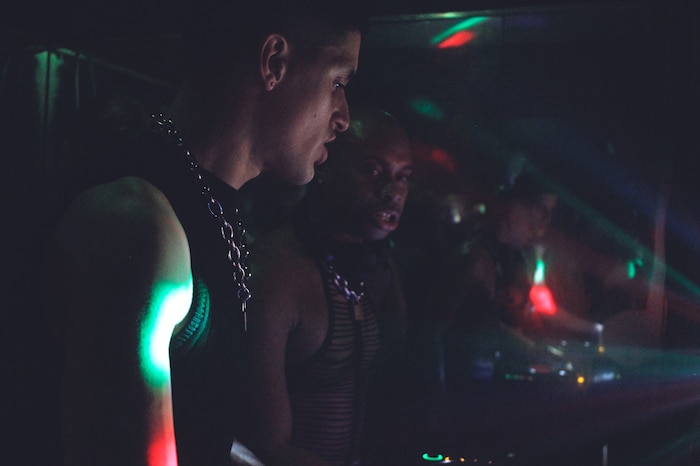 Gage of the Boone
The Carry Nation started as a monthly party at The Spectrum, Dizzy Land was Trey La Trash's monthly. Ova the Rainbow was always our monthly own party and we had a lot of one off parties as well such as Luther, a pre Black party event, and Bushwig after parties, one that featured The Soft Pink Truth DJing. We had Shock Value twice, which is Juliana Huxtable's party, and Xtapussy twice as well, which is Marie Karlberg, Stewart Uoo and Hayley Pisaturo's party, Most recently we had Pillow Queen, Shayne Oliver from Hood by Air's party that featured Arca. Performers included Bunny Michaels, Princess Nokia, Robot Moonjuice, K Rizz, Crush, Zuzuka Ponderosa, Boychild, AB SOTO, Ian Isiah, serpentwithfeet, Dia Dear, Bearcat and THESWIMMINGPOOLS.
Will Automagic
The Carry Nation was just beginning to make records but we hadn't found a space to DJ together and do a party. We approached Gage and asked if we could do it there and he said yes. Thus our party was born. We used to spend a lot of time doing different L-wire lighting set-ups and sound set-up. It was well worth the work and they often went till noon. The highlight was always when the sun would begin to rise and create a beautiful beam of light through the skylight over the middle of the dance floor. We would choose a special sunrise song each time.
Gage of the Boone
Ova the Rainbow started because I was obsessed with color immersion. I wanted to have a party that was almost half a social experiment, bringing the whole community on a journey that literally went through the rainbow. The first ones had much more full immersive installations that I did most of, but occasionally we would have other artists come and do the installations as well. I've always been really into the aesthetic way that clubs look, so I wanted to keep the space constantly shifting and evolving.
People stayed, they lived, they fucked and they loved at The Spectrum.
Each of the parties also had conceptual frameworks; some of them would be silly, but others were more esoteric or metaphysical, such as Hyper Cube, Golden Dawn, Rubedo, Emerald Tablet, Ultraviolet, Mer Made and Astral Turf. The other part of Ova the Rainbow was that it started at a time in NYC when I was feeling a little bit over the gay world of bars and parties, so it was to really make the party world more queer and wild... which it definitely succeeded in.
A Village Raid
In the early days the music had been a bit of a mess, but that was also its charm; you were never quite sure what you were gonna get, down to the quality and genre. But this was also its magic, it wasn't self-conscious, it was anarchy. The most important thing really was that it enabled the opportunity for new unheard of talent, DJs and performers to start with an instant open-minded audience; there were no rules to what you could play. It did quickly became apparent that all that anarchy over time did need some controlling and fine tuning, so when I started to curate the DJs and performances over the course of the evening, to specific events and to genre/style, it created more of an arc to the evening. The parties at least became a lot more cohesive. People might have gone early for hip hop and at 6 AM for techno.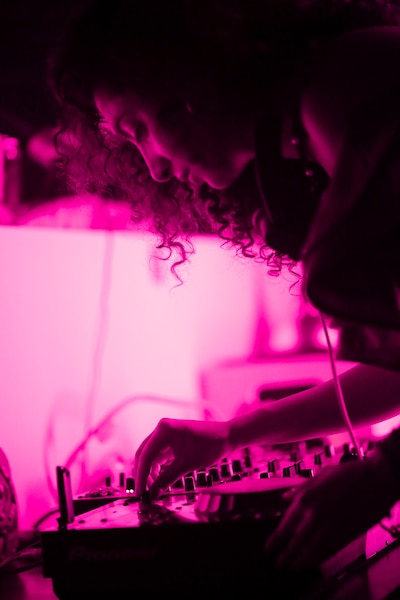 Gage of the Boone
It was really amazing to see who would show up unexpected, Bruce LaBruce, Omahyra Mota, Justin Vivian Bond, John Cameron Mitchell, models as well as porn stars. Björk was definitely a highlight and, similarly to everyone else who passed through, it was very casual and such a nice experience to watch our mutual friend Sadaf perform that night. Over the last five years a lot of friends in our community have really broken through into the music, fashion and art worlds. It's been very special to see Leif, Mykki Blanco, Zebra Katz, La'Fem Ladosha and Hood By Air among others really take the world by storm, but also still frequent The Spectrum as a local and casual place to relax and celebrate life.
A Village Raid
It was always really important for us to curate every event, line-up and party with the most diverse artists, characters and people from around the world we knew. The club was a complete dumping ground, meeting point and cultural brew for artists from San Francisco, New Orleans, Los Angeles, London, Berlin, the Radical Faeries and the voguing houses. People stayed, they lived, they fucked and they loved at The Spectrum during trips, so we were spoiled for choice.
La'Fem Ladosha
The Spectrum was ham and hot as hell. I spent so many Fridays, Saturdays, and even some Sunday mornings and afternoons there. All my friends in NYC are artists, designers, photographers, musicians, I met everyone there!
HD, DJ and label owner of Doom Dab
While there is no such thing as a safe space, and plenty of problems with patriarchy and racism – even at The Spectrum – it did succeed in making room for us to find ways to celebrate together, hidden from many of the threats of traditional, straight, white spaces. That's incredibly important. The Spectrum also hosted a legendary spread of the world's more thrilling underground talent. Quay Dash, Rahel, Lafawndah, Jay Boogie, Sadaf and the list goes on – these are names that the whole world will know over the next few years.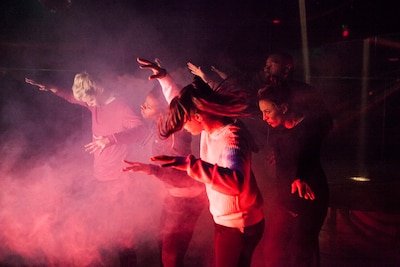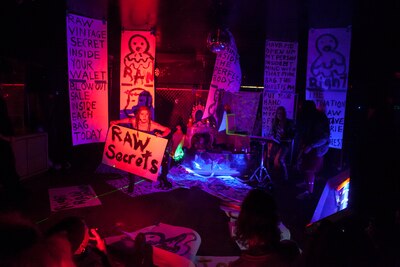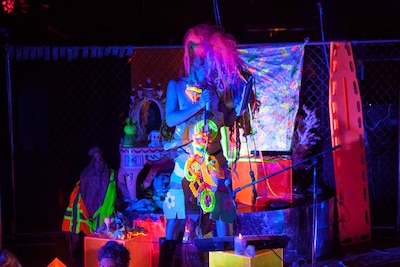 Shannon Funchess
It was happening, it was the rage and just what was missing from a new gen of NY club kids needing to "make things happen" in the underground for themselves, rather than sitting around complaining about how NYC was knocked out of its leading role in art, music and fashion, or waiting for someone else to make shit pop off for us. Everywhere else, with the exception of a handful of promoters doing rad shit to keep NYC's nightlife ablaze across the inner boroughs, were promoters too busy trying to do things to gain fleeting status, or fame from the sell-out status quo on some hotel bottle service fuckery in Manhattan and missing the point.
The point in "the life" – or just plain old nightlife for the cis heteronormatives out there who haven't a clue what I mean, or are just now learning about NYC's rich legacy of underground dance music culture – is to have fun, support your global art, music and fashion communities, dance your ass off till the wee hours of the morning and make a cool scene that's memorable while doing it. Not sell overpriced drinks to people who can barely afford their ridiculously high rent in a city that no longer sees the people or artists living in it as vital to its lifeblood or its history.
A Village Raid
We closed with Kevin Aviance, and who's more of a New York Legend than he? We felt like we were coming full cycle. But over the years the names I worked with, DJed with and people who I love are endless... Shannon F, Lafawndah, L-Vis 1990, Dinamarca, Fischerspooner, DonChristian, Richard Kennedy, Michael Magnan, Hannah HD. On and on... We were really in a very unique situation where some people were just too big who wanted to work with us so we had to turn a fair amount down to or just not bill them.
Gage of the Boone
I feel like it was a jewel and had so many successes. I'm really proud to have done it and been there to see all the different aspects of it. I feel like it brought people down to earth more, and helped get rid of some of the hierarchical, superficiality of nightlife. It reminded people how to let go and get a little dirty. It was a reminder of dance music and dance culture in a time that NYC needed it.
I feel like it also gave people a real opportunity to meet and connect, especially with the chill room. People could sit back and just watch, or be as much of the show as they wanted to be. It really was a home to a lot of gay orphans, and created a space that really was family. A lot of people learned a lot about themselves, as well as about queer politics, gender politics, trans rights, privilege/oppression and racial equality.
A Village Raid
I'm very happy the club closed before it lost momentum and fizzled out. The miracle is that we never got closed down by the police. The legend really is that the club was created from grassroots culture, not commercial culture, in a time in the world, and especially here in New York, where nothing is done without a commercial element, because the nature of the city dictates this.
HD
The Spectrum was a truly special place, one where you could count on running into the people you care about most. As yet another iconic space closes because of gentrification's re-mapping of the city, there will be a massive void. Change is good though too – in that void the next elevation and generation of this dynamic community will create new ways to be together.
La'Fem Ladosha
What a time to be alive and a child in the city. It's sad cause I don't think it will ever be the same again, but hopefully another person will be inspired or influenced by the hamness of what The Spectrum was and try to recapture that moment again.