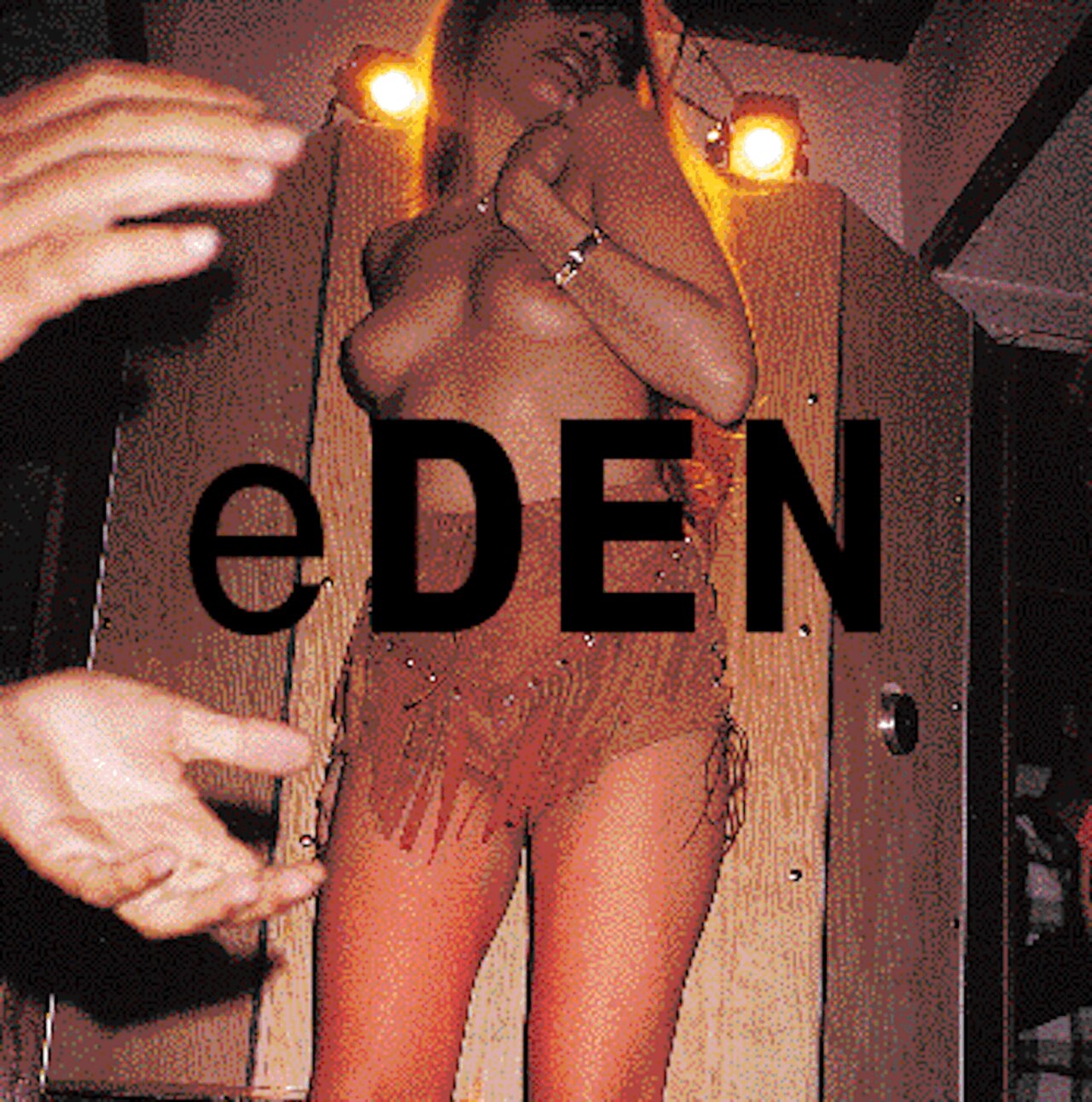 eDEN, fanzine house stylé
Published in A6 format, like a flyer which could easily fit in a coat pocket, eDEN was a French electronic music fanzine. Across its pages, club listings, party chronicles, record reviews, playlists and freewheeling editorials came together to celebrate house music, the joyful atmosphere of its raves and the nascent French scene.
Fuelled by passion, enthusiasm and the innocence typical of the movement's early days, eDEN was the mouthpiece of a certain conception of hedonism, held aloft by writers who are now confirmed and recognisable figures in the world of French electronic music journalism and entertainment, such as David Blot, Didier Lestrade, Loïc Prigent and Sven Love. (The film directed by his sister, Mia Hansen-Løve, is named after the fanzine). Seven copies were published, from May 1992 to May 1994. Its founders, Christophe "Widowsky" Monier and Christophe Vix, as well as its visual director, Michaël Amzalag, revisit the eDEN story, issue by issue.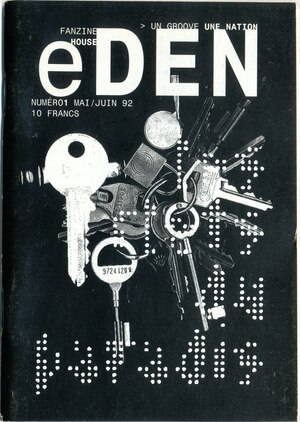 eDEN #1
Why did you create eDEN? How did the fanzine work? Where did your tagline – "fanzine house style" (A stylish house fanzine) come from?
We decided to set up the fanzine after a chat in a café opposite the Salpêtrière hospital, in early 1992. We'd just visited a friend who was recovering from a suicide attempt, following yet another brutal comedown in the aftermath of yet another dodgy hardcore rave, totally void of any joy or spirit.
At the time, we had the feeling that it would be pretty easy to get a team together, as the idea had already been floating around within our gang of partygoers and electronic music fans for a while. With this fanzine, we wanted to remind people of the diversity, the multiculturalism and the subtlety of this music, the festive and happy atmosphere of parties and raves in other parts of Europe, to raise the qualitative and artistic level of expectations throughout this nascent scene.
Apart from our friends, and ourselves, Vix and Monier (Widowsky, producer with his groups, Impulsion and Discotique), the journalists were originally two British students, Adelaide Dugdale and Spider, Jerry Bouthier, who would become a respected DJ, Alain Quême, soon to be renamed Alan Braxe, Patrick Vidal, DJ and singer, as well as Thierry Pilard, shop assistant at la Fnac record store. Jerry introduced us to Michaël Amzalag, future star designer at the M/M agency (Paris) who would become our art director and who went on to create the innovative and instantly recognisable graphic style of the fanzine.
As for the name, eDEN, we chose it because we were striving towards an ideal; we wanted to question the mystical relationship, whether stated or implied, of certain musicians, to remind drug users of their quest for paradise. What's more, this word is common to many languages.
eDEN #2
The name Laurent Garnier comes back over and over again throughout the pages of eDEN. What did he mean to you?
We were fans, from the very early days. Our national pride was flattered when we discovered that our English mates knew about him and that they were fans too; same thing when his "Acid Eiffel" track came out on Fragile, a sub-label of Derrick May's Transmat.
Garnier started off at the forefront of the Madchester scene. Then he got to know the gay scene, and DJed at clubs like the Boy, on Wednesdays, and then at the French Kiss nights, at La Luna, which later relocated to the Queen (he played at the club's opening night). He also played more mixed nights, at La Loco, and especially at the Rex club with their infamous Wake Up Paris nights where we would go and sell the fanzine directly to punters. We'd follow him around everywhere.
At the time, he was already representative of the DJ who knows this culture by heart, who has high standards when it comes to selecting records, who builds his sets using subtle touches and variations, far removed from those who just chug along on a motorway of sameness, stuff we hate and have always railed against.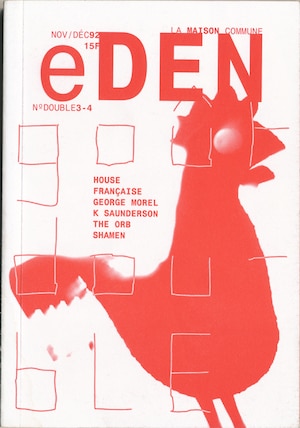 eDEN #3 & #4
Eden defended house music and did not mince its words when it came to raves ("it'll always be more pleasant than a techno rave") and the techno scene ("brain gouging techno from the raves"). Why so much hate?
eDEN defended the new electronic music which had emerged in the late '80s – Chicago house, Detroit techno, Newark garage, as well as their European counterparts, without giving precedence to one or to the other. This music was diverse, varied and multicultural – perpetually renewing and reinventing itself, like the tastes of the eDEN crew which were constantly evolving. Some of us loved techno, even the most hardcore, and others hated it. But we also really courted controversy – we loved to shock. The pages of the fanzine are a faithful reflection of these contradictions.
We weren't just in touch with the Anglo-French scene, and many British, American, Dutch and German people joined our ranks. At the time, some of us read les Inrocks to follow Morrissey's idiosyncrasies, or saw Primal Scream play at l'Élysée Montmartre and then went on to this rave, Libération, organised by Michel Cerdan under the Arch at la Défense, to listen to LFO. Others idealised the smiley vibe, the love & peace element of British raves or else the breakbeat/progressive scene of San Francisco. That didn't stop eDEN from helping the girls at BeatAttitude set up the house room at a Spiral Tribe party, where we also heard a bunch of DJs from Brixton who introduced us to embryonic forms of jungle. In fact, Pascal Crabbe (who was to form the duo Jess & Crabbe), a fan of jungle right from the start, often accompanied us to raves and helped us sell the fanzine.
It's just that there was this type of rave labelled "tekno," that was really sinister and dark, something we hated and spoke out against. That's what made our friend have such a horrendous comedown and at the time, it seemed to be the only real scene in the Paris area. People just went there to get completely mashed. It wasn't fuelled by music but by drugs, often dodgy combinations or else smack, stuff that wasn't festive or social. No one smiled anymore, no one spoke to the others. The DJs, and therefore the music, were attuned to this. Generic, boring, soulless, no spirit, no groove, no diversity, no mix of styles, no artistic standards, it would never change over the course of the night. They forgot all about nuance, variation and crescendo. Just like a motorway, just like those minimal or tech house speedways that were to follow.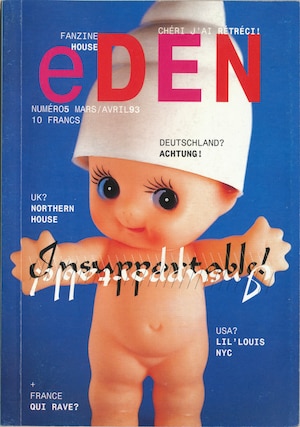 eDEN #5
The text "Qui rave?" (Who raves?) is quite a good summary of the essence of the movement #eDEN aimed to defend. Could we call it a rave utopia? Did you get the feeling that you were around at the birth of one of the last great musical genres (to paraphrase Laurent Garnier who said that "electronic music is the last revolution to date")?
Right, we're naming names! That article was written by our friend Michel Cerdan, AKA Psycho C. At the time, he was head of communications at Libération newspaper, truly militant, and he needed to get his point across in a style adapted to the constraints of a national newspaper that was brave enough to venture into what was highly risky territory at the time. You have to remember that the day before the rave at the Grande Halle de la Villette, the Humanité paper had this headline on "Techno Nazis"... Charles Pasqua [was head of the home office], place Beauveau. You can say what you like, fewer riot police turn up to raves now than they did at the time. This text allowed eDEN to make a stand, even if our existence was only temporary.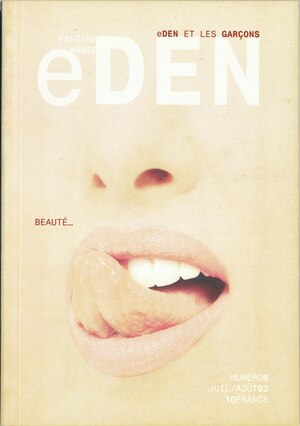 eDEN #6
Among its writers, eDEN could count on a perpetually grouchy editorialist called Didier Lestrade. How did you recruit him? Was eDEN a political publication?
When we launched eDEN, Didier Lestrade was a legend for us, an example to follow. At the end of the '80s, he was one of the rare musical journalists to talk about this new music (in Libération). What's more, he wrote well, with a lot of humour, in a passionate and talented manner that really made us want to discover the records he was talking about. He was like a breath of fresh air in the French press at that time. It was an honour to count him among us.
eDEN is a political publication in the sense that we are committed to defending art and music as we said earlier, but we also fought for spiritual freedom: a great party is a space for communion, a temporary autonomous zone where people can re-channel their energy, thanks to the beat; they learn how to be happy together once more, to smile, to communicate, to get to know one another, not to shy away from universal love.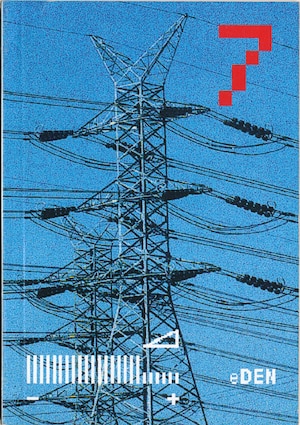 eDEN #7
eDEN openly talked about drugs in its pages. Was this a way of breaking away from the hypocrisy of mainstream views on the subject?
Yes, absolutely. We wanted to talk about a more sensible, rational and adult approach to this topic. And now, in 2016, now that cannabis is being legalized across the USA, all discussions on the subject in France are still pathetically out of touch, egged on by disinformation and repressive violence (trapped by the law of 31st December 1970 which still inspires a consensus in France, except among the local green party).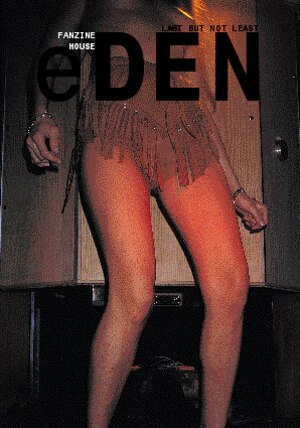 eDEN #8
eDEN concluded with the bitter impression that they "were the written witnesses to a fledgling and cosmopolitan house nation [which became] a marketing tool massively used by industry." How did you feel when eDEN stopped?
At the end of the eDEN adventure, we had the feeling that we had accomplished what we had set out to do, by, on one hand, upholding the artistic value of the scene, and on the other, by discovering and promoting its rising local stars. At that moment, each of us had other artistic and professional commitments that took up our time.
We had always fought for this movement to become popular. It was inevitable that corporate interests would get hold of it, copy it and neuter everything they could from these new forms and expressions. It's unavoidable, whatever the artistic style. That doesn't prevent the underground, the avant-garde and authentic artists to carry on innovating and inventing, without necessarily reaping the financial rewards or the laurels of media recognition. There's no bitterness there, as we were never that naive.
In 1994, two years before the beginning of French Touch, we had this compilation which brought together Daft Punk, Motorbass, Dimitri From Paris, Érik Rug, Jerry Bouthier, Patrick Vidal, Impulsion and The Micronauts, at a time when these artists were still largely unknown and on this record, they all gave us an exclusive track of their choice. And I must also mention that David Blot, Vincent Borel, Alan Braxe, DJ Deep, D'Julz, Laurent Garnier, Didier Lestrade, Sven Love, Benjamin Morando and Loïc Prigent all wrote for us. You could say that we had a lot of foresight! And we're proud of that!


Read the entire *eDEN archive in French here*.