False Witness
Vivian Host charts the Brooklyn producer's journey in between industrial dembow and confessional club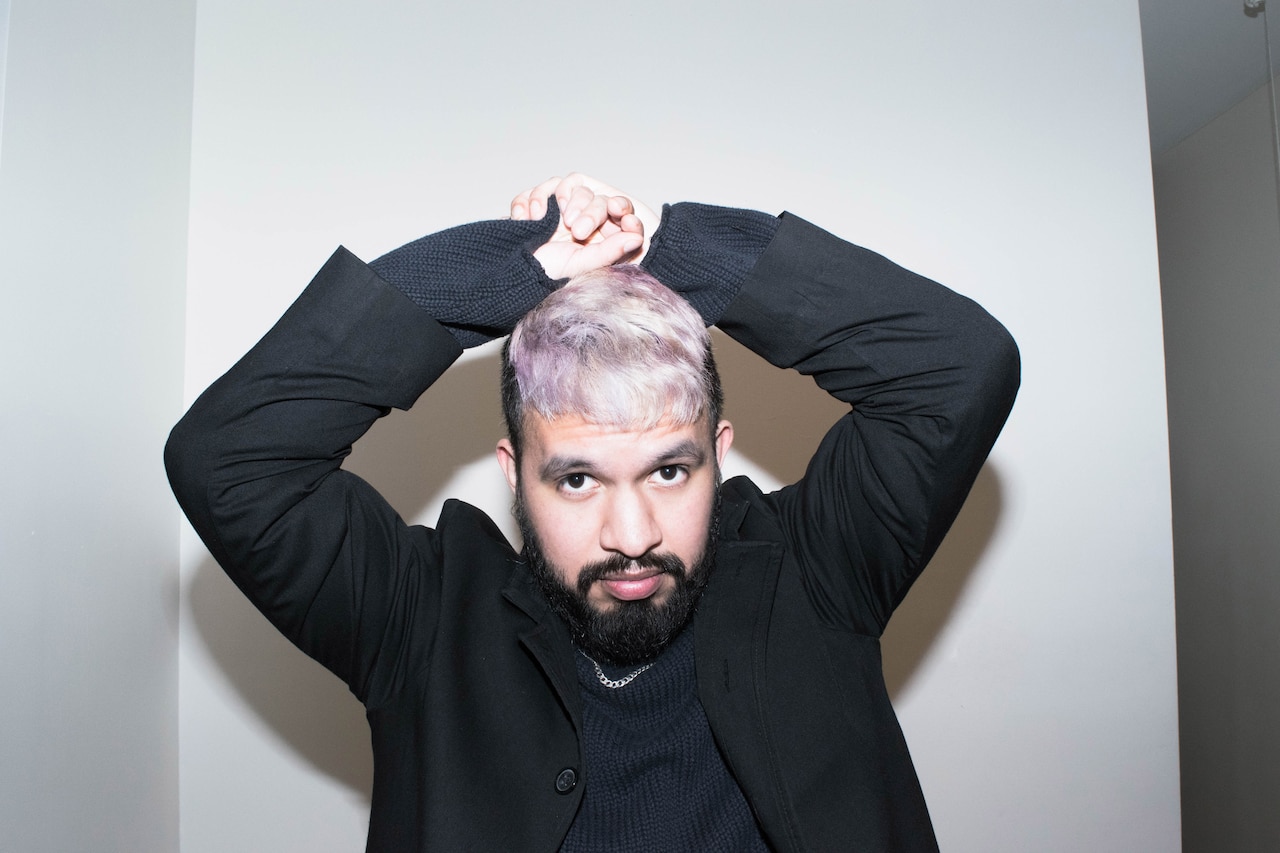 Magical realism in the club is the modus operandi of Marco Gomez, who operates under the aliases False Witness and Junior Makina. His (sound)tracks make you imagine places that don't exist, but should: A tropical island where legions of gabbers stomp in unison to the hardest of reggaeton beats; a rave in a disused power plant where euphoric trance superstar Paul Van Dyk goes back-to-back with Dominican dembow DJ Bubloy; a snow globe filled with metal shards falling over a freeze frame of a '90s vogue battle.
"The music I make... is trying to excavate a space and time that I either existed in and it was really sad and dark, or a place that I didn't exist in but I can imagine that [I had]," says the Brooklyn-based DJ/producer. Listen to his DJ sets, his Makina EP (released in summer 2014 on Lit City Trax), or the high-powered bootlegs of Arca's "Xen" and The Prodigy's "Voodoo People" on his Hulkshare page, and you'll be plugged in to the sound of the underground club landscape in New York right now – ballroom house, Jersey club, Dominican dembow, '90s R&B, old-school rave breaks, industrial techno and mainstream rap bangers – cut up and sewn together like some rapid-fire FM dial scroll from the future. Similar to many of his friends in crews like Fade 2 Mind, GHE20G0TH1K, Janus and KUNQ – the eight-person collective he's a part of alongside Rizzla, Battyjack, FXWRK and more – False Witness embraces chaos in the club, eschewing the DJ-friendly production and linear mixing styles that have long been understood as the building blocks of dance music.
"When I go to a club, I want to be shocked, I want to feel something," explains Gomez. "I like going through the gambit of emotions. It's indicative of our experience growing up of constantly being bombarded with imagery and pornography – things are all over the place and the music style obviously reflects that as well. Everyone can be a DJ now; if the technology can actively sync music for you without you ever having to do anything but press play, what the fuck is the point of having to make things beatmatch anymore? Who fucking cares? The technology will do it, so let's move forward from that and try to do something else. Before, I felt like I was more focused on being hyper-technical than trying to spill my heart out to an audience. Now, when I'm on stage, I just want you to feel what I'm feeling."
False Witness – who got his name from a page of the Old Testament he tacked on to a club kid outfit – started producing tracks in his mid-20s, heavily influenced by two Cambridge parties: Nu Life at Zuzu (run by Rizzla and Battyjack) and Hearthrob across the street at Middlesex Lounge (created by Lil Internet, Baltimoroder, Morgan Louis and The Sensitive Hand). Nu Life was "very new, very post-queer" recalls Gomez. "When I found it, I felt at home, like this is what I should have been doing my whole life. I understood the world as a much larger place and I learned that through music."
But it was hearing a particular record on the Nightshifters label at Hearthrob that made him want to start making music himself. "Somebody played 'Holy Mountain' by Talk, which has this really epic breakdown – it's kind of like a field recording of a jungle then all of a sudden it explodes into this tribal beat that's insane. In that moment of listening to that song, I knew exactly what I wanted to."
Eventually, as many Boston events do, these parties disbanded when the residents moved on to bigger cities and bigger projects. Rizzla and Battyjack landed in Brooklyn, and Gomez followed soon after, celebrating his move to the city with a guest slot at Venus X's equally genre-melting GHE20G0TH1K party and a sound art exhibition at Bushwick's Stream Gallery. "Between the ages of zero and 25, I feel like I didn't do anything with my life," says Gomez, who studied to be a pharmacist. "I was really lost. Then I came to New York and in two years I did a lot of shit."
False Witness' best-known tracks – "The Dominican Walk," "Dip Don" and "Tributo Bubloy" (off his collaborative EP with Rizzla, Isla Toxico) – are demanding Dominican dembow-meets-hard-house bangers, but they don't exactly bear testament to the more confessional club that he says awaits listeners on his forthcoming Rapture Punks release.
"In my previous work I wanted to mish-mash all the sounds of places that I had never been and put them all on one record," he explains. "[The songs on Rapture Punks] are not really made for a dancefloor – you can certainly put them in the club but I don't imagine anyone would want to dance to them. In fact, I think people would probably be very disoriented and put off by them; they are very moody."
The new EP – which he recently debuted at Manhattan's Fridman Gallery, but has no release plans for just yet – "explores the advent of '90s and early 2000 dance music genres like epic trance, diva house and drum & bass, reimagined as fractured, damaged recollections." The collection finds him revisiting his teenage years in Chelsea, a suburb of Boston that he describes as wildly diverse. "If the United States had entered a war at any point in recent history, there was an immigrant group from that war that lived in my town. In my high school, everyone spoke Vietnamese, Bosnian, Arabic, along with Spanish, Portuguese and whatever."
Gomez recalls the dominant sounds at school being reggaeton and '90s dancehall, but at home he was dipping his toes into '90s dance/electronic sounds – Crystal Waters, Daft Punk, Crystal Method, Paul Van Dyk – via his older sister's CD collection.
While it was a joyous time for discovering music, it was a difficult time in his personal life. "This EP recalls the very first sparks of understanding who I was and how music influenced who I was," he explains. "The very first sparks are tied with really traumatic episodes in my life, like coming out to my parents and being with someone that you loved for the first time and having those people do terrible things to you. The references are all there – the dembow, the trance, the deeper vocals – but it's very fragmented. Like the name False Witness, Rapture Punks sounds very biblical but the name of it is just happenstance – there is a song called "Rapture" by iio that I really like and there is a song called "Punk" by Ferry Corsten that I really love. All of the songs are me imagining two songs I like colliding, as if they were giant boulders smashed together. Whatever rubble was left would be the EP.
"Dip Don" is literally a million dembow songs running through a shredder, and then pulling a new song out of it that's a lot faster and a lot more brutal.
"Even in the artwork I make, it's all about just going back in the past and revisiting trauma or revisiting a moment in time that's kind of fuzzy in your memory," he continues. "Its about trying to remember it and then maybe adding some extra shit on top of it to make it a more captivating kind of story. I think that's part of the industrial aspect of what I do. I don't mean like industrial music. It's about the mechanical approach – the nuts and bolts – of building a personal island. That island is like a memory, like a space in time, a thing that is locked away in your psyche. For example, in my track 'Dip Don' all of the samples are chopped up little pieces from reggaeton songs. It's literally running a million dembow songs through a shredder, and then pulling a new song out of it that's a lot faster and a lot more brutal."
Gomez is excited about 2016 – the False Witness and Junior Makina personas are starting to divide and become more distinct, the KUNQ collective has begun releasing more music and recently launched a radio show on The Lot. Meanwhile, club music is quickly splintering and transforming around the USA. "Regional music has already broken away from its infancy now. Baltimore club, Jersey club, Philly club… Those sounds are being taken to the West Coast and being morphed once again. We're going to have an LA club and an SF club. Someone who is entirely removed from that community will hear a sample and warp it in an entirely different way or maybe pair it with another sample that's specific to their experience, something heard specifically on the West Coast," he says. "That's how I predict 2016 is going to turn: club music is going to become more stratified but split, like the mitosis of a living cell."