Music in the Post-Fukushima Era
Five years after 3/11, the furor has dimmed, but some rage on. Patrick St. Michel tells their story
Like nearly everyone who lives in Japan, Momoka Muto remembers where she was at 2:46 pm on March 11, 2011. "Me and my grandparents were driving to Fukushima City, then the really strong shaking started. I saw water pipes explode. People in shops and restaurants rushed outside," she says. "Everybody was panicking." Up until then, Moto lived a regular adolescent life. She had recently entered high school and relied on others for rides. She was also interested in hardcore music, spending time at cramped live clubs around her home prefecture and eventually forming a band called The FRIDAY with friends. The Great East Japan earthquake, and subsequent disaster at the Fukushima Daiichi Nuclear Power Plant, changed all that.
"When I saw the footage [of explosions at Fukushima Daiichi] I thought, 'Everything is over now,'" Muto says. "The TV and radio started talking about sievert levels, but we had no idea if it was dangerous or not." Relatives living in Sendai urged her family to evacuate, but they remained for one month. Muto's uncle took her to tsunami-damaged areas and morgues, so she could understand what happened firsthand. "It was just really, really painful," she says, nearly five years later. "Right after the disaster, I was just full of anger."
Anger was a sentiment shared by many across the country, and musicians began directing that emotion at the Japanese government and Tokyo Electric Power Company (TEPCO), sharing protest songs online in the wake of the disasters. While mainstream J-pop focused on fostering positive feelings, a handful of marquee names and hundreds of underground performers lashed out on the internet, at large demonstrations and at music festivals – some of which existed entirely to protest nuclear energy. Five years after March 11, 2011, the furor has dimmed, but some rage on.
Kicking back against nuclear energy in Japan isn't a post-Fukushima development. But, as Noriko Manabe writes in her 2015 book The Revolution Will Not Be Televised: Protest Music After Fukushima, the topic has been tough to comment on as an entertainer because electric power companies have been "among the top advertisers in Japan" and used that position to pressure any media taking a critical stance on nuclear power. There were a few exceptions. Following the 1986 Chernobyl nuclear disaster, rock band RC Succession recorded versions of Elvis Presley's "Love Me Tender" and Eddie Cochran's "Summertime Blues" with anti-nuclear lyrics, while punky outfit the Blue Hearts recorded "Chernobyl." Both bands saw their anti-nuclear numbers sell well via independent labels, but these were exceptions to a mostly apolitical Japanese mainstream scene.
After the events in March 2011, the Japanese music industry practically stopped. New releases were delayed and many foreign acts cancelled tours over radiation concerns. Major acts such as AKB48 raised money for damaged areas while also putting on shows for those affected. Patriotism and optimism dominated J-pop that year, highlighted by EXILE's "Rising Sun." Listeners turned towards upbeat escapism for the rest of 2011. Two of the biggest hits were Kyary Pamyu Pamyu's hyper-colorful "PonPonPon" and a cutesy number performed by two children and a talking dog. When it did come, the confusion and anger following the Fukushima Daiichi disaster didn't materialize through major labels. Instead, music posted online captured the anxiety felt by thousands following the meltdown. The first viral song came nearly a month after the disasters, when a clip of popular singer-songwriter Kazuyoshi Saito appeared on YouTube. He took the melody from an earlier song of his, "I Always Loved You," and turned it into the seething "It Was Always a Lie," calling out organizations like TEPCO directly. It wasn't released as a single by Saito's label and the original clip was deleted soon after being posted, but it didn't matter – Internet users reuploaded it, with one version reaching nearly 400,000 views to date.
Soon, musicians from across Japan were uploading anti-nuclear numbers to YouTube or Japanese video site Niconico. Hippopo Daio's "Let's Join TEPCO," a sarcastic folk number updating a '60s antiwar number, received attention via a group called Plutoleaks, who uploaded several folk-leaning numbers in the months following Fukushima Daiichi. All sorts of indie musicians shared music inspired by the disaster, from "Meltdown Blues" to 20-minute-long Vocaloid snark to Kyoto band Frying Dutchman's spoken-word slow burner "humanERROR." One of the more unexpected protest songs came from the world of idol pop, a genre usually more concerned with sounding cute than being politically aware: Seihuku Kojyo Iinkai's "Free from Nuclear Power Plant" mixed peppy music with messages about the danger of cesium and calling out politicians.
Other songs eventually became staples of anti-nuke demonstrations held across Japan in the coming year. Reggae artist Rankin Taxi updated his 1987 number "You Can't See It, You Can't Smell It Either" into a post-Fukushima tune with help from the Dub Ainu Band. Songs by rappers such as Coma-Chi ("Say No!") and Hibikilla ("Saiaku No Jitai") appeared frequently at marches, sometimes performed by the artists themselves.
Ryuichi Sakamoto, a founding member of Yellow Magic Orchestra and a celebrated solo artist, helped to organize one of the more prominent, explicitly anti-nuclear events in the country. No Nukes 2012 was held just outside of Tokyo proper, featuring performances from Yellow Magic Orchestra, rock group Asian Kung-Fu Generation, Saito Kazuyoshi (playing "It Was Always A Lie") and Kraftwerk, who played a special version of "Radioactivity." When "Fukushima" flashed on screen, the thousands watching cheered.
Closer to the disaster site, Fukushima "senpai" bands such as Band Of Accuse and Strange Factory had smaller stages to work with, but still kicked back against nuclear energy. "I think a lot of artists from here were angry about how the Fukushima Daiichi situation unfolded, and about the radioactive pollution," Strange Factory's lead singer Ryo says. Along with bassist Yamada and drummer 44°C (no member wanted to share their full name), the trio of Fukushima natives took part in numerous demonstrations, including the large Ginza Sounds Demo on August 6th, 2011. The following year, they released the harsh Fukushima Nightmare EP, featuring chaotic punk numbers "Town of Death" and "Weapons of Mass Destruction."
"We didn't change our musical style, but our experiences shaped the lyrics drastically," Ryo says. "We wanted to tell people about our negative experiences, both mentally and physically, as a result of 3.11." One Tokyo outfit, Shingetsu Toka, also tried to spread stories from Fukushima by projecting messages from Fukushima residents on the walls of venues during live shows they played in the capital. "Some people said 'You are too self-assertive, you are too preachy. We can't have fun because you guys are depressing,'" the group's lead singer Michiko Tanaka says. But her group were so shocked by the government and TEPCO's "irresponsible attitude" they felt they had to do something.
On the other side of the country, Kenji Takikawa lashed out through a very different style. "What I saw of TEPCO and the Japanese government's response was really terrible," says Takikawa, who creates juke music under the name CRZKNY. This inspired his Struggle without End EP, a whirlwind of samples including snippets of TEPCO press conferences grinding up against expletive-rich passages from South Park. It didn't get much attention, though – Takikawa thinks the Japanese club music scene largely avoids political statements, unlike hardcore or hip hop.
Soon after, however, he was tapping into another emotion widespread after 3.11 – fear – to create the Atomic Bomb Compilation, an anti-nuclear release he organized with Kyoto juke producer Gnyonpix. Released on the anniversary of Japan's surrender at the end of World War II, the juke-heavy comp honored the atomic bombings of Takikawa's hometown of Hiroshima and Nagasaki while capturing the unease nuclear energy had created in the wake of Fukushima, the millisecond jitters of juke proving to be a great sonic representation of anxiety.
"People tell me 'the atomic bomb and nuclear power are different, you shouldn't mix them up.' I think they are the same thing. They have bad influences on our bodies, and if you look over history you see they just create fear and tragedy," Takiwaka says. "I want to get people thinking through my sounds."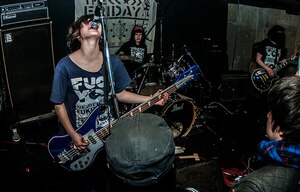 Muto and her family eventually moved back to Fukushima, but she remained angry by what she had seen. "I did everything I could do," she says. "I think everyone did." The FRIDAY reformed and entered the political music fray. "After the disaster, some people started rejecting food from Fukushima, and were rejecting people from here," she says. Her band recorded Our Body Made In Fukushima in 2013. By that point, most conversations about Fukushima talked about the region as though it had vanished – a lesson to be put in textbooks. The EP sounded like a sharp rebuttal. In live performances Muto took it even further, wearing a shirt that declared "Fuck You We're From Fukushima." "It gave me power," she says, even if a few people thought a high school girl sporting the word "fuck" front and center was unbecoming. "With that EP, I made my decision," she says. "I grew up here, and I'm going to keep living here."
I think a lot of people are just tired or resigned to the invisible enemies.
In early August of 2015, the Sendai Nuclear Power Plant in Kagoshima Prefecture restarted operations. It was the first nuclear plant to go back online following Fukushima, and it sparked a few protests, but nothing like what followed in the 18 months after 3.11.
A few days later, Atomic Bomb Compilation Vol. 3 emerged online, featuring electronic artists in Japan and from abroad offering uneasy numbers with titles like "Atomic Sin" and "Nuclear Money." Takikawa remains motivated, convinced that his music and the compilation are a way to remind people of what has happened in the past.
"I feel like other artists have forgotten about 3.11," Shingetsu Toka's Tanaka says. Her band continues playing music with an anti-nuclear theme around Tokyo, and still visits Fukushima. The No Nukes festival goes on, but subsequent events have been much smaller, in both space and the attention given. Music plays a heavy role in protests, but most political activism in 2016 focuses on Prime Minister Shinzo Abe's drive to alter Japan's constitution. Nuclear energy has receded from the spotlight.
Strange Factory still play, but less and less. They're balancing family and jobs alongside the group. The FRIDAY, meanwhile, are on break after a nationwide tour. Muto continues to play, but made a personal decision to stop making protest music. "I'm working a job now where I scale how much radiation is in food, so I've learned a lot about it and talked with many farmers and folks running restaurants," she says. She's stopped taking part in demonstrations, feeling they were transient experiences, and Muto now says she wants to protest in her daily life. "I started talking with people in front of me, about what we should and shouldn't do. Now, I want to make music that can heal people's tiredness or sadness."
"I feel the number of musicians reacting to Fukishima Daiichi is getting less and less," Yamada says. "I think a lot of people are just tired or resigned to the invisible enemies. Or maybe they've just gotten used to the situation."