Messiaen: Finding Salvation in Birdsong
Look at the birds of the air; they neither sow nor reap nor gather into barns, and yet your heavenly Father feeds them. Are you not of more value than they? —Matthew 6:26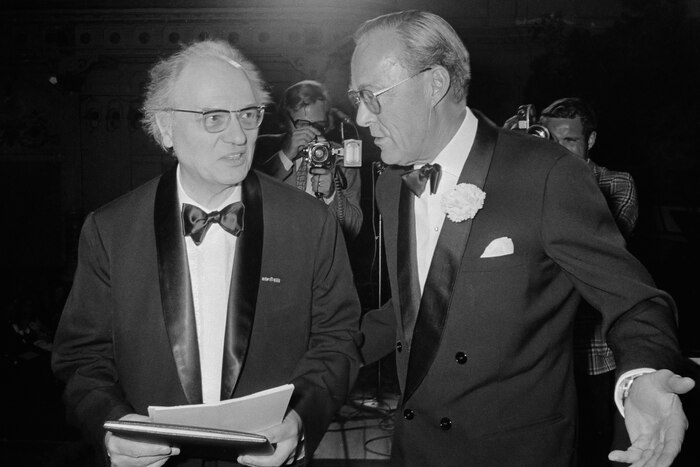 By the end of 1949, Olivier Messiaen was on the cusp of international fame. His largest, grandest work to date, his Turangalîla-Symphonie, was premiered in December by the Boston Symphony Orchestra (with a 31-year-old Leonard Bernstein on the podium). Unrestrained, oversaturated, its themes shouted with polychromatic joy, Messiaen's 80-minute "song of love," as he called it (completing a trilogy of works inspired by the story of Tristan and Isolde), showcased the accumulated range and originality of his technique, the disparate influences—gleaming, faceted harmonies, undulating palindromic rhythms, stylized, scintillated birdsong—swirled together into idiosyncratic ecstasy.
At the time, Messiaen was a fixture on the Parisian musical scene, not only as a composer, but also as an organist and educator; the young composers who studied with him, at the Paris Conservatoire and, beginning that year, at the summer school for new music in Darmstadt, Germany, were beginning to remake the musical world in their own avant-garde image.
And yet, Messiaen was in crisis. Part of it was personal: his wife and musical partner, Claire Delbos, had suffered years of declining mental health that left her with incurable amnesia; she would be institutionalized for the rest of her life. Complicating matters further, Messiaen had fallen in love with one of his students, a brilliant pianist named Yvonne Loriod (who played the floridly difficult solo piano part in the Turangalîla premiere). As a Roman Catholic of remarkable devoutness, Messiaen must have felt paralyzed. But much of his crisis was musical—which in his case meant spiritual. Simply put, he was wracked with concern that the ultimate doctrinal end of his music—the glorification of God—was becoming obscured by its semiotically elaborate collection of impulses and influences.
Taking Christ's advice, Messiaen considered the birds.
And so Messiaen passed through a period in the wilderness that was part quest, part clarification. He re-examined some twenty years of ideas through the comprehensively controlled lens of his own instrument, the organ. (Probably not by accident, the resulting work, his Messe de la Pentecôte, invoked the Christian commemoration of the descent of the Holy Spirit's purifying fire.)
He experimented with the fiercely precise order of serialism—a mathematical modernism adamantly promoted by his students—composing "Mode de valeurs et d'intensités," a piano study that extended such numerical determination to rhythms, articulations, and dynamics. Although the piece became a touchstone for the younger generation—even inspiring Pierre Boulez, who had criticized Turangalîla as "bordello music," to make peace with his former teacher—Messiaen ultimately rejected the approach. In the end, Messiaen found his salvation in the part of his musical language that most collapsed the distance between him and creation; taking Christ's advice, he considered the birds.
Je te pénètre, ô pré que longent des collines
Où la fougère étend son feuillage en réseau.
Et j'écoute parler la voix molle et divine
De la calme nature au milieu des oiseaux.

I enter the meadow beside the hills
Where the fern casts its net of foliage.
And I hear speaking the soft, divine voice
Of calm nature, the milieu of birds.

— Cécile Sauvage
Even today, nearly a quarter century after his death, Messiaen's musical personality remains inimitable. His works are immediately recognizable as his; to borrow a portion of his vocabulary is to risk falling into, essentially, an impression. And he remains synonymous with birdsong: any composer dabbling in ornithology is still in implicit sympathy or argument with Messiaen.
Although Messiaen's birds only took center stage after the tumult of the 1940s, they had always been there, looming in the background. As early as the 1920s, he had, on trips away from Paris, begun seeking out birds and jotting down their calls. (Like Gustav Mahler—who devoted an entire symphony, his third, to the intertwined messages of nature, God, and love—Messiaen made creative use of summers in the country.) His music in those days, however, remained primarily inspired by a Catholic devotion both metaphysical and aesthetic.
Messiaen's father, Pierre, was a scholar of English literature; his mother, Cécile Sauvage, was a well-known poet whose most famous work, L'âme en bourgeon ("The budding soul"), was inspired by Olivier's gestation and birth. ("I suffer from a distant music that I do not know," she wrote, a line the composer forever treasured.)
Light streaming through the stained-glass windows of the Sainte-Chapelle made an indelible impression on the young Messiaen (his harmonic language would forever aim to recapitulate that vision in sound); later, he fully embraced the early-20th-century ferment in French Catholicism, in particular its poetic overtones and emphasis on Christian mysticism, filtered through medieval writers like Thomas à Kempis and Jan van Ruusbroec. (The latter was a particular favorite of Messiaen's; Ruusbroec's most well-known book, The Spiritual Espousals, which weaves an entire plan of faith-based action out of the metaphor of Christ as bridegroom to the church, partially locates the fervent and often frank sensuality of works like the Turangalîla-Symphonie.)
The birds are the opposite to Time; they are our desire for light, for stars, for rainbows, and for jubilant songs.
Birds do occasionally flutter through Messiaen's early works; in addition to Turangalîla, one might also note his famous 1941 Quatuor pour la fin du temps ("Quartet for the end of time"), written and premiered in a German prison camp, which featured birds in guest roles, both at the outset and in a long clarinet solo titled "Abîme des oiseux" (Abyss of birds). "The abyss is Time with its sadness, its weariness," Messiaen explained. "The birds are the opposite to Time; they are our desire for light, for stars, for rainbows, and for jubilant songs."
Those birds sang stylized, even generic songs, but beginning with "Le merle noir" (a flute-and-piano miniature written in 1952 as a test piece for Conservatoire students), Messiaen made his birdsongs more exact, more individual and more ubiquitous. There was the Réveil des oiseaux ("Awakening of birds," 1953), a piano-and-orchestra, pre-dawn-to-noon chronological census of French birds—many of them recorded with the encouragement (and in the vineyards) of ornithologist and cognac producer Jacques Delamain. A few years later, he offered up the seven books of the Catalogue d'Oiseaux (1956-58), a kaleidoscopic anthology of avian tableaux for solo piano; the "Épôde" movement of his 1960 Chronochromie, for orchestra, included the extraordinary clamor of 18 simultaneous birdsongs.
Moving from a highly personal, even hermetic religious fervor to a barely-mediated natural history, Messiaen's evolution seemed like a sharp turn, but his use and advertisement of birdsong was actually in keeping with other aspects of his musical language. Birds were just one more locus of the fruitful contradiction between Messiaen's methodical practice and his mercurial inspiration.
His music was pervaded by provenance. His rhythmic language was full of symmetrical arrangements—"non-retrogradable rhythms," Messiaen called them—examples of which he collected from Greek and Hindu sources, labeling each borrowing in his scores.
His birds, likewise, were classified and identified. Even preferred chords acquired their own invented terminological tags. But every object was prominently smudged with a human fingerprint. The birdsongs, transcribed from nature with such seeming precision and objectivity, would be subtly massaged and molded to Messiaen's musical intuition. The harmonies made room for inspired extra pitches and voices. The rhythms were overlaid with additional emphases, durations arbitrarily lengthened into little freeze-frames, additional notes added for no other reason than expressive punctuation.
Listen to the opening of "Les Anges" ("The Angels"), from the 1935 Christmas organ suite La Nativité du Seigneur: at the end of every bar is an extra sixteenth-note, a rhythmic hiccup that comes from outside the rhythmic scheme, a punctuation that tips the pulse from orthodox to mysterious.
Such additions are, to use the proper theological term, prevenient: literal grace notes. Messiaen needed his music to encompass both a conscious spiritual discipline and the blessing that, in Christian doctrine, is by definition undeserved and unexpected. And what Messiaen did scrupulously, intricately, birds did effortlessly. As he described the warbling of the song thrush:
"Outside of a few characteristic rhythms, the strophes are always new and the rhythmic invention inexhaustible. The arrangement of durations and numbers—always unexpected, unforeseen, surprising—is obvious, yet with such a sense of equilibrium that one has difficulty believing it to be an improvisation."
By means of this supernatural zeal all the powers of the soul are laid open to God and made ready for the performance of every virtue. A person's conscience is filled with joy and God's grace is increased. The virtues are practices with gladness and joy, and the exterior works a person performs receive a certain graceful embellishment.
—Jan van Ruusbroec, The Spiritual Espousals
Throughout his life, Messiaen would produce summations, great encyclopedic works in the vein of the Turangalîla-Symphonie. After each one, he returned to the world of birdsong. The enormous oratorio La Transfiguration de Notre Seigneur Jésus-Christ (1965-69) was followed by La fauvette des jardins, a pendant to the Catalogue d'Oiseaux. The 1980s brought forth two monuments, the opera Saint-François d'Assise and the related, hour-and-a-half organ suite Livre du Saint Sacrement.
Birds, for Messiaen, were recurring rites of spring.
Messiaen feared that he had compositionally burned himself out—until a calculatedly casual suggestion from Yvonne Loriod (now Messiaen's wife, the two having married in 1961, a discreet two years after Delbos's death) resulted in the Petites esquisses d'oiseaux ("Little sketches of birds"), initiating a surprisingly rich final burst of music. Birds, for Messiaen, were recurring rites of spring.
In the first of the eight volumes of Messiaen's Traité de rythme, de couleur, et d'ornithologie ("Treatise on Rhythm, Color, and Ornithology," written over five decades and finished, after Messiaen's death, by Loriod), Messiaen—in the midst of a disquisition on rhythm citing everyone and everything from Thomas Aquinas to Einstein's theory of relativity—recalled one of his students asking him for whom he composed music. Messiaen hemmed and hawed: he didn't compose for the public at large; he didn't compose for a small circle of devotees. Ah, said the student, then you compose for yourself? "There," Messiaen wrote, "I found myself very embarrassed."
"I compose for the pleasure of internal hearing at the precise moment of composition. Thus I arrive at a new, completely abstract rhythmic order. There is the rhythm that is heard, transmitted by the interpreter of the sound. There is the notated rhythm, imagined, internally considered, as one might reflect on a few lines from a book of theology or philosophy. There is even the rhythm conceived by an single individual in a unique moment, solely for the intellectual pleasure of numbers, an absolutely personal rhythm, like a prayer—and as incommunicable."
If Messiaen's works feel like rituals, that's because they are.
As one of Messiaen's colleagues, the organist and composer Jean Langlais, put it: "He did not decide before—he discovered afterwards." Messiaen's birdsong might better be regarded less as a conceptual foundation and more as one of his most cherished prompts. Every time Messiaen, in his music, reached the level of prayer, he took notice of how he got there, and formalized it. If Messiaen's works feel like rituals, that's because they are: his own mystical exercises, his ad hoc collection of best practices, his personal toolbox of shortcuts to the divine. When we hear the music, we are, in essence, eavesdropping on a liturgy for a congregation of one. The ceremony is thrillingly realized but slightly beyond knowing. It is distant music made close-up, overwhelmingly present but not really of this world.
In Jan van Ruusbroec's first book, The Kingdom of Lovers, the mystic charted a "corporeal path of the senses," leading through the four elements of Creation—earth, air, water, and fire—to the highest reaches of heaven. The air of self-knowledge, "the rational faculty of the soul," was enriched by discerning acts of Christian charity, which Ruusbroec likened to birds. "Some birds walk on the earth, some float on the water, some fly in the air," he wrote. But "some fly further, into the upper air, close to the fire." Messiaen followed, and listened.